Team Singapore
TeamSG's Loh Kean Yew continues on sizzling run to reach Singapore Badminton Open semis!
by Circle Stories, on July 16, 2022 8:26 AM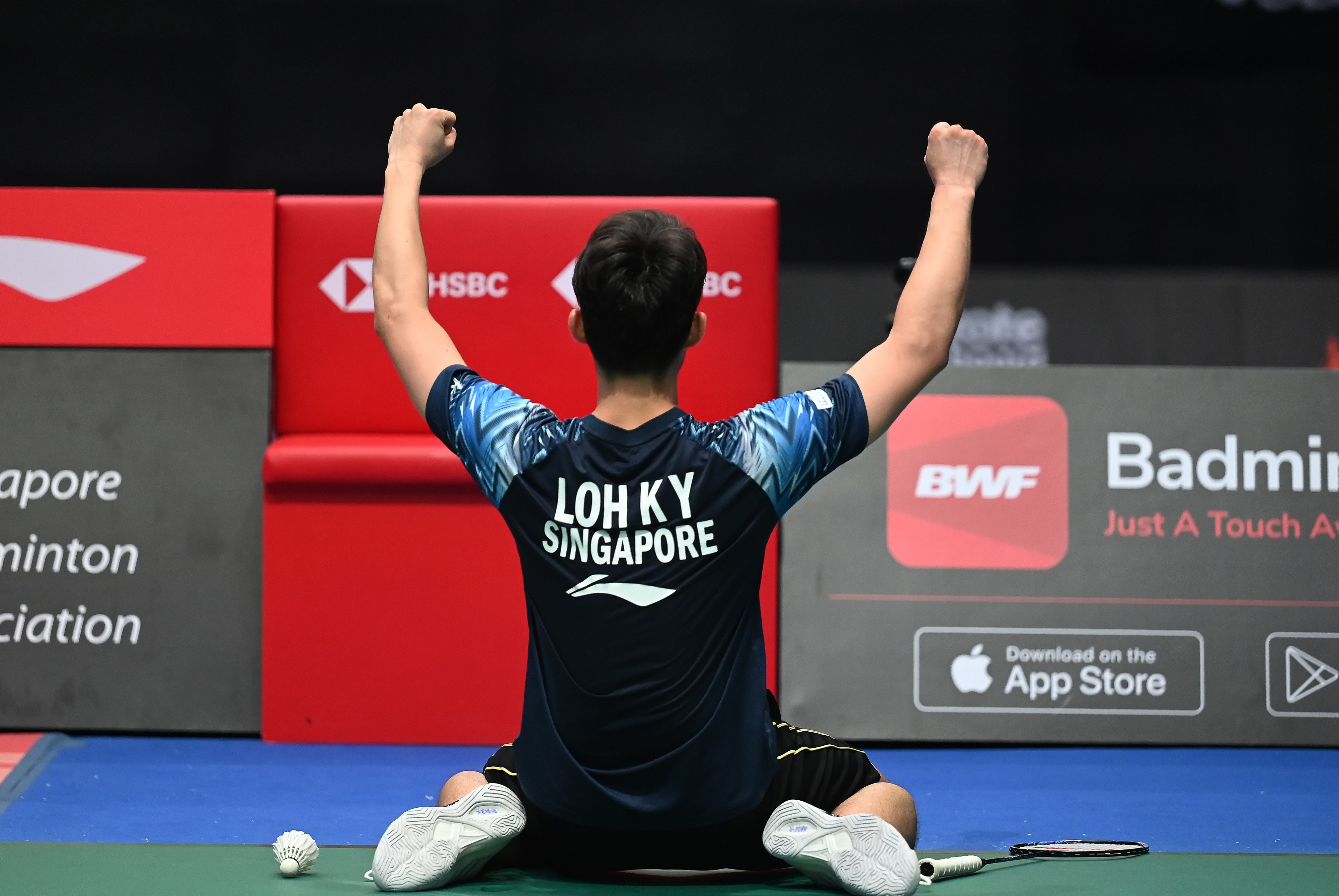 (TeamSG's Loh Kean Yew celebrates after QF win. Photo Credit : David Wirawan)
15 July 2022 – With a partisan crowd roaring him on, Singapore's Loh Kean Yew continued his good form at the Singapore Badminton Open (SBO), overcoming China's Li Shi Feng 21-15, 21-18 to become, the first Singaporean singles player in 15 years to advance into the semi-finals.
No Singapore singles shuttler has made it to the final four of the SBO since Ronald Susilo achieved that feat in the 2007 edition. But backed by a passionate crowd at the Singapore Indoor Stadium, Kean Yew who has yet to drop a set at this tournament, broke the streak. He now has his eye on being the first Singaporean in 60 years to win the country's national open.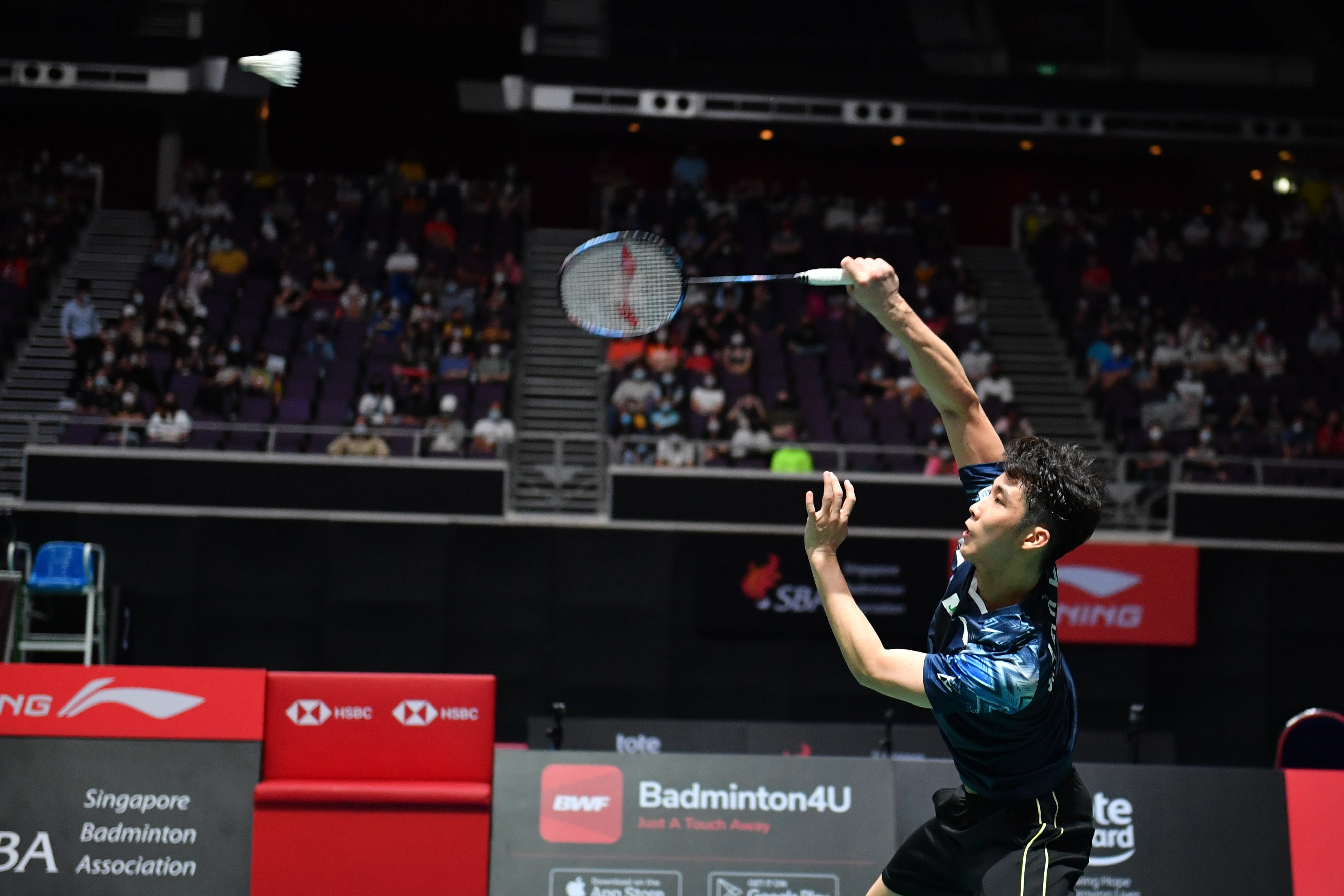 (TeamSG's Loh Kean Yew advances to semis of SBO 2022. Photo Credit : David Wirawan)
Said Kean Yew : "The pressure (of winning) will always be there. It's never going to go away and I've to learn how to manage it. Hopefully, I can perform and win." The World No. 9 knew he had to be on guard against a very aggressive Li, who threatened Loh with his powerful smashes and deceptive play. "Shi Feng is a very aggressive player and I needed to be very ready for the defence," said the Singaporean, who takes on World No. 6 Anthony Ginting in the last four. "But having said that, I needed to attack well too and I had to find the right balance, which was the key. It was not easy but I'm happy I did it quite well".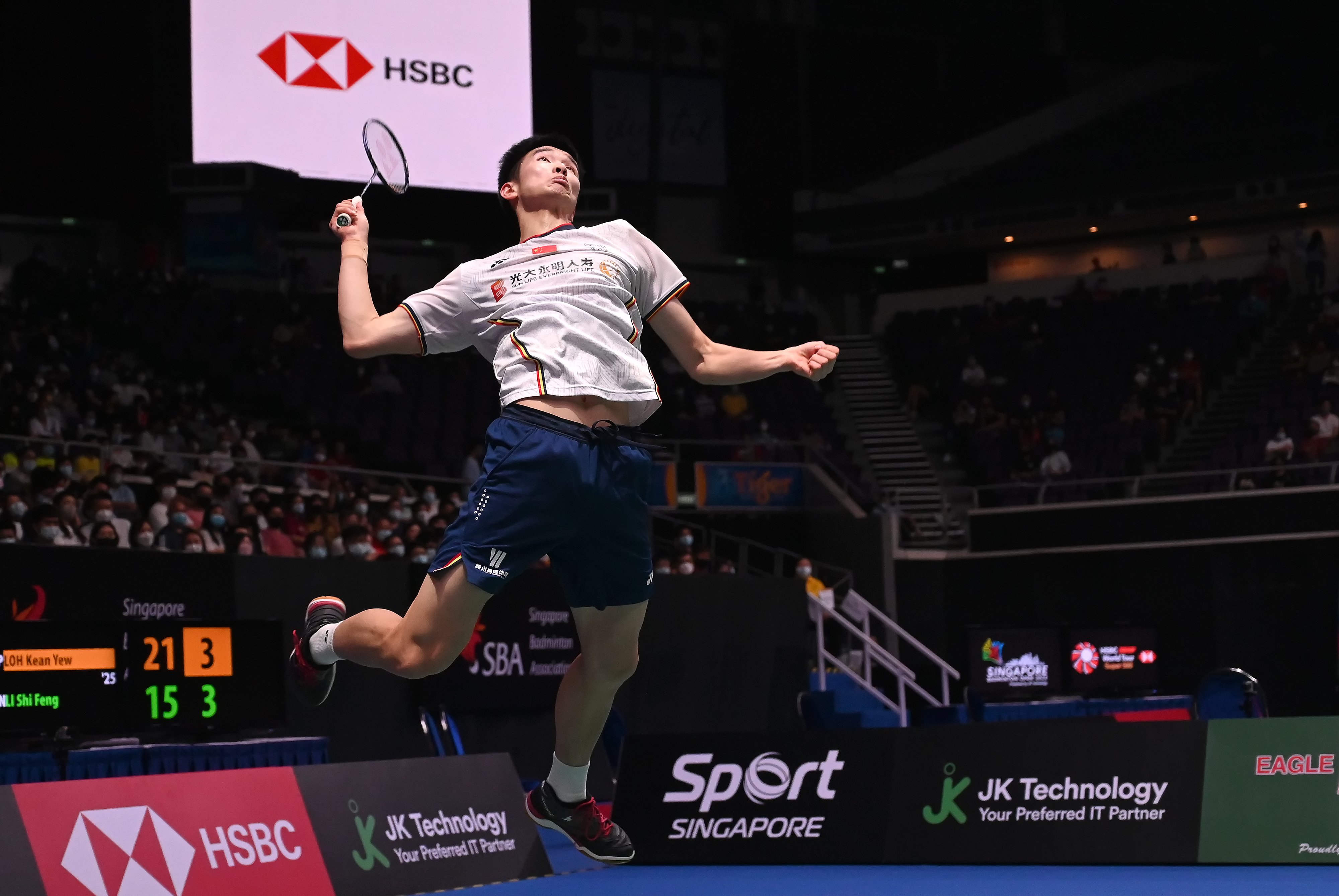 (Chinese shuttler Li Shi Feng in action. Photo Credit : David Wirawan)
Kean Yew and Ginting are the only remaining seeded players in the tournament following the shock exits of several of the tournament's top names including World No.4 and 8, Chou Tien-chen from Chinese Taipei and Indonesia's Jonatan Christie respectively.
Ginting is the highest remaining seeded men's singles player and he underlined his credentials with a convincing 21-15, 21-12 win over Malaysia's Ng Tze Yong."I didn't make too many mistakes and was focused on my strategy," said Ginting. "I tried so hard to push him as much as I could as I knew his movement was not very good. I took advantage of that with my pace and smashes."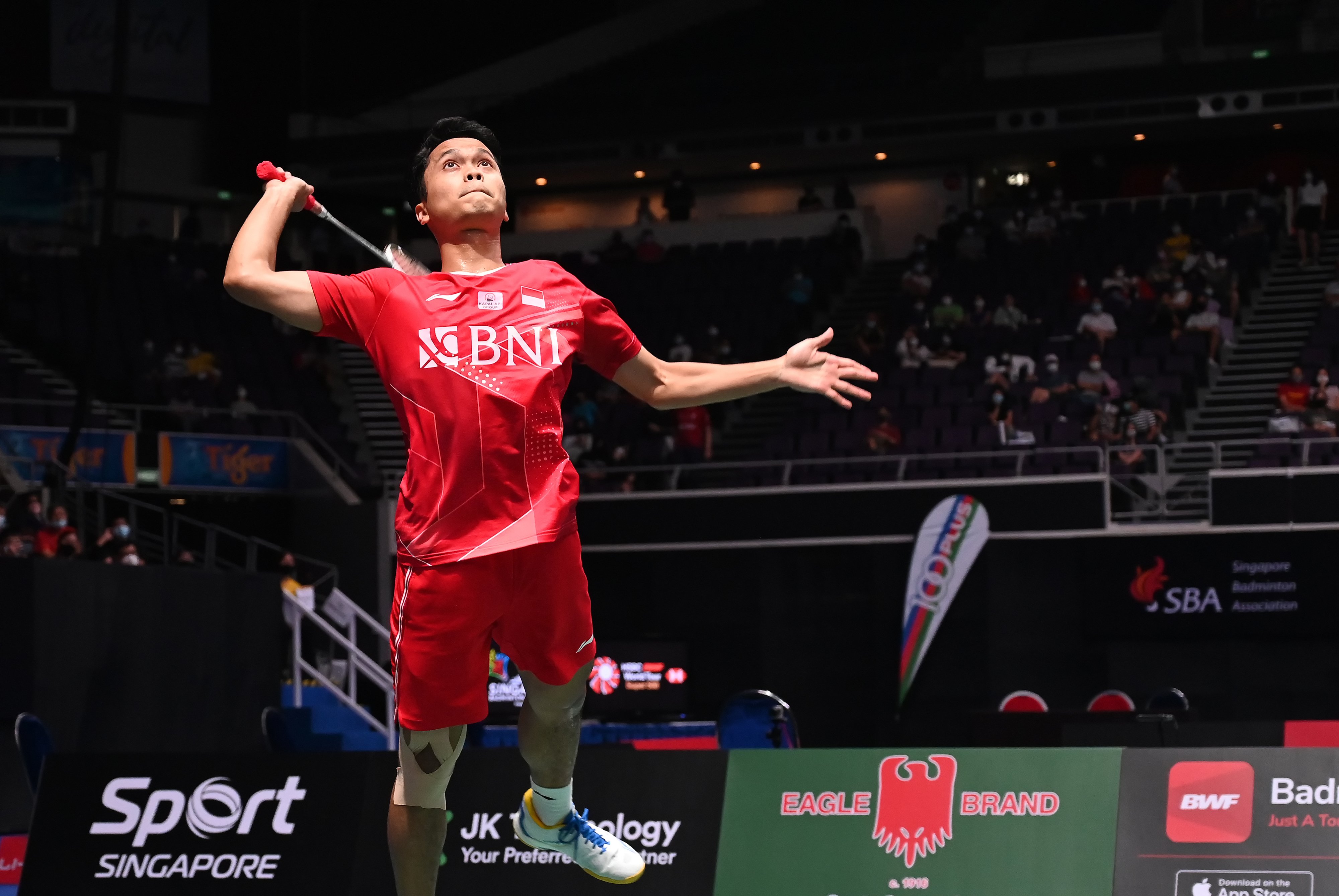 (World No. 6 Anthony Ginting is through to the SBO semis. Photo Credit : David Wirawan)
When asked about the mouth-watering prospect of taking on crowd favourite Kean Yew, a player he has never beaten before in two previous encounters, the Tokyo 2020 bronze medallist said: "Tomorrow will be a very exciting and tough match. I need to recover first and discuss with my coach on our strategy again. Kean Yew is one of the best players in the world. We both like to attack and it's going to be an exciting match. So, let's see how it goes tomorrow."
After taking down fifth seed Jonatan Christie of Indonesia in the last 16 yesterday, Japan's World No.43 Kodai Naraoka claimed the scalp of another higher ranked player as he defeated India's H.S. Prannoy 12-21, 21-14, 21-18 to seal his place in the last four of the men's singles event.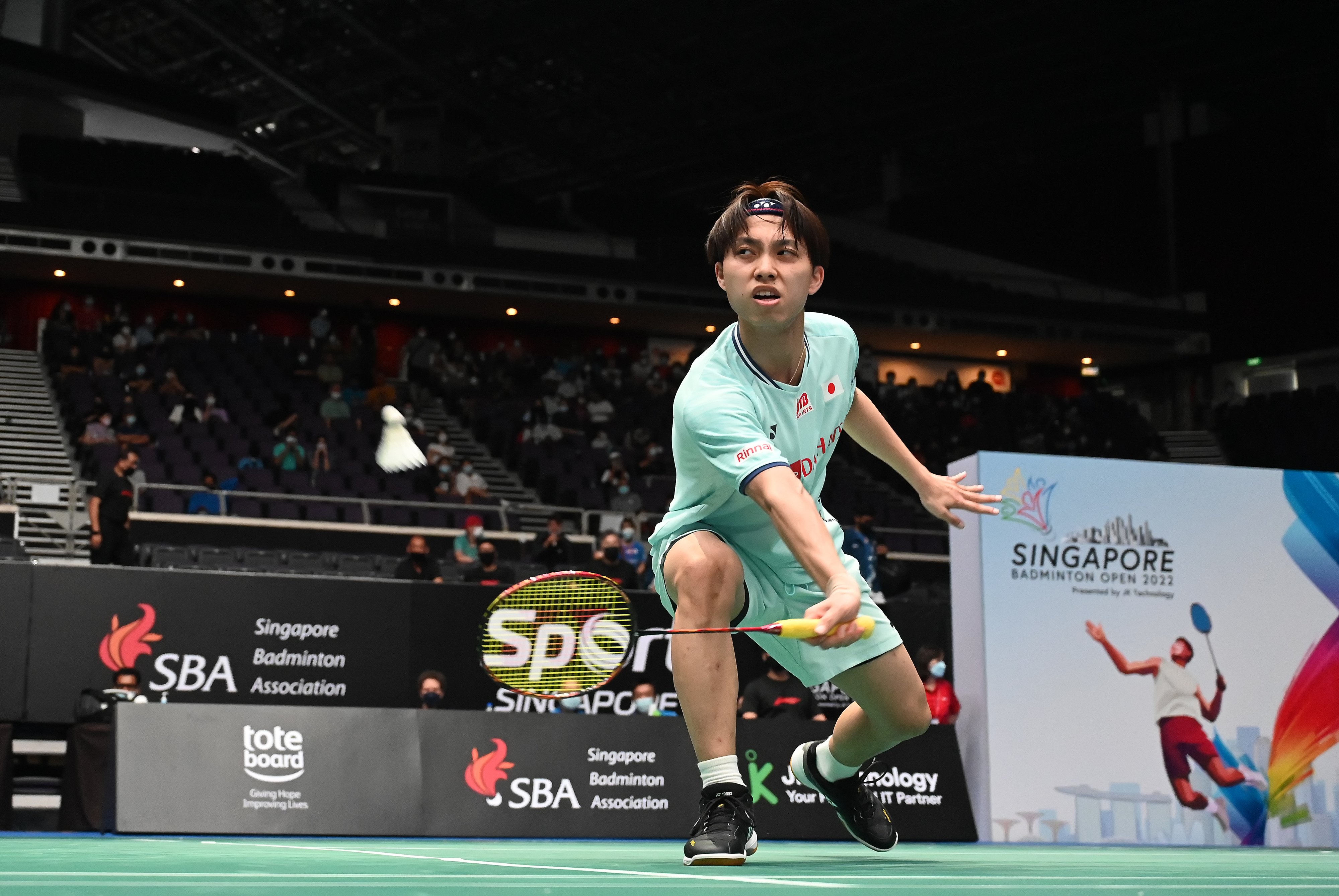 (Japan's World No.43 Kodai Naraoka. Photo Credit : David Wirawan)
The Japanese initially struggled against Prannoy's speed and aggression and lost the first game. However, he fought back to win the second and third game. "It does not matter whether my opponent's world ranking is high or low," said Naraoka as he reflected on the clash against his World No. 19 rival. "More importantly, I have to play my own game. I know Prannoy is a very aggressive player with power smashes. So, I was focused on how I can return his smashes and I prepared a lot for that."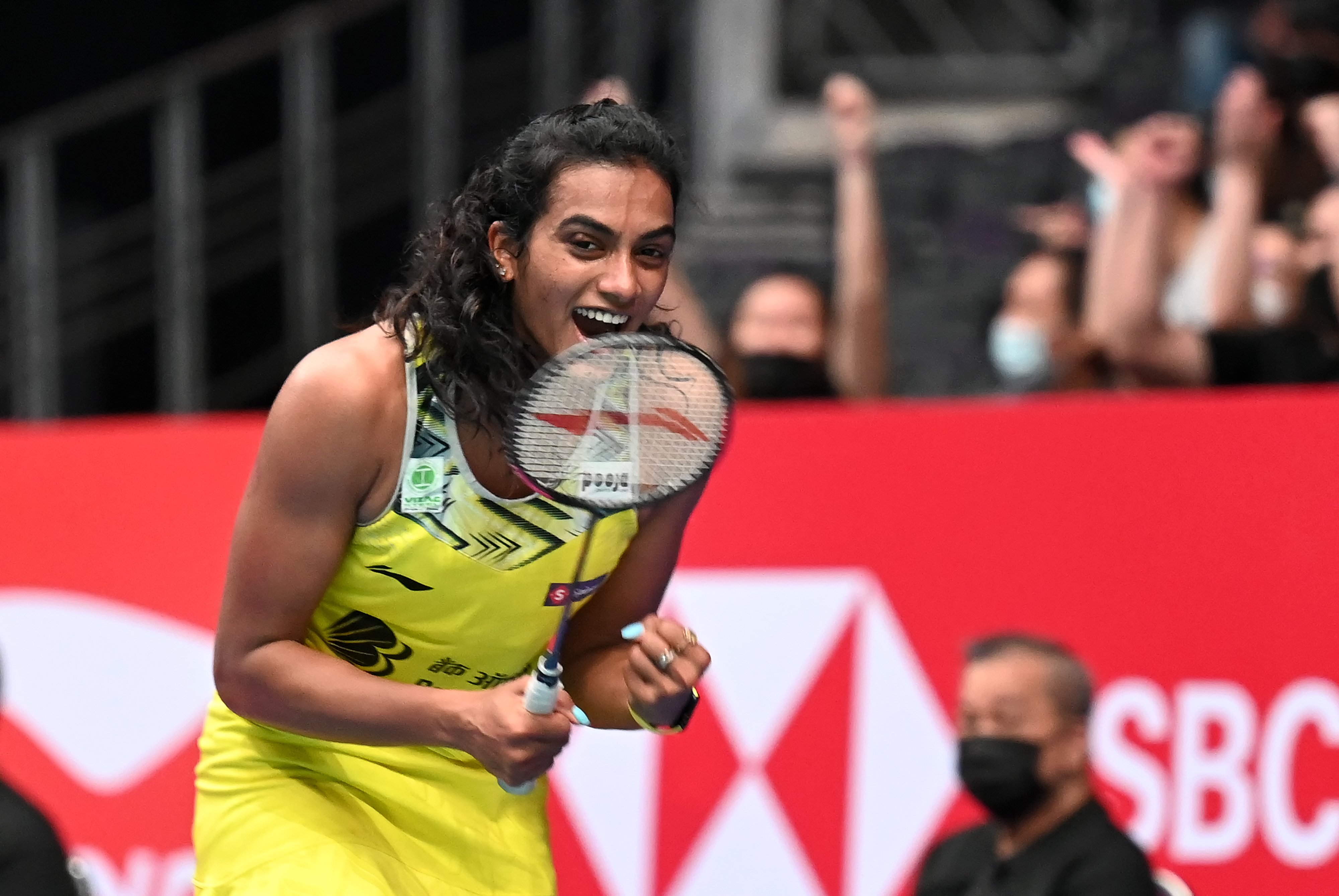 (Second seed Pusarla V. Sindhu of India reaches the last 4. Photo Credit : David Wirawan)
Second seed Pusarla V. Sindhu of India, extended her head-to-head record over China's Han Yue to 3-0, but only after an early scare and a nail-biting finish. It took her challenge from a line call at match point to confirm her 17-21, 21-11, 21-19 victory over Han Yue, a former junior Asian champion who had seized the early initiative.
Said Sindhu: "The line challenge was very important because I kept that challenge for myself until the end. I was almost 90% sure it was just out. But you never know, because of the drift. It was very close and you never know until you zoom in closely."
The two-time Olympic medallist was put on the backburner early after losing the first game. But she rallied back to take the second game convincingly before being pushed to the distance in the rubber game.
She said: "It was very important, especially in the second game, for me to maintain the lead from the start and finish the game off. Every point was very crucial for me in the third game. Although she took the lead several times in the third game, I was still confident because the game was not over yet. I was nervous but I didn't lose hope either."
It will be an all-Indonesian men's doubles affair in the semi-finals with Mohammad Ahsan and Hendra Setiawan taking on Leo Rolly Carnando and Daniel Marthin. In the other match, the pair of Sabar Karyaman Gutama and Moh Reza Pahlevi Isfahani will meet Fajar Alfian and Muhammad Rian Ardianto, who broke local hearts by extending their unbeaten run against the host nation's Terry Hee and Loh Kean Hean.
In the women's doubles semi-finals, China's Du Yue and Li Wen Mei will meet compatriots Zheng Yu and Zhang Shu Xian. Thailand's Supissara Paewsampran and Puttita Supajirakul will be battling Indonesia's Apriyani Rahayu and Siti Fadia Silva Ramadhanti for a spot in the final.

Thailand's mixed doubles pair of Dechapol Puavaranukroh and Sapsiree Taerattanachai remain on course of retaining their title after they defeated Malaysia's Chen Tang Jie and Valeree Siow to set up a clash with Goh Soon Huat and Shevon Jemie Lai also, from Malaysia. The other semi-final will be an all-China affair with Wang Yi Lyu and Huang Dong Ping taking on Guo Xin Wa and Zhang Shu Xian.
Related Events & Programmes