Team Singapore
TeamSG's shuttlers are through to the Quarter-finals of the Singapore Badminton Open!
by Circle Stories, on July 14, 2022 16:00 PM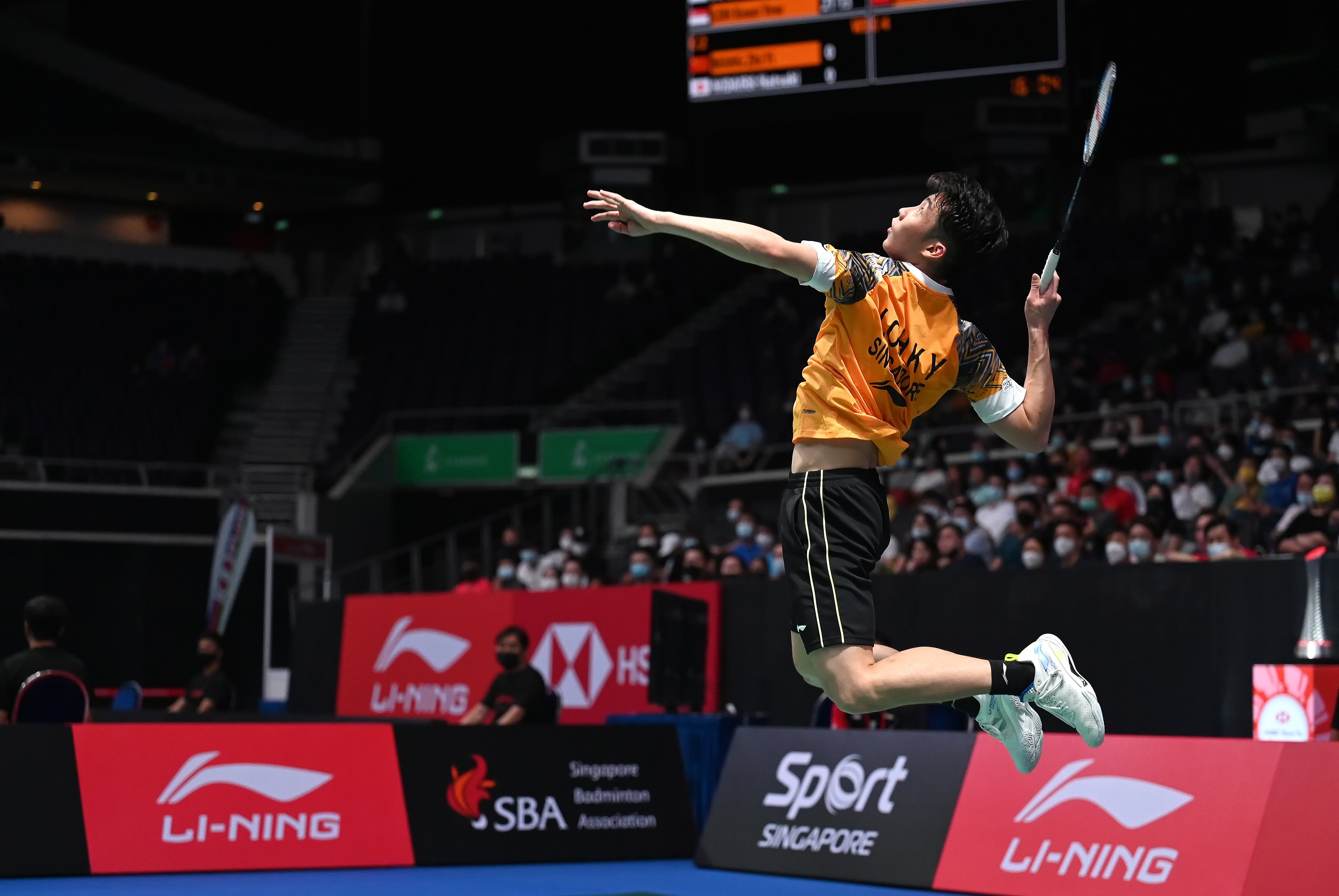 (TeamSG's Loh Kean Yew is through to the last 8 of SBO 2022. Photo Credit : David Wirawan)
14 July 2022 – The Singapore Badminton Open continued to throw up more surprises, making a mockery of the form books as top seeds headed for an early exit on Thursday (14 July). Top seed Chou Tien-chen of Chinese Taipei suffered a shock defeat at the hands of India's H.S Prannoy, as he lost to the Indian for the second time in two weeks.
Prannoy upset the World No.4, also at the Round of 16, during the Malaysia Open a fortnight ago. Prannoy, the World No.19, lost the first game 21-14, but staged a gallant fightback to win the second game 22-20. The 29-year-old continued to stay patient before waiting for a decisive moment before eliminating Chou 21-18 in the rubber game.
Said Prannoy: "I knew he was going to come back hard at me as he's a player who loves challenges and gets back at you whenever he has a tough loss in the past. I was telling myself I had to hang on to the very last point. It was going to be a mental game, especially the second game. 20-20 was tricky and I had to be on top form. I had to wait for the moment he was going to crack and fortunately, it happened in the third game."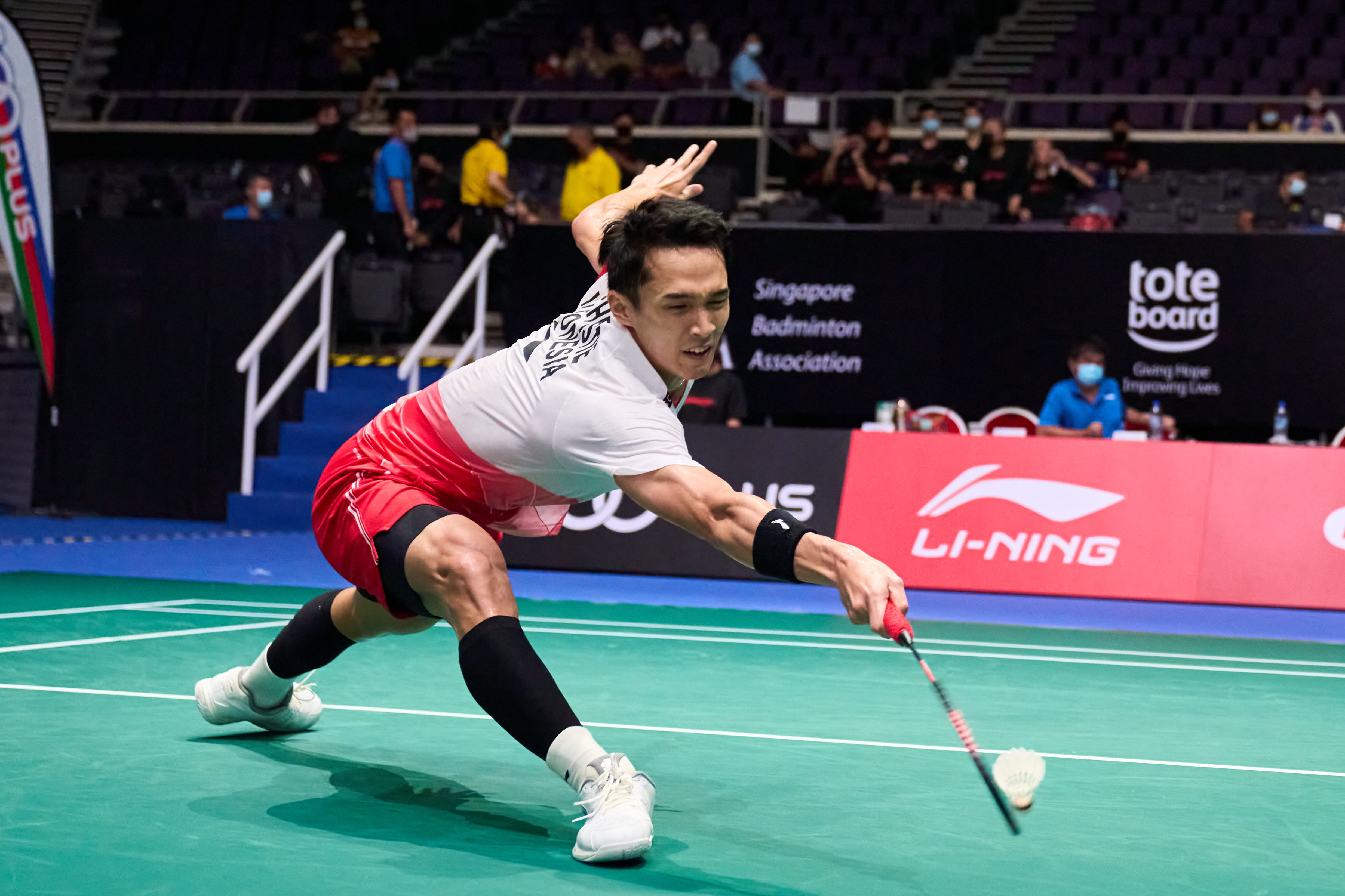 (Indonesia's Jonatan Christie was eliminated in 2nd round of SBO 2022. Photo Credit : Singapore Badminton Open 2022)
Indonesia's Jonatan Christie also became the next high-profile casualty to bow out after he was stunned 21-7, 18-21, 15-21 by Japan's Kodai Naraoka, a player ranked 35 places lower. The fifth seed and World No. 8 seemed to have the match under control after seizing the early initiative quickly, leading 15-1 in the first game at one point. However, his game fell apart after losing the second and third game.
Said a visibly disappointed Christie: "I thought I could go far in this tournament and it's very disappointing that I was not about to do that. I did not have a good feeling from last week and I thought I could turn it around this week. But I do not know what to say and I cannot get my performance right."
In contrast, an elated Naraoka could not hold back his joy as he managed to exact revenge over his higher-ranked Indonesian rival in Singapore. He said: "Last time I played in Korea I lost. In the first game I didn't do well but in the second game I did my best. happy to win." With Chou's departure, Indonesia's Anthony Sinisuka Ginting became the highest seeded player to remain in the tournament. The World No. 6 was, however, made to sweat as he took over an hour to overcome the stiff challenge of Chinese Taipei's Lin Chun-yi, winning their contest 21-12, 19-21, 21-16.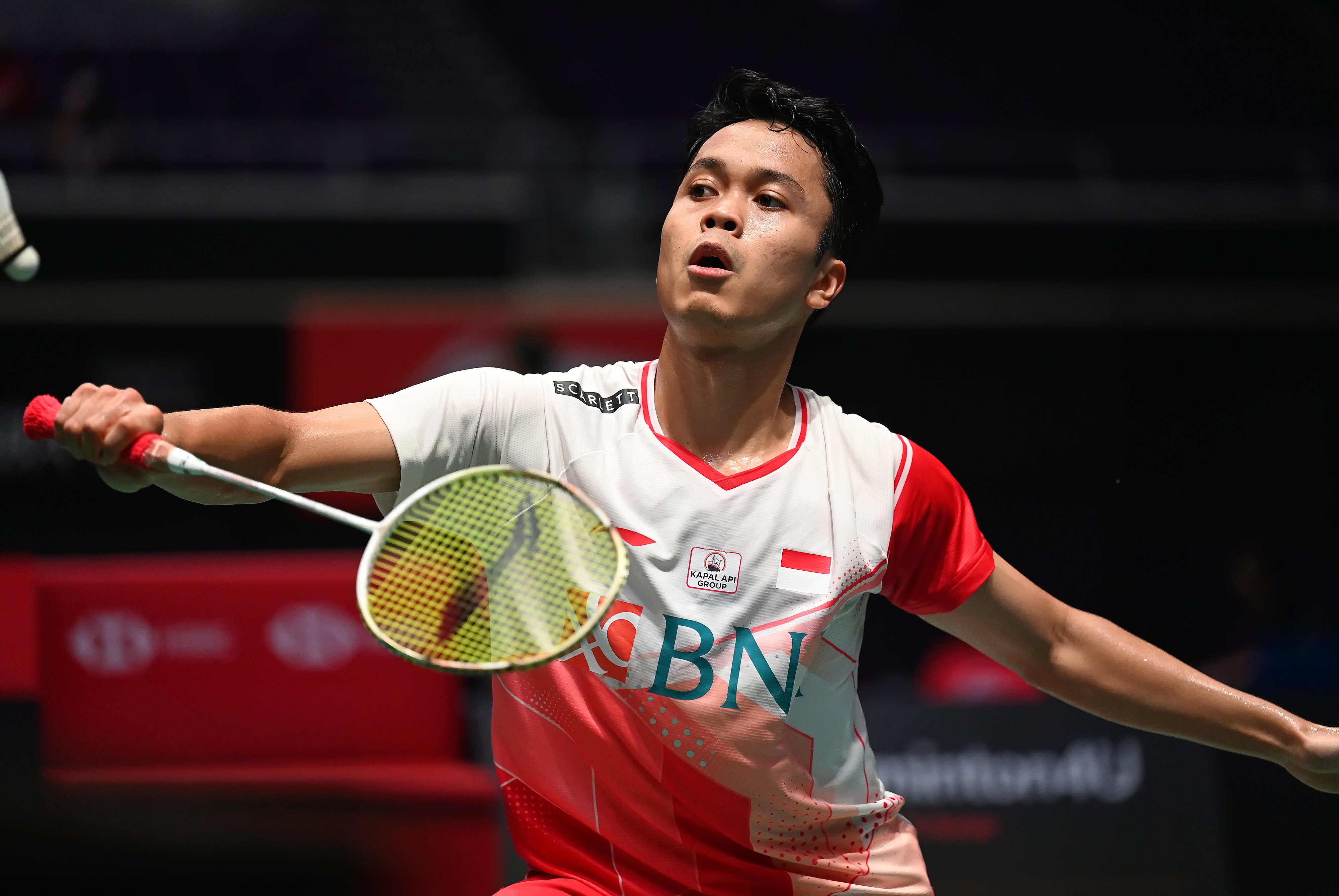 (Indonesia's Anthony Sinisuka Ginting reaches the last 8 of SBO 2022. Photo Credit : David Wirawan)
Said Ginting, who is seeking his first BWF World Tour victory since his breakthrough at the 2020 Indonesia Masters 2020: "I had to be aggressive and I kept attacking him today. I stayed patient and kept my composure too. I try my best to improve myself with each match. Every player stands an equal chance to win this week. Hopefully, this will be my week.
Singapore's Loh Kean Yew kept the home crowd at the edge of their seats as he battled gallantly to a 21-13, 21-17 victory over Indonesia's Tommy Sugiarto. The world champion had to adopt a patient approach especially in the second game where he was never in the lead until he finally seized the initiative at 18-17 against the 2013 Singapore Open winner. Kean Yew then reeled off 3 successive points from that stage to wrap up the match in 40 minutes and progress to the quarter-finals where he will take on China's World No.37 Li Shi Feng.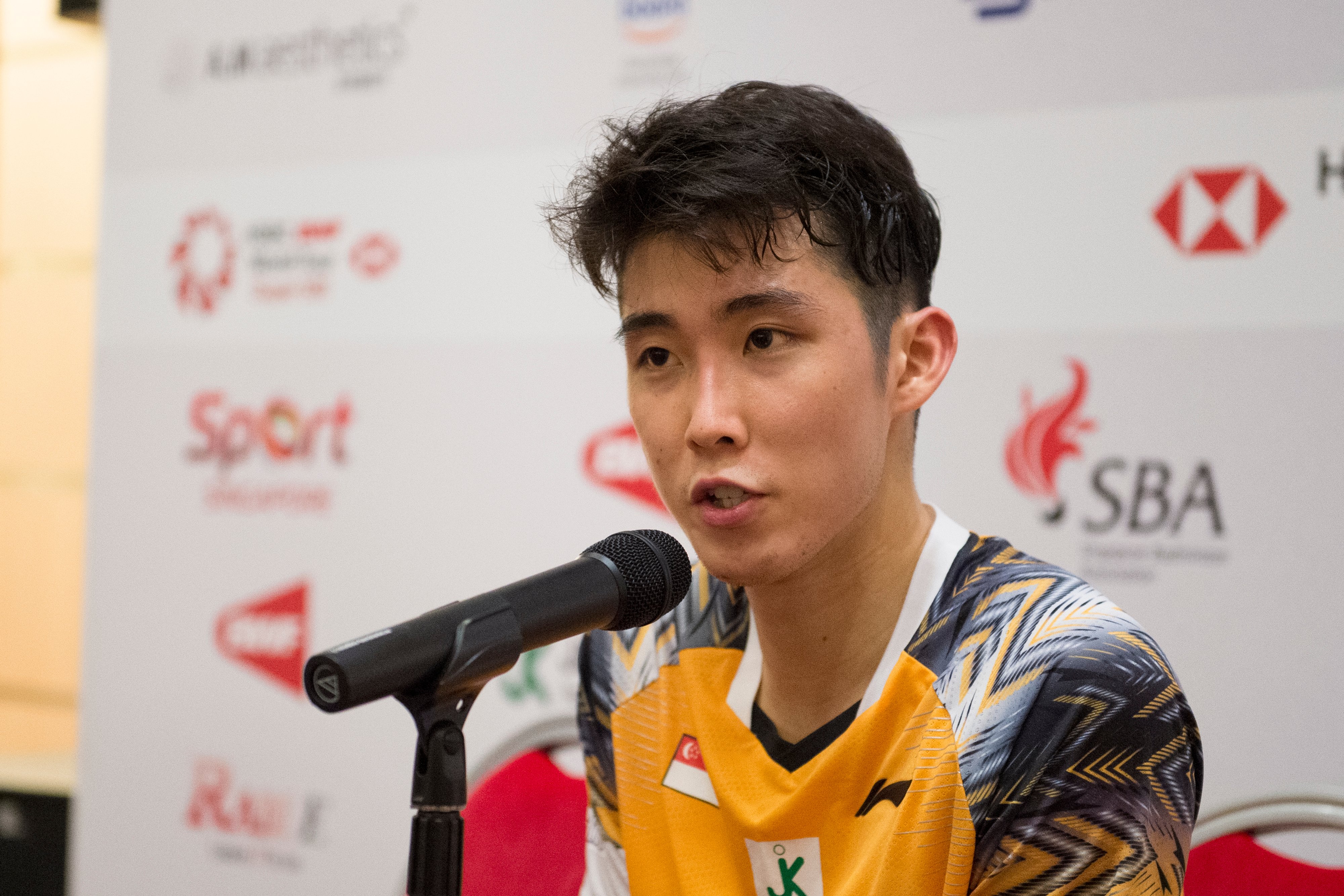 (TeamSG's Loh Kean Yew is through to the last 8 of SBO 2022. Photo Credit : CP Cheah)
"I was struggling to control the drift in the second game. But I'm glad I managed to overcome that and win. I had to calm myself down repeatedly as I was always trailing and trying to play catch-up. The crowd definitely motivated me to play better. I'm happy to be able to play my part in bringing everyone together. That's what badminton is all about. To bring everyone together," said Kean Yew in his post-match interview.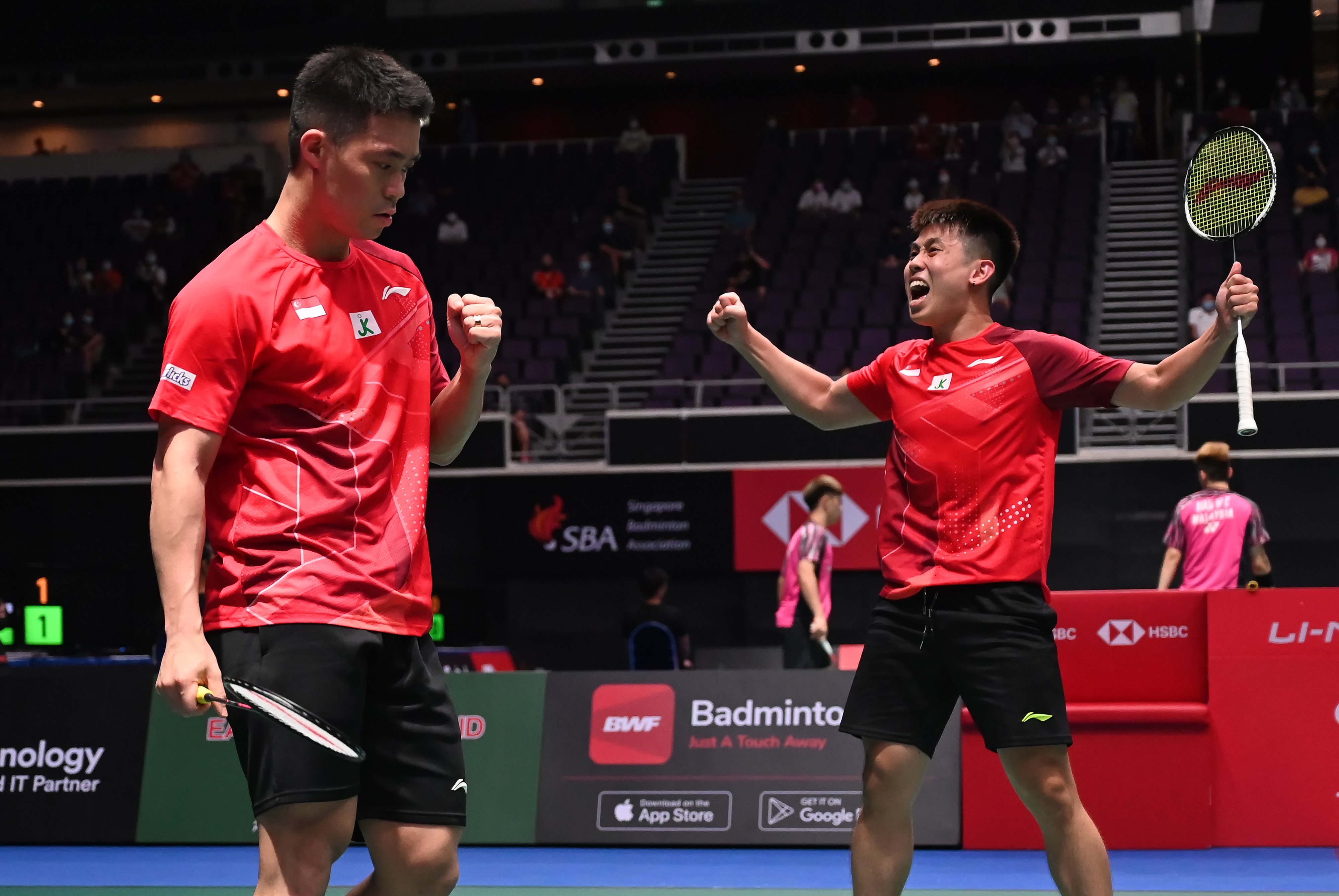 (TeamSG's Terry Hee and Loh Kean Hean celebrate after 2nd round win. Photo Credit : David Wirawan)
Loh's elder brother, Kean Hean and Terry Hee gave the host nation further cheers as they eased into the quarter-finals of the men's doubles after a 21-9, 21-17 win over causeway rivals Junaidi Arif and Muhammad Haikal from Malaysia. "Losing the first game probably gave the Malaysians some added pressure and along with our home crowd advantage, they lost," said Terry. "We do not want to get too carried away by this win yet. There are still more matches to be played and we have to be at our best," added Kean Hean.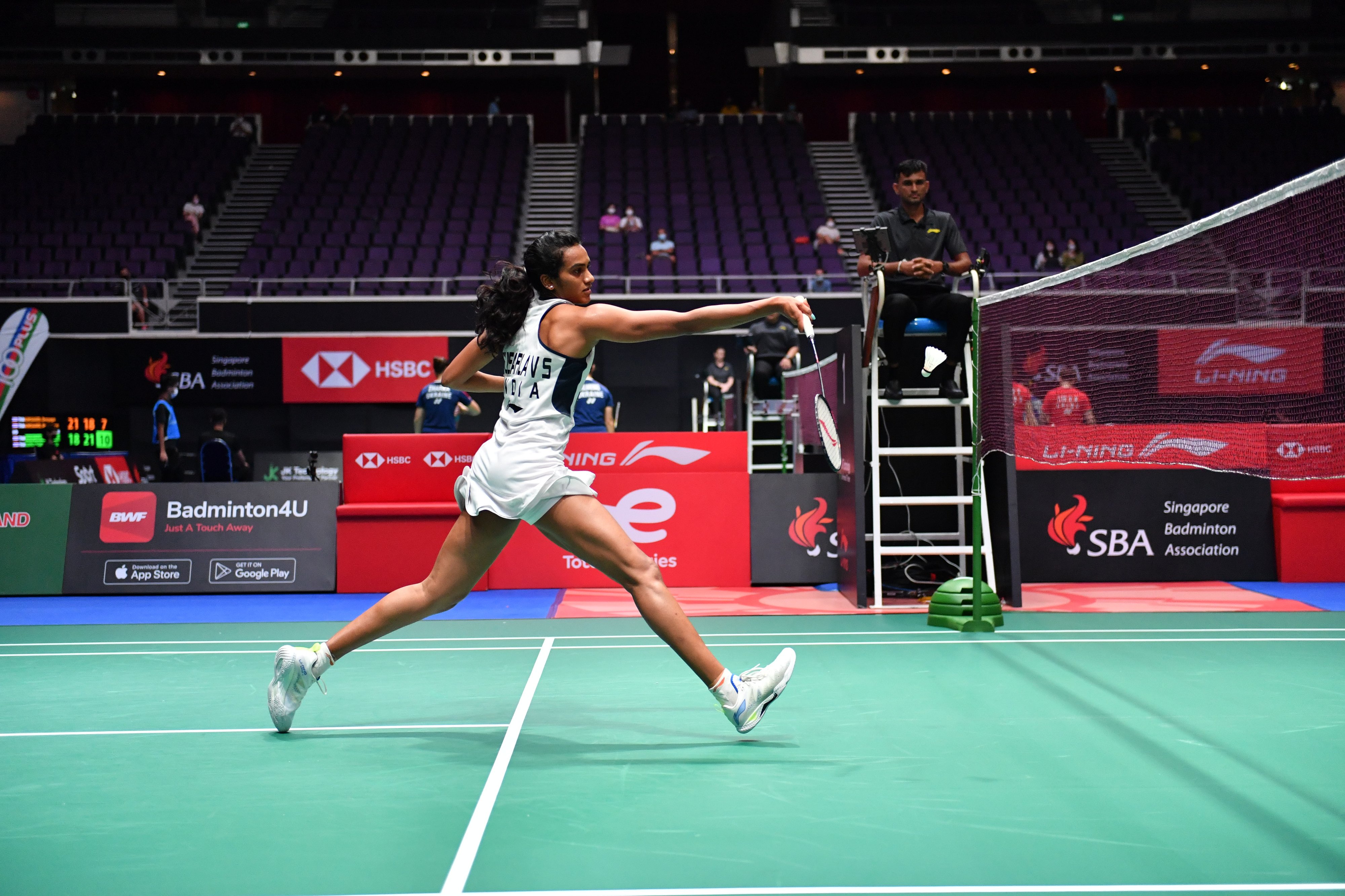 (India's 2nd seed Pusaria V Sindhu makes the cut for the last 8 of SBO 2022. Photo Credit : CP Cheah)
Second seed Pusaria V.Sindhu, meanwhile, survived an early scare when she lost the first game 19-21 to her Vietnamese opponent Thuy Linh Nguyen in their last 16 clash of the women's singles. The Indian steadied her nerves to take the second game 21-19 before prevailing in another tight contest in the third game which she won 21-18.
"It was very important for me to get this win. It was a very hard-fought match. I was feeling very nervous towards the end. But I put my nerves down and made sure I can do it by fighting for each point, which is very important," said Sindhu.
With the withdrawals of Chinese Taipei's Tai Tzu-ying and Thailand's Ratchanok Intanon, Sindhu is now considered a firm favourite for a podium finish. The two-time Olympic medallist, however, prefers not to get too carried away by that prospect. "I only want to focus on my draw and each game. My goal is to prepare myself well for my next match. I need to minimise my mistakes and come back stronger, and give my all," said the Indian, who takes on China's Han Yue for a place in the women's singles semi-final.
Related Events & Programmes