Team Singapore
TeamSG Floorballers crush Indonesia 13-0, while the Filipinas def Malaysia, to avenge 2019 SEA Games loss!
by Circle Stories, on May 24, 2022 16:00 PM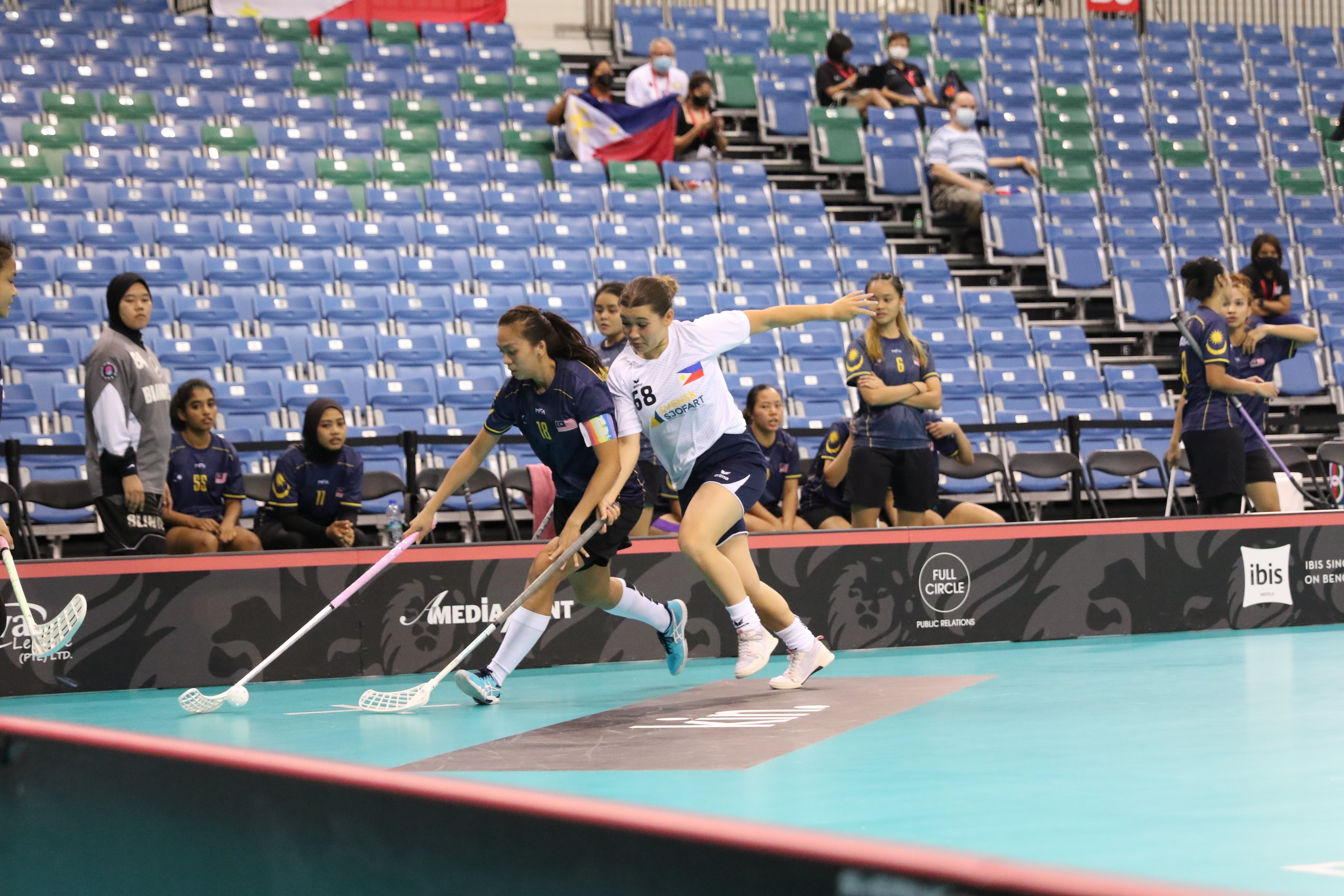 Philippines (in white top) vs Team Malaysia. Photo Credit : Singapore Floorball Series
24 May 2022 - The Philippines' fine form continued on the second day of the Women's Asia Oceania Floorball Confederation Cup (Women's AOFC Cup) as they put up another dominant performance to defeat Malaysia 9-2 at the OCBC Arena on Tuesday (24 May). Defending champions Singapore also notched a comfortable 13-0 win over Indonesia, while Thailand prevailed 2-1 over a feisty Singapore Under-19 side.
Philippines captain Jade Rivera revealed that her team drew extra strength from the memory of their loss to Malaysia in the bronze medal match at the 2019 SEA Games, which the Philippines hosted. She said: "Most of us were from the 2019 SEA Games team, and we really had the hunger to win because we lost 0-1 in overtime to Malaysia then – they got the bronze medal in our home country at the SEA Games. Malaysia really gave a tough fight today, they were fast. We know most of their fast players, so we really marked them. I think a combination of all of those things really brought the win for us today."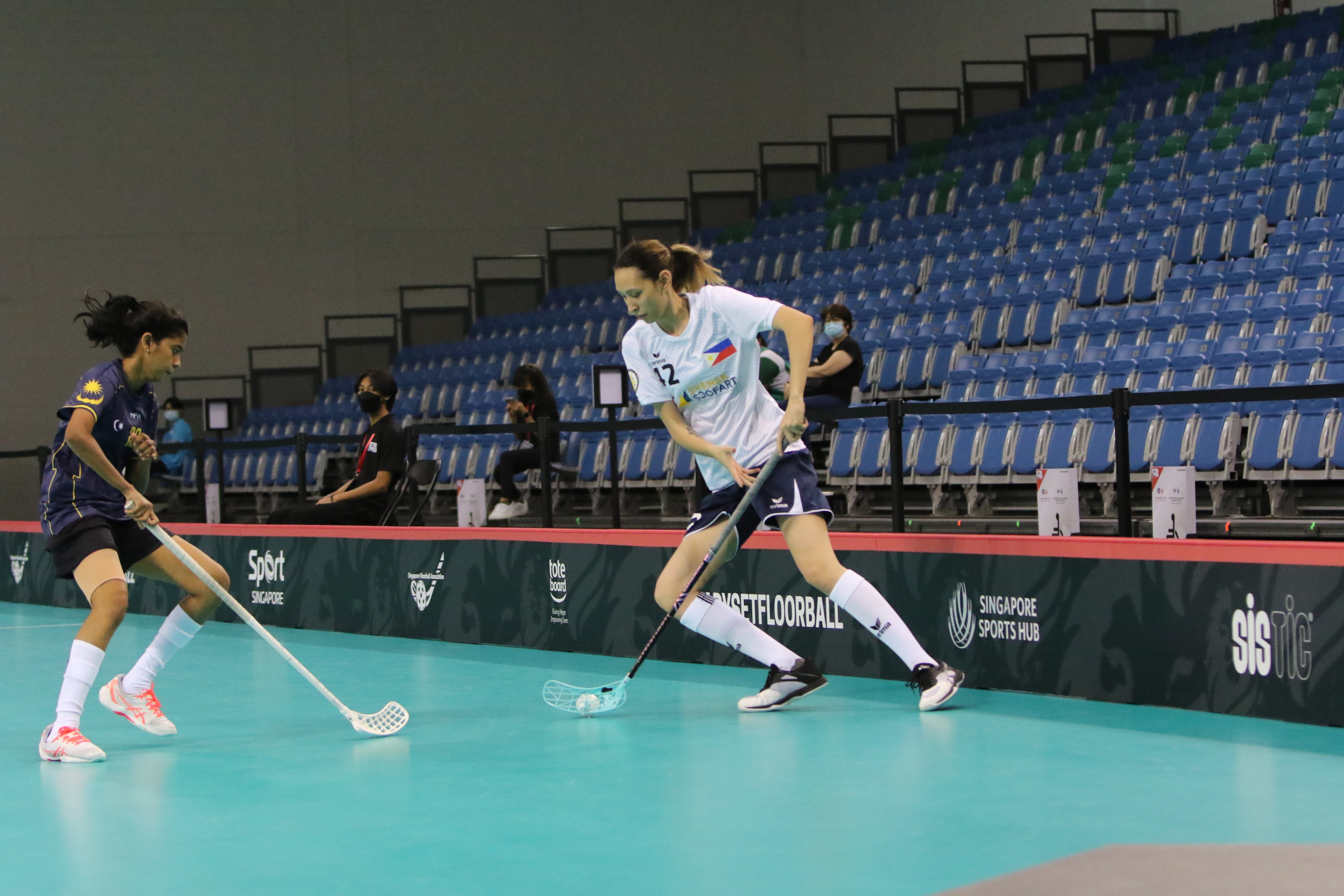 Philippines (in white top) vs Team Malaysia. Photo Credit : Singapore Floorball Series
Leading 2-1 after the first period, the Philippines reeled off 4 goals in the second and three in the third, with Player of the Match Loella Andersson scoring her second hat trick in as many matches.
Malaysia captain Cheah Pei Yi noted that her team put up a better performance today despite the score, expressing confidence that there would be more improvements as the event progresses. She added: "We stepped up our game from yesterday. The girls were pushing hard and everyone was on fire. They're gaining confidence through these matches, and we'll play better for the future games."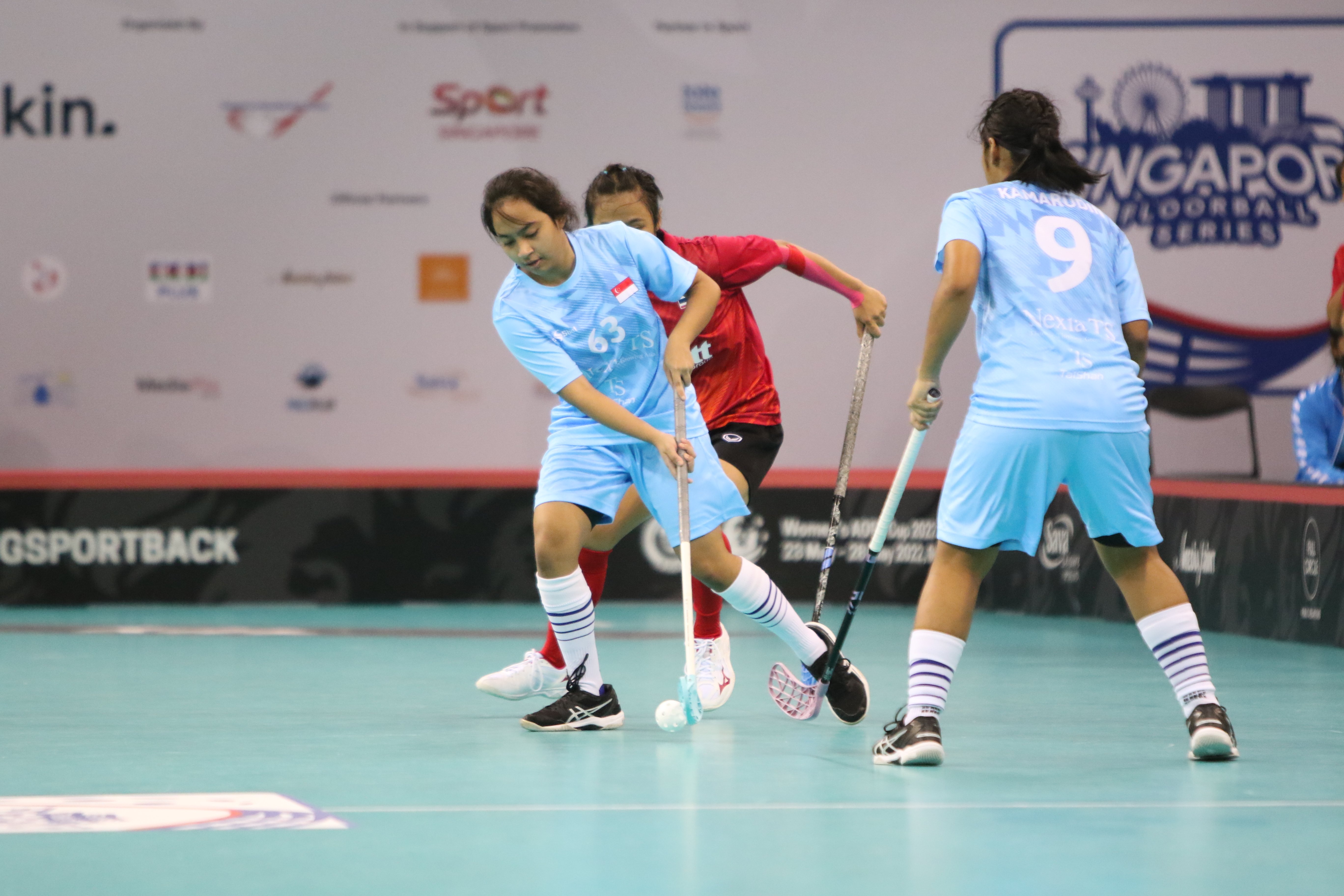 Singapore Under19s vs Thailand. Photo Credit : Singapore Floorball Series
In the second match of the day, Thailand was kept at bay by their opponents for most of their match, with both teams attacking at every chance. The score remained at a 0-0 deadlock until the last five minutes of play, when Thailand's Aliisa Syrjaenen scored from the centre of the court. Her compatriot Nelly Johansson doubled their lead 11 seconds later, and though Singapore's Nur Qistina Armi narrowed the gap with less than two minutes to go, Thailand's 2-1 victory was sealed at the final whistle.
Syrjaenen said of her breakthrough goal: "I feel very happy, it's a very important score for us. I'm relieved and I think our team feels the same way too. There are many things that we can practise more, but we're going to focus on the next game."
Singapore Under-19 captain Lim Jie Ying hailed her team for their gritty performance, saying: "We fought a very tough fight and this was the best game we played so far. We were very disciplined with our defence and we were not afraid to counter them and bring the ball up to attack, but we rushed our attack too much and they countered us too easily. It was a careless mistake, but we will work to improve it."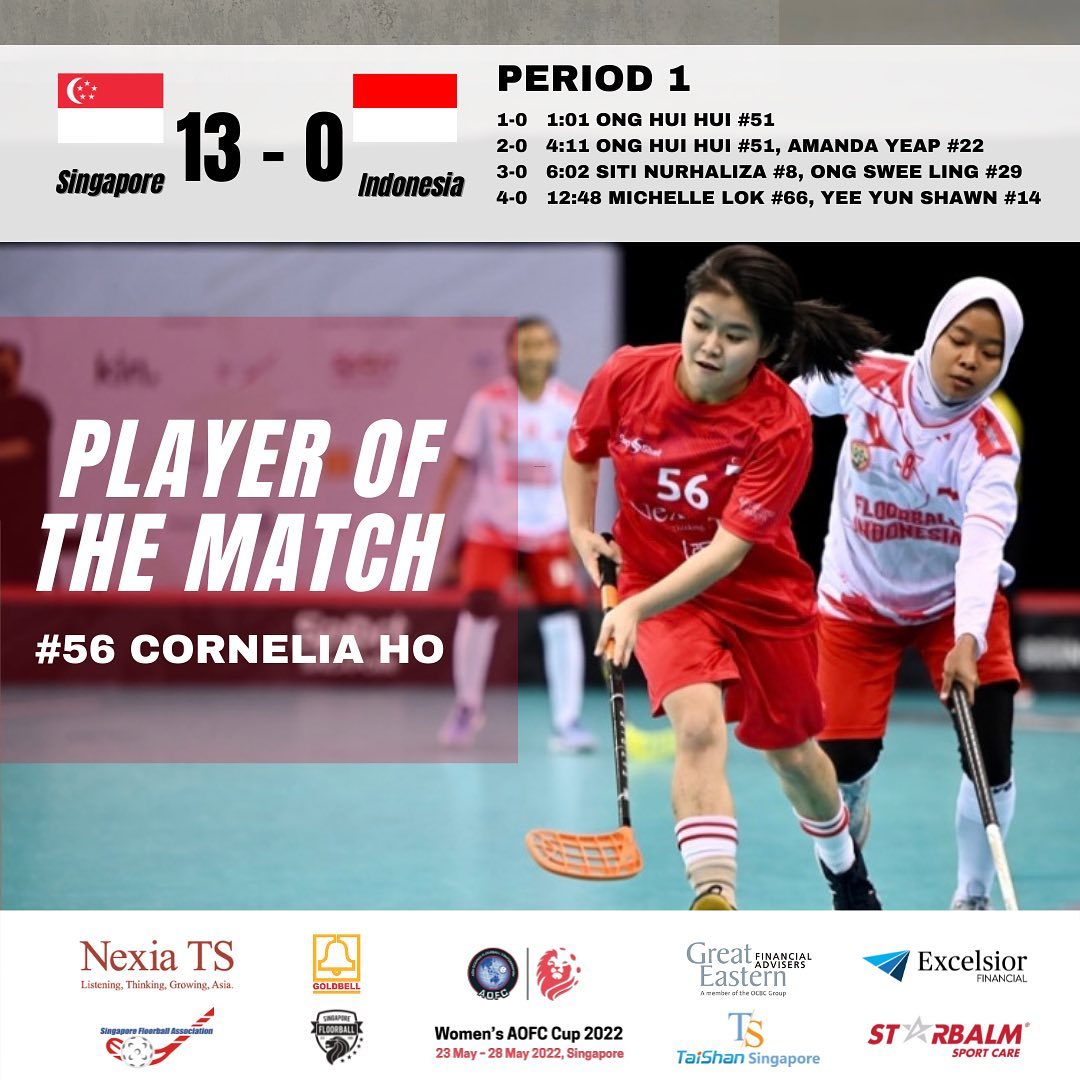 Image Credit : SGWomensFloorball IG
Indonesia captain Eka Anjar Rahmadani also took positives and valuable lessons from her side's 13-0 defeat to Singapore, as she noted that most of the Indonesian players were new to floorball. She said: "My team worked very hard today. We know Singapore is on a different level from us. So we hope to learn from this for future competitions and learn more about stick skills and positioning. We've learnt a lot from the Singapore team."
Defending champions Singapore next faced regional rivals Thailand. Both teams last met at the 2021 World Championships, during which Singapore edged out their opponents 2-1. Singapore captain Michelle Lok said: "Thailand is always one of our main rivals and we always face each other in the World Championships. We're definitely going to put up a strong fight against Thailand and I'm sure they'll come at us as well. But we'll stick to our game plan and hopefully get the win."

(Post-match Interview with TeamSG Captain, Michelle Lok. Video Credit : Singapore Floorball Series)
Floorball action continues on Wednesday, 25 May, with the match schedule as follows:
1.30pm : Indonesia v Malaysia
4.00pm : Singapore Under-19 v Philippines
6.30pm : Singapore v Thailand
Tickets to the Singapore Floorball Series 2022 are available at sistic.com, starting from $6.
Follow the Singapore. Floorball Series on Facebook and Instagram for event updates. Match statistics are also available at https://floorball.sport/womens-aofc-cup-2022
Related Events & Programmes