Team Singapore
Thailand win Men's WFCQ-AOFC 2022, while TeamSG finish 3rd!
by Circle Stories, on June 3, 2022 16:00 PM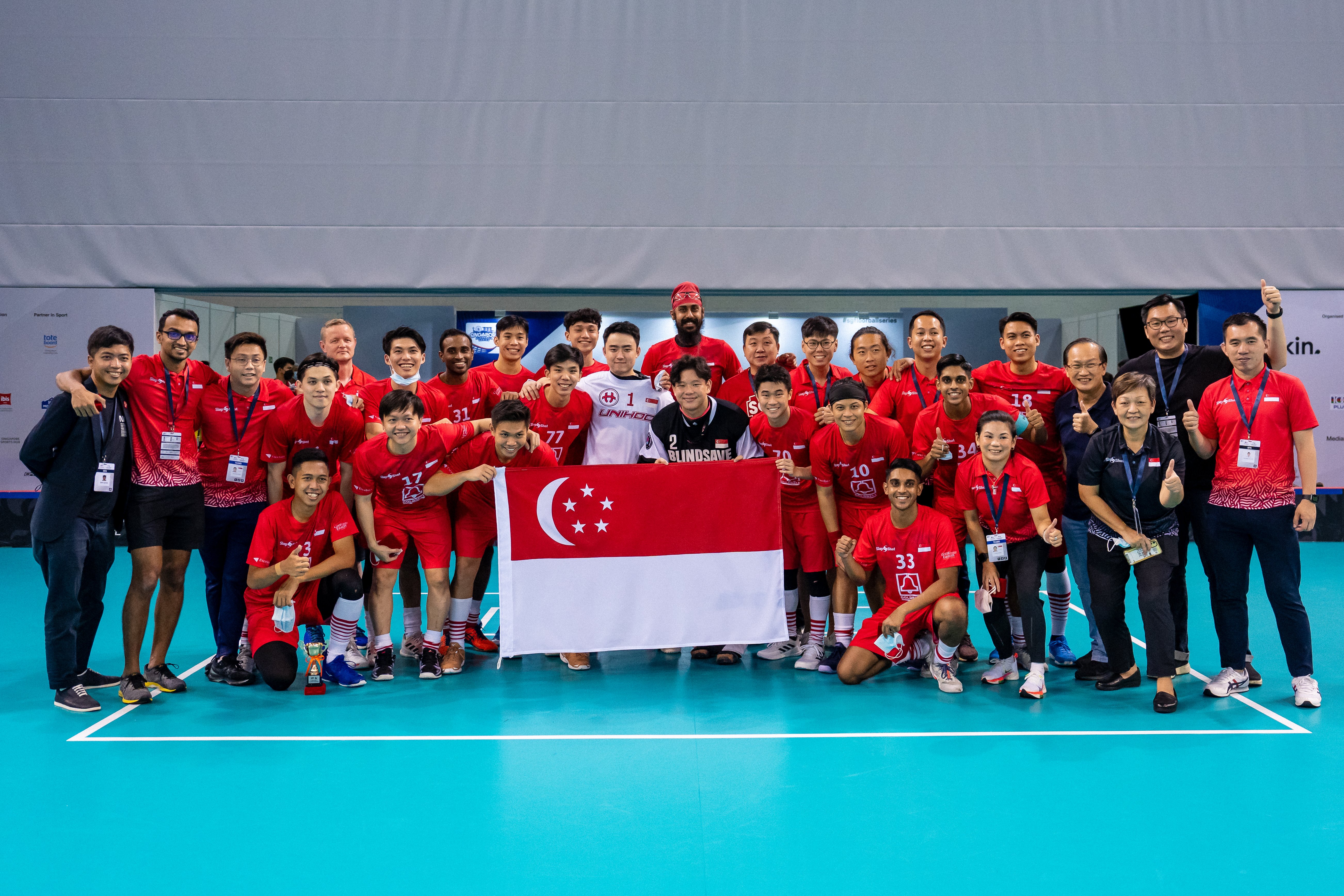 (Team Singapore finish 3rd after hosting their 1st Men's Floorball event since 2019. Photo Credit : Singapore Floorball Series)
4 June 2022 – Thailand are winners of the Men's World Floorball Championship Qualification-AOFC (WFCQ-AOFC) 2022, triumphing 6-4 over the Philippines on Saturday (4 June) to cap off their unbeaten run at the OCBC Arena this week. Hosts Singapore concluded their campaign on a high, pulling off a stunning comeback to defeat Australia 4-3 after a golden goal from Nicholas Chua. In the other matches on the final day of the Men's WFCQ-AOFC, New Zealand finished 5th after defeating Korea 5-1, while Japan beat Malaysia 8-1 to finish seventh and notch their first win of the event.
Singapore, Australia, the Philippines and Thailand have all qualified for the Men's World Floorball Championship (WFC).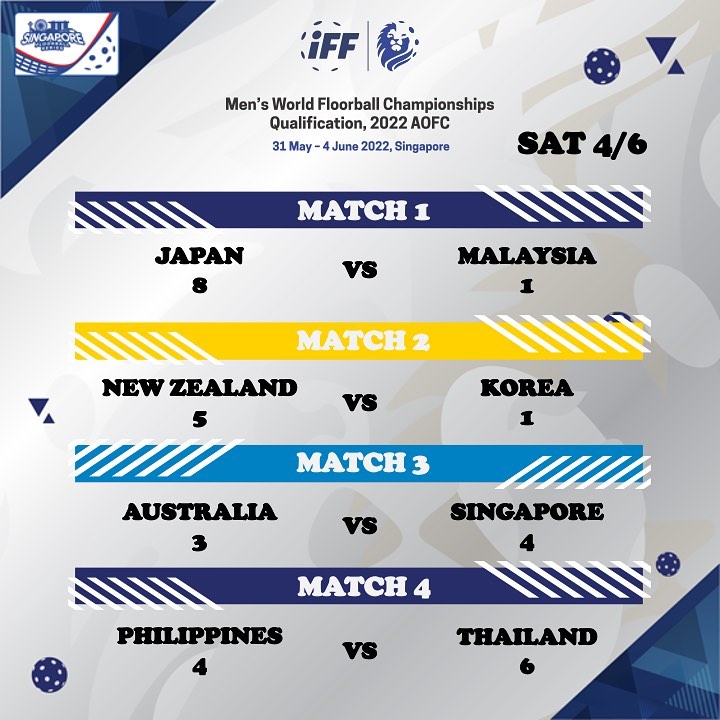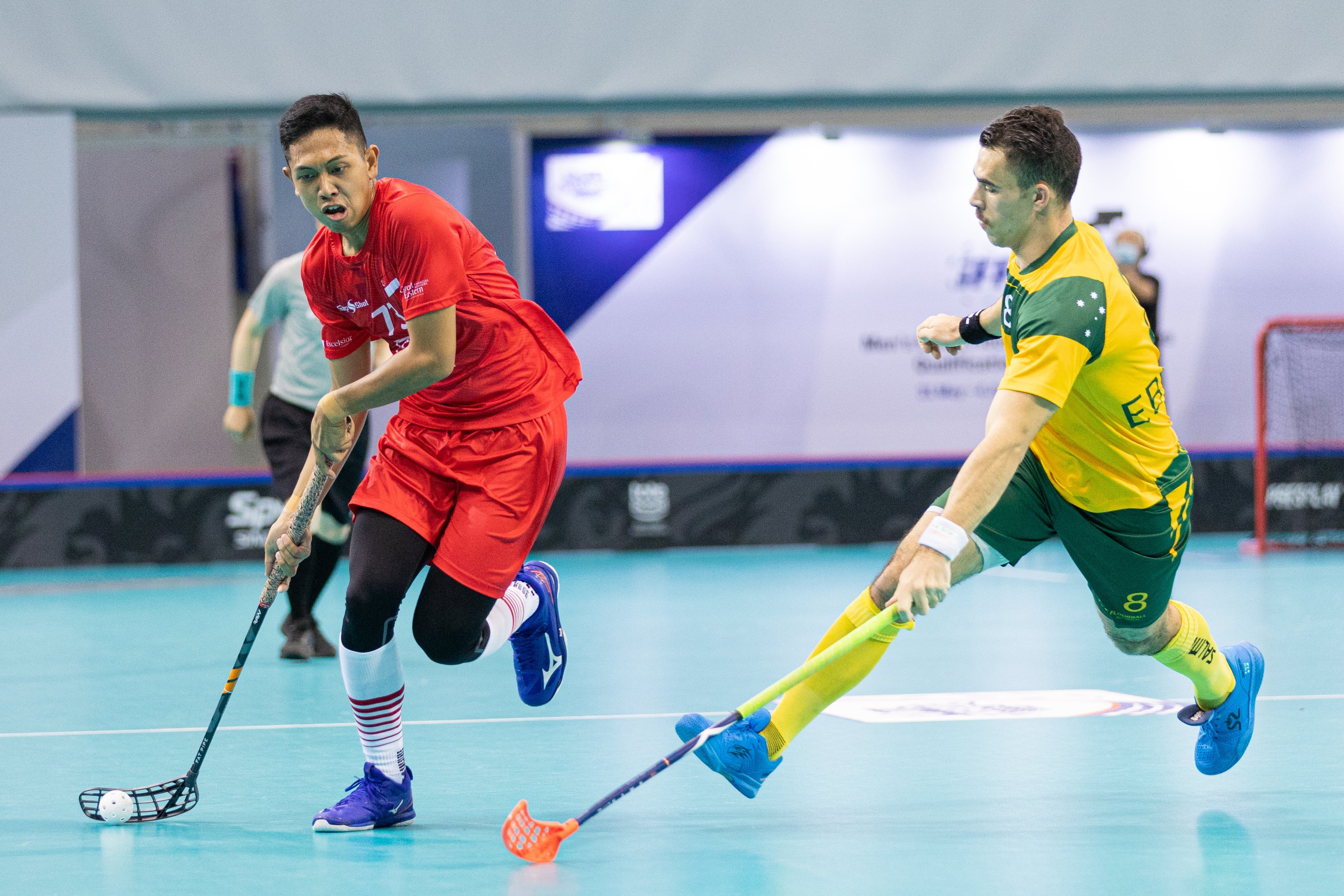 (TeamSG's Amirul Azri dribbling the ball past an Australian defender. Photo Credit : Singapore Floorball Series)
On Saturday, the battle for 3rd place was intense and high-tempo from the start, with Australia captain Daniel Gartner and his twin Tomas in imperious form as the Australians entered the final 15 minutes with a 3-1 lead. Singapore, roared on by a crowd armed with flags and red and white clappers, did not fold. Cheang Jia Qing pounced in the third period when Australia's goal was momentarily left exposed, swiftly flicking one in to reduce the deficit. The crucial equaliser came through Lim Jian Hong with less than five minutes of play left – he dribbled across the width of the court and escaped the Australian defence, nailing the shot to make the score 3-3 by the final whistle and force the game into extra time. Nicholas Chua then pounced on a loose ball and fired it past Australia goalkeeper Daniel Valenti to seal his team's remarkable victory.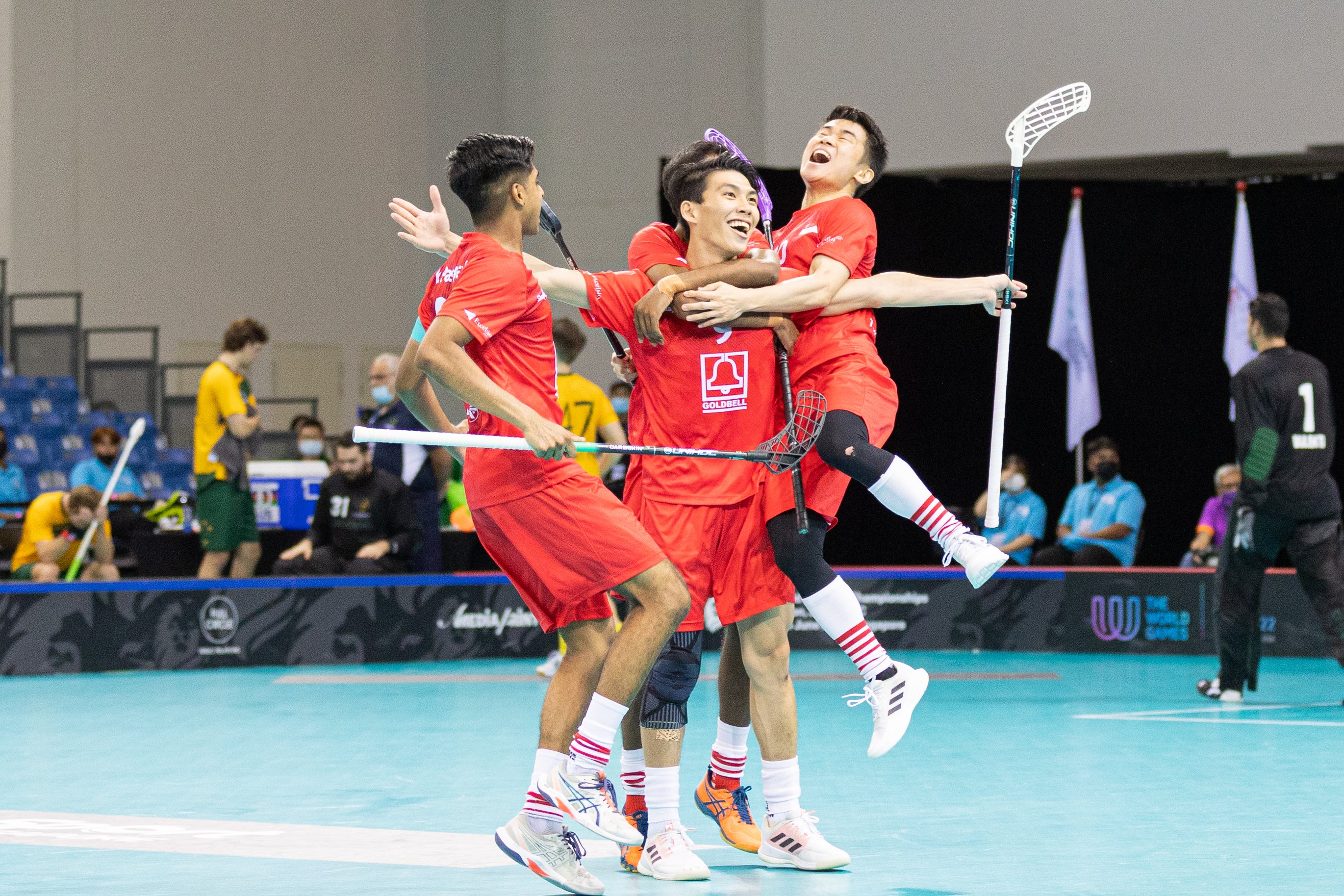 (TeamSG celebrates after Nicholas' golden goal. Photo Credit : Singapore Floorball Series)
The performance also marked a personal comeback of sorts for 23-year-old Nicholas, who had undergone surgery for a knee injury 3 times in the last six years. On what he felt the moment his shot found the net, he said: "I'm very shocked, honestly. I took the shot from quite a distance and it entered exactly where I saw the opening. And I felt that I made my coaches proud, because I came back from injury and they trusted me. Before the shift that I went in, the coach actually told me to not think so much, and to just take the shot – trust that I have a good shot and just take it. And when I took it, it really ended there. I was glad that I was able to make it for my team. Moving forward, we will be training hard for the WFC in Switzerland and be mentally prepared for the challenges there."

(Post-match Interview with Team Singapore's Head Coach JQ. Video Credit : Singapore Floorball Series)
In the grand final at the OCBC Arena, Thailand held off a resurgent Philippines to finish their week in style. The Thais entered the third period with a 3-1 lead, but their opponents ramped up their attack late in the game. Both sides took turns to score, with 4 goals netted in the final five minutes. Though both were equal on goals in the third period (3-3), it was too late for the Philippines.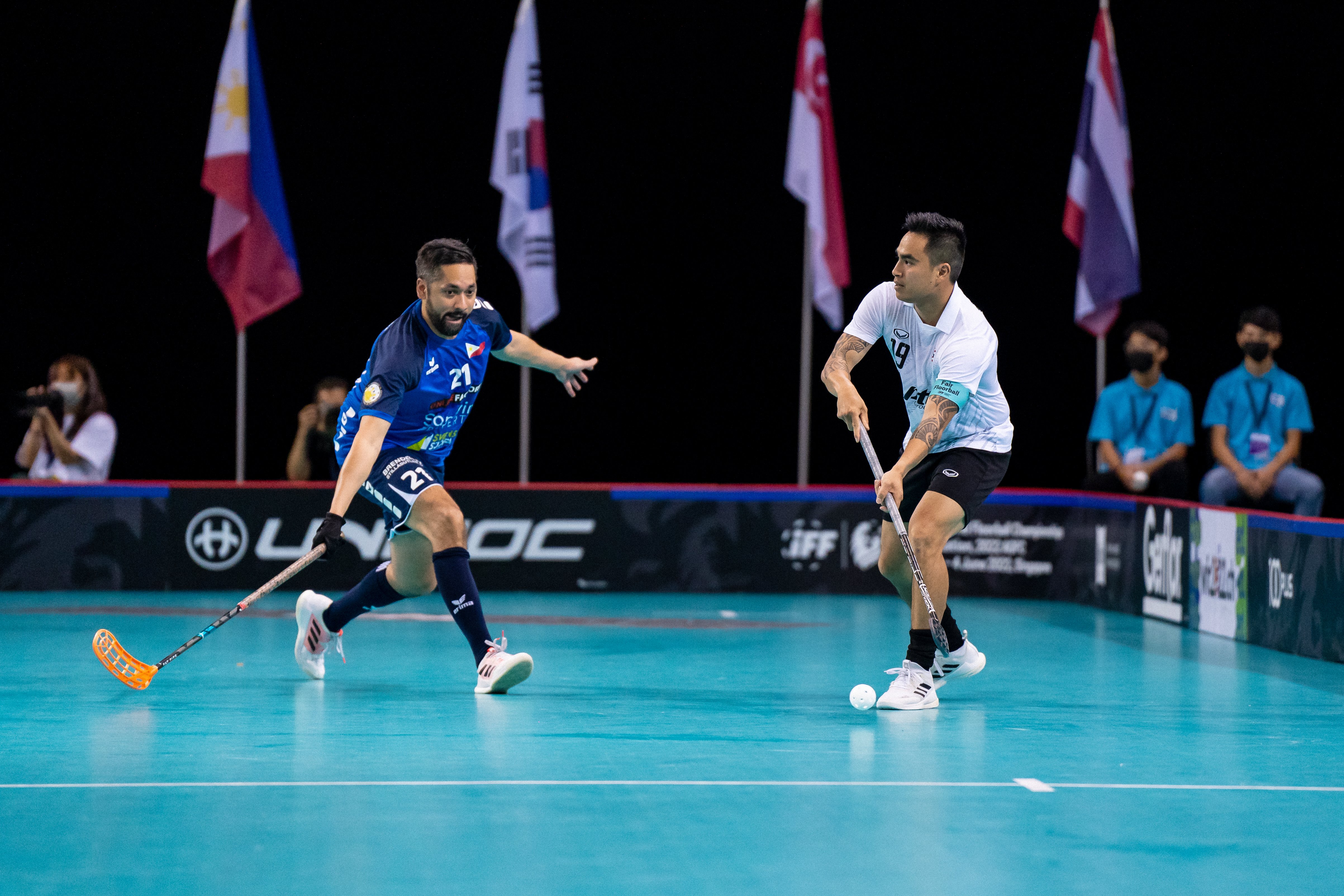 (Thailand with ball possession, finished their Singapore campaign with a 100% win record. Photo Credit : Singapore Floorball Series)
Thailand captain Pawat Thaidit, who scored two goals and made one assist to be named his team's Player of the Match, said: "This game was really tough. The Filipinos played really well and we knew it was going to be a hard game. Of course I wanted to do something for the team and get the score up, but the most important thing is that we won the game today. To me this means a lot, and to the whole team and all of Thailand too. I'm really happy to have played here in Singapore in front of all the fans here tonight who supported the Philippines, Singapore and Thailand. What's next is two weeks of vacation before we prepare to travel to the USA to compete for the World Games."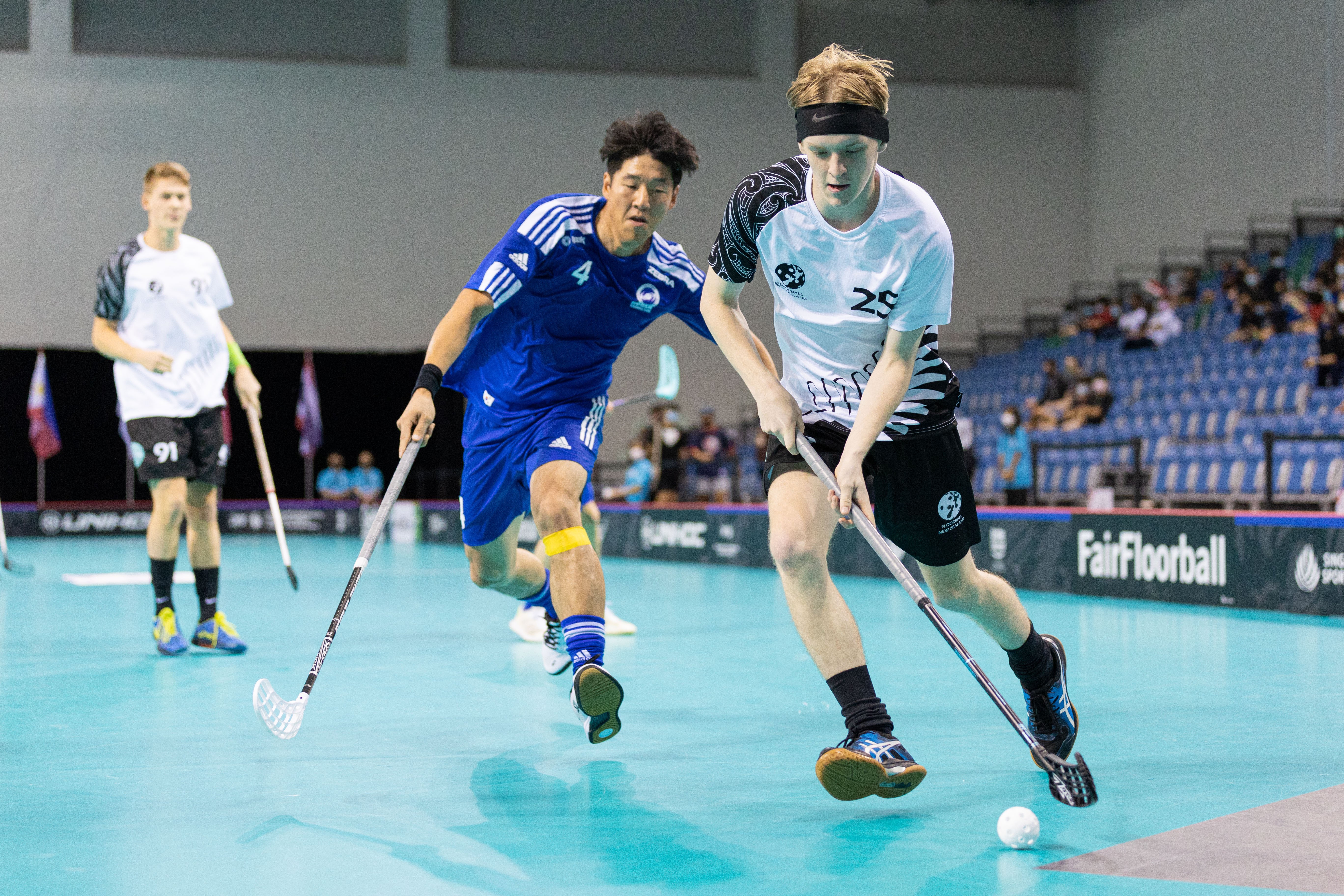 (New Zealand defeat Korea 5-1 to finish in 5th place overall. Photo Credit : Singapore Floorball Series)
In the playoff for 5th place, New Zealand stepped up their attack after a goalless period, scoring in the opening two minutes of the second period through MVP Alec Stewart. Two more goals and two penalties, taken by Matthew Bertschinger and Angus Stallman, saw New Zealand extend their lead to 5-0 before Korea's Lee Jun Young scored a consolation goal with less than 3 minutes of play left.
New Zealand captain Jordan Boyle said of his team's outing: "It's been fantastic, but we just know that we have to get so much better; we don't get to play a lot of international matches. It's fantastic to play with the teams here, they all have been brilliant, the hospitality has been fantastic. This is our best ever place, first two wins ever in an international tournament, so we are so stoked for that. We didn't make our goal to qualify but we know we just got to get better – that's what we've learnt from here.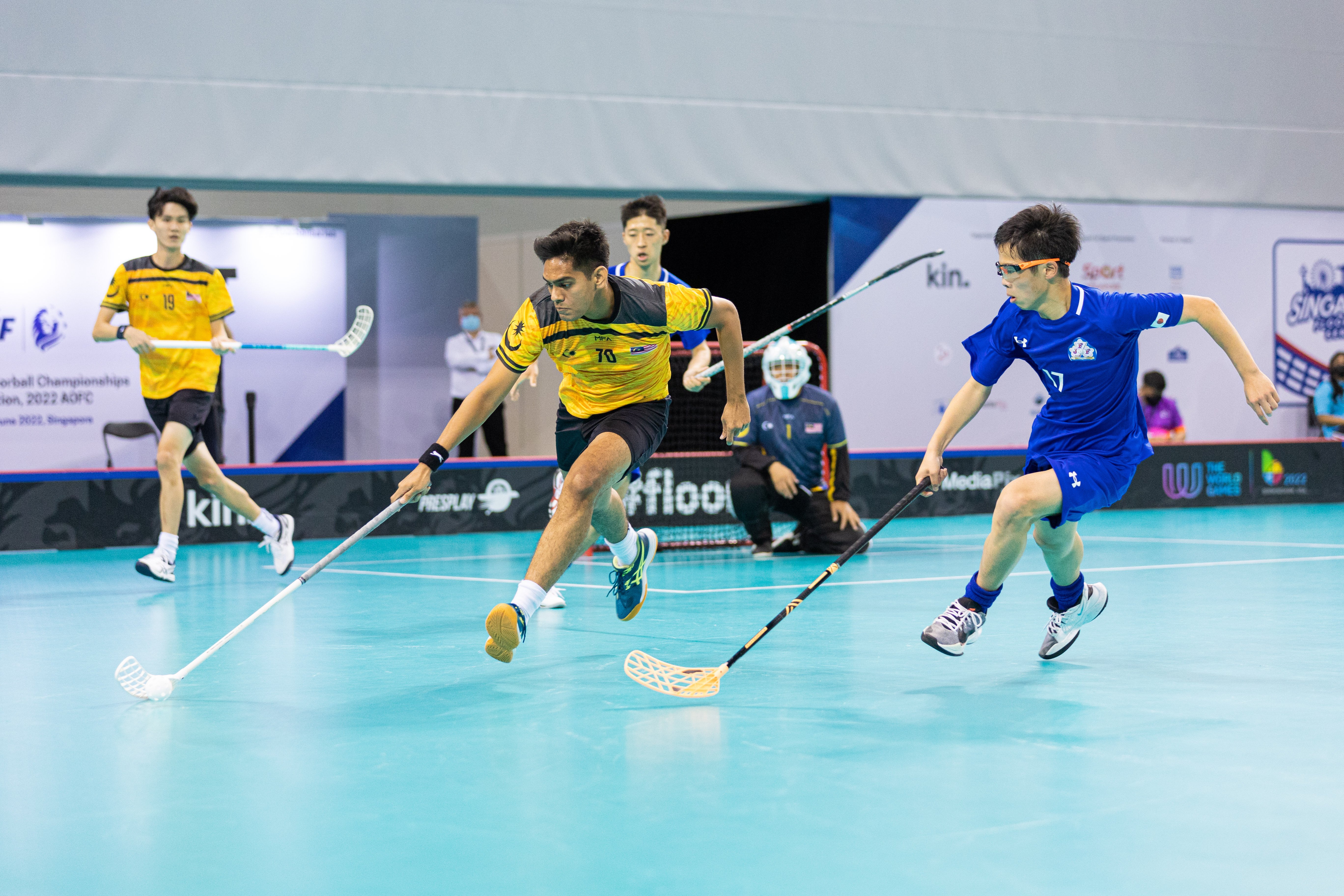 (Team Malaysia, in their traditional yellow and black colours, settled for an 8th place finish, after falling 8-1 to Japan. Photo Credit : Singapore Floorball Series)
Japan goalkeeper Ryoya Takizawa, who was named his team's MVP this week, enjoyed his outing at the OCBC Arena. After the 8-1 win over Malaysia, he said: "Our goal as a team was to qualify for the world championship, but even though we couldn't make it this time, we'll train harder for the next time to secure our ticket. Floorball is a minor sport in Japan, so I'd like for more people to know about it. But to do so, I have to produce some results, so my goal is to do well in tournaments so that I can get to the next step."
Final placings :
1st – Thailand
2nd – The Philippines
3rd – Singapore
4th – Australia
5th – New Zealand
6th – Korea
7th – Japan
8th – Malaysia
The Men's WFCQ-AOFC is part of the inaugural Singapore Floorball Series, which was launched as a platform that aims to regularly bring top floorball action to the community. In this year's Series, the Men's WFCQ-AOFC takes place following the Women's AOFC Cup, which was held from 23 to 28 May. The Singapore Floorball Series is organised by sports agency Kin Productions Pte Ltd and hosted by the Singapore Floorball Association, with the support of Sport Singapore. Next year, the Singapore Floorball Series will be headlined by the Women's World Floorball Championship, which will be hosted in Singapore. More details will be shared at a later date.
Follow the Singapore Floorball Series on Facebook and Instagram for event updates. Match statistics are available at https://floorball.sport/mens-wfcq-2022-aofc/.
ALL Matches can still be viewed on our encore streams on ActiveSG Circle : go.gov.sg/mwfcqaofc2022
Recent Events & Programmes