Team Singapore
The Republic's Men's & Women's Teams are prepped and ready for S'pore Floorball Series!
by Circle Stories, on May 23, 2022 16:00 PM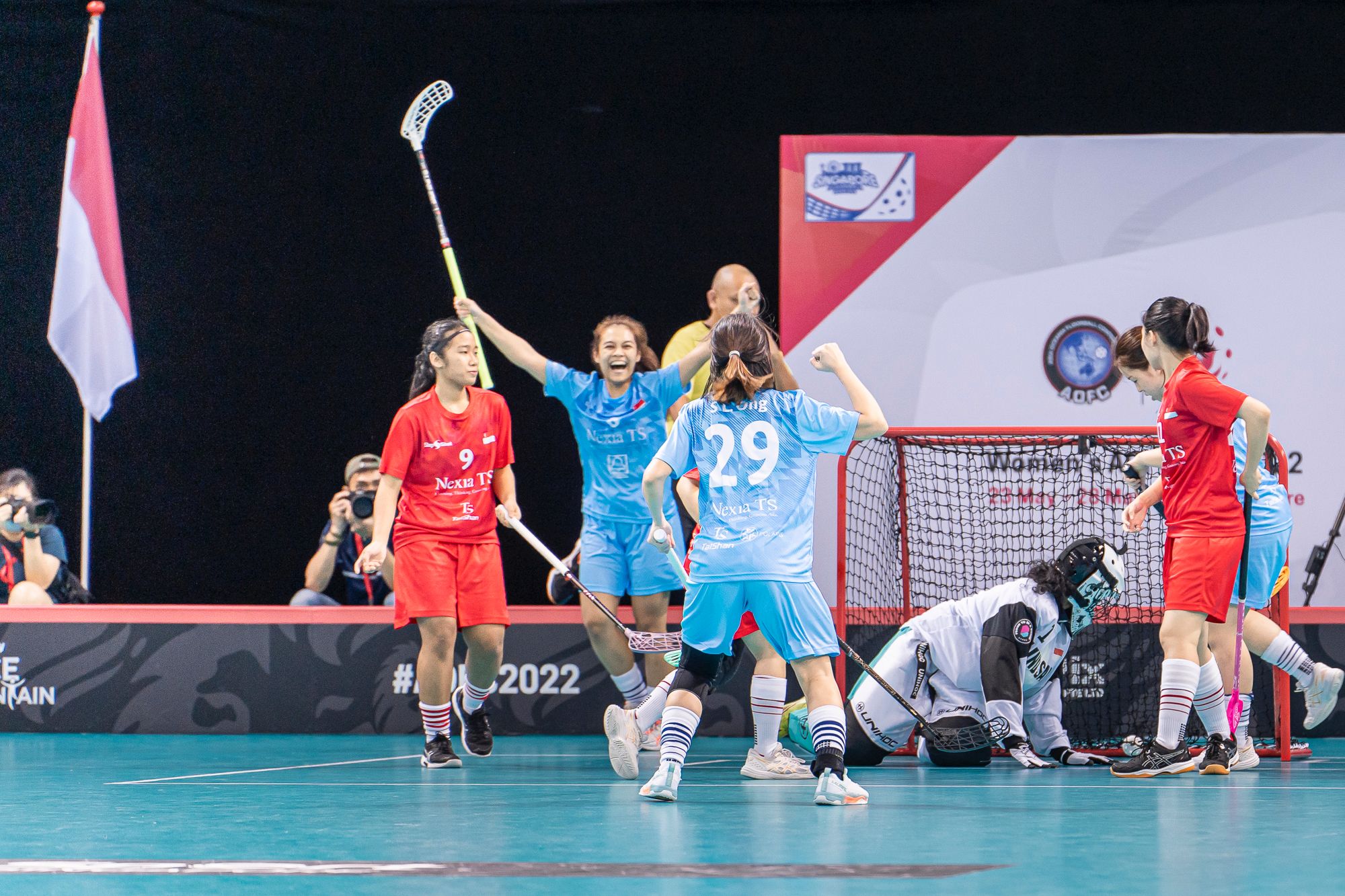 (Team Singapore vs Under-19 squad on Day 1 at OCBC Arena. Photo Credit : Singapore Floorball Series)
By Raj Kumar
7 months ago in November 2021, Singapore's Men's and Women's Floorball teams made their first international competitive return after a 2-year absence due to Covid-19. The SEA Games finals in Manila 2019 were actually their last international matches, with our Women's team successfully retaining their Gold medal. And our Men's team had to settle for a 2nd place finish.
Those 2 final matches on 1 Dec 2019, was the last time our teams were able to play competitively for up to 24 long months! In an athlete's career, 2 YEARS sounds like an eternity, especially when several restrictions were placed on group meetups, training, the inability to travel overseas to compete/train etc. It was also a major challenge for several athletes both local and overseas, to maintain a positive attitude, mindset and having the self-belief that life and sport would return to normal in time to come.
Following Team Singapore's return to the global arena by featuring at the Tokyo Olympics and Paralympics in Aug-Sep 2021, our national athletes started to travel and compete in table tennis, badminton, bowling, cuesports, football and yes, floorball. Both of our national teams had short 8-10 day training stints in Europe, just before competing in their respective IFF World Floorball Championship campaigns. Over in Finland, Singapore's Men's team finished 16th overall while our Women's campaign ended in 14th place.
Upon returning to the Lion City, Head Coach Lim Jin Quan (JQ) started to make plans for the 2022 calendar year. Knowing fully well that the Hanoi SEA Games would not be hosting the sport of floorball, local sports administrators started to plan for the inaugural Singapore Floorball Series.
As of today (24 May), we're already into the 2nd day of the Women's Asia Oceania Floorball Championship (AOFC) Cup.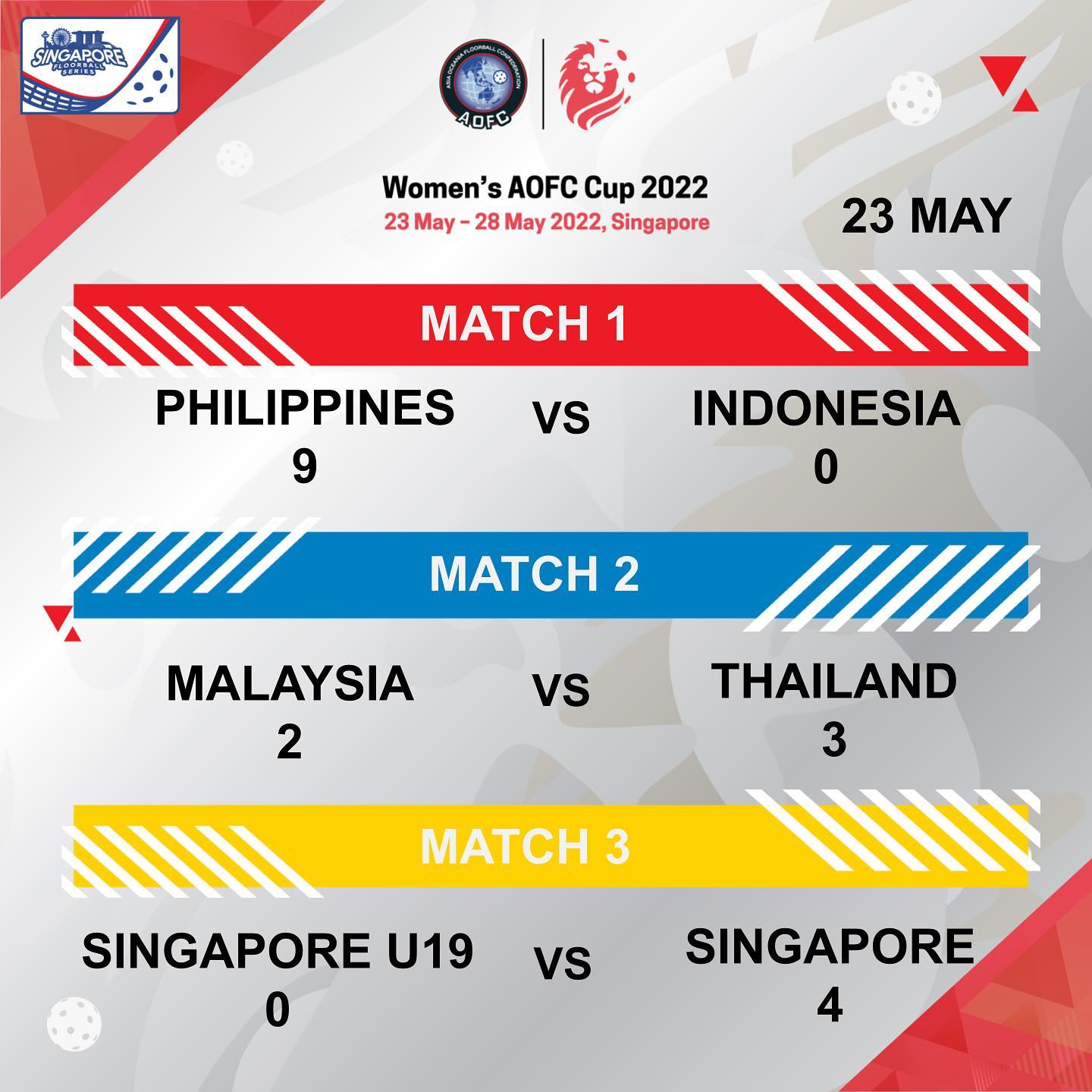 On opening day at the OCBC Arena, 3 matches took place with the Singapore's national team defeating their Under-19 team-mates 4-0 in a round-robin group match. And there were victories as well for Thailand and the Philippines at the OCBC Arena.
On Day 2 at the Women's AOFC Cup, the match schedule is :
1.30pm : Philippines vs Malaysia
4.00pm : Singapore U19 vs Thailand
7.30pm : Singapore vs Indonesia
Meanwhile, Sport Singapore caught up with Singapore's Head Coach JQ, just days before the start of the 2-week long tournament. And the coach was able to provide some pre-event information/updates on both teams :)
About the Women's Team
1)Coach JQ, how is the Women's team feeling about the AOFC series in Singapore? They miss the SEA Games?
JQ : They are definitely disappointed to miss out on a major event like the SEA Games. However, the team is excited to represent Singapore in the upcoming AOFC. Playing in front of a home crowd makes it much more special. We are looking forward to the home ground support and advantage.
2)What are 2 key lessons of the Women's performances, which you're taking from the experience from last December's World Championships in Sweden, and adapting for this AOFC Cup?
JQ : I believe we did well in our defence during the World Championships and will want to continue to maintain the quality of our defence. As for our offence, we need to be more clinical in front of the goal and have been working on it. We hope that the training will pay off and the team will be able to score more during the upcoming AOFC.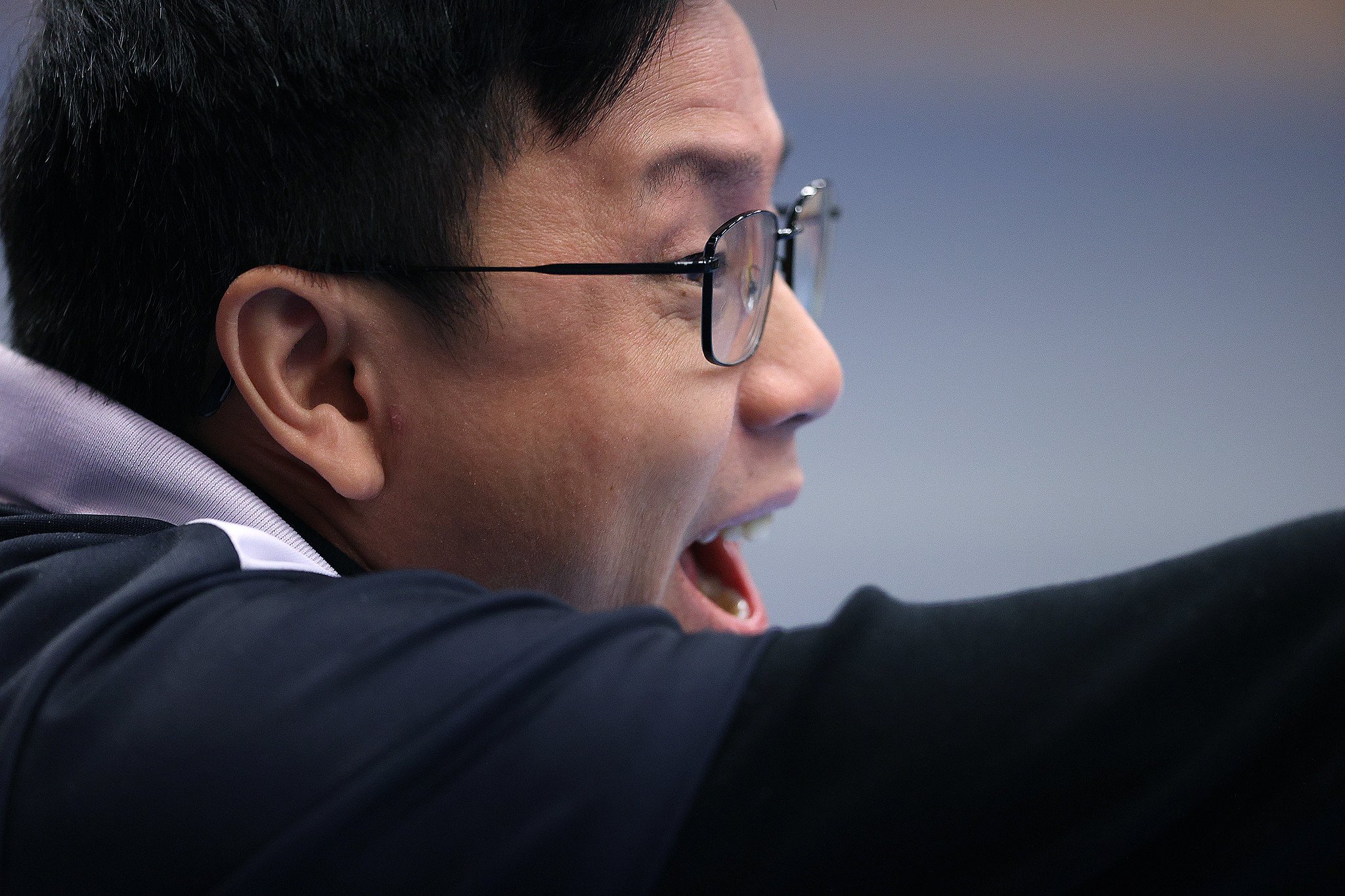 (Coach JQ at IFF Women's World Floorball Championships in Sweden. Photo Credit :IFF)
3) Could you single out 2 members of the Team which the fans at the stadium (or on live streaming) can take note of and why?
JQ : We are missing some key players during the competition due to injuries. However, Foo wen xin26# has stepped up in a major way during trainings to fill that gap. Hopefully, she will bring that good performance into the competition.
Shannon Yeo#36's ability to hustle and score will also be one to watch. Her hardworking nature will be crucial in seeing the team throughout the competition.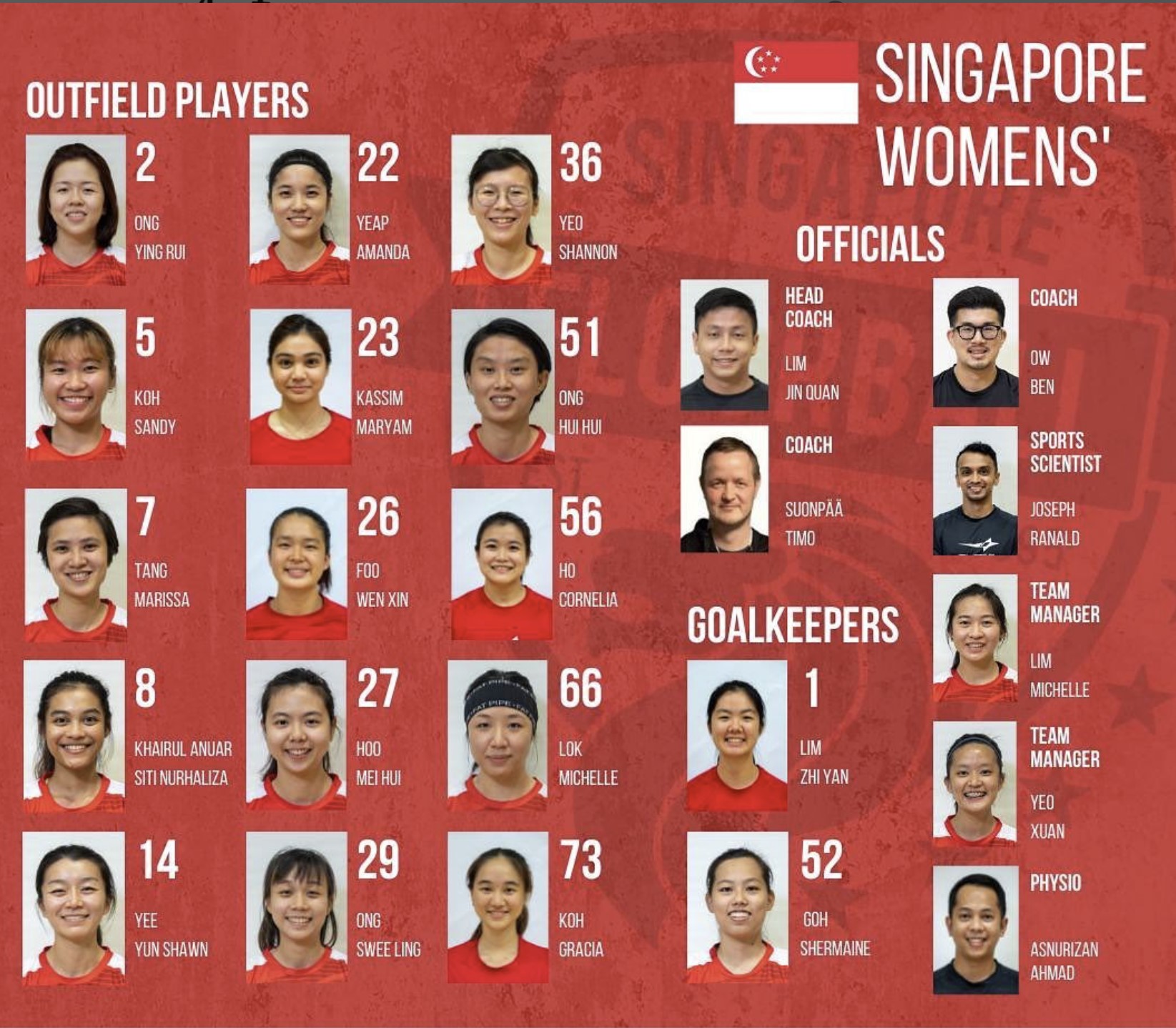 The Singapore Men's team will compete from 31 May – 4 June and 8 nations from the Asia Oceania region will gather in Singapore, to fight for a coveted spot in the 2022 IFF World Floorball Championships in Switzerland in November. The 8 teams are: Singapore, Thailand, South Korea, New Zealand, the Philippines, Japan, Malaysia and Australia.
About the Men's Team
1)Coach JQ, how are you feeling ahead of this World Floorball Championship Qualifying series in Singapore?
JQ : I have mixed feelings. On one hand, I'm excited about the upcoming competition but at the same time, a little bumped, as 2 of our initial 17 players are down with injuries and will not recover in time. Therefore, we had to bring in the reserves players. They will need to integrate quickly with the team in order for us to deliver the performance that Singaporeans are expecting.
2)What are 2 key lessons of the Men's performances, which you're taking from the experience from last December's World Championships, and adapting for the Floorball series in Singapore?
JQ : The players are working on their game management since the last world champs in Helsinki. We want the players to make smarter decisions on court and be in better control of the flow of the game. At the same time, we are working on tightening our defence and aim to concede fewer goals throughout the whole competition.
3) Could you single out 2 members of the Team which the fans at the stadium (or on live streaming) can take note of and why?
JQ : Chee Yong#6 is surely one of the players to note. His composure in tight situations is delightful. Also, watch out for his goals during the competition.
Defensively, Kumar#34 is the rock in the team. Despite his small size, he's not afraid to take on challenges from bigger players. His discipline in defending ensure that the team is able to fend off opponents' attacks.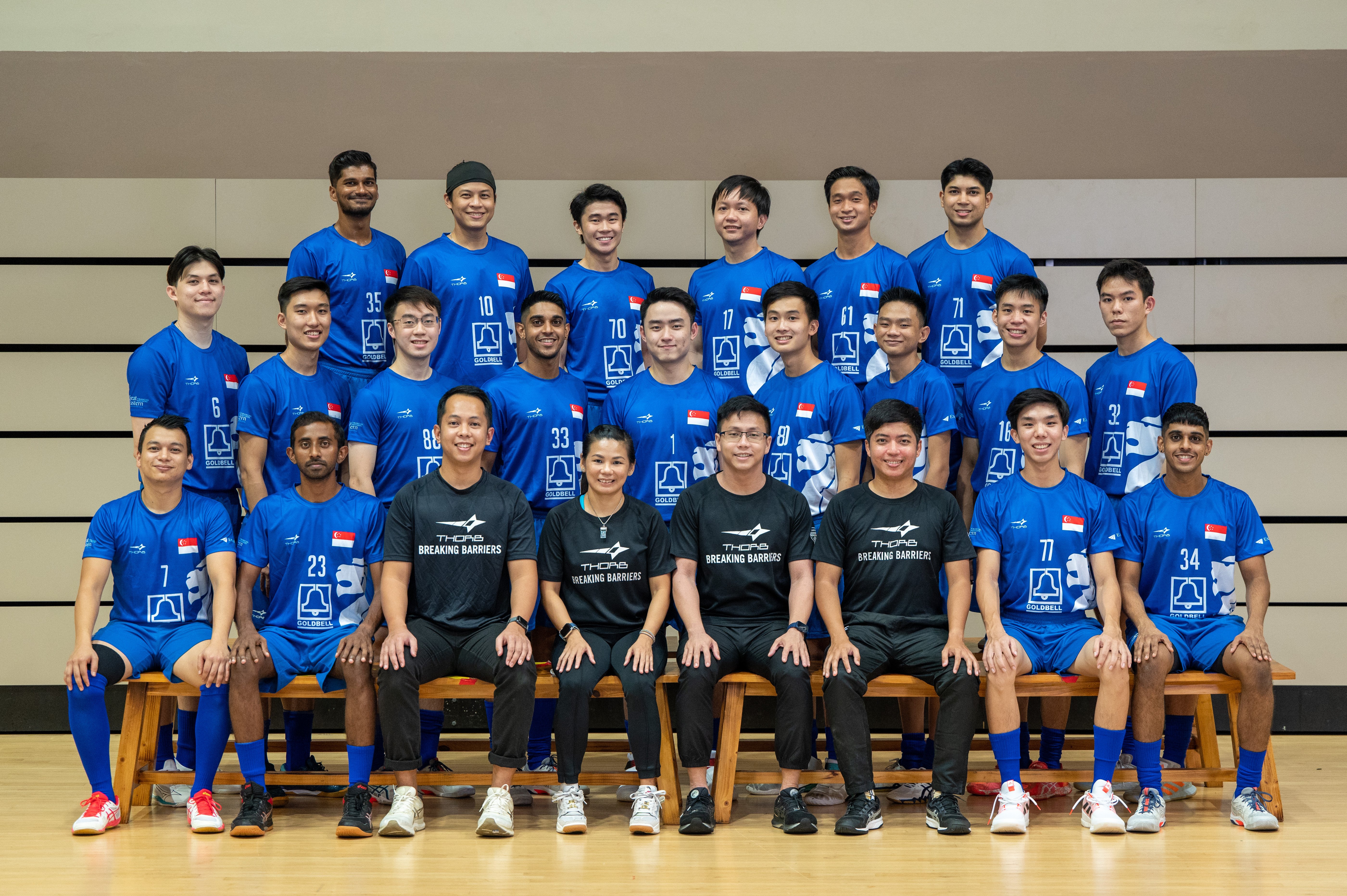 (Singapore's Men's Team at the IFF Men's World Floorball Championships in Helsinki, Dec 2021. Photo Credit : Singapore Floorball Association)
Organised by KIN Productions, the Singapore Floorball Series is supported by the following partners and sponsors: Sport Singapore, Singapore Floorball Association, Singapore Sports Hub, ibis Singapore on Bencoolen, Presplay, Mediapix, 1Play Sports, Intermay, Sava Leisure, Tote Board, Amedia Print, Full Circle Public Relations, 100PLUS and Ice Mountain.
Tickets to the Singapore Floorball Series 2022 are available at https://www.sistic.com.sg/events/efloorball0622, starting from $6.
If you can't get down to the Arena, You can still catch ALL 18 exciting matches on LIVE streaming via the ActiveSG Circle : go.gov.sg/aofc22
Visit www.sistic.com.sg for more information on ticketing. Follow the Singapore Floorball Series on Facebook and Instagram for event updates.
Related Events & Programmes