Team Singapore
Singapore Swimming Association hires Paul Oberman as Water Polo Technical Director
by Circle Stories, on January 11, 2021 16:00 PM
The Singapore Swimming Association (SSA) has hired a Technical Director (TD), Paul Oberman, for Water Polo - a new position that will enable the SSA to implement its plan for regional water polo supremacy.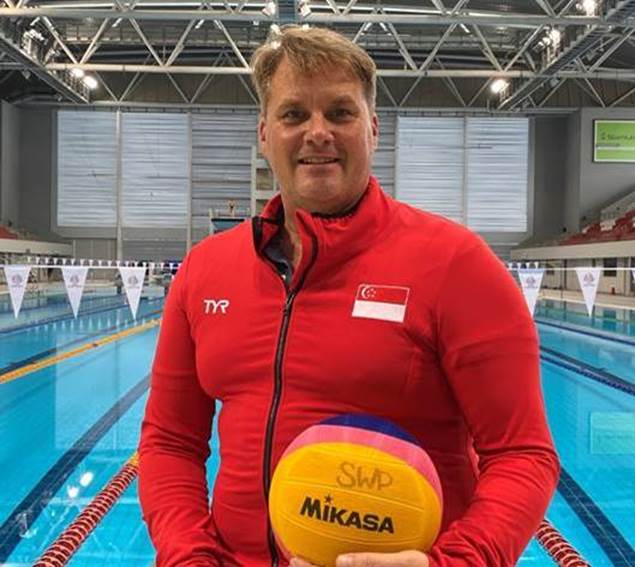 New Technical Director, Paul Oberman, hired to boost Water Polo pipeline and technical development capabilities. Photo: SSA

Following the men's water polo SEA Games defeat in Philipines in 2019, SSA has conducted a comprehensive review of its water polo strategy and identified key gaps, which they feel that Paul will be able to help bridge.

Paul Oberman, 52, has played in the Olympics, and was Assistant Coach of the Australia National Team and held the position of Head Coach at the Western Australian Institute of Sport (WAIS). At WAIS, he won Coach of the Year back in 2017.
Dominic Soh, Vice President for Water Polo, said: "While we have had good coaches in the past who were able to steer the men's teams to glory at each SEA Games, long term sustainability was an issue as we had gaps in pipeline and technical development capabilities. This meant that our progress would eventually stagnate and others would catch up and they did. The TD role is a crucial piece in our strategy that will not only help us regain our SEA Games gold medal but enable us to up our game at the Asian Games level. We are aiming for an Asian Games podium finish by 2030. The TD will also help raise the overall standard of play for both men's and women's water polo."
Paul will complement the role of the head coach by focusing on long term developmental programmes, while the head coach focuses on the tactical improvement of the national team. The TD will review and improve multi-year athlete and coach development programmes at the club and school levels covering:
Athlete and coach development pathways
Pathway Development Centers (PDC)
Training programmes for the men's and women's National Teams
High performance development plans (working with the Singapore Sports Institute)

Coach development including:
- Continuing education programmes, clinics, pool deck sessions and mentoring programmes for all coaches (national, clubs and schools)
- Curriculum development for all coaches from learn-to-train to learn-to-compete levels
- Equip coaches for SG Coach Level 1 & 2 course modules
Paul said: "Singapore water polo has a stellar track record at the ASEAN level but has the potential to go so much further. The SSA has rightly identified long term sustainability in pipeline and technical capability development as the strategy that will enable Singapore to realise its full potential. I look forward to being part of the team in implementing this crucial piece of the strategy and working with the head coach and athletes."
As sports gradually return to our shores, the priority is to ensure that everyone does so in a safe manner that does not endanger public health.
Together as a team, we can enjoy playing and spectating the sports we love by doing our part and keeping to the safe management measures.
So remember, Play, but don't Sabo (deliberately cause trouble or inconvenience to someone).
Do you have an idea on a new style of play that is in line with the current safe management measures? Share your idea with us!
Recent Events & Programmes