Team Singapore
Singapore's Men's Floorballers collapsed 9-4 against lower-ranked Philippines, in 2020 IFF World Championships!
by Circle Stories, on December 5, 2021 16:00 PM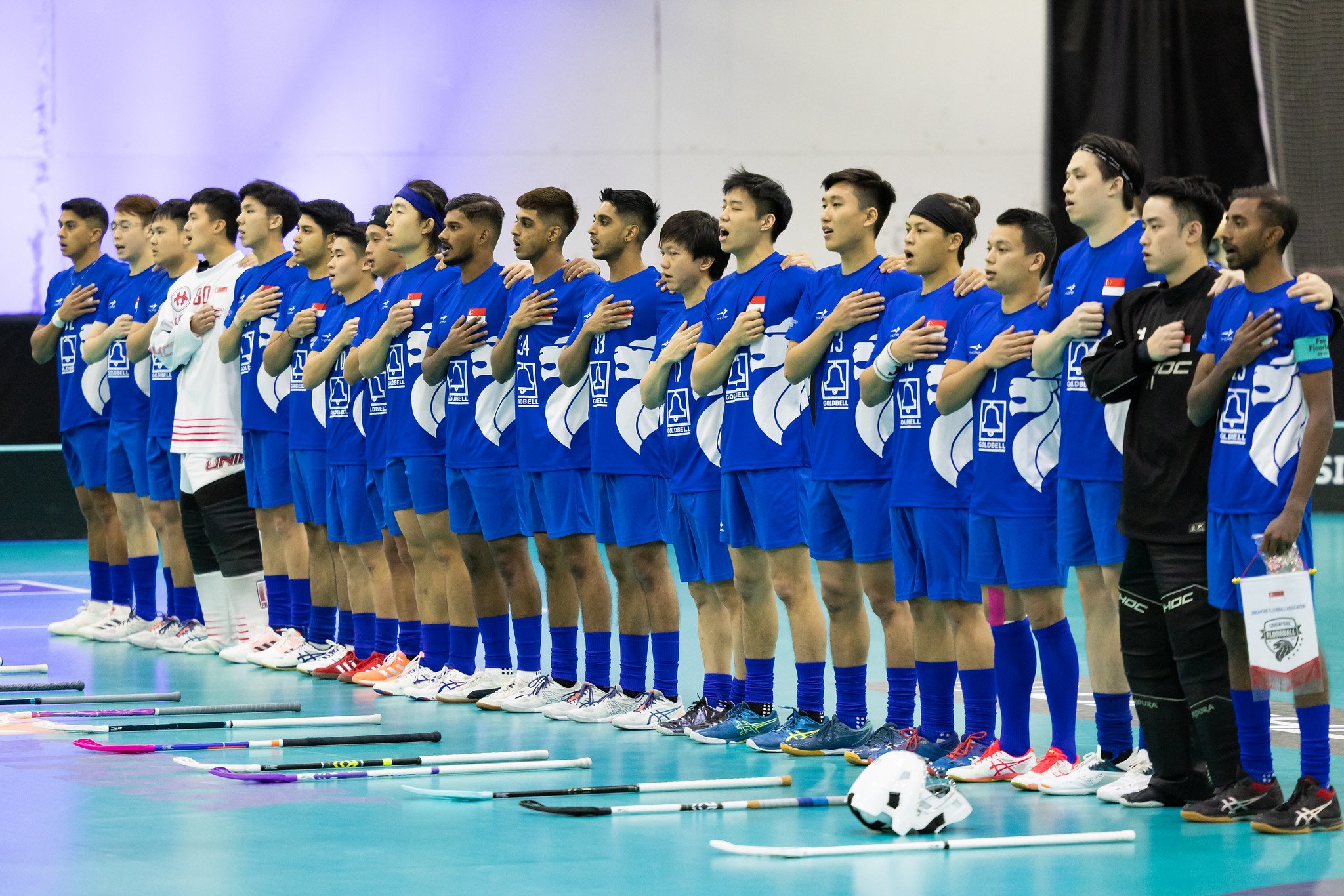 (Team Singapore before facing the Philippines. Photo Credit : IFF)
By Gracia Sengutuvan
Following the formation of the Philippines (PHI) Men's Floorball team less than 8 years ago, they'd always lost to their more experienced Singaporean rivals. From 2014 to 2019, TeamSG reportedly scored a massive 30+ goals across 3 matches and only conceded 4 against the Filipinos. BUT all that changed in this evening's (5 Dec) showdown at the World Championships in Finland, when the Philippines carved out a stunning 9-4 win over Singapore! It was a historic victory for them in their very 1st World Champs campaign. And they were in Finland, based on a wildcard entry, owing to the withdrawal of Australia and Japan due to Covid-19.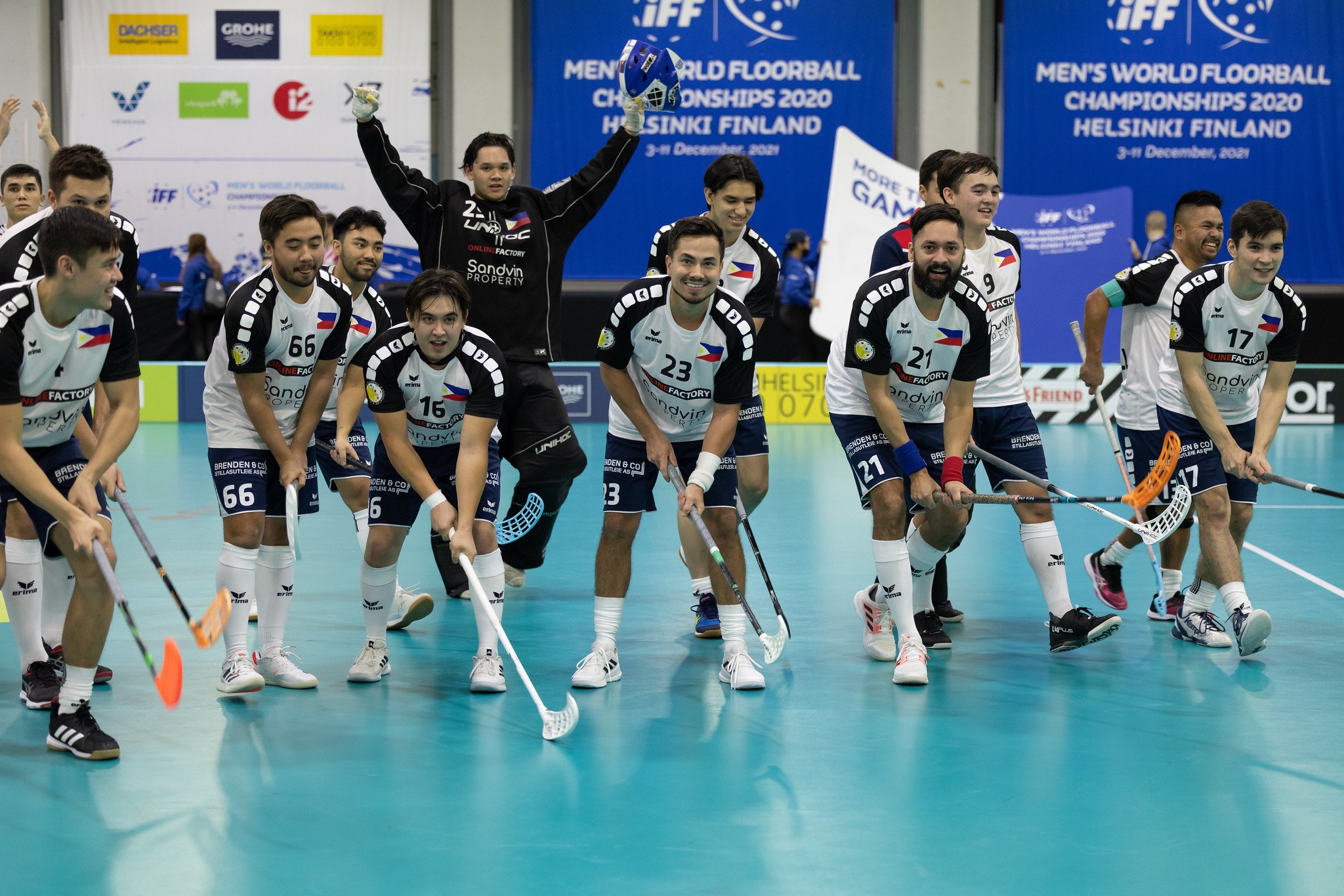 (Team Philippines. Photo by IFF)
Team Singapore opened their Finland campaign with a close 9-8 defeat to a tough Canadian side 2 nights ago. Also in Group D, the Filipinos lost to Estonia 13-6 on their Championship debut match. And this evening, what began as a scrappy performance by both teams, soon led to total domination for TeamPHI as they shocked Singapore with 5 goals to 0 in the first period alone!
4th minute- Philippines' Franz Kim Varga created a breakaway situation from Singaporean defenders that ended off with a quick pass to an open Melvin Alm Mendoza, who scored the opening goal. 1-0! And before the Singaporeans could breathe after conceding the early goal, a fast line change for the Philippines and a one-two pass between Captain Lucas Oijvall Perez and Christian Schoultze Castrillo, saw the ball at the back of the net. 2-0 to the Philippines!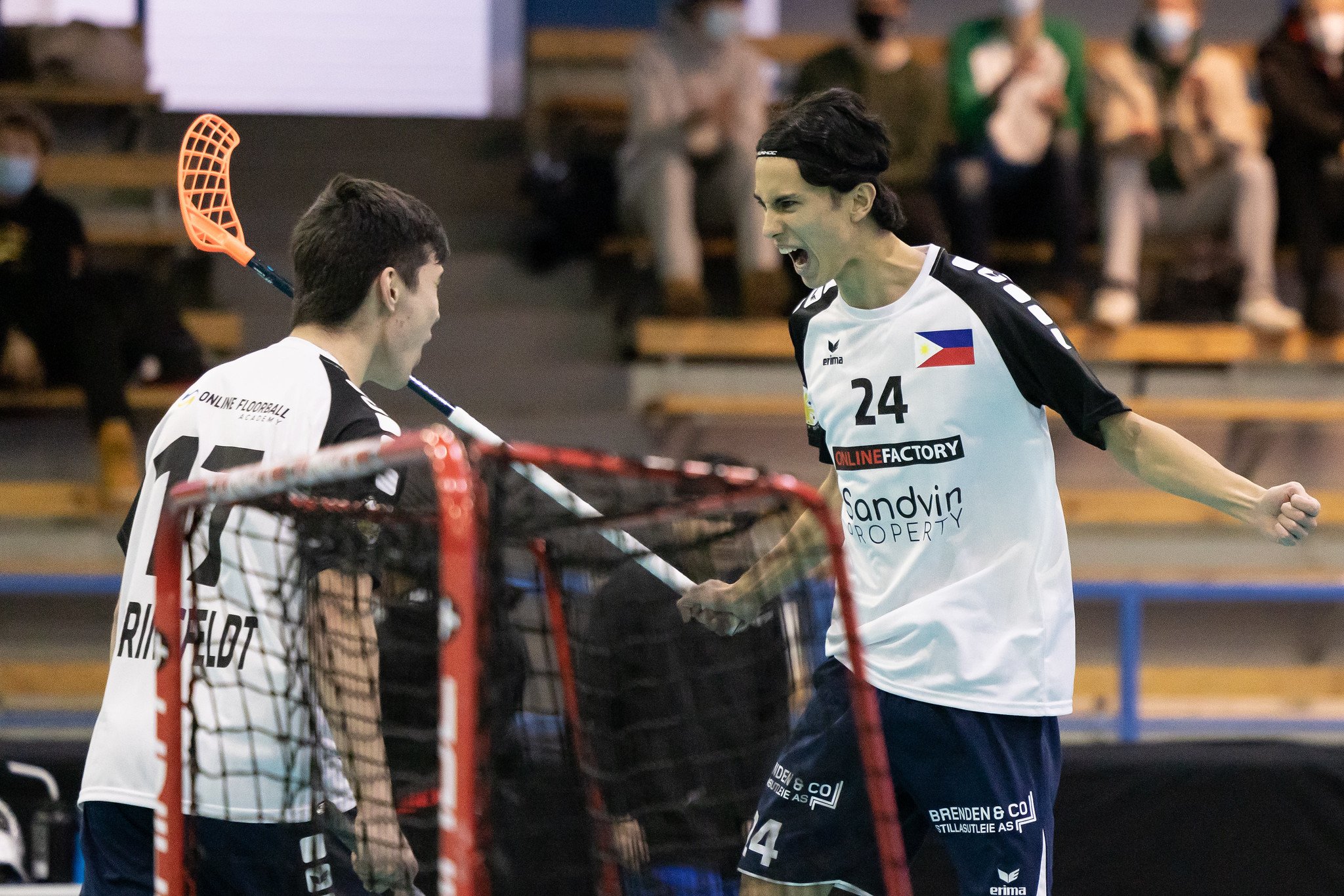 (Team Philippines celebrate! Photo Credit : IFF)
Down 2-0, Singapore appeared unnerved with the succession of goals. But matters became worse when Alexander Springfeldt De Chavez passed down the boards to Mendoza who was once again completely vacant of defenders. And with a sharp maneuver, he shot the ball past the frozen Singaporean goalkeeper Jared Tan, for a 3-0 lead after 9 mins!
Over-enthusiastic in his attempt to stop their opponents, Singapore's Jenmark Sorreda committed a foul (incorrect hit) that earned him 2 minutes in the sin bin. TeamSG regrouped and showed commitment to deny the Philippines any chance of scoring to their advantage. But the world-ranked 34 Filipino side did not let Singapore off the hook that soon, as they hounded at their opposing defenders, looking for more openings.
18th min- a selfless play-up by Varga found Cater Ryan Hallden, at the blindside of the Singaporean keeper, who tapped the ball in easily. The Philippines widened their gap to 4-0. And 30 seconds later, Mendoza received a long pass down the boards, continued to out dribble the Singaporean defence for another 1-on-1 with Jared Tan, and scored from point-blank range. 5-0 to TeamPHI and that's how the 1st period ended.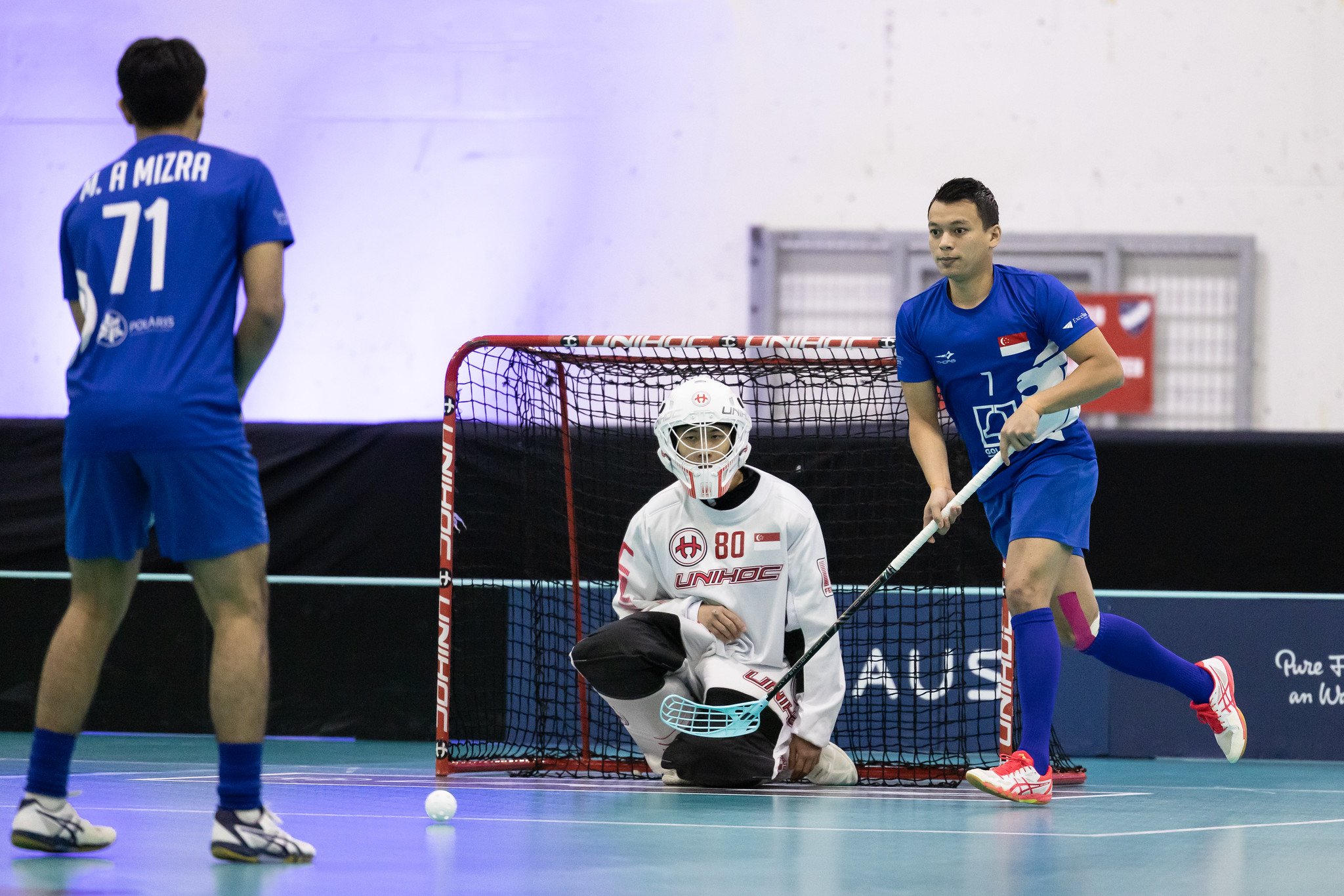 (TeamSG in action. Photo Credit : IFF)
TeamSG came back from the locker rooms recharged and motivated, plus a change in the goalkeeper from Jared Tan to Joshua Loh!
23rd min - Advantage awarded to Singapore when Philippines' Simon Andersson was sent to the sin bin for a 2-minute penalty. But it did not go the way Singapore intended, as a quarter of it was spent regaining possession of the ball from their opponents. The advantage drained out without being utilized. And soon after, in their eagerness to enter the scoresheet, Singapore's Lee Chee Yong made an incorrect hit and had to serve his time. The Republic was once again committed to disallowing any goals during their disadvantage.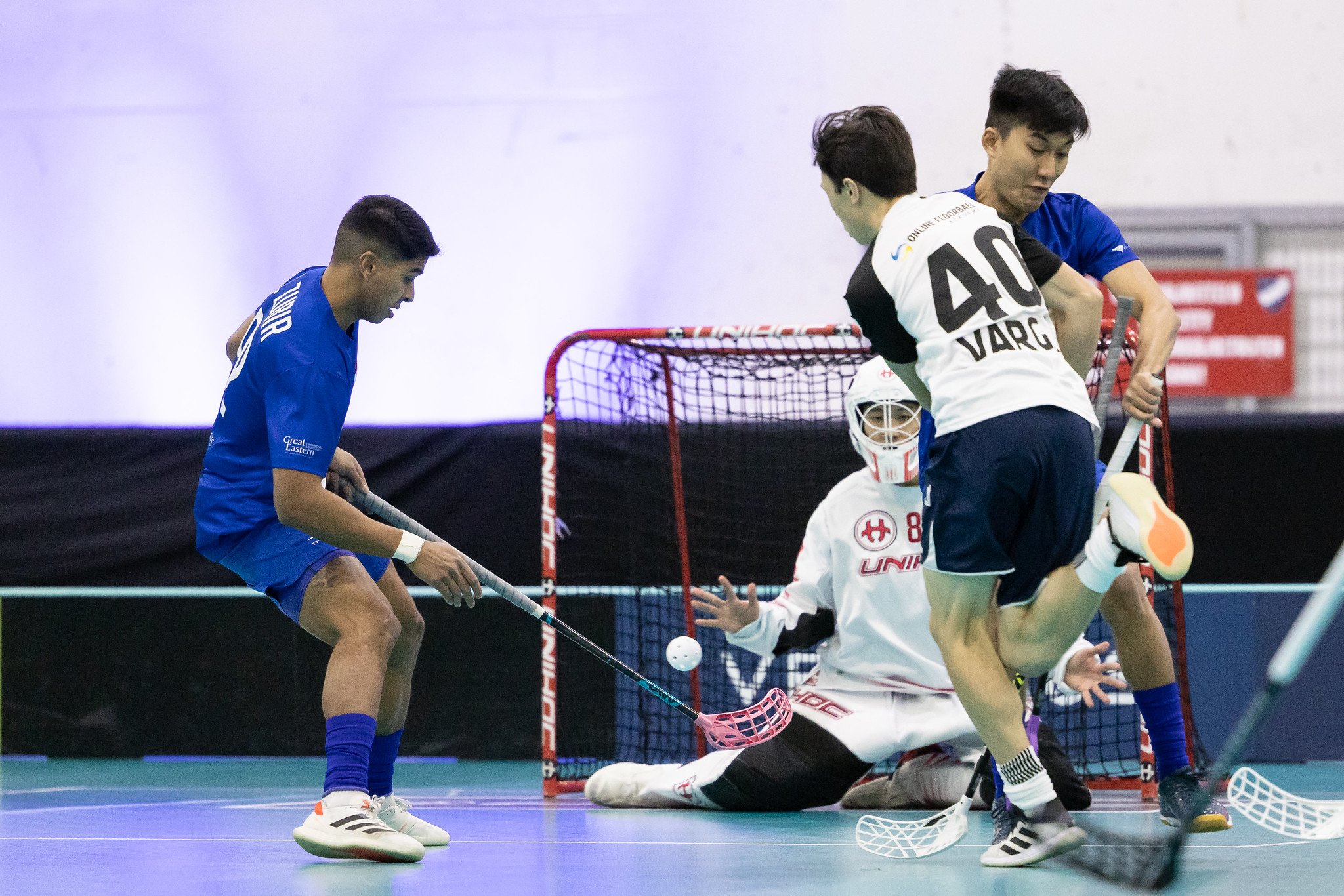 (TeamSG's Hafiz Zubir scores. Photo Credit : IFF)
28th min -Singapore finally enters the scoresheet for the game! Veteran player Hafiz Zubir, coming off a pass from Sean Huang, dribbled in for a long-range shot turned goal. 5-1! Unwilling to give Singapore any headway in catching up, TeamPHI responded immediately with another goal by Mendoza. 6-1!
The remaining half of the period gets drowned out with long-range shots for Singapore, as they attempted to penetrate the Philippines' defence. It did not amount to much as the possession of the ball was back-and-forth between the two teams. The score remained 6-1 at the end of the 2nd period.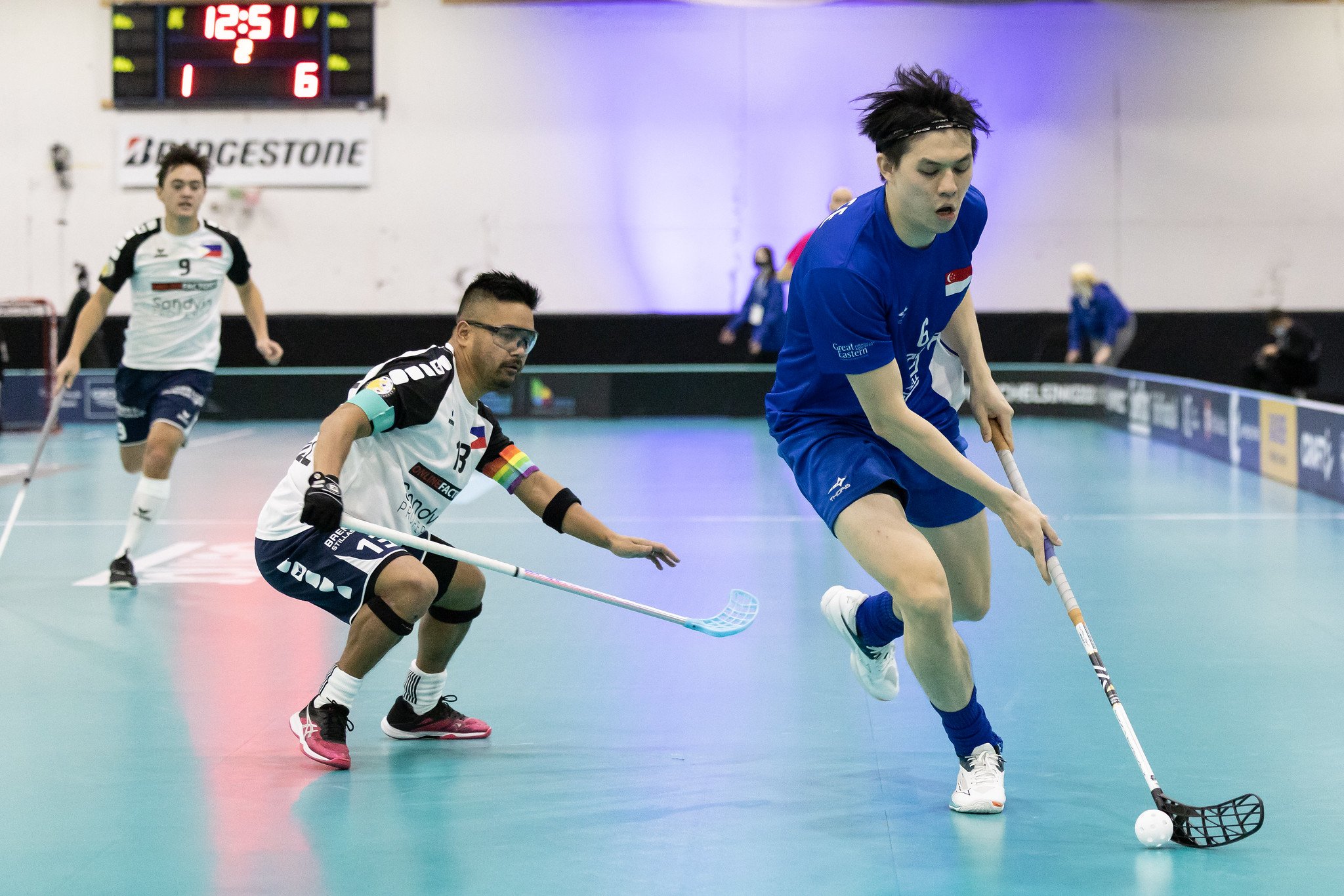 (TeamSG's Lee Chee Yong with the ball. Photo Credit : IFF)
The 3rd and final period began with renewed fire within Team Singapore. And in a sudden energetic burst after 3 mins of play, Lee Chee Yong (who had previously scored 2 important goals in the game against Canada) ran down the boards, ball in possession to deliver a goal for Singapore. 6-2! The Republic looked alive in their great off-the-ball movement in efforts to reduce the deficits further.
3 mins later though, Captain Perez made it 7-2 as he won the ball in a 50-50 fight, drove down the boards, and tipped it into the goal. But in that same minute, with a beautiful backhand pass by Lim Jian Hong from the boards into the middle, he assisted Thaddeus Tan to put it in for Singapore and made it 7-3!
14 minutes left in the game, there seemed to be much work to be done for Singapore. The attacking triangle consisting of jersey numbers 70-71-77 seemed to be their best bet yet. In the 51st minute, Powerplay for Singapore as Philippines' Jeppsson got sent to the penalty box.
90 seconds left in the advantage : an exceptional movement displayed by the power-play line. Syazni Ramlee (by the boards) and Chee Yong (behind the goal) continued their passes as Captain R Suria got into an optimum position in front of the keeper. At the perfect timing, Chee Yong sent a bounce pass to Suria who nailed it in. 7-4 to Singapore!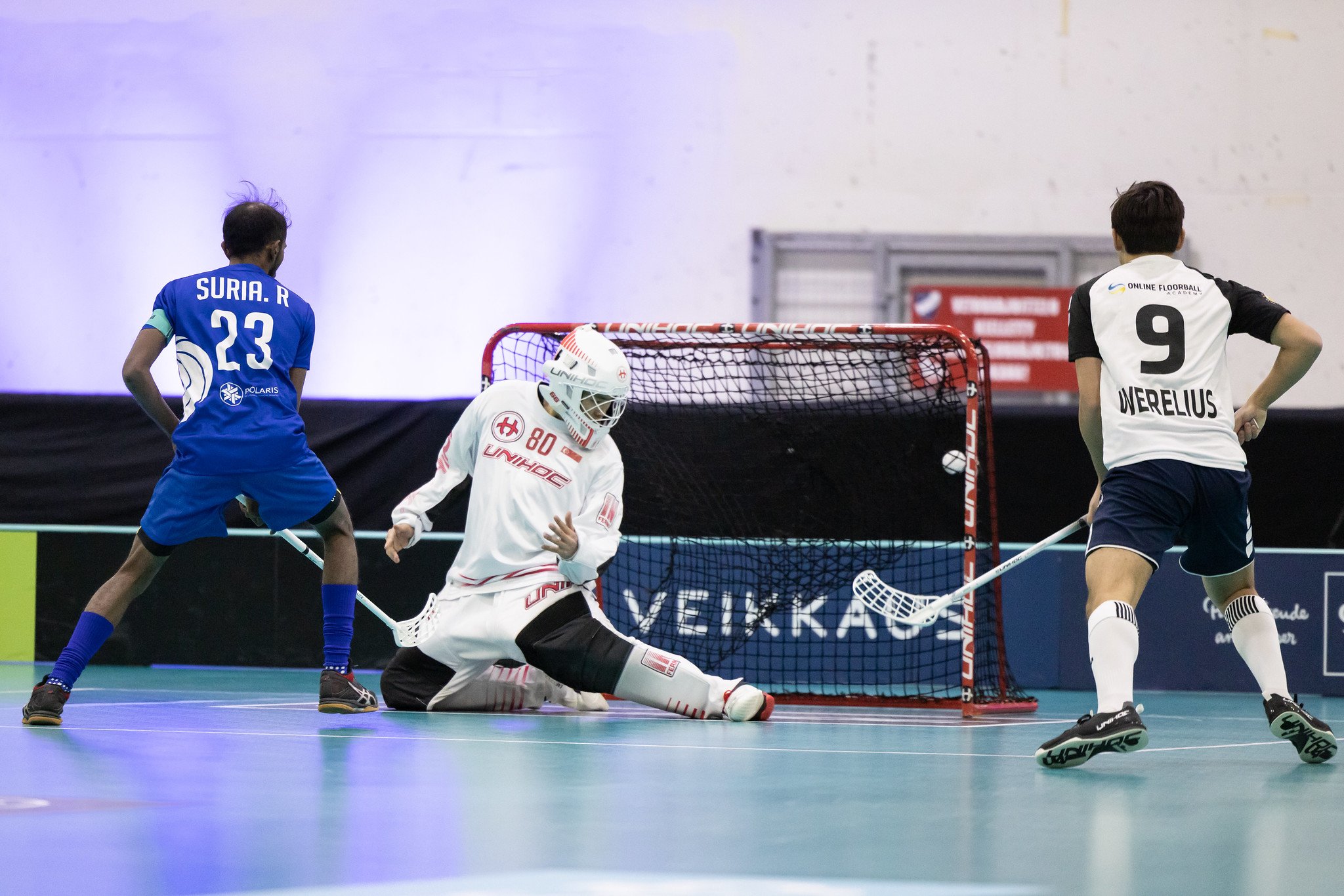 (R Suria scores for Singapore. Photo Credit : IFF)
The joy was short-lived as the Philippines responded in kind. 3 minutes from the end, Mendoza and Franz outran every field player to have a 2-on-0 situation with the Singaporean goalkeeper. The keeper stretched to his limit, conceded, 8-4.
58th min: With nothing to lose, Singapore decided to overload on their attack by removing their custodian. The risk did not pay off as with an open net, it took Franz just a simple lob pass to score the 9th goal for the Philippines.
Singapore threw everything on the line to reduce the gap, but was unable to attain it. The game concluded with Singapore's defeat at 9-4.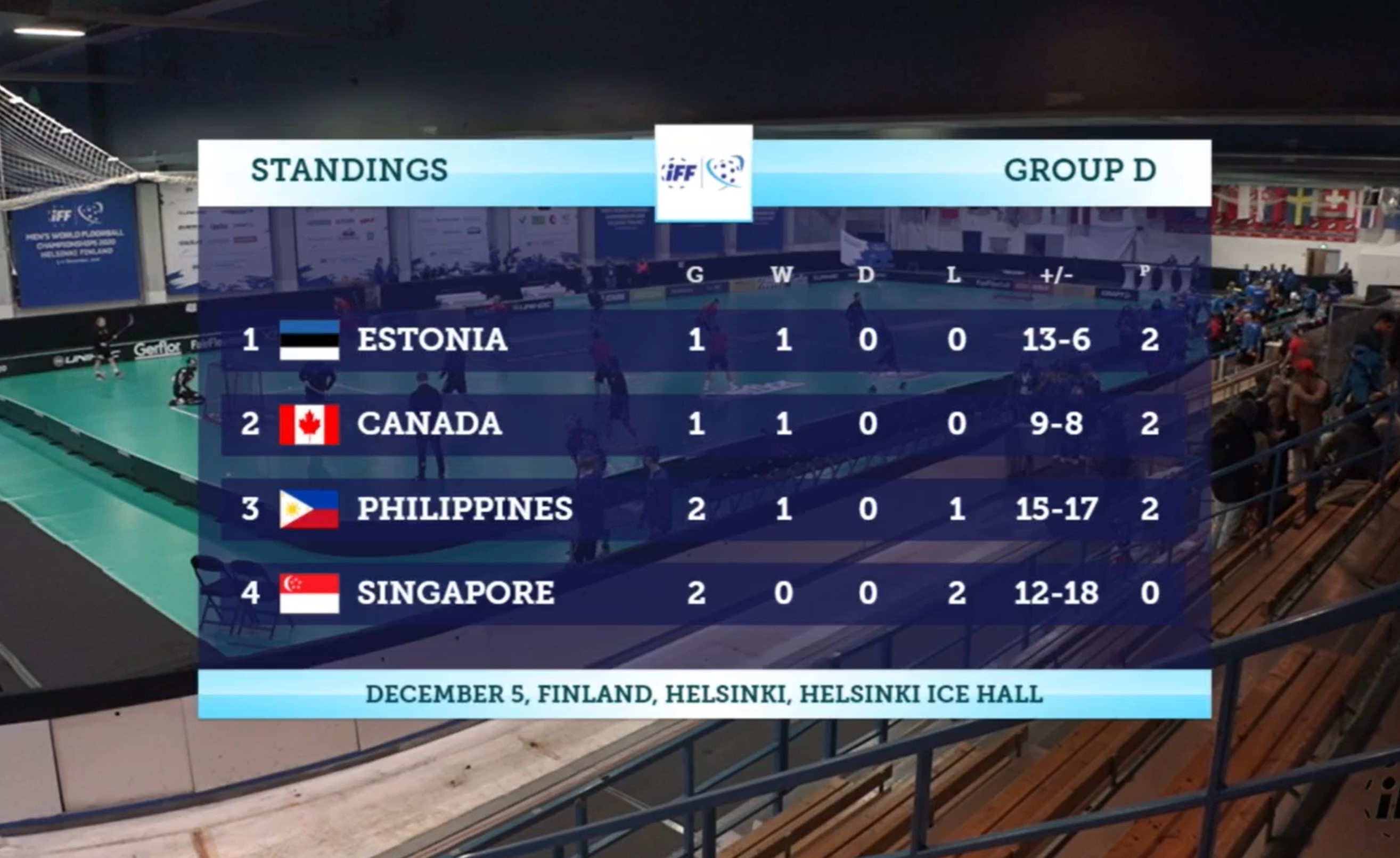 It was indeed a disappointing loss albeit Singapore's fighting efforts till the last possible second. They have one last Group D match against Estonia on Monday, December 6th at 4.15 pm (SGP time). Let's bolster Team Singapore with our encouragement for the next game! Be sure to show your support and catch the action LIVE and exclusive on the ActiveSG Circle.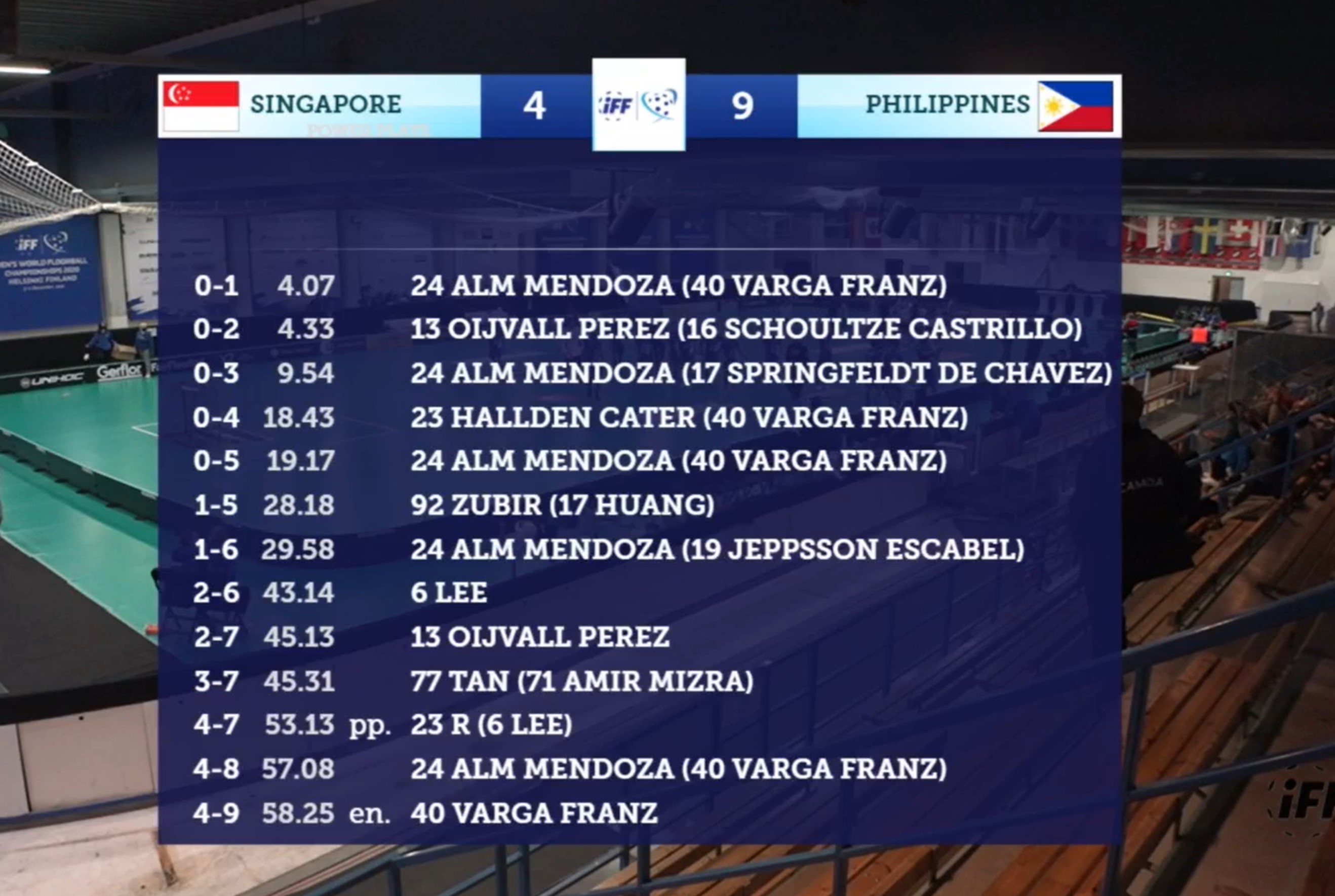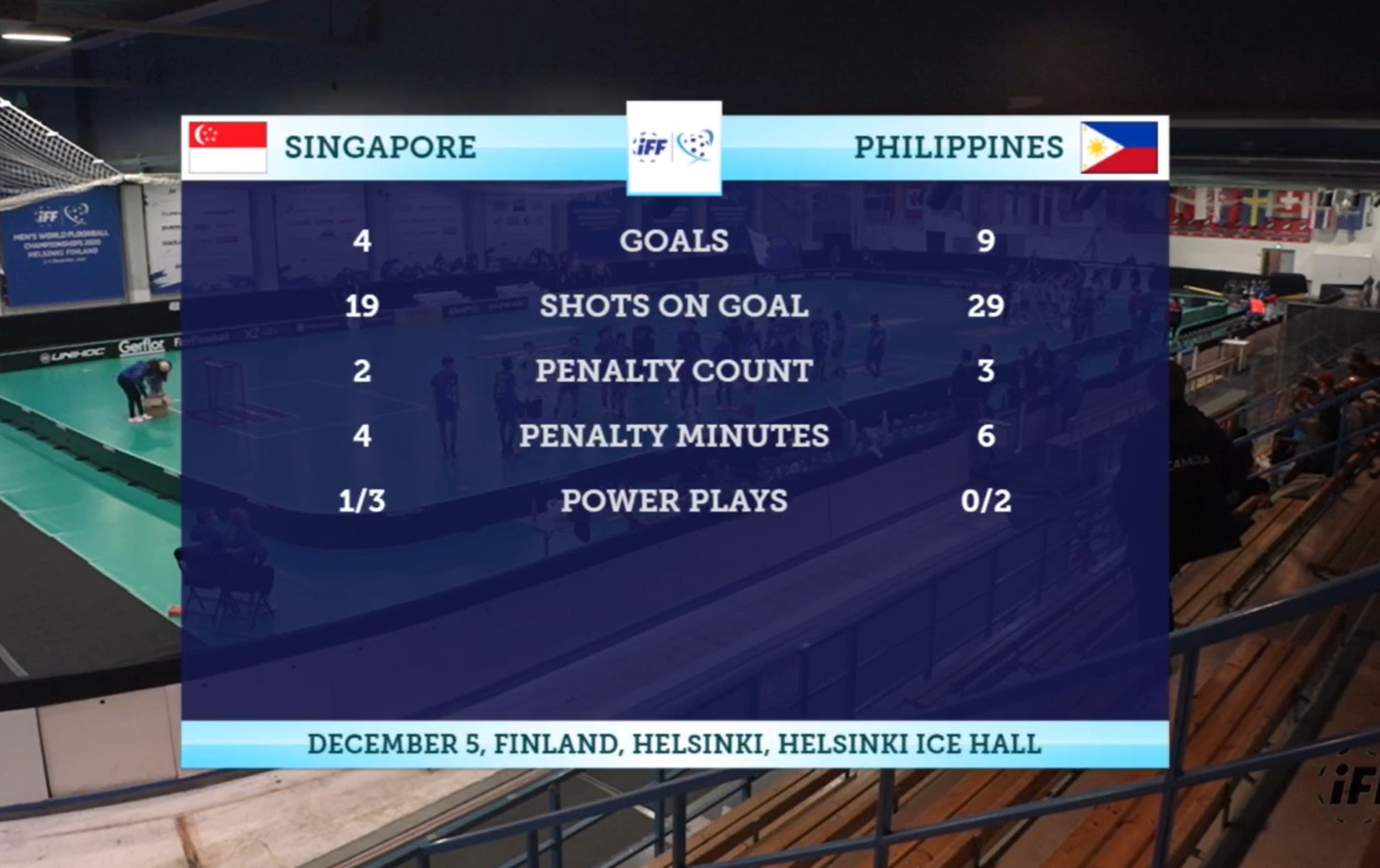 Edited by Raj Kumar
Gracia Sengutuvan was part of Team Singapore's SEA Games Gold medal winning squad in 2015! She's been playing floorball competitively for 13 years. Gracia joined Team U Sports Liitto Floorball Club straight out of secondary school and played for them till she left Singapore in 2019. She enjoys watching the NBA and her favourite player is Steph Curry. She has a good feeling that the Golden State Warriors are going to win the title this year. However, she also had that feeling last year.
Recent Events & Programmes