Team Singapore
Singapore's Men's Floorballers go down 9-8 to Canada, in a nail-bitting opening match at the 2020 IFF World Championships!
by Circle Stories, on December 3, 2021 16:00 PM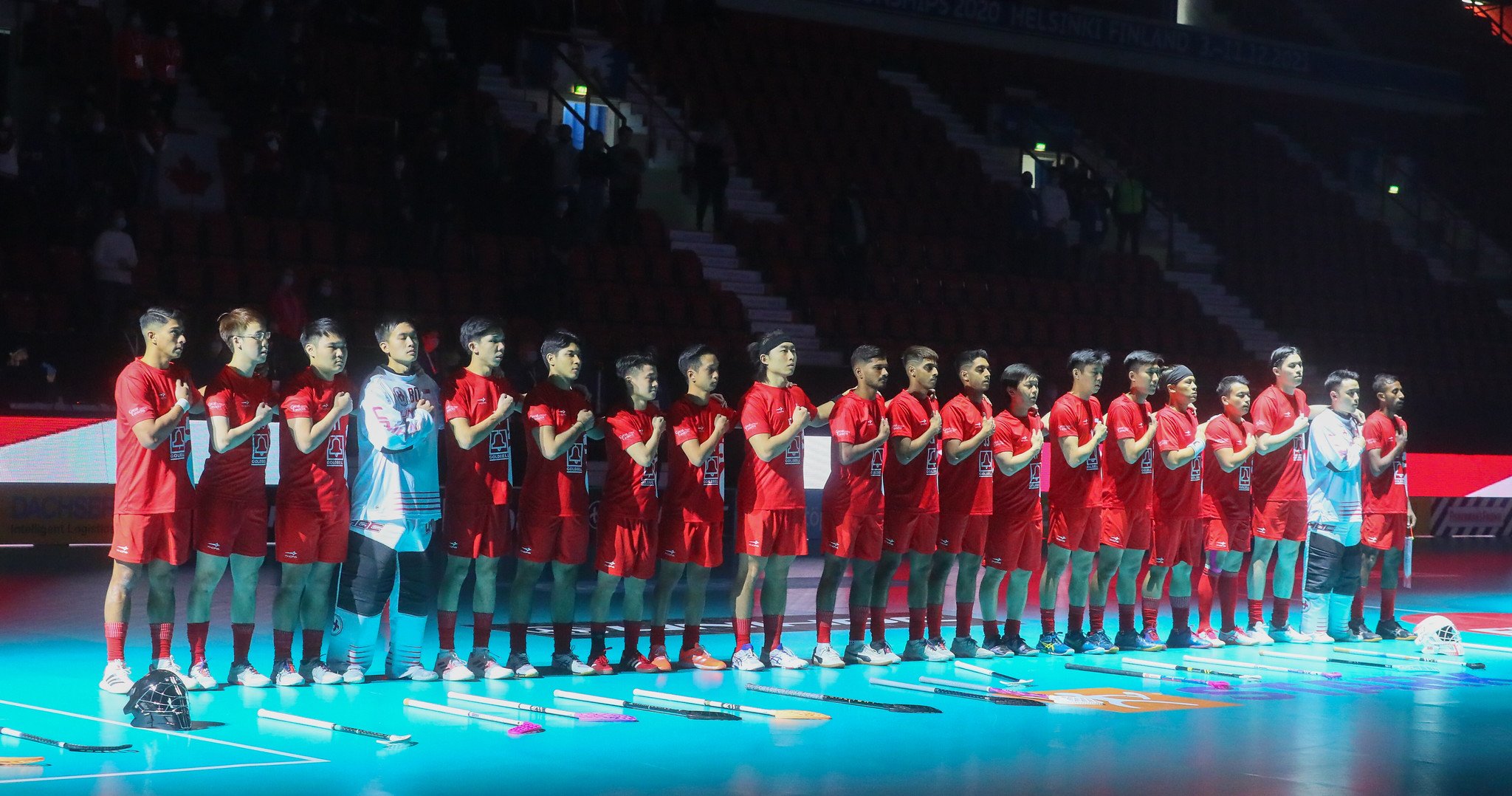 (Singapore's Men's Floorball Team. Photo Credit : International Floorball Federation)
By Gracia Sengutuvan
Singapore took on Canada in the opening match for the Men's World Floorball Championships (WFC), which was originally to be held last year. But it was delayed due to the Covid-19 pandemic. The tournament did not see any pre-qualifying matches either, as they were supposed to have taken place in Mar 2020 in Thailand. But they were cancelled due to the growing pandemic crisis. And that meant, the regional teams who automatically advanced to WFC 2020, were based on rankings ie Australia, Japan, Thailand and Singapore.
The Republic, both in 2016 and 2018 finished in 16th place. And they returned to the WFCs after a long 3-year break, and with extremely limited time, training as a full squad, owing to the strict safe management measures in Singapore for more than 18-20 months. Hence, after their 1st and only training stint in Finland, they opened their WFC campaign with a high scoring and thrilling game, which ultimately ended 9-8 in favour of the Canadians.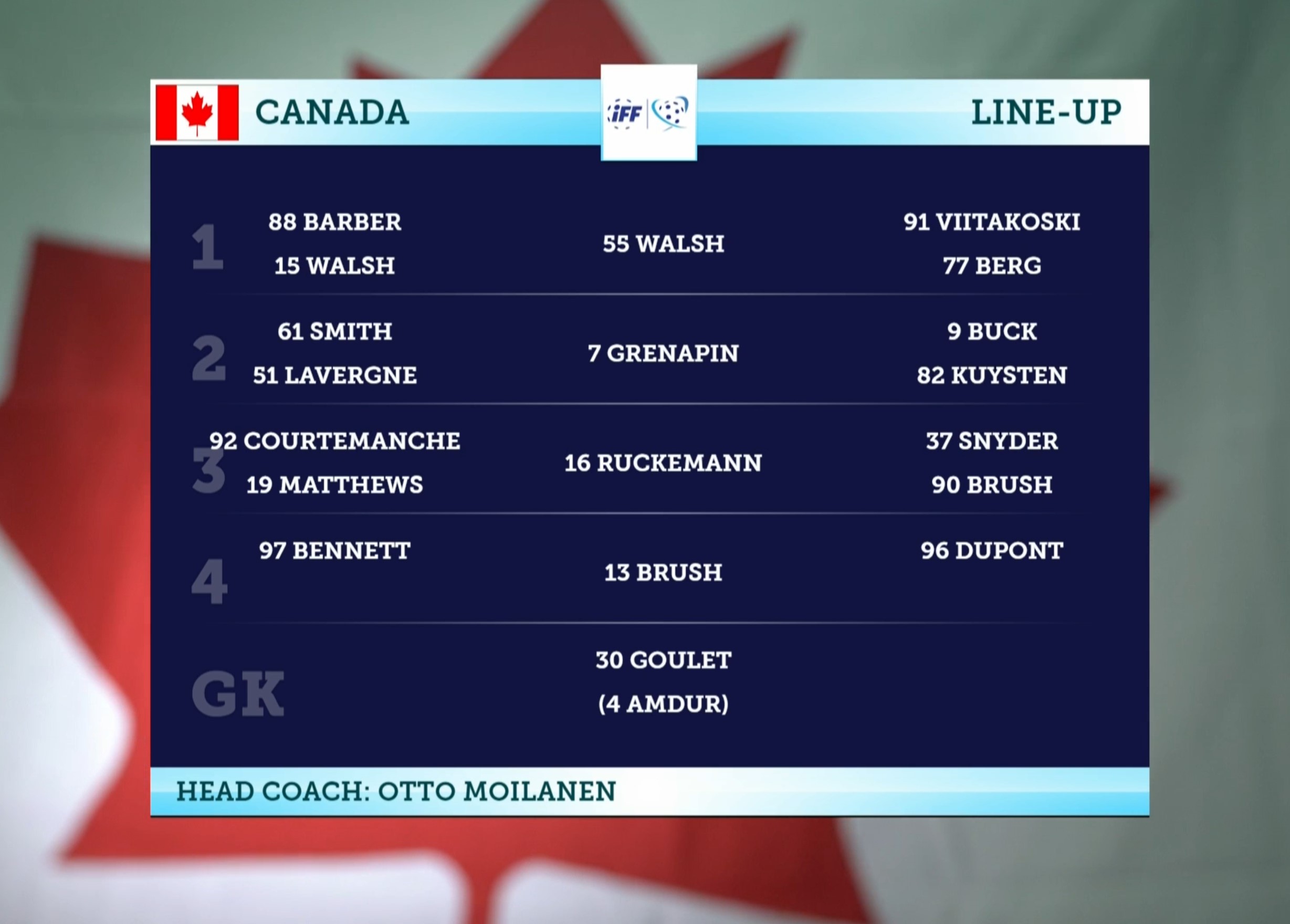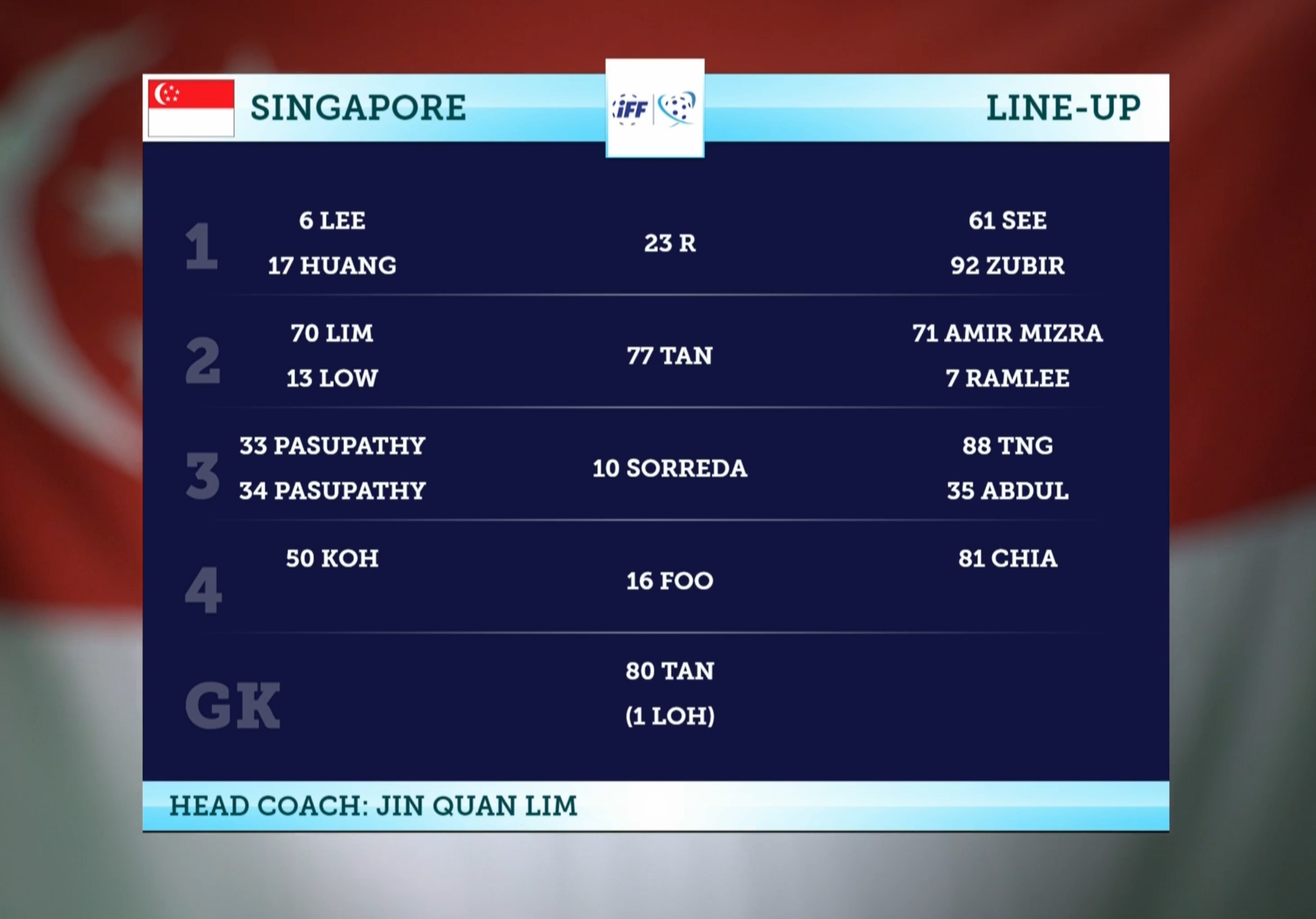 The whistle signaled the beginning of the match that was off to a deceptively slow and cautious start. Both teams had wildly different approaches to the game. While Singapore had gone for the long-range shots, Canada passed the ball around constantly on the lookout for a closer opportunity. Singapore's game plan worked 5 minutes in; Hafiz Zubir drove in for a long shot that Captain R Suria tapped past the Canadian goalkeeper. 1-0 to Singapore!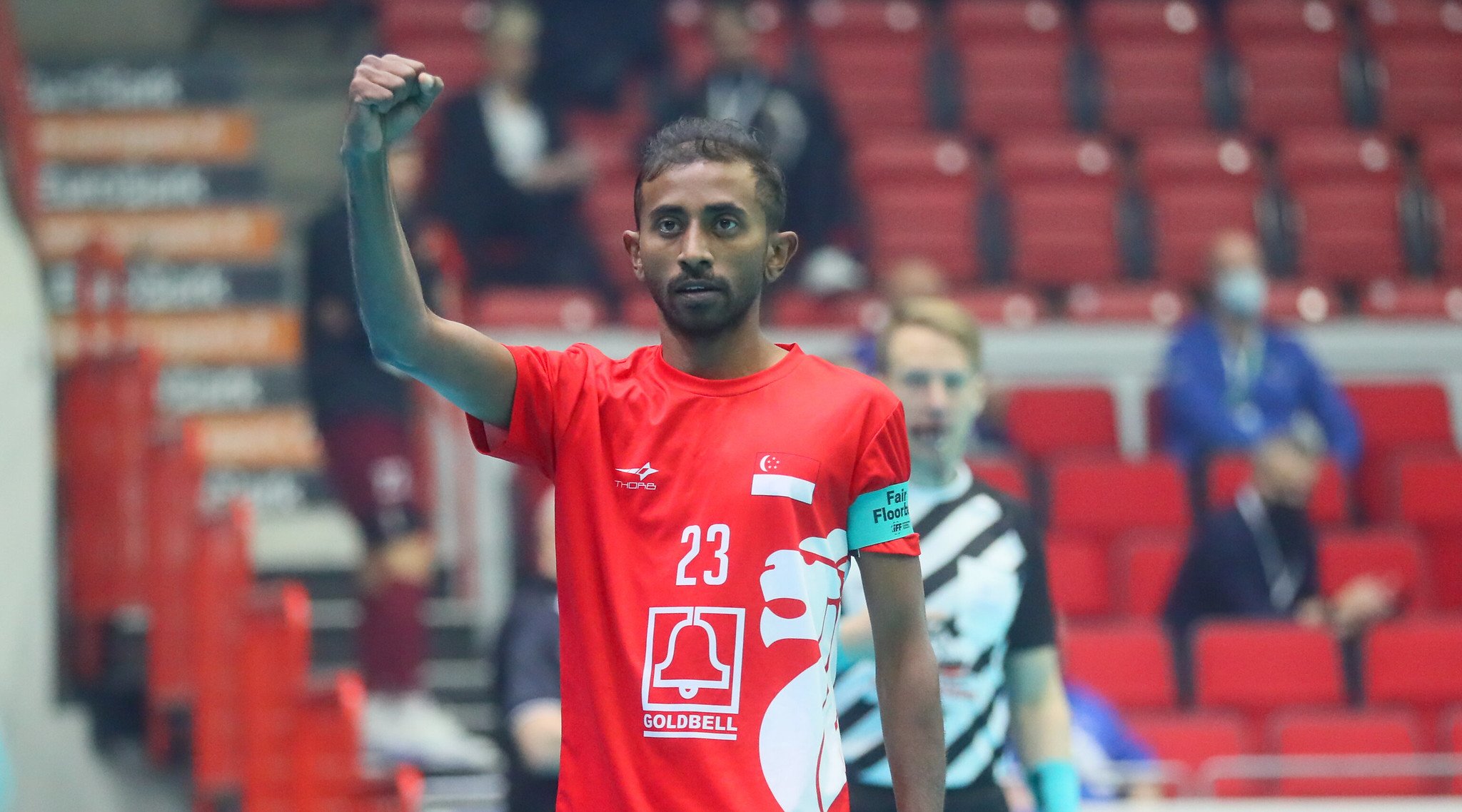 (TeamSG Captain R Suria with the opening goal. Photo Credit : IFF)
The 2nd goal came quickly for Singapore. 6th minute, Tng Zong Wei came around the Canadian corner and delivered a dangerous cross, that Jenmark Sorreda nailed for Singapore. 2-0! Canada responded in kind when Cameron Buck won the ball in Singapore's corner and passed the ball down the boards to Jonathan Kuysten for his drag shot. 2-1!
9th minute - An advantage for Singapore as Matthew Smith of Canada, was sent to the sin bin for 2 minutes for obstruction. With a one-man advantage, TeamSG was looking to widen the gap. Instead, Abdul Mateen's dangerous play from the back, awarded Canada a penalty shot against the Singaporean goalkeeper, Jared Tan. Valtteri Viitakoski took on the one-on-one challenge and equalized for Canada. 2-2! But with 2 seconds left on the advantage, Amir redeemed himself with a powerful drag-shot-turned goal. 3-2!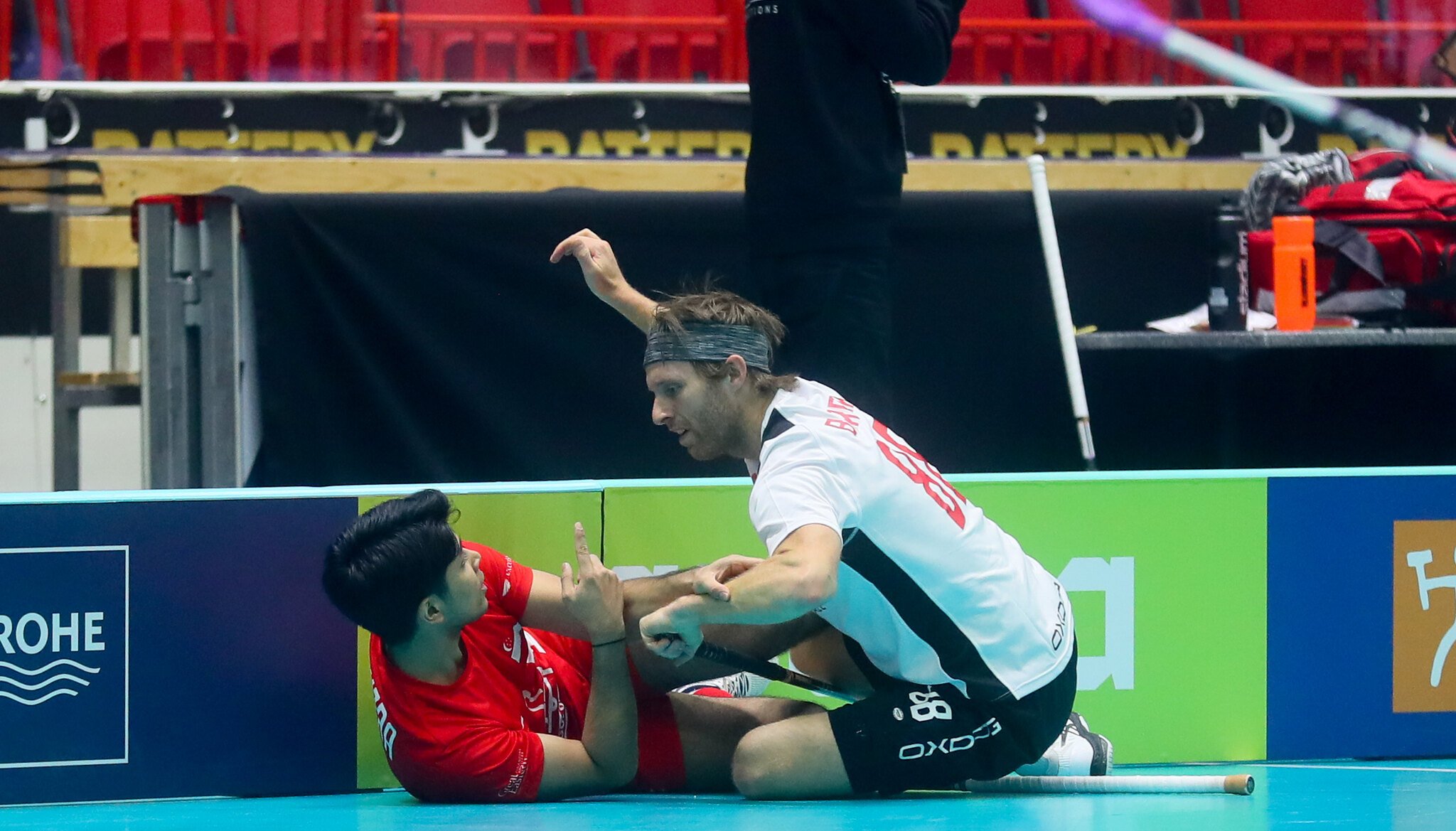 (TeamSG's Abdul Mateen's dangerous play from the back. Photo Credit : IFF)
With a total of 5 goals in 6 minutes, the 30 seconds power break could not come in handier. After which, the pace of the game visibly slowed down as both teams looked to control the play more. A few more attempts on both sides came not to fruition and the first period ended with Singapore leading 3-2.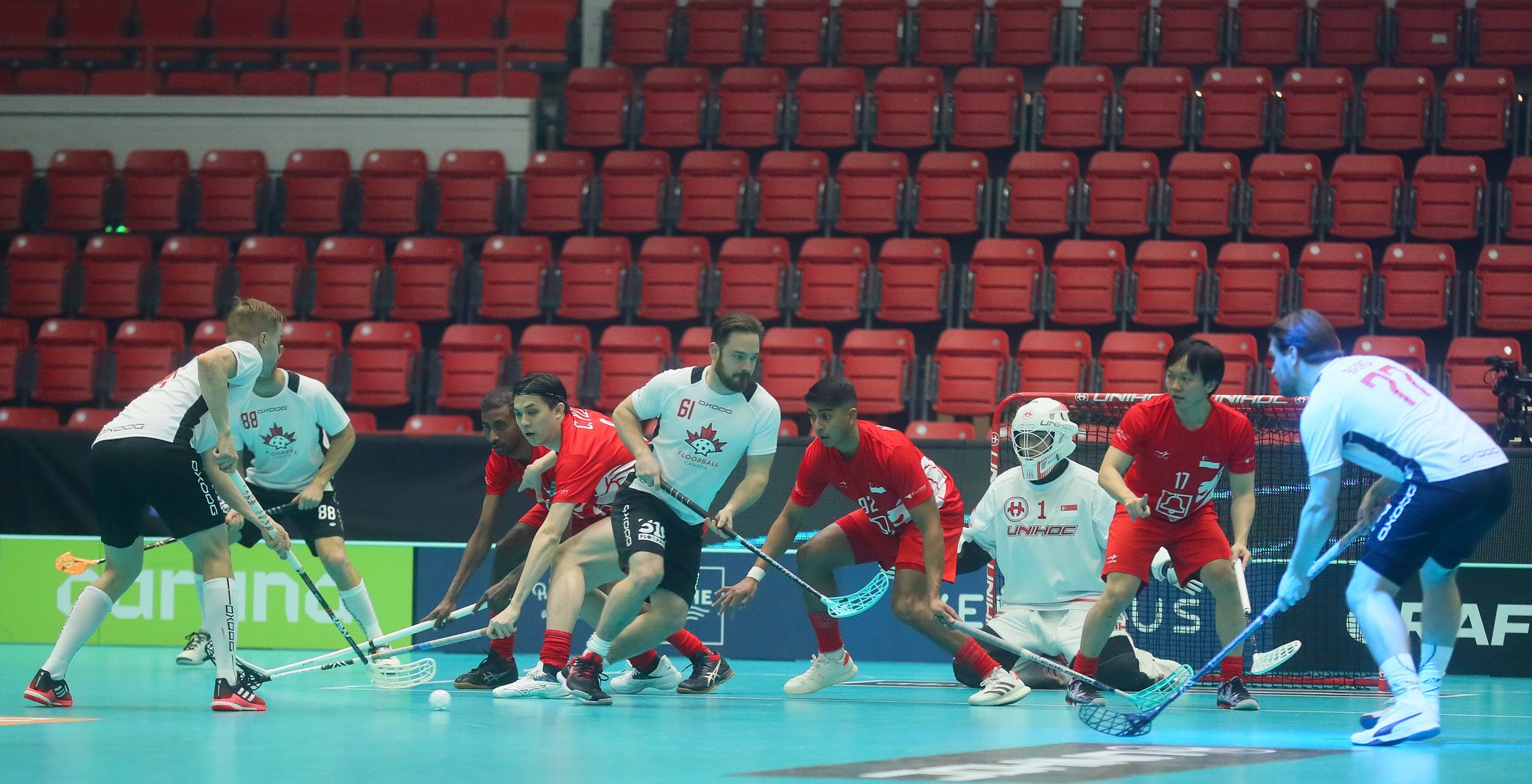 (Photo Credit : International Floorball Federation)
Period 2 saw high court pressure from Singapore from the get-go! These opened more doors for them, though they could not create the goals they wanted. In the 32nd minute, Canada held the ball in Singapore's half, whilst still on the lookout for an opportunity. Defenseman Lauri Berg threw his strength into a shot that went sailing past the Singaporean defense. The score was tied at 3-3! In the next minute, a string of cross-court passes from Lavergne to Smith to Buck, saw the ball at the back of the Singaporean net. 4-3 to Canada!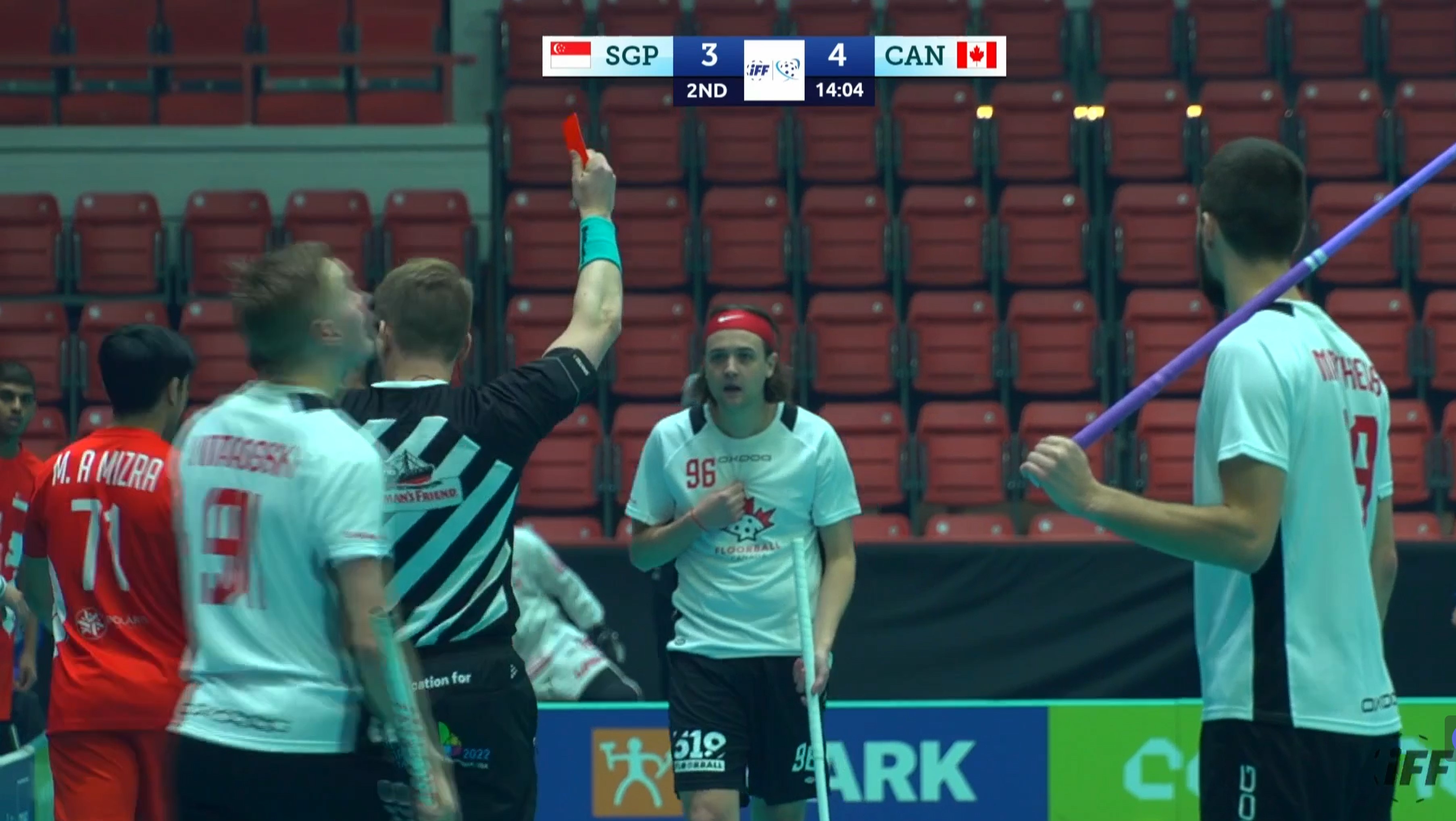 (Red Card for Canada's Alexandre Dupont. Image extracted from Live Stream)
34th minute- Tension builds as Canada's Alexandre Dupont was given a red card for an elbow that he threw at Singaporean defender, Nicholas Low. Dupont was ejected from the game and the Canadians were given a 5-minute bench penalty. Despite being a man down, Canada's Kristoffer Ruckemann, upon blocking a shot, offered Viitakoski a deep pass which was promptly converted into a goal. Canada widened their lead to 5-3.
The rest of the period continued with efforts on both sides, as Singapore looked to catch up to their opponents. In the dying few seconds of the period, a 2-minute penalty was awarded to Buck for an incorrect hit to be served out in the next period. But the score remained with Singapore trailing by 2 goals.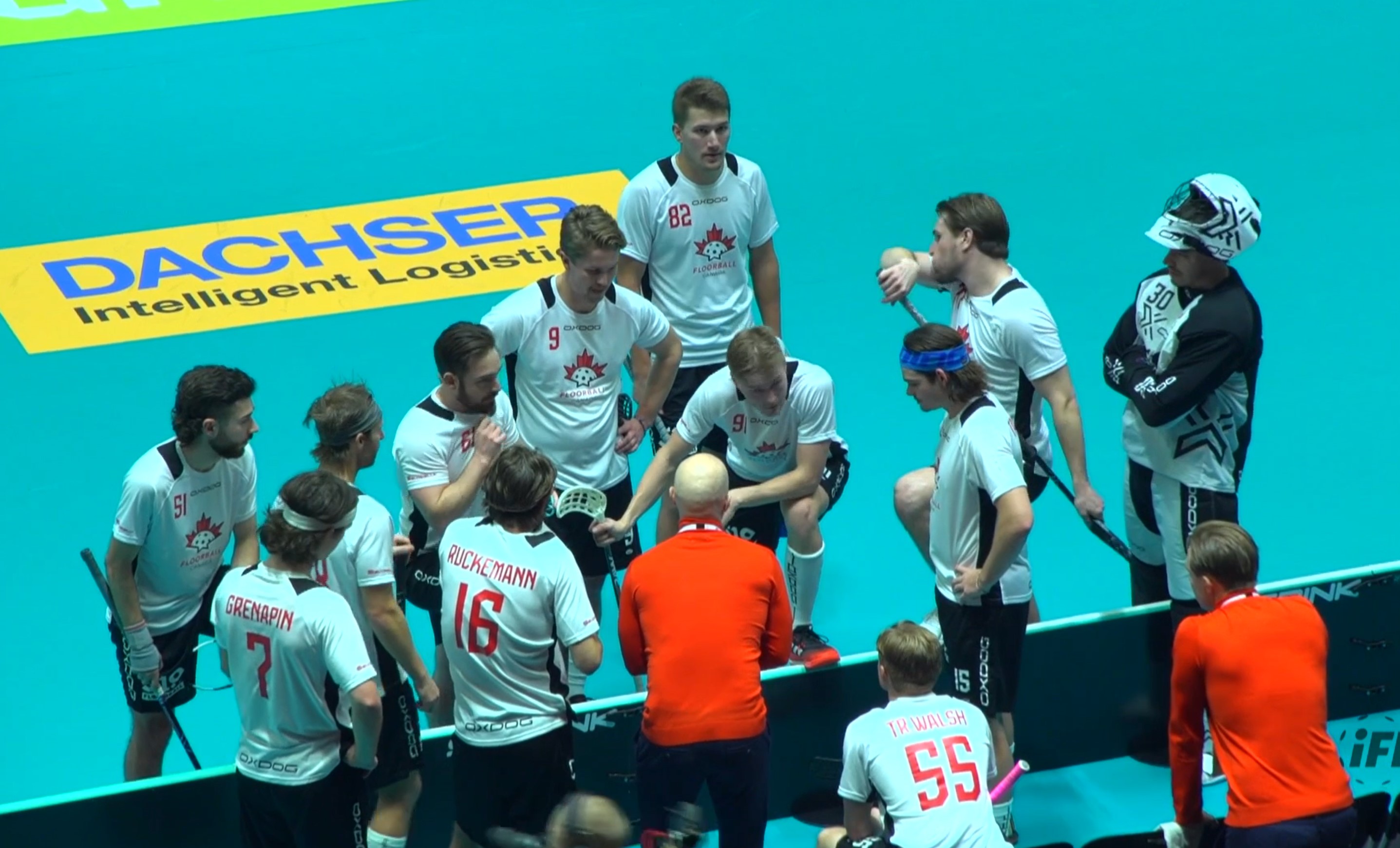 (Team Canada. Image extracted from Live Stream)
The final lap of the match began with a one-man advantage for Singapore. With a couple of close calls, Canada could not keep their cool as with 45 seconds left on the 2-minute penalty, they were given another 2-minute penalty for Kuysten. With a 2-man advantage over their opponents, TeamSG was hounding at Canada's goal, but they just simply could not score. Seconds after, the Canadians were back with 4 field players, still at a 1-man disadvantage.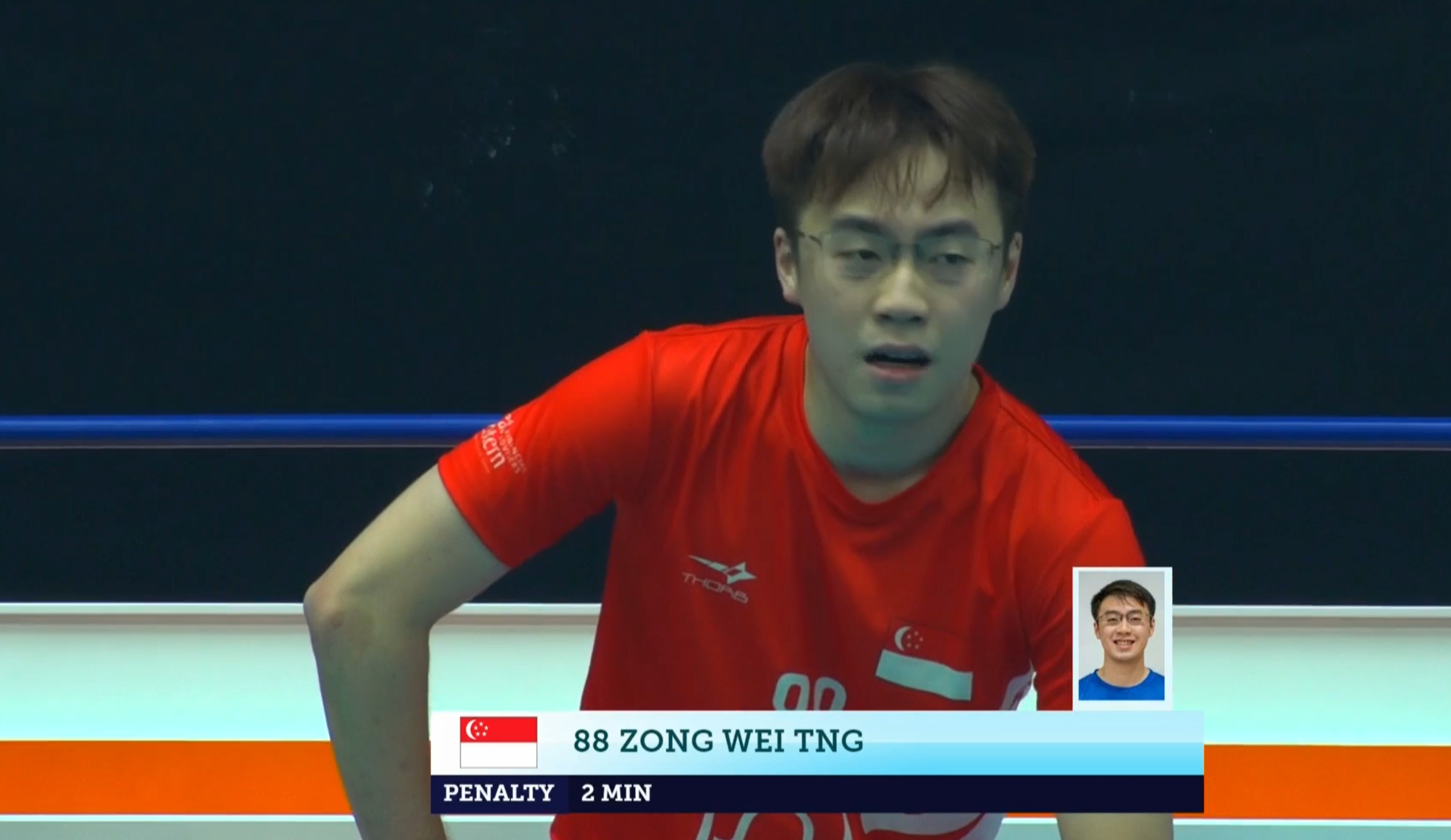 (TeamSG's Tng Zong Wei penalised. Image from Live Stream)
43rd-minute : In an unfortunate incident of hooking, Singapore's Tng Zong Wei was given a 5-minute bench penalty. There was a 5-second overlap between Canada's penalty, which left 4 fields players aside. It began with a free hit for Canada 5 meters away from Singapore's goal. A simple play piece between Viitakoski and Berg once again found the ball at the back of Singapore's net. 6-3 to Canada!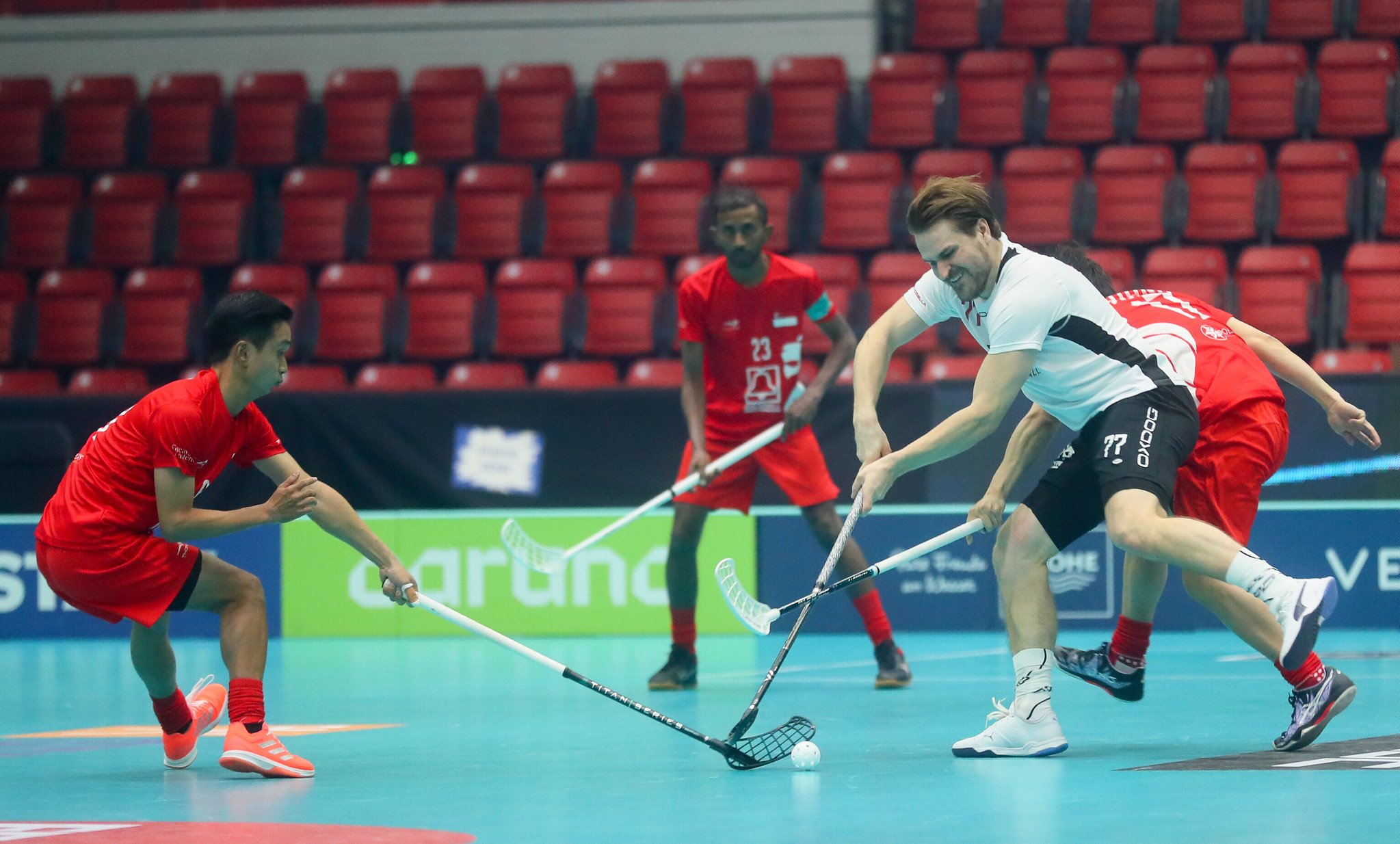 (Canada's Defenseman Lauri Berg with the ball. Photo Credit : IFF)
Canada was back at 5 field players with Singapore still down one. Not letting his spirits down, Captain R Suria scored one for Singapore with a drag shot coming off a pass from Sean Huang with 15 minutes remaining. 6-4 to Canada.
47th minute- With 60 secs left in advantage, Viitakoski scored a hat-trick for Canada to lead 7-4! Within the same minute, recreating the first goal of the game, Hafiz Zubir, and R Suria team up again to make reduce the deficit to 7-5.
That would be the 4th time in the game that the team in the disadvantage scores. Singapore's box play came to an end with no more incidents. Being 2 goals behind drove Singapore to look for more holes in Canada's defence. With 11 minutes remaining, TeamSG's Vignesa Pasupathy won the ball from behind Canada's goal, and passed it into the centre for Sorreda to finish it off. 7-6 still to Canada.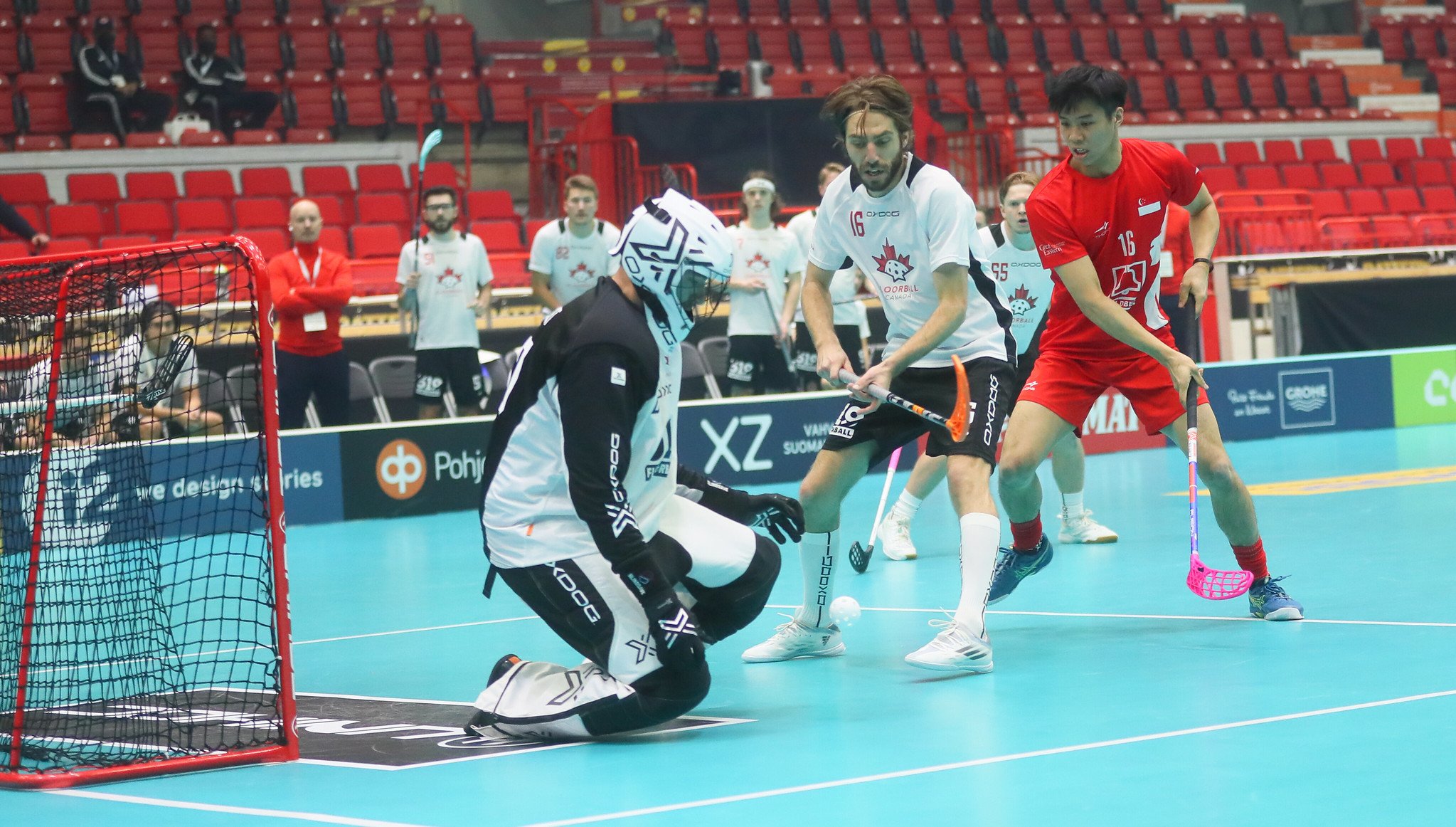 (TeamSG's Thaddeus Tan attempting to score. Photo Credit : IFF)
9 seconds later, the dramatic equalizer for Singapore came from Lee Chee Yong from a rebound off the goalkeeper! 7-7! But not liking the catch-up from Singapore, in a counterattack play Viitakoski scored yet again for Canada to lead 8-7.
52nd minute- Lim Jian Hong took a penalty shot on behalf of Singapore. Despite his best effort, he could not equalize. 3 minute later, a fancy backhand pass from Buck to Cedric Grenapin allowed Canada to widen the gap once again from Singapore to 9-7!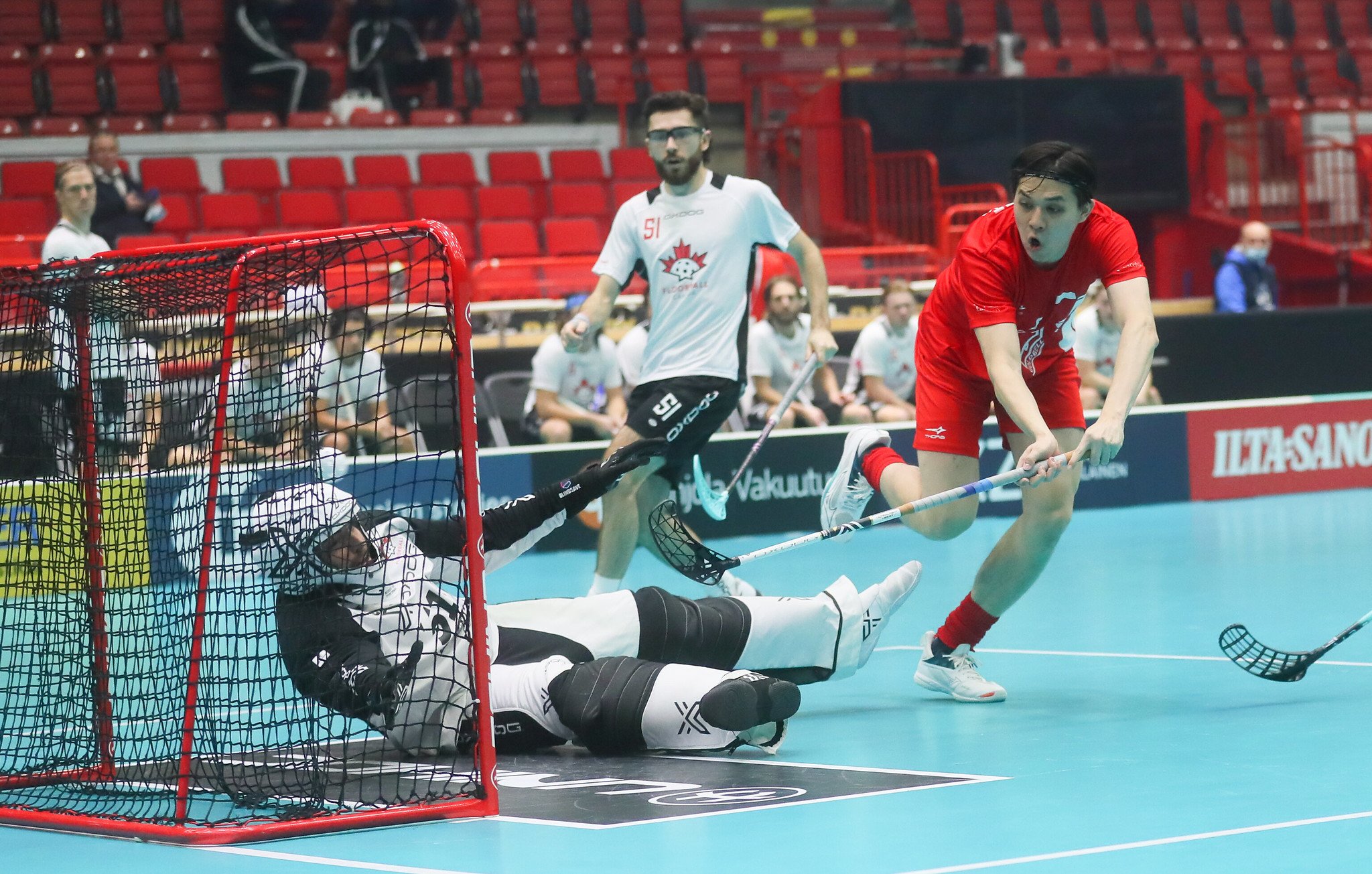 (TeamSG's Lee Chee Yong scores! Photo Credit : IFF)
Barely a minute later, Singapore's Tristan See made a deep pass into Canada's half for Lee Chee Yong, in a moment of extreme poise and composure, to place it into the net. 9-8 to Canada.
With 4 minutes left on the clock, Singapore looked to find more gaps to try and equalise. Even with the overloading on offence by Singapore, Canada managed to keep them at bay. The game concluded 9-8 to Canada.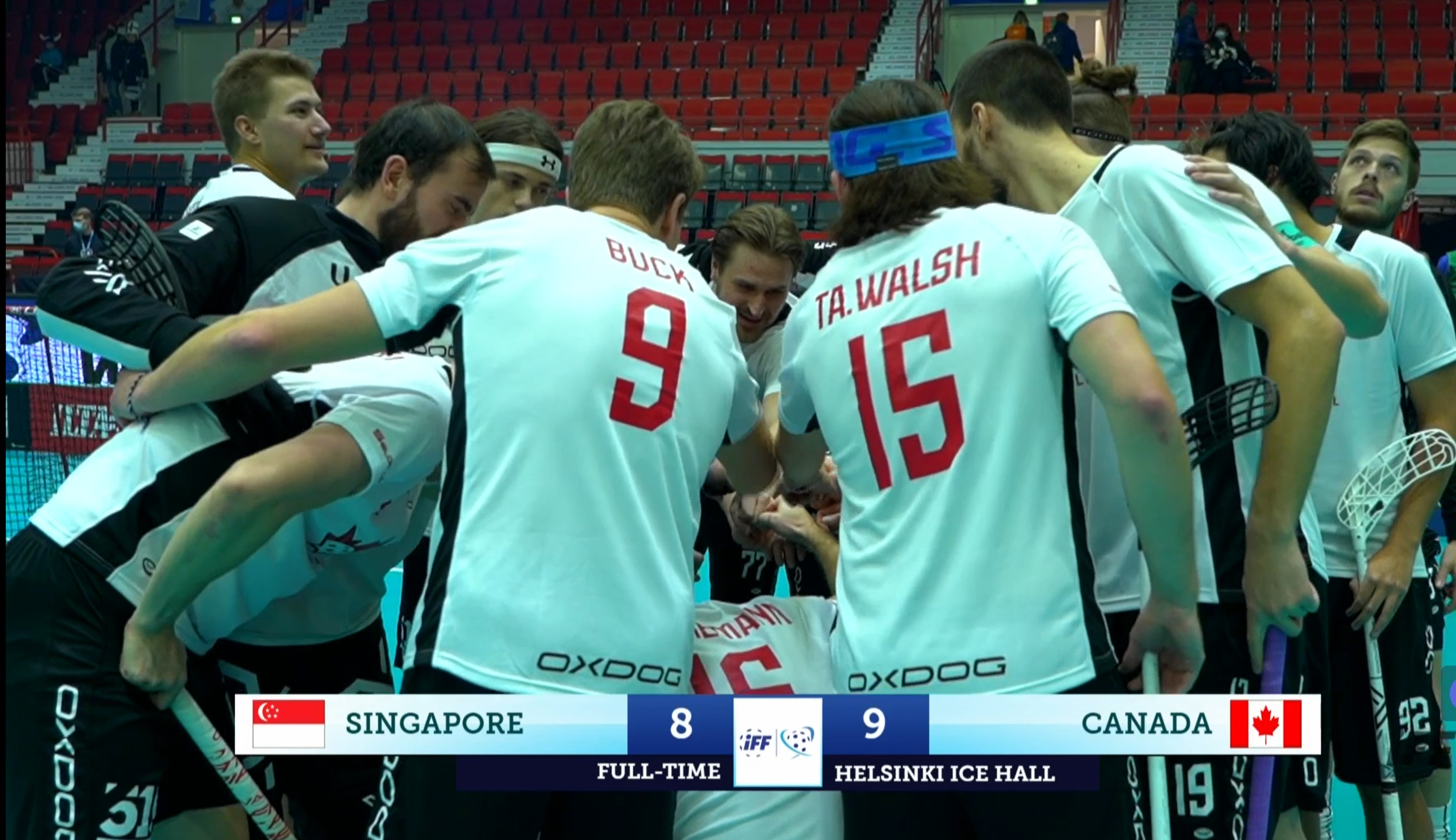 It was an intense game all around and an exciting start for Team Singapore. The Republic has a day's rest before facing their regional counterparts, the Philippines on Sunday, 5th December at 6pm. Be sure to show your support and catch the action LIVE and exclusive on the ActiveSG Circle.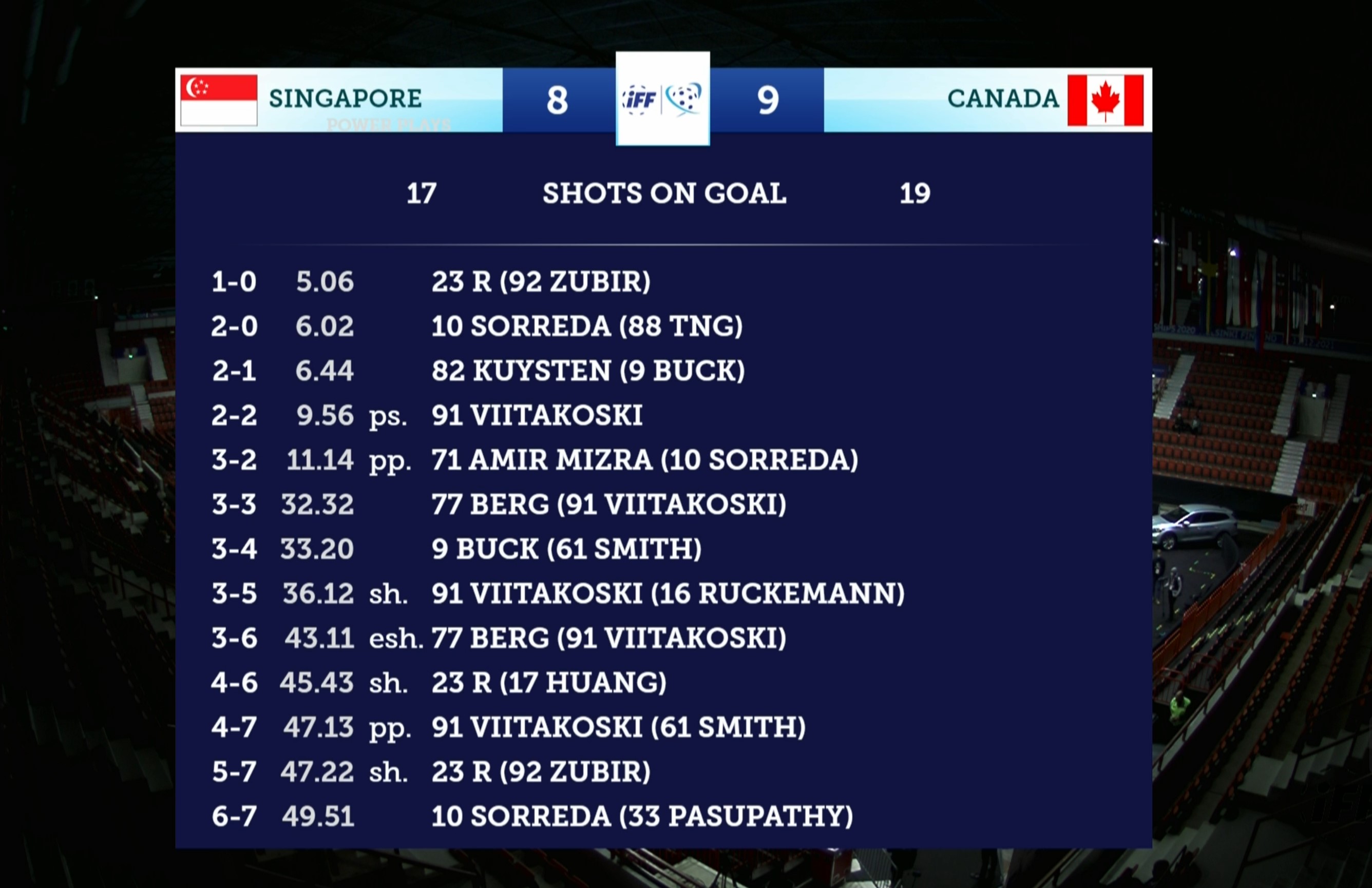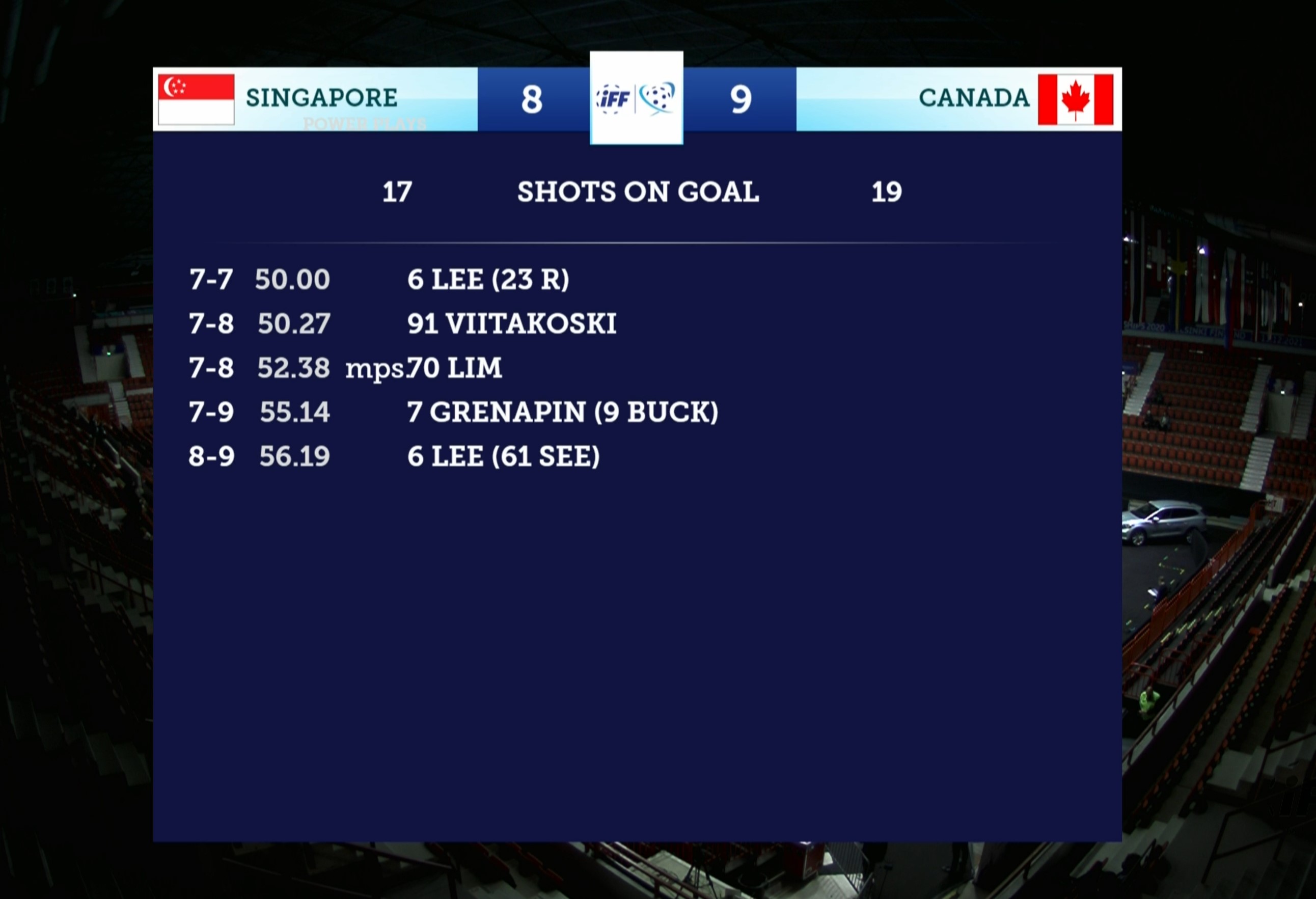 Edited by Raj Kumar
Gracia Sengutuvan was part of Team Singapore's SEA Games Gold medal winning squad in 2015! She's been playing floorball competitively for 13 years. Gracia joined Team U Sports Liitto Floorball Club straight out of secondary school and played for them till she left Singapore in 2019. She enjoys watching the NBA and her favourite player is Steph Curry. She has a good feeling that the Golden State Warriors are going to win the title this year. However, she also had that feeling last year.
Recent Events & Programmes