Bring Sports Back
Sport Singapore opens grant call for Mass Participation Events
by Circle Stories, on March 20, 2022 16:00 PM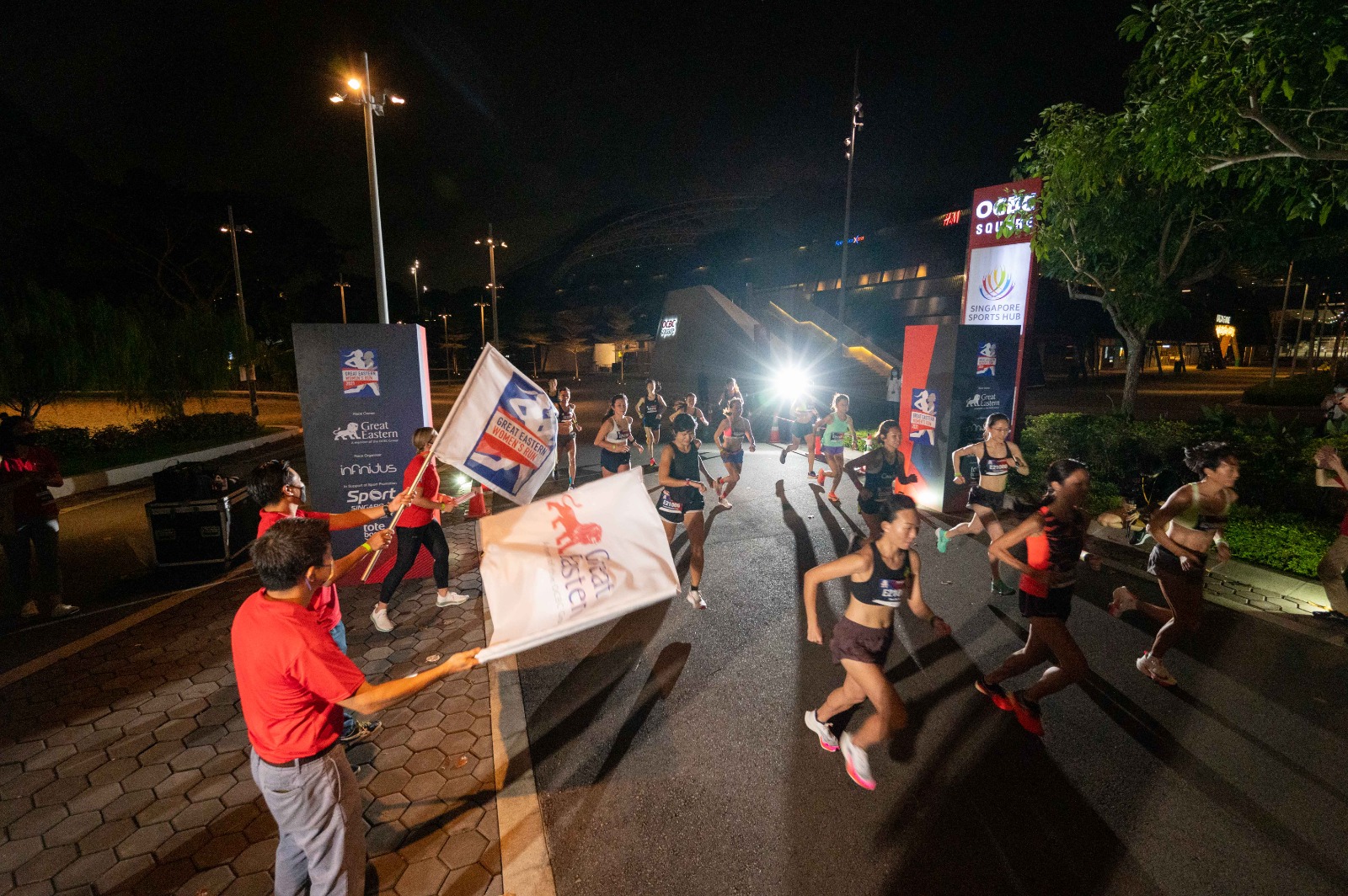 (Great Eastern Women's Run 2021. Photo Credit : Infinitus Productions)
21 March 2022 – Sport Singapore (SportSG) has commenced the open grant call for the Blended Events Grant today. The third edition of SportSG's Blended Initiative, this Blended Event Grant aims to reintroduce mass participation events and festivals for sports, including running, walking, cycling, triathlon, basketball, football and other team sports. From now till 18 April 2022, organisations such as event management companies, event organisers, academies and clubs, as well as facility operators are invited to submit applications via this weblink on ActiveSG Circle : go.gov.sg/blended-events-grant-bsb
Sport acts as a social glue to foster community bonding and social relationships. Surveys have shown that the demand for mass participation sporting events remains high despite the pandemic. Approximately 75% of Singaporeans feel that it is important for such events to resume as it signals the return to normalcy. Applications for the Blended Events Grant should demonstrate robust plans to deliver physical mass participation events in an innovative approach and in accordance with prevailing Safe Management Measures (SMMs). Beyond that, organisations should also indicate how they are proactively incorporating green and sustainable initiatives into their plans.
SportSG has set aside more than $2.5 million for the Blended Events Grant to fund mass participation events at up to $50,000 per award. This funding, intended to support more than 40 blended events or festivals, will also help event organisers manage costs that come with delivering mass participation events that need to subscribe to the prevailing SMMs to safeguard the safety of the community.
SportSG received positive response from the first two editions of our Blended Initiative. More than $2.5 million in grants were awarded to 40 events that are expected to engage approximately 150,000 participants. "We want to continue the close partnerships with our industry partners to leverage the community's interest in sports and ramp up mass participation events in a safe manner. We anticipate that businesses will continue to push the envelope with sport events and festivals that provide opportunities for both physical and virtual participation, and pave the way forward for the sporting industry," said Mr. Rostam Umar, Chief of Strategy Group, SportSG.
Local sport businesses also echo SportSG's desire to bring physical sport participation back, while embracing the adoption of technological solutions. Infinitus Productions, a grant recipient from the second edition of Blended Initiative, has managed to grow its digital capabilities to help expand its footprint and exponentially increase the number of active users. Their upcoming event will allow participants to virtually participate and race alongside like-minded individuals within Singapore and the region. "The Blended Initiative from SportSG has challenged us to deliver hybrid formats of play that combine virtual and in-person participation. The grant has also enabled us to bring the unique Infinitus experience to a larger fanbase as we continuously seek to inspire and connect more locals as part of the growing fitness community," said Mr. Jeffrey Foo, CEO, Infinitus Productions.
Another local company that has embraced digitalisation through the Blended Initiative is Empower. With the grant, Empower developed a mobile application that allows cyclists to navigate park connectors and cycling paths island-wide using a community- powered map. "This grant was more than a lifeline for us. We were struggling at the height of the pandemic, but with the grant we were able to diversify and transform our company, and more importantly – we managed to keep it going. RIDEnjoy is our first product from this transformation, and it has opened our eyes to a world of future possibilities," commented Mr. Kelvin Phang, Founding Director of Empower Asia.
Blended Initiative is one of the support measures under the Sport Resilience Package which aims to build new capabilities and transform the industry in providing more innovative sports events for Singaporeans. The Blended Events Grant is now open for applications until 18 April 2022. Sport businesses can find out more details about the eligibility criteria and submit their details at this link : go.gov.sg/blended-events-grant-bsb
Recent Events & Programmes