Team Singapore
Team Singapore gears up for Hanoi 2021 SEA Games!
by Circle Stories, on April 26, 2022 16:00 PM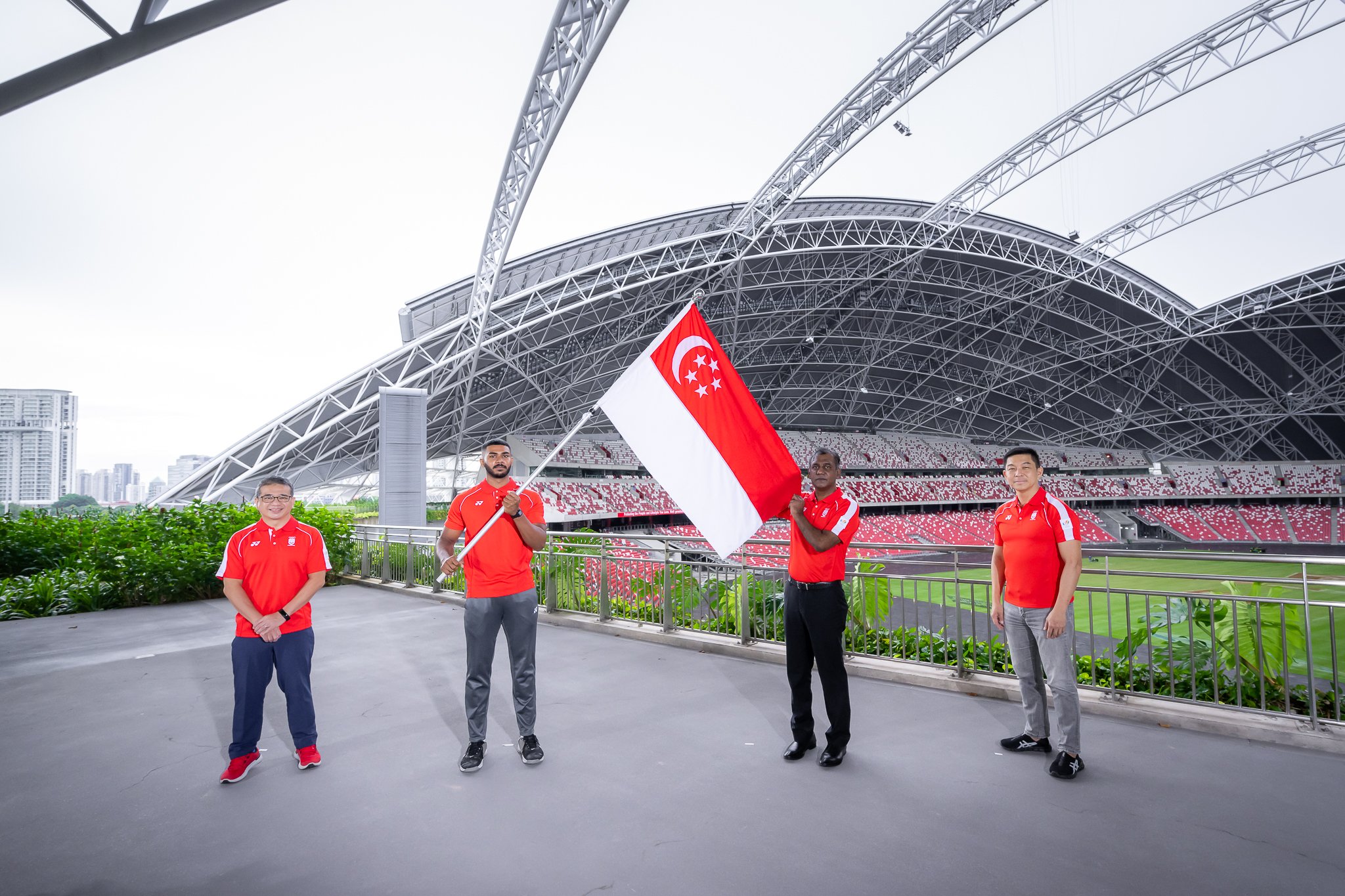 From L to R: Mr Edwin Tong (Minister for Culture, Community and Youth), Sheik Farhan (Team Singapore's Flag Bearer & Silat exponent), Mr S. Sinnathurai (Team Singapore, Chef de Mission) and Mr Tan Chuan-Jin (President, Singapore National Olympic Council). Photo Credit : SNOC
27 April 2022 – Team Singapore will be fielding 427 athletes in 33 sports at the upcoming 31st Southeast Asia Games (SEA Games) in Hanoi, Vietnam in May.
526 events in 40 sports will feature in Vietnam as the country prepares to host the Games for the second time after its debut in 2003. Of the 427 Team Singapore athletes, 243 athletes will be making their debut at the regional event which was postponed from December 2021 as a result of the pandemic. The athletes include diver Max Lee, 14, as the youngest member of the team and billiards world champion Peter Gilchrist at 54 years old as the most senior athlete reflecting the diversity of the contingent.
The first event for Team Singapore will begin in Hanoi when the beach handball competition kicks off the Games on 6 May. The Games will officially commence on 12 May, when the opening ceremony takes place and is scheduled to end on 23 May.
3-time Silat world champion Sheik Farhan was unveiled as the contingent's flag bearer. The 2017 SEA Games champion said, "Representing Singapore has always been very special to me, to be able to lead the contingent as flag bearer this time will make this SEA Games a particularly memorable one for me. I can't wait to compete at a major Games again, and look forward to enjoy the experience in Hanoi."
Measures are in place to prepare the contingent to ensure their health and safety, similar to those adopted during the Tokyo Olympic Games. Prior to departure, the contingent have already received their Covid-19 vaccinations. Athletes will arrive two days before their competition commences, and depart within 24 hours after their competition ends. A safety and hygiene protocol is in place to ensure that they are in tip-top shape and health at all times.
The Singapore National Olympic Council (SNOC) works with many stakeholders in planning and preparing for every major Games such as Sport Singapore, the Singapore Sport Institute, the National Sports Associations and many other government agencies and organisations. Support also comes from stakeholders such as the Tote Board family comprising Tote Board, Singapore Pools and the Singapore Turf Club, Fitness First, Singapore Airlines, Singtel, Toyota and Yonex Sunrise, who have pledged dedicated support to Team Singapore on their journey to Hanoi.
Chef de mission S. Sinnathurai said, "This edition of the SEA Games is an unprecedented one. After a year of postponement, our athletes are very eager to compete to put to test the training and hard work they have put in over the past few years. The Games will be spread across 12 provinces and athletes and officials will be housed in different hotels. My assistant chefs de mission – Ms Asmah Hanim and Mr Damien Ler – and I will be on the ground to support the team. Resources are dedicated to this decentralised plan with the health and safety of the contingent as the top priority. I hope Singaporeans can lend their support to cheer for Team Singapore as they do their best to represent the nation in Hanoi."
At the Philippines 2019 SEA Games, Singapore's largest away contingent of 659 athletes in 48 sports brought home 53 gold, 46 silver and 68 bronze medals. The 2015 Games' haul of 84 gold, 73 silver and 102 bronze medals on home soil remains Team Singapore's best performance while the 2017 edition in Kuala Lumpur (58 gold, 59 silver and 71 bronze medals) is the best away Games.
Support Team Singapore athletes via updates from the SNOC (@sgolympics) and Team Singapore (@teamsingapore) social media accounts on Facebook and Instagram and live coverage of the Games will available on Mediacorp's Channel 5 and meWATCH (www.mewatch.sg/seagames).
Related Events & Programmes