Floorball
Singapore will battle Team USA for a 15th place finish, at the 2020 IFF Men's Floorball Championships!
by Circle Stories, on December 7, 2021 16:00 PM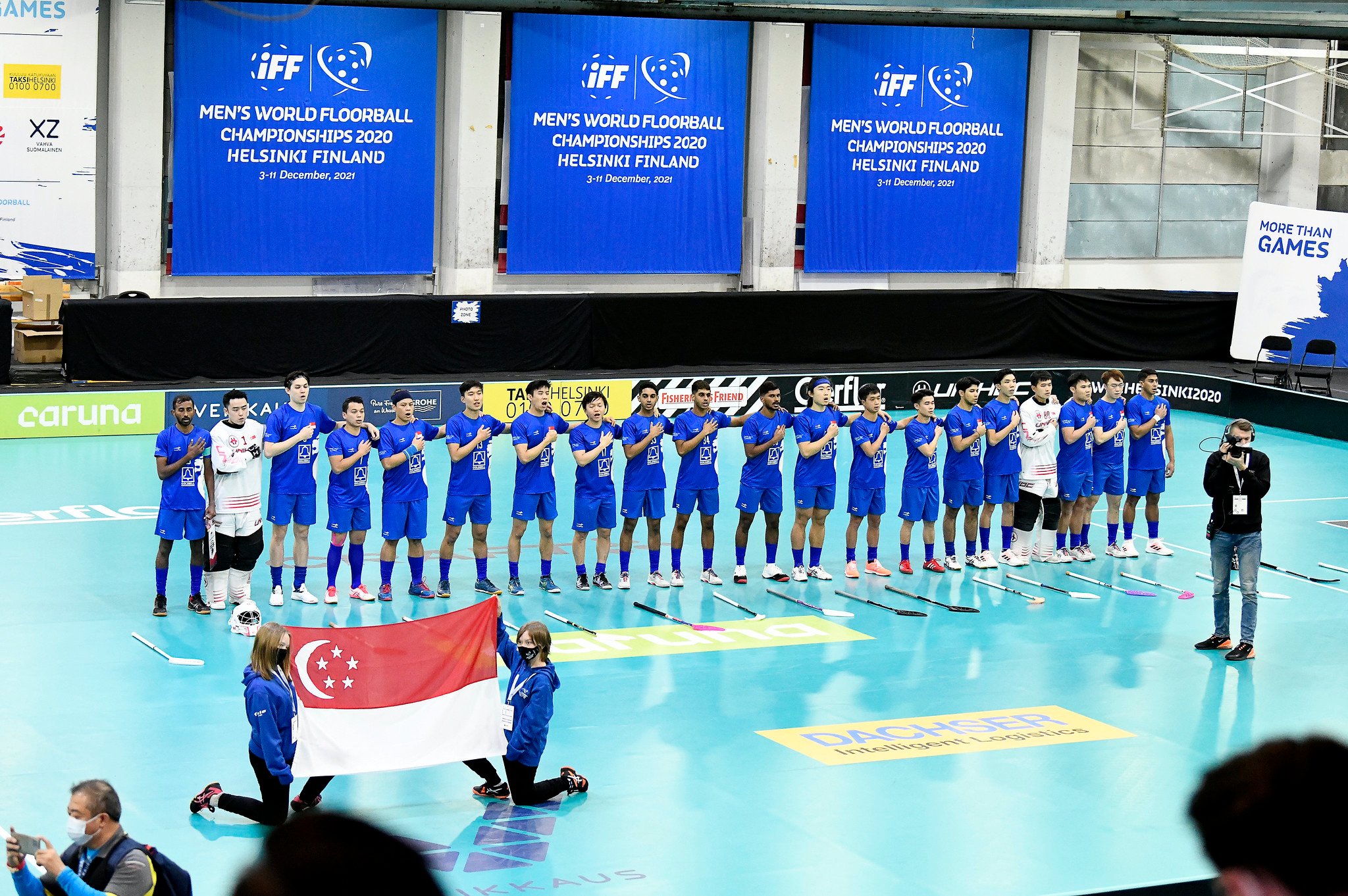 (Team Singapore. Photo Credit : International Floorball Federation)
By Gracia Sengutuvan
Team Singapore came into Tonight's (Dec 7) Classification match in Finland, on the back of 3 straight losses. And despite those defeats, the team still kept up their morale and looked ahead to the next clash - Thailand! Exactly 2 years ago at the Manila SEA Games, Singapore surrendered the Gold medal, when they lost to Thailand in the final showdown. So tonight's 13th-16th place classification match, probably meant much more for the Republic - it was an attempt at redemption for 2019 as well as to secure their very 1st win at the ongoing world championships. At the end of fulltime however, it was the Thais running away with a 11-6 win.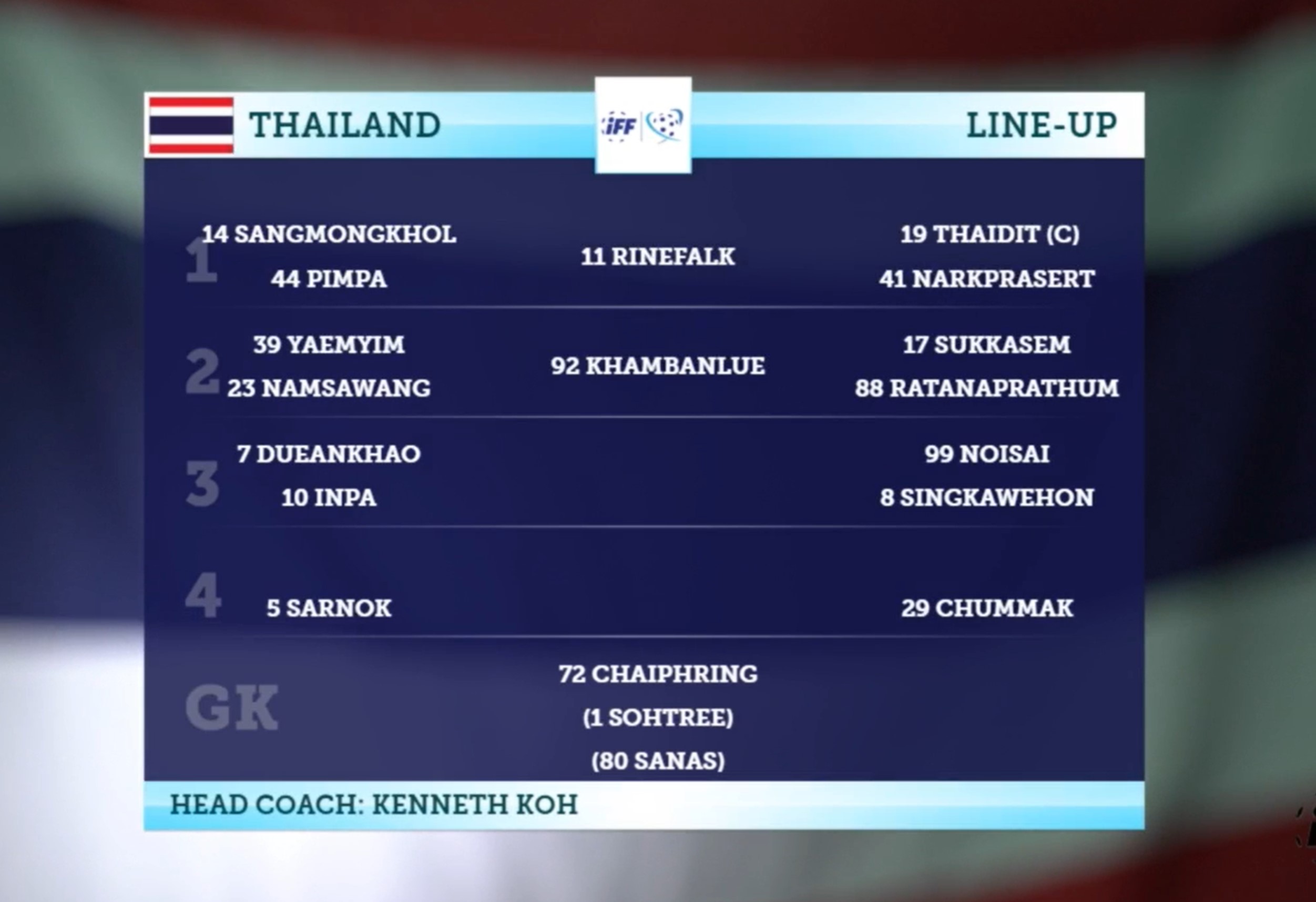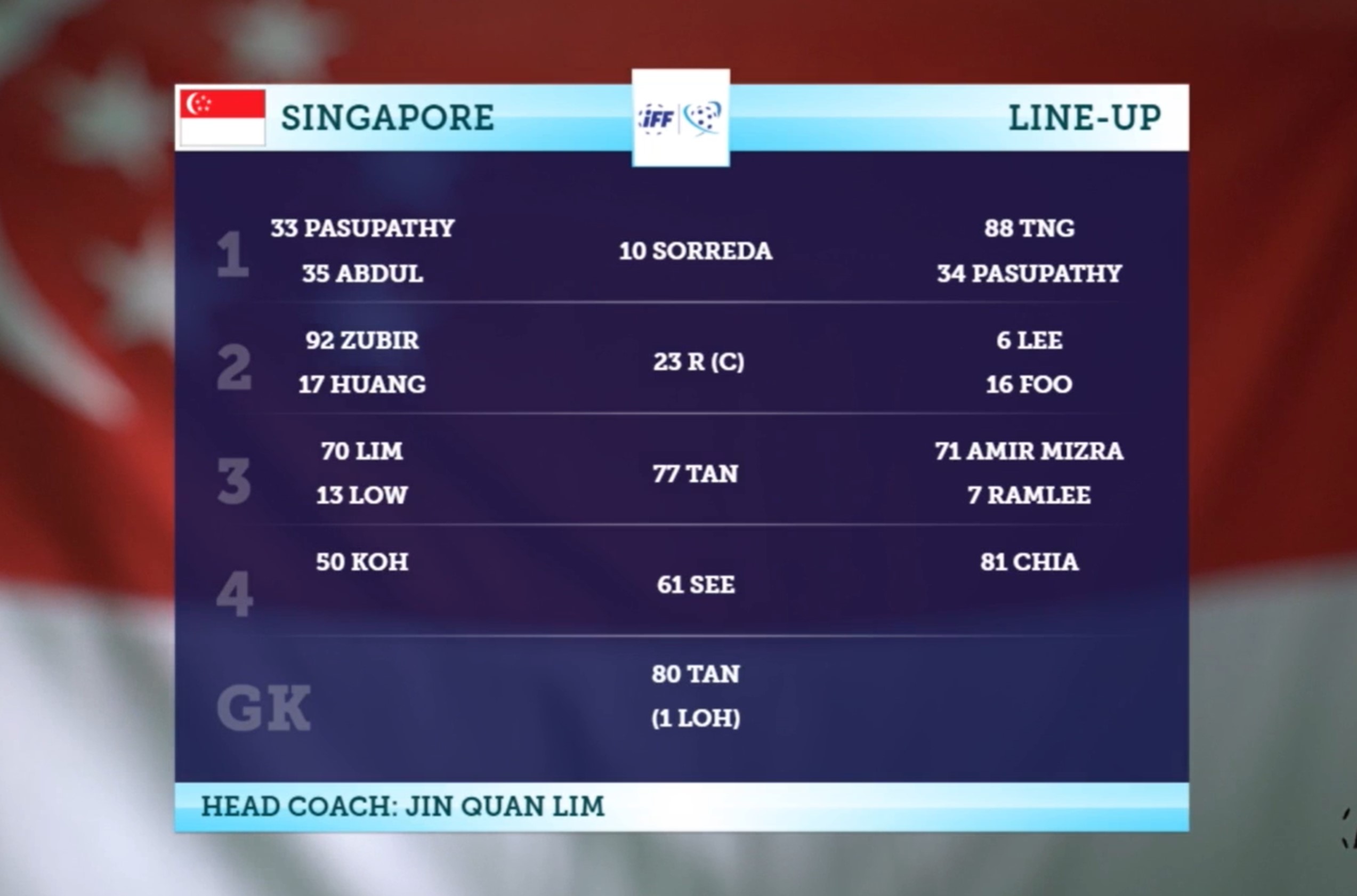 An early goal for Thailand. 39 seconds in Alexander Rinefalk passed the ball to the Thai captain, Pawat Thaidit who took his time to place the shot past the Singaporean goalkeeper, Joshua Loh. 1-0! Team SG replied with a composed play-up of their own that Lee Chee Yong failed to finish.
5th minute - Thai's Pheeraphong Khambanlue was penalized and sent to the sin bin for 2 minutes. A good ball movement by SGP's Sean Huang for a long-range shot, was the closest the Republic came to equalize in their one-man advantage. But they didnt!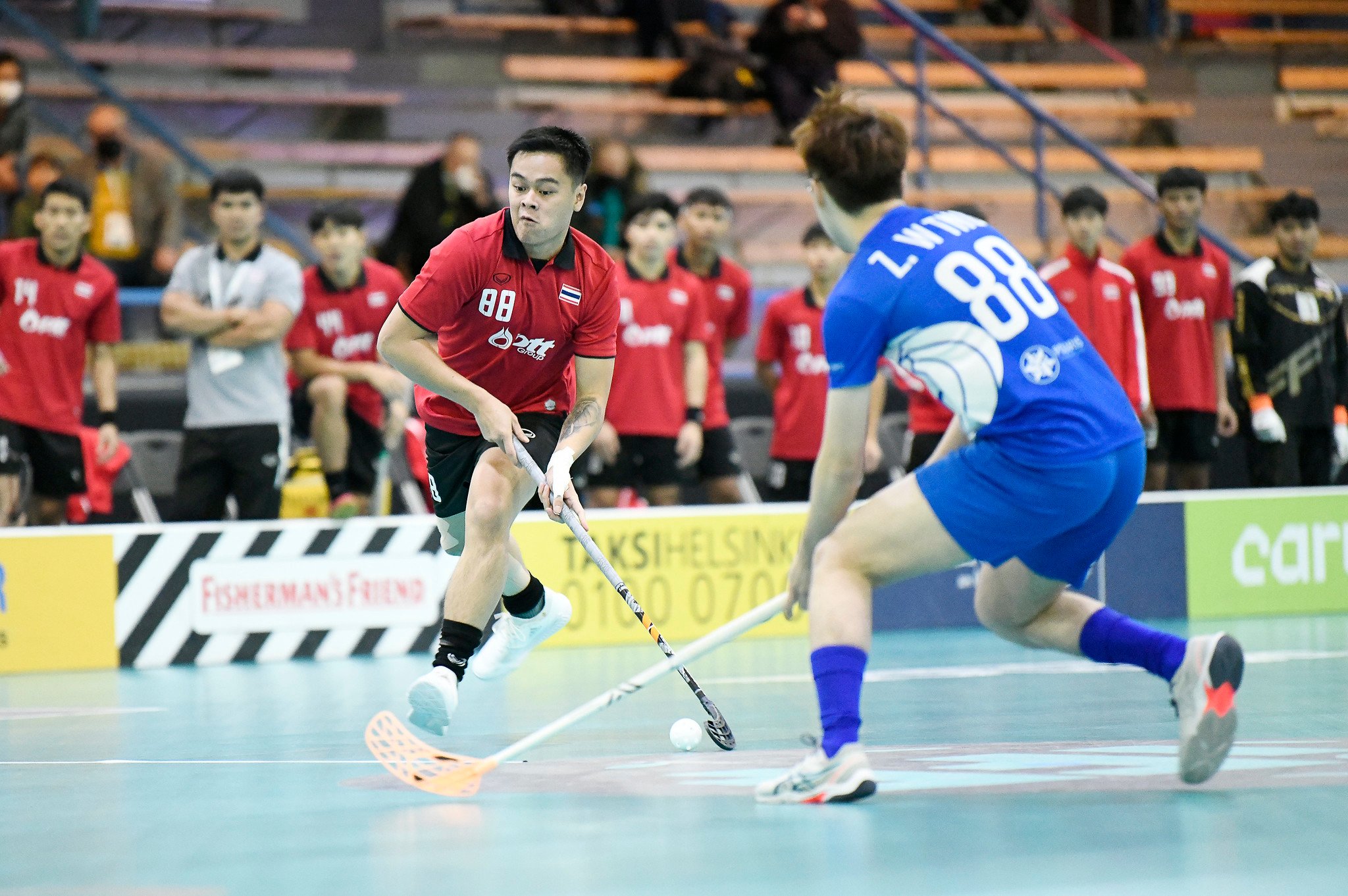 (Thailand's Ratanaprathum Aphichet on the attack. Photo Credit : IFF)
9.45- Khambanlue looking to redeem himself for his earlier mishap, drove in for a drag shot from mid-court that sent the ball reeling into the goal. 2-0!
15th minute- A quick counterattack by Thailand put them one step ahead of Singapore's defence. Captain Thaidit managed a blind-side pass to Surapong Sangmongkhol, to put it in and widened the gap to 3-0.
Thailand quickly recognized its strength in counterattacks and executed another soon after. Ratanaprathum Aphichet passed the ball from his half of the court down to Santipong Sukkasem, to nail another for the Thai team. 4-0!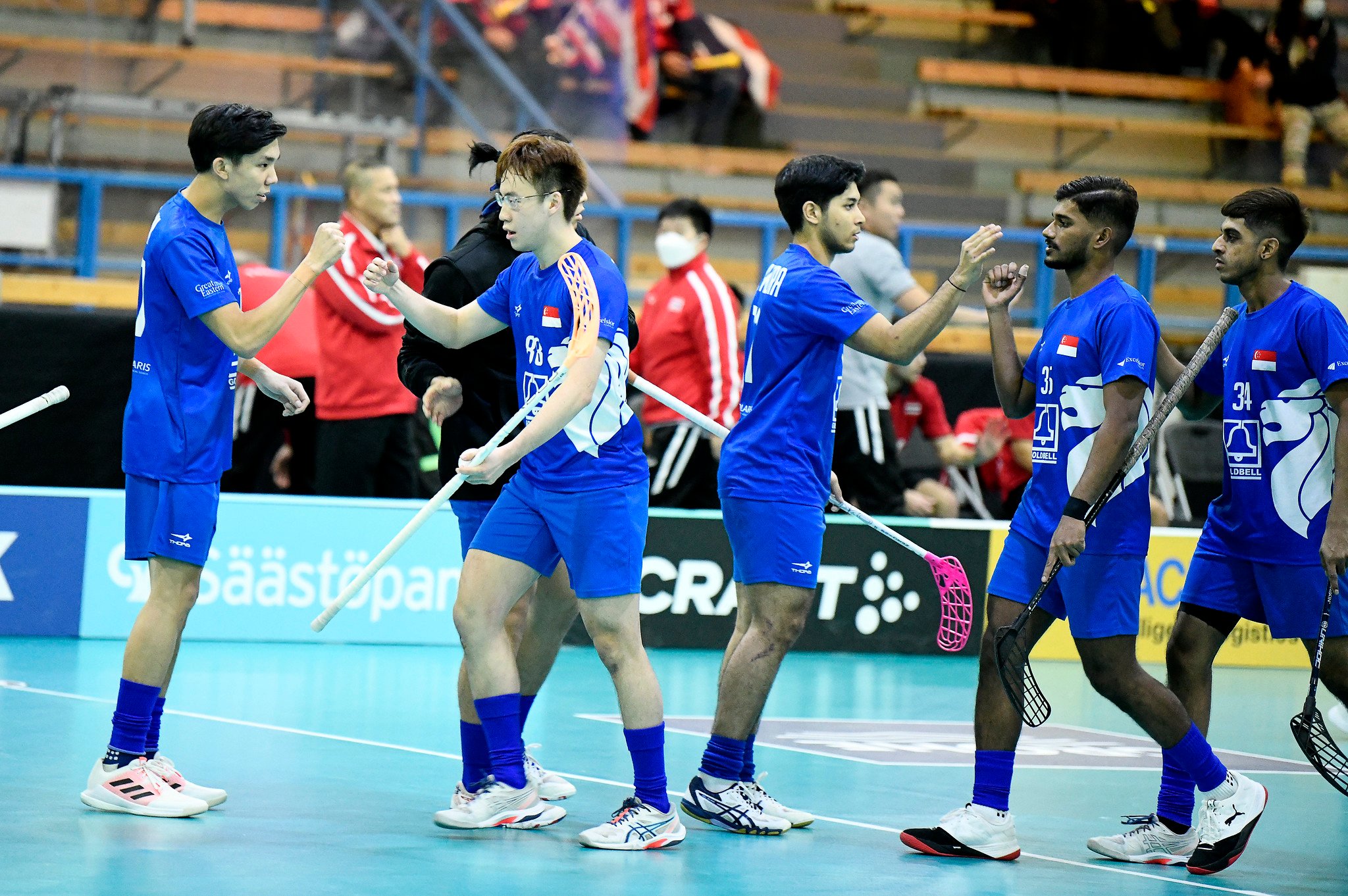 (TeamSG celebrates 1st goal. Photo Credit : IFF)
18.26- TeamSG with a free hit at half court. Jenmark Sorreda made a diagonal crosscourt pass to Tng Zong Wei who was positioned in the blindside of the Thai keeper. And the No 88 scored the first goal for Singapore. 4-1!
5 seconds left in the period and Thai's Chusak Narkprasert was given a 2-minute penalty that would be carried over to the next period after a break. 1st period ended 4-1 to the Thais.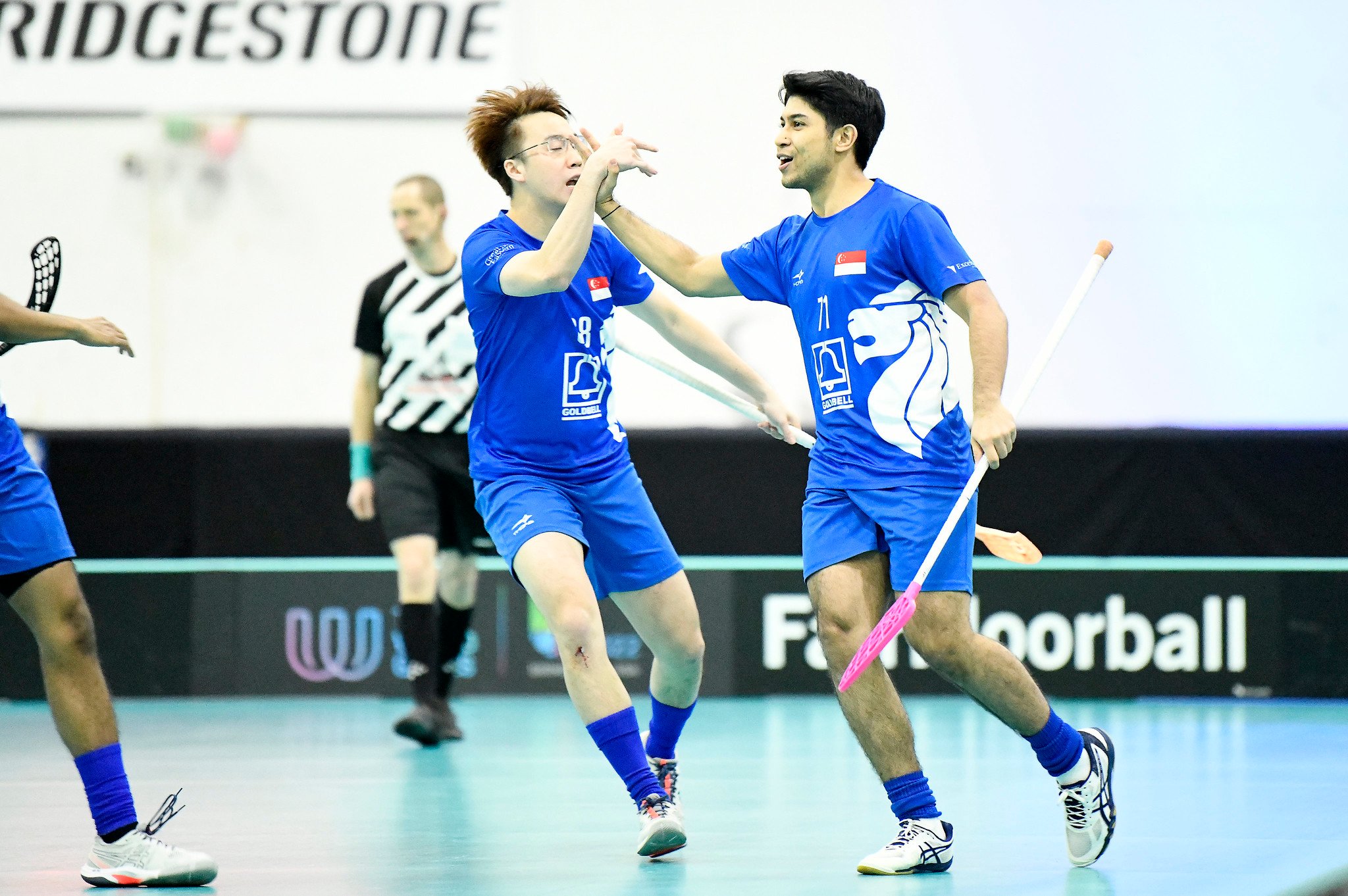 (TeamSG's Amir Mirza scores. Photo Credit : IFF)
1.5 minutes into the 2nd period and with a mere 7 seconds left in the advantage, Singapore's Amir Mizra Abdul Mateen intercepted the Thai goalkeeper's throw and went rocketing in for a goal. 4-2!
22.44- A tussle in TeamSG's corner spilled the ball over to vigilant Thailand's Jeerayut Yaemyim, to score his first goal of the tournament and easily made it 5-2.
A disheartened Singapore proceeded to make a series of mistakes. An overzealous attempt by Zong Wei with an incorrect hit at a player, rendered him a tumble and a cut on his cheek. He was promptly penalized and sent to the sin bin for 2 minutes. And before that was completely served out, the Republic was penalized again for incorrect substitution that left 3 field players to fend the goal.
Not one to look a gift horse in the mouth, the Thai team ran with their advantage and Sukkasem finished it with a goal, 6-2 (24.48th minute)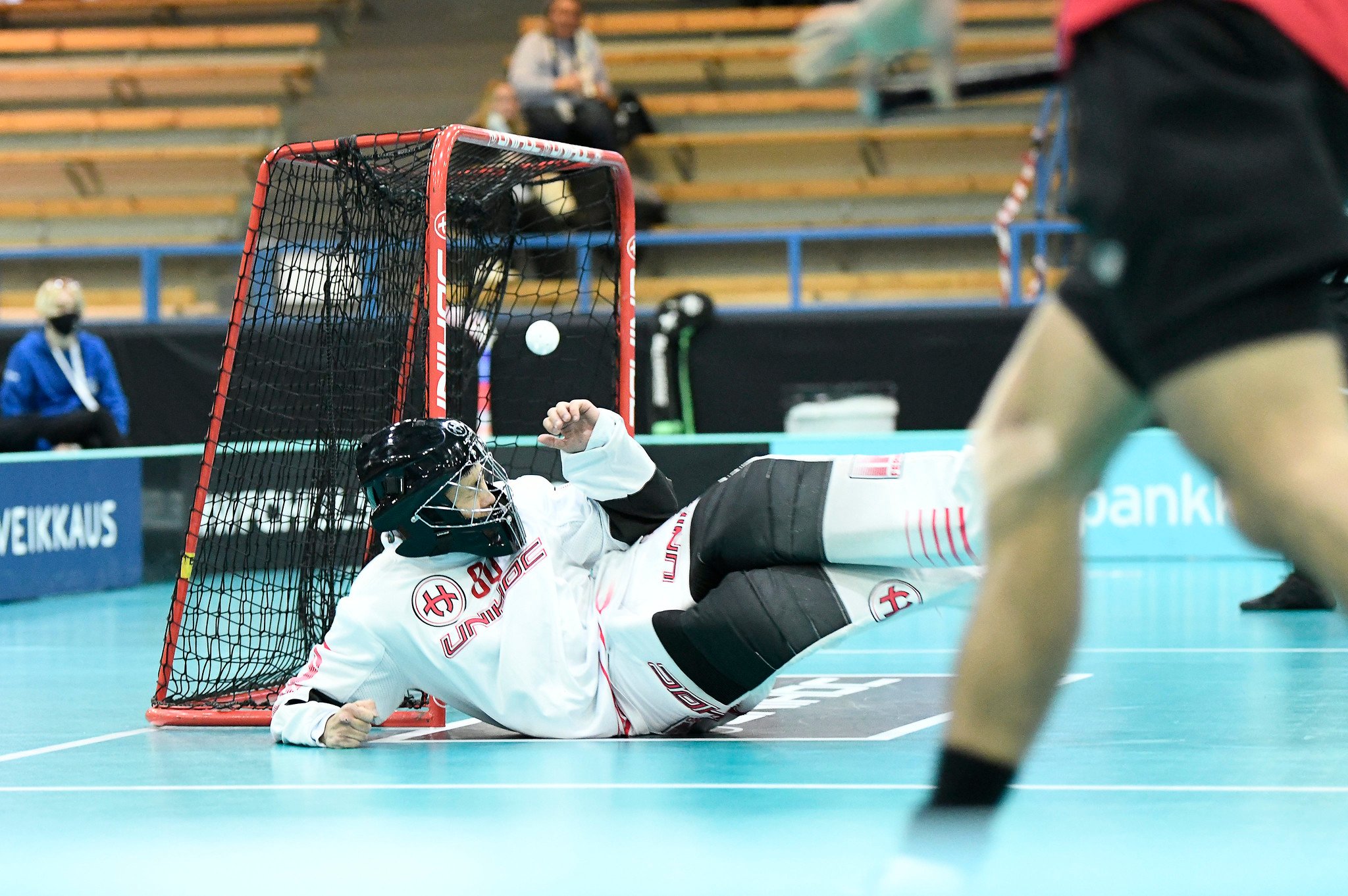 (TeamSG's goalkeeper Joshua Loh. Photo Credit : IFF)
32.24- Singapore was awarded a 5-minute penalty for obstruction and a penalty shot for Thailand. The Thai Captain Thaidit took on the one-on-one challenge with Singapore's Joshua Loh. With a simple but effective fake, he placed the ball into the net and widened the goal difference to 7-2.
With a man down, TeamSG spared no effort in keeping the Thai team at bay. Unfortunately, they were bested by Khambanlue not once, but twice. Team SG trailed behind at 9-2.
Fatigue must have set in for the Thai team as they appeared more prone to falls and stumbles. One of which was TeamSG's doing that they were promptly punished for 2 minutes for.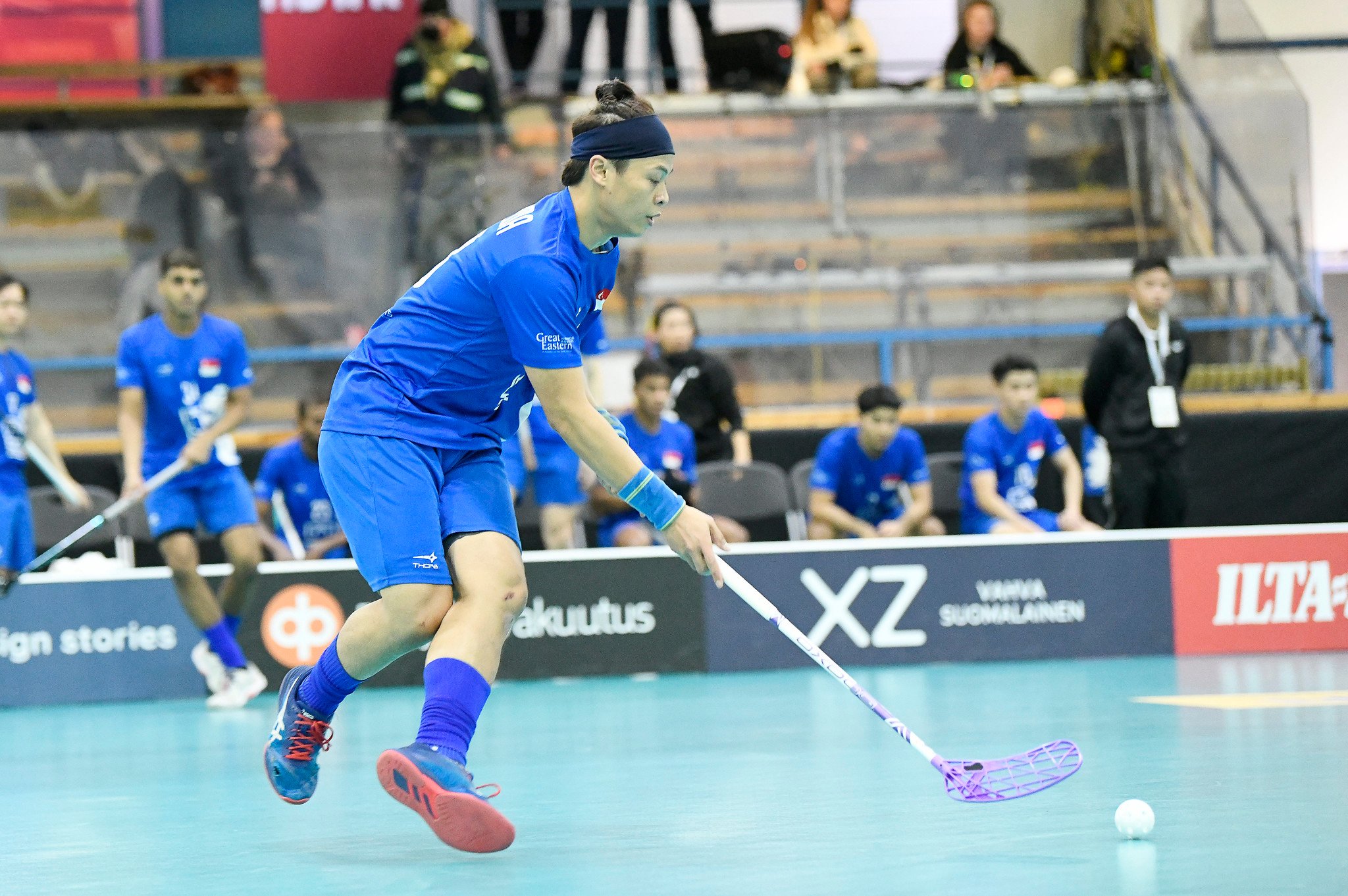 (TeamSG's Jenmark Sorreda. Photo Credit : IFF)
38.52-Once again at an advantage, Thailand's Thaidit set up Sukkasem for a perfectly executed shot turned goal that made it 10-2 at the end of the 2nd period.
The 10-minute break could not have come sooner as both teams needed a moment to catch their breath. Rejuvenated and keen to get on with the game, both teams began the final 3rd with gusto. A series of good efforts were made by TeamSG in juxtaposition to their earlier period.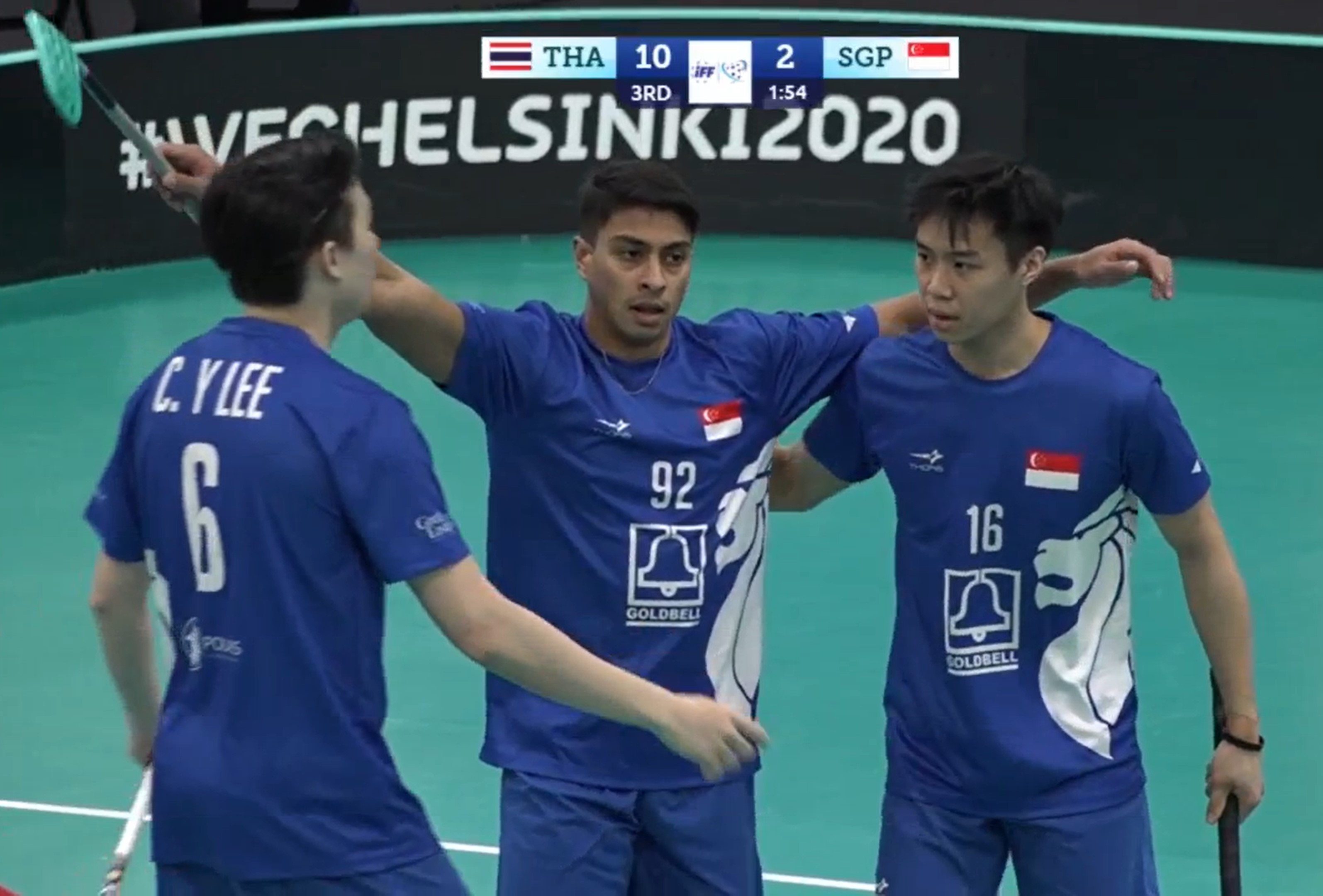 (TeamSG's Hafiz Zubir scores. Image extracted from Live stream)
41.54- Singapore's defenceman Sean Huang, who had been most noticeable for his persevering efforts to prevent more goals from going in, made a long pass to Lee Chee Yong who went in for his signature drag shots. Hafiz Zubir took the rebound and reduced the deficit. 10-3!
42.11: Debutant Wen Jun Koh for Singapore, intercepted the ball in mid-court and drove in for the long-range shot that turned into a goal, on his very first shift! 10-4!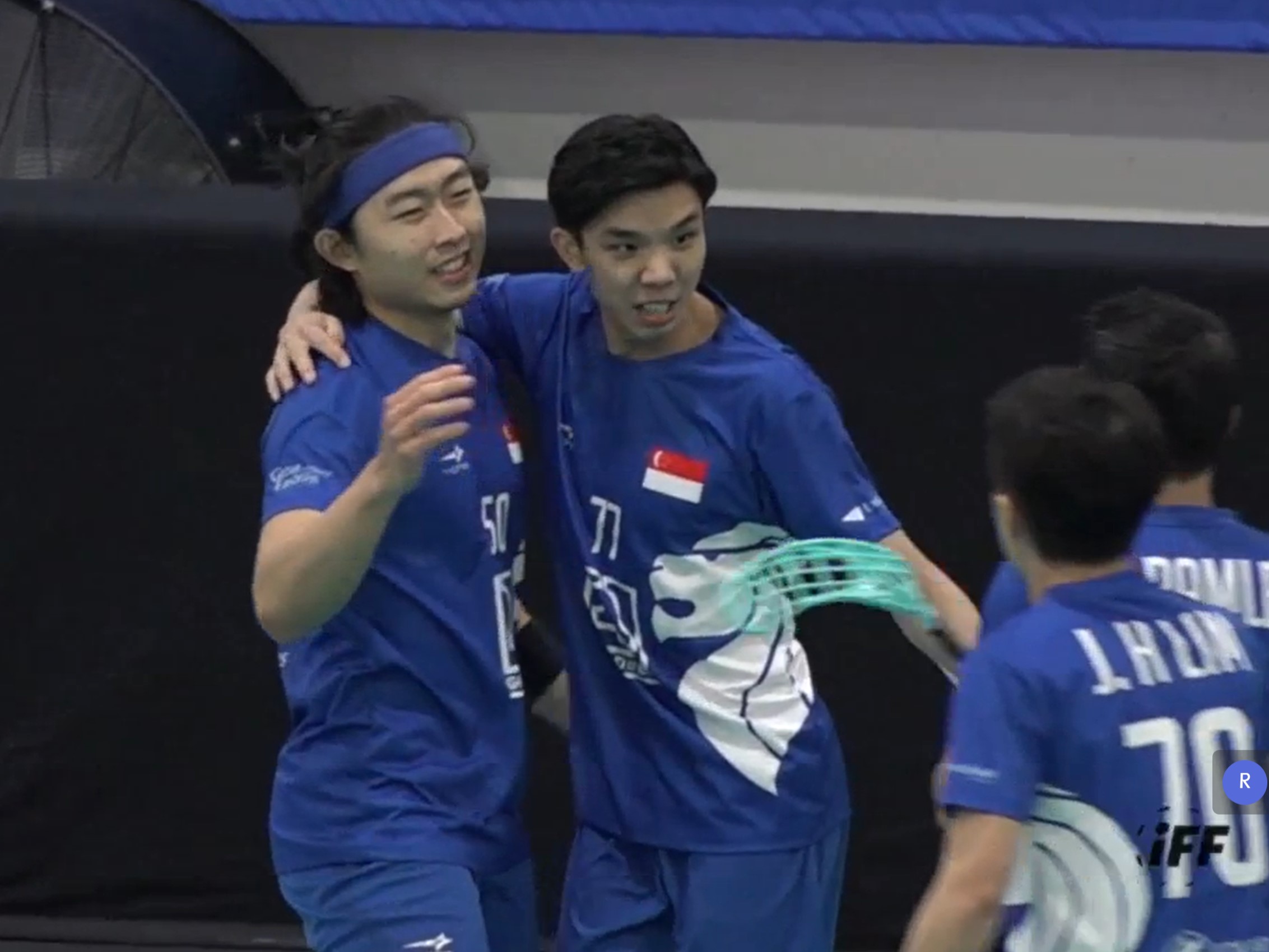 (TeamSG's WFC Debutant Wen Jun Koh scores 4th goal. Image extracted from Live stream)
51.16-Captain Thaidit scored his hat-trick for the game with a one-two pass with Rinewalk directly in front of Singapore's goal, extending the goal margin to 11-4.
58.34- SGP's Kumaresa Pasupathy, another player that had been a cornerstone in keeping his line and team in order, passed the ball to Abdul Mohamad Haris for another long-range shot that went bouncing passing the Thai keeper. 11-5!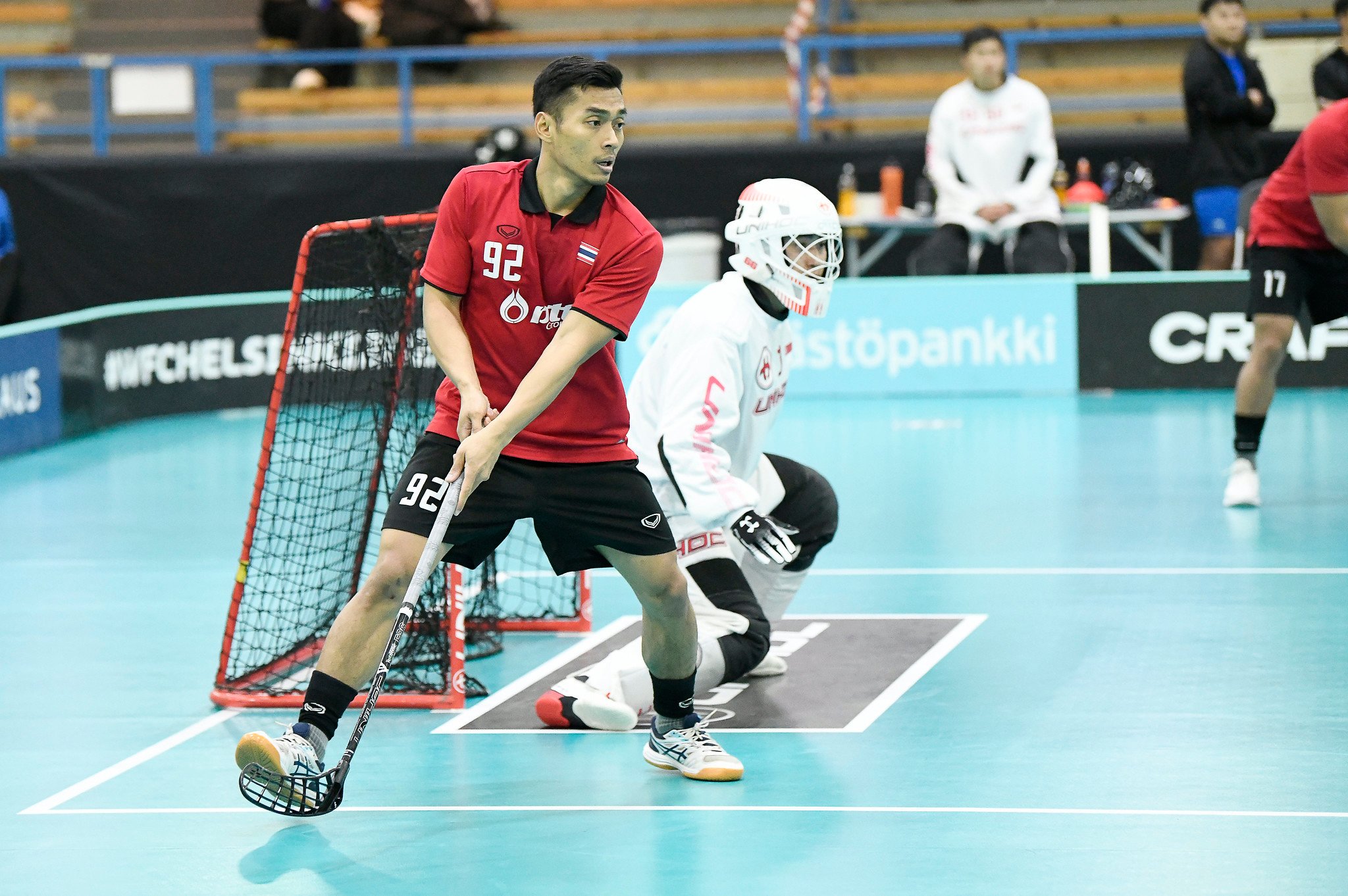 (Thailand's Player of the Match - Khambanlue. Photo Credit : IFF)
58.56- Debutant Foo Jun Wei picked up a loose ball from a counterattack and proceeded to sweep it in for Singapore, 11-6!
It's a tradition among debutants to pocket the ball with which they score their first international goal. However, Jun Wei, noticed that there was barely a minute left in the game, picked the ball to quickly place it at the faceoff point, eager to get the game continued. This reflected Team SG's undying spirit to play till the last whistle.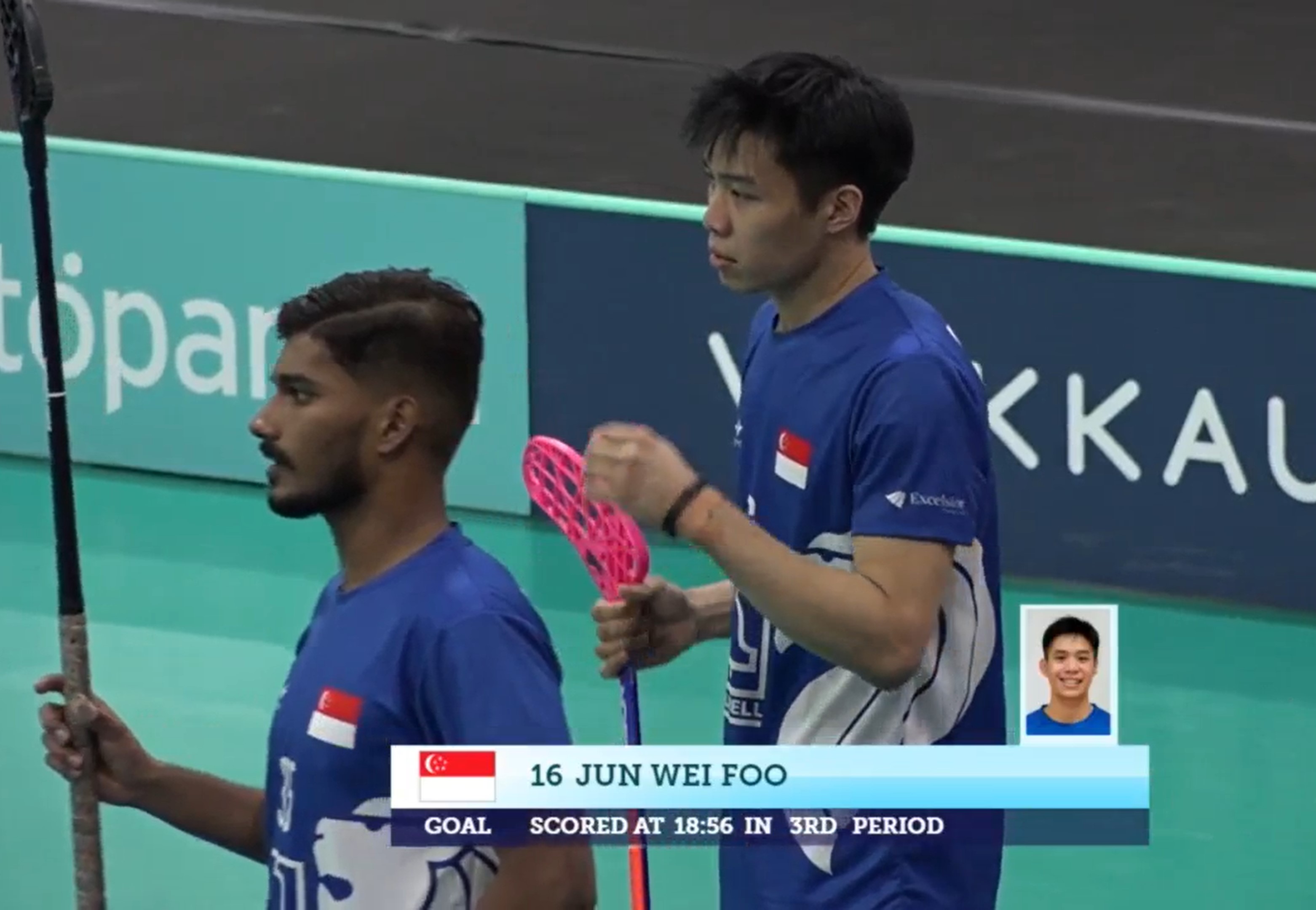 (TeamSG's WFC Debutant Foo Jun Wei scores! Image extracted from Live stream)
The remaining 64 seconds went by too soon and the game concluded at 11-6. Singapore will meet Team USA to battle it out for the 15th position in the 2020 World Floorball Championships. The game is on Wednesday, December 8th at 8 pm (SGP time). Tune in to show your support and catch the action LIVE and exclusive on the ActiveSG Circle.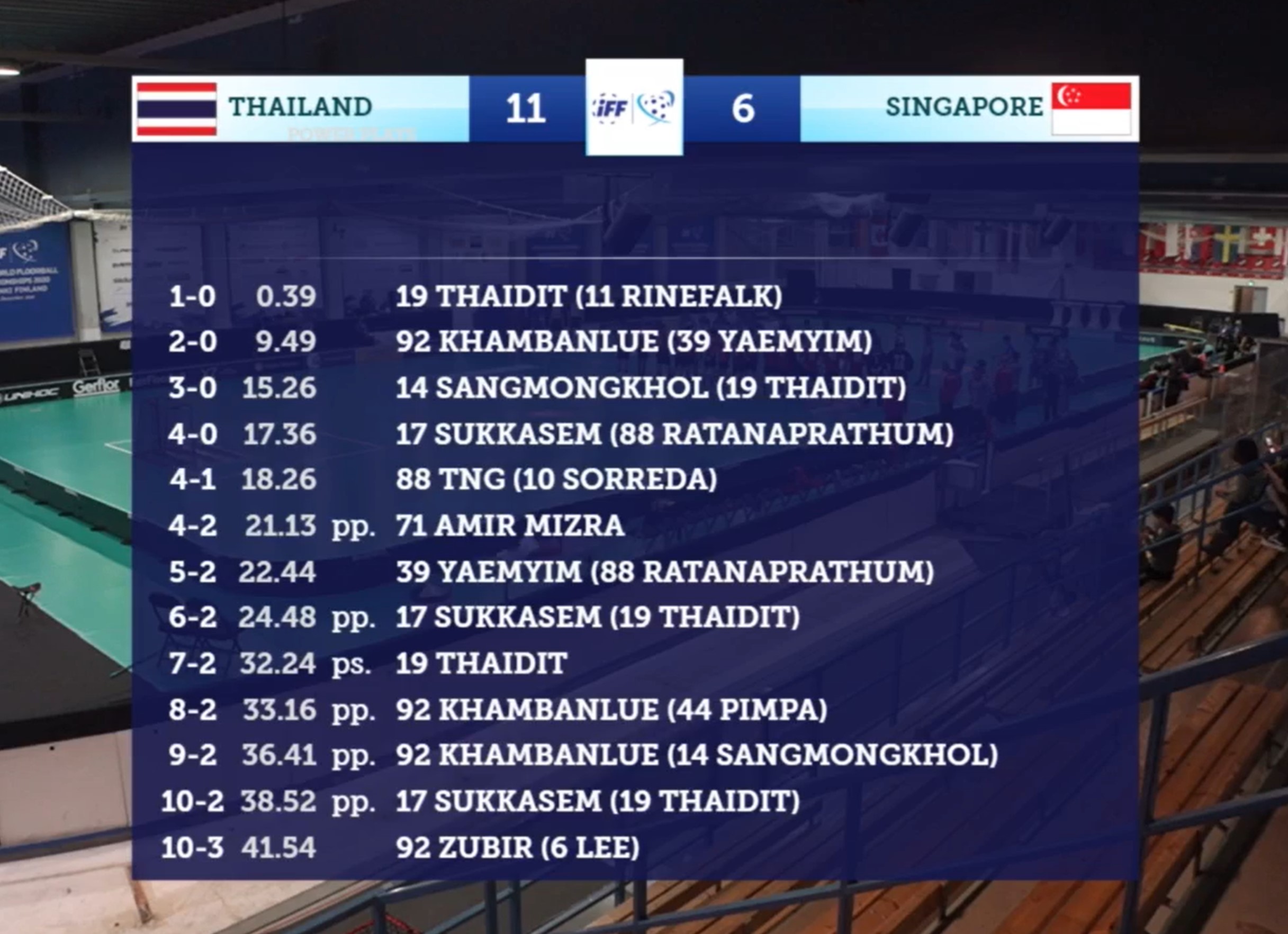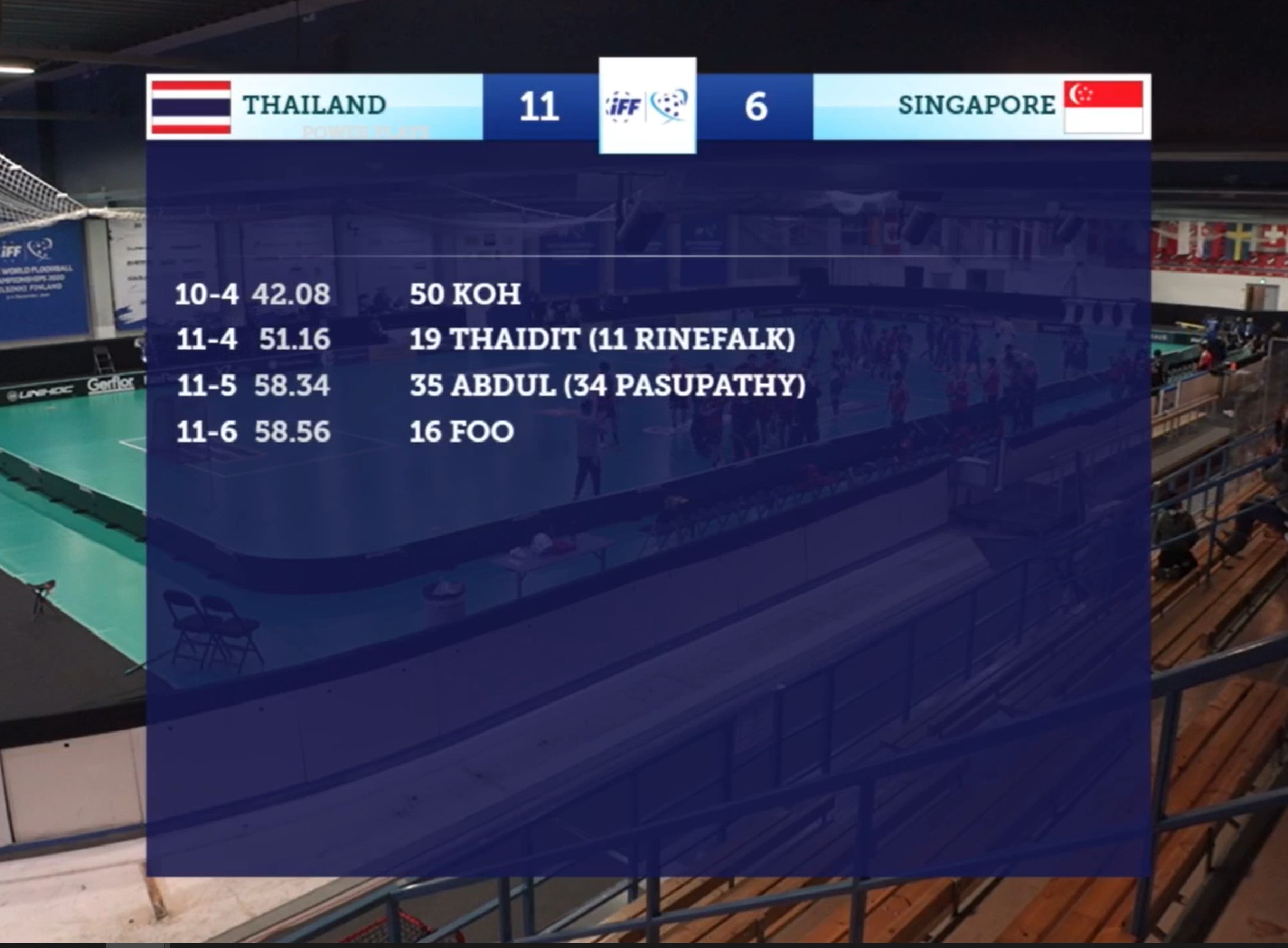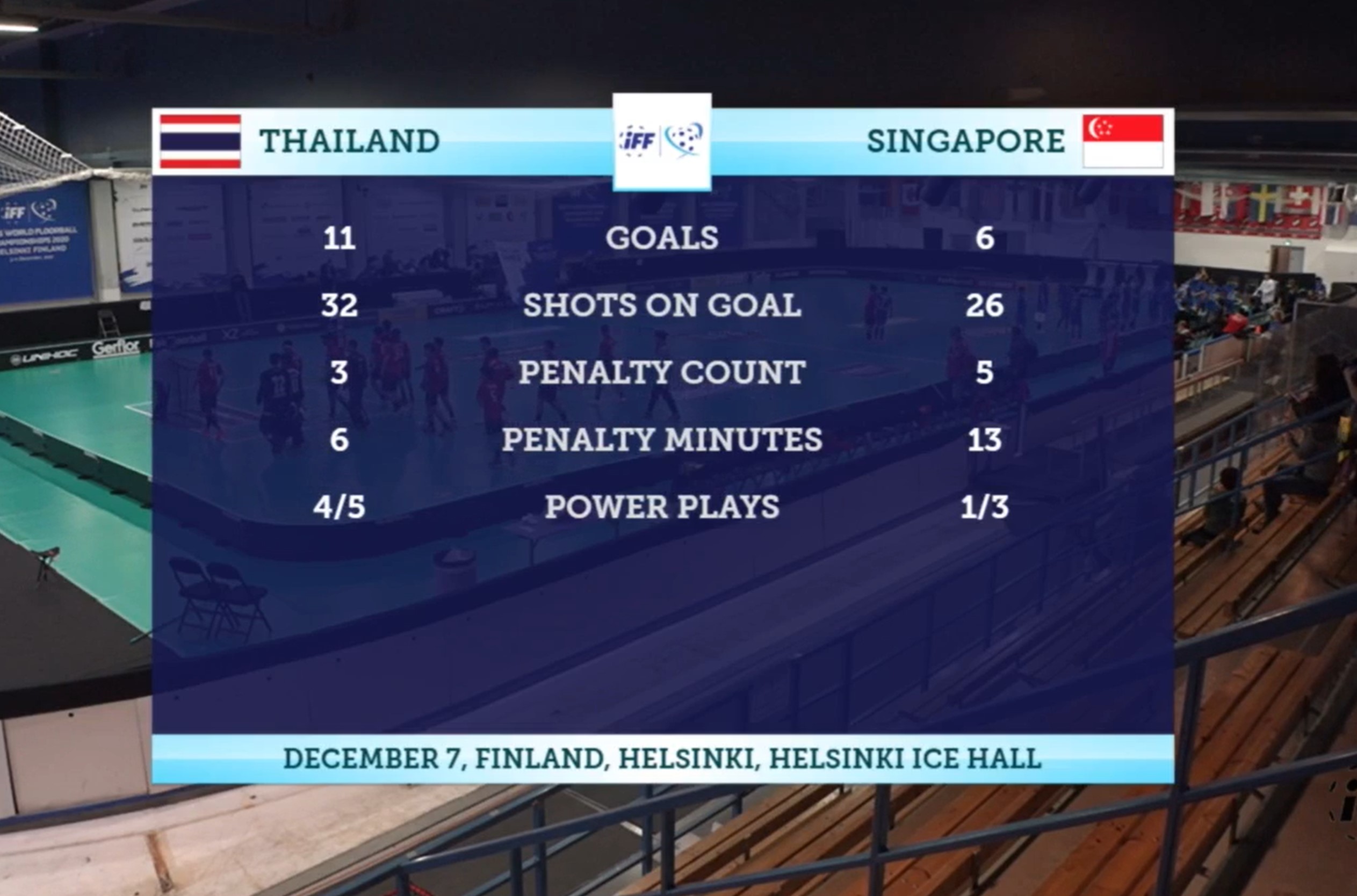 Edited by Raj Kumar
Gracia Sengutuvan was part of Team Singapore's SEA Games Gold medal winning squad in 2015! She's been playing floorball competitively for 13 years. Gracia joined Team U Sports Liitto Floorball Club straight out of secondary school and played for them till she left Singapore in 2019. She enjoys watching the NBA and her favourite player is Steph Curry. She has a good feeling that the Golden State Warriors are going to win the title this year. However, she also had that feeling last year.
Recent Events & Programmes