Team Singapore
TeamSG's Feng Tianwei sets up a showdown against World No 1 Chen Meng in the last 8, at the star-studded WTT Cup Finals in Singapore!
by Circle Stories, on December 4, 2021 16:00 PM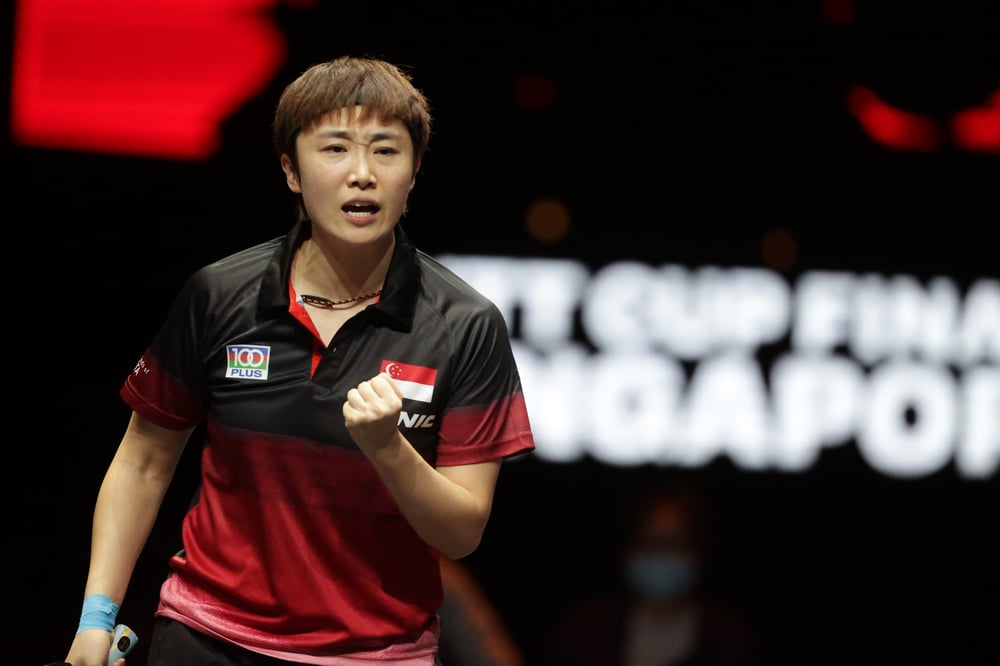 (TeamSG's Feng Tianwei at the WTT Cup Finals. Photo Credit : WTT)
By Pearlyn Koh
40 minutes was all it took for Team Singapore's Feng Tianwei, to claim her maiden victory at the WTT Cup Finals on home soil. In their 11th career meeting, the 7th seeded Singaporean prevailed against South Korea's Jeon Jihee, 3-1 (11-6, 11-8, 8-11, 11-5) on Saturday evening (4 Dec), at the OCBC Arena!
Since the duo first began playing against each other in 2012, Jihee had only won in two encounters. And in their most recent meeting at the 2019 ITTF Asian Championships, it was Tianwei who scored the 3-1 victory.
Fast forward to the ongoing season-ending WTT Cup Finals and in their 1st game of the round of 16 clash, both players started off strong steadily, with 5 points apiece. Tianwei subsequently became more aggressive, firing down her Korean opponent with her consistent and strong forehand returns. A series of rallies saw the world number 11 execute her shots with precise placements, often leaving the Korean helpless with her wide-angles down the line strokes. The Singaporean paddler, then landed 4 straight points to surge ahead, before sealing off the first game, 11-6!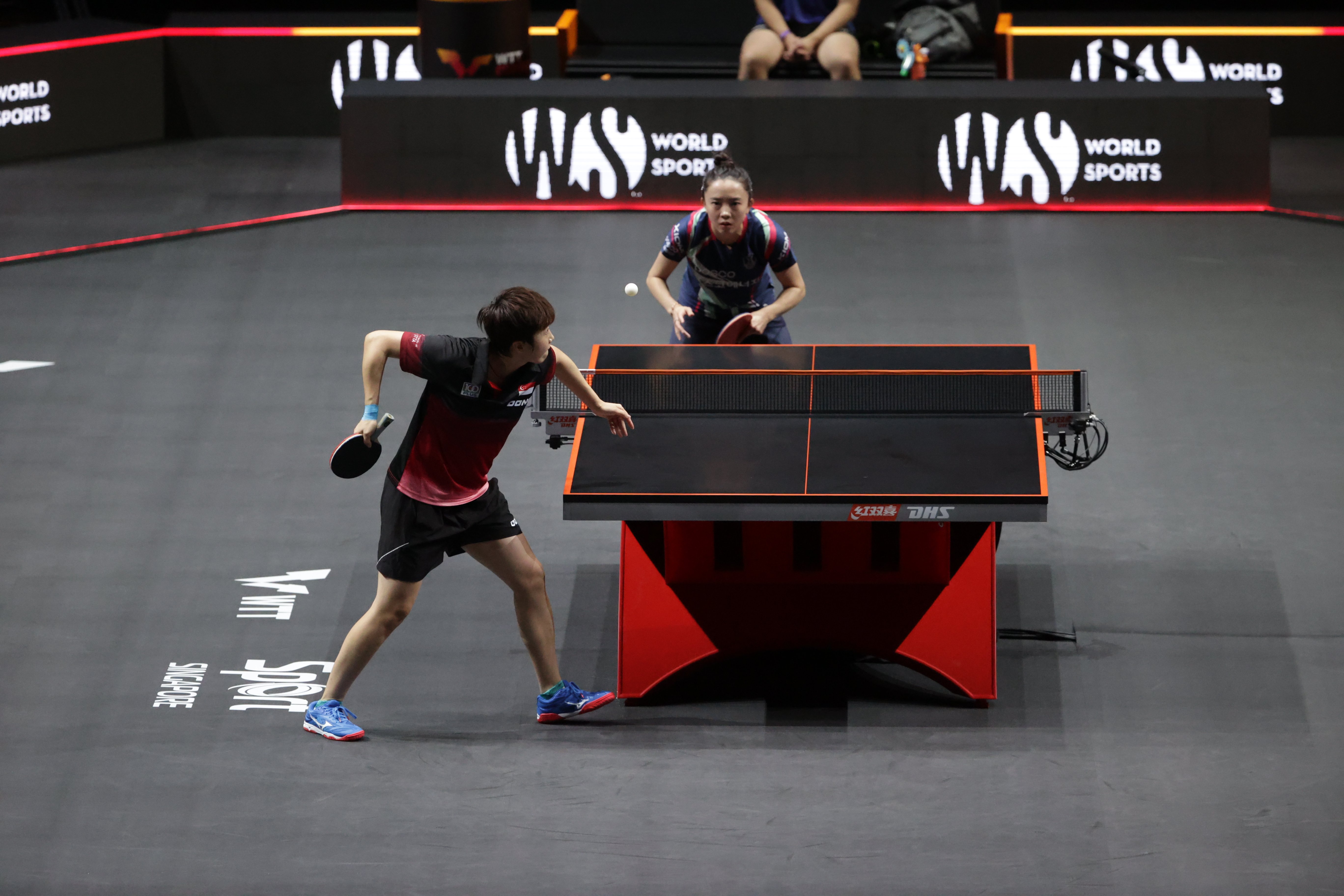 (Feng Tianwei serving against Jeon Jihee. Photo Credit : WTT)
35-year-old Tianwei - Silver medalist at the WTT Star Contender Doha in March - carried that winning momentum into the 2nd game, as she quickly opened up a 3-0 lead. The 29-year-old Korean rallied and tried to keep the score close, but was ultimately unable to even take the lead. Both players displayed an intense game with several quick rallies, with Tianwei coming off victorious in most. Despite Jihee saving 4 points after trailing 8-4, it was the home favourite who clinched the 2nd game, 11-8!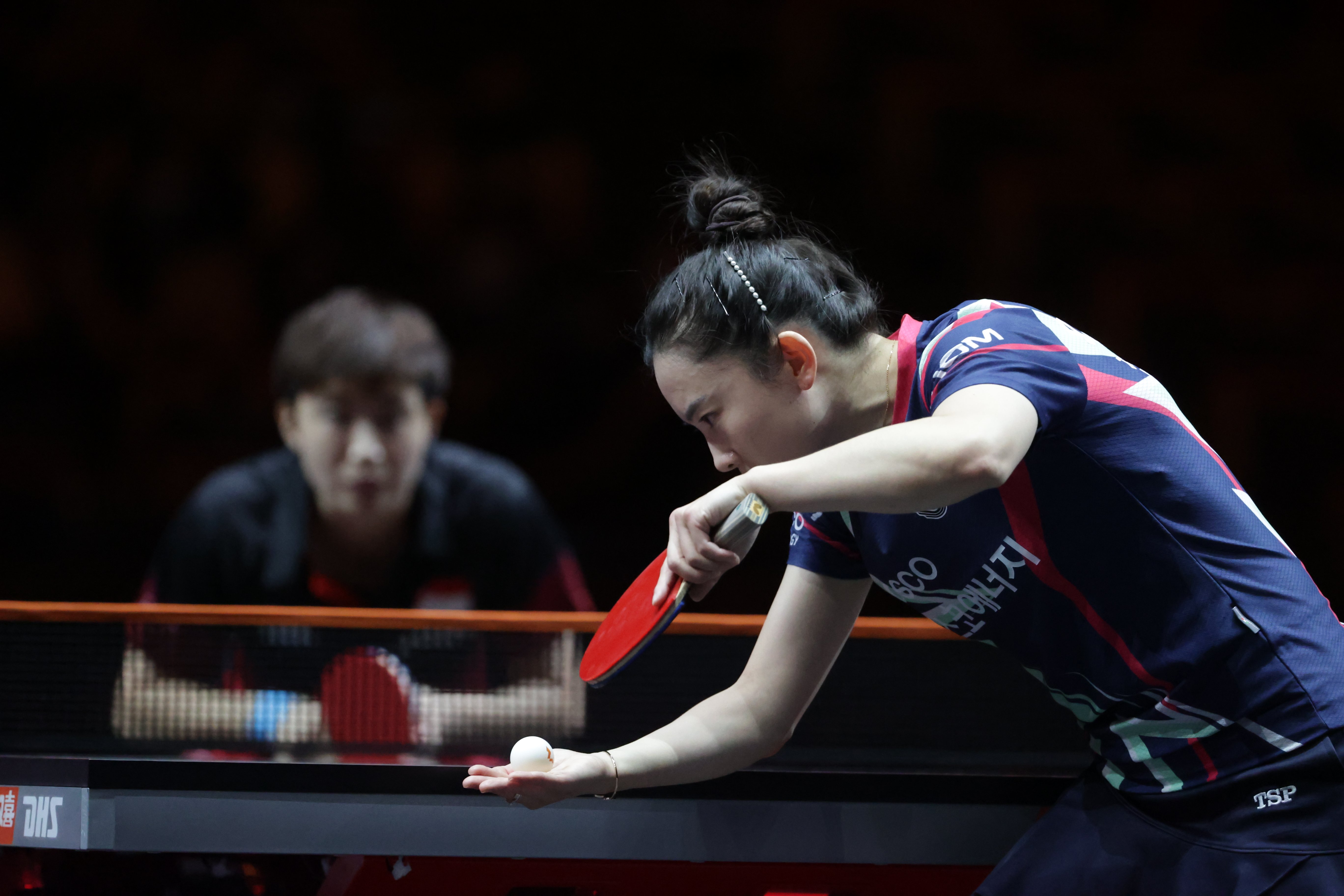 (Jeon Jihee with the serve. Photo Credit : WTT)
Jihee was however, not one to hand the victory "on a silver platter", to the Singaporean, as she fought her way back in Game 3. The Korean star gathered her experience from the first two games, and knew that she needed to come up with something more if she wanted to turn the tables around. And so, she retook the initiative by changing the spins and location of her serves - which proved to be difficult for Tianwei to return.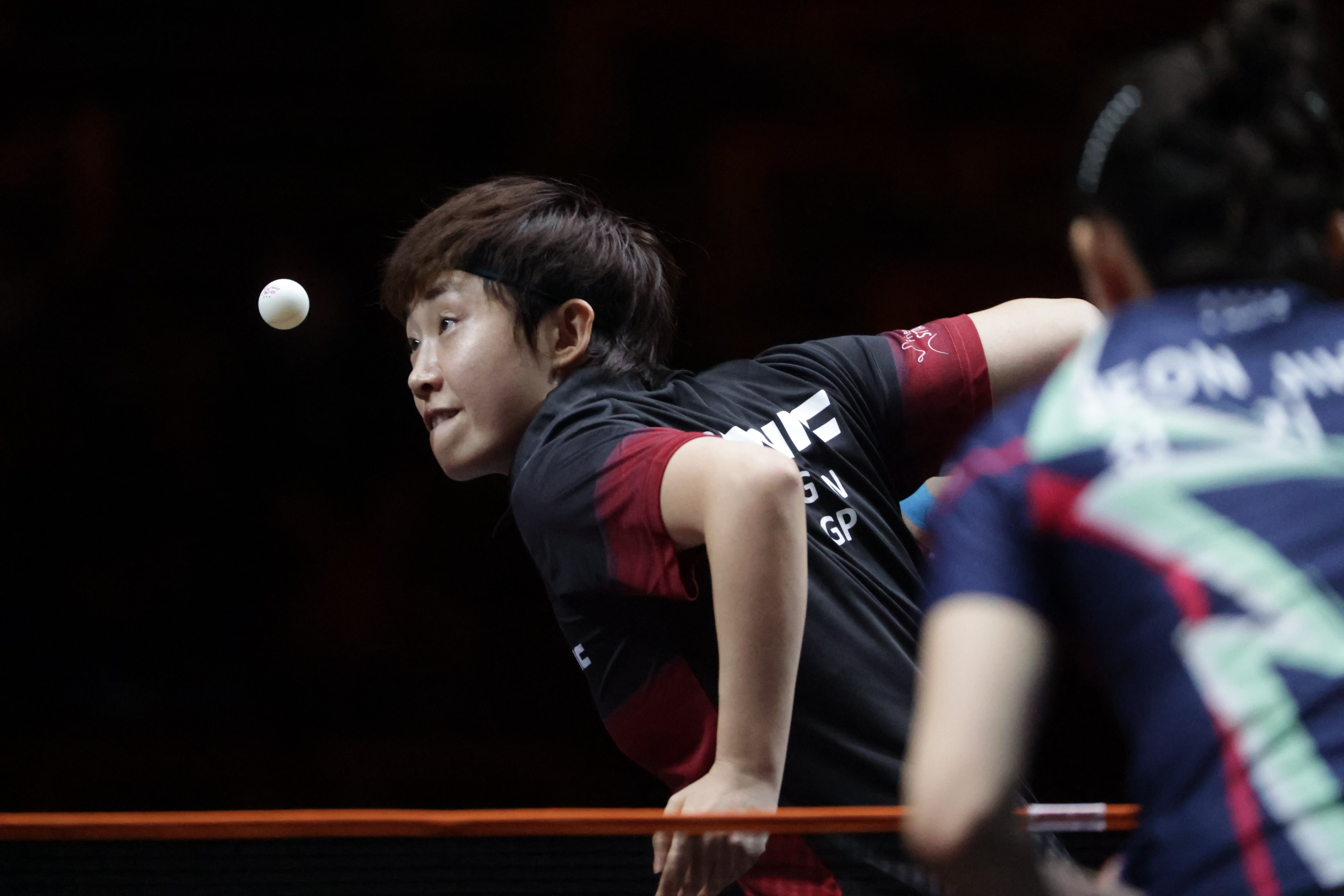 (Feng Tianwei with the serve. Photo Credit : WTT)
Tianwei faced troubles in returning Jihee's half-long forehand serves. Regardless of the world number 11's 6-4 lead, the Korean left-handed player became more aggressive, especially with her forehand flick and perfectly-angled wide forehand shots. And after a nail-biting fight, Jihee finally sealed her first game, 11-8!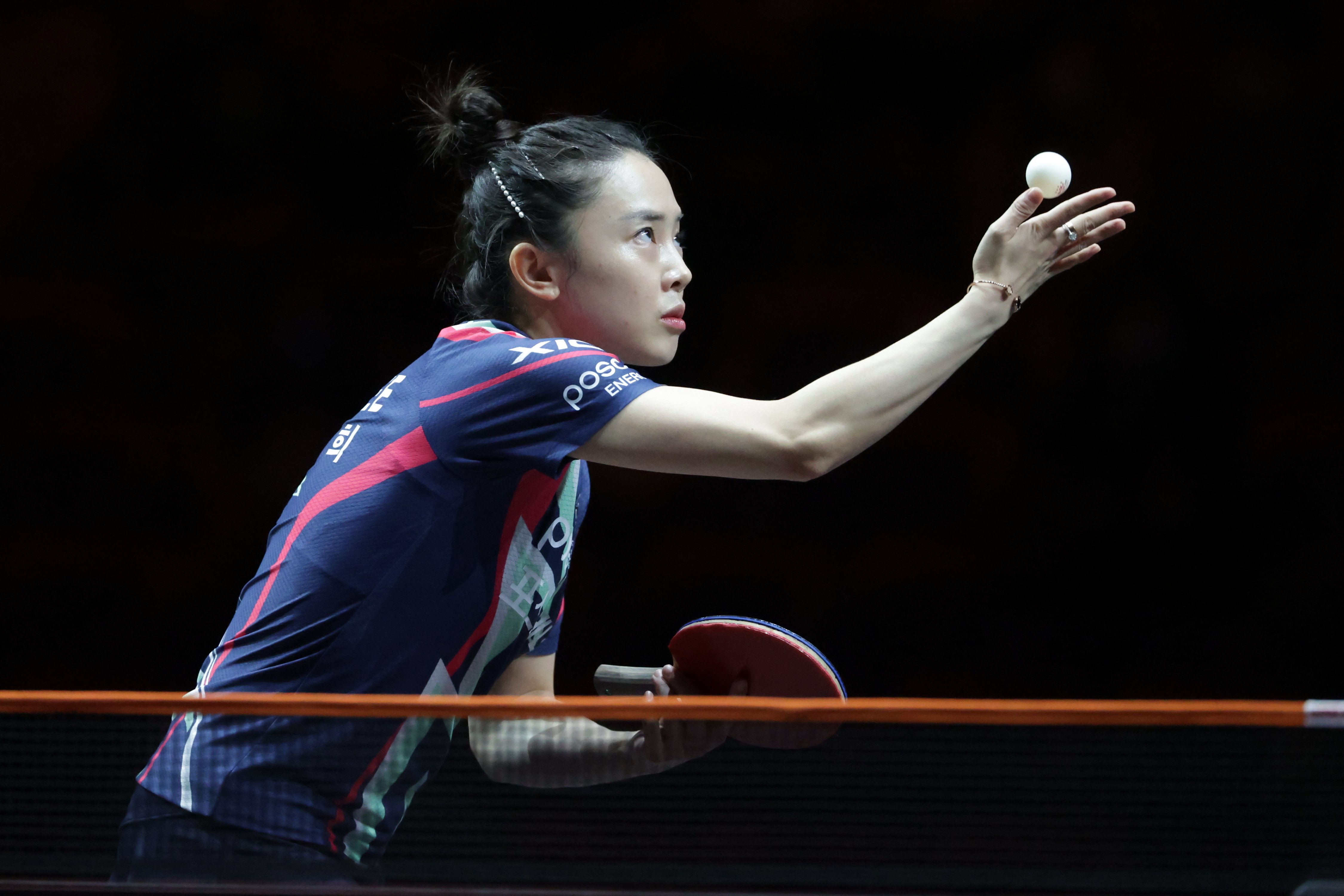 (Jeon Jihee with the serve. Photo Credit : WTT)
Having lost one game, Tianwei remained calm as she approached Game 4, hoping to avenge her earlier loss. The experience of Singapore's most bemedalled Olympic paddler came into play, as she deliberately slowed the rhythm of the game down. That's with a combination of slow and spinner shots, which saw Jihee struggle to counter. This change in strategy proved to be very useful for Tianwei as she stormed to a comfortable 9-2 lead, before roaring to victory 11-5.
With this resounding win, Feng progresses to the quarter-finals, where she will face world number 1 and Olympic Gold medallist, Chen Meng. In the past 8 career outings, it was the Chinese player who took the victory 7 times. Their latest encounter was at the T2 Diamond Singapore, in 2019. The duo will be facing off on Sunday evening at 7.45pm at the OCBC Arena.
The Women's Singles season-ending Finals sees players from 9 countries contesting for the first-ever WTT Cup Finals title. Fans in Singapore can watch the remaining 3 days of action LIVE at the OCBC Arena with match tickets available on sistic.com.sg. You can also cheer on for your favourite players on Singtel Mio Sports! And you catch LIVE streaming for FREE on the WTT App or the WTT's official website, https://worldtabletennis.com/home.
For match reports and results from the WTT Cup Finals in Singapore, do check out https://circle.myactivesg.com/
Edited by Raj Kumar
Pearlyn Koh has been playing Table Tennis competitively for 9 years. She's currently a member of the National Team and had represented Singapore at several major tournaments, including the 2018 Asian Games and World Table Tennis Championships. In 2019, Pearlyn was also the sole Southeast Asian player to enter the Top 16 at the Asian Junior & Cadet Table Tennis Championships. During her free time, Pearlyn enjoys reading and catching up with her friends.
Related Events & Programmes