Team Singapore
TeamSG's Loh Kean Yew : This is a good milestone for my career and I will continue working hard to make sure there is more to come!
by Circle Stories, on November 7, 2021 16:00 PM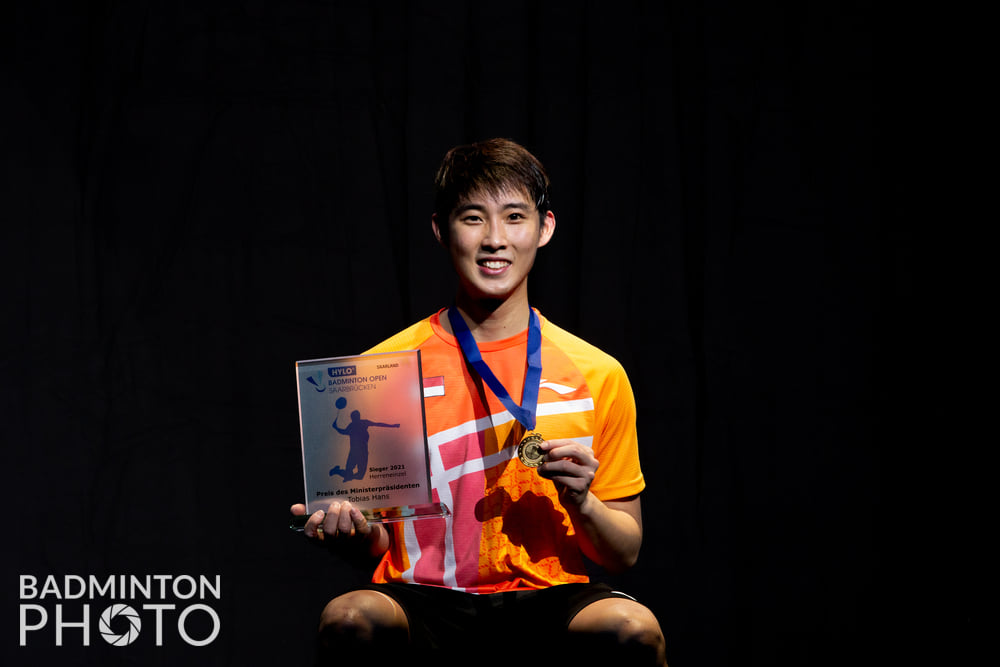 (Loh Kean Yew wins 2021 Hylo Open - Image credit : Badmintonphoto)
By Raj Kumar
He came into the grand final of the Hylo Open in Germany, on the back of 4 straight victories over players who were ranked in the world's top 25! And he was about to compete for his very first Badminton World Federation World Tour Super 500 title - 4th tier on the sport's professional circuit. If he was nervous or filled with anxiety, Loh Kean Yew most certainly didn't show it at the Saarlandhalle in Saarbrucken, on Sunday (7 Nov), as he went on to win the Men's Singles title by taking down world No. 8 Lee Zii Jia in 3 games!
A week earlier, Kean Yew defeated his Malaysian opponent and the reigning All-England champion, in the opening round of the French Open. And with a wonderful runup to the Hylo Open final, the 24 year old Singaporean shuttler was beaming with full confidence and the possibility of rewriting the history books.
Kean Yew drew "first blood" by taking the opening point. But Zii Jia came back strong to win 4 straight points and lead 4-1. And although Kean Yew won the next point, he made unforced errors which allowed his opponent to open a 4-point lead (8-4). 2 quick rallies and the 39th ranked Singaporean reduced the deficit to just 1 point (8-7). The Malaysian regained his composure and went ahead to the Interval, leading 11-7.
A see-saw battle ensued after the break with the world no 8 extending his biggest lead to 5 points (14-9). But that didn't stop his rival from another superb run of 4 straight points to close the gap to 14-13. Both players battled hard point-for-point till Zii Jia reached Game-point 20-18. And the encounter came to a halt by the Umpire, as Kean Yew had to receive medical attention for a blood-cut on his right hand (knuckle). It was a result of his several diving movements on court, which also saw blood stains on the playing surface. Upon resumption, Kean Yew succumbed to a 21-19 loss.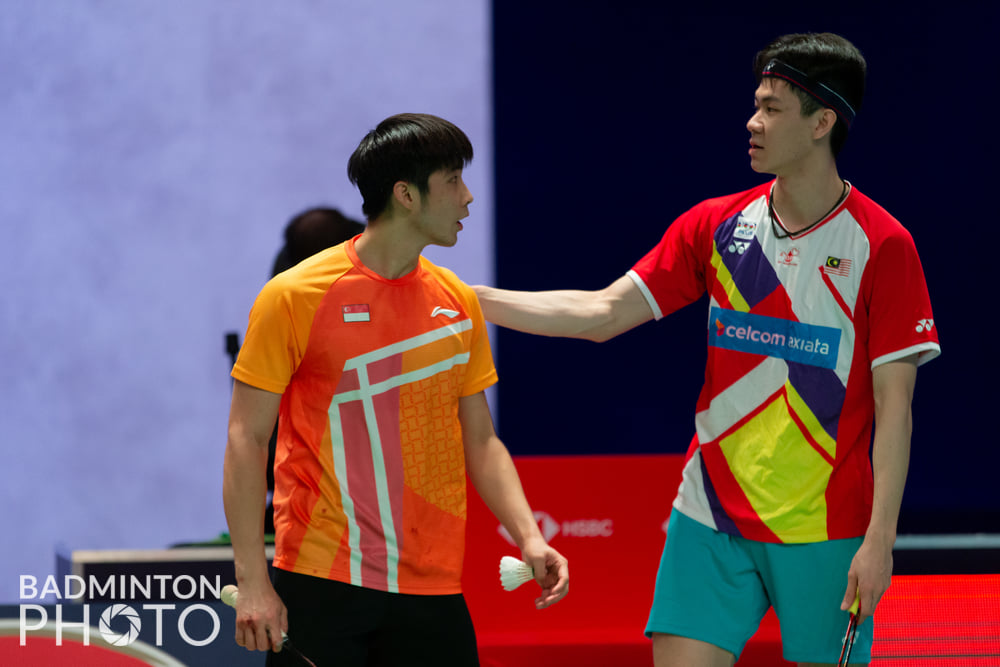 (Kean Yew and Zii Jia at the Hylo Open Final - Image Credit : Badmintonphoto)
After the break and into the 2nd Game, the Malaysian star took a 3-1 lead before a rally of 35 shots saw Kean Yew close the gap to 4-3. Zii Jia once again, then embarked on another trademark run which allowed him to lead by 4 points at 8-4. But the All England champion made a couple of shocking mistakes, which allowed the match to stand at 9-9. He did bounce back to go into the break 11-9, with a powerful smash and Kean Yew rushing his subsequent shot (out).
Upon resumption, a fantastic backhand by Kean Yew allowed him to draw level 12-12. He did the lead for the 1st time, when Zii Jia's shot was declared out and the score 14-13 was in the Singaporean's favour. "Unleashing his fury", Kean Yew raised his game with a stunning run of 7 more unanswered points to win 21-13, and force the rubber! It was an amazing streak of 9 straight points won by the 24 year old Singaporean.
In the 3rd game, both shuttlers played a tremendous game with the score advantage changing hands literally with every single point. It was point-for point all the way till 8-8. That's when Kean Yew pushed ahead with 2 more points, before his opponent again drew level. But a long backhand by Zii Jia allowed Kean Yew to go into the break 11-10. And during the break, the Malaysian received some medical attention for a suspected lower back strain/injury.
After the interval, the Singaporean won 3 straight points to lead 14-11. And although Zii Jia mounted a comeback, he was forced to retire from the match trailing 17-12, due to his back injury. It was a 63-minute affair which saw Kean Yew win his 2nd career world tour title.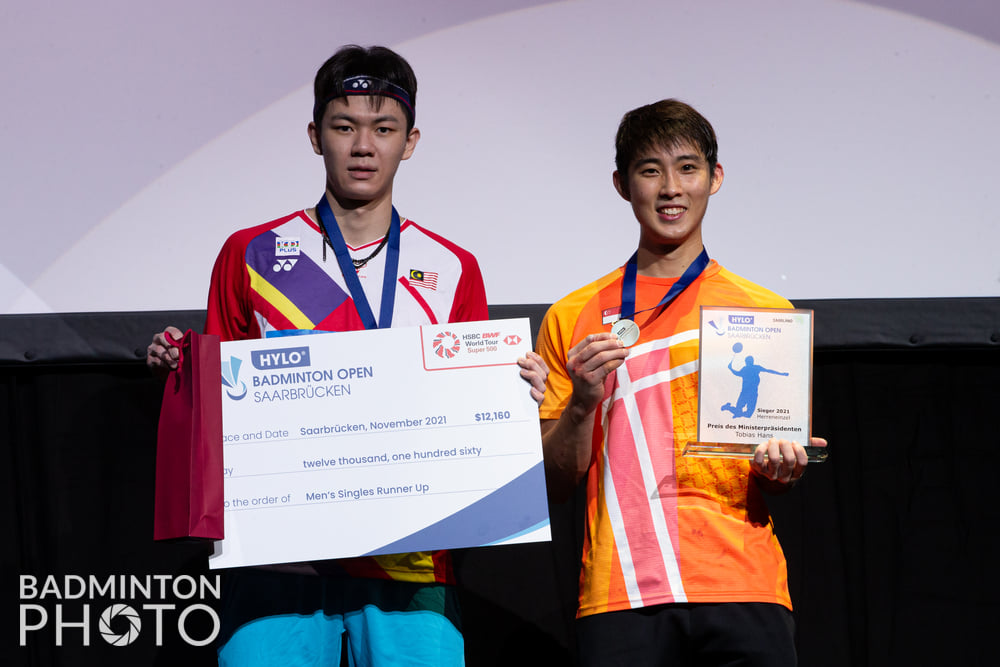 (Zii Jia and Kean Yew at the Hylo Open Final - Image Credit : Badmintonphoto)
"I'm delighted to win this tournament, but I hope Lee is not too badly injured. We both wanted to win this badly and put up a fierce fight. This is a good milestone for my career and I will continue working hard to make sure there is more to come. It's good to be beating high-ranking opponents consistently and this was what I needed to develop. The next step would be to perform consistently well over a few tournaments," said Kean Yew to the Straits Times.
Over in the Women's Singles, it was Yeo Jia Min's (YJM) first time in the Final of a World Tour Super 500 event. The 22 year old, in her journey to the final, racked up an impressive tally of defeating 4 players who're ranked top-40 in the world. And on 7 Nov, the Singaporean was up against Busanan Ongbamrungphan (THA) for a shot at the US$24,000 winner's cheque and the biggest championship title of her career!
Ranked world no 14, Busanan raced to a 5-1 lead within 3 minutes of play. 1 dropshot, a "smash" down the center line and unforced errors by Jia Min, allowed the Thai shuttler to take an early 4-point lead. And even though Jia Min pulled 1 point back, her opponent extended the lead to 5 points, when the former played a long shot which went over the line in the back court. YJM did fight back to clinch 2 straight points. But after 8 minutes of action, Busanan re-established a 5-point lead at the interval, with the score at 11-6.
After the break, Busnanan delivered a cheeky dropshot near the net to open up a 6-point lead. But Jia Min rebounded with an aggressive style of play and picked up 2 points to close the gap to 8-12. Undeterred, Busanan stormed back by pushing Jia Min to cover almost all areas of her playing court, and in the process took a massive lead with the score at 17-9! Trailing by 8, YJM kept her composure and stole a point, before the Thai took control again at 18-10. A "smash" put Busanan at Game-point and Jia Min's inability to clear the shuttlecock at the net, allowed the Thai to win 21-10.
In the 2nd game, an early cross-smash by Busanan and the technique of scoring points when Jia Min was returning the shots with her backhand, allowed the score to reach 5-2. The Thai star continued her winning momentum and established a 7-point lead at 9-2, while Jia Min seemed to be struggling to mount any form of an offensive strategy. The Singaporean did "catch a 2nd wind", when she pulled off 4 straight points, before Busanan went into the interval 11-6.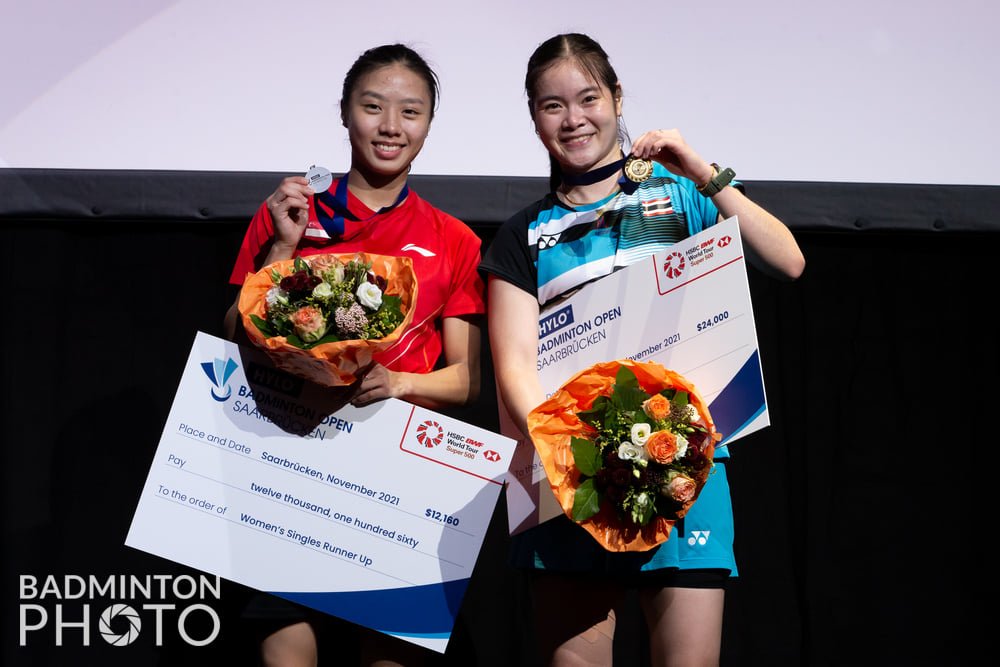 (Jia Min and Busanan at the prize presentation of Hylo Open - Image Credit : Badmintonphoto)
Jia Min came out "firing on all cylinders" when she racked up 4 straight points to close the score to 10-12! It was a close rally for the next few minutes with both shuttlers picking up points. That was till Busunan opened up a 5-point lead to lead 17-12. Jia Min went on to give away 2 subsequent points. And with the score at 19-12, the Singaporean "dug deep" to claim 2 more points. But it wasn't enough as the Thai shuttler closed the match with a 21-14 victory.
"I'm disappointed with my game in the final. I wasn't moving well and she was quick to go on attacks and pressured me very well to get the win. But reaching my first Super 500 final motivates me to keep looking forward and improving," said Jia Min to the Straits Time after the match.
Following their respective historic journeys to a Super 500 event, both TeamSG star shuttlers will next head to compete in 2 tournaments in Indonesia.
Raj Kumar's been in Singapore's sports reporting and broadcasting scene since 1997. He was the former Sports Editor and Presenter on Power 98FM (SAFRA Radio) and 938LIVE (Mediacorp Radio). Over the years, he travelled to report on Team Singapore at the 2008 Beijing Olympics and 2012 London Olympiad, including 4 SEA Games cities. As a familiar voice and face on Radio, TV and online sports, he has produced and hosted more than 650 talkshows and programmes.
Related Events & Programmes