Team Singapore
TeamSG's Netballers Aim to Win Gold at Nations Cup 2022!
by Circle, on December 1, 2022 3:50 AM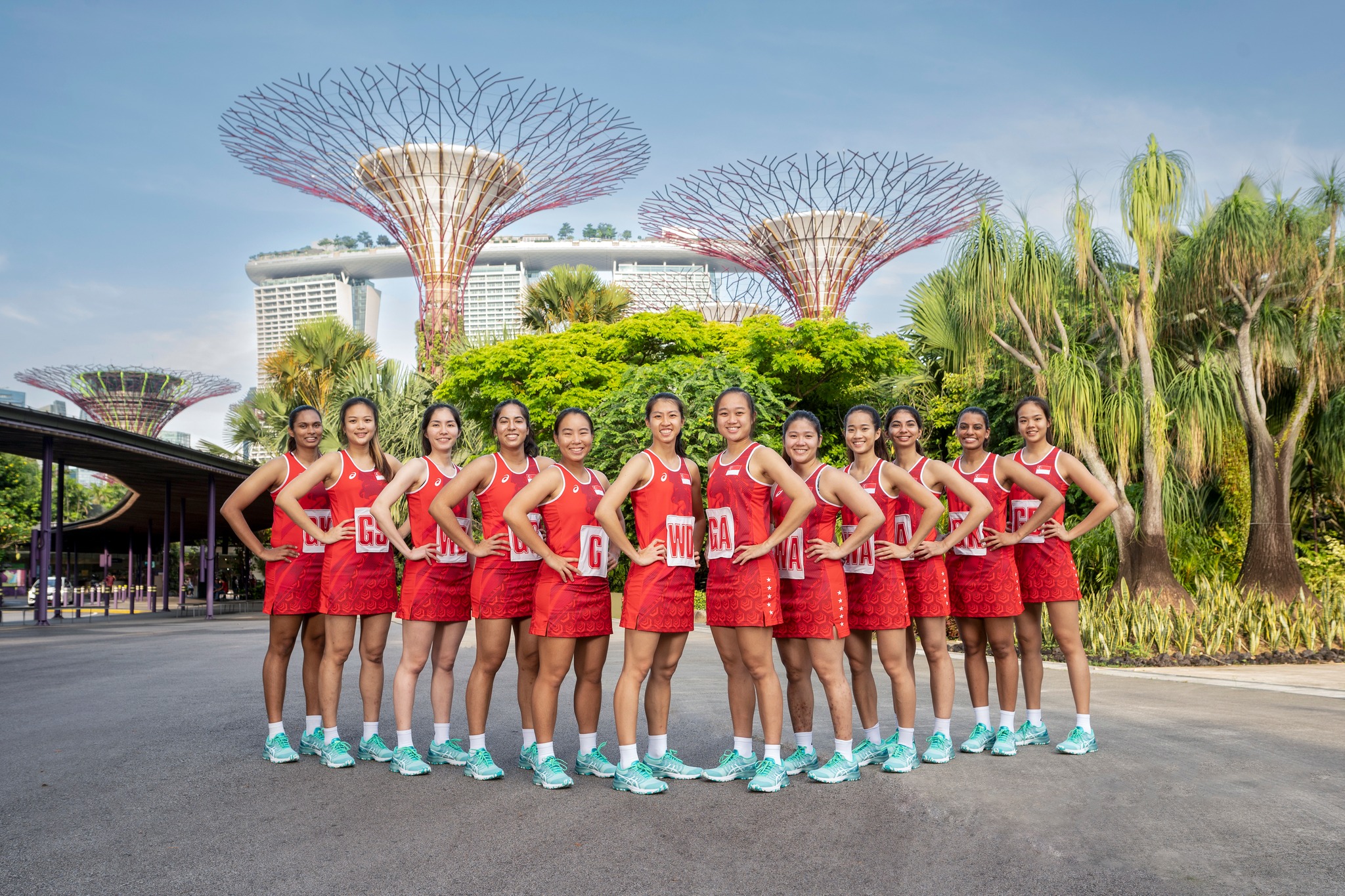 Singapore's national netball squad for the 2022 Nations Cup campaign. Photo Credit : Netball Singapore
It's been an eventful last 11 months for the Republic's national squad, competing both locally and overseas and with several changes to the overall players' roster. Back in early January 2022, the annual Netball Super League (NSL) made a comeback after a year's absence due to Covid-19. And after a 2-month long competition calendar, we saw "Blaze" taking home the 22nd NSL championship trophy. The entire season took place without any spectators at the matches, due to the safe management measures in place. But fans were able to follow their teams via live online streaming.

BLAZE won the 2022 Netball Super League crown. Photo Credit : Netball Singapore
In March, the national team made their long-awaited return to the international scene (after a 2-year hiatus), by travelling to Sydney to compete in the PacificAus Sports Netball Series. The Republic, with 6 players making their international debut, competed against the likes of Samoa, Papua New Guinea, Fiji and Tonga. National Head Coach Annette Bishop used this tournament plus a training camp in Perth in August, as her preparations of Singapore's hosting of the Asian Championships. Over in September, 11 nations descended upon the OCBC Arena and competed over 8 days, with the top 2 teams booking their tickets to the 2023 Netball World Cup in South Africa. And following a tough campaign, Team Singapore finished 2nd behind champions Sri Lanka, as both teams are through to the World Cup! The Republic has been drawn to face defending champions New Zealand, Trinidad & Tobago and Uganda at the World Cup next July.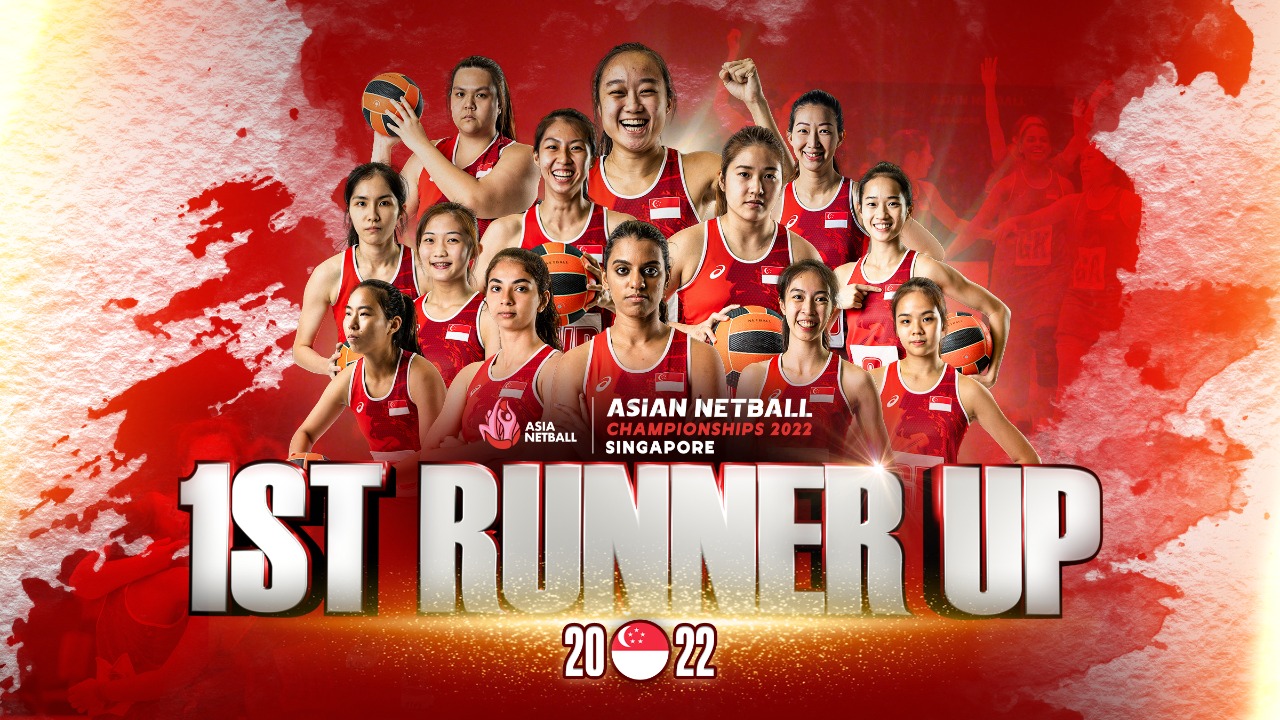 Image Credit : Netball Singapore FB Page
Following their 2nd-place finish at the Asian Championships, Netball Singapore celebrated their 60th Anniversary in October. And the national sports association is now hoping to cap off a memorable year, by winning the upcoming Nations Cup. From 4-10 Dec 2022 at the OCBC Arena, Botswana, Fiji, Malaysia and Ireland will compete against 2 teams from Singapore (S'pore Opens & S'pore A) respectively.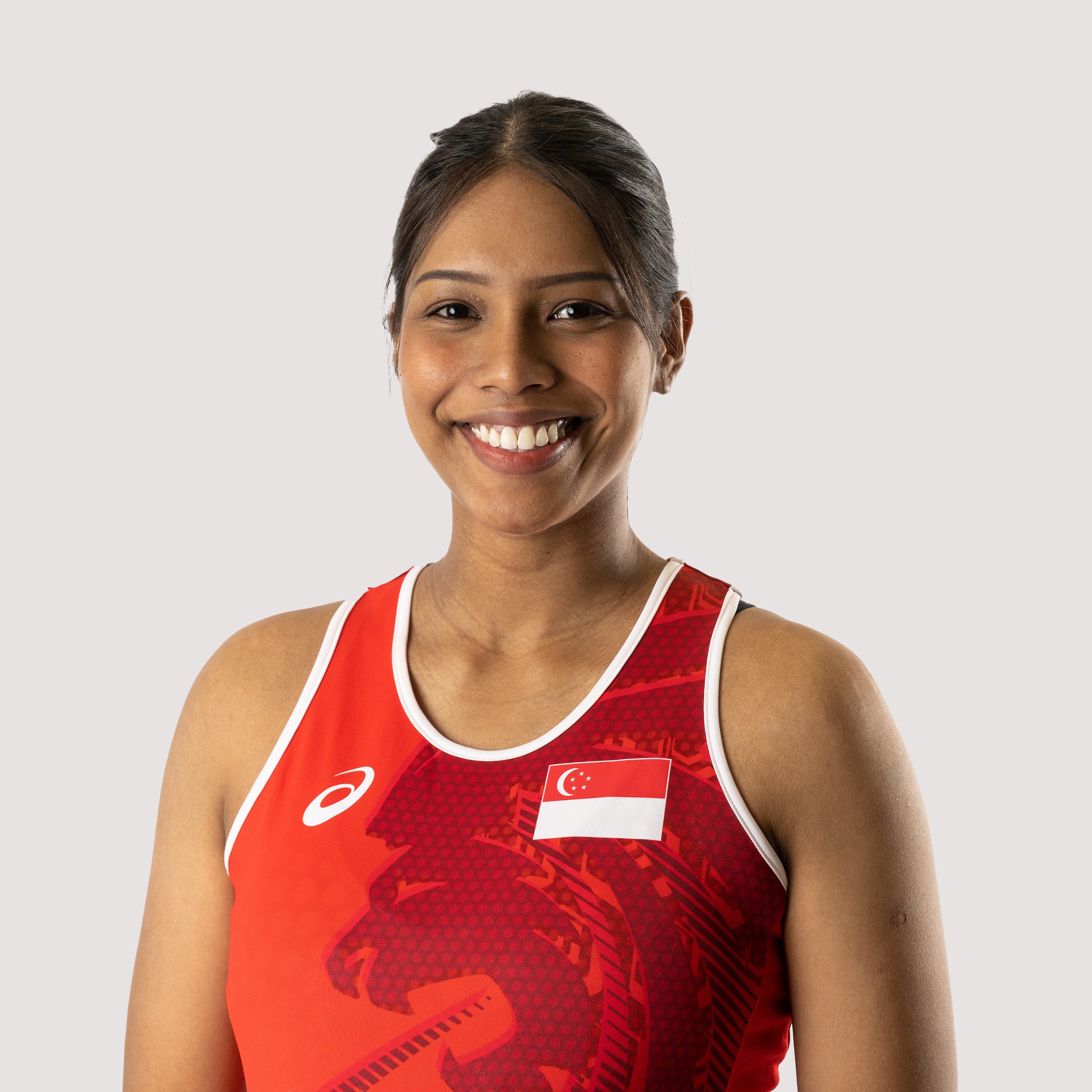 TeamSG's Aqilah Andin. Photo Credit : Netball Singapore
With 80 international caps to her name, Aqilah Andin has been included in the Singapore A Team. The 26 year old defender is making her competitive comeback, after having given birth to a baby boy in July. And ActiveSG Circle caught up with Aqilah via a brief email-based interview, ahead of the start of the Nations Cup.
Q) How does it feel to be back in the nation's colours ahead of the Nations Cup?
Aqilah : Donning the red dress(outfit) has always been an honour throughout the years I've played competitively. There's so much pride to be wearing national colours! I feel extremely excited and nervous at the same time as it has been so long since I've competed, with the Covid-19 situation and having a baby.
Q)What was the biggest challenge in your post-natal recovery process?
Aqilah : There are a lot of challenges during recovery. Obviously one of it is to get back in shape and to build up my fitness again. I remember feeling so lousy and weak coming back to trainings, just 1 month post-delivery. There were days where I struggled to accept that my fitness and strength is not the same anymore. I am still a work in progress.
But what's bigger than that, till today, is juggling family, work, and netball at the same time. Some days are tougher to go through - parenting, going to work and then training afterwards & the cycle repeats.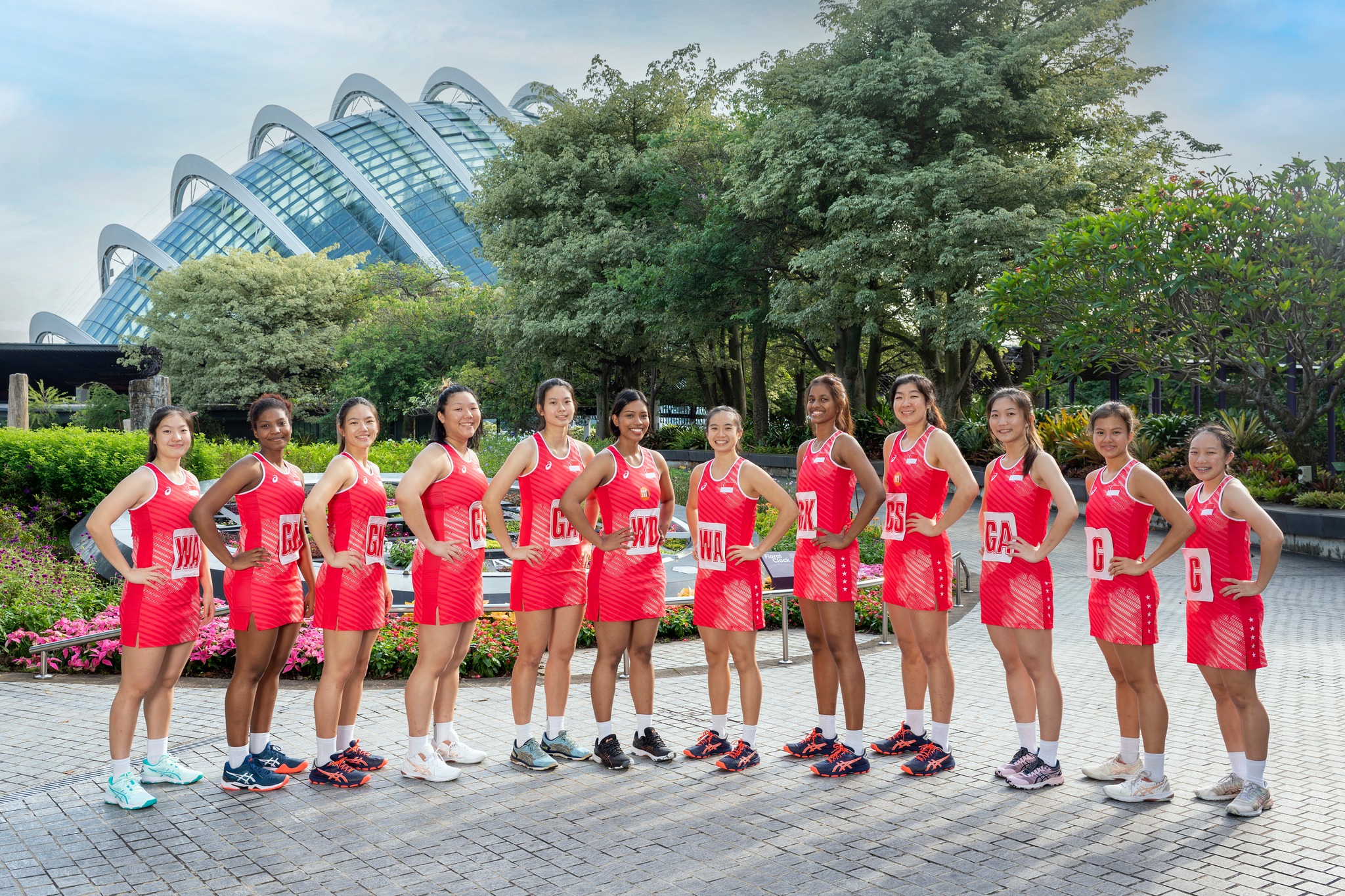 The Singapore A Team at the upcoming Nations Cup. Photo Credit : Netball Singapore
3)With a new-born child, has that changed your perspective or view as to your future commitments with Team Singapore?
Aqilah : Netball Singapore has been super supportive and understanding during my pregnancy and post-birth, likewise with my family. I ensured that I have their support for me to be back playing. I think that prepared me to be committed to Team Singapore as much as I can, with the assurance that I can always prioritise my family now.
4) What have you been working on personally, in terms of getting back into peak physical condition?
Aqilah : Personally, it is literally strength & conditioning! At the same time being disciplined with rest & nutrition. When the baby sleeps, I must sleep too.
5) You're in the Singapore A Team. What are you hoping to achieve with this team at the Nations Cup which is against 4 other countries and Singapore's national team (Opens)?
Aqilah : The Singapore A team is full of young & inexperienced players. So, I hope we put up a strong tight fight against all teams. Also, with this opportunity to compete (that we are very grateful for), I hope we get to gain new experience and grow our individual game play.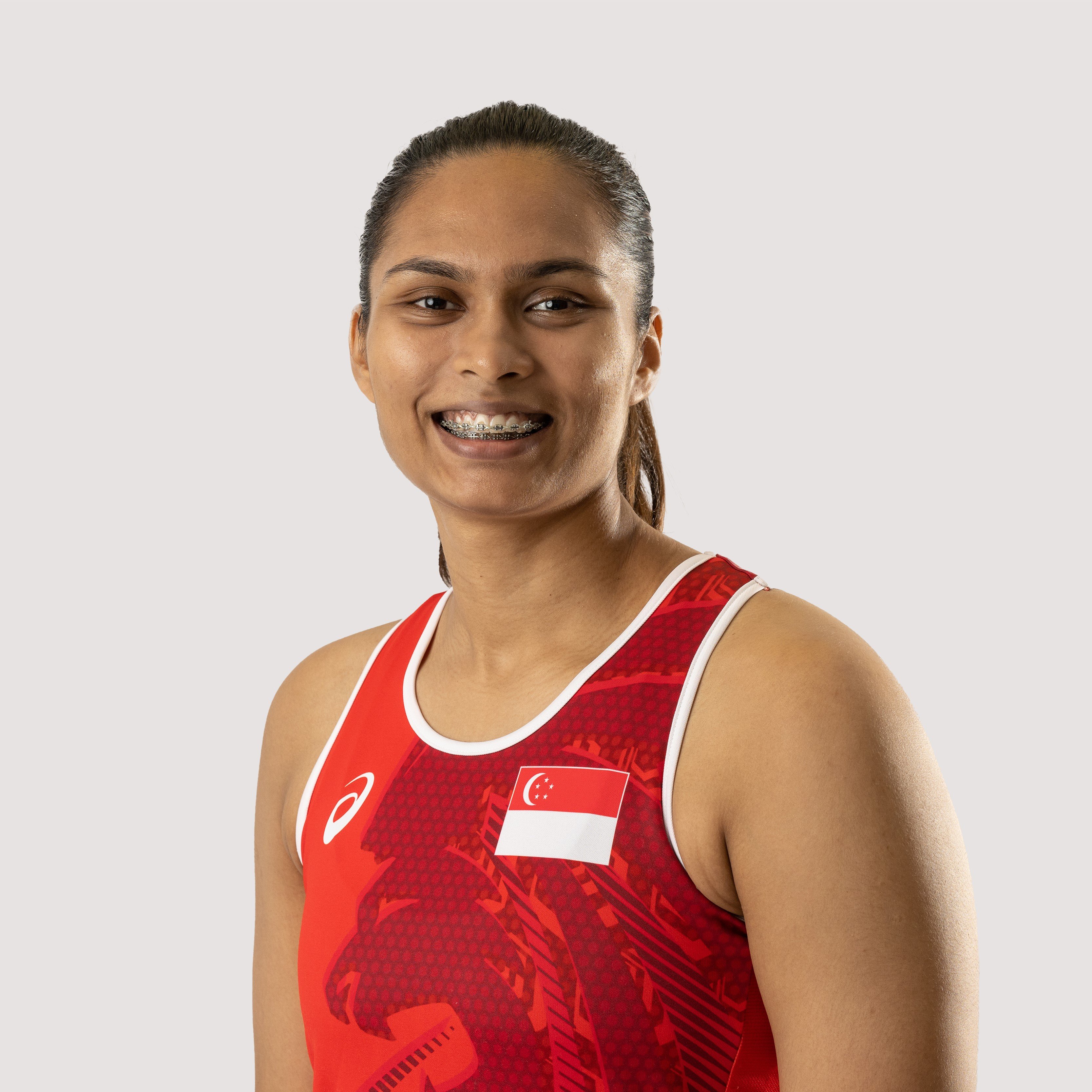 TeamSG's Reena Manogaran. Photo Credit : Netball Singapore
Reena Manogaran made her international debut with Team Singapore at the PacificAus Series in Sydney in March. With 4 caps to her name, ActiveSG Circle caught up with the 24 year old defender, who's been selected for the Singapore Opens squad for the Nations Cup.
Q)You last featured for TeamSG in the PacificAus Sports Series earlier in the year. It was your 1st tournament for TeamSG. Looking back, how did you feel about your overall personal performance?
Reena : PacificAus Sports Series was the first time I've ever played as goal defence in a competition. We were just finishing our Netball Super League season where I only played GK, so it was definitely a shock to me, but I was ready to take on the challenge and thought I did fairly well considering the circumstance. I've definitely come a long way from there and was glad to even have the opportunity to be put on court.
Q)National Coach Annette Bishop has been with the team since Jan 2020. So after almost 3 years here, how would you describe her coaching style?
Reena : She definitely pushes me to my limits and always encourages me to be the best player I can be for myself and the team.
Q)You've also witnessed the transition of the team with a few senior players stepping down and the younger ones being promoted. How have you coped with the team roster changes?
Reena : I've learnt to step up by speaking up and sharing my opinions, and switching up my play. The seniors who are still here have also helped us through the transition as well.
Q)You missed out on the Asian Championships campaign in September. Do you reckon that will have an impact on your personal game when the Nations Cup gets underway?
Reena : It will only have a positive impact on my personal game. I just can't wait to get out there and play for the team and country.
Q)What are you and your team-mates hoping to achieve in the coming campaign and your message to the Singapore fans?
Reena : Definitely, the Gold medal! We hope to do you guys proud this Nations Cup and we can't wait to see you at the games!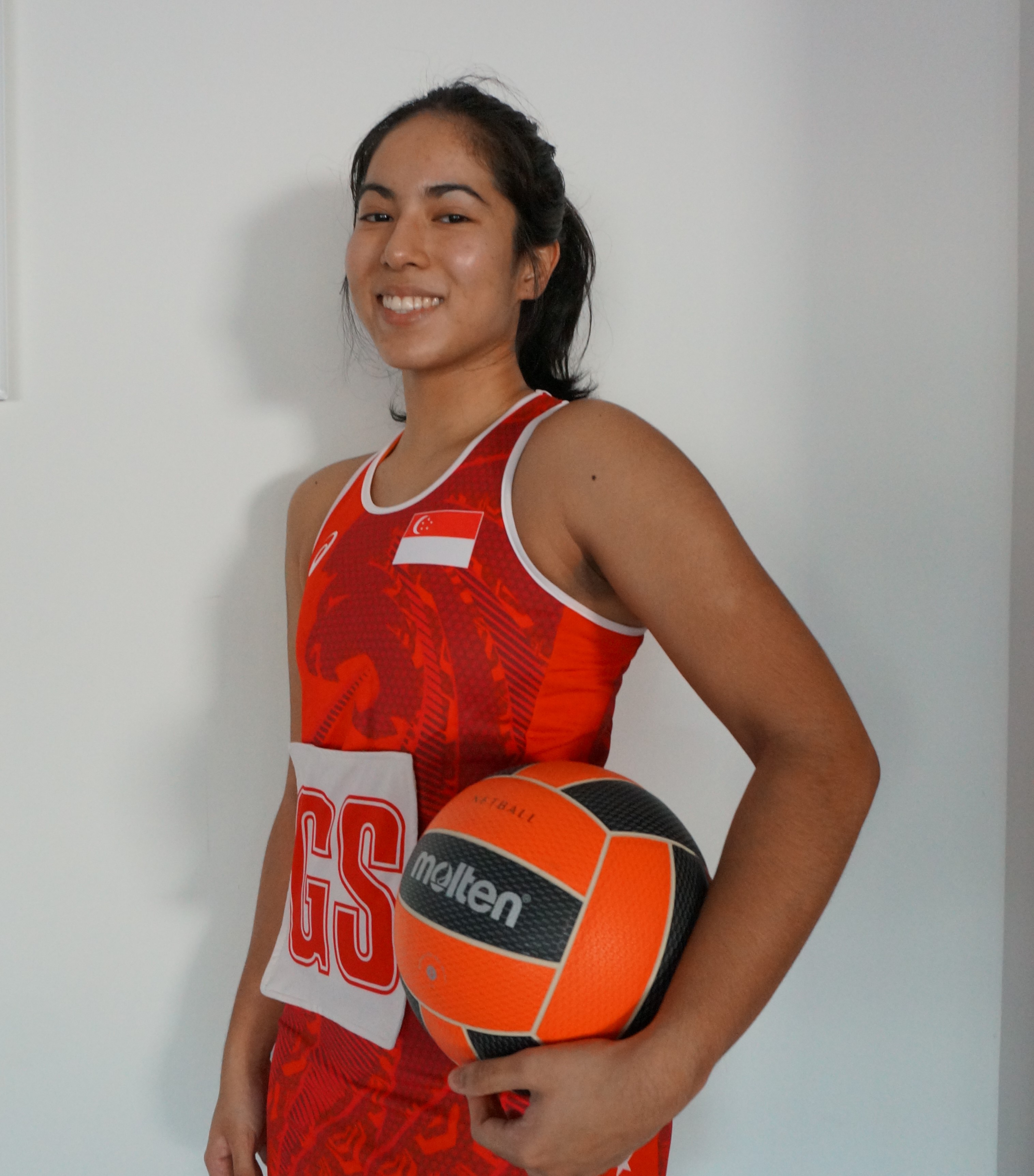 TeamSG's Matilda Su-yin Narayan. Photo Credit : Netball Singapore
19 year old Matilda Su-yin Narayan is on the brink of making her international debut for Team Singapore at the Nations Cup. And ActiveSG Circle caught up with the young shooter, who's been selected for the Singapore Opens squad for the Nations Cup.
Q)How does it feel to be selected for the first team/ national team for the upcoming tournament?Matilda : It feels pretty surreal…to be honest, it really wasn't something I was expecting, and I haven't had much time to process where I am. Nevertheless I'm super grateful for the opportunity and I'm so stoked to share the court with these insanely talented players and learn as much as I can.
Q)How long has this journey taken for you to be on the verge of your 1st international cap for Team Singapore?
Matilda : My netball journey has actually been pretty short when you consider that it's only been two, coming three years since I started playing. But I like to think of it as a very saturated journey where so much has happened within such a short time. So I wouldn't call the journey long, but definitely a very very steep one where I've had to put in a lot of work to catch up with my peers. Looking back, I'm very glad I decided to trust the process.
Q) What's the best advice anyone's shared with you in relation to playing for the national team?
Matilda : My club coaches told me that as a player, my greatest obstacle has always been the pressure and expectations that I put on myself to perform. And they told me, I must first be able to get out of my own head, before I'm ready to take on anyone on the court.
Q)How have you and your team-mates been prepping for the Nations Cup?
Matilda : I've been training with my team for a few weeks now and we are steadily working things out with scrimmage games, and building chemistry with each other. On my end, I've been trying to get myself into a good headspace before the tournament and making sure I get my conditioning runs done and getting shots up whenever I can.
I think as we get closer to Nations Cup, we've definitely built more understanding and we're feeling good about it!
Q)What are you hoping to achieve in your very 1st tournament with the national team?
Matilda : With the team, I'd love to have a good run at the title with them and really just play some of our best netball out there. Personally, I'm looking to leave the competition with no regrets. Being able to debut on home ground is such an incredible opportunity, and as daunting as a first tournament may be, I think there's no point being scared. I just want to relish every opportunity I get to take the court and find greater confidence as a player.
For more event details and ticket sales, do check out this link here.
You can also catch the full match live streams of TeamSG's matches exclusively on : go.gov.sg/activesgcircle-watch
Related Events & Programmes