Football
Thailand's 2-0 win over Vietnam in 1st leg Semis, puts them on course for a 6th AFF Suzuki Cup!
by Circle Stories, on December 23, 2021 16:00 PM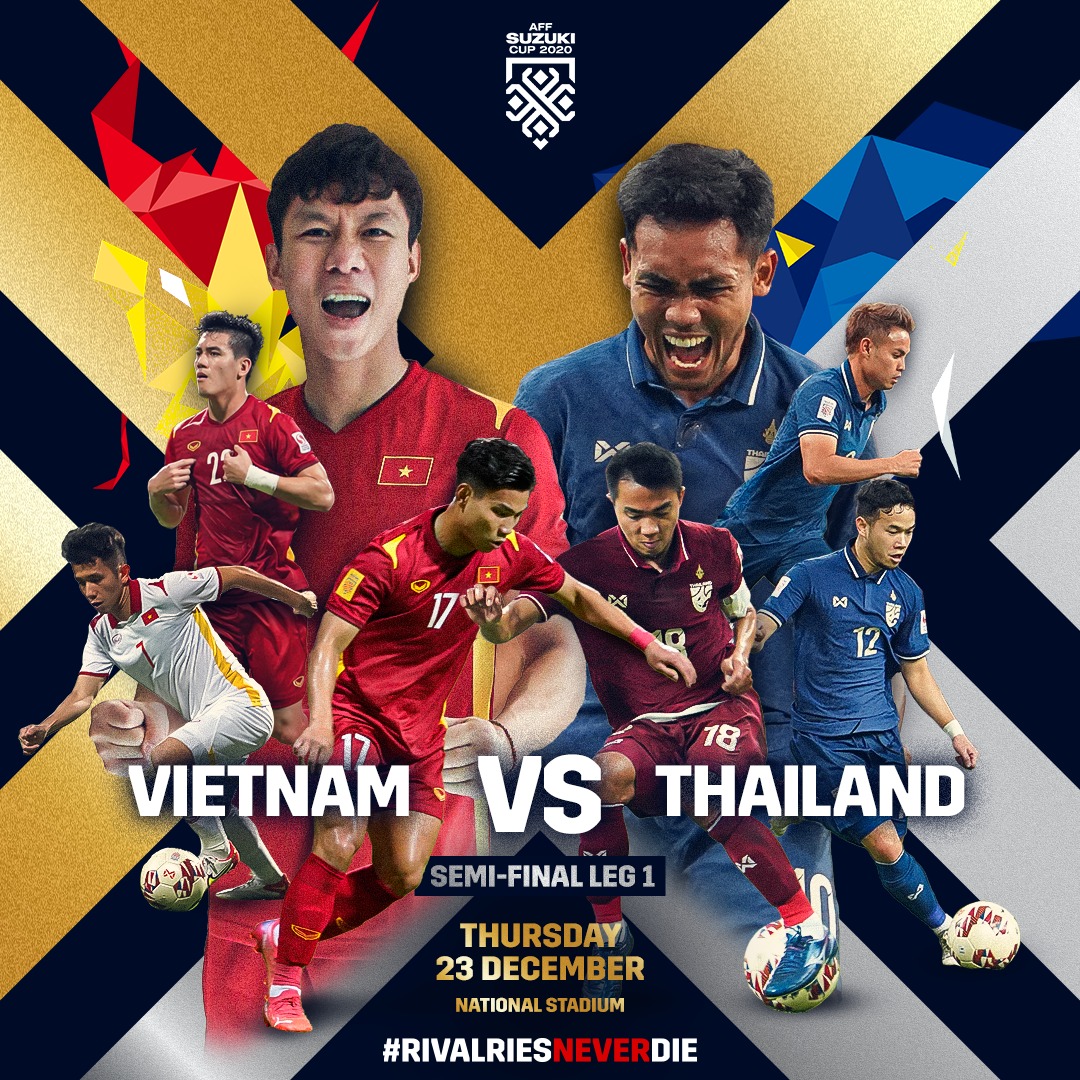 (Poster Credit : AFF Suzuki Cup Facebook Page)
By Renald Loh
Going up against defending AFF Suzuki Cup champions Vietnam (23 Dec), Thailand coach Alexandré Pölking fielded a completely different starting 11 from their match against Singapore last weekend. His decision to rest his key players in the final group game ultimately paid off, with his side looking sharper as they put their opponents away 2-0 in a pulsating semi-final encounter at the National Stadium!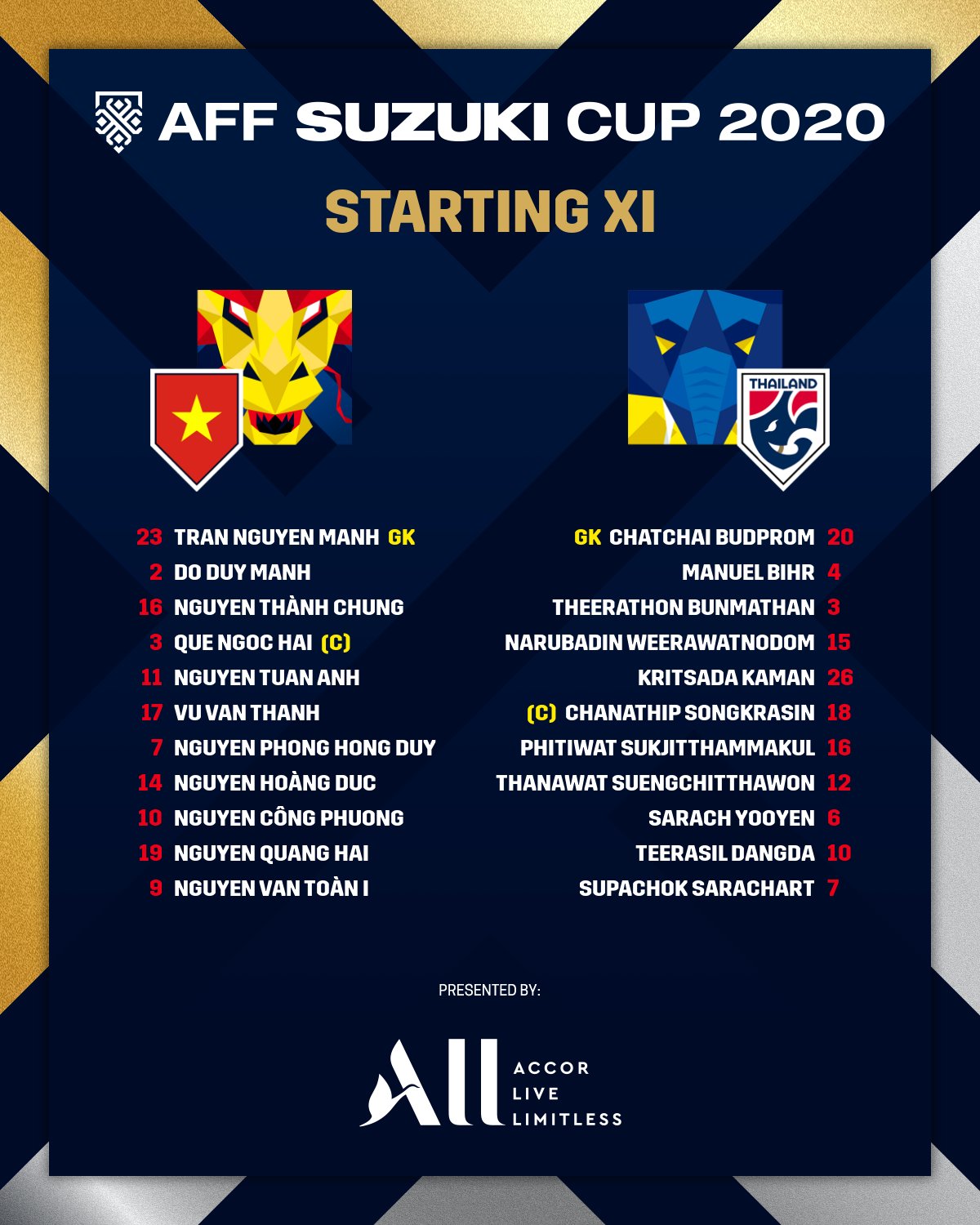 (Graphics Credit : AFF Suzuki Cup Facebook Page)
The last 2 outings between the sides resulted in 0-0 draws in the World Cup Qualifiers in 2019. And while pundits anticipated a cagey affair, this highly anticipated encounter between the tournament favourites proved to be anything but! Both teams showed their attacking intent early in the first half, with Thailand looking to play quick passes through the middle and Vietnam pressing relentlessly. Neither side could keep possession of the ball in the early stages, and neither were shy of getting stuck in either.
Park Hang-seo's team had yet to concede a goal throughout the entire tournament, and pre-match discussion revolved around their defensive solidarity and whether Thailand could carve them open. The answer was Yes – and it took a mere 14 minutes for the deadlock to be broken through a combination of Thai luck and a comedy of errors from the Vietnamese defence.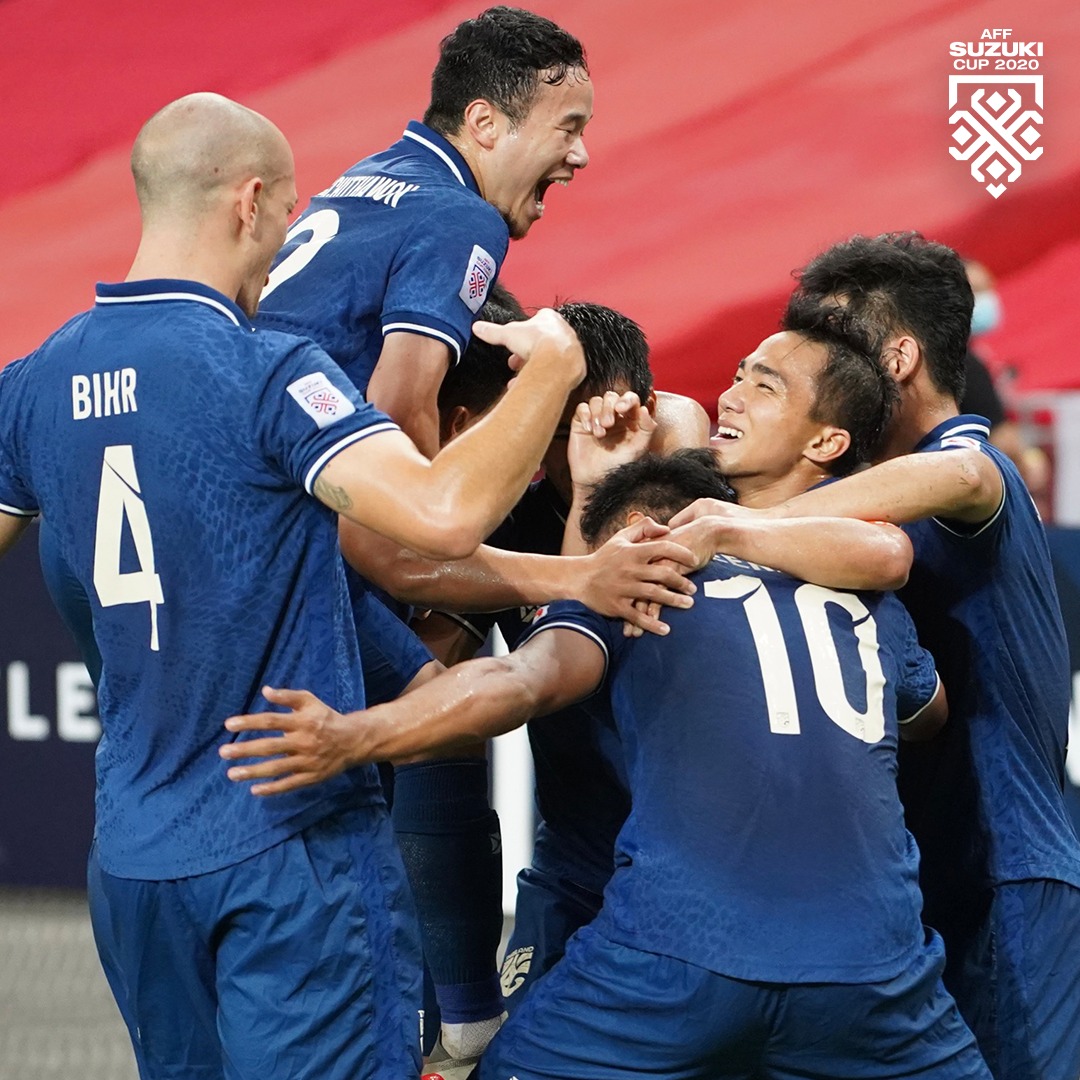 (Thais celebrate after 1st goal. Photo Credit : affsuzukicup.com)
Leicester City's Thanawat Suengchitthawon found himself in acres of space, after Vietnam committed too many men forward for a freekick. But his lay off to Thai talisman Chanathip Songkrasin was poor. The only thing Vietnamese defender Nguyen Phong Hong Duy had to do, was pump it forward. The 25-year-old however, slipped as the ball approached, leaving Songkrasin one-on-one with keeper Tran Nguyen Manh. The latter rushed forward to clear, and the ball rebounded straight off the striker to roll into an empty net. 1-0 to Thailand after 15 minutes.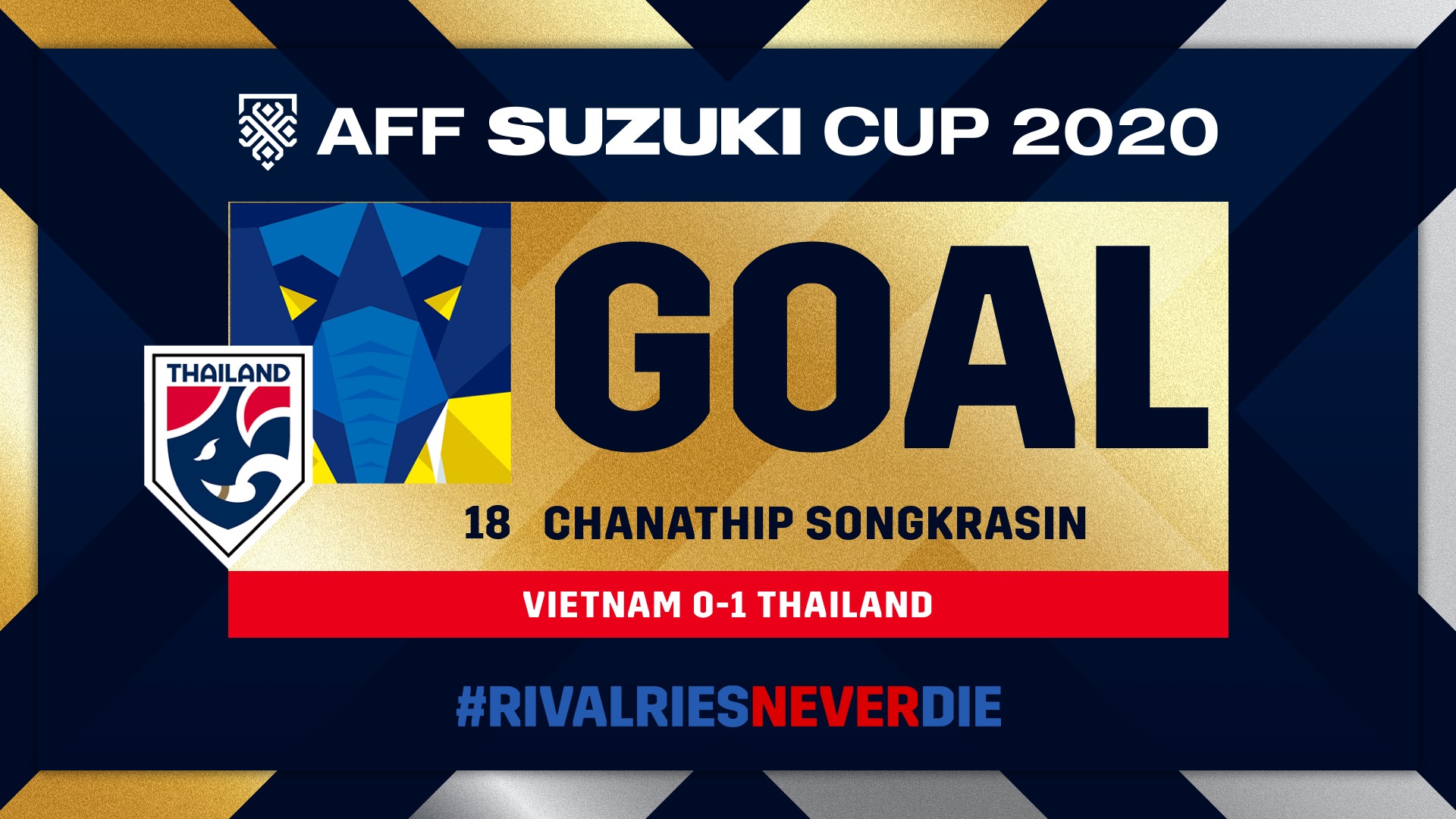 (Graphics Credit : AFF Suzuki Cup Facebook Page)
As if the War Elephants weren't happy with a fortunate goal, they put on a clinic of pure, unadulterated one-touch football to score a 2nd! Just 9 minutes later, defender Kritsada Kaman played a straight ball out of defence to Songkrasin, who flicked it past Que Ngoc Hai with ease. Teerasil Dangda played the return ball, and Songkrasin's quick 1-2 with Sarach Yooyen left the entire Vietnam backline for dead. The Thai captain calmly slotted home for 2-0. Smooth as butter.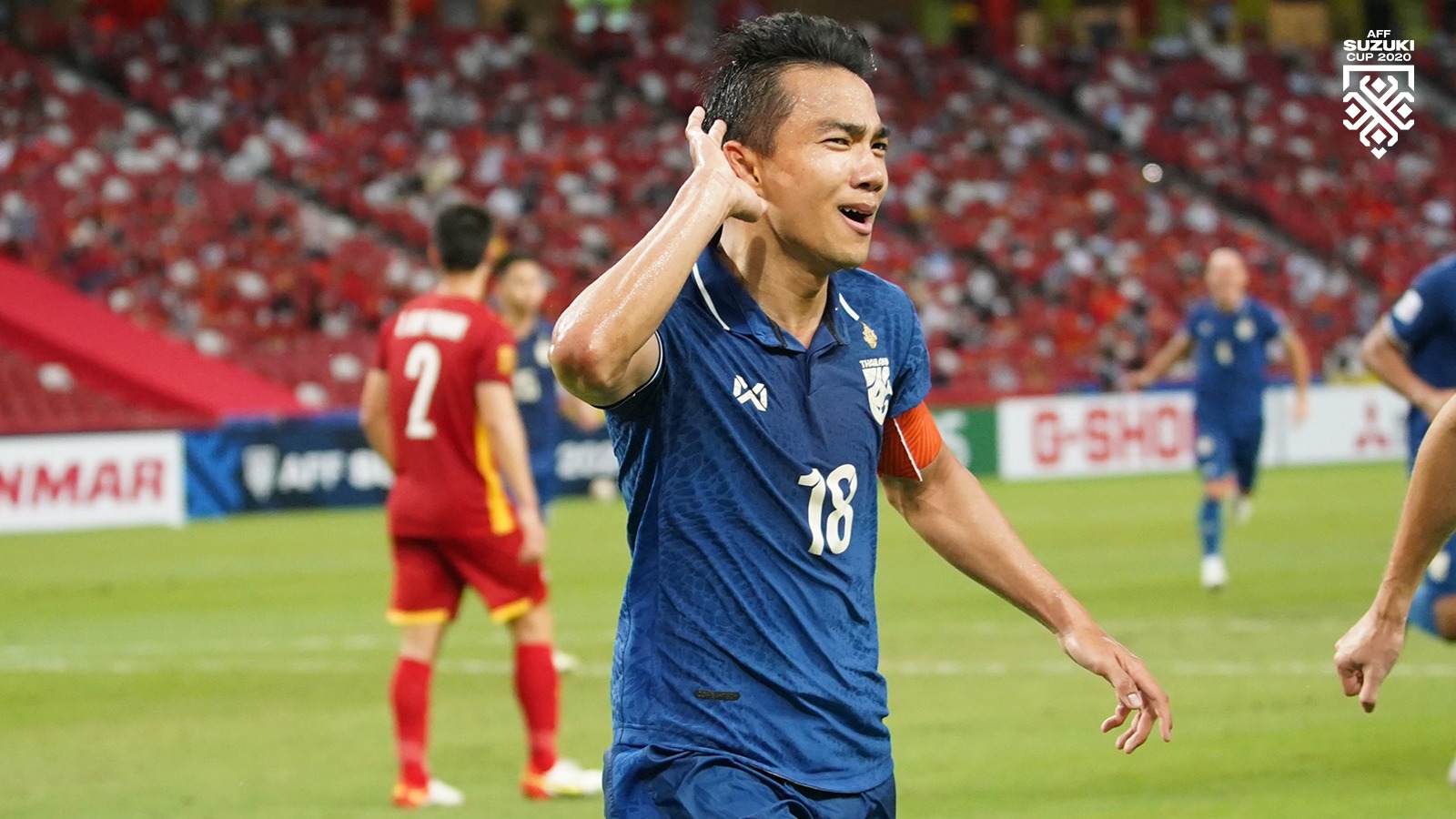 (Chantatip celebrates after 2nd goal. Photo Credit : affsuzukicup.com)
Thailand's centre-back pairing of Kaman and Manuel Bihr looked assured all game and coped very well with Vietnamese pressure. Unsurprisingly, Vietnam's best chance of the half came from a direct freekick, with Quang Hai Nguyen's wonderful curling effort in the 33rd minute beating Chatchai Budprom, but hitting the crossbar.
Challenges continued to fly in all over the pitch, and the feisty first half ended with both sides sharing 7 yellow cards. Even coach Polking got booked for an altercation with Vietnamese captain Ngoc Hai Que at one point! Both sets of fans in the crowd appeared relieved to be able to catch their breath, when the referee blew the whistle to signal the end of the first half.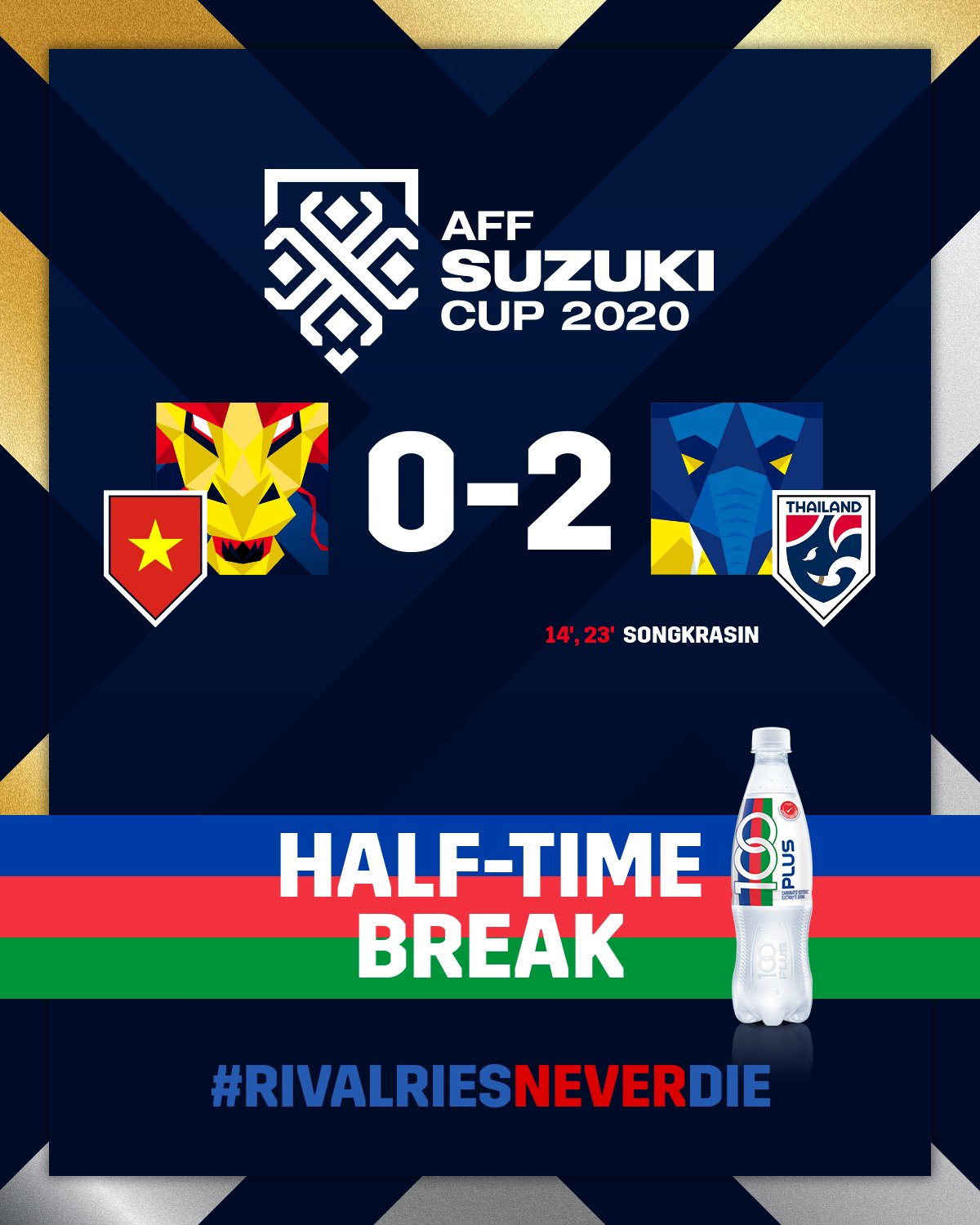 (Graphics Credit : AFF Suzuki Cup Facebook Page)
The 2nd half proved to be slightly less eventful, with the Thais appearing to be content with sitting back and inviting pressure. Both teams managed to create half-chances, but the first real highlight of the half came in the 66th minute, and it fell once more to Vietnam's number 19. Quang Hai received the ball at the edge of the area after a bursting run from Ha Duc Chinh down the left flank, but the Hanoi FC winger's powerful left-footed strike was denied by the woodwork once again.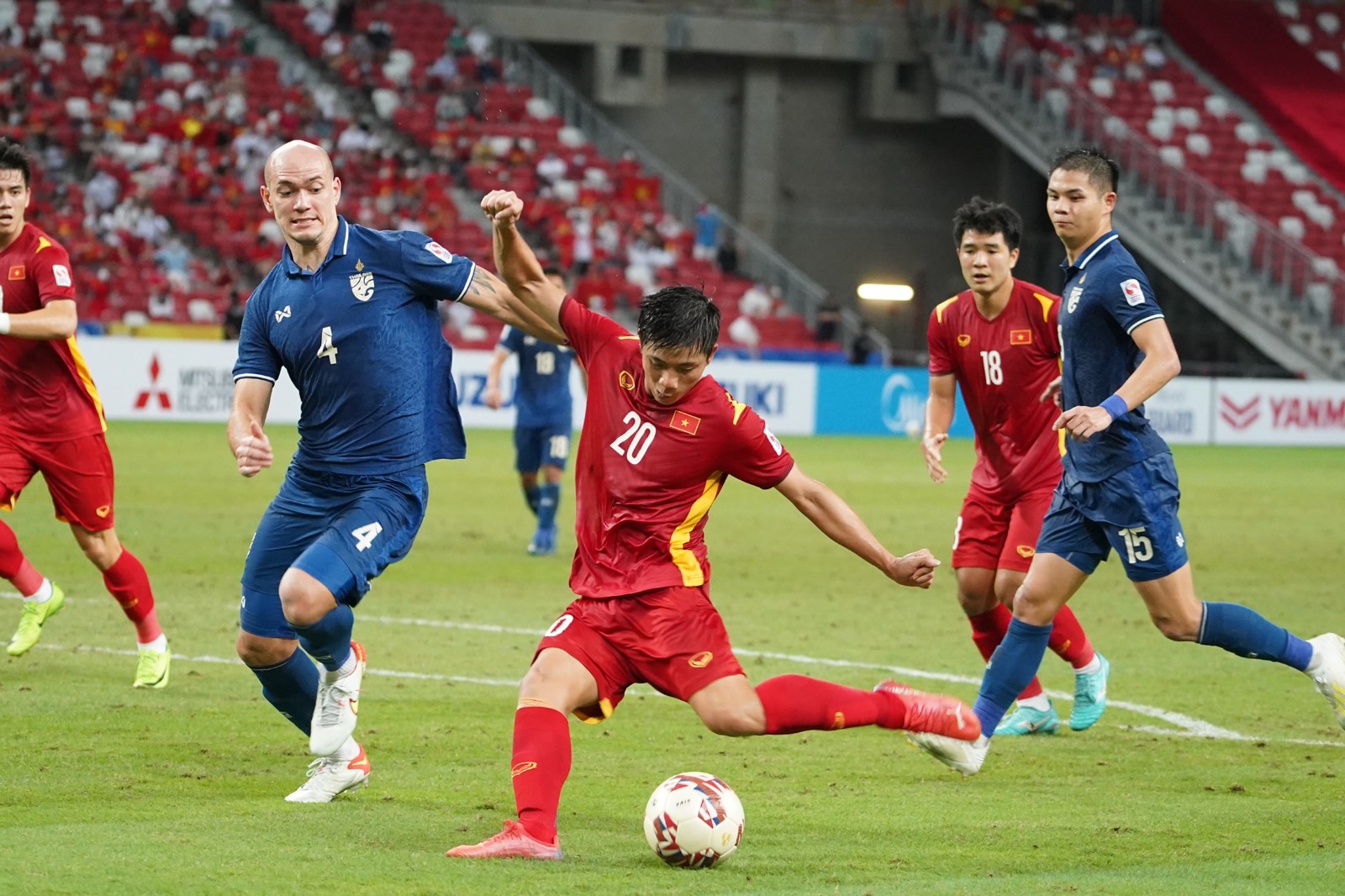 (Vietnam's Van Duc with the ball. Photo Credit : affsuzukicup.com)
Vietnam continued to push forward, and their efforts were almost rewarded in the 79th minute when the ever-dangerous Quang Hai played in a neat through ball for substitute Phan Van Duc, who miscued his shot and saw it roll inches away from nestling into the bottom corner.
Thailand had the chance to put the game and potentially the tie "to bed", when they were awarded a controversial penalty in the 84th minute – Do Duy Manh was judged to have brought down substitute Supachai Chaided. But TV replays showed the defender winning the ball cleanly before being clattered by the Thai forward. Nonetheless, Songkrasin failed to convert the spot-kick as he blasted the ball straight down the middle for goalkeeper Tran Nguyen Manh to palm away with ease. No hat-trick for the Man of the Match and fulltime score was 2-0!
Thailand's 100%-win record in the AFF Suzuki Cup under coach Alexandre Polking continues, but Vietnam will be hoping that they'll have enough to overcome the deficit in the 2nd leg on Sunday, 26 Dec at the National Stadium.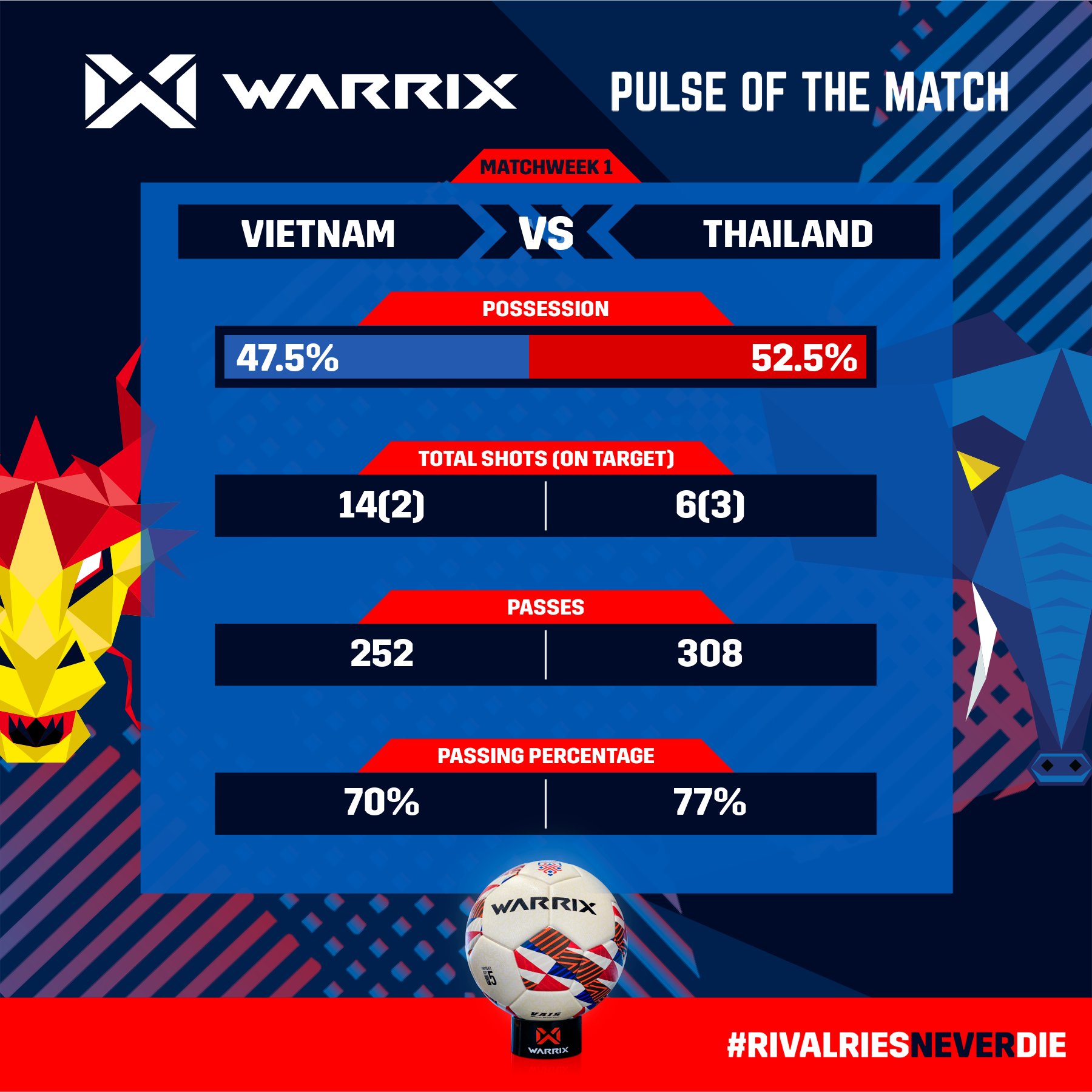 (Graphics Credit : AFF Suzuki Cup Facebook Page)
Renald Loh is a freelance writer based in Singapore.
Related Events & Programmes