Football
Thailand's quest for a historic 6th AFF Suzuki Cup remain intact, following 2-0 aggregate Semis win over Vietnam!
by Circle Stories, on December 25, 2021 16:00 PM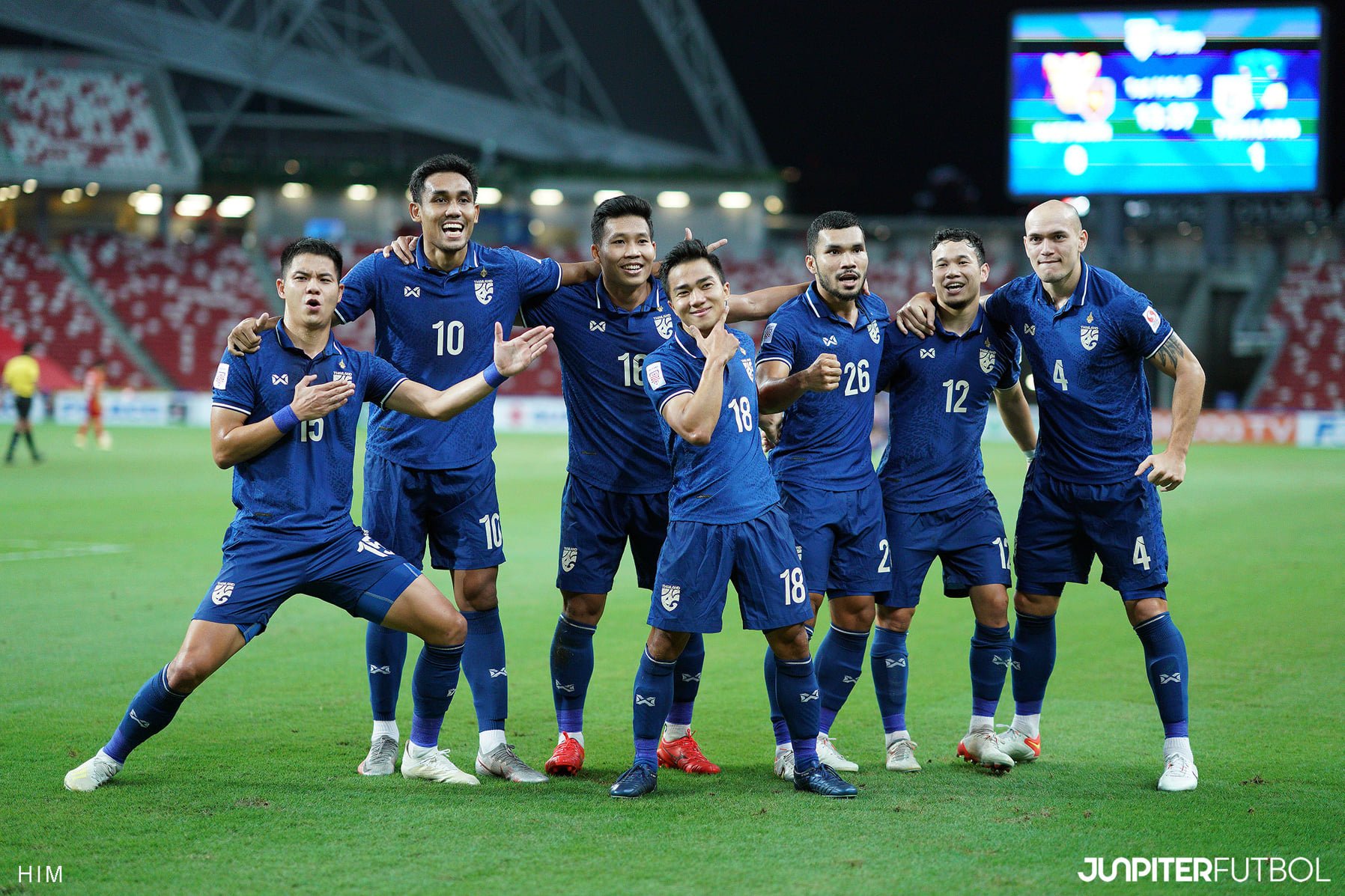 (Team Thailand. Photo Credit : Junpiter Futbol/HIM)
By Sadat Osman
With a 2-0 lead from the first leg, a goalless draw at the National Stadium on Sunday evening (26 Dec), saw Thailand dethrone Vietnam and confirm a date with Indonesia in the grand finale of the 2020 AFF Suzuki Cup.
Vietnam, under coach Park Hang-Seo, suffered their first defeat against an ASEAN nation in the opening leg of the Semi-finals. But that didn't stop them from starting with a familiar 3-4-3 formation, which they fielded in the loss to Thailand 3 days ago.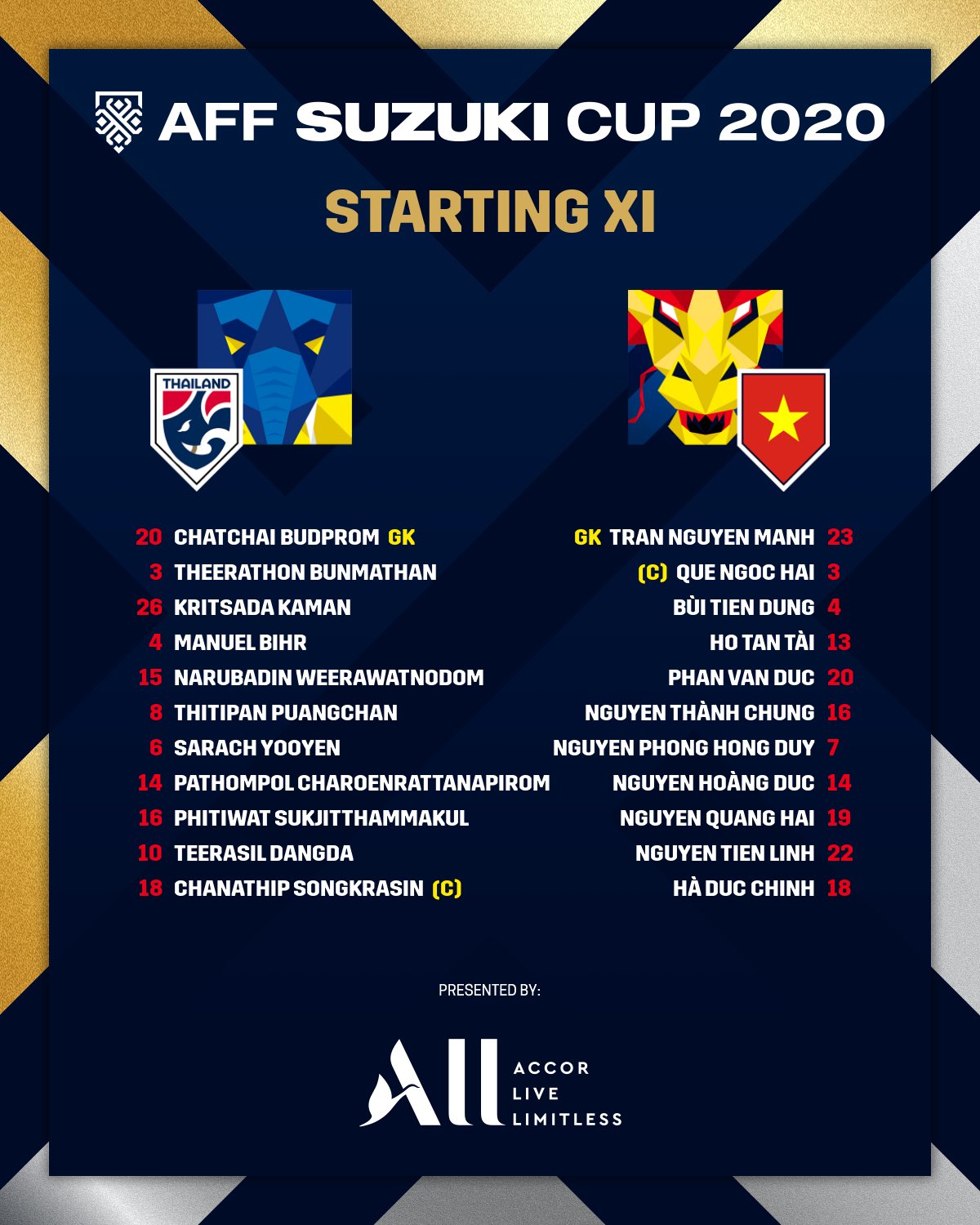 (Graphics Credit : AFF Suzuki Cup Facebook Page)
The 2-goal deficit forced their hand – so they needed to go with an attacking lineup to look for goals from the starting whistle. As for the War Elephants (Thailand) though, they didn't see the need to make any significant changes to their starting 11, as well as their approach to their Boxing Day clash!
From the get-go, the Golden Star Warriors (Vietnam) pushed forward with intent. Nguyễn Quang Hải pulled out all the stops from the left of midfield as he engineered attacks as much as he could. As early as the 4th minute, Nguyễn Tiến Linh registered his side's first opportunity, but he failed to find the target.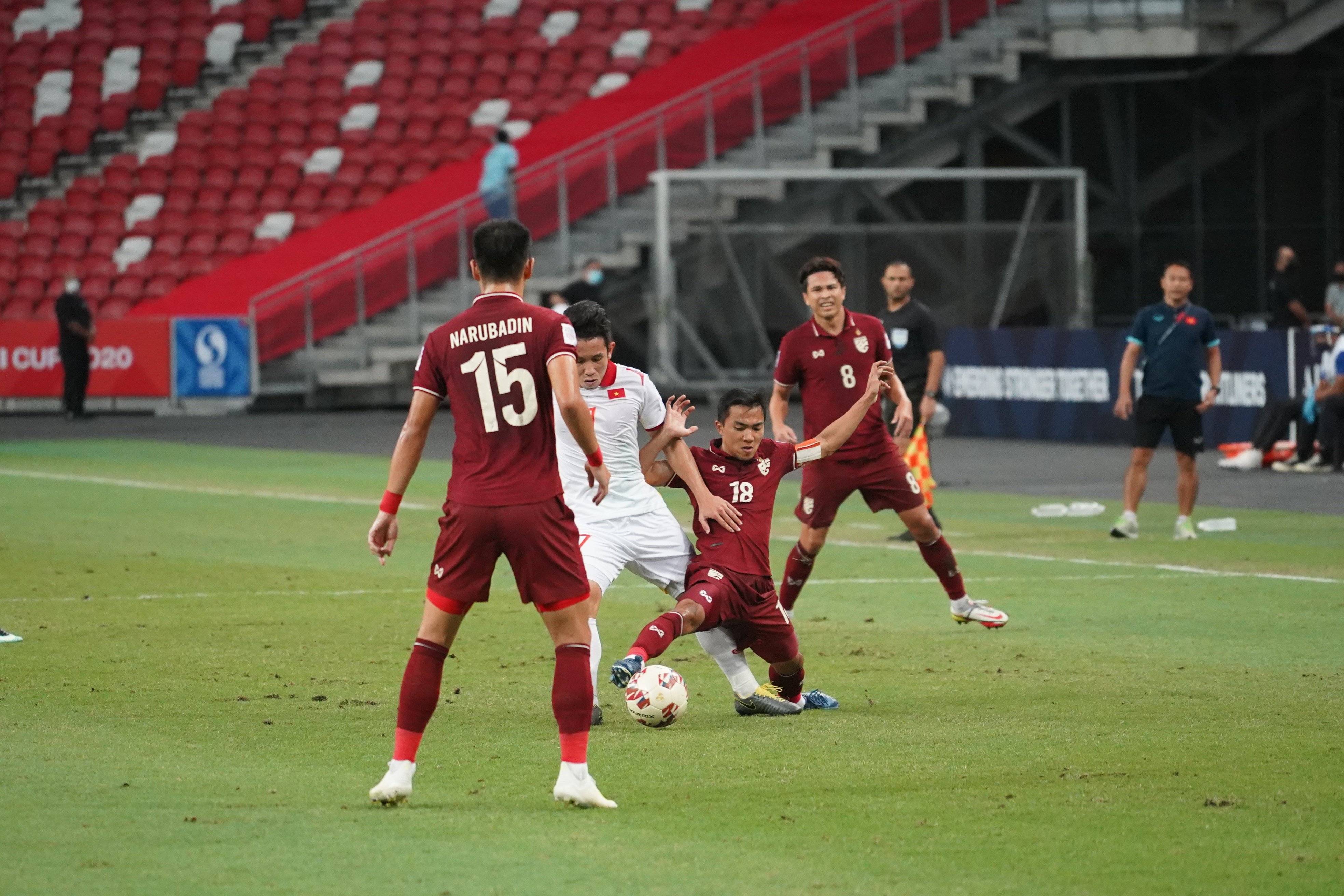 (Thailand's Chanathip Songkrasin being tackled. Photo Credit : affsuzukicup.com)
Thailand struggled to hold onto the ball as the Vietnamese closed down the space with 2 to 3 men crowding out a single Thai player at any instance – even captain Chanathip Songkrasin had no room to work any magic.
With the Thai team holding back on their attacks, Vietnam found it easy to break through the back 4 with their defence-splitting passes. In the 23rd minute, Quang Hải did well to dispossess Theerathon Bunmathan deep in the Thailand half before finding Hồ Tấn Tài with a quick short pass. However, the Topenland Bình Định FC rightback was under pressure and lost his footing, before launching his effort way over the target.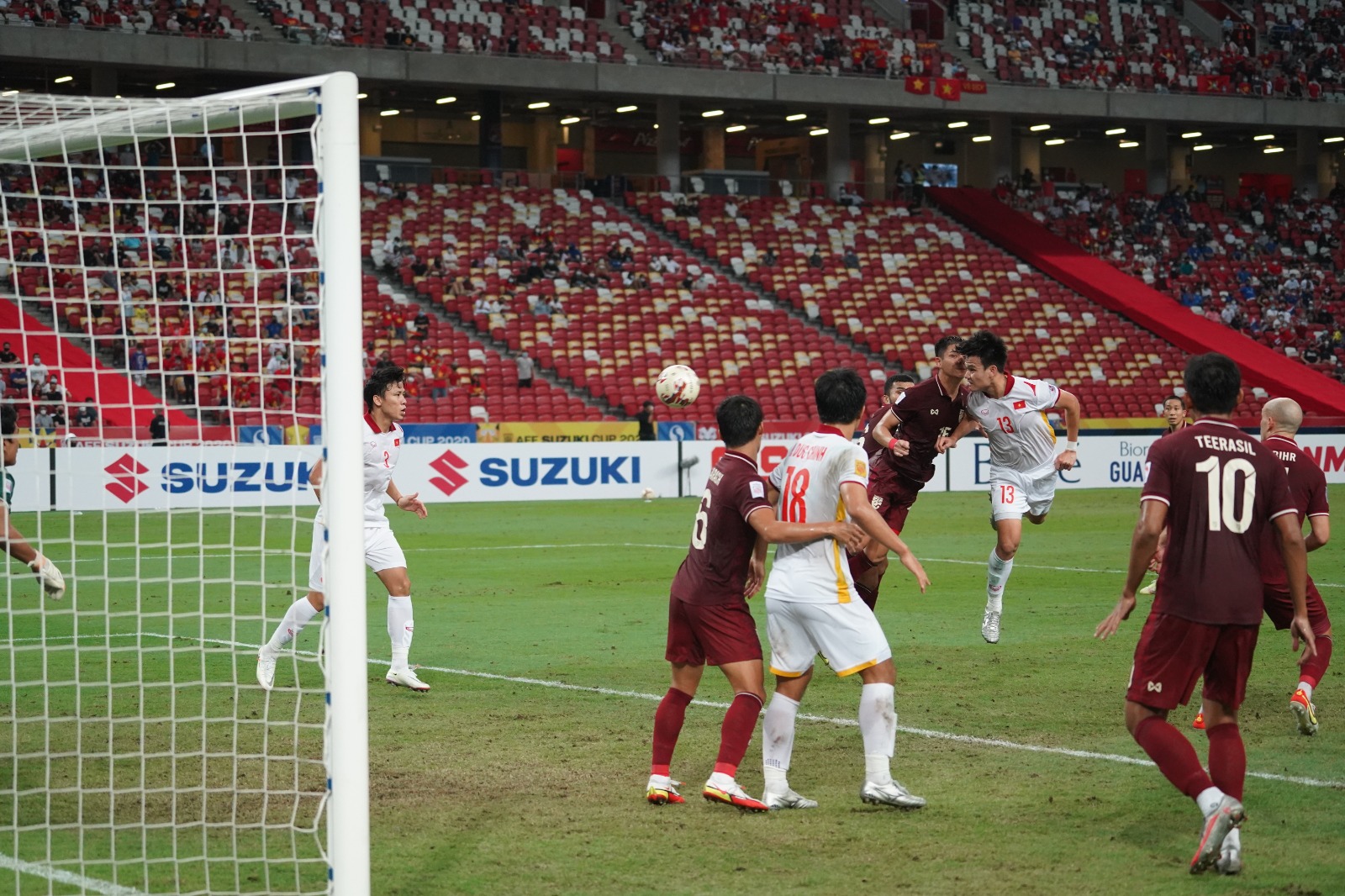 (A header from Vietnam's Ho Tan Tai. Photo Credit : affsuzukicup.com)
2 minutes later, the War Elephants had a chance of their own via Pathompol Charoenrattanapirom. The BG Pathum United man did well to cut in from the left-hand side to open up space for himself to shoot, but his resulting right-foot effort couldn't trouble the goalkeeper.
Thailand was hit with an injury in the 31st minute when goalkeeper Chatchai Budprom had to be stretchered off after he rushed off his line to clear a dangerous long pass outside the penalty area. At first it looked like he was going to be alright, but the medical team had to carry him out of the pitch – 37- year-old Siwarak Tedsungnoen replaced him.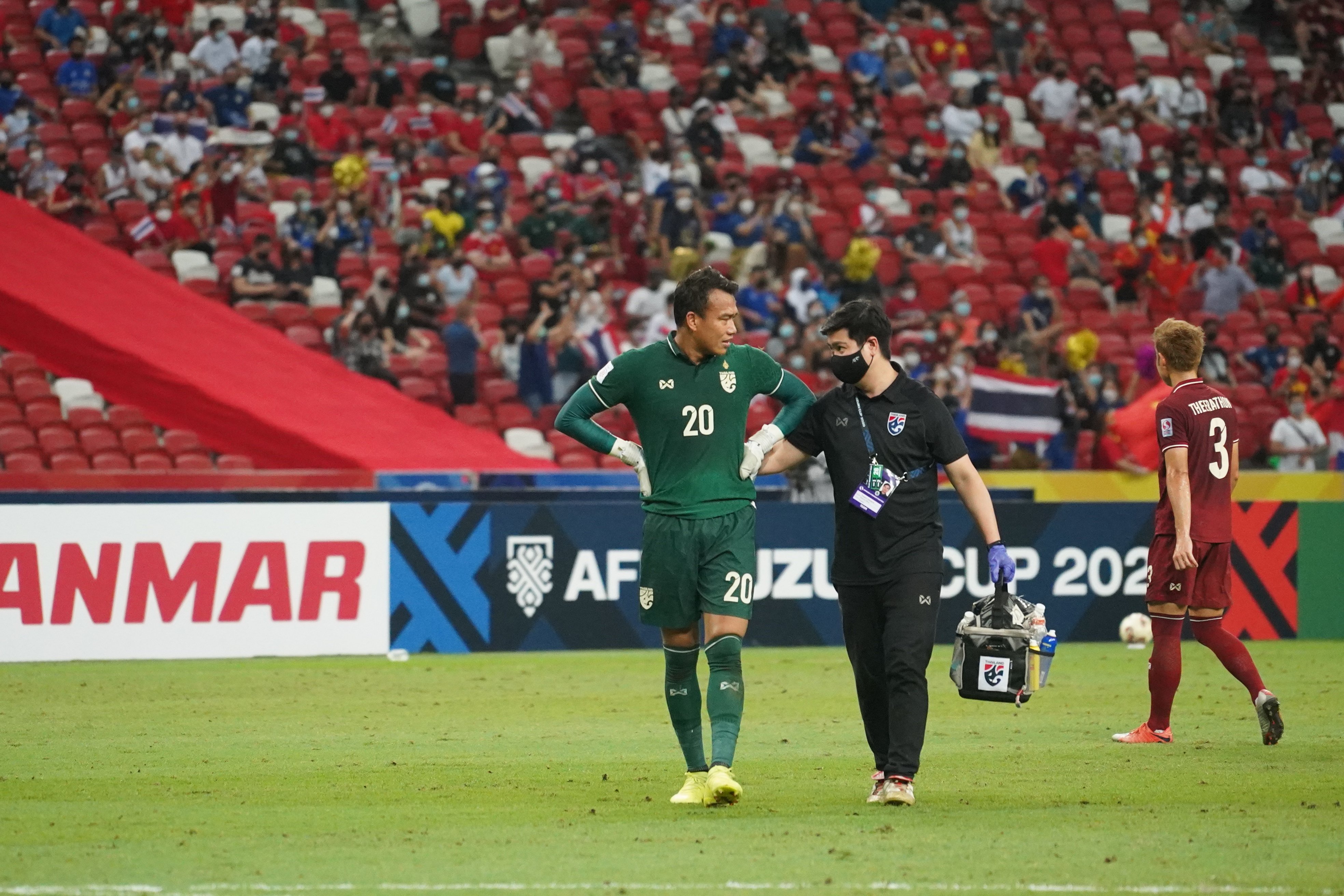 (Thai custodian Chatchai Budprom. Photo Credit : affsuzukicup.com)
2 minutes from the break, the defending champions had their best opportunity to break the deadlock. Tấn Tài was up for a corner – he did well to escape his markers to get a free header at goal. But even with no one around him, he couldn't keep his effort on target.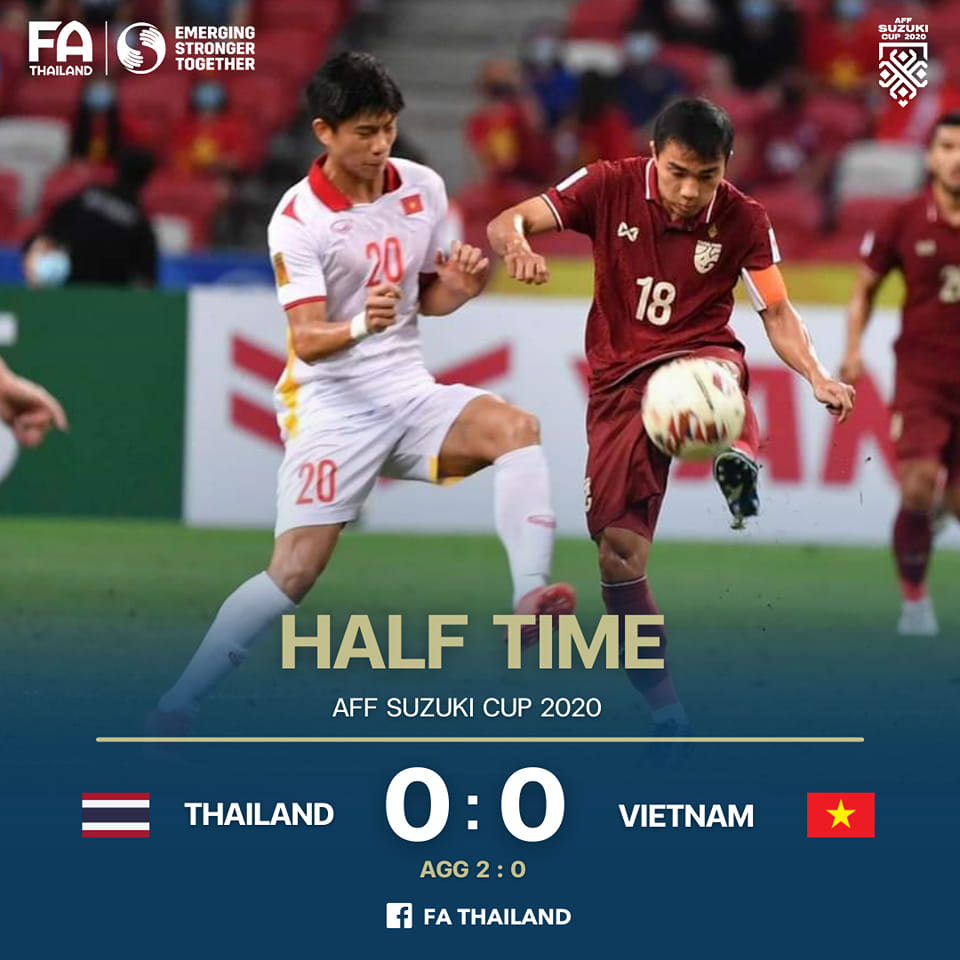 (Graphics Image. Photo Credit : Football Association of Thailand FB)
At the start of the 2nd half, Thailand made two changes and swapped to a back 3, while Vietnam introduced Hoàng Anh Gia Lai FC striker Nguyễn Công Phượng, in an effort to reduce the aggregate goal deficit.
The War Elephants were in no hurry to get any goals, but in the 51st minute they almost added to their overall lead. Sarach Yooyen spotted the run of Theerathon in what was a wonderful move from left to right. The latter latched on to the deft pass and struck the ball with power. His shot was on target, but goalkeeper Trần Nguyên Mạnh was equal to it.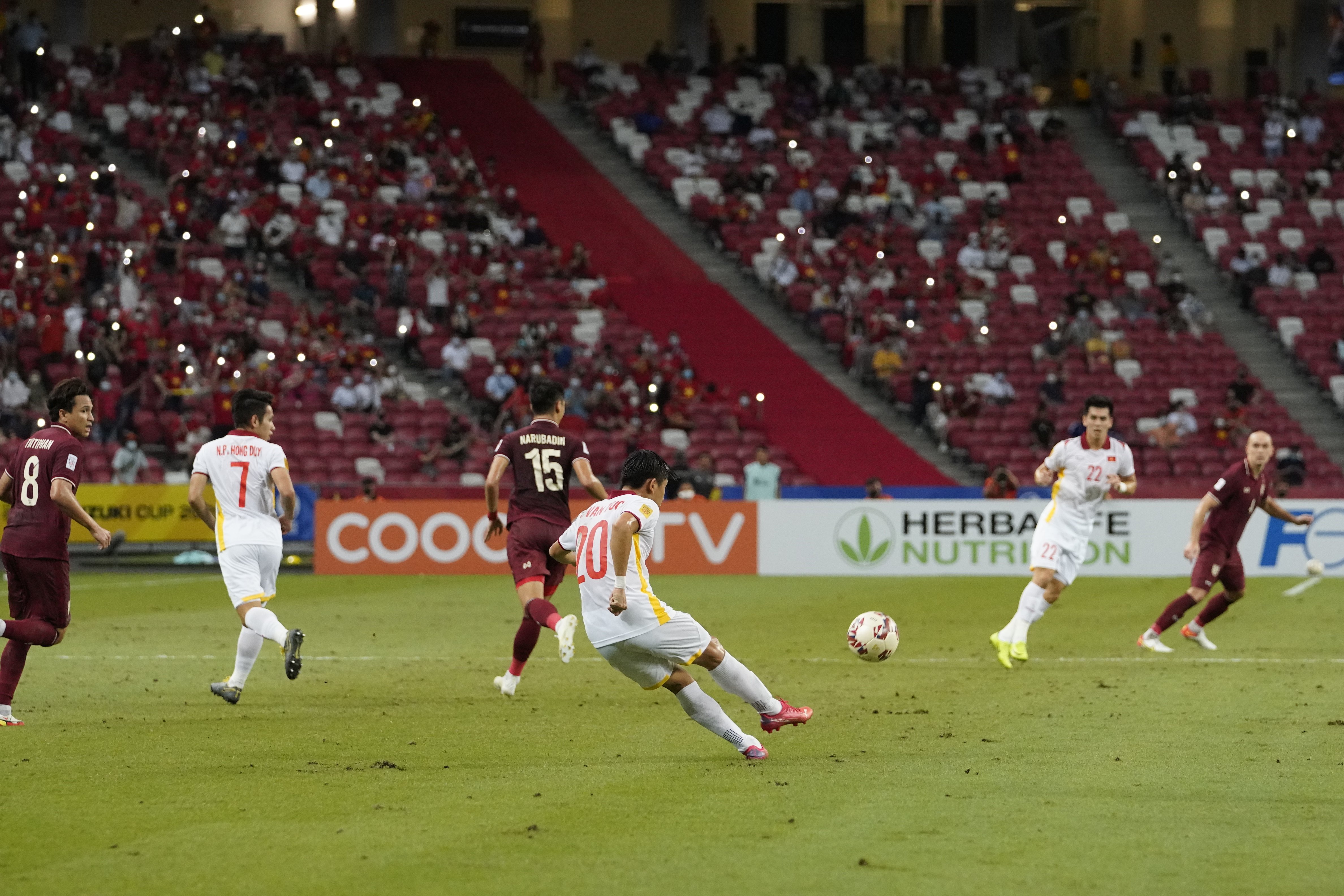 (Vietnam's Phan Van Duc launches the ball. Photo Credit : affsuzukicup.com)
For the major part of the 2nd half, Thailand were sitting back while Vietnam pushed men forward to try and create opportunities upfront. And while they did produce some immaculate moves in the final third, it was their shooting accuracy that was lacking – they either shot off-target or had efforts straight into the arms of the goalkeeper.
Despite the cagey affair, Thailand did produce some counterattacks. However, a determined Vietnamese defence ensured that the goal difference remained at two.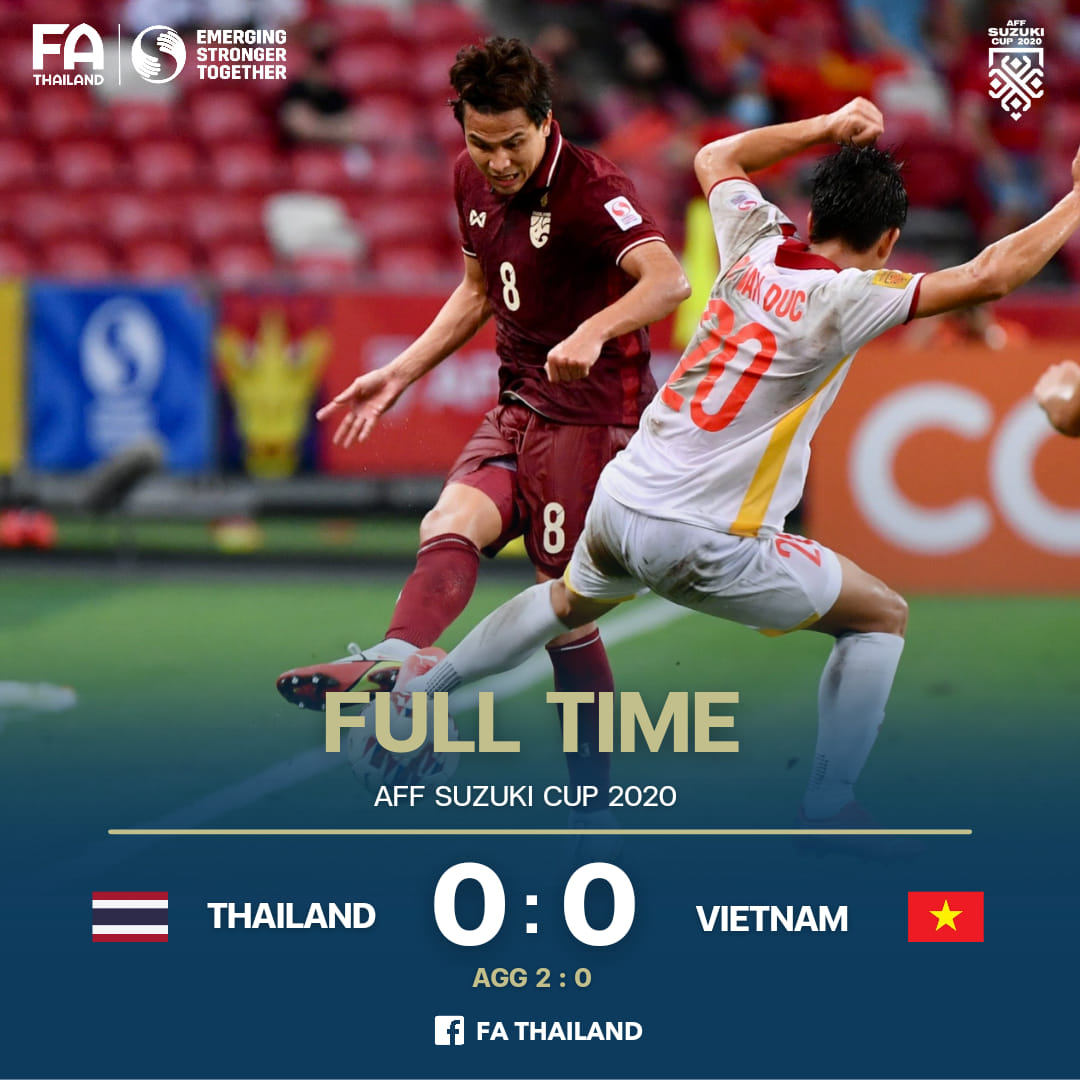 (Graphics Image. Photo Credit : Football Association of Thailand FB)
With the defending Suzuki Cup champions failing to find the finishing touch, the score stood at 0-0 at full time. And Thailand won the semi-finals with a 2-0 aggregate, to set up a meeting against Indonesia in the grand finals. The 1st leg takes place on 29 Dec followed by the 2nd clash on 1 Jan 2022. Will the Thais win a historic 6th AFF Trophy or will 6-time finalists Indonesia, finally get their 1st chance of being labelled, "Kings of ASEAN Football"?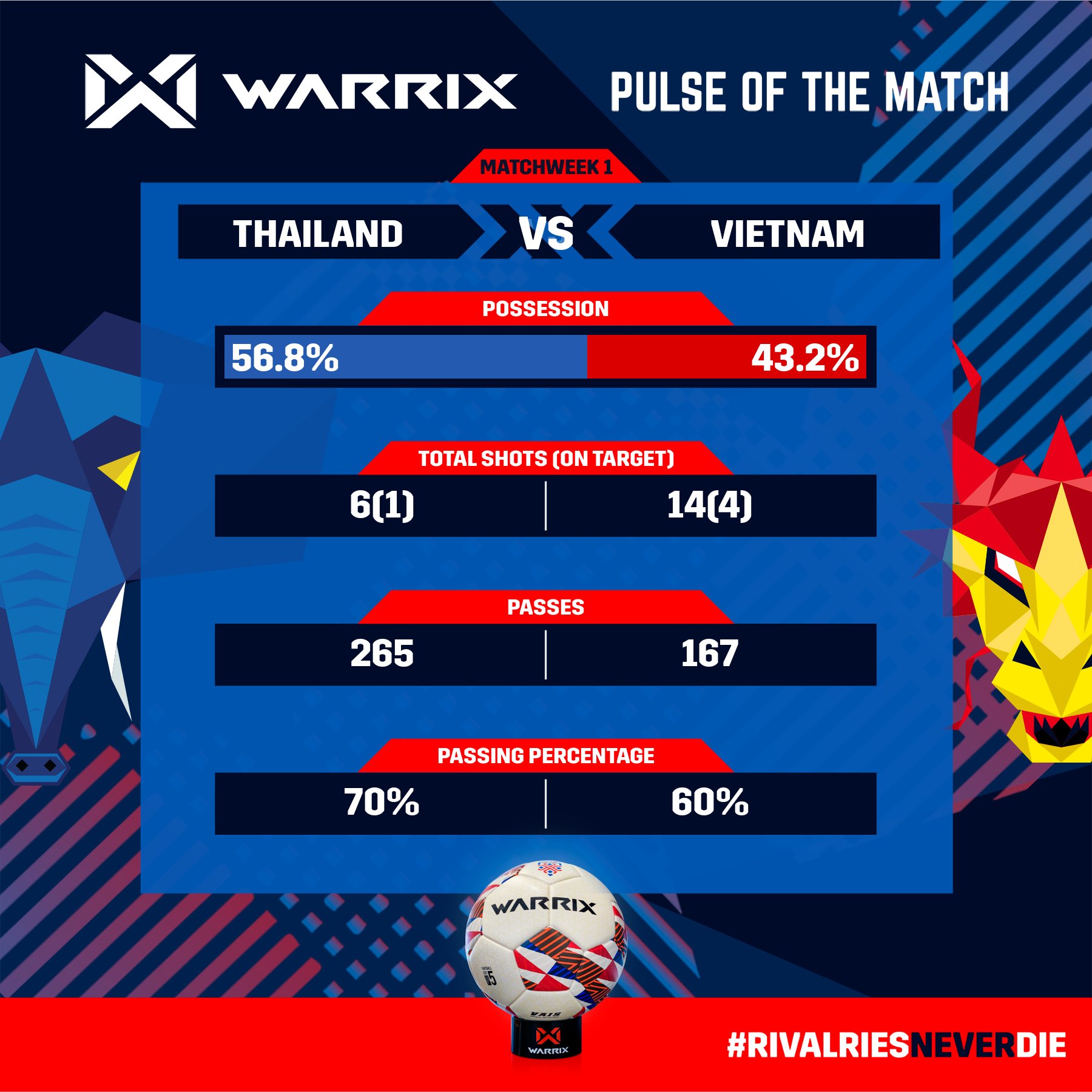 Sadat Osman had a 10-year career in the publication industry, where he covered several beats including current affairs, food, fishing, music, and football. As the former chief editor at Goal.com and a fan of Newcastle United FC since 1996, Sadat also had a trial as a goalkeeper at Tanjong Pagar United FC. But today he remains a frequent social player of the game, who fancies Lionel Messi. However, Sadat's playing style is unfortunately similar to that of Titus Bramble!
Related Events & Programmes