Sports
Tokyo 2020: TeamSG's Laurentia Tan, Gemma Foo & Maximillian Tan, combined for a score of 200.792% in good Team Dressage showing!
by Circle Stories, on August 27, 2021 16:00 PM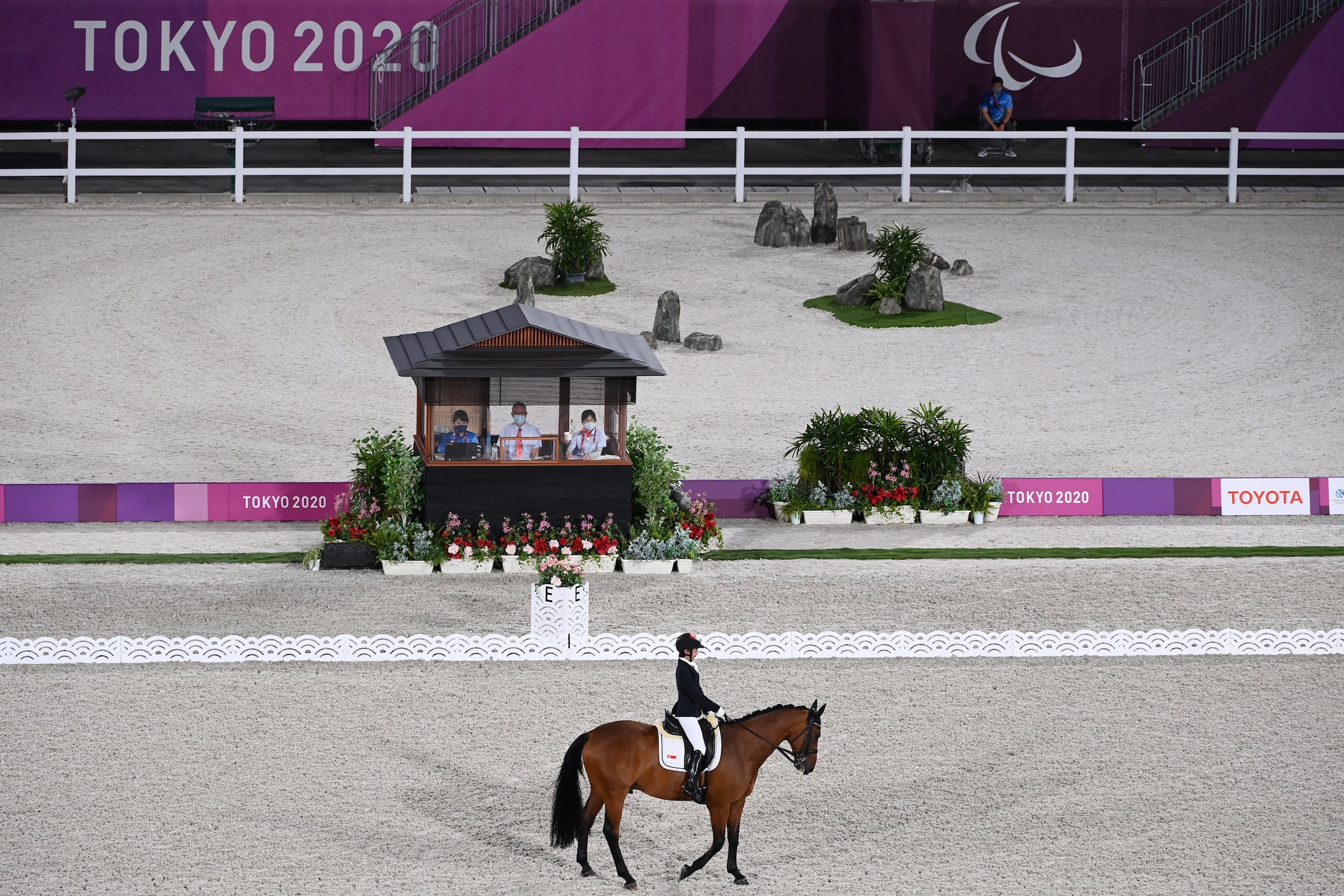 (TeamSG's Laurentia Tan at Tokyo 2020 : Photo by SportSG)
By Kenneth Tan
Team Singapore's para-equestrian squad comprising Laurentia Tan, Gemma Foo and Maximillian Tan, put up a good showing in the Team Test to Music (mixed team event) at the Tokyo Equestrian Park on Saturday evening (28 Aug), as they combined for an overall team score of 200.792%.
They are 1 of only 2 teams along with Canada (who temporarily lead the standings with 211.699%) to have completed the competition on Day 1. And the other 13 teams having representatives, will only see action on Day 2 (29 Aug). Singapore's final placing will be determined after each of the 15 teams are completely done with their performances.
The para-equestrian team dressage test has adopted a different format from the one in Rio 2016, where results from both the Team test and Individual test were combined together for an overall team score. In Tokyo 2020, the medals will be determined solely through results from the Team test.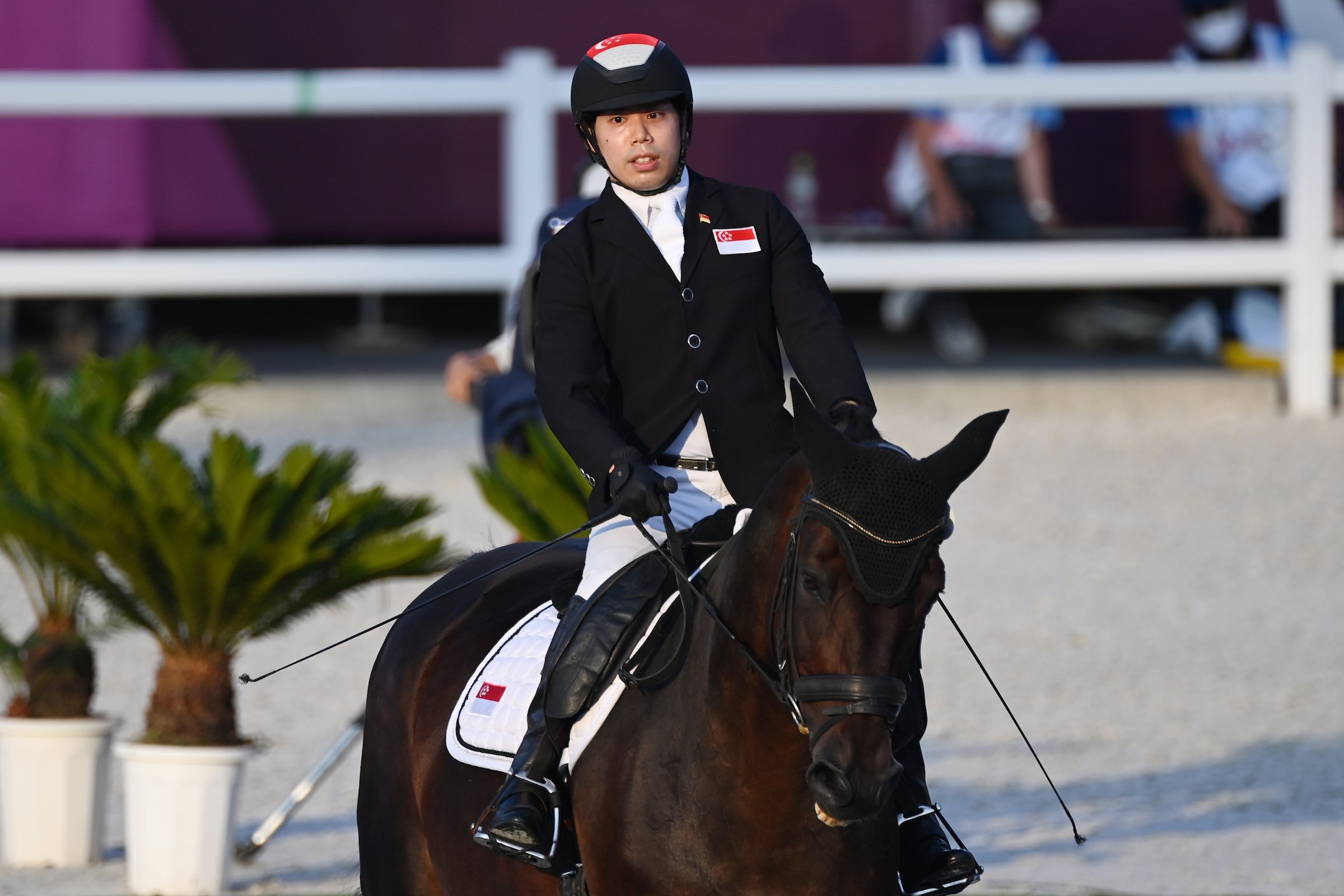 (TeamSG's Maximillian Tan at Tokyo 2020 : Photo by SportSG)
Competing in the Grade II category, Maximillian and his long-time horse "Don's Day Dream", got off to a decent start with some good transitions and clear four-beat rhythms in his performance. The 3rd-time Paralympian would earn a score of 60.970% from the panel of 5 judges.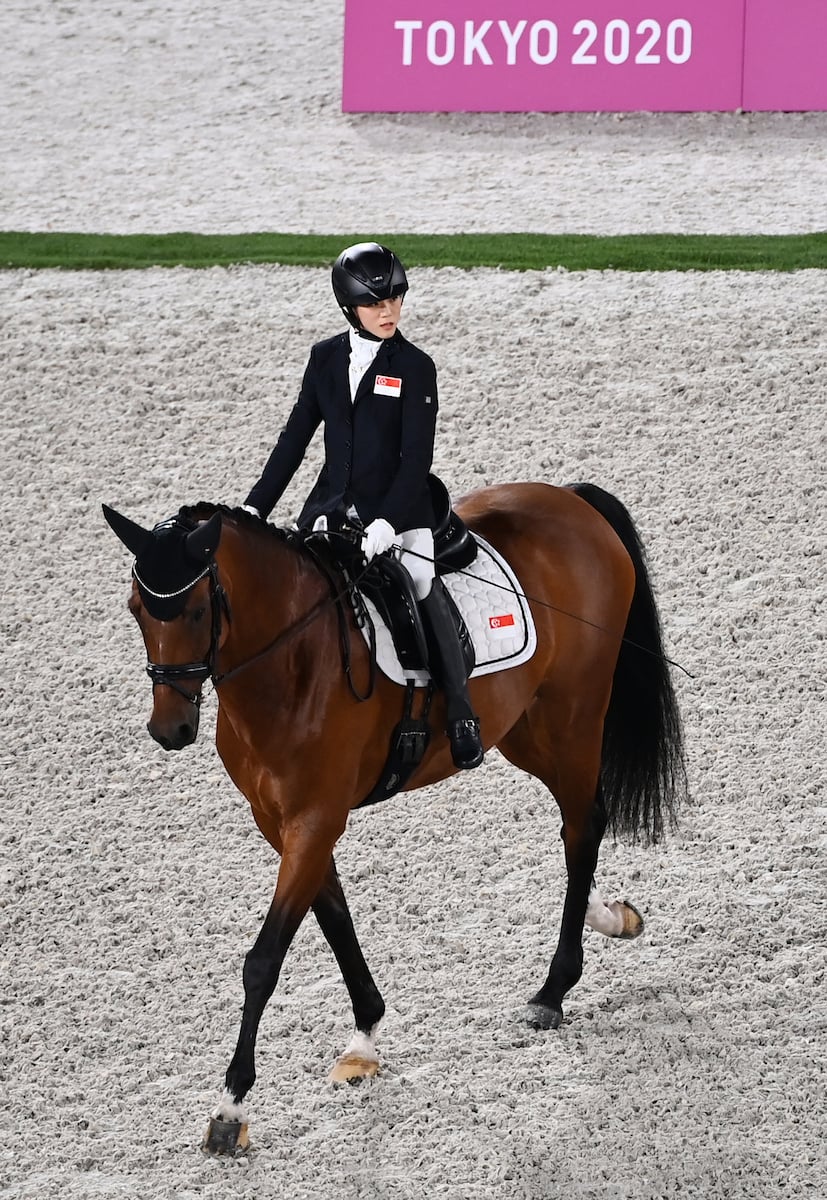 (TeamSG's Gemma Foo at Tokyo 2020 : Photo by SportSG)
Moving on to the Grade I portion, Gemma and Laurentia also did themselves proud of assured displays. World no. 18 Gemma – also competing in her 3rd Paralympics – showed good control and balance on her 10 year old horse "Gambler", with a series of neat directional changes and nifty movements. That earned the 25-year-old, an encouraging score of 63.965%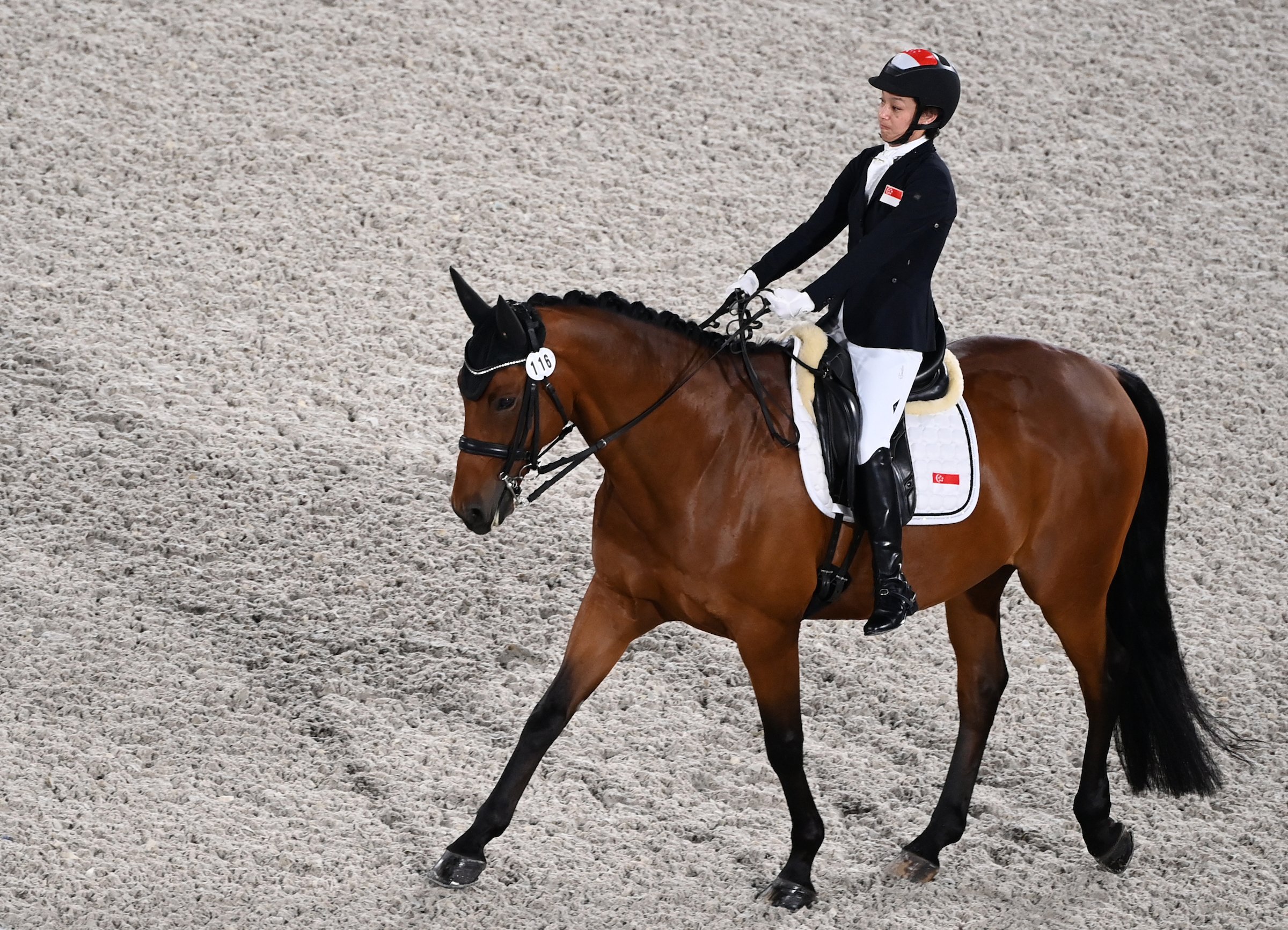 (TeamSG's Laurentia Tan at Tokyo 2020 : Photo by SportSG)
As the last of the 3 Singaporean para-equestrian riders to feature, Laurentia showed exactly, why she is ranked 4th in the world in this discipline. With a clear harmony between herself and her 4-legged partner "Banestro", the 42-year-old was calm and consistent in delivering a variation of movements. The smooth and assured performance from the 4-time Paralympic medallist, was one that impressed the judges, as she earned an outstanding score of 75.857%!
Now, the trio will be keenly watching on, as the competition continues on Sunday (29 Aug), in hope of a good final placing in their 2nd-ever participation in the Paralympics team event. 5 years ago on Rio 2016, they'd finished in 14th spot, albeit in a different competition format.
With the end of today's routines, Gemma and Maximillian's campaigns in Tokyo 2020 are concluded, while Laurentia will be back in action on Monday night (Aug 30), as she competes in the Individual Freestyle test, in a bid to win her 5th career Paralympic medal!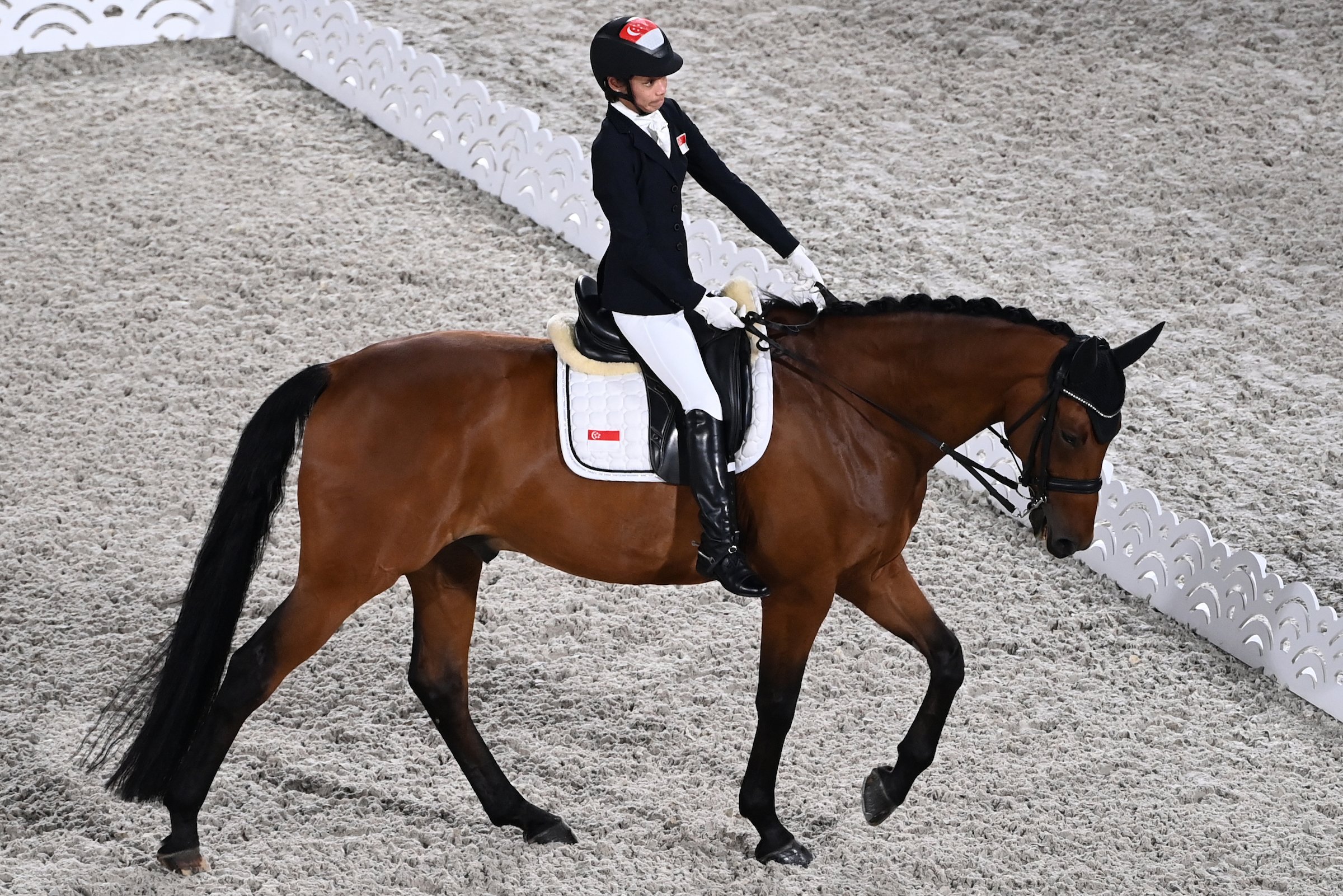 (TeamSG's Laurentia Tan at Tokyo 2020 : Photo by SportSG)
The 16th edition of the Paralympic Games is from 24 Aug to 5 Sep 2021. For all coverage and news of the Republic's national athletes who're competing at the Games, check out the official Team Singapore Tokyo 2020 website.
Pledge Your Support here
Show your support for Team Singapore in the Paralympic Games!
Team Singapore athletes have worked hard to qualify for the Paralympics despite the challenges placed in front of them by the pandemic. They've trained relentlessly, all while adapting to the different safety measures throughout their journey, to ensure that they can represent our flag in Tokyo.
Related Events & Programmes