Team Singapore
World's top paddlers to return & compete in Singapore Smash 2023!
by Circle Stories, on September 13, 2022 8:11 AM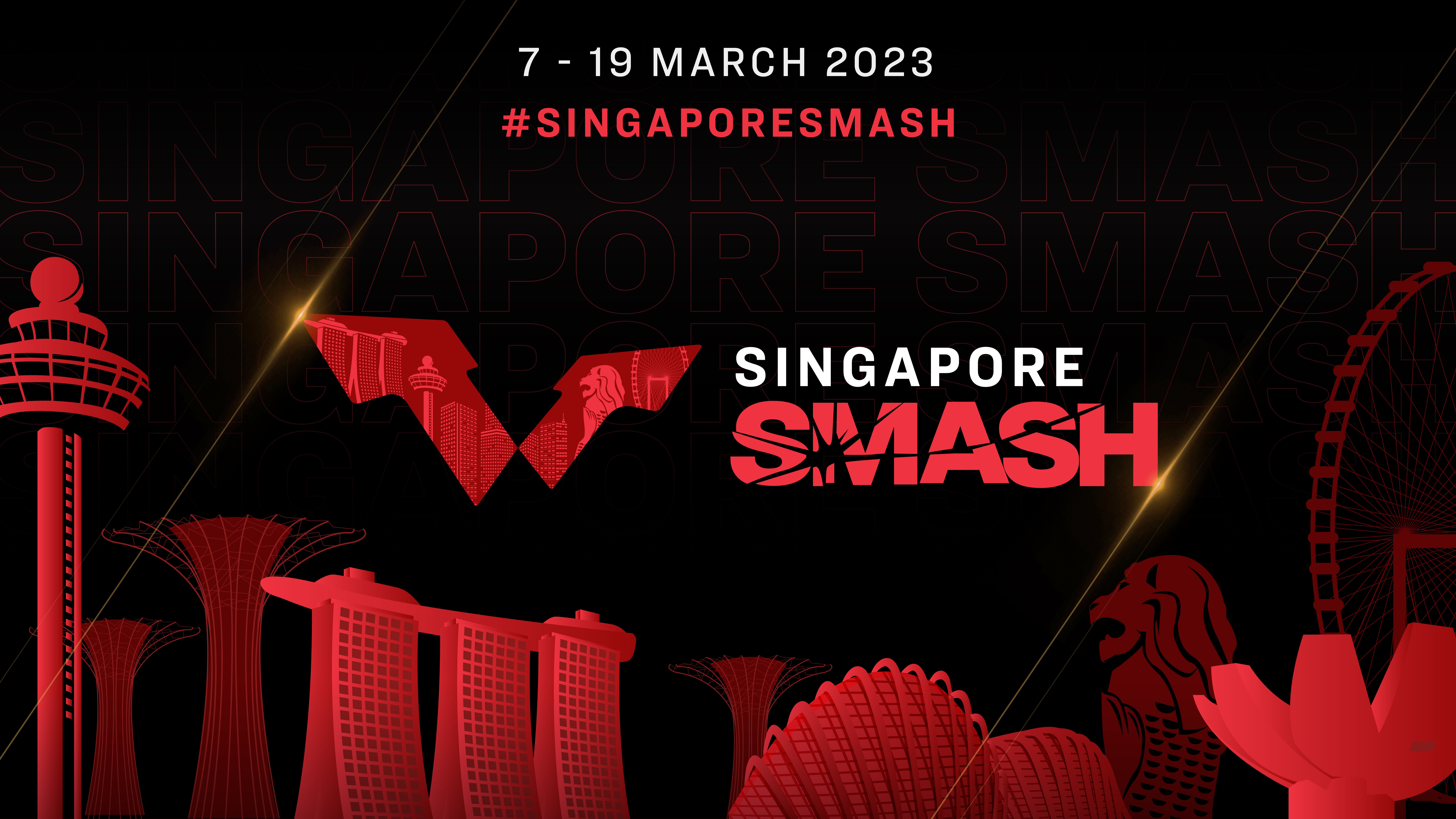 Singapore Smash 2023 logo. Image Credit : WTT
13 September 2022 – The first-ever Singapore Smash held earlier this year marked the start of a grand new legacy for table tennis and for Singapore. Today World Table Tennis (WTT) announced their plans for the 2023 edition, introducing new elements and changes to the event, ensuring spectators will get the best sporting action and entertainment value when they attend Singapore Smash 2023 in just under six months' time.
The inaugural event was broadcast in 196 markets, as the crowning of Fan Zhendong and Chen Meng as the first Grand Smash champions kept global audiences glued to their screens, reaching a cumulative audience of more than 160 million and a cumulative reach of more than 400 million.
Singapore Smash 2023 will be consolidated into ten action-packed main draw days between 11 and 19 March 2023. The Saturday main draw start provides fans with more opportunity to see their favourite players compete on the opening weekend of the event while the second Saturday will be billed as "Semifinal Saturday" which will see two semifinal sessions with each session to feature one of the Men's or Women's Doubles Championship matches.
Action on the Infinity Arena (main competition hall) will see five matches per session during the early rounds, while the viewer experience has been improved in the second competition hall with the creation of two show tables, resulting in more matches and longer sessions providing better value and event experience for fans.
WTT also confirmed that the mixed doubles draw will increase from 16 pairs to 24 pairs for the 2023 event ensuring more international pairs are featured, and increasing the number of seeds in the singles competitions from 8 to 16 players. With the increase in seeds and the top 16 players not drawn to play against each other in first round matches, spectators will be able to see some of the world's best table tennis players in the later stages of the event should they win and advance through their early round matches.
The easing of Covid-19 restrictions will also see an increased seating capacity within the playing halls (Infinity Arena and Second Hall), and with a greater number of competitors, more fans will get the chance to watch world-class players and thrilling matches up close.
Fans will also enjoy world-class action off the table with the introduction of the Singapore Smash precinct offering outstanding entertainment and bringing our fans closer to the players than ever, before to create a must-visit destination for table tennis and non-table tennis fans alike.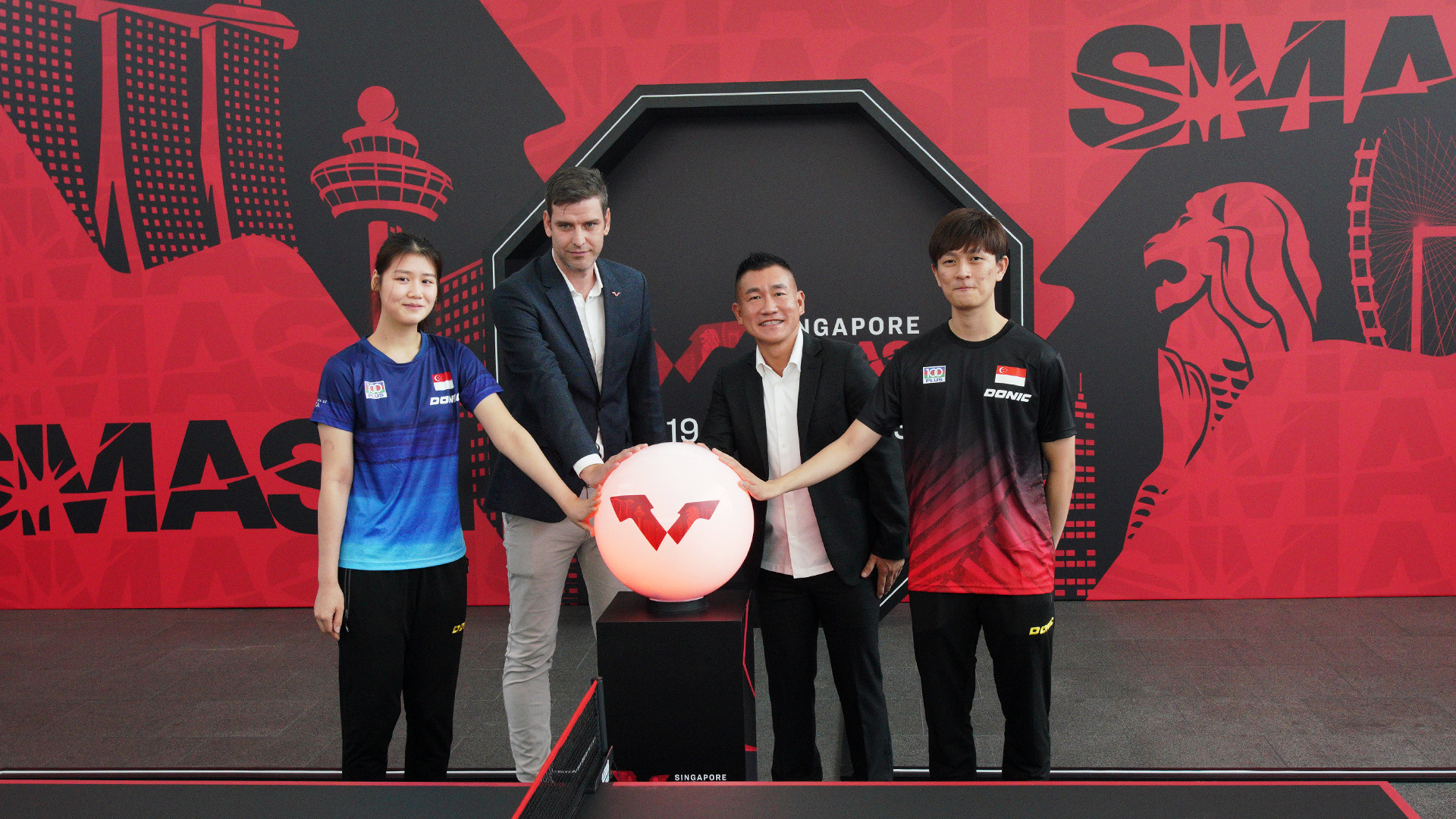 Singapore Smash 2023 Launch Ceremony_(L-R) TeamSG's Wong Xin Ru, Matt Pound (Managing Director, World Table Tennis), Roy Teo (Chief of Industry Development, Technology & Innovation Group, Sport Singapore), and TeamSG's Clarence Chew. Photo Credit : WTT
Singapore players, Clarence Chew and Wong Xin Ru, who are looking forward to leading the national charge at Singapore Smash 2023 attended the launch event at ArtScience Museum.
Wong Xin Ru, who was part of the gold-winning women's team at the 2022 Commonwealth Games, said: "Playing in the first-ever Singapore Smash this year was an incredible experience. Getting to play against the world's best and experiencing the atmosphere at an event of this stature prepared me well for my later competitions, which included the SEA Games and Commonwealth Games. I've learnt a lot from competing at the Singapore Smash and I'm looking forward to coming back for next year's event."
Olympian Clarence Chew, who partnered Ethan Poh and stunned the 2019 World Championship doubles silver medallists enroute to the quarterfinals at this year's event, is eager to compete in front of the home crowd again. He added: "It's always wonderful to be able to play in front of your family and friends. To have their support and hear their cheers provides that extra boost for all of us, and we can't wait to experience that again."
"Grand Smashes form the core pillars of the WTT Series and the first-ever Singapore Smash was held with great success amid challenging times. Nine months on we are operating in a different environment which provides the opportunity for us to elevate Singapore Smash to greater heights, give our fans more and bring new fans into the sport. We are proud to be growing Singapore Smash as an event for all of Singapore and creating a grand new legacy for Table Tennis. 2023 promises to be a thrilling experience for our players, spectators and fans – from community involvement to entertainment to VIP hospitality. Whether you are an avid follower or not, everyone who attends Singapore Smash 2023 will be guaranteed an awesome time" said Stephen Duckitt, WTT Event Strategy Director.
"The inaugural Singapore Smash saw packed spectator stands and strong digital engagement from around the world, showing us that Singapore and beyond are eager for top notch table tennis action. Sport Singapore is working closely with WTT to build on the success of this year's edition to deliver a bigger and better event, one that will deepen engagement with the table tennis fraternity on many fronts – from delivering a world-class competition experience for athletes, to fan engagement and community activations for enthusiasts and aspiring players. With the Singapore Smash returning once again to the Sports Hub, we are confident that this marquee event will provide an exciting start to the year's sporting calendar," shared Mr Roy Teo, Chief of Industry Development, Technology & Innovation Group, Sport Singapore.
Singapore Smash 2023 will feature 64 player men's and women's singles and 24-pair doubles and mixed competitions. A singles qualifying competition featuring a further 64 men and 64 women will be held from Tuesday 7 to Thursday 9 March.
Related Events & Programmes