15-time SEA Games & Commonwealth Games Gold medallist Yu Mengyu, ends playing career to move into Coaching!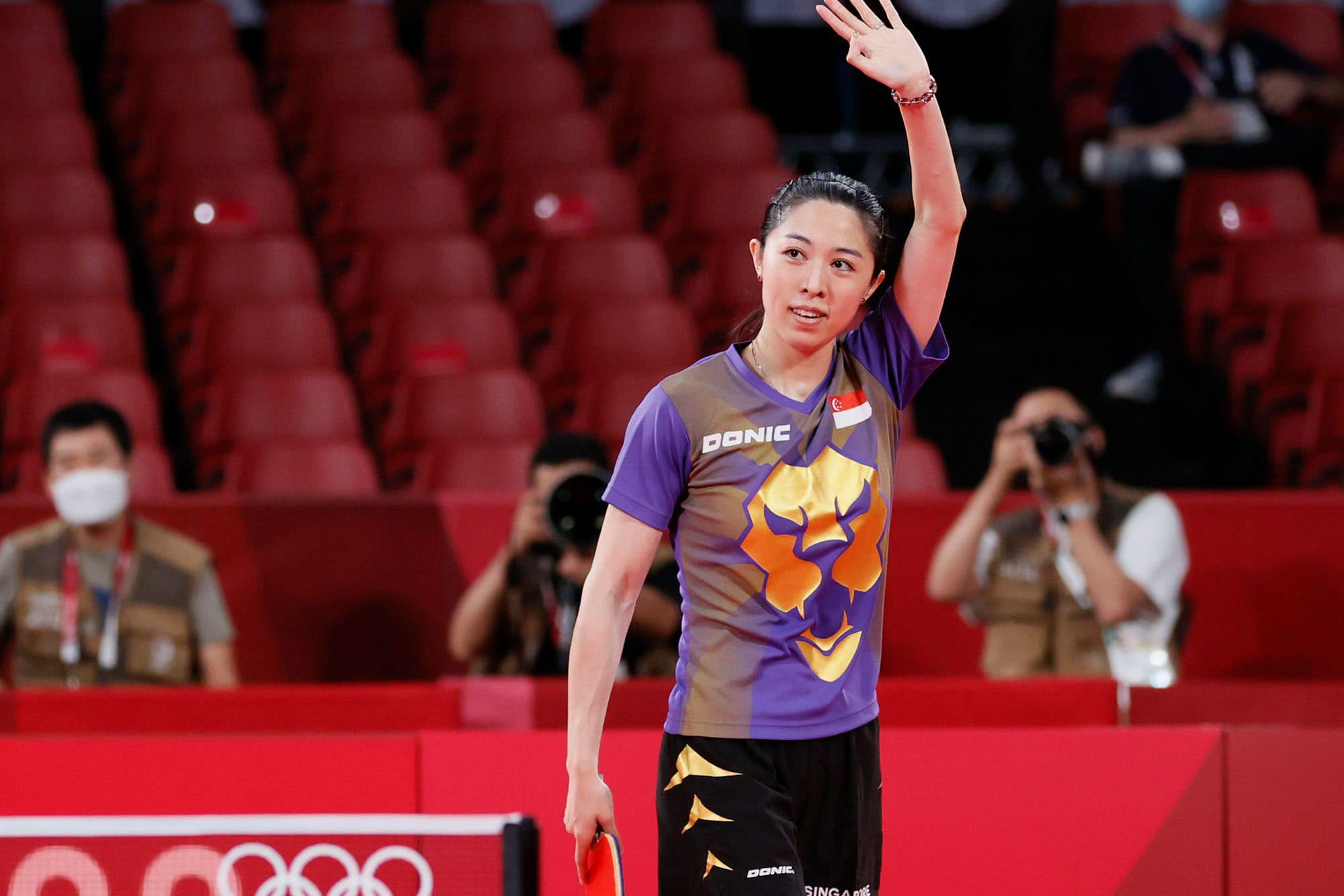 (Team Singapore's Yu Mengyu. Photo Credit : Sport Singapore)
By Pearlyn Koh
As Team Singapore's table tennis star Yu Mengyu, announced her retirement from the sport on Tuesday (22 March), we take a look at her incredible table tennis journey in Singapore over the years.
Mengyu was born in Liaoning, China, and first represented Singapore in 2006. Throughout her career in Singapore, the 32-year-old star paddler has flown the Singapore flag high on countless occasions.
In her incredible run during her time as a TeamSG athlete, Mengyu has participated in 5 Southeast Asian Games (from 2007 to 2017), and won a stunning total of 10 Gold and 2 Silver medals! The star player also won a total of 5 Gold and 4 Silver medals in the 2010, 2014 and 2018 Commonwealth Games. And Mengyu had also successfully brought home a medal in all 3 Asian Games she participated in, since 2010. At the 2010 Asian Games, she claimed a Silver medal, while at the 2014 and 2018 editions, she took home a Bronze medal each.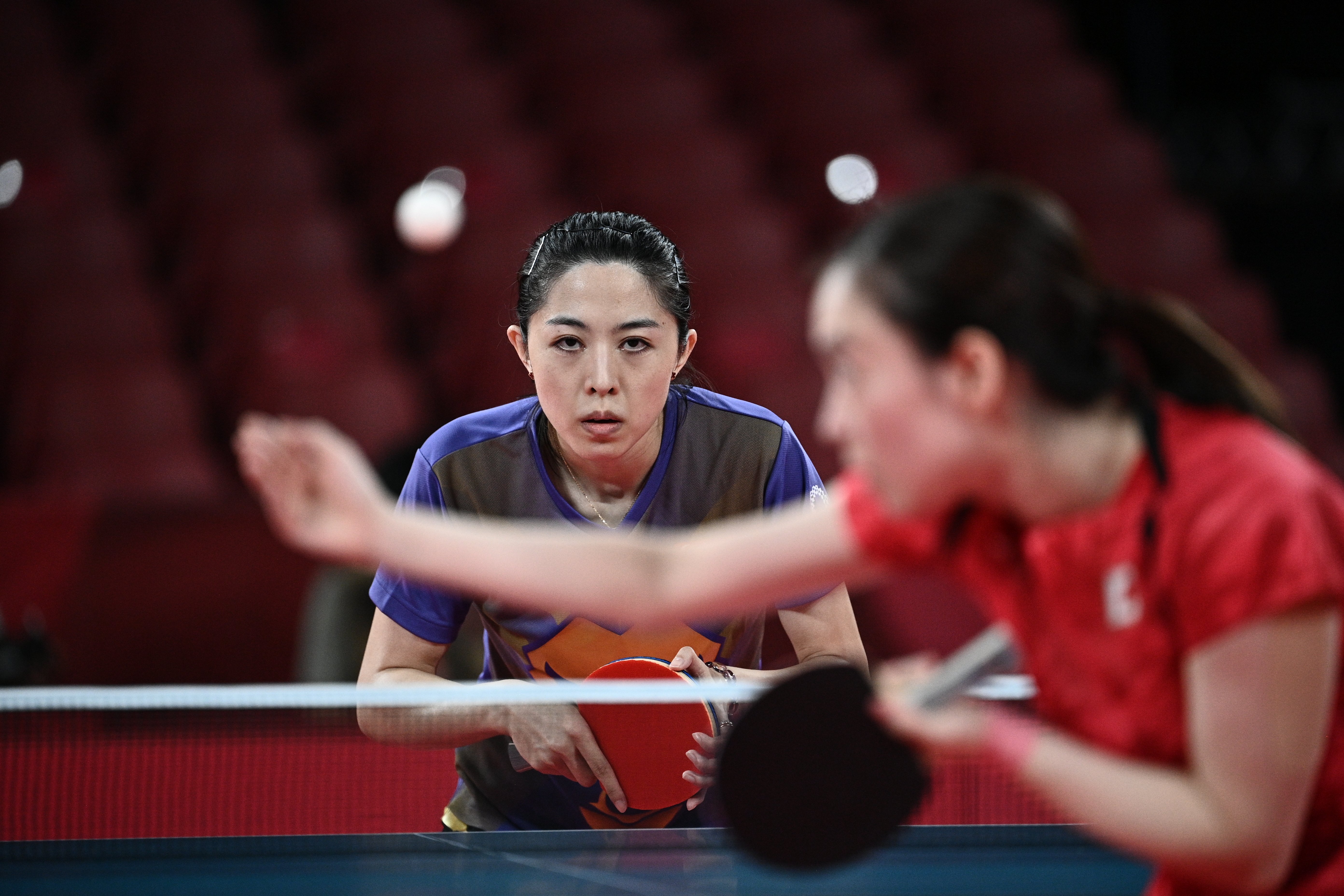 (Yu Mengyu competing at Tokyo 2020 Olympic Games. Photo Credit : Sport Singapore)
Mengyu has also participated in 2 Olympic Games in her career (2016 & 2020). And most notably at the Tokyo Olympics last year, Mengyu exhibited a stellar Olympic-run, as she finished 4th in the Women's Singles event! Although she narrowly missed out on a Bronze medal, Mengyu's determination and perseverance won the support of many Singaporeans. Despite battling multiple injuries throughout the Games, Mengyu managed to overcome several higher-ranked players enroute to her 4th placing.
Following her retirement, Mengyu will step up her role as the Assistant Coach to the Singapore Table Tennis Association (STTA) Junior Development Squad. To the 32-year-old, this is the ideal way for her to give back to Singapore and STTA, in gratitude for the resources and support she has received all these years.
For many local members of the National Team, Mengyu has been a pivotal sisterly-figure.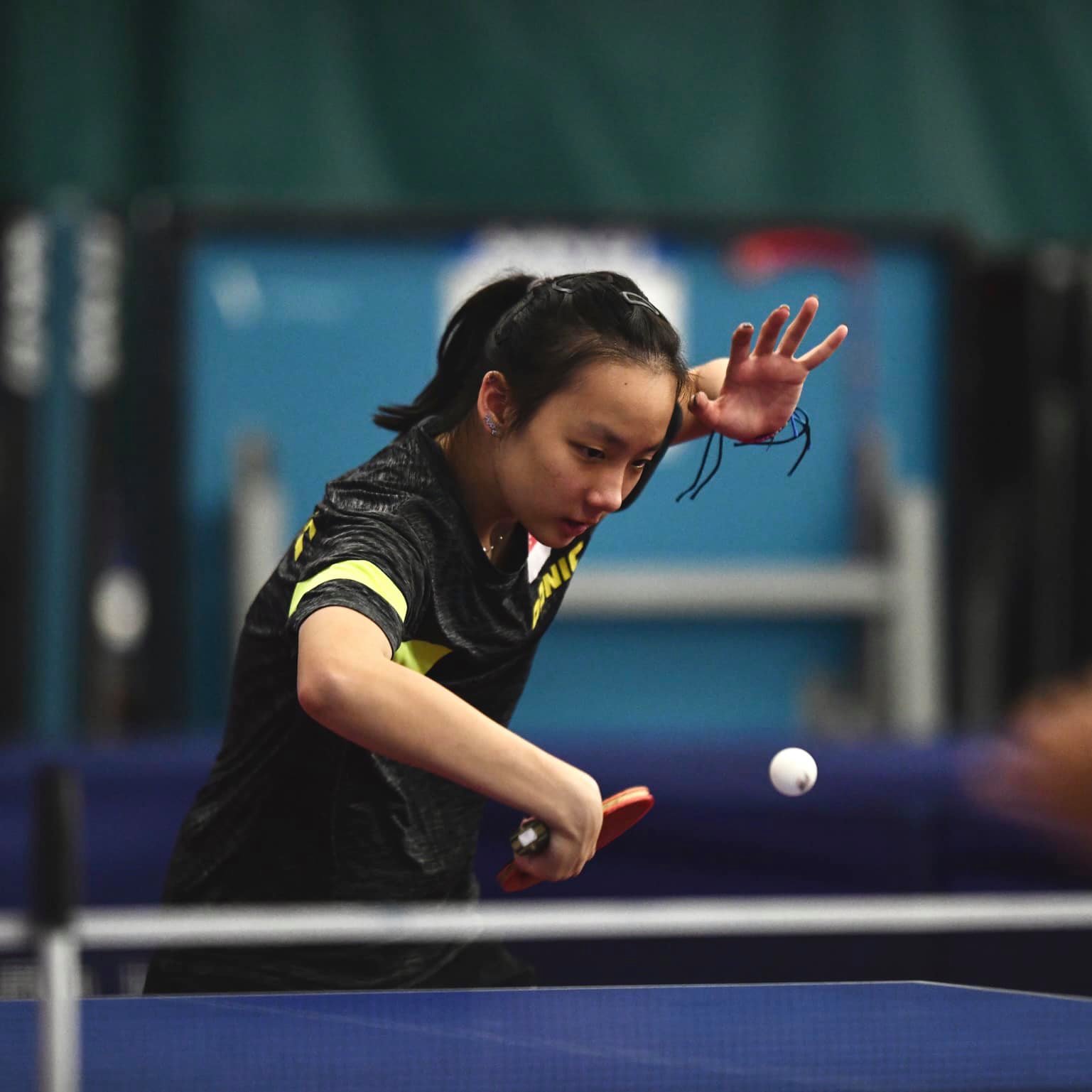 (Team Singapore's Ser Lin Qian. Photo Credit : Lin Qian's FB Page)
Winner of the Special Award (Junior Category) at the annual STTA Awards Night (22 Mar), 16 year old Ser Lin Qian, shared how Mengyu has helped her in many ways. "During training, Mengyu's positive training attitude has an influence on us and it will spur us on to train harder. When I injured my back some time ago, Mengyu was also very patient in giving me advice on how to recuperate."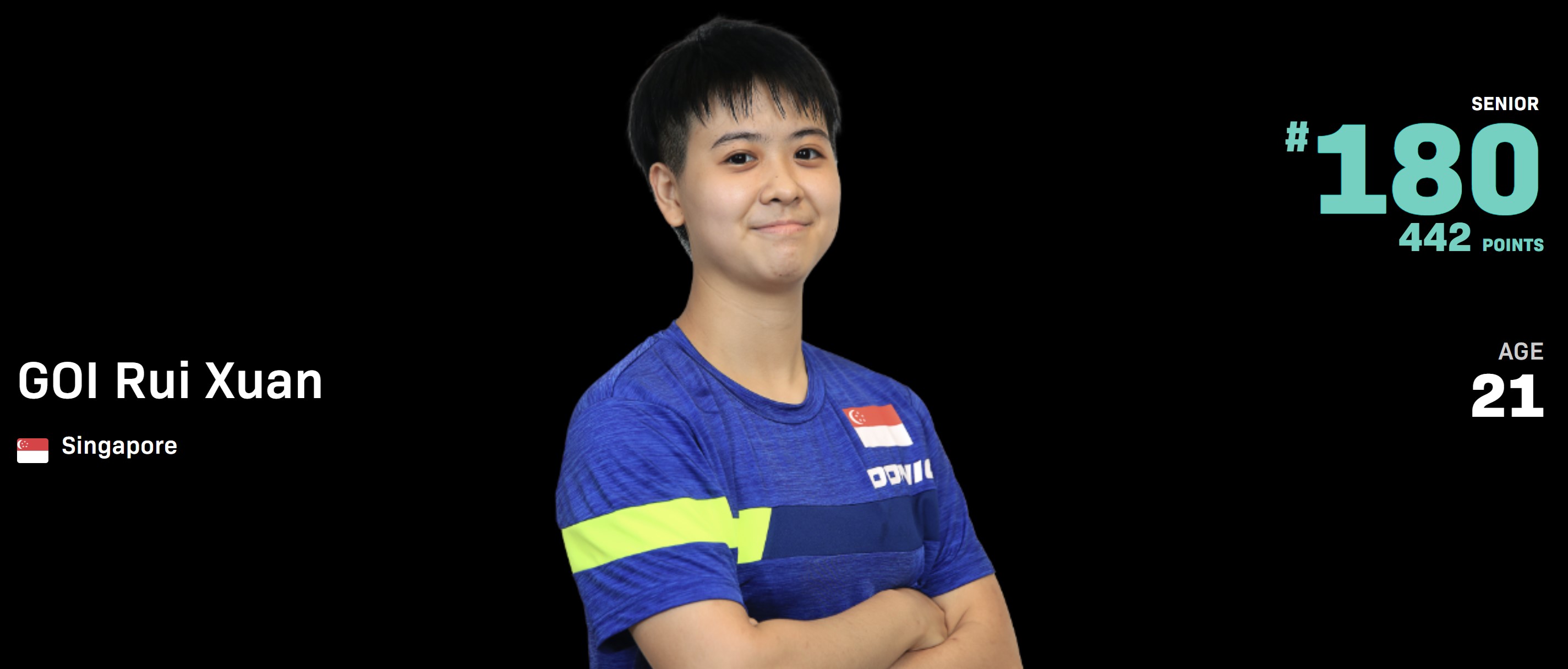 (TeamSG's Goi Rui Xuan. Image Credit : WTT)
21-year-old and member of the National Team, Goi Rui Xuan also expressed : "Sometimes when we are training, Mengyu will help me by correcting my strokes which I have been doing incorrectly. She also shares with me some of her experiences from competing, on both the tactical and mental aspects. These have all helped me in improving my overall performance."
Following the announcement of her retirement, SG Sports TV (SportSG) took the opportunity to ask Mengyu a few questions on her retirement.
Interview with Mengyu
Q1. Throughout your career, what has been the most memorable moment for you?
I would say the most memorable part of my career would be the Tokyo Olympics last year. As it was my last Olympic Games, every bit of it was extremely precious to me. Be it overcoming injuries, and other challenges, or beating higher-ranked opponents along the way, these have all been good memories which will stay with me for life.
Q2. Now that you have retired, are there any regrets that you have in this sport?
I think my biggest regret would be having to end my career in this sport which I have played for so long, because of my multiple injuries.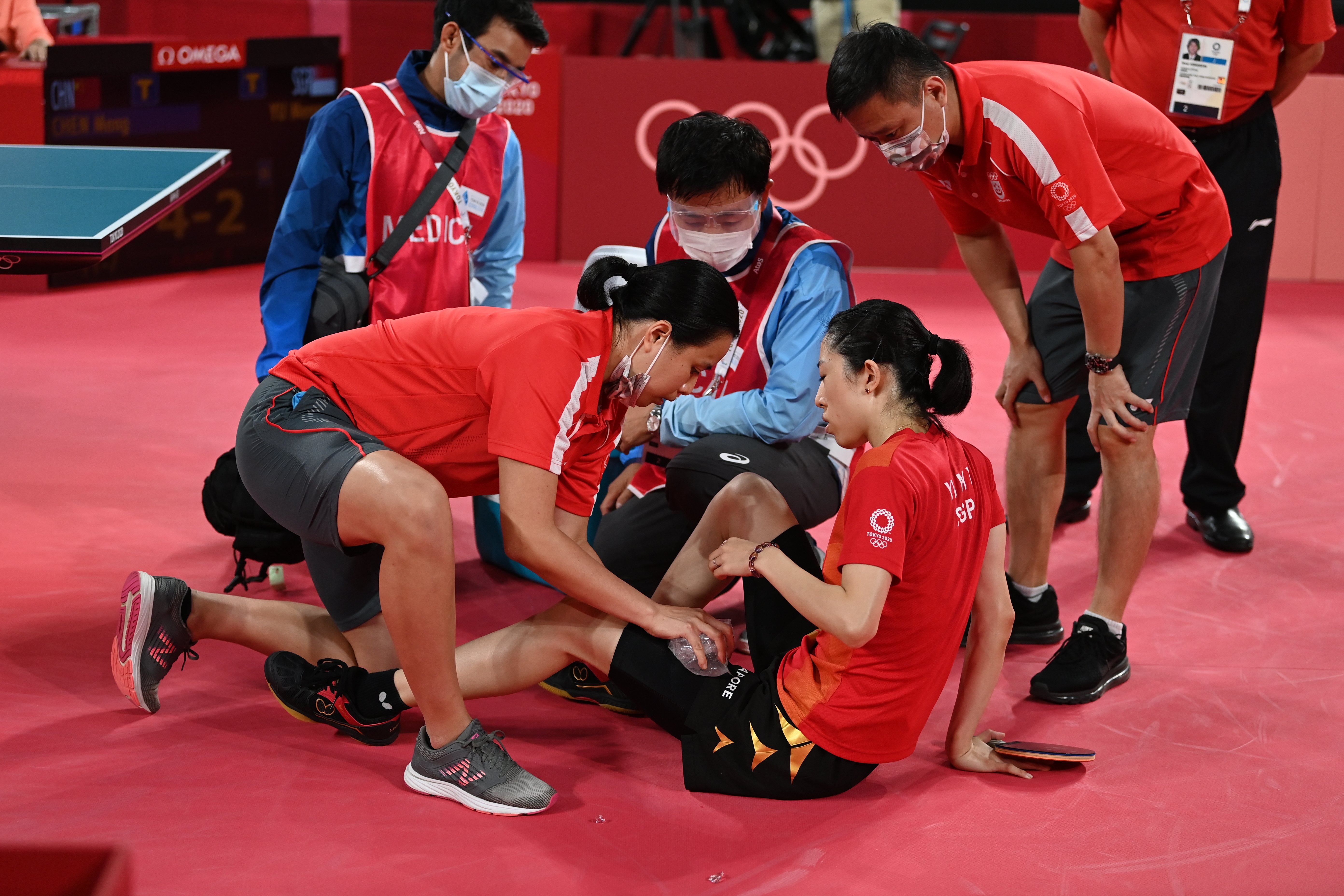 (Yu Mengyu's injury at the Tokyo 2020 Olympic Games. Photo Credit : Sport Singapore)
Q3. Throughout your career, what do you think is your greatest takeaway?
Time after time, I've had to overcome injuries and challenges during my career. These experiences have helped me develop a calmer and open mindset. Being resilient, persevering to fight on and not giving up in the face of challenges - these are probably lessons for me for life!
A winner of 25 medals at the SEA Games, Commonwealth Games, Asian Games and the World Team Championships - it's an incredible run which will be tough to match, let alone surpass. But having learnt, trained and competed alongside her medal-winning predecessors and retired legends like Jin Junhong, Li Jiawei, Wang Yuegu etc, Yu Mengyu has carved her own name and accolades, in the annals of Singapore's sporting legacy.
"Xie Xie" (Thank You) Mengyu for your service to Team Singapore. Wishing you the best of luck and success in your next journey in Coaching :) #Jiayou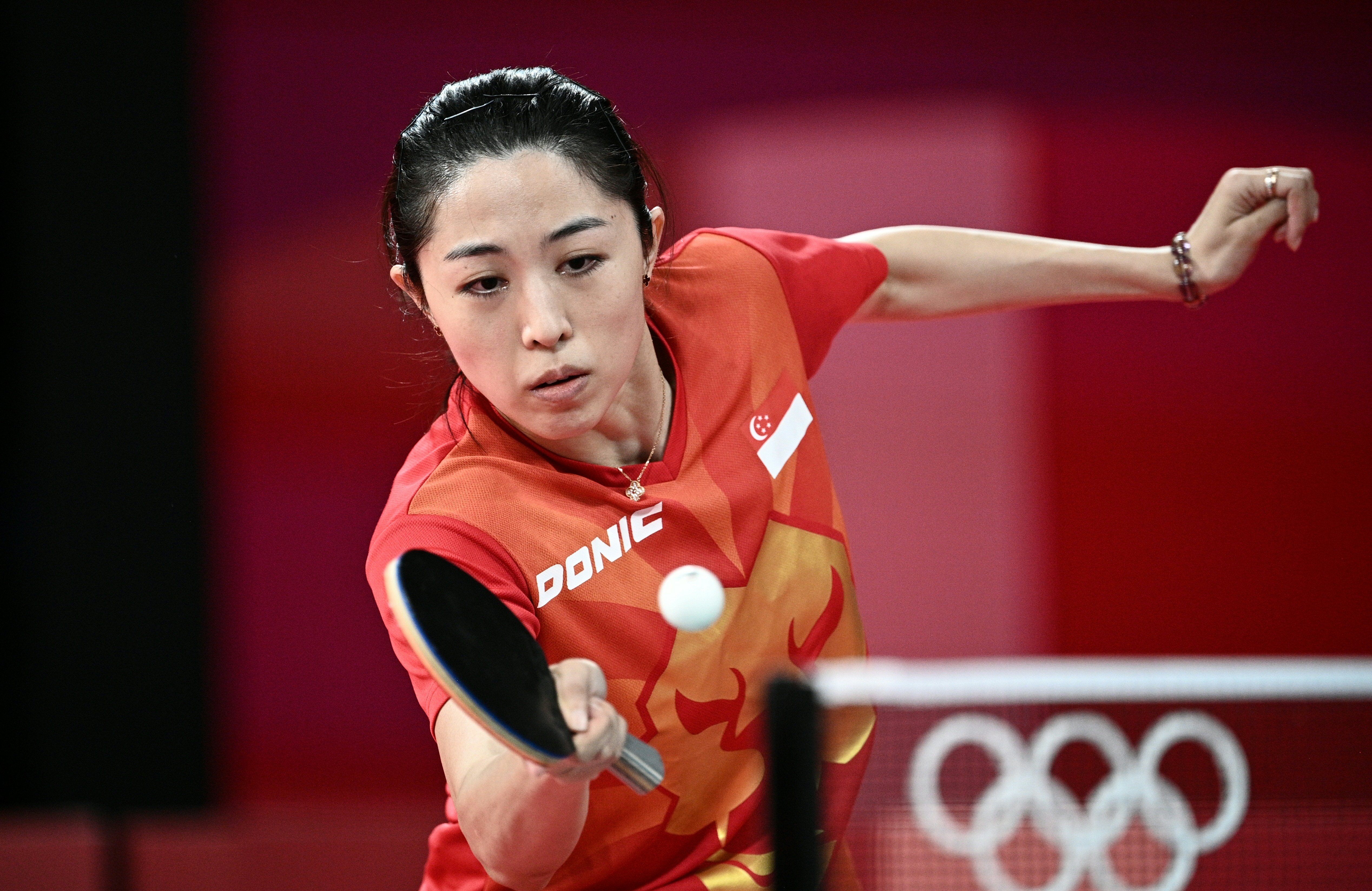 (Yu Mengyu competing at Tokyo 2020 Olympic Games. Photo Credit : Sport Singapore)
Pearlyn Koh has been playing Table Tennis competitively for 9 years. She's currently a member of the National Team and had represented Singapore at several major tournaments, including the 2018 Asian Games and World Table Tennis Championships. In 2019, Pearlyn was also the sole Southeast Asian player to enter the Top 16 at the Asian Junior & Cadet Table Tennis Championships. During her free time, Pearlyn enjoys reading and catching up with her friends.