4 of the world's Top 5 Women's Singles paddlers, will feature in the Semi-finals of WTT Singapore Smash!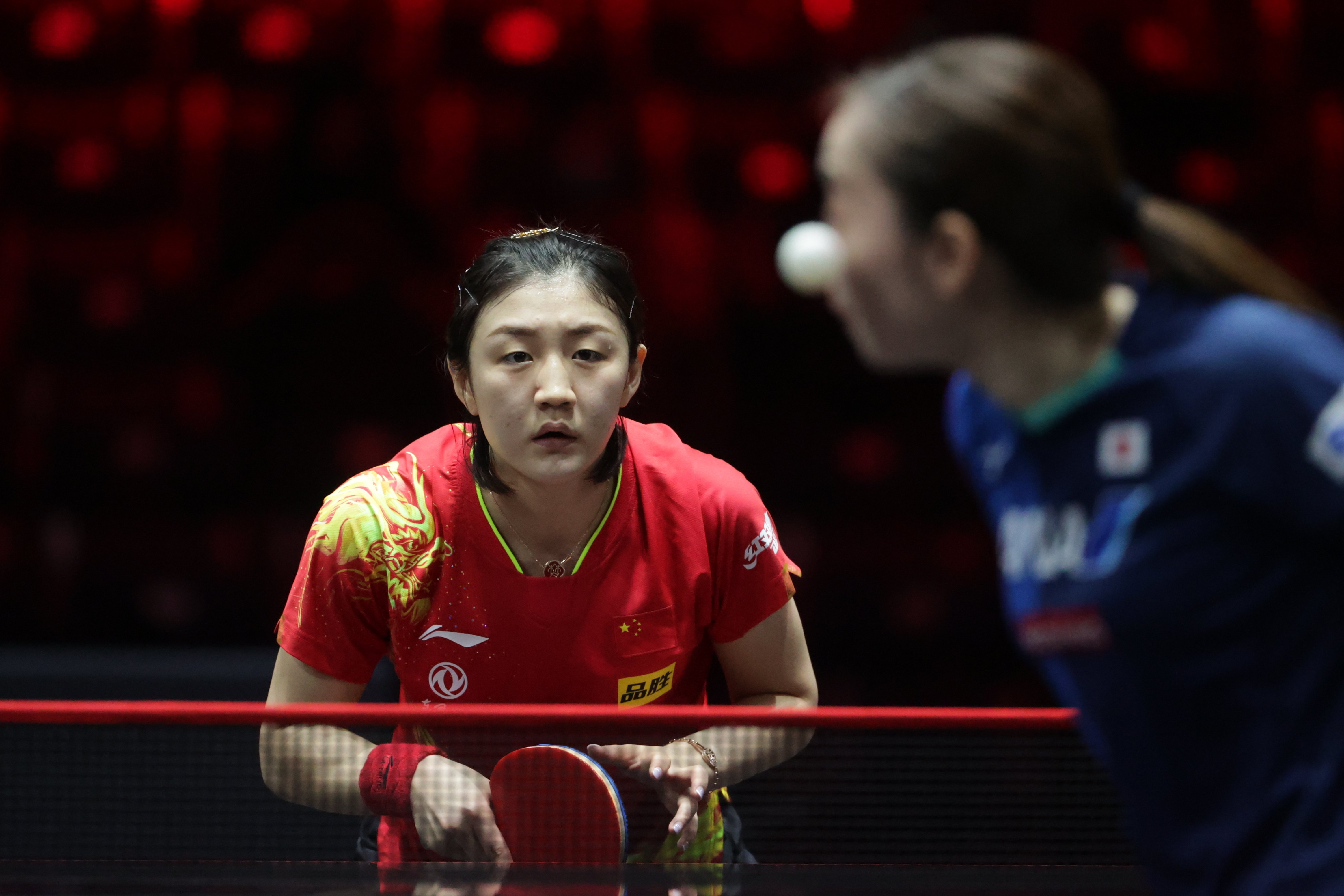 China's Chen Meng (in Red). Photo Credit : WTT
By Pearlyn Koh
As the first-ever S$2.7 million WTT Singapore Smash progressed to Day 7 (17 March), spectacular table tennis action continued at the OCBC Arena. Held in the Lion City for the first time, the Singapore Smash is one of the highest-tier tournaments and sets a grand new legacy for the sport.
Day 7 (17 March) saw the commencement of the Men's and Women's Singles Quarterfinals. And the final match of the first session at the OCBC Arena saw reigning Tokyo Olympics Women's Singles gold medalist Chen Meng against long-time rival, Kasumi Ishikawa of Japan. This is the duo's 10th career meeting ever since they first played against each other more than 10 years back! Their first encounter was in 2008, at the World Junior Championships held in Madrid Spain. But it was only 11 years later, in 2019, that Kasumi finally won her first victory against Chen Meng. And that was at the 2019 ITTF World Tour Platinum Australian Open, where she took the victory 4-3! That was also Kasumi's sole win against the world champion, as their head-to-head records remain at 9-1, in favour of the 28-year-old Chen Meng.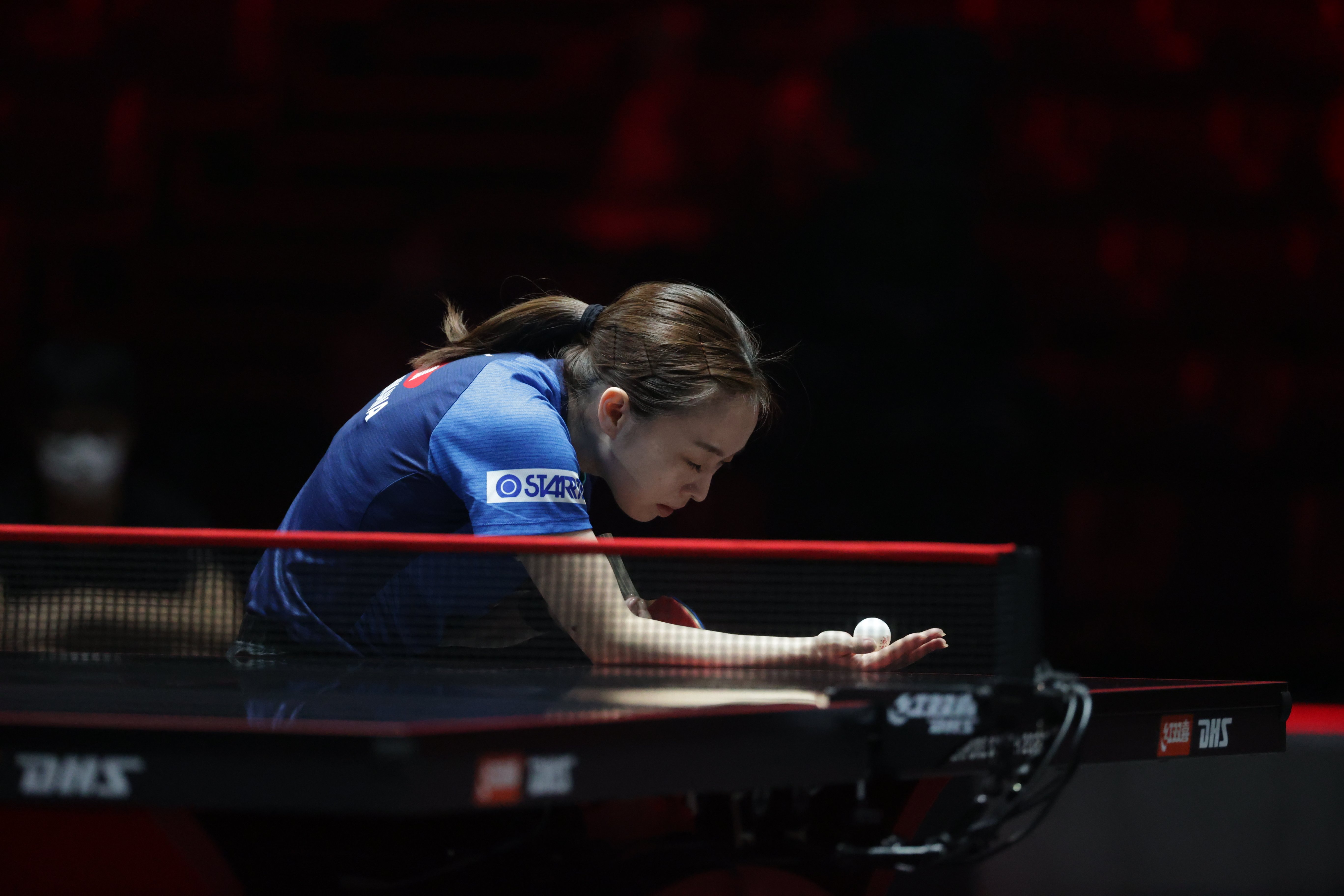 (Japan's Kasumi Ishikawa. Photo Credit : WTT)
Coincidentally, their last encounter was also in the Lion City - at the 2021 WTT Cup Finals. Then, it was the Chinese superstar who took the victory, 3-1! Kasumi would have hoped to change the outcome of the match this time, but it was déja vu for the 29-year-old, as she fell to her world number 2 opponent, 3-1 again in the last 8 of the Women's Singles.
The Japanese star paddler seemed to be better prepared as she entered Game 1, taking the first 2 points on offer. But Chen Meng quickly got into her game, leveling the score to 2 a-piece before overtaking 4-2. Her lead lasted throughout the game, as she managed to cause some pressure to her 8th-ranked rival by slowing down the tempo of the game. That made it uncomfortable for the fast-paced Japanese player. Eventually, it was Chen Meng who took Game 1, 11-8!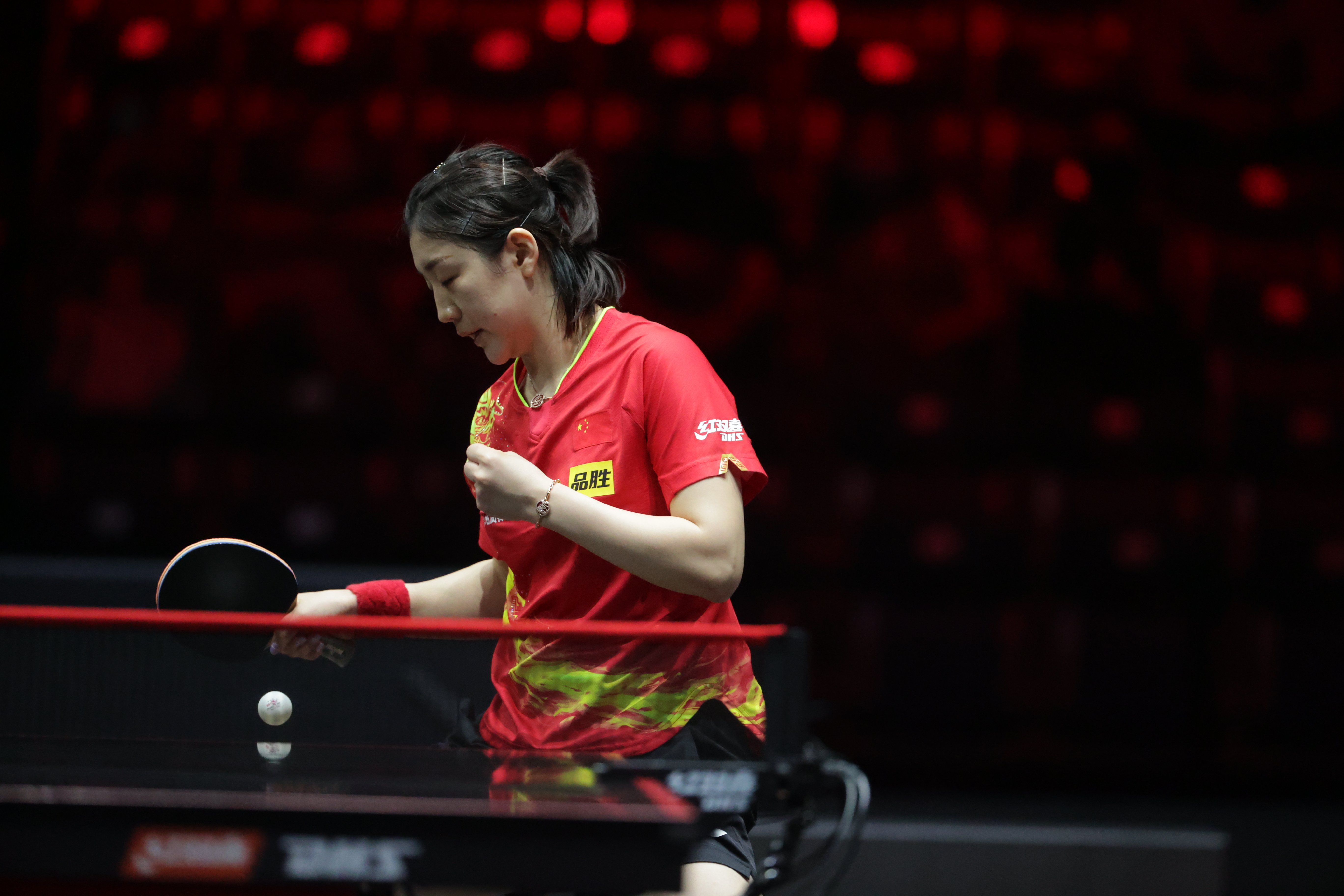 (China's Chen Meng. Photo Credit : WTT)
In the 2nd game, it was obvious that both players were trying out new strategies against each other. Kasumi was going for the long serves in order to quicken up the pace of the game, while Chen Meng was deliberately focusing on the placement of her shots and rhythm of the game, hoping to cause discomfort for Kasumi. Chen Meng's strategy seemed to work better in the first half of the game, as the world number 8 struggled to cope with the precise placement of Chen Meng's shots, causing her to be unable to return with quality. But in the 2nd half of the game, Kasumi was able to adapt to the Chinese star's game plan, as she managed to keep the scores leveled at 9-all. Finally, it was the Japanese star who took the game 11-9, following 2 well executed service and attack shots.
Kasumi would have hoped to keep her Singapore Smash hopes alive in Game 3, but nothing seemed to go in her way, as she entered the clash. With 1 game each, Chen Meng proved her dominance as she executed a perfect game. The Chinese star was well-prepared for all of Kasumi's tricks in the third game, always returning one more shot than her Japanese opponent. Kasumi struggled to return all the wide angle shots and long rallies by Chen Meng, and eventually lost 11 consecutive points in Game 3, allowing the world number 2 to claim the third game easily, 11-0!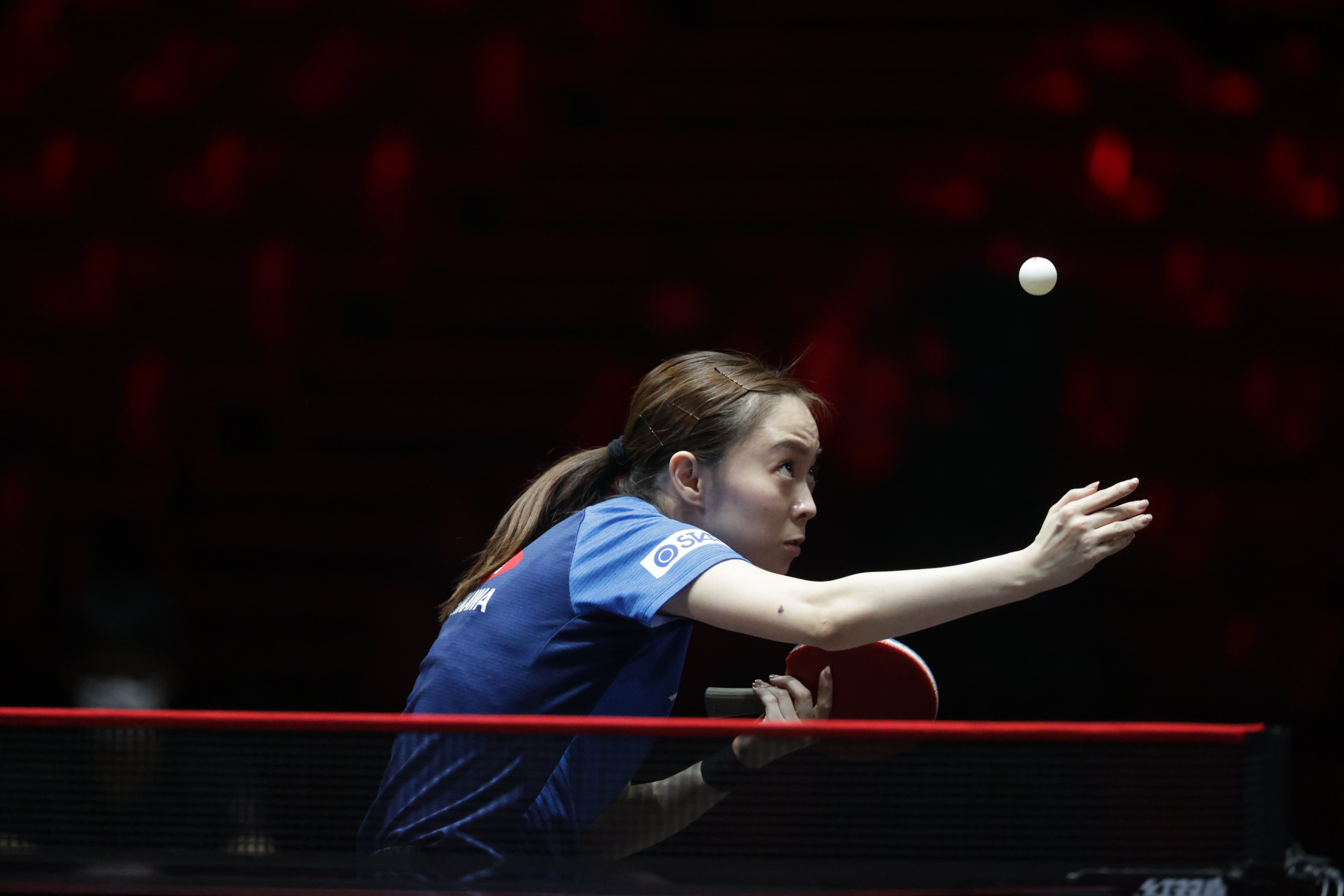 (Japan's Kasumi Ishikawa. Photo Credit : WTT)
Despite trailing 2-1 and losing the third game 11-0, Kasumi showed the true spirit of sportsmanship and professionalism, as she continued to fight on in Game 4. Gathering from the lessons from previous games, Kasumi switched her strategy to slow down her game and add more spins to her returns. The Japanese player managed to keep the scores closely tied from 3-3 all the way to 7-7 with her new strategy. But her Chinese opponent still proved one step too far for her, as Chen Meng proceeded to take 4 points to claim game 4 11-7, to progress into the Semi-finals.
Following her win against Kasumi in the last eight of the Women's Singles, Chen Meng is set to face teammate Wang Yidi in the Semi-finals. During their last encounter at the WTT Cup Finals also in Singapore last December, it was Yidi who caused an upset by winning then world-number 1 Chen Meng 4-3!
The Women's Singles Semi-finals will take place on Friday, 18 March
Chen Meng vs Wang Yidi at 7pm, while Sun Yingsha will face Wang Manyu at 7.45pm
Event details
Date: 7 to 20 March
Venue: OCBC Arena, Singapore Sports Hub
Tickets: go.gov.sg/wttsingaporesmashticket
Tickets start from $10 for qualifying matches and $18 for main draw matches. All spectators to Singapore Smash 2022 are to abide by the necessary Safe Management Measures. Spectators attending Singapore Smash must be fully vaccinated and submit a negative self-administered ART test result before entry into OCBC Arena. Please visit go.gov.sg/wttsingaporesmashticket for more information.
Pearlyn Koh has been playing Table Tennis competitively for 9 years. She's currently a member of the National Team and had represented Singapore at several major tournaments, including the 2018 Asian Games and World Table Tennis Championships. In 2019, Pearlyn was also the sole Southeast Asian player to enter the Top 16 at the Asian Junior & Cadet Table Tennis Championships. During her free time, Pearlyn enjoys reading and catching up with her friends.