Back-to-back training stints in 2 continents, pays off for TeamSG's badminton star, Loh Kean Yew!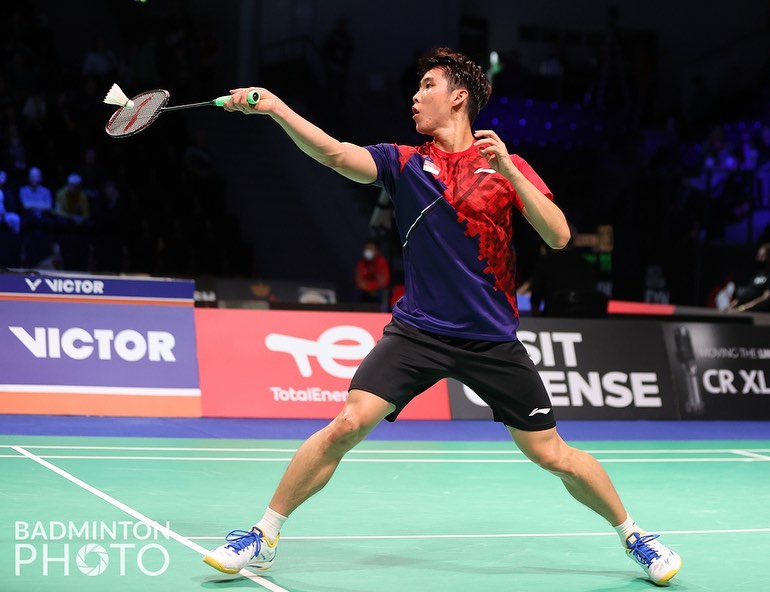 (Loh Kean Yew competing at the 2021 Denmark Open. Photo Credit - Badmintonphoto)
By Raj Kumar
Team Singapore shuttler Loh Kean Yew spent 4 weeks (departed from Singapore in late August) in Dubai, training with the reigning Olympic Men's Singles champion, Viktor Axelsen. The 24 year old Singaporean was invited together with 4 other players (in the Men's top 60 rankings), to spar and train with the Danish star at his new base at the Nad Al Sheba Sports Complex. Also in the training camp was India's world number 24, Lakshya Sen.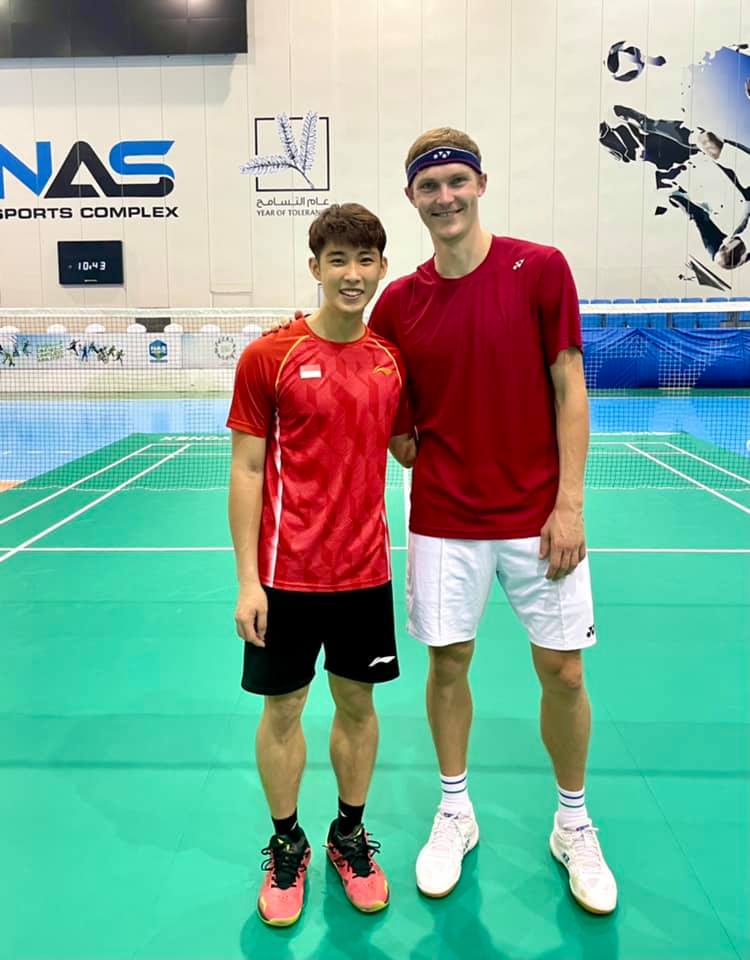 (Loh Kean Yew with Viktor Axelsen. Photo Credit - Loh Kean Yew's Instagram Page)
Following the end of his training stint in the Middle East, Kean Yew embarked on yet another training stint. This time, the newly minted Olympian spent 3 weeks with the French national team at the National Institute of Sport, Expertise, and Performance near Paris. And after almost 2 months of training in 2 continents, Singapore's top Men's Singles player began his campaign at the 2021 Dutch Open.
The tournament (near Amsterdam) represented his first competitive event since his Olympic debut in July at Tokyo 2020. And the reigning SEA Games Silver medallist began with a 21-14, 21-16 victory over Vladimir Malkov (Russia) in the round of 32. That winning momentum continued as the 2nd seed blazed his way past 3 other opponents without dropping a single set, to reach the grand final. And standing before him was the defending champion and top seed, Lakshya Sen.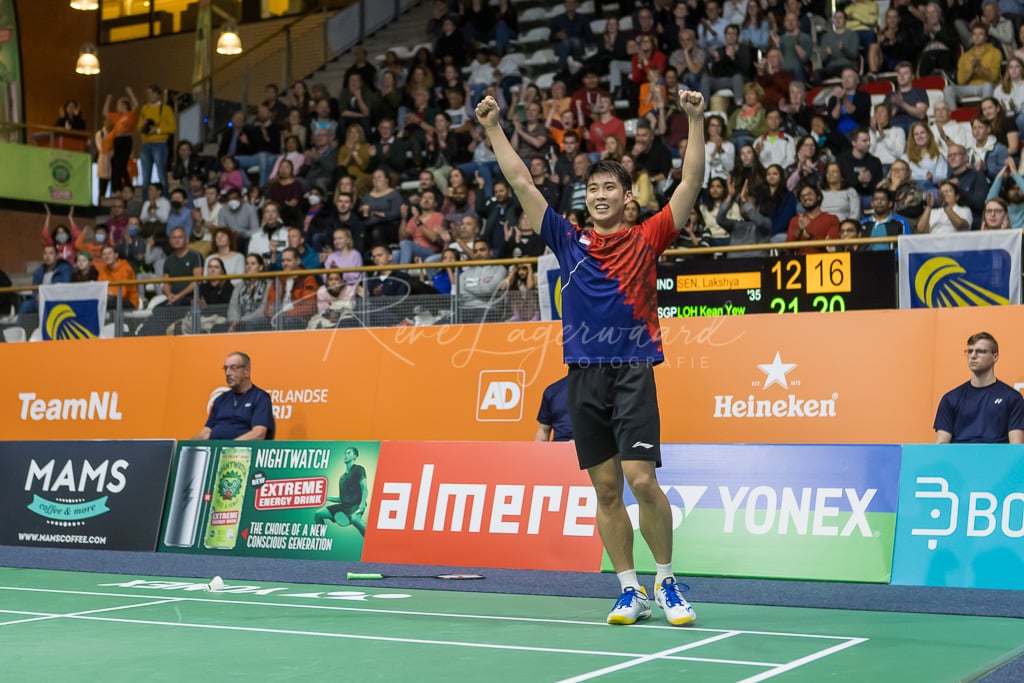 (Loh Kean Yew after winning the 2021 Dutch Open. Photo Credit : Rene Lagerwaard)
Having trained with the Indian shuttler just a few weeks prior in Dubai, Kean Yew was able to apply the lessons and newly acquired gameplay techniques, to triumph 21-12, 21-16 in less than 40 minutes. The victory marked his 6th career title and his 1st since the 2019 Thailand Masters.
"With the Dutch Open, from the start, my target has been to go to the finals. I'm glad I hit the target. During the tournament, I had a good start and managed to ride on the momentum. This is a boost to my motivation and I hope to carry on this momentum to gain more points and continue to rise in the world rankings, which will allow me to play in bigger tournaments," said a victorious Kean Yew.
The Technical Director of Singapore's Badminton Association Martin Andrew, was also delighted with Kean Yew's return to form, especially after an 18-month absence from overseas events due to Covid-19.

"Kean Yew has just had a good training stint where he's been exposed to different top levels and styles of player. Training in Dubai with the Olympic Champion was valuable and of course a high level. Then he went to France to train with their national players before a week long period in Holland reuniting with Coach Mulyo and two other Singapore players before playing in the Dutch Open - which he has just won!
He's been able to build in his good performances in the Olympics and continue to develop his attacking dynamic style of play. He will now move onto the Danish Open and French Open in the next 2 weeks followed by the Hylo Open in Germany. Kean Yew will then travel to play two tournaments in Indonesia before the World Championships in Spain. So by the time he returns to Singapore, we will be getting ready for Christmas!"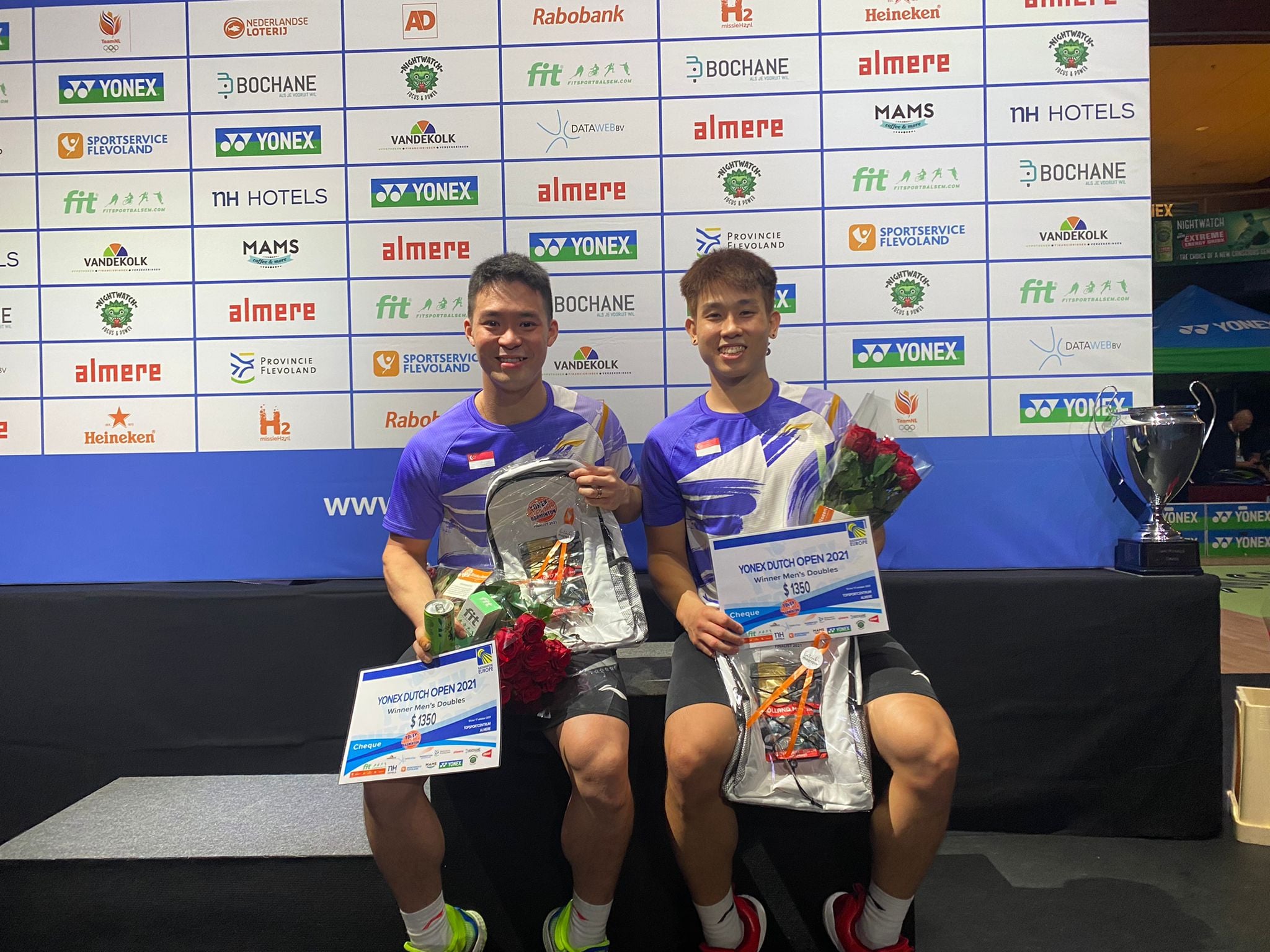 (Terry Hee and Loh Kean Hean after winning the Dutch Open Men's Doubles. Photo Credit : S'pore Badminton Association FB Page)
It was double joy for the Loh family as his older brother Kean Hean was also successful, in winning the Doubles title at the Dutch Open. The 26 year old and his partner Terry Hee took down Malaysia's Tan Wee Kiong and Tan Kian Meng 21-14, 18-21, 22-20 for only, their 2nd international title as a duo. It was also a rare moment for the Loh brothers to be lifting trophies at the same event.
"It feels amazing. Since he has been traveling a lot, we rarely get to spend much time together. So having to get a title together, especially with us getting victories in the same competition, the only thing I can say is that the feeling is indescribable," said Kean Hean.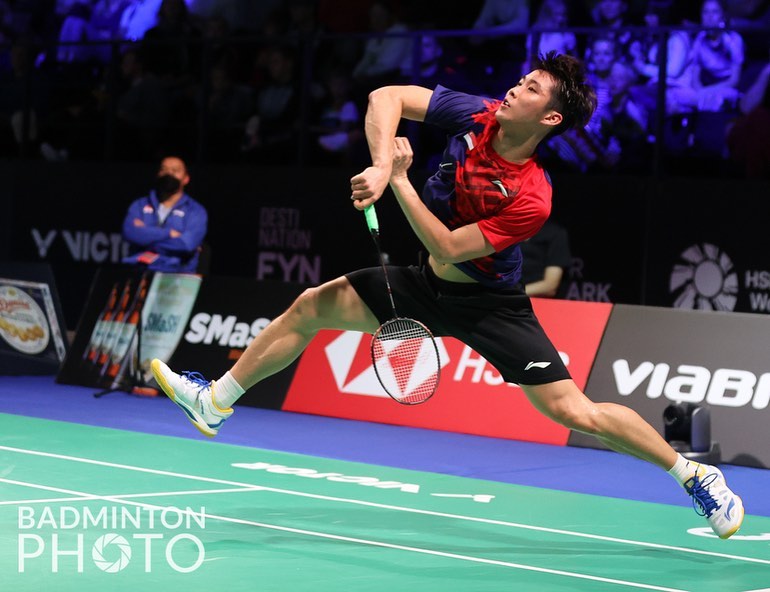 (Loh Kean Yew competing at the 2021 Denmark Open. Photo Credit - Badmintonphoto)
Following the Dutch Open title win, Kean Yew travelled to Odense to compete in the Denmark Open. Just 2 days after his Amsterdam victory, the Singaporean would go on to meet a familiar face in the tournament's 2nd seed and the Tokyo 2020 Olympic champion, Viktor Axelsen. In the round of 32 encounter, the 24 year old put up a strong challenge against the Dane, who was competing in front of his countrymen. And in the end, Axelsen triumphed in straight sets.
"It was never going to be an easy match playing against Viktor, an athlete with such an exemplary track record. It went down 19-21, 14-21 and concludes my 3rd meeting with Viktor and my Denmark Open campaign. Managed to Thank the crowd in Odense, and to everyone for the encouragement," commented Kean Yew.
Losing to the defending Olympic champion on his homecourt is certainly, nothing the Singaporean shuttler should be disappointed nor be embarrassed about. The 24 year old, "gave his all" and now looks ahead to the French Open, followed by a trip to Germany and Indonesia. And with the latest confirmation of the SEA Games in Hanoi taking place in mid-May 2022, that should serve as the added determination for the region's 2nd best shuttler to continue to improve his game and get ready for a 2022 campaign, which will be historic in multiple ways.
Best of Luck, Loh Kean Yew !!
Raj Kumar's been in Singapore's sports reporting and broadcasting scene since 1997. He was the former Sports Editor and Presenter on Power 98FM (SAFRA Radio) and 938LIVE (Mediacorp Radio). Over the years, he travelled to report on Team Singapore at the 2008 Beijing Olympics and 2012 London Olympiad, including 4 SEA Games cities. As a familiar voice and face on Radio, TV and online sports, he has produced and hosted more than 650 talkshows and programmes.