China's Fan Zhendong & Wang Chuqin seize the Men's Doubles title at WTT Singapore Smash!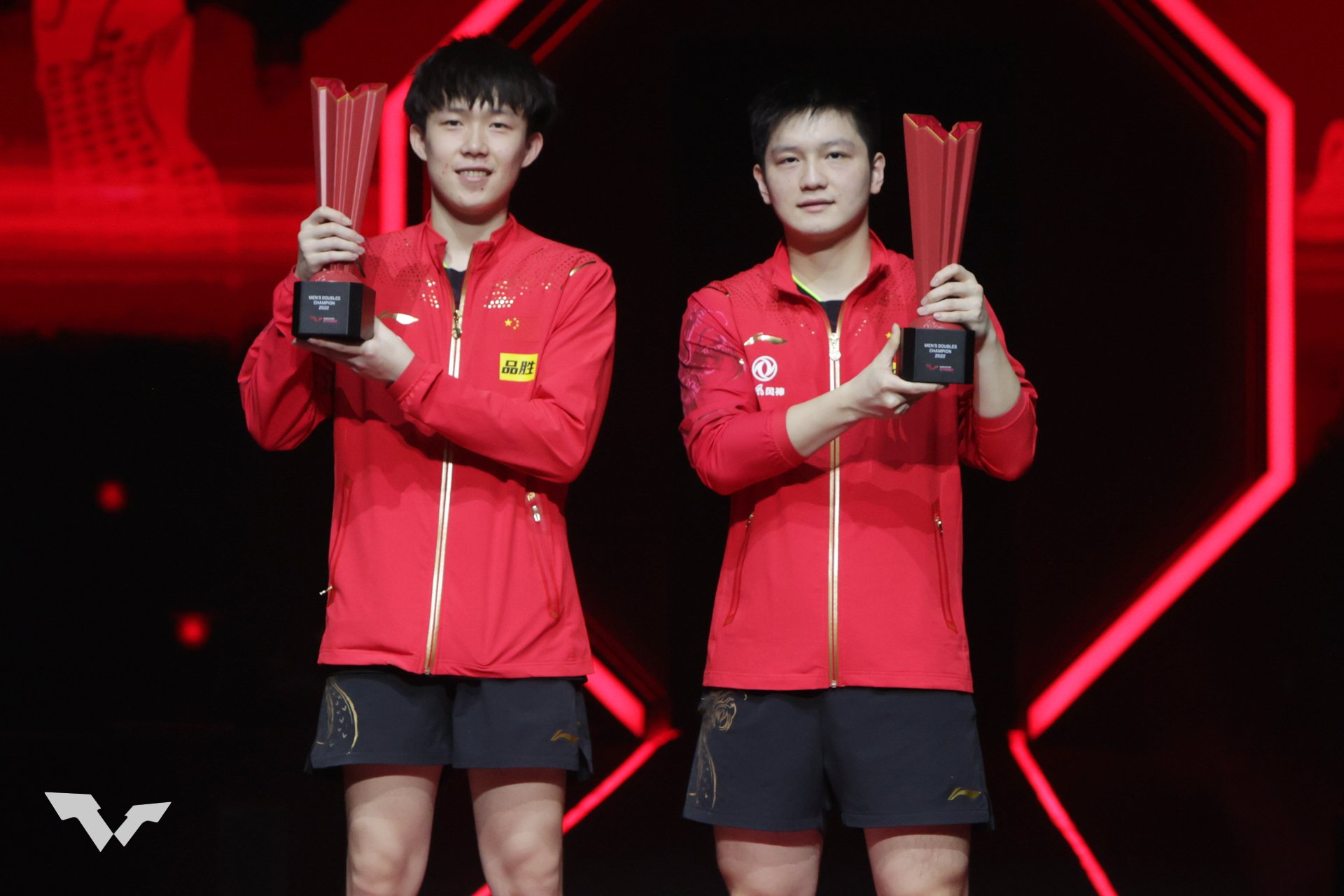 (China's Wang Chuqin & Fan Zhendong. Photo Credit : WTT)
By Pearlyn Koh
After a thrilling couple of days at the inaugural WTT Singapore Smash held in the Lion City for the very first time, the tournament enters its 8th day (18 March)! What started out with 212 players representing 49 countries soon came down to the remaining 12 best male and female players, all vying for the ultimate prize at the OCBC Arena!
On the agenda for Day 8 (18 March) were the all-China Women's Singles Semi-finals, followed by the Men's Doubles Gold medal match. Fans at the OCBC Arena were certainly up for a treat, as they witnessed some nerve-wrecking and spectacular Table Tennis action on Friday evening.
Following 2 closely contested Women's Singles Semi-finals matches with both Chen Meng and Wang Manyu overcoming Wang Yidi and Sun Yingsha respectively, both 4-3, it was down to the final match of the day - the Men's Doubles Finals between China's Fan Zhendong/Wang Chuqin and Japan's Yukiya Uda/Shunsuke Togami. And after an exciting showdown between the pairs, it was Zhendong and Chuqin who claimed the eventual Men's Doubles title, 3-1 (12-10, 12-12, 12-14, 11-7)!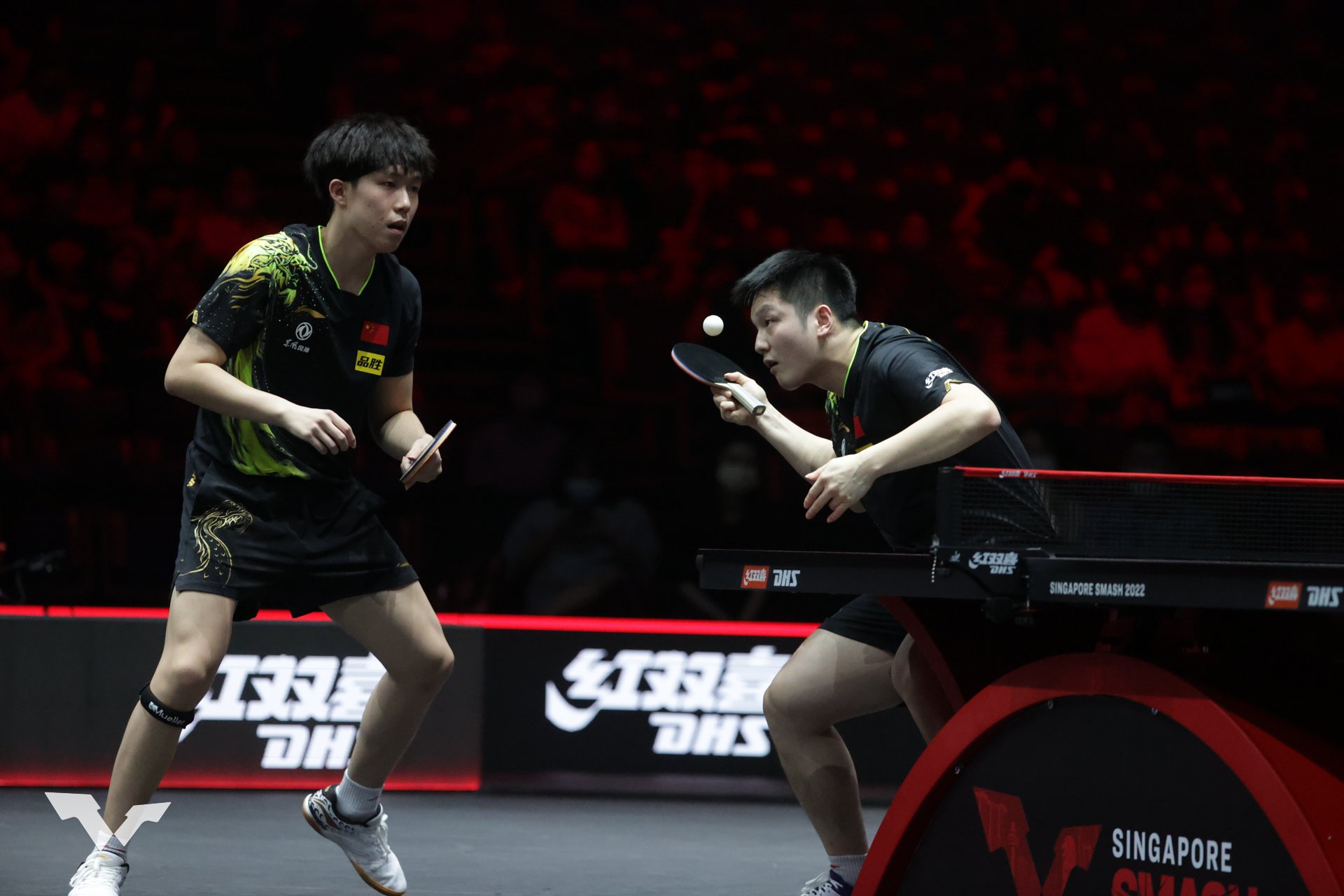 (China's Wang Chuqin & Fan Zhendong. Photo Credit : WTT)
Zhendong and Chuqin began their Men's Doubles campaign in Singapore by beating Portugal's Tiago Apolonia/Joao Monteiro, before overcoming local pair Clarence Chew/Ethan Poh in the Quarterfinals. The duo then went on to beat Germany's Benedikt Duda/Dang Qiu in the Semi-Finals.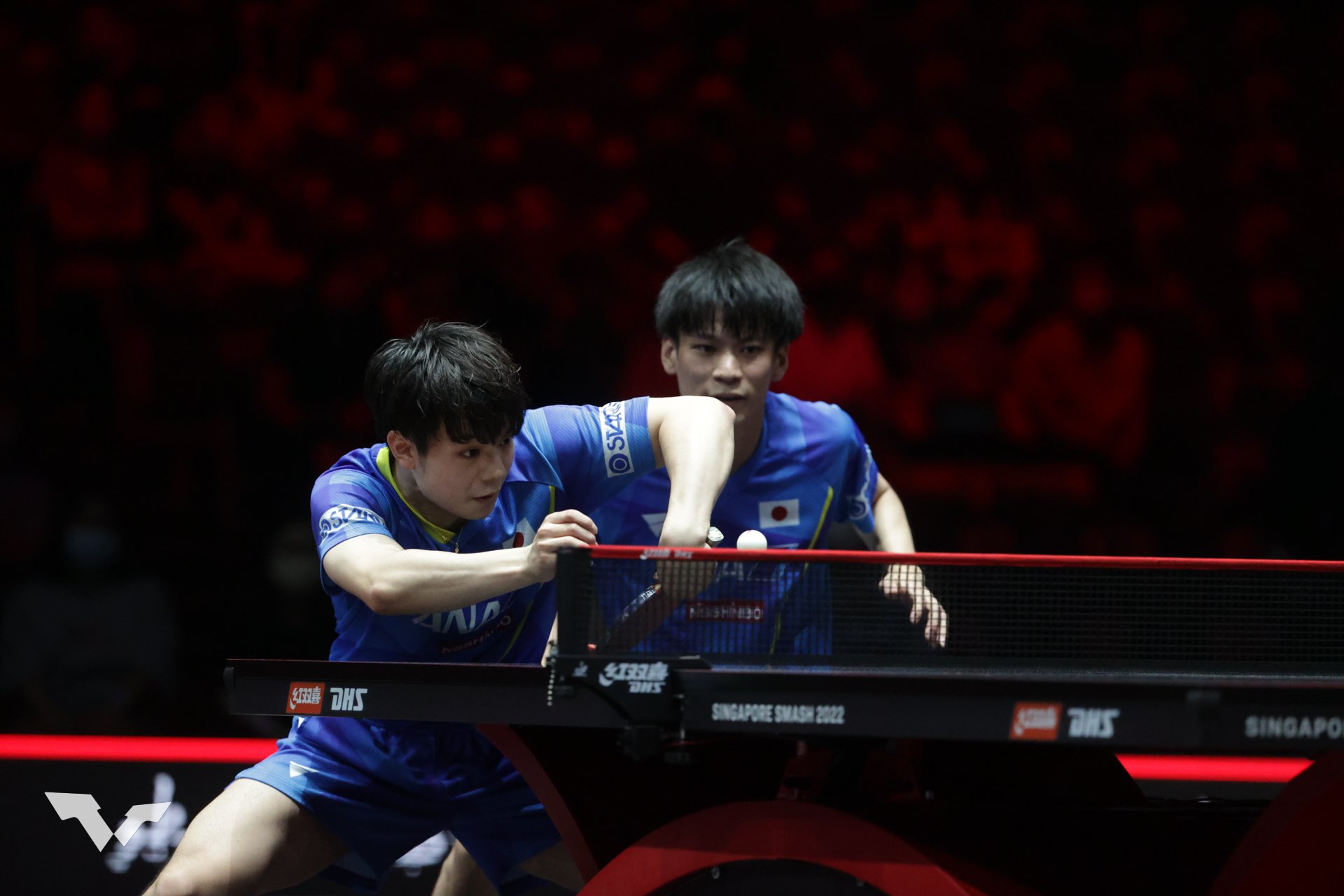 (Japan's Yukiya Uda and Shunsuke Togami. Photo Credit : WTT)
On the other hand, the younger Japanese pair - consisting of Yukiya Uda and Shunsuke Togami (both 20-year-olds), overcame Italian pair Niagol Stoyanov/Mihai Bobocica, Hungarian pair Nandor Ecseki/Adam Szudi and Chinese Taipei's Chen Chien-An/Chuang Chih-Yuan, to set up a meeting against Zhendong and Chuqin in the Finals.
Game 1 of the Men's Doubles Finale began slow and steadily, with both pairs playing carefully to test each other out. Scores were closely tied at 5-all, before the Japanese duo scored 2 consecutive points - taking a 2-point lead for the first time, 7-5! Their lead was maintained till 9-7, before Zhendong executed 2 heavy spin shots which 20-year-old Yukiya failed to return, leveling the score to 9-9! Following a series of spectacular rallies, it was the Chinese pair who came back to take the first game, 12-10!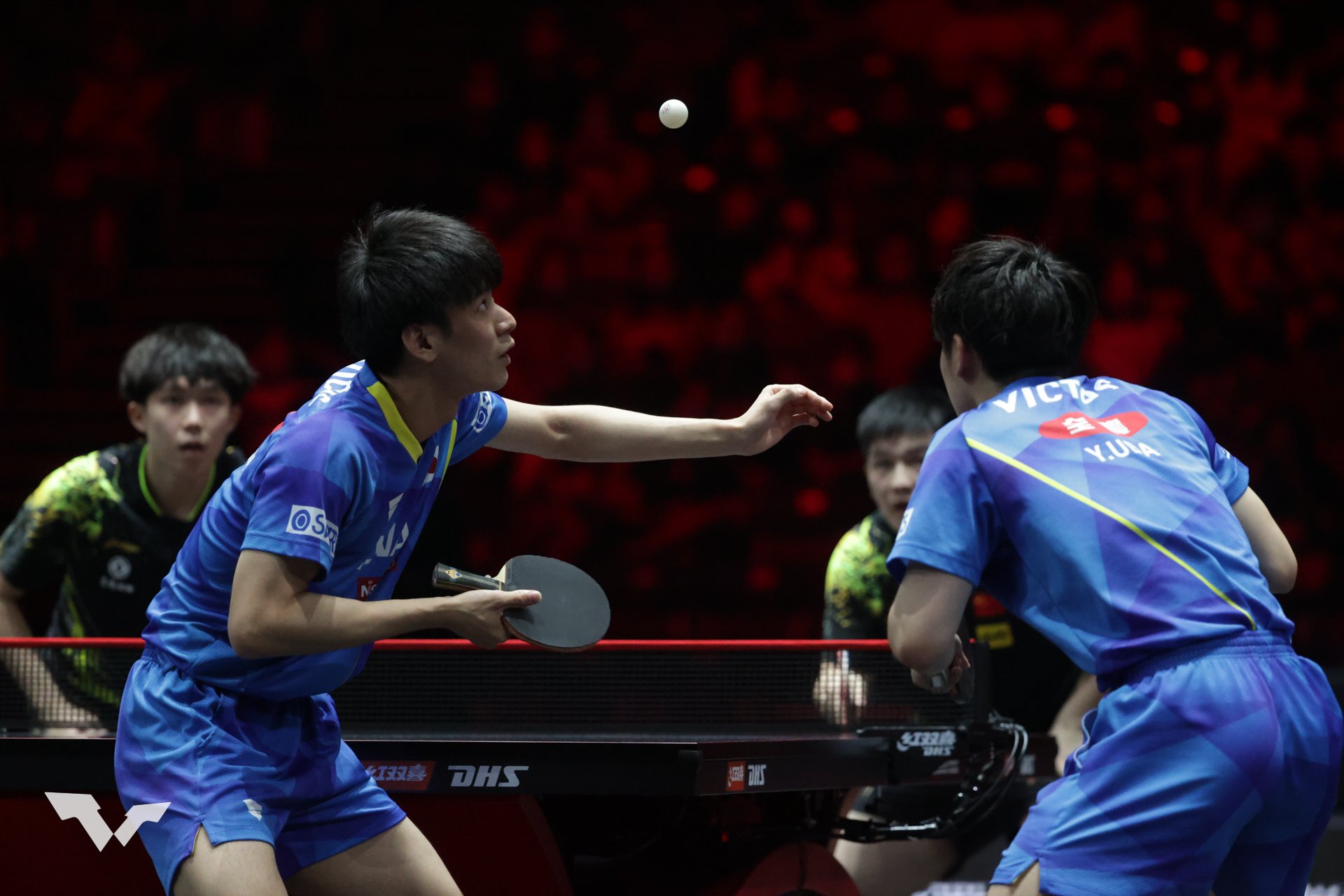 (Japan's Shunsuke Togami and Yukiya Uda. Photo Credit : WTT)
Having lost the first game, Yukiya and Shunsuke were prepared to come off stronger in Game 2. Just like in the first game, the 2nd game was a closely fought one as both pairs gave it their all, hoping to take home the eventual Men's Doubles title. Scores were tight once again, all the way till 9-9! The younger Japanese duo seemed to be on the advantage as they took the 10-9 lead, but Zhendong and Chuqin still proved too experienced - as they quickly took 3 consecutive points to claim the 2nd game, 12-10 yet again!
Despite trailing 2-0, the the world no 3s were not ready to throw in the towel without a fight. Having learnt from their lessons the previous two games, the Japanese pair were ready for more rallies and were clear of their new strategy, as they tried to cause some threat to their opponents through their precise placements. They seemed to have found their winning strategy in Game 3, as they took a 9-4 lead! But their Chinese opponents did not give up, and caught back to 9-8 following a series of splendid points. Just like the previous 2 games, Game 3 went into deuce yet again. But this time, it was the Japanese pair who took the game, 14-12!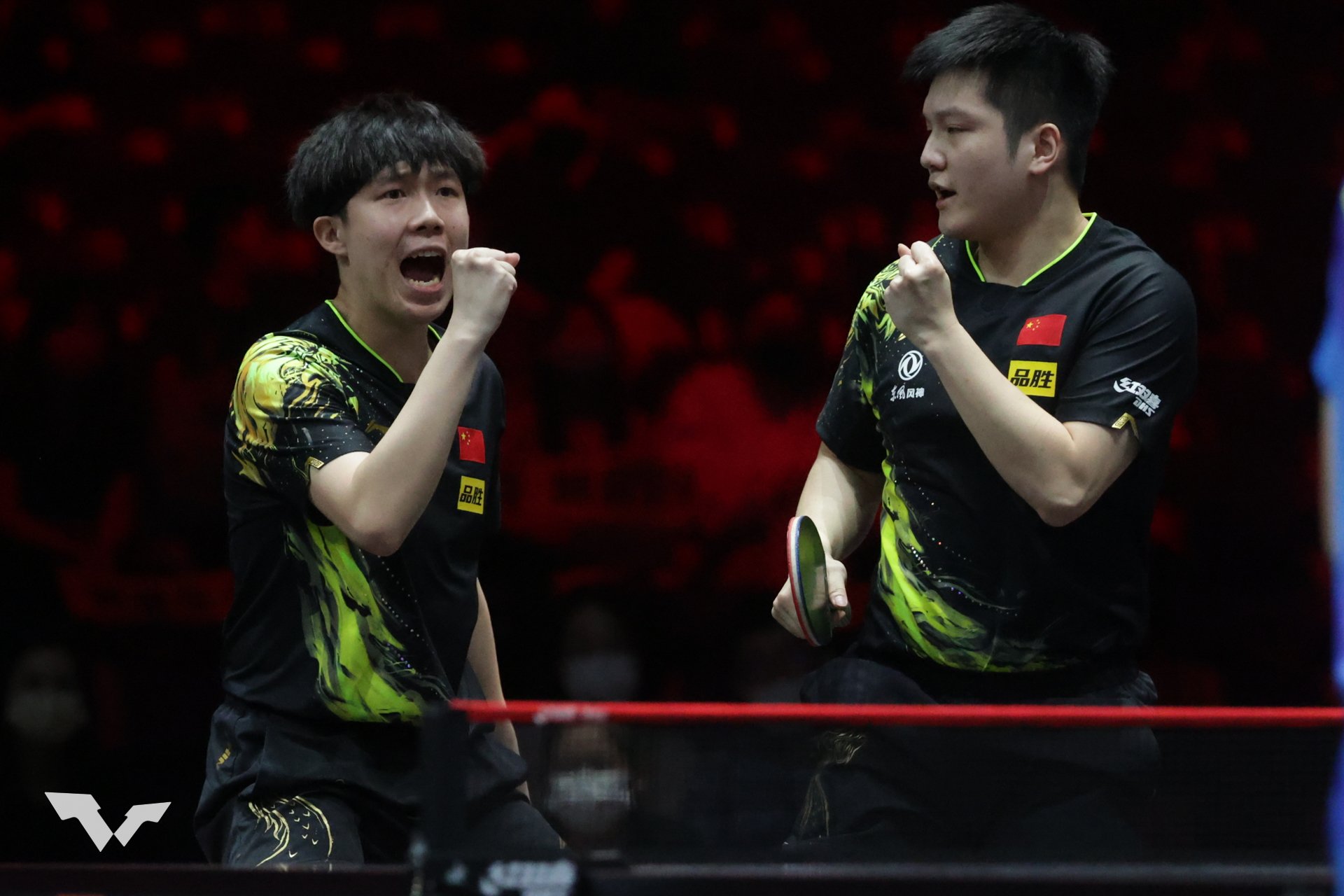 (China's Wang Chuqin & Fan Zhendong. Photo Credit : WTT)
With a 2-1 lead over their Japanese opponents, Zhendong and Chuqin went into Game 4 calm and cool-headed. Despite losing the first point of the fourth game, the duo quickly stepped up their game by winning 4 straight points, taking the lead 4-1. And their lead was sustained throughout the fourth game before they finally claimed the game 11-7, to become the overall Champions of the Men's Doubles event, at the first-ever WTT Singapore Smash!
Said world number 1 Zhendong in a post-match interview "Chuqin and I have recently started to partner each other more in doubles. Although we are both decent singles players, playing doubles together also requires other elements such as teamwork and chemistry. I think over time, we are getting better as we play more together."
Event details
Date: 7 to 20 March
Venue: OCBC Arena, Singapore Sports Hub
Tickets: go.gov.sg/wttsingaporesmashticket
Tickets start from $10 for qualifying matches and $18 for main draw matches. All spectators to Singapore Smash 2022 are to abide by the necessary Safe Management Measures. Spectators attending Singapore Smash must be fully vaccinated and submit a negative self-administered ART test result before entry into OCBC Arena. Please visit go.gov.sg/wttsingaporesmashticket for more information.
Pearlyn Koh has been playing Table Tennis competitively for 9 years. She's currently a member of the National Team and had represented Singapore at several major tournaments, including the 2018 Asian Games and World Table Tennis Championships. In 2019, Pearlyn was also the sole Southeast Asian player to enter the Top 16 at the Asian Junior & Cadet Table Tennis Championships. During her free time, Pearlyn enjoys reading and catching up with her friends.