Daddy & Mummy: a Child's Greatest Champion of Sport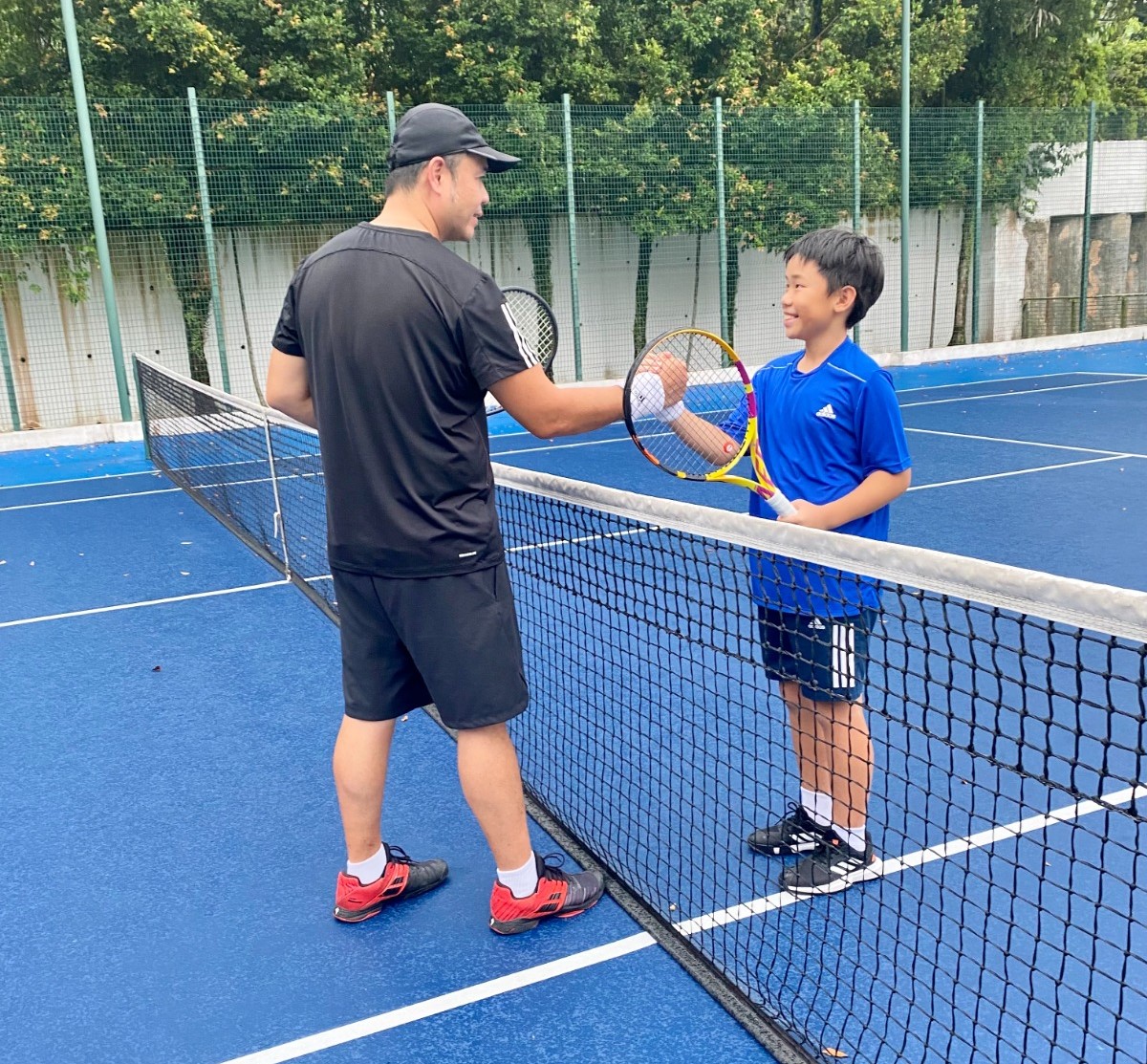 Nicholas Pak with his father Derrick enjoying a game of tennis / Photo Credit: Derrick Pak
Youth sports carry a transcendent value across social and intellectual spaces. It even helps the children do better in academic subjects. This is why parents like Derrick Pak have sought to actively involve his son, Nicholas (both pictured above), in sporting activities. In this case, it is an active enrollment in the ActiveSG/Voyager Tennis Academy. We got in touch with him during a test session, where he shared the value he saw in encouraging sports involvement in his child.
"Sports, in particular tennis in our case, has provided a more holistic development for Nicholas giving him a good amount of balance between school work and physical activity," Derrick explained. "It teaches areas which regular academics may not necessarily cover, such as developing sportsmanship and team spirit."
Fadhil Z Abideen, lead coach at ActiveSG/Voyager Tennis Academy, concurred. As he observed, "Sport helps a child develop life skills and values such as discipline, the ability to work with others and resilience – all critical to have throughout their youth and in the work environment in future."
Yet, youth sports can often be neglected in the pursuit of academic excellence. Parents are key in children's initial sports involvement, often being responsible for introducing their children to physical and sporting activities. This even extends to the provision of concrete and emotional support throughout children's sports careers. This is why parents play an increasingly vital role in providing their children with opportunities to give them a healthy start in life.
Parental Influence
In a 2013 study by Sanchez-Miguel et al, a positive relationship was demonstrated between parental support of the sport and a player's enjoyment and motivation. Parental feedback that centers around abstract, general compliments meant to increase the child's sense of self-worth leads to the child's improvement in their perception of their performances, even if the actual display remains normal. On the other hand, feedback with specific, concrete actions by the child on the field during the game improves the performance over time, without inflating the young player's ego.
Parental Involvement
There are three general parental involvement styles: under-involved, moderately involved, and over-involved:
(1) Under-involved parents exhibit minimal interest in the child's sporting performances or progress.
(2) Moderately involved parents marry firm parental direction with the child's ability to make individual decisions about goals, participation, and commitment.
(3) Overinvolved parents are emotionally intertwined with their child's sporting experiences. They tend to project their lives into their child's sporting successes. This may include regarding of their child's sporting experience as an investment for the future, as well as invading the coaches' field of action. There is an obsessive focus on fame, success, and winning rather than on the child's skill and motor development, enjoyment, and health.
What Parents Should Not Do
Athletes in different development phases perceive parental involvement differently. Studies have shown that children desire lower levels of parental involvement, directive behaviour and pressure while desiring higher levels of praise and understanding. As a parent, you need to accept your kid's sporting abilities, and not place unrealistic expectations on them.
Red Flags To Watch Out For:
Taking credit for your child's sporting abilities

Overemphasis on the results

Your child is more focused (aka distracted) by your presence in the stands than on the game

Your child avoiding you at the end of a game
Reaping The Benefits
"We have seen for ourselves, and also heard repeatedly similar feedback from his school teachers, that Nicholas is more independent and mature than other children of his age." Derrick gushed, as he sought to attribute this growth to Nicholas' involvement in competitive tennis.
Nicholas has had to independently deal with tough matches and opposition throughout training and competitions. As a result, Derrick shared that "Nicholas is pretty adaptable yet at the same time, competitive, having learnt how to develop his own strategies during a match, make quick pivots if the game is not turning out the way he expects, or resolve disputes on the court with his opponents."
Indeed, the experiences have helped build strong sportsmanship and moral principles within Nicholas. Despite his young age, he truly appreciates what it means to play fair, not give up and to treat every opponent and game with the utmost respect.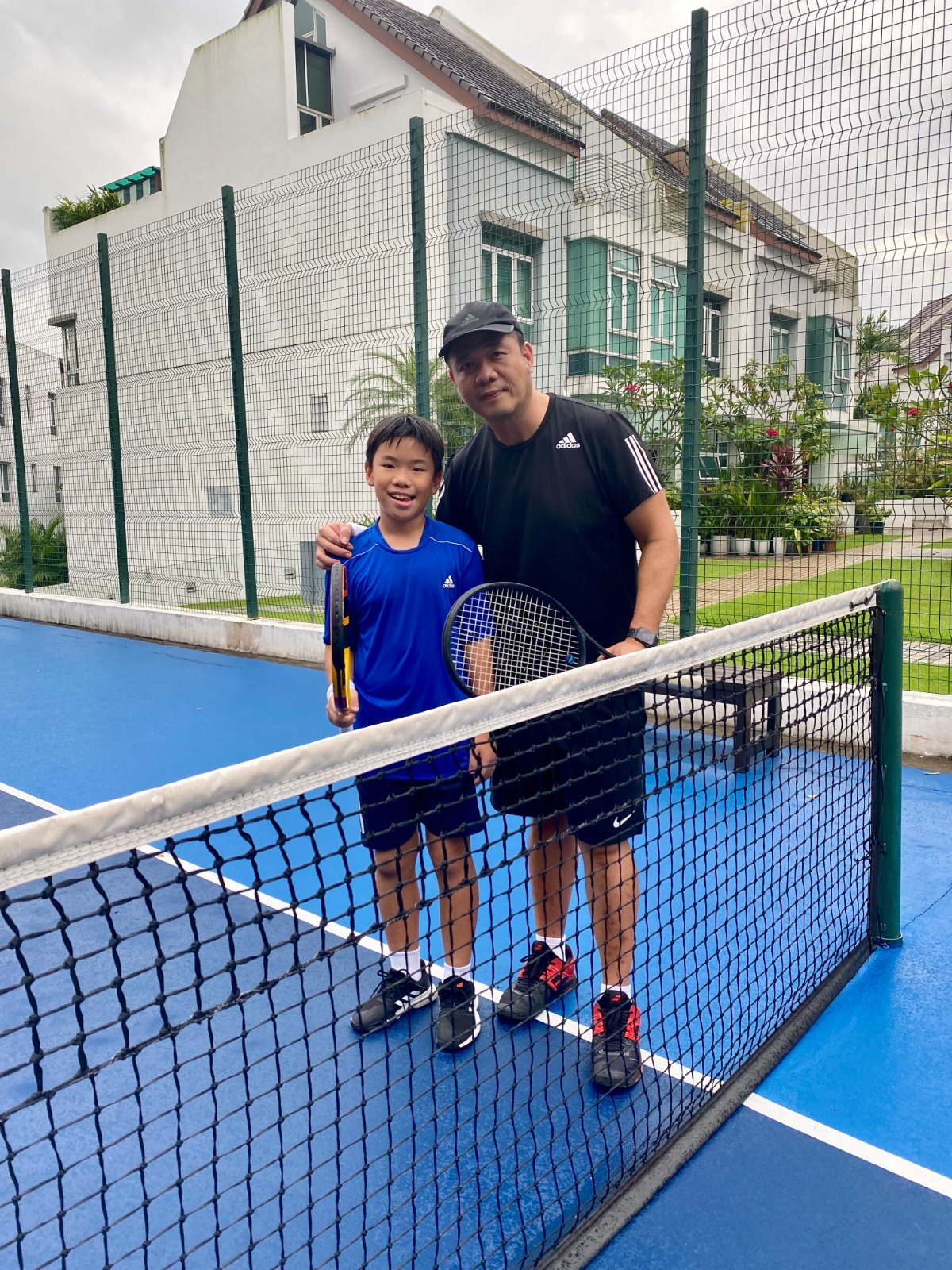 Nicholas and Derrick Pak / Photo Credit: Derrick Pak
A child's youth sports experience should be fun and positive. After all, youth sport is ultimately meant to help your child develop healthy habits that can last a lifetime. Therefore, you should help work towards that long-term goal instead of focusing on wins, losses, and statistics. And, with a variety of ActiveSG Academies & Clubs programmes, there are plenty of opportunities to introduce a new sport to your child, so go out there, have fun and be your child's biggest supporter!