Exclusive BTS interviews & highlights from TeamSG's "World Champions" Bus Tour Victory Parade!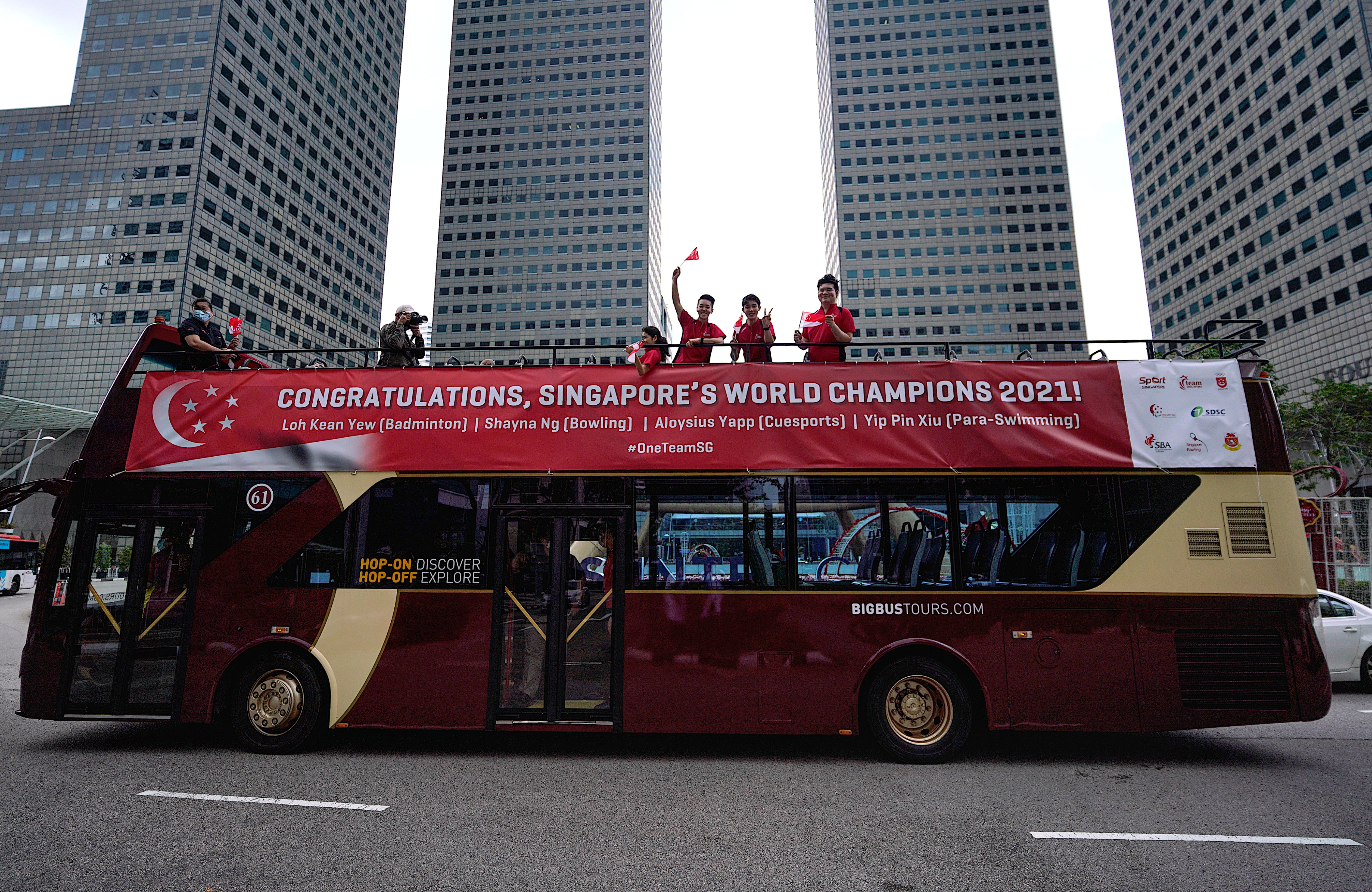 (Open-top Bus Parade Celebrations. Photo Credit : SportSG)
By Raj Kumar
Towards the end of 2021, Team Singapore held an Open Bus-top Victory Parade, to celebrate the nation's most significant sporting achievements. With the easing of Covid-19 travel restrictions both locally and globally, our national sportsmen and women were able to resume competing at international events (under controlled safety management measures in place). And 4 of our national stars, went on to create new historic moments for the Republic in their respective fields of sport!
The "Fantastic 4" are :
Loh Kean Yew : World Badminton Men's Singles Champion
Shayna Ng : World Bowling Women's Singles Champion
Yip Pin Xiu : 2-time Paralympic Gold-medallist, Tokyo 2020
Aloysius Yapp : 1st Singaporean to be ranked world No. 1 in Pool
Here's an exclusive series of interviews with all 4 Team Singapore stars, just before they embarked on a 2-hour celebratory city tour :)
(Interviews with TeamSG stars prior to Victory Parade. Video Credit : Team Singapore)
Following the end of the media interviews at the Sports Hub on Boxing Day (26 Dec), our TeamSG stars embarked on the open-top bus parade. And this was a rare opportunity for Singaporeans to see their sporting heroes in person! As part of the current safety management measures (SMMs), organisers also decided not to share the exact locations of the city tour (via news updates), in order to prevent group gatherings by the public. The route began from the Sports Hub onto Marina Bay Sands, Chinatown, Clarke Quay, Orchard Road, Dhoby Ghaut, Bugis Junction and Suntec City, before finishing at the Sports Hub.
Catch the Highlights of this unique "All Champions" bus tour and try to spot the iconic landmarks of the Lion City!
(Highlights with TeamSG stars during the Victory Parade. Video Credit : Team Singapore)
Their sacrifices paid off in 2021, but they are not looking to rest on their laurels. With the start of 2022, Kean Yew's already competed and finished 2nd in his 1st BWF Tour event (India Open). And Aloysius is busy winning titles on home soil, before travelling in February to compete in the United Kingdom. All of our TeamSG athletes are currently training extremely hard to cope with a combination of 3 Major Games spread across 6 months (excluding World Championship tournaments, World Cups, locally held events and others).
We say THANK YOU to ALL of our TeamSG Athletes and Wish them a truly successful, safe and spectacular 2022 Sporting Year ahead :)
Raj Kumar's been in Singapore's sports reporting and broadcasting scene since 1997. He was the former Sports Editor and Presenter on Power 98FM (SAFRA Radio) and 938LIVE (Mediacorp Radio). Over the years, he travelled to report on Team Singapore at the 2008 Beijing Olympics and 2012 London Olympiad, including 4 SEA Games cities. As a familiar voice and face on Radio, TV and online sports, he has produced and hosted more than 650 talkshows and programmes.