It's a party in the MOBA way : INS clinches Telematch Mobile Legends 515 title!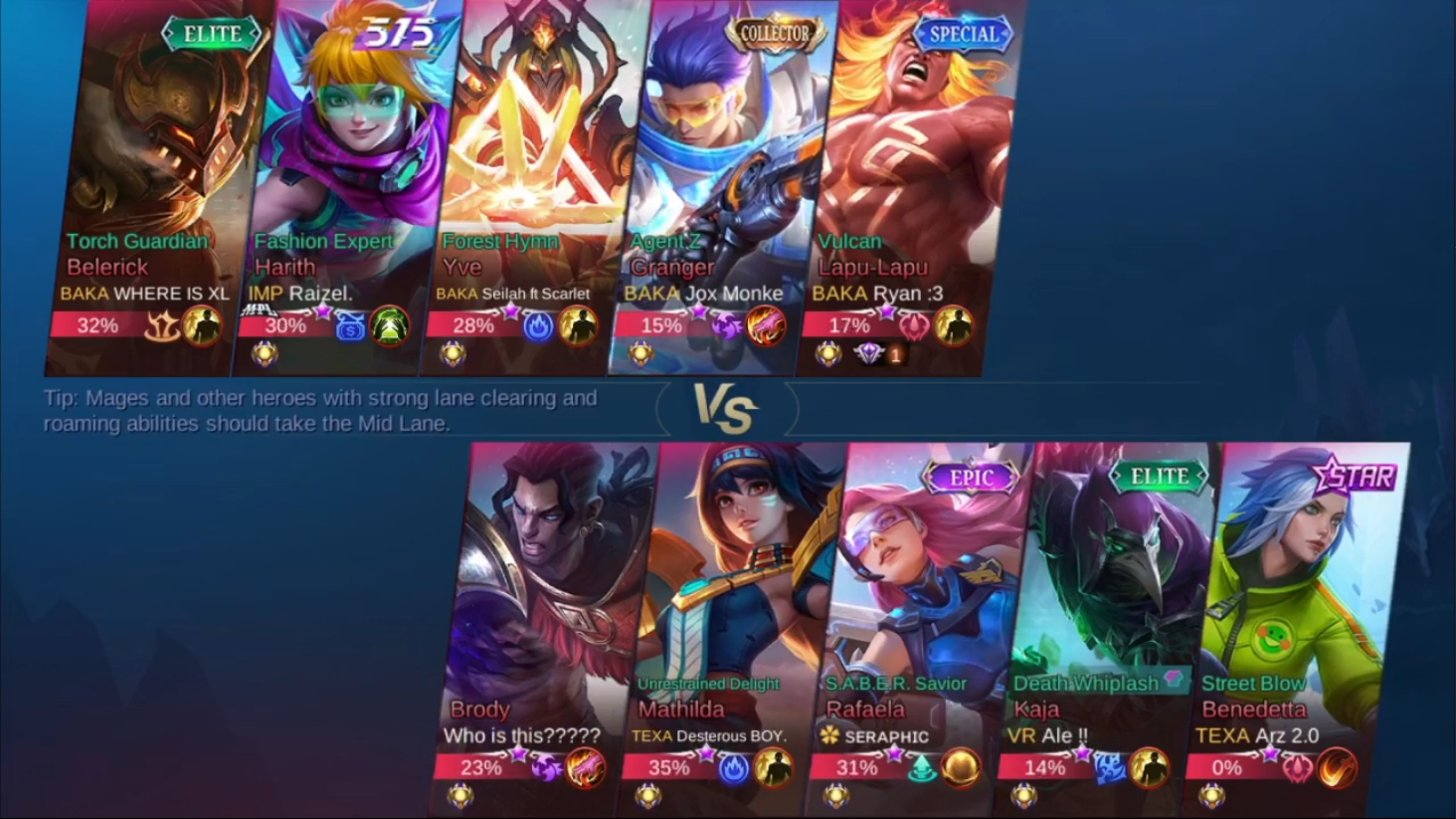 Final Roster - Image from TeleTrip.Gaming Live Stream
By Yeo Chee Yew
May was a month of hype for Singaporean Mobile Legends players. The first weekend saw MPL SG crown its first ever champion. Yet, the celebrations did not end there. It was the long awaited 515 the following weekend, after all.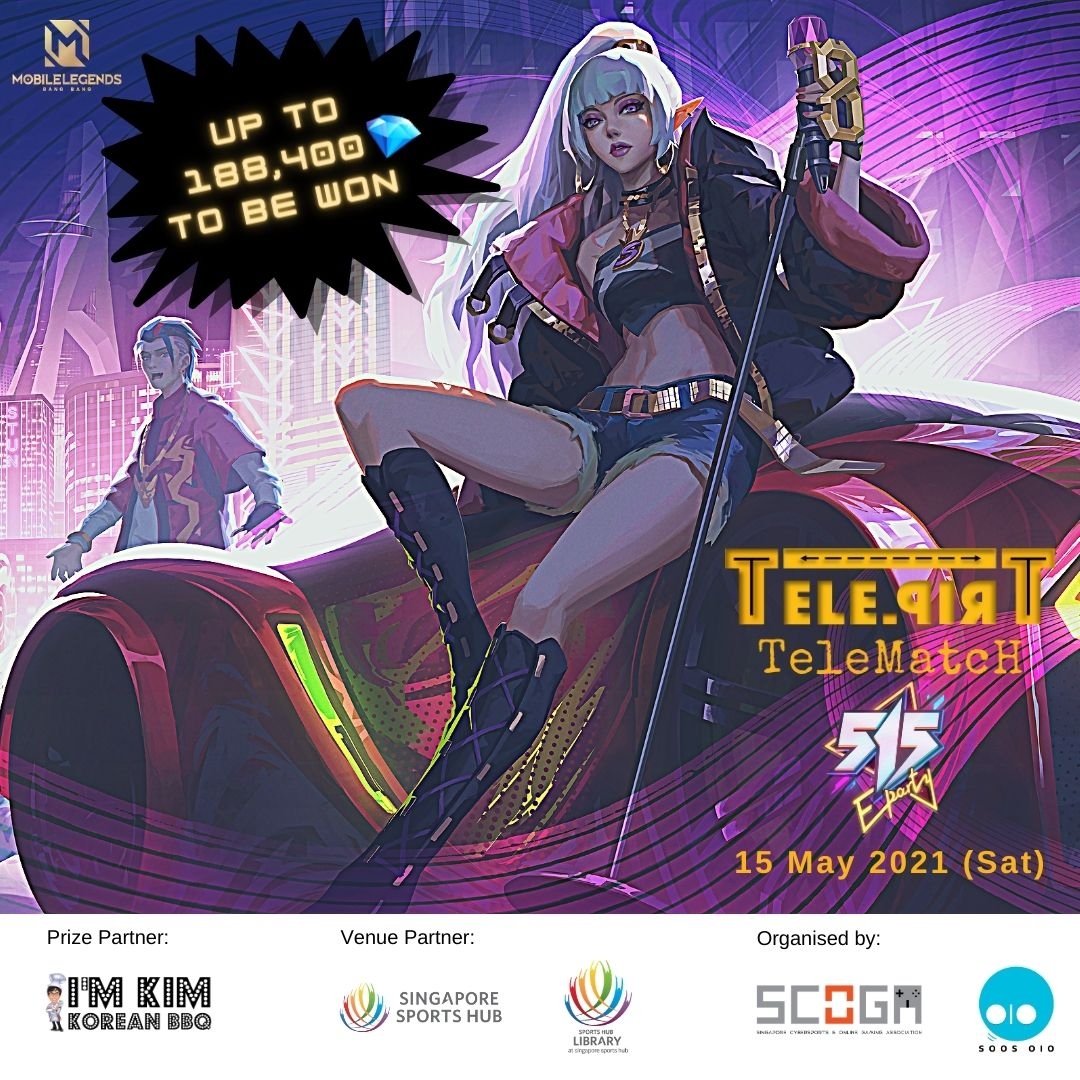 Sport Singapore continued their strong support for the local eSports scene (since eSports' inclusion in the 2019 SEA Games) as the venue partners. With up to 188,400 diamonds and other exceptional prizes up for grabs, over 60 teams (of 5) turned up online en masse, eyes firmly on the top prize. After being assigned to their respective groups, the tournament kicked off with a bang.
It wasn't only the competing teams that got to party. Participants were able to take part in live trivia showdowns as the teams duked it out in the background, while some were even lucky enough to snag themselves some IRL souvenirs through the Lucky Draws. And after eight long and gruelling hours of end-to-end combat, it was finally time for the showpiece match of the whole tournament - the Finals, to be contested between JOX and INS.
Finals
Background
The finalists were drawn into the same group (Group 4), facing each other as their respective third opponents of the group stage. While their first encounter was not streamed, both teams managed to progress to the knockout rounds, with JOX emerging as group champions.
Having already been featured on stream during the group stages, JOX returned to the streaming table for their semi-finals match against JOHNSON MAIN. The clash was a cautious one, without many full rostered clashes directly. However, JOX did exert their dominance as they slowly and meticulously picked apart the opposition's defenses, slaying the lord, before overwhelming JOHNSON MAIN with a three-lane assault.
Ban/Pick
With Estes and Wanwan performing really well for JOX in the semi-finals, INS wasted no time in striking them down from the roster during the Ban/Pick phase. Despite losing the dominating influence of Wanwan, JOX made use of their first pick privilege to secure Yve, who had luckily escaped the first ban wave. INS followed suit with Mathilda and Benedetta, while JOX went for Granger and Lapu-Lapu. While JOX did not lock Paquito to their own roster, INS opted instead to pick Rafaela.
By this point, much of the support/tank options that saw use in the tournament were no longer available for selection, a dilemma aggravated by INS' subsequent banning of Jawhead. This led JOX to make the slightly controversial pick of Belerick, while INS made another interesting acquisition of their own with Kaja to end the Ban/Pick phase.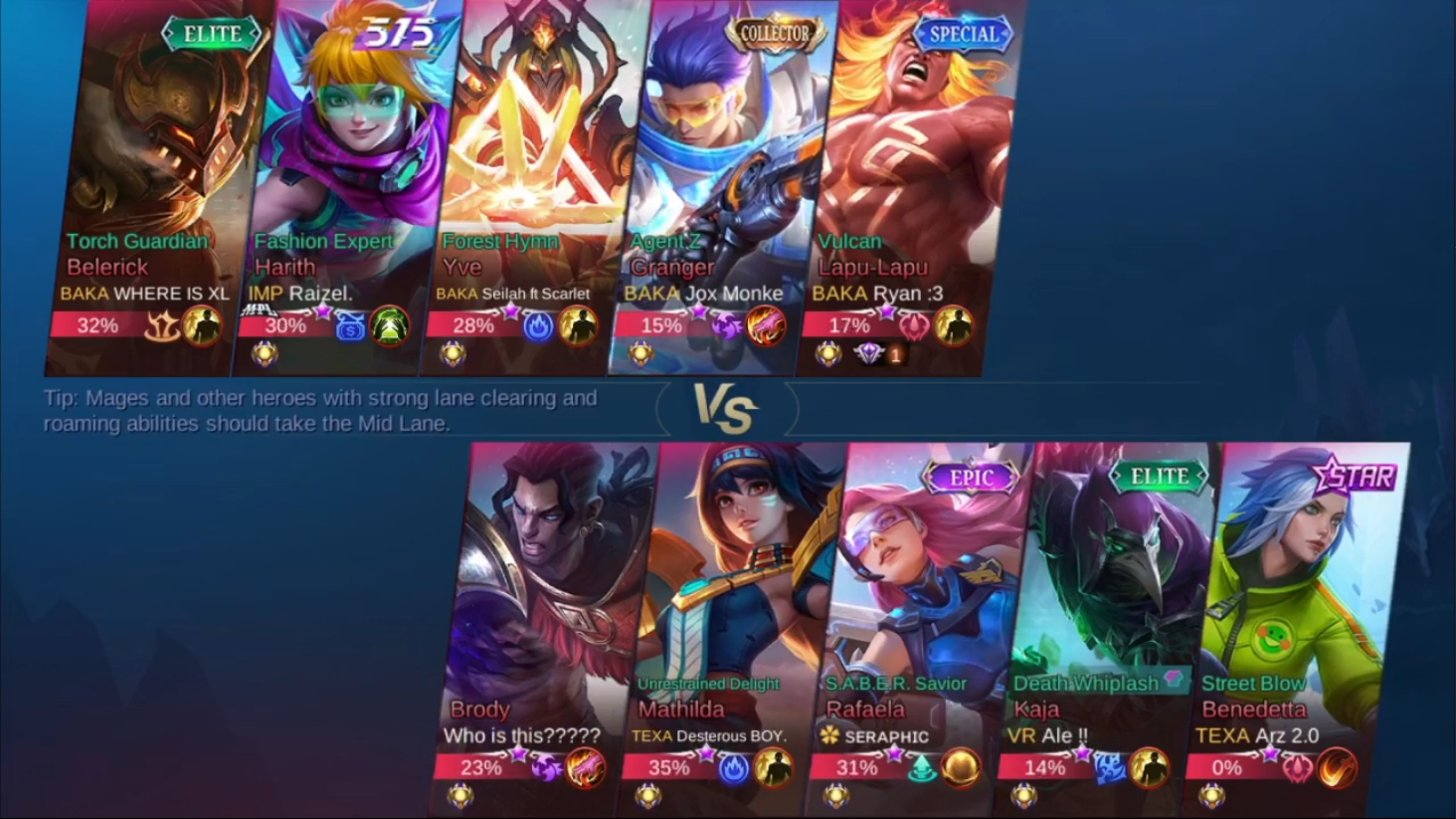 Final Roster - Image from TeleTrip.Gaming Live Stream
Summary
JOX started the game by claiming first blood against an isolated player on the INS roster. That minuscule lead did not last long, with INS neutralizing the deficit after the first team skirmish ended in their favor. The next team fight centered around the second turtle, which JOX managed to claim. However, it did come at a hefty cost as INS capitalized on the chaos to eliminate their weakened adversaries.
INS would then enjoy a slight lead in kill count for much of the match, following up that streak after a succession of end-to-end skirmishes by claiming the lord and summoning its services to pin JOX forces. This allowed INS to destroy much of JOX's defensive towers, even claiming the final towers on both side lanes.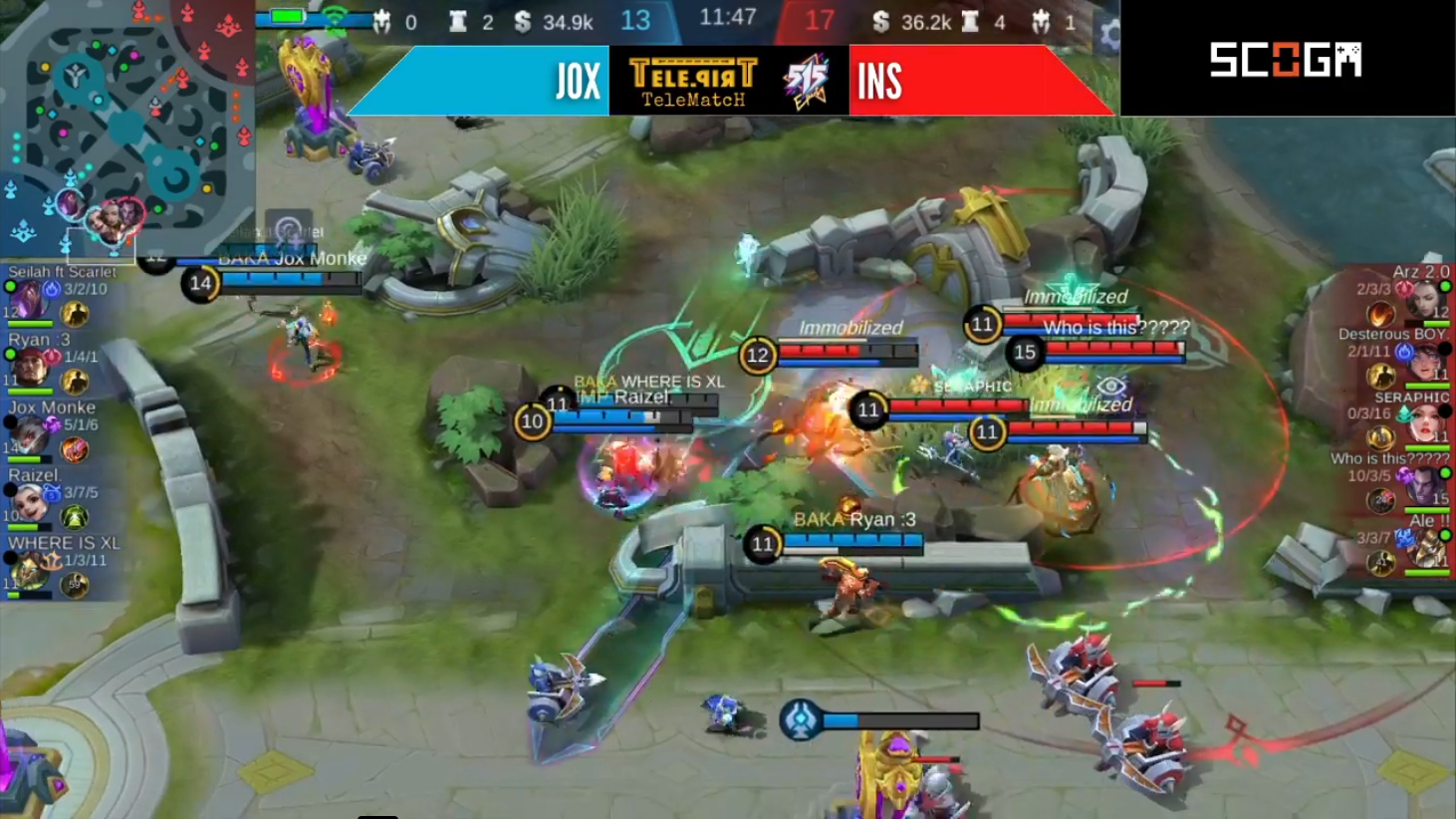 Team Fight - Image from TeleTrip.Gaming Live Stream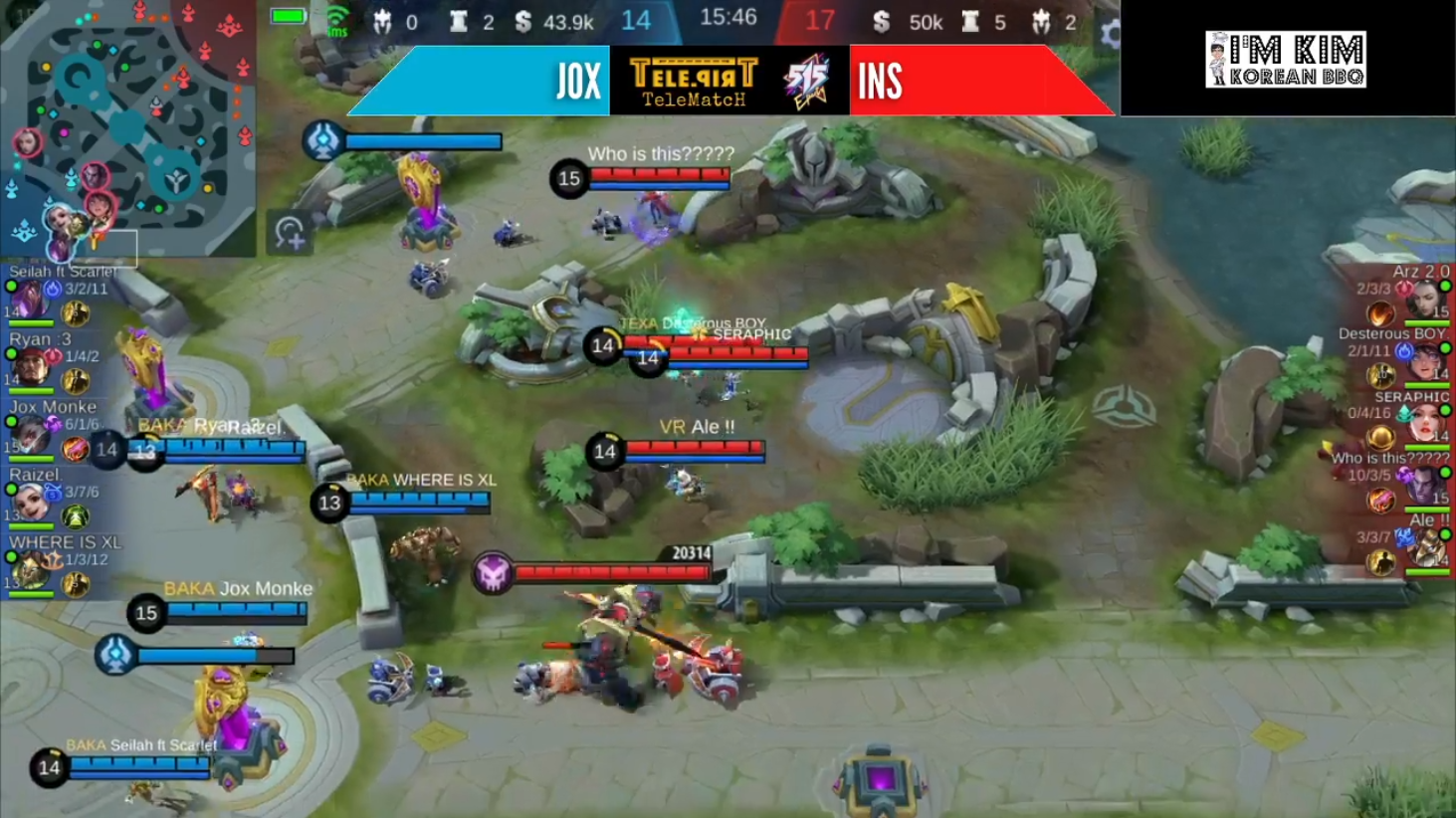 Lord Push - Image from TeleTrip.Gaming Live Stream
JOX did very well to keep themselves in the game, shaving off the effects of the deficit as much as possible. They nearly did a team wipe on INS and claim the third lord, but alas, the JOX players were forced to disengage to deal with the minions that have managed to reach their team's base. This would prove to be JOX's downfall, as they were unable to clear out the game despite their dominant direct showdown performance.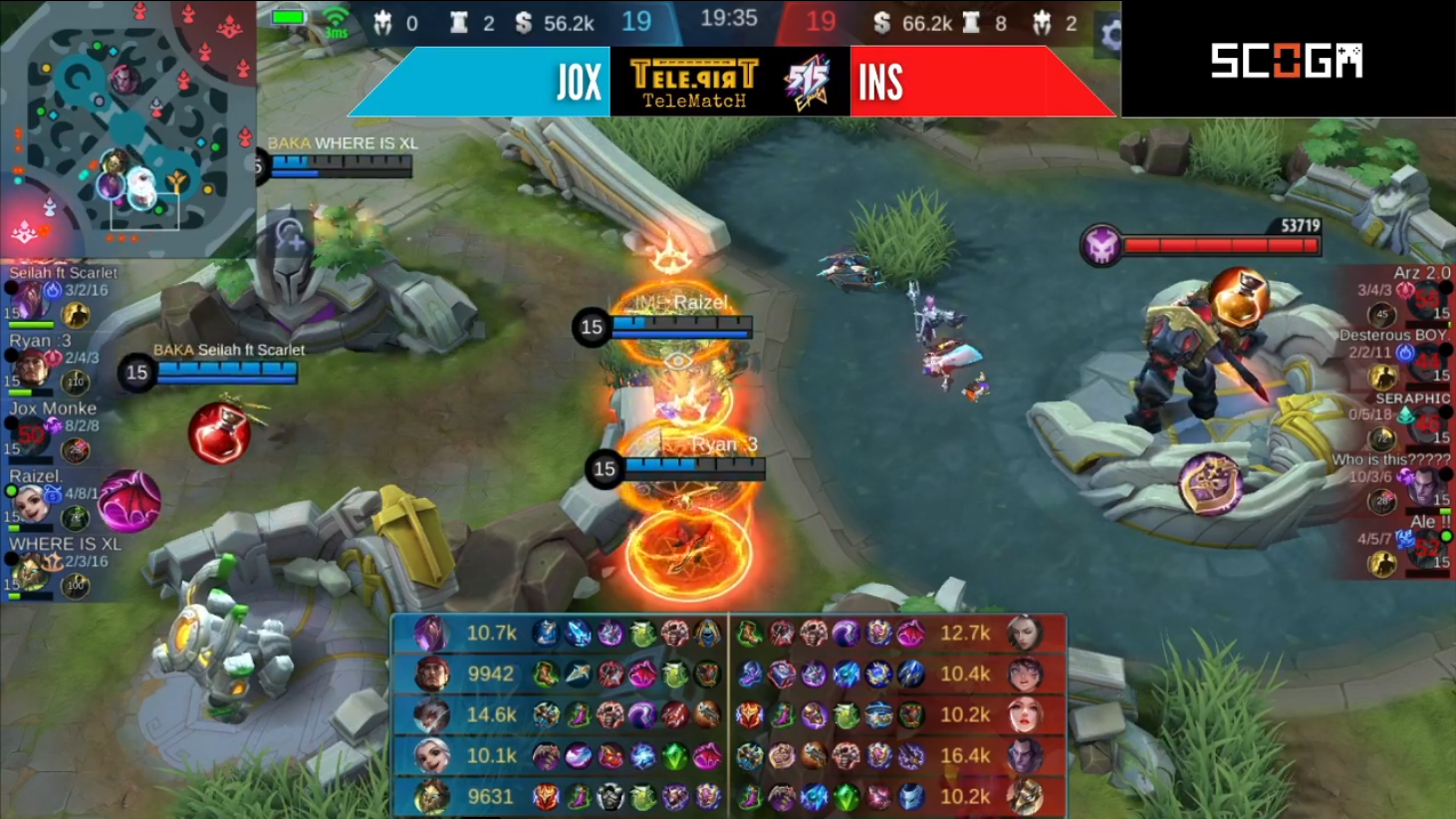 Naked Defenses - Image from TeleTrip.Gaming Live Stream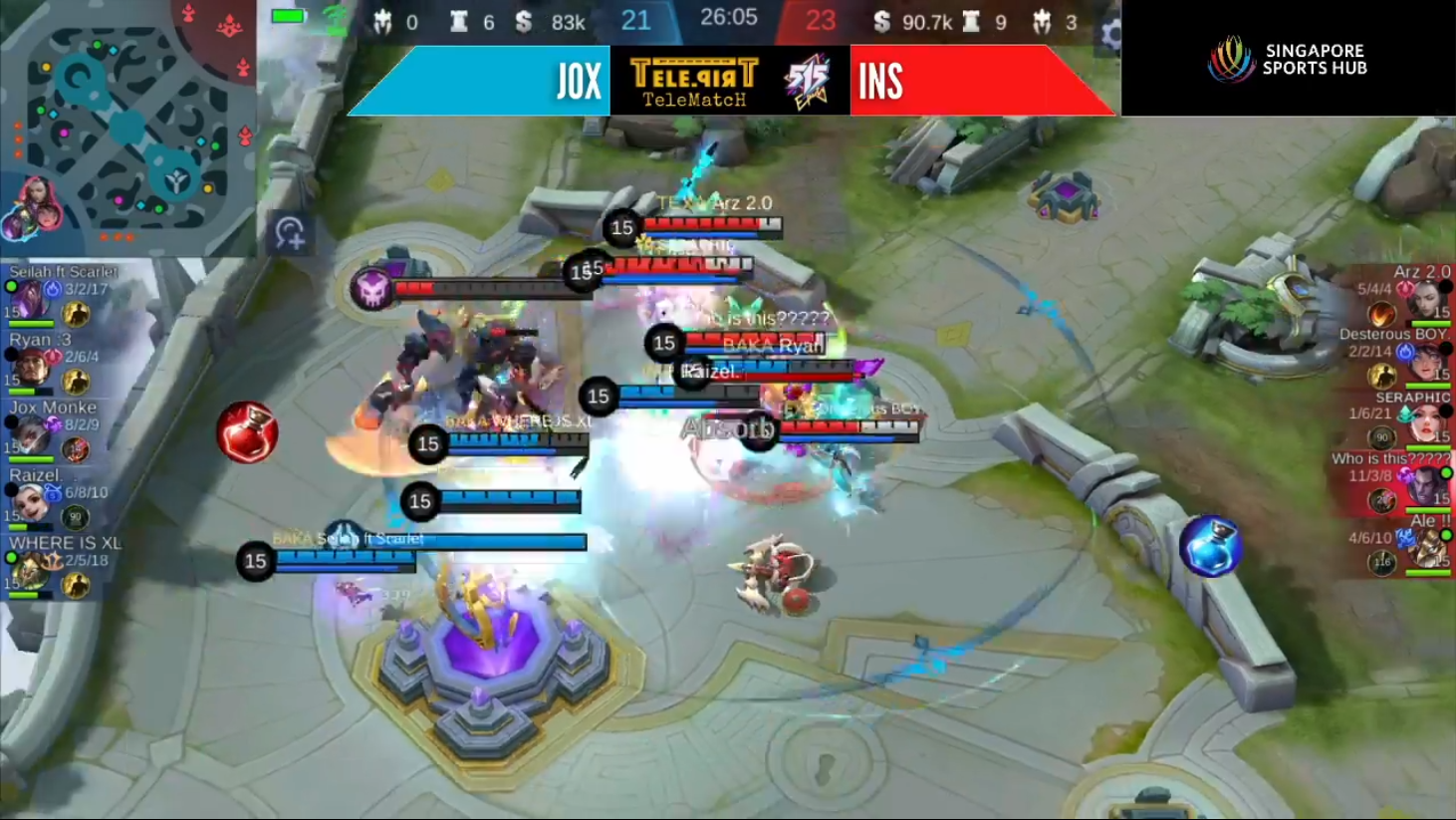 Final Siege - Image from TeleTrip.Gaming Live Stream
INS finally claimed the third lord, and with the last lord push, overcame a really resilient JOX to clinch the title.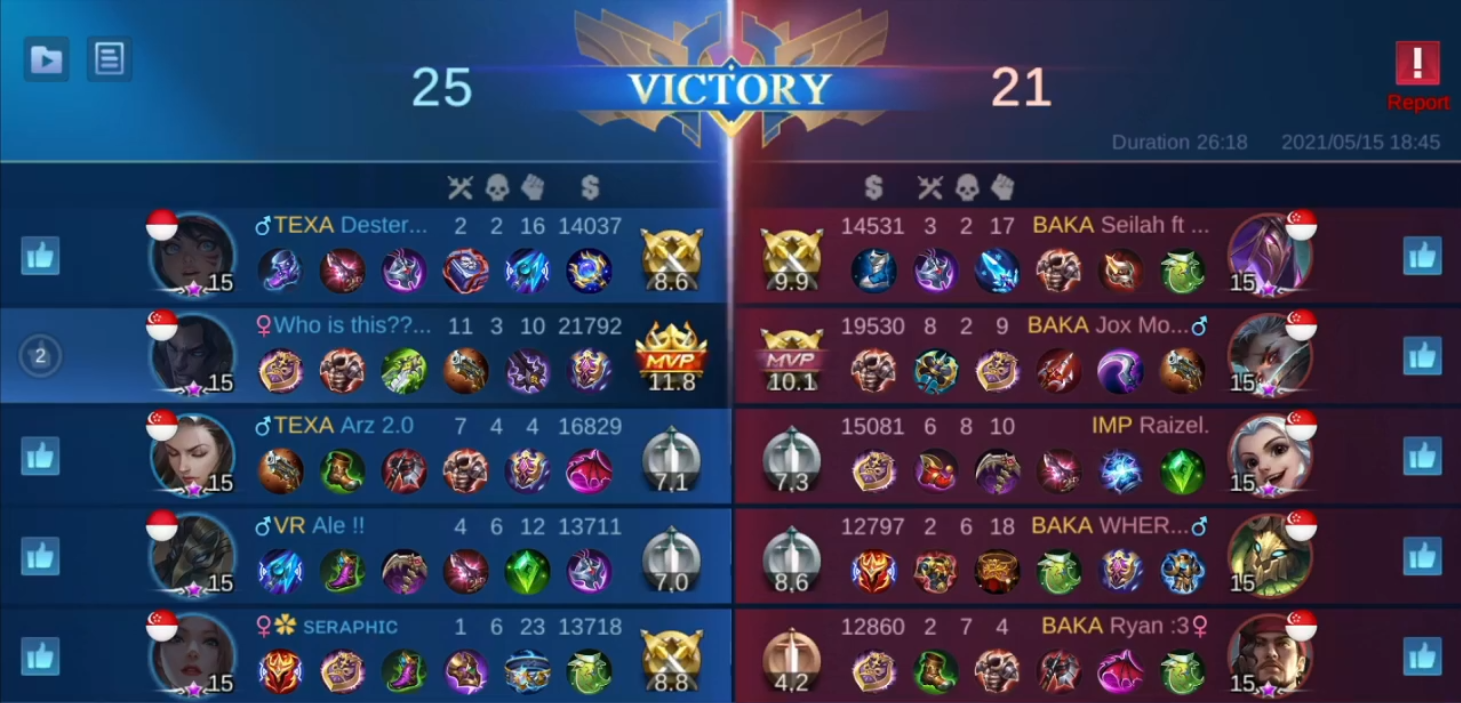 Match Stats - Image from TeleTrip.Gaming Live Stream
Post-Finals
As a celebratory event, INS wasn't the only team to graduate with diamonds in their pockets. The party was rounded out by a prize ceremony that also awarded prizes to lucky draw winners and players/groups who performed well.
Chee Yew is an aspiring content creator/digital designer who is passionate about lore building, strategy games and football. He prefers to be a kingmaker, enjoying work from behind the scenes to achieve a successful production.