It's Gold No 3 for China as Manyu and Yingsha win the Women's Doubles at the WTT Singapore Smash!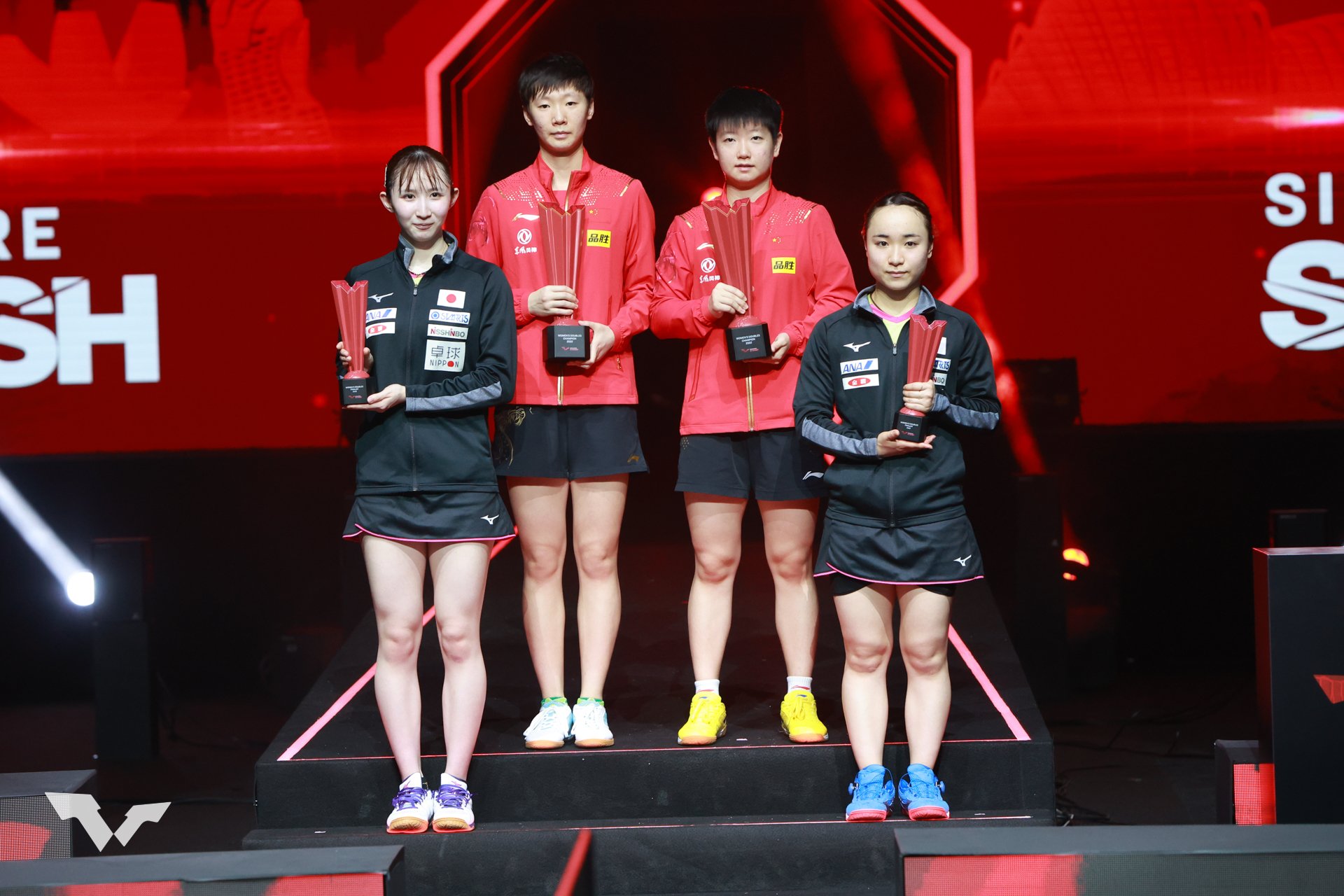 China's Wang Manyu & Sun Yingsha (Red) + Japan's Hina Hayata & Mima Ito. Photo Credit : WTT
By Pearlyn Koh
The final match of Day 9 (19 March) of the inaugural WTT Singapore Smash which took place at the OCBC Arena was the Women's Doubles Finals - a classic battle between long-time rivals Sun Yingsha/Wang Manyu and Mima Ito/Hina Hayata.
Just a day ago at the same arena, first-seeded pairing Yingsha and Manyu had just competed against each other in the Women's Singles Semi-finals. And it was Manyu who scored the eventual victory 4-3, against partner and world number 1 Yingsha! Less than 24 hours later, the duo joined forces to compete in the Women's Doubles Finals.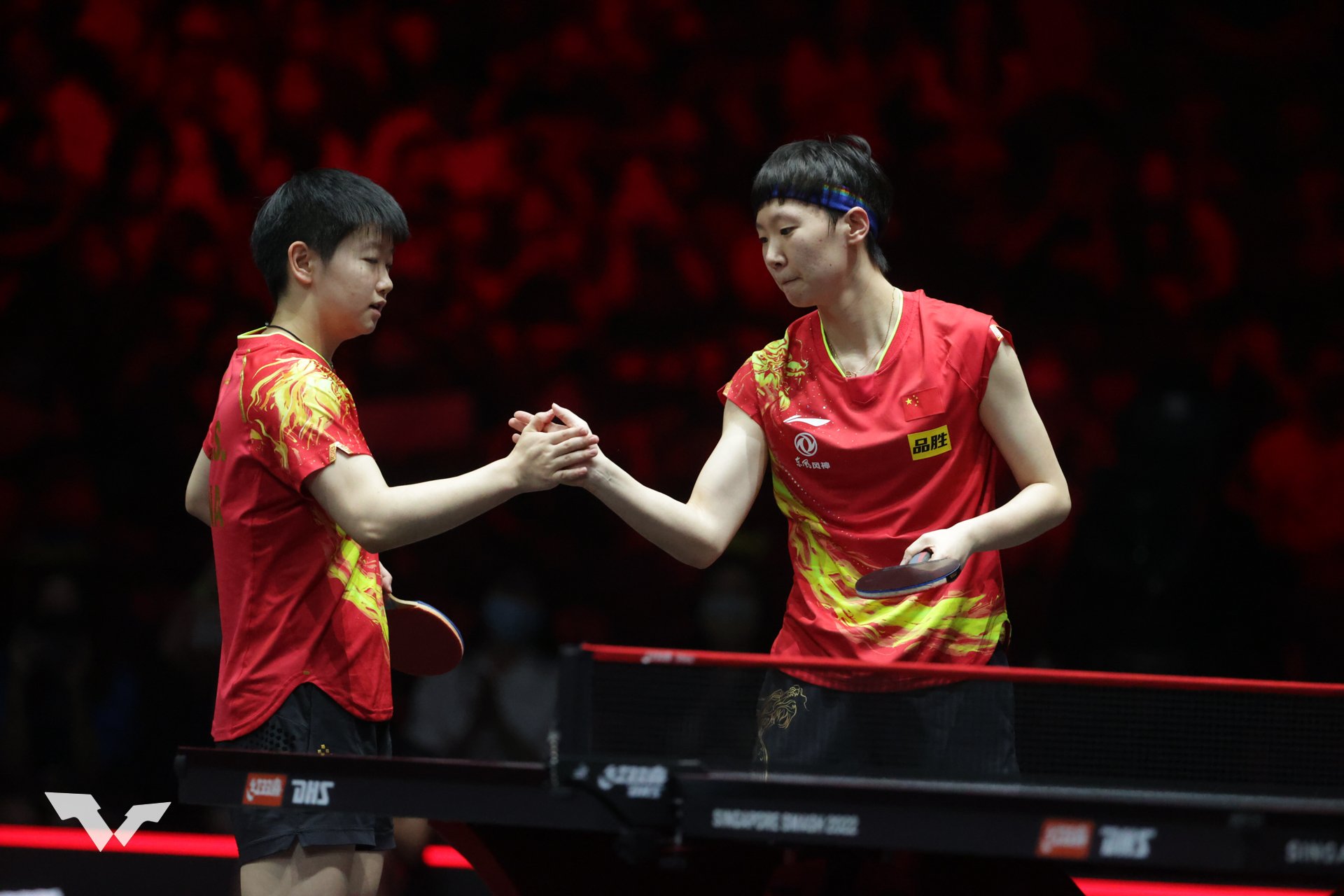 (China's Sun Yingsha and Wang Manyu. Photo Credit : WTT)
The Chinese duo doubles campaign in Singapore took place with a win over Chinese Taipei's Liu Hsing-Yin/Cheng Hsien-Tzu, Korea's Yang Haeun/Jeon Jihee, and Luxembourg's Ni Xia Lian/Sarah De Nutte from the respective Round of 16 - all the way to the Semi-finals, only dropping one game enroute to the Finals!
On the other hand, Mima and Hina beat mixed pairing of Hana Matelova/Barbora Balazova in the Round of 16, before overcoming India's Archana Girish Kamath/Manika Batra in the QFs, both in straight games! In the Semi-finals, the Japanese duo survived a scare from mixed pair Bernadette Szocs/Sofia Polcanova 3-2, to enter the Finals.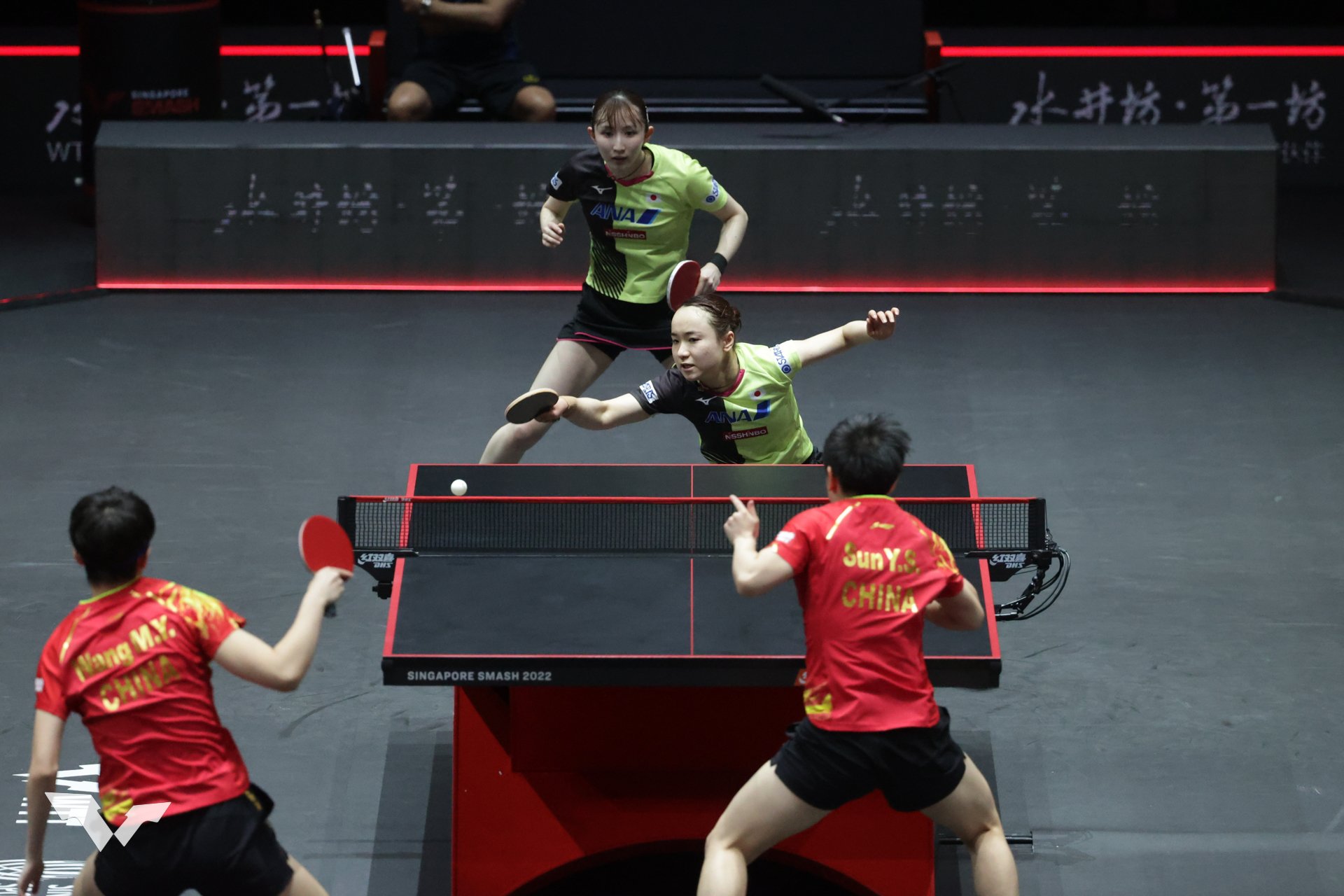 Japan's Hina Hiyata and Mina Ito (Green tops). Photo Credit : WTT
Both the Chinese and Japanese pairs were fighting for glory at the OCBC Arena on Saturday (19 March) evening, vying for the ultimate Women's Doubles title at the first-ever WTT Singapore Smash. But it was eventually the first-seeded Chinese pair who claimed the title in a landslide victory, 3-1 (11-4, 11-6, 11-4)!
The Chinese paddlers entered Game 1 well prepared, taking the first 2 points on offer with 2 powerful receives by Yingsha. They continued their good form all the way, dominating the first game with a 9-2 lead! Despite Mima and Hina claiming 2 consecutive points after executing two fast and furious rallies, it was the Chinese duo who took Game 1, 11-4!
In Game 2, the Japanese pair knew they had to be more confident with their game, against their higher-ranked Chinese opponents. Mima and Hina went into the 2nd game with a new strategy in mind, trying to hit more parallel strokes to cause some threat to their opponents. Scores were tied at 2-all, but few unforced errors on the Japanese duo's end quickly allowed Yingsha and Manyu to the lead, before sealing off Game 2 11-6!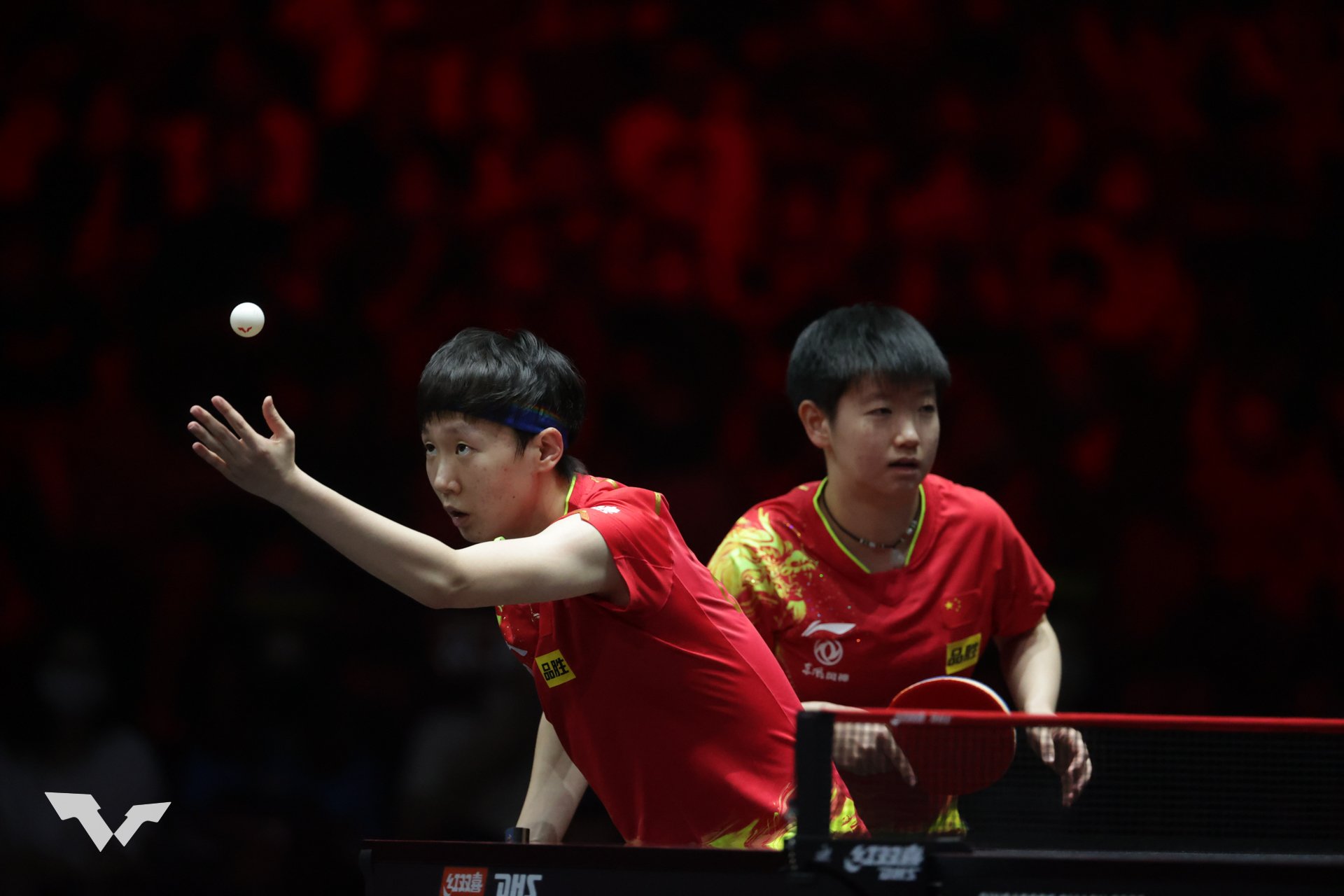 (China's Wang Manyu and Sun Yingsha. Photo Credit : WTT)
Down 2-0, the Japanese pair was still fighting hard to keep their Singapore Smash hopes alive. But their Chinese opponents were too well-prepared in this match. Mima and Hina managed to keep the scores close at 4 points each in Game 3. But Yingsha and Manyu ultimately proved one step too far for the Japanese pair, as they were able to anticipate most of their Japanese opponents' shots, claiming 7 consecutive points to win 11-4!
"Manyu and I have indeed prepared a lot for the Finals match tonight, and I think we managed to minimize our unforced errors on court today, which contributed to our stellar performance", said world number 1 Yingsha in a post-match interview.
With the Women's Doubles title claimed on Saturday (19 March) evening, China have once again displayed an absolute dominance of Table Tennis - having claimed all 5 titles on offer at the first-ever inaugural WTT Singapore Smash!
The Singapore Smash is down to the final day on Sunday (20 March), with the Men's and Women's Singles Finals taking place. Fan Zhendong will be competing against Ma Long in the Men's Singles Finals, while Chen Meng is up against Wang Manyu in the Women's Singles Finals.
Event details
Date: 7 to 20 March
Venue: OCBC Arena, Singapore Sports Hub
Tickets: go.gov.sg/wttsingaporesmashticket
Tickets start from $10 for qualifying matches and $18 for main draw matches. All spectators to Singapore Smash 2022 are to abide by the necessary Safe Management Measures. Spectators attending Singapore Smash must be fully vaccinated and submit a negative self-administered ART test result before entry into OCBC Arena. Please visit go.gov.sg/wttsingaporesmashticket for more information.
Pearlyn Koh has been playing Table Tennis competitively for 9 years. She's currently a member of the National Team and had represented Singapore at several major tournaments, including the 2018 Asian Games and World Table Tennis Championships. In 2019, Pearlyn was also the sole Southeast Asian player to enter the Top 16 at the Asian Junior & Cadet Table Tennis Championships. During her free time, Pearlyn enjoys reading and catching up with her friends.