Lion City Sailors defeat Eagles to stay 1 point behind leaders, Albirex!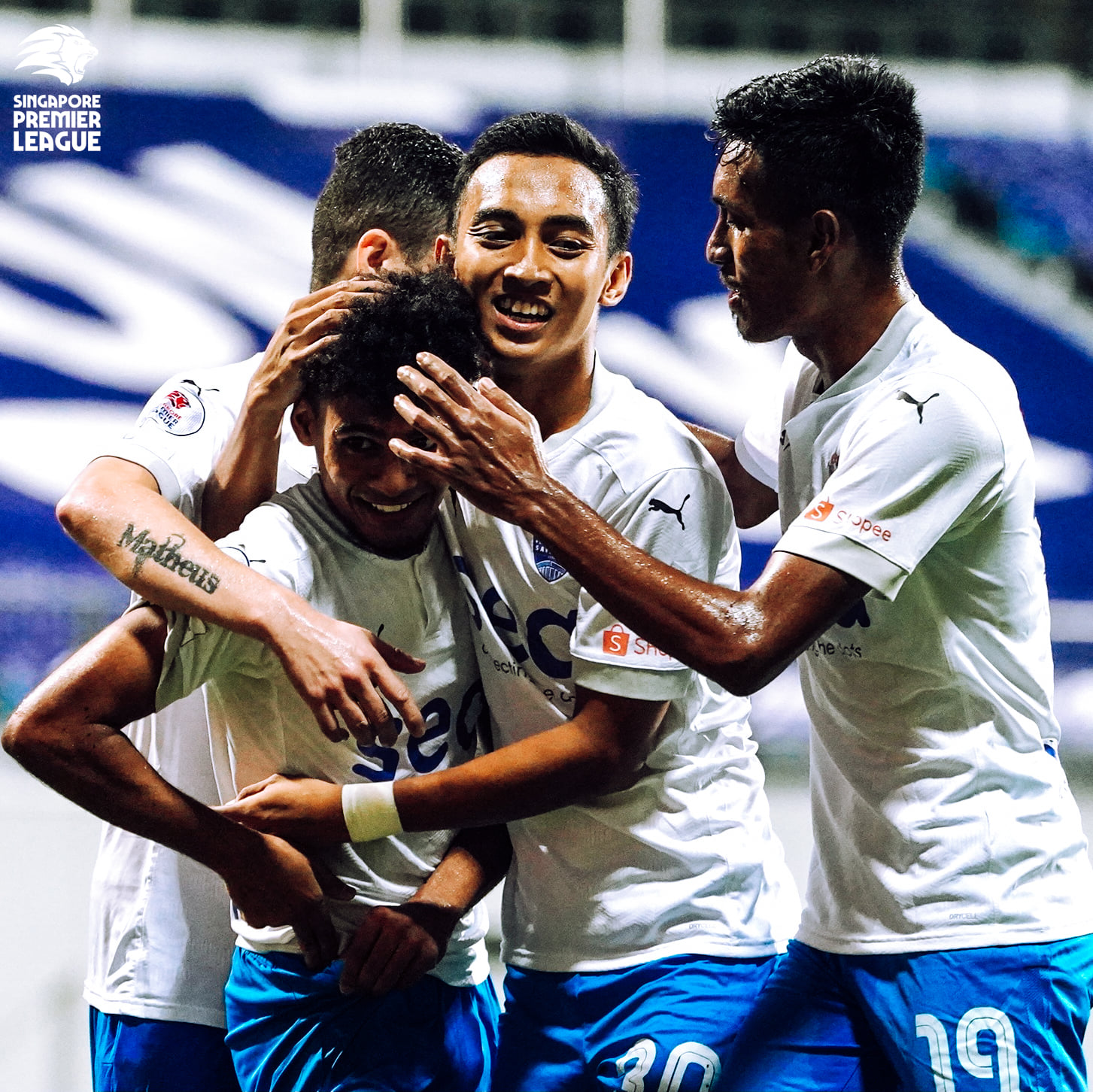 (Photo Credit of Lion City Sailors FC : Football Assn of Singapore)
By Chia Han Keong
The Singapore Premier League (SPL) table may be showing that second-placed Lion City Sailors have closed the gap between them and leaders Albirex Niigata (S) to just a single point. However, it does not show how hard they had to work for their 2-1 win against a gallant Geylang International side at Jalan Besar Stadium on Sunday (9 May).
Less than a month ago, the Sailors had registered an 8-0 thrashing of the same opponents - the biggest win of the 2021 SPL season - as they tore an injury-ravaged Geylang apart at Our Tampines Hub. And last night, the Eagles were still badly hit by injuries - they could only name six substitutes instead of the maximum of seven - but they defended resolutely and counter-attacked with intent, as if eager to erase the humiliation of that earlier heavy defeat. And had their attackers been more clinical, the Sailors could have been left rueing, not getting a crucial win in their bid to wrest the SPL title from defending champions, Albirex.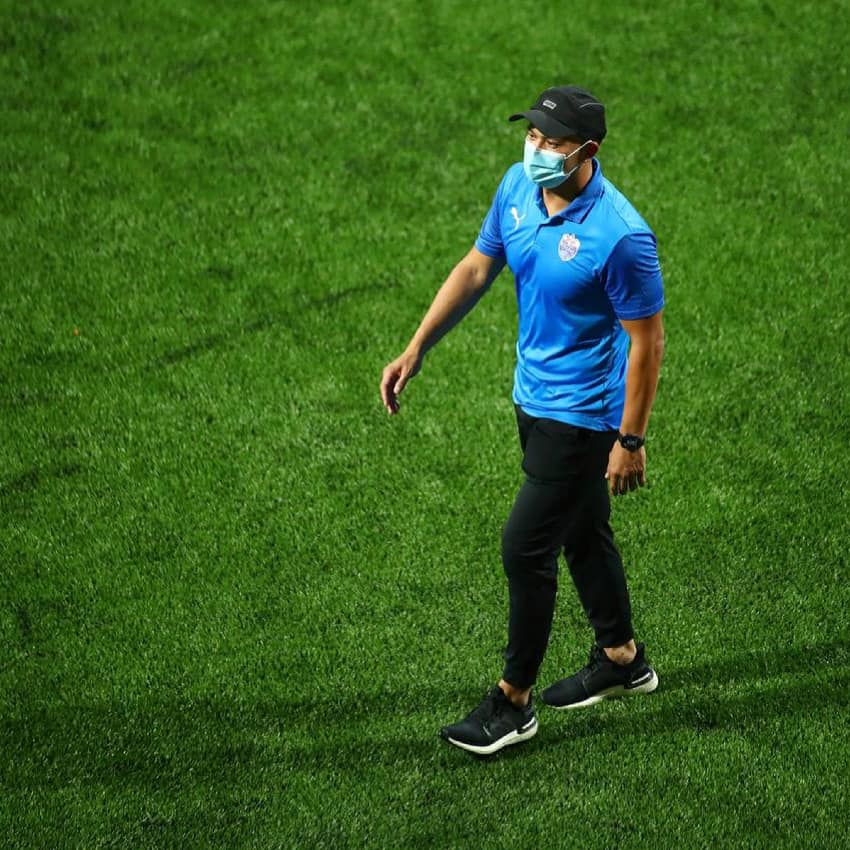 (Photo of Robin Chitrakar by Lion City Sailors FC)
As such, Singapore's first privatised football club could afford to breathe a sigh of relief, as their knack for goals made up for some slipshod defending that could have proven costly. The win was also timely after the Sailors were hit by the departure of head coach Aurelio Vidmar last week, and were led out by caretaker coach Robin Chitrakar for the first time this season.
Before the match began, Sailors forward Gabriel Quak received the Goal of the Month award for his outstanding volleyed goal against Balestier Khalsa last month. However, if he and his teammates were anticipating an easy time carving open the makeshift Geylang defence - their key midfielder Barry Maguire had to stand in as centre-back for this game - they were badly mistaken.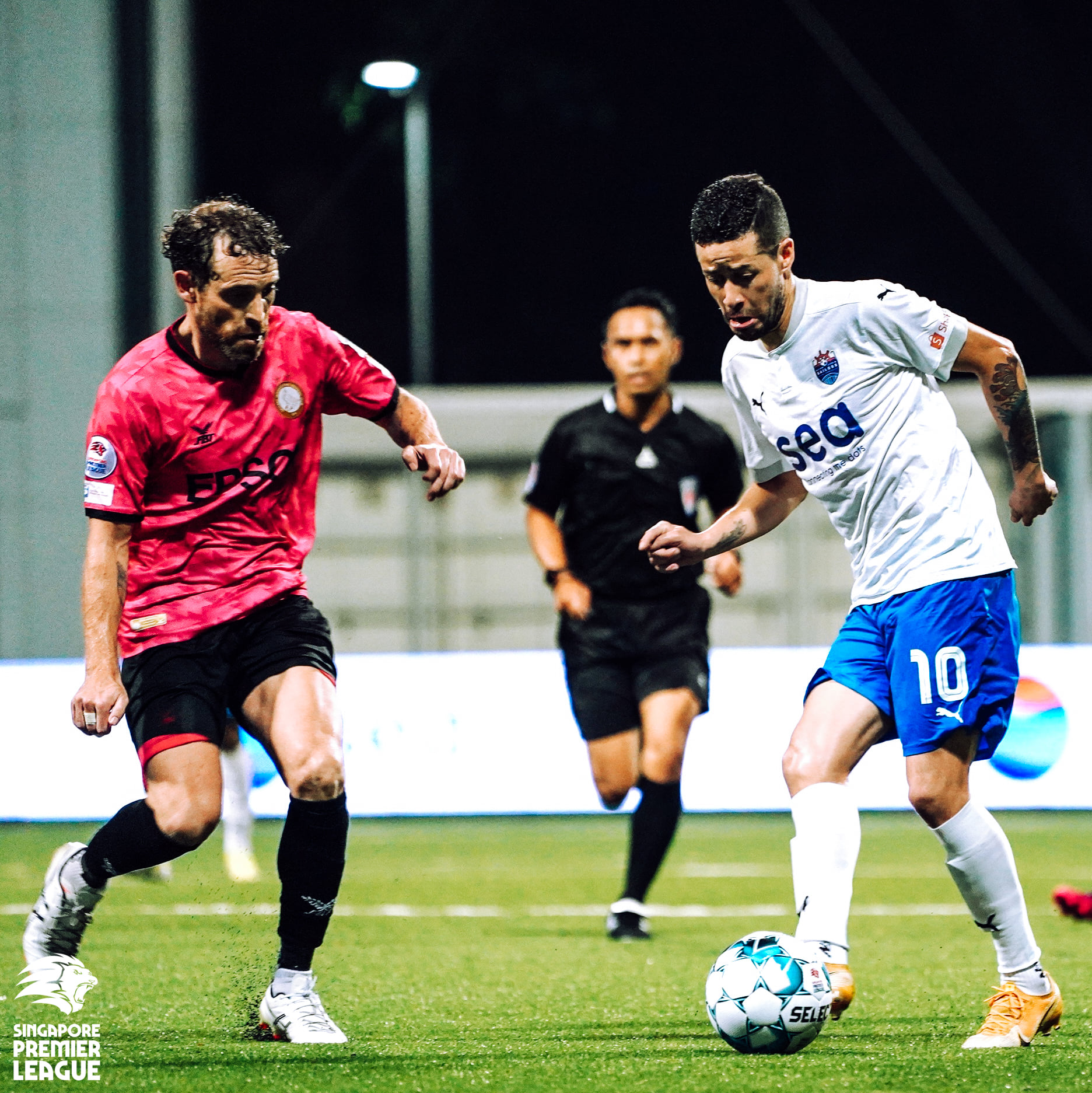 (Photo Credit : Football Association of Singapore)
Quak, in particular, was hounded by multiple defenders wherever he went, and had one of his quieter matches of the season. Ditto Diego Lopes, the Sailors' record signing who had a hat-trick against Geylang in their previous encounter; the Brazilian was also subdued by his standards as he was barely given time and space by the Geylang defence.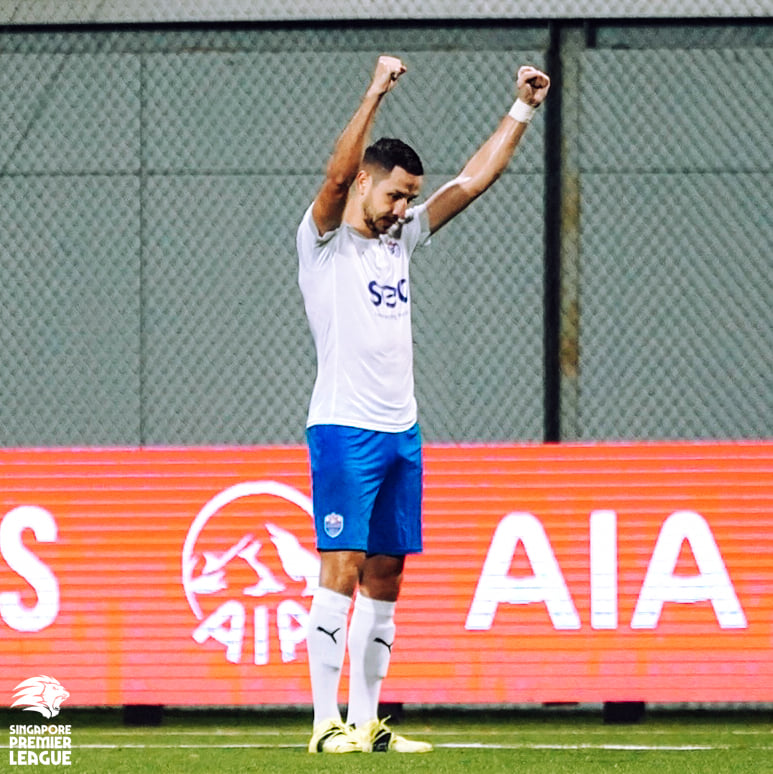 (Photo of Stipe Plazibat by Football Association of S'pore)
The Sailors however, had Stipe Plazibat in their scoring ranks, and the prolific striker already had a shot saved by debuting Geylang goalkeeper Sanders Saurajen in the 16th minute. But shortly after, Geylang gift-wrapped the opening goal to the alert Croatian. Left-back Darren Teh had all the time in the world to pick out a teammate, but he chose to play a pass right across the defence line to no one in particular -- and Plazibat pounced. Intercepting Teh's pass just outside the penalty box, he took one more touch before sweeping the ball confidently past Saurajen.
Up 1-0 after taking advantage of a defensive howler, the Sailors must have thought the floodgates would be opened against Geylang, just like what had happened during that 8-0 rout. Yet, barely five minutes later, they too handed the Eagles a howler of their own -- worse still, it came from the usually-reliable Singapore national keeper, Hassan Sunny.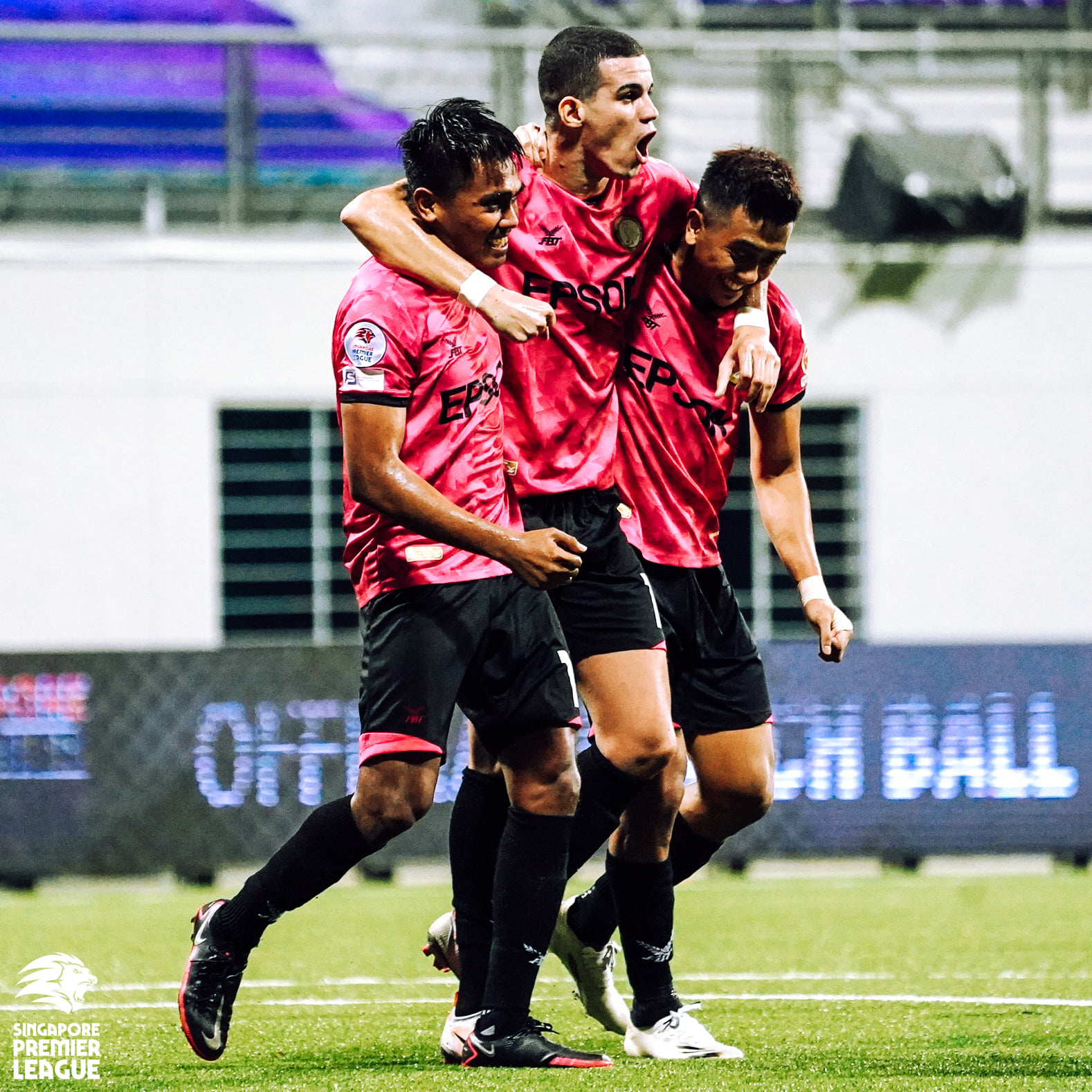 (Photo of Geylang Eagles by Football Association of S'pore)
Taking a pass from right-back Aniq Raushan, Hassan swivelled and attempted to pass out of his box -- only for Geylang striker Matheus Moresche to intercept right in front of an open goal. The Brazilian needed no further invitation to slam the ball home as Geylang celebrated their shock equaliser.
Indeed, they'd barely threatened the Sailors' defence until Moresche's goal, and with their opponents rattled, Geylang stepped up their pressure to force errant passes from the Sailors. But while they succeeded on several occasions, both Moresche and strike partner Amy Recha failed to take their chances, as Hassan atoned for his earlier gaffe with some assured saves after the break.
With Quak and Lopes struggling to create chances for Plazibat, coach Chitrakar sent in Faris Ramli as a direct replacement of left winger Haiqal Pashia Anugrah in the 53rd minute -- and the move paid off almost immediately. The former SPL Player of the Year threatened from the moment he came on, and in the 57th minute, he dribbled down the left flank before pulling back for an onrushing Lopes. The Brazilian's shot was charged down by Geylang defenders, but the ball went only as far as midfield linchpin Shahdan Sulaiman, who laid it off for fellow midfielder, Saifullah Akbar.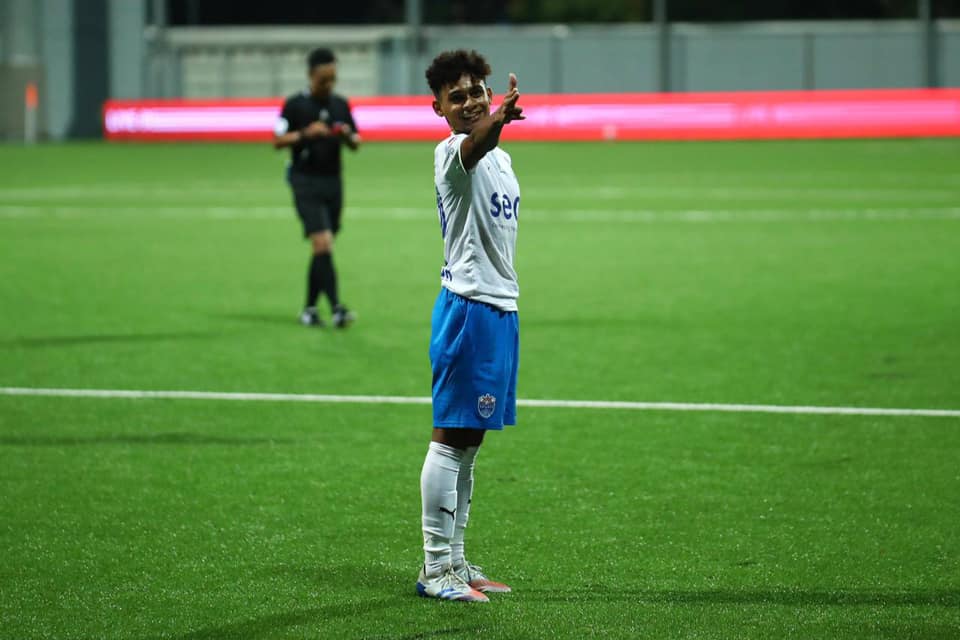 (Photo of Saifullah Akbar by Lion City Sailors FC)
Even though he was way outside the penalty box, Saifullah tee-d up a piledriver of a shot that gave Saurajen no chance as it flew into the bottom left of the goal to give the Sailors the lead again. Yet, there was to be no collapse by Geylang as they continued to frustrate the Sailors. Saurajen belied his inexperience with two point-blank saves from Quak, and while Faris had hit the post with an injury-time attempt, Amy Recha could have rescued an unlikely point for the Eagles had he been able to control the ball when put through in the dying seconds of the match.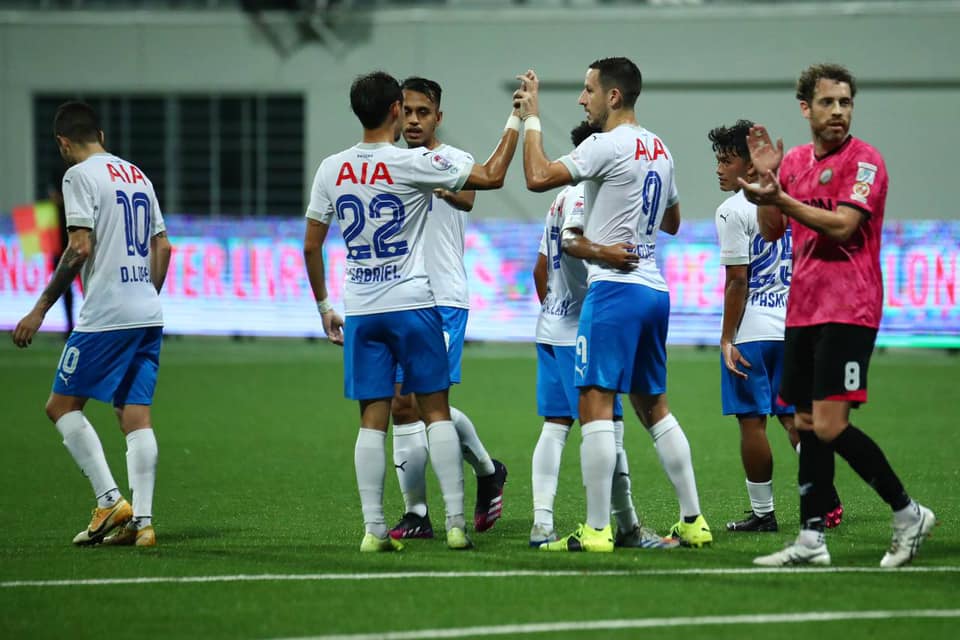 (Photo of Saifullah Akbar by Lion City Sailors FC)
The Sailors however, ultimately achieved their aim of getting three points to close the gap on Albirex, who drew 2-2 with Tampines Rovers on Saturday. They next face Tanjong Pagar United at Jalan Besar Stadium on 16 May, while Albirex take on the still-winless Young Lions at Jurong East Stadium a day earlier.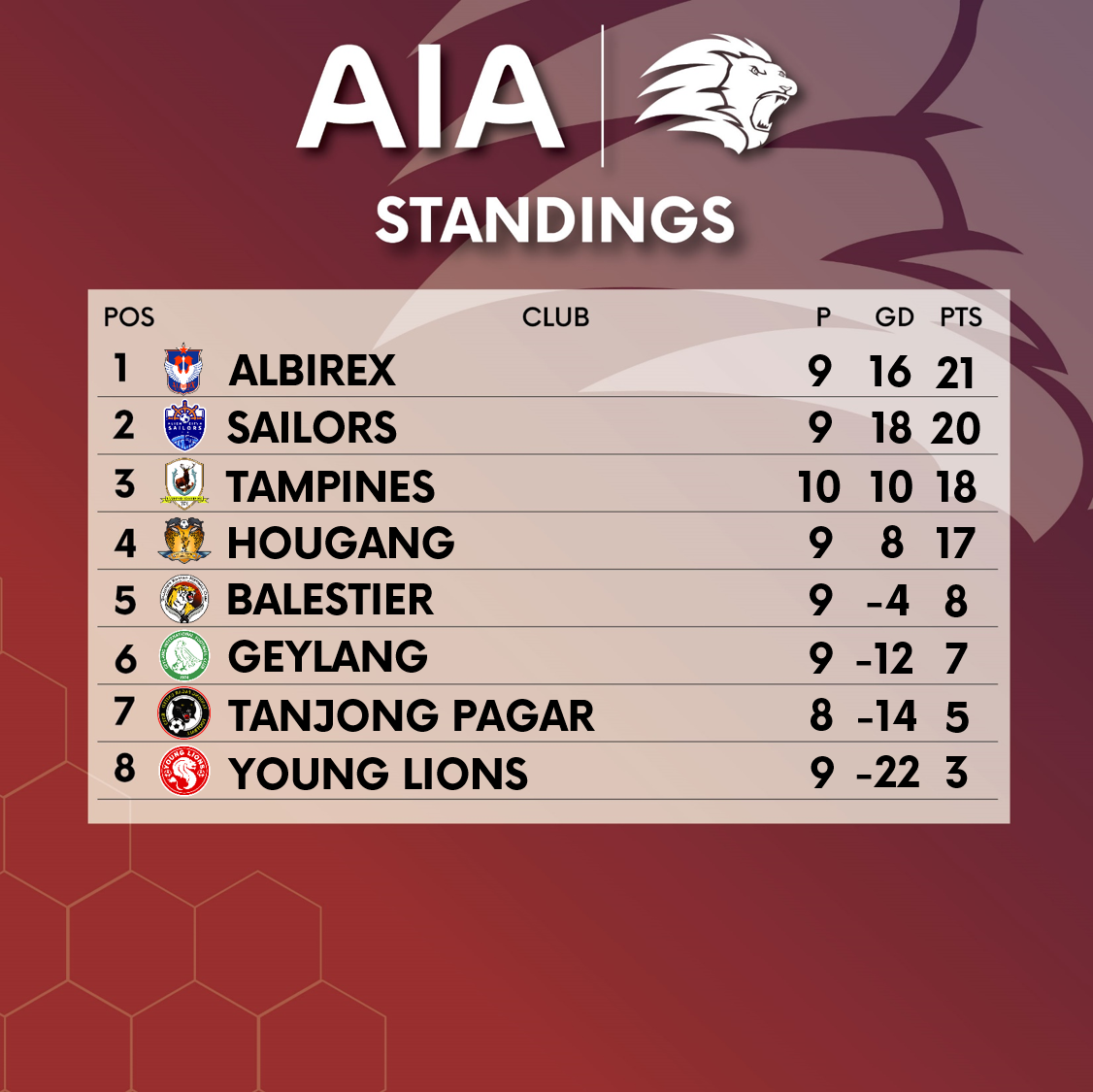 Chia Han Keong is a freelance journalist who has covered both Singapore and international sports extensively for the past 18 years. He was the sports editor of bilingual tabloid My Paper, and has also worked for The Straits Times and Yahoo News Singapore. He has covered four SEA Games (2009, 2011, 2013, 2019), two Asian Games (2010, 2014) as well as the 2008 Beijing Summer Olympics. He counts himself as a massive Liverpool, LA Lakers and Rafael Nadal fan.