Lion dance: A cultural sport rooted in Wushu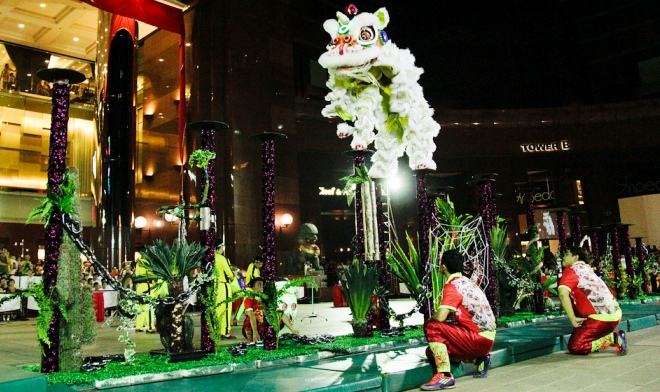 Deeply rooted in Chinese culture, sightings of lion dance troupes are commonplace in Singapore. They perform during many occasions for a variety of reasons. Some engage these troupes to perform in their houses during the Lunar New Year to ward off bad luck and bring good fortune, while others engage them for entertainment as the colours for these lion dance troupes are usually vibrant and very hard to miss.
However, besides the entertainment and hype that they bring, what many do not know is that these lion dance troupes go through a rigorous phase in perfecting their movements. These moves are rooted in the traditional Chinese martial arts, also known as Wushu.
There is an annual lion dance competition that is held every year to assess which troupe has the best dance routine. The recent 19th Ngee Ann City Lion Dance Championships 2013 finals was held on 14th September where the top eight lion dance troupes in Singapore gather to compete against one another. These eight troupes did not have it easy.

Level of Difficulty
They had to go through a tough selection phase competing against 70 other troupes in order to make the cut. Troupes were assessed based on the level of difficulty of the stunts and tricks pulled off during their dance routines.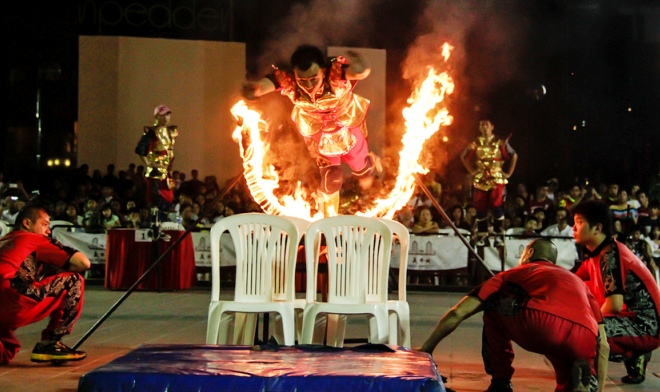 After a week long competition, Kuan San Tang Dragon And Lion Dance Troupe emerged victorious coming in first place with a score of 9.47 out of 10, while Wei Yong Athletic Association (Singapore) was second with a score of 9.33 and Yi Wei Athletic Association (Singapore) placed third with a score of 9.32.
"We didn't expect the win because two of our guys were still in NS (National Service) and they only trained twice per week. But when I saw that they performed quite well during the semi-finals, we were quite hopeful about winning the competition!" said Anthony Tiu, one the the founding members of Kuan San Tang Dragon And Lion Dance Troupe.
Jeffery Tan, organiser of the event and also Secretary General of Singapore Wushu Dragon and Lion Dance Federation said,"It's all about passing down the Chinese values of things such as filial piety and honesty. We start to educate these boys on the art of this sport which also helps them in their self-discipline."
Jeffery also added that his wish is for Lion Dance to be more known as a sport and that hopefully it will eventually be included in the SEA Games like Wushu.