Déjà vu as Dunman High defeat Victoria School, to retain NSG East Zone table tennis crown!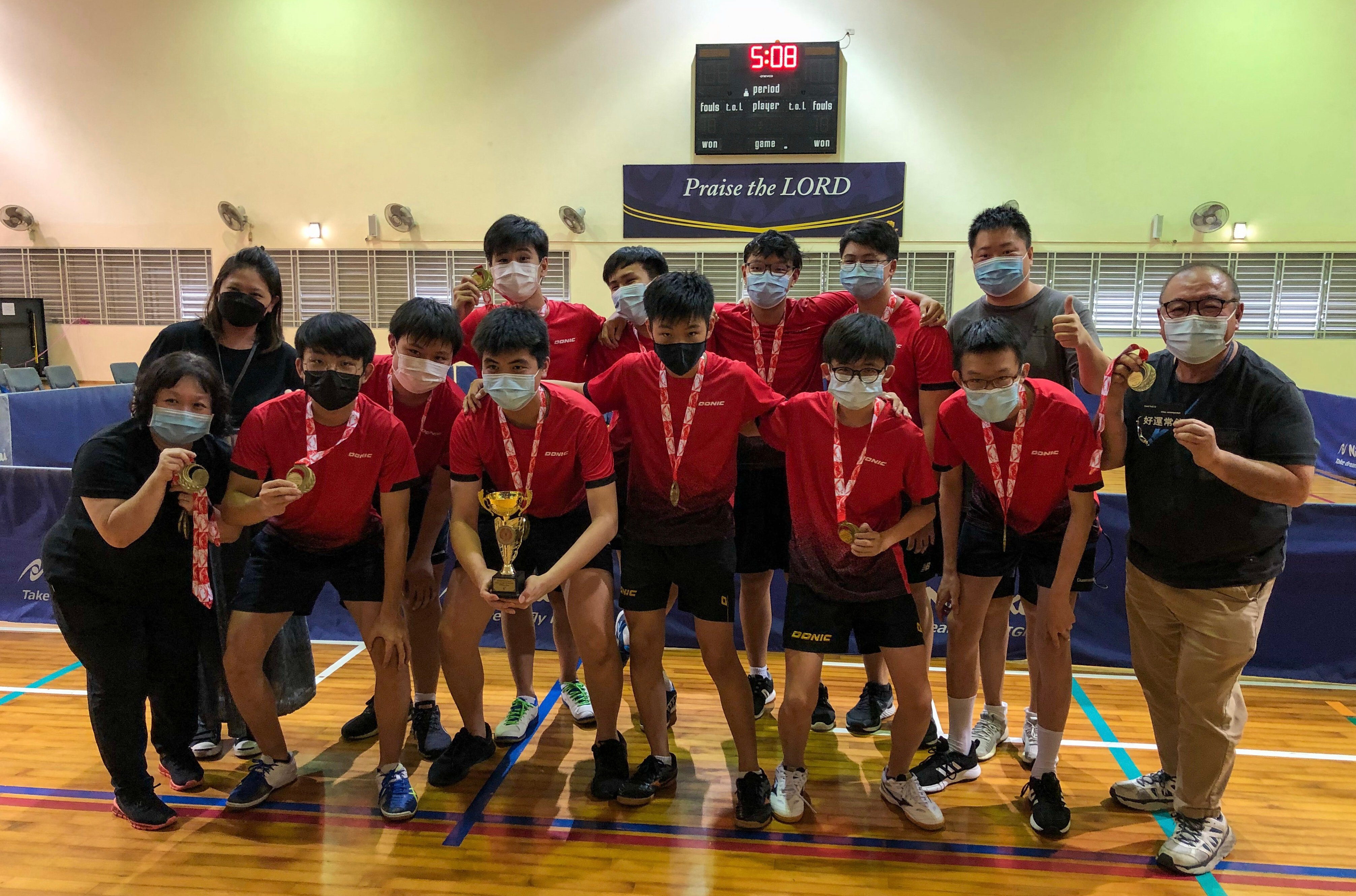 (They were masked on, but there was no hiding their jubilant moods and warm hearts amongst the Dunman High School's boys, as they pose for the obligatory winning photo with their champions' trophy. Photo Credit: Kenneth Tan)
By Kenneth Tan
A similar situation, a similar outcome as defending champions Dunman High School (DHS) pulled off a 3-1 win over familiar foes Victoria School (VS) in the grand final of the B Division Boys' East Zone Table Tennis Championships, to emerge champions for a second straight year.
The only difference is that they had to come from behind – as compared to how they did so in 2021 – at the Indoor Sports Hall of Paya Lebar Methodist Girls' School (Secondary), on Thursday 21 April to come through a tie which is played in the best-of-fives.
(For all the news, post-match interview videos, stories, photos, fanzone details and much more from the 2022 National School Games, do visit our website : go.gov.sg/nationalschoolgames)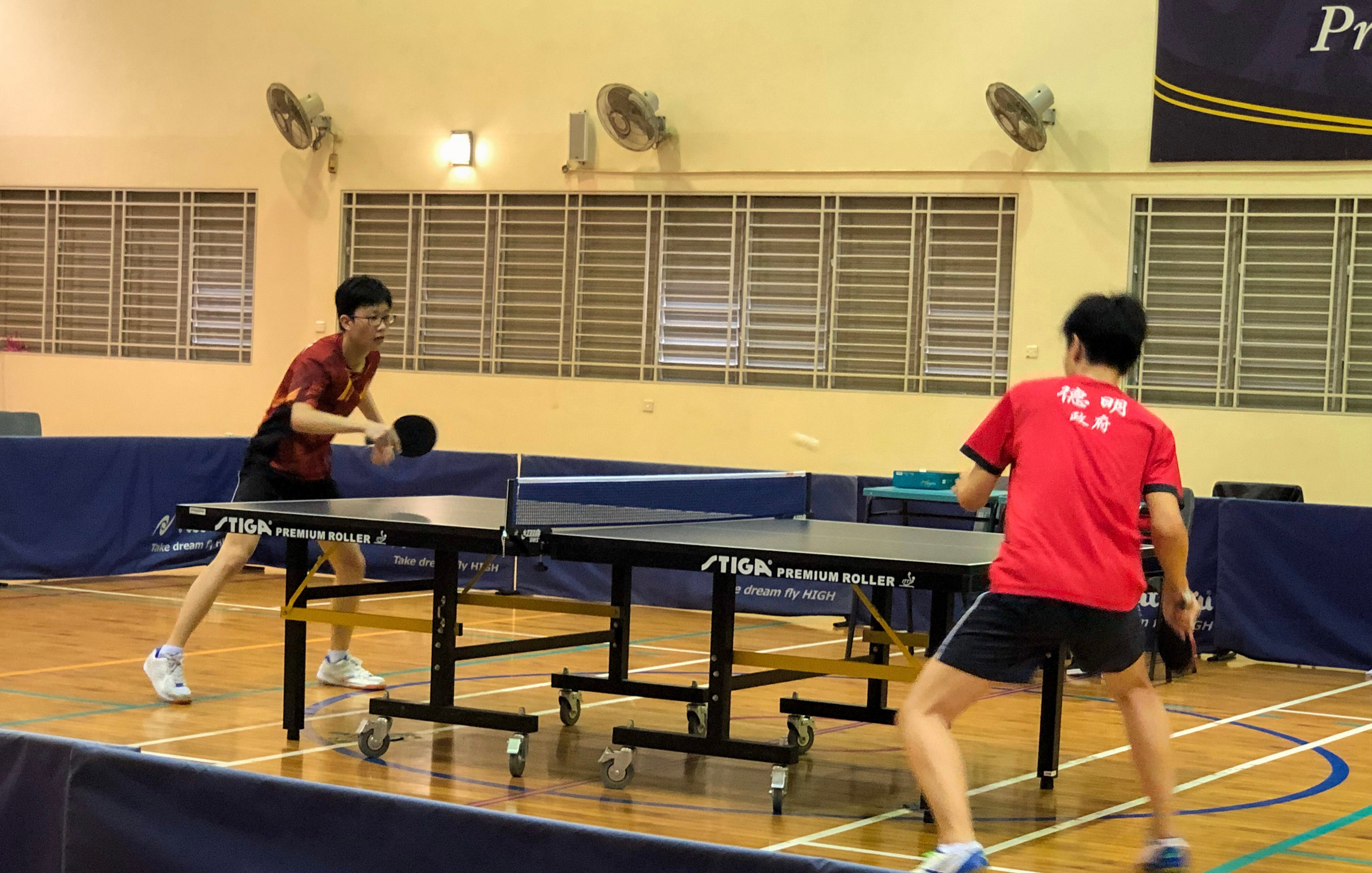 Victoria's Ryan Ong (left) was on song in the first singles against Dunman's Wang Dongyu. Photo Credit: Kenneth Tan)
While no spectators were allowed physically at the venue to cheer them on in the National School Games (NSG), the Dunmanians were still able to derive energy and adrenaline coming from the support and encouragement virtually.
"We live-streamed the entire game using one of our phones, so we actually had people cheering for us live," revealed DHS' vice-captain Wang Dongyu. "It's such a nice experience to have Dunmanians cheering for the collective effort of the team and this is something that I'll never forget.
"It's very heartwarming to see the team collectively work towards something and see all our hard work pay off. As a Year (Secondary) 4 student, it's very nice to end off my final year playing in the B Division with a happy ending."
16-year-old Dongyu had hoped to give Dunman a good headstart in the first singles, but struggled to find his rhythm as he went down 3-0 (5-11, 5-11, 9-11) to Victoria's Ryan Ong.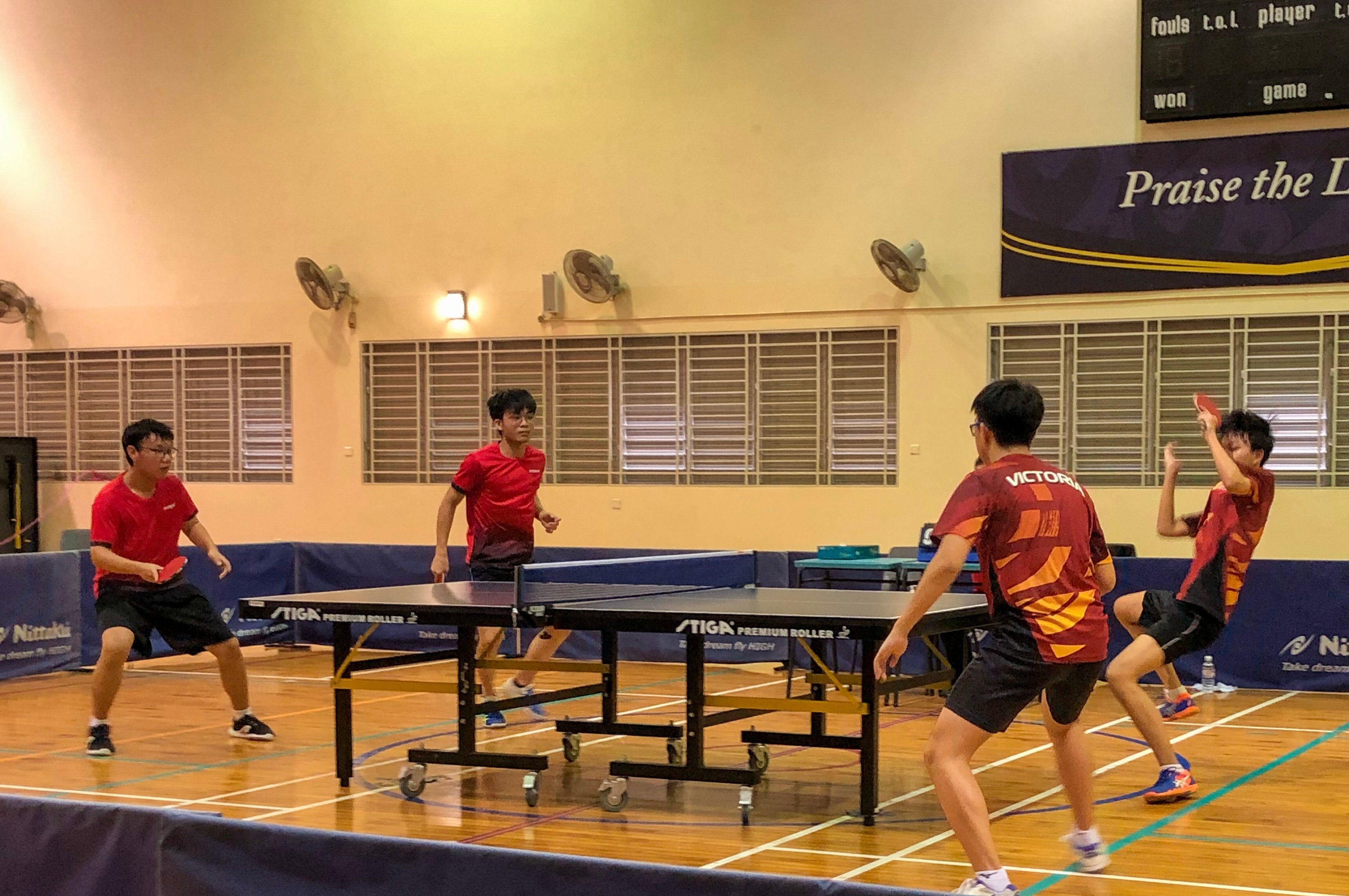 Victoria duo Jayden Poh and Roydon Young (right) found the going tough against Dunman's Lee Jun Rui and Li Jia Qi in the first doubles. Photo Credit: Kenneth Tan
The Dunmanians came roaring back in the subsequent first doubles, with Lee Jun Rui and Li Jia Qi downing Victoria's duo of Jayden Poh and Roydon Young in straight sets (15-13, 11-5, 12-10) to level the overall score.
The positive momentum was carried into the second singles as Joel Ng's wicked chops and swerves on his shots made life difficult for Victoria's Han Jie Rong, as he won 3-0 (11-4, 12-10, 11-7) to put DHS 2-1 ahead.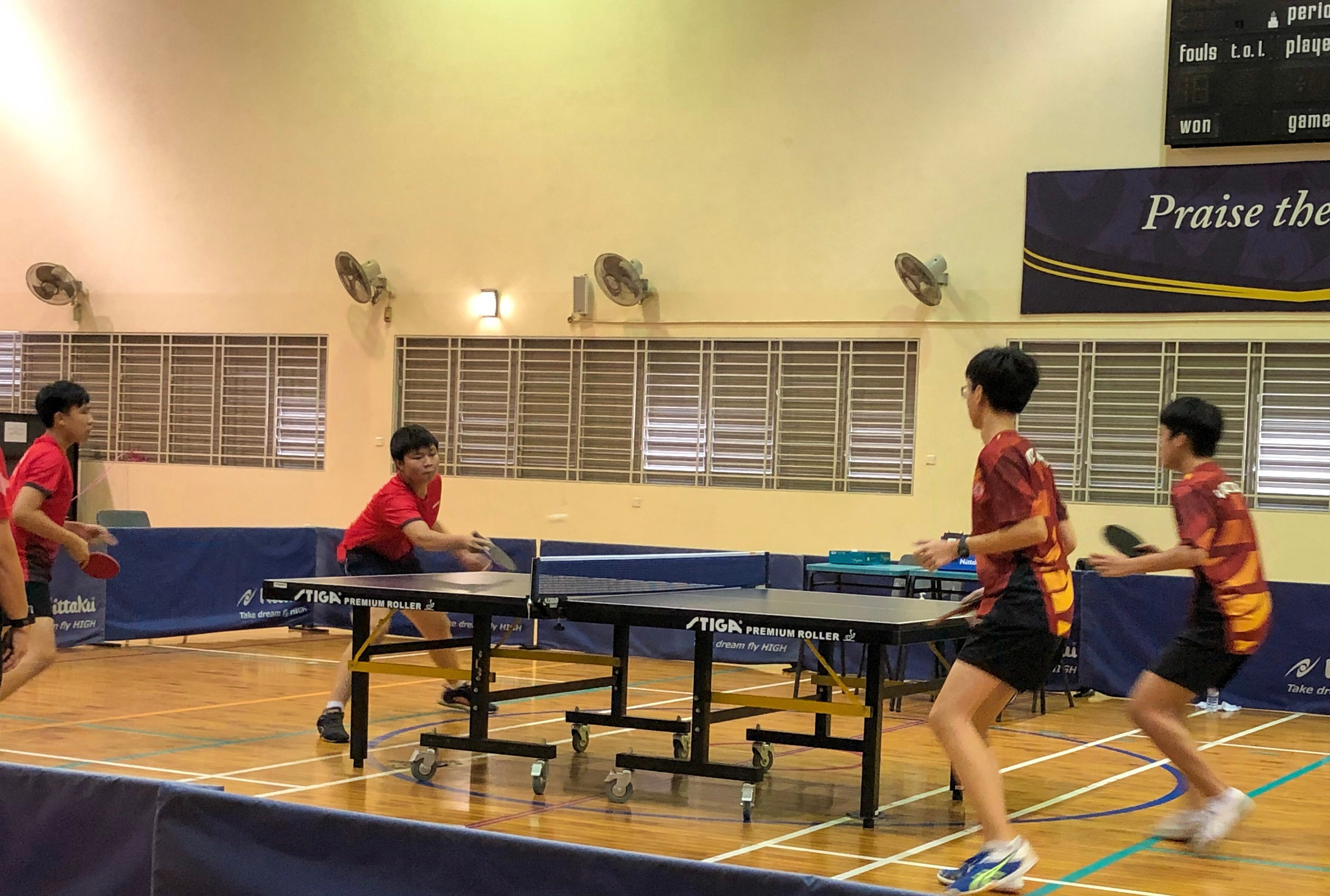 (Cacares Neo and Linus Tan (left) overpowered Victoria pair Brian Tan and Oh Joo Seng to seal a 3-1 win for Dunman. Photo Credit: Kenneth Tan)
The job was completed in the second doubles, with Caceres Neo and Linus Tan having too much guile for VS pair Brian Tan and Oh Joo Sheng to handle, as they emerged victorious in straight sets (11-8, 11-4, 11-8) to give the Dunmanians an overall 3-1 win.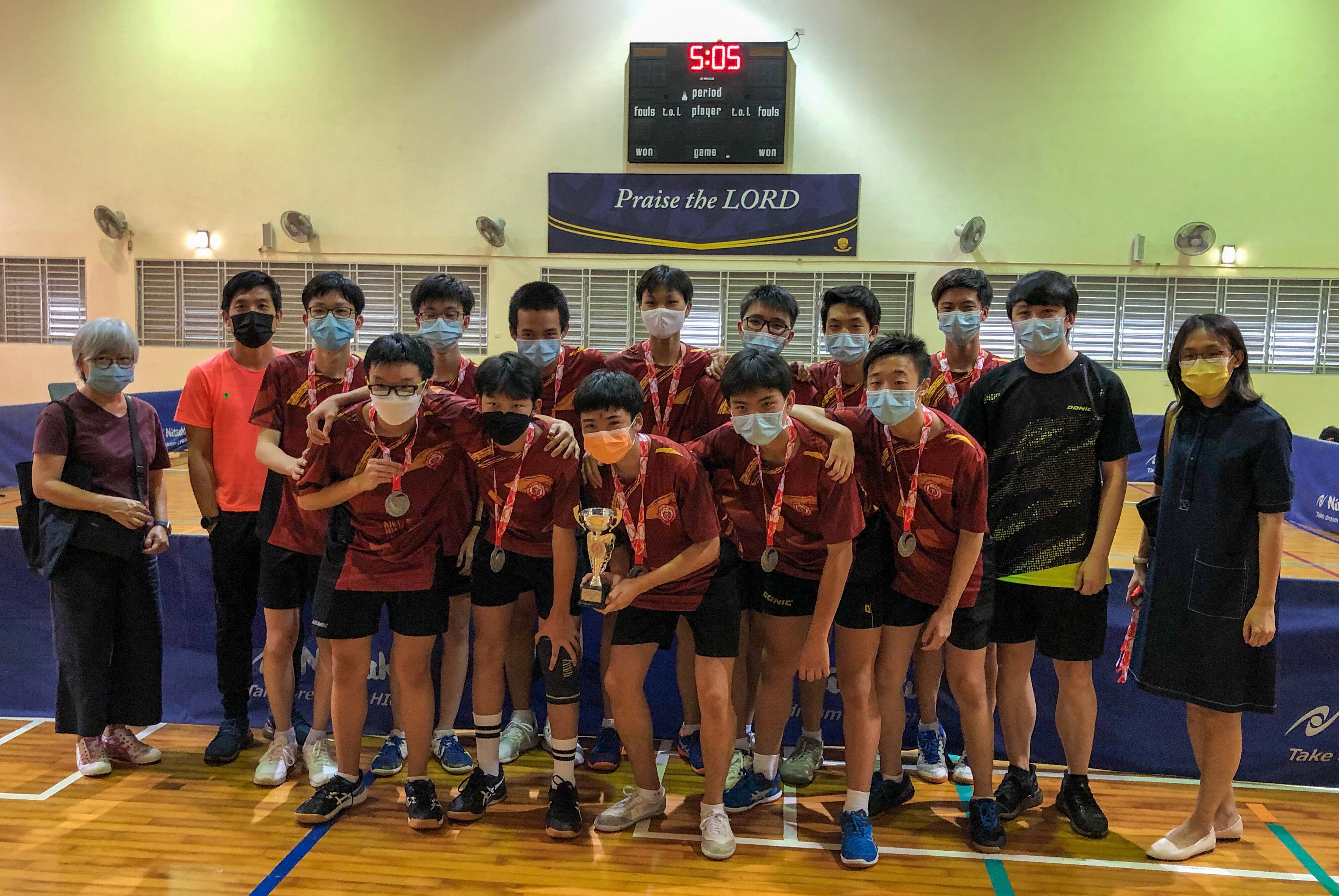 (Victoria School's paddlers posing with their 2nd place trophy after a valiant fight. Photo Credit : Kenneth Tan)
While there was obvious disappointment in losing the final yet again, Victoria's captain Brian believes the process of getting there meant more than the result.
"Overall our team lacked a bit of competition experience and some of us may need more improvement in terms of coping with stress or tense situations. But I believe all of us trained quite hard and tried our best," said the 16-year-old.
"It's been a fun and fulfilling journey together. On the bus, there'll be some of us playing loud music and we sing along together. There's a lot of brothership in it – we trained hard but also had a lot of fun as one team. With more trainings, I believe we can do much better to get gold."
(Post-match Interview with Dunman High's vice-captains, Lee Jun Rui and Wang Dongyu. Video Credit : Kenneth Tan)
(Post-match Interview with Brian Tan - Captain, Victoria School. Video Credit : Kenneth Tan)
In an earlier match on the same afternoon, Anglican High School defeated Chung Cheng High School (Main) 3-1 to finish 3rd in the B Div East Zone for a second successive year.
(For all the news, post-match interview videos, stories, photos, fanzone details and much more from the 2022 National School Games, do visit our website : go.gov.sg/nationalschoolgames)