It's a superb start for Raffles Girls' School in NSG Tennis!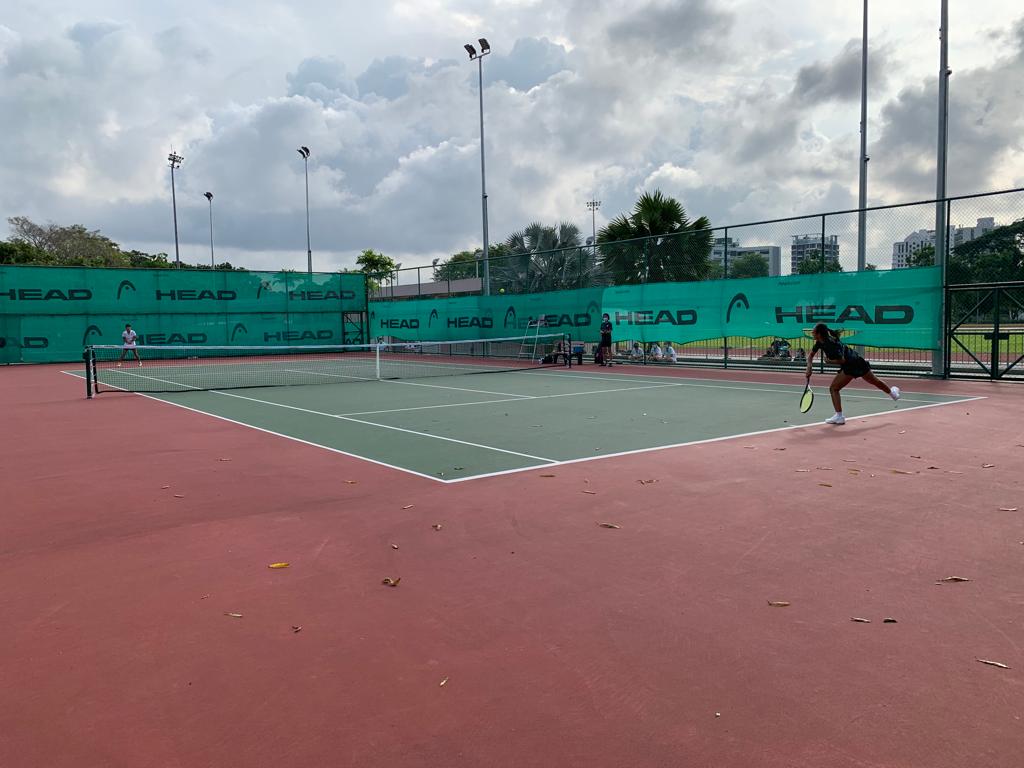 Sofia Jane Wong Enqui, Raffles Girls' School (near-court) serving to Audrey Tong (Methodist Girls' School). Photo Credit : Mohit Lalvani
By Mohit Lalwani
Any tennis player will tell you that when they open a new can of balls, the sound of decompression with the accompanying smell of fresh rubber and felt, invigorates one's senses no matter how often they may have experienced it.
With the National School Games back, the Evans Road tennis courts were a flurry of activity on 22nd of March as Methodist Girls' School (MGS) was taking on Raffles Girls School in the B Division. Methodist Girls' were the 2019 champions and were looking for redemption, having been stunned by rivals Singapore Chinese Girls School in the finals last year.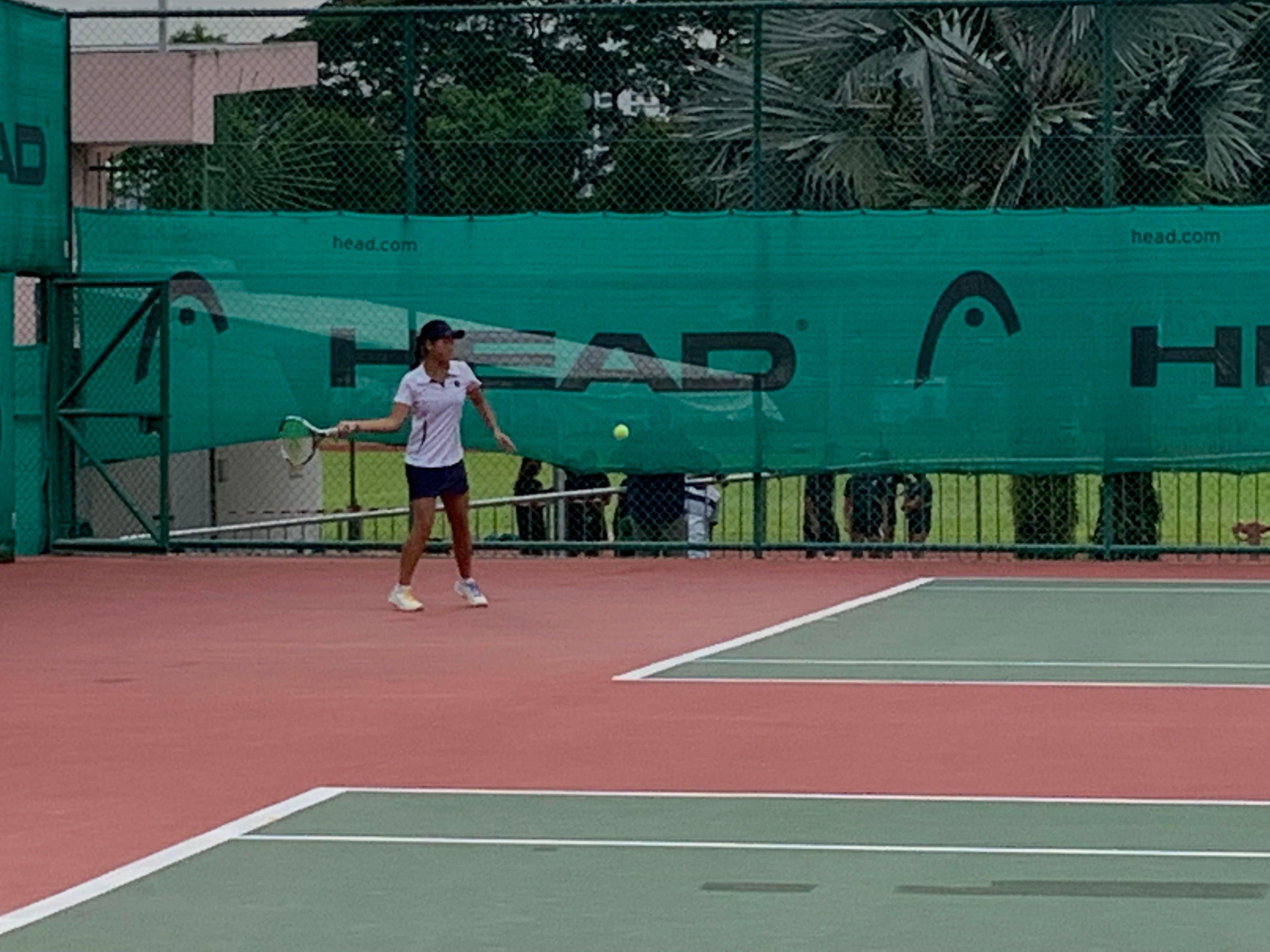 Audrey Tong, Methodist Girls' School (during pre-game warmup). Photo Credit : Mohit Lalvani
The first match began on song for MGS with Audrey Tong receiving and breaking serve in the very first game. Following that up with a strong service game, announcing her intent with a nice approach and a put-away backhand volley, she put the game away. As the sun began to break through the cloud, RGS began to claw back and their number 1 player, Sofia Jane Wong Enqui dug in deep, breaking back and holding on the back of unforced errors from the other side of the net.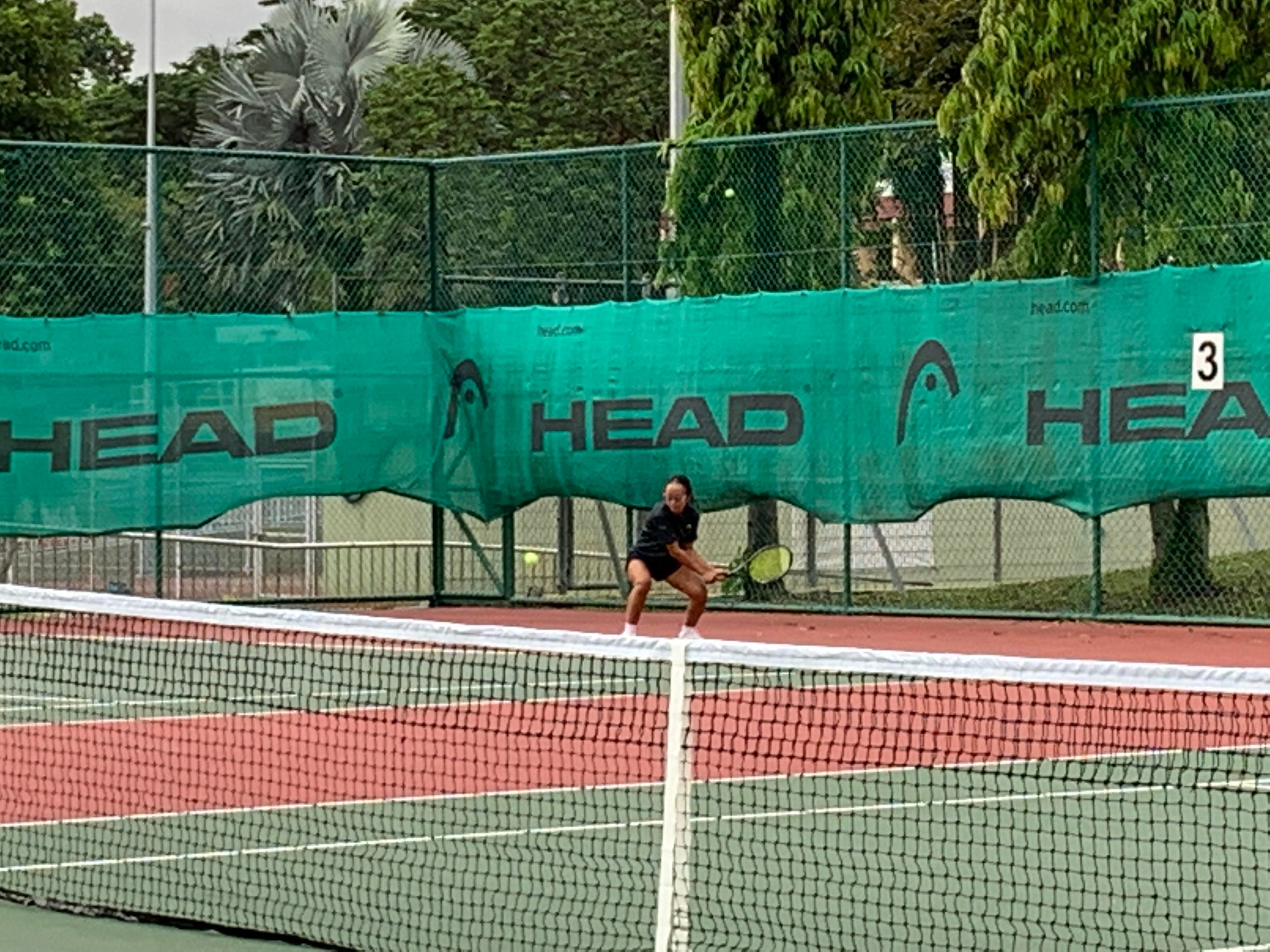 Sofia Jane Wong Enqui, Raffles Girls' School (during pre-match warmup session) Photo Credit : Mohit Lalvani
(For all the news, interviews, results, schedules, videos, stories, photos, fanzone details and much more from the 2022 National School Games, do visit our website : go.gov.sg/nationalschoolgames)
With games played to 9 over a single set, neither wanted to give an inch and Audrey held her serve and then broke again to go 3-2 up. But it seemed that something was bothering her and the turning point in the match came in game 6, with Audrey taking the ball too early on the service toss, serving up the next game on a platter to Sofia with back-to-back double faults. 3 games later, Raffles Girls' were inching towards victory as Sofia raced away to a 6-3 lead, building a wall of resistance, almost forcing the error even as it seemed that Audrey was clearly saving her shoulder, having to rely on the slice rather than her booming groundstrokes.
With just 1 break between them, Audrey needed to hold and did so well. But in the next crucial game, Sofia kept up the pressure and closed out the first match for the win for RGS!
Next on the court was Sofia's twin sister, Sarah Anne who picked up where her sister had left off providing her opponent Erica Chiang Xing Li a masterclass in consistency with a dominant performance to away the team result beyond any doubt. With matches punctuated by cheering, it was Andre Agassi who described the atmosphere at Evans Road best when he said, "You'll hear a lot of applause in your life, fellas, but none will mean more to you than that applause from your peers. I hope each of you hears that at the end."
Final score : Methodist Girls' School 1-4 Raffles Girls' School
(Post-match interview with Sofia Jane Wong Enqui, Captain-Raffles Girls' School. Video Credit : Mohit Lalvani)
Captain Sofia and her RGS team-mates will return to the court on Thurs (24/3) for their 2nd prelim group match against Tanjong Katong Girls' School.
(For all the news, interviews, results, schedules, videos, stories, photos, fanzone details and much more from the 2022 National School Games, do visit our website : go.gov.sg/nationalschoolgames)