Swiss Cottage Rules The House!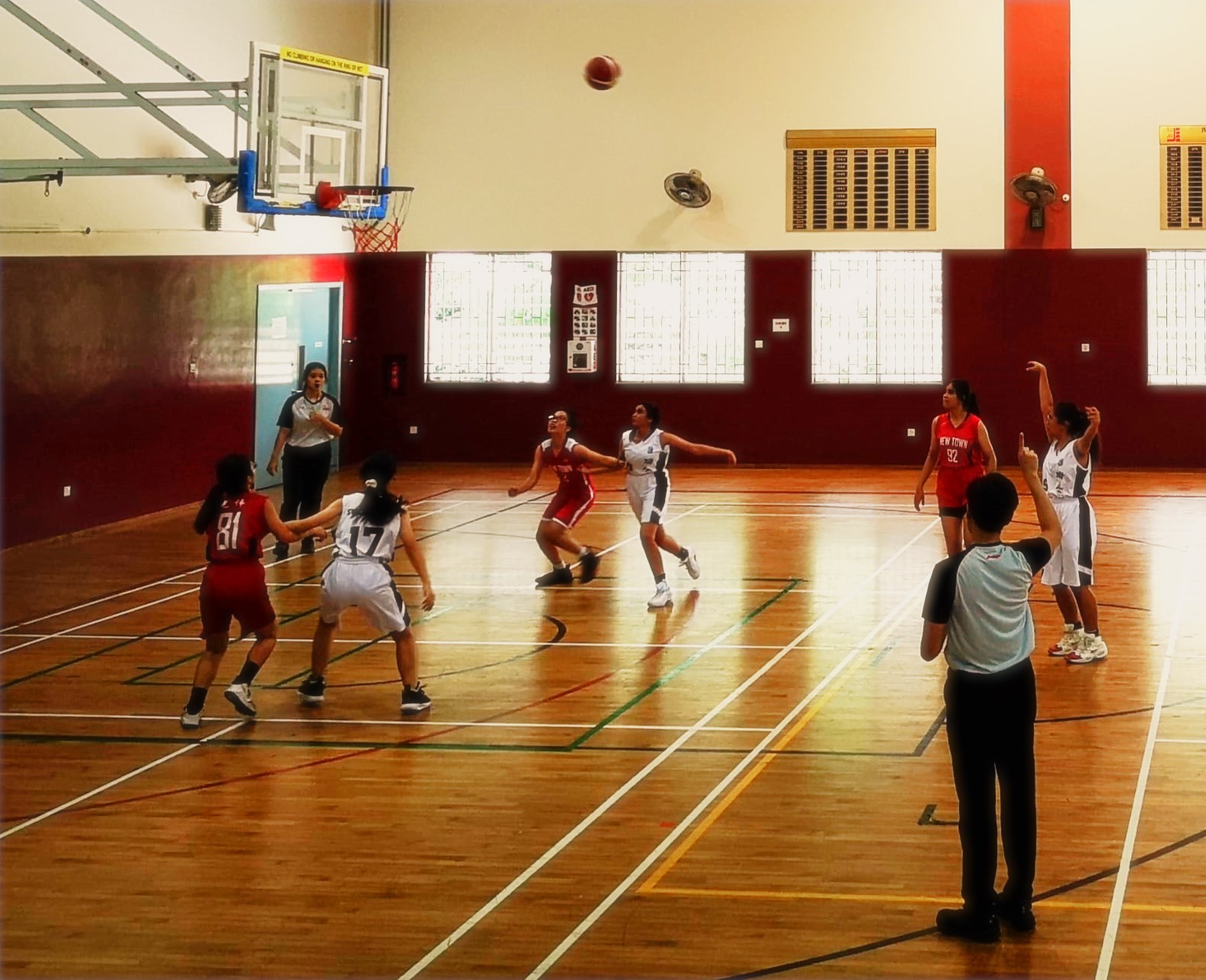 Under Pressure : Swiss Cottage Sec (white) keep New Town Sec on their toes in final quarter. Photo Credit : By Glenn Mascarenhas
By Glenn Mascarenhas
Team strategy, shooting accuracy and ball control are key elements that separate the winners from the opposition in a game of Basketball. And Swiss Cottage Secondary School brought that to the table on Tuesday (29/3), with a commanding victory over New Town Secondary School in the Basketball West B Div Girls Preliminary match.
The first quarter started off with Swiss Cottage harnessing the advantage of two pointers to claim the period 8 – 0, captain Jianna Grace leading the way with her hustling skills and accurate jump shots.
(For all the news, post-match interview videos, stories, photos, fanzone details and much more from the 2022 National School Games, do visit our website : go.gov.sg/nationalschoolgames)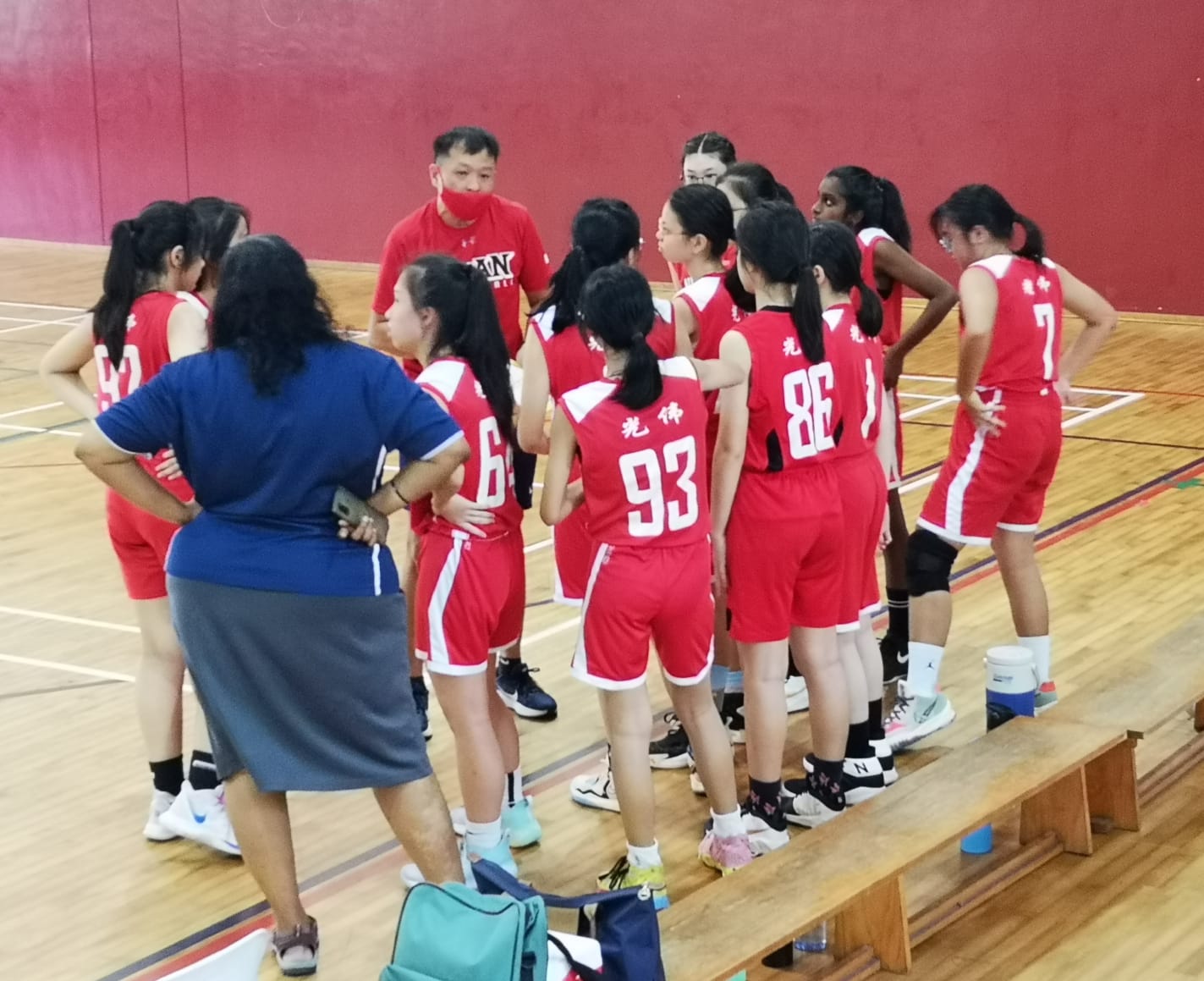 (It's Now or Never - Coach Elvin Chong motivates his New Town Secondary School cagers. Photo Credit : Glenn Mascarenhas)
In the 2nd quarter, it was all about New Town Secondary school with Lim Zhi Jun leading the fightback, as she netted the first field goal for her team, when she latched on to a bricked shot by Alicia Nonis. A minute later and Lim Zhi Jun was back in action with a semi jump shot to score another 2 points. Swiss Cottage weren't willing to exit the driver's seat and they reclaimed the advantage with a few good lay ups and hustles to end the period at 7-6.
The 3rd quarter started with Lim Zhi Jun and Alicia Nonis putting in maximum effort to see their team out of the deep. but Captain Jianna swished a two pointer to keep her team in control once again. Then as New Town seemed to have found a ray of hope in Lim Zhi Jun who put a fantastic drive on display, an ankle injury saw her out of the game with the Swiss Students once again winning the period 5-2.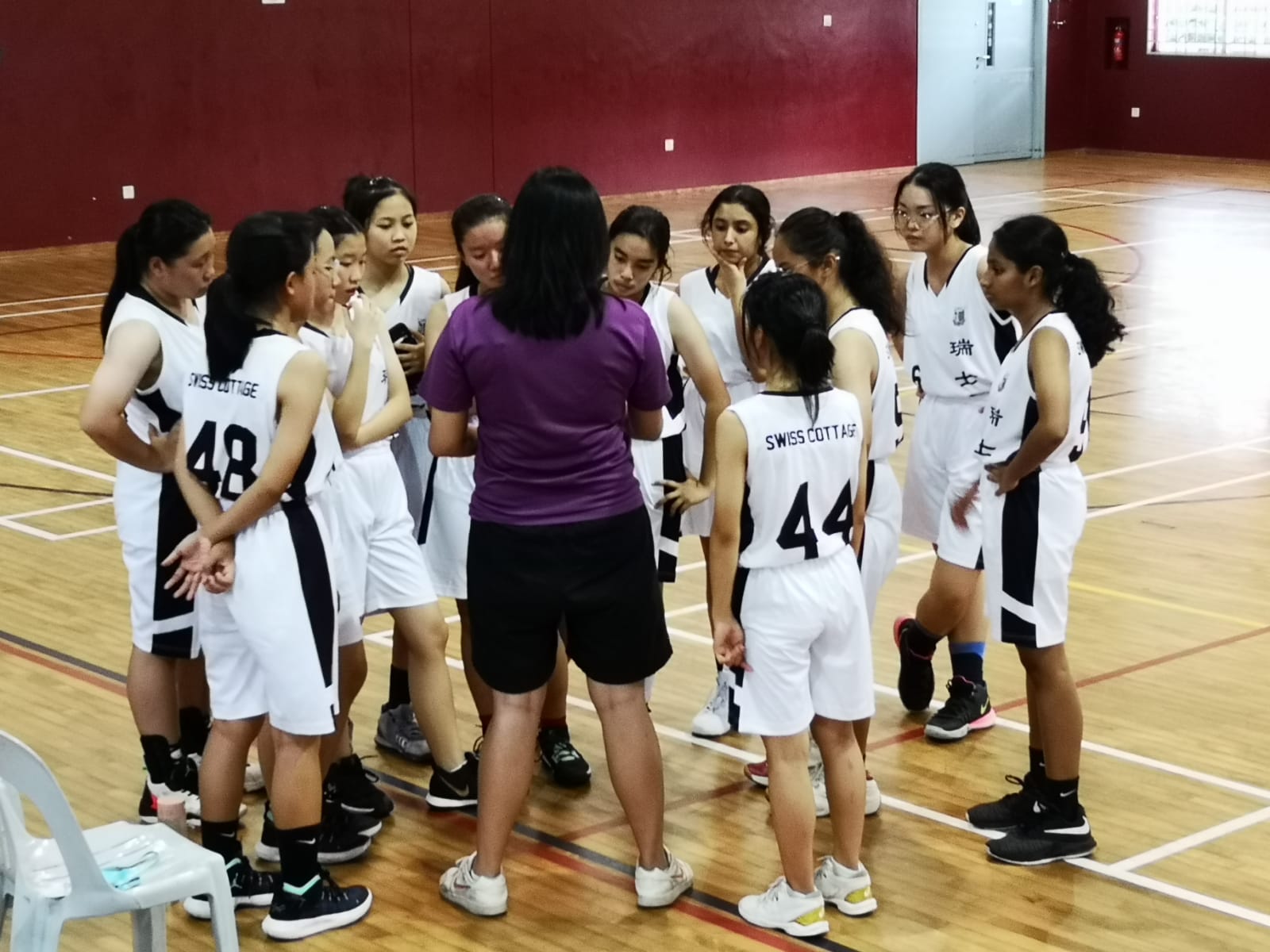 (This Is How You Do It - Coach Lim Bee Lian with a quick pep talk with her Swiss Students. Photo Credit : Glenn Mascarenhas)
Come the 4th and final quarter of the battle between both secondary schools and it was Swiss Cottage that assumed control from the start to the finish. That was with organised team work, excellent drives and a flurry of jump shots that found the hoop successfully - the outcome an 18-2 reading on the score board at the end of the quarter and a well-earned 38-10 triumph by Swiss Cottage Secondary over rivals New Town!
SportSG caught up with Swiss Cottage team Captain Jianna Grace and she was happy with her squad's performance, "All of us worked as a team, we had our goal in mind which was to win and so we stuck to the plan and executed it exactly as our coach advised us to do. For the past two years with Covid interfering and NSG having to cancel games, we just kept training and preparing for games while back in school. No matter what the circumstance, even with all the obstacles, we will always be prepared as a team for the National School games."
The skipper and star player of the team did feel that there were areas that the team still needed to work on, "I felt that at the start of the game, all of us were pretty nervous and scared of the game ahead of us, this being our first game after two years but towards the end of the game everyone found their rhythm and were able to perform and do well."
While opponents New Town were competitive, Jianna was of the view that the moment belonged to her team, "Both teams played their best to win, but today I felt we were more organised and we were able to push through harder to win. Swiss Cottage would like to wish our opponents all the best for their games in the future.
The girls will barely have time to celebrate though with more challenges in the pipeline. Before our upcoming games, we will be back in school and we will continue to train hard. We will plan out a better strategy and try to execute it perfectly, so that when we get into each new game, everyone has the same mindset to win and to achieve a common goal."
(For all the news, post-match interview videos, stories, photos, fanzone details and much more from the 2022 National School Games, do visit our website : go.gov.sg/nationalschoolgames)