NSG Silver medallist Jordan Tan : Trusting the process, being patient and staying hungry, would help propel anyone in the right direction!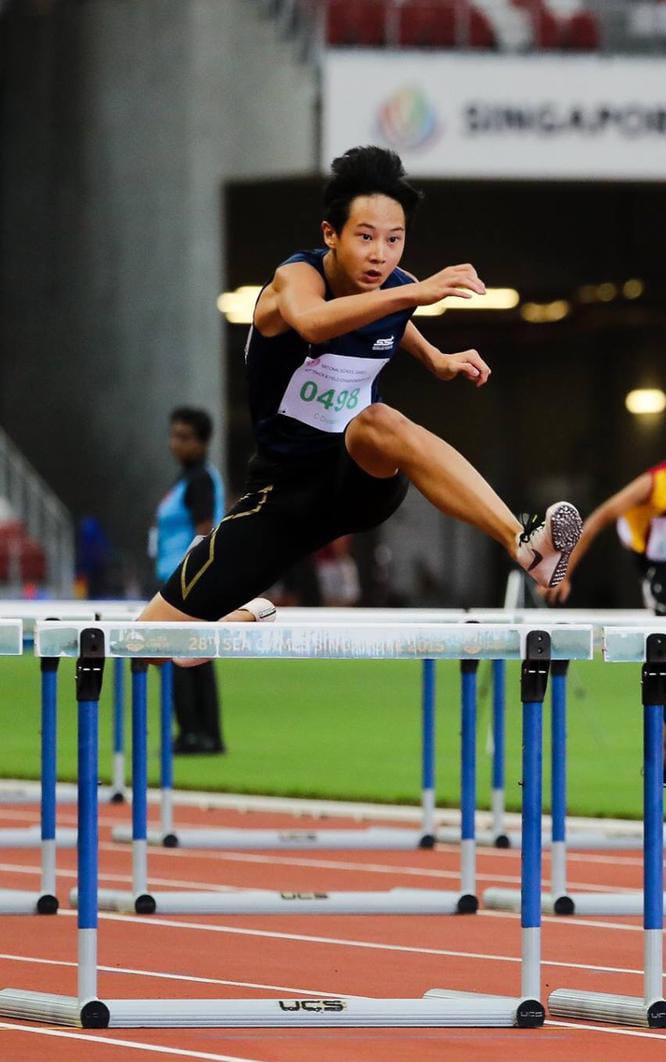 (TeamSG Youth Hurdler, Jordan Tan)
By Circle Editorial Team
Team Singapore youth hurdler Jordan Tan, represented his current School of Science & Technology (Singapore) in the 2019 National School Games. Back then at 14, he clinched the Silver medal in the C Division's 100m Hurdles Final. Today, he's prepping for his O Levels which are taking place in 6 months and he's also part of the national U18 High Performance team. Here's Jordan in an email interview with Circle News.
1)What compelled you to compete at the National School Games?I've been in track and field since Primary 3. But I never did well in Primary school, always falling short of a top-8 position. Moving into Secondary school, initially I wasn't even sure If I wanted to continue with track. But after thinking through it, I felt that I really wanted to achieve something in the sport, and that I've already invested so much time in it, let's not waste it. From then on, the goal was set on nothing, but winning a medal at National Schools.
2) Which discipline were you competing in?
My main event is the 110m Hurdles but I occasionally compete in the 100m as well.
3)What was your objective before the start of competition?
Stay calm, execute and run my own race. If I could execute the race well, the timing would come.
4)How did you prepare for the Hurdles event?
I feel the most important thing for a hurdler is to be comfortable with the hurdles, getting aggressive into and over the hurdles. Therefore quite a bit of my training in Secondary 1 leading up to Nationals in 2019 was based around getting a fast, aggressive start over the first hurdle and getting comfortable sprinting into the hurdles.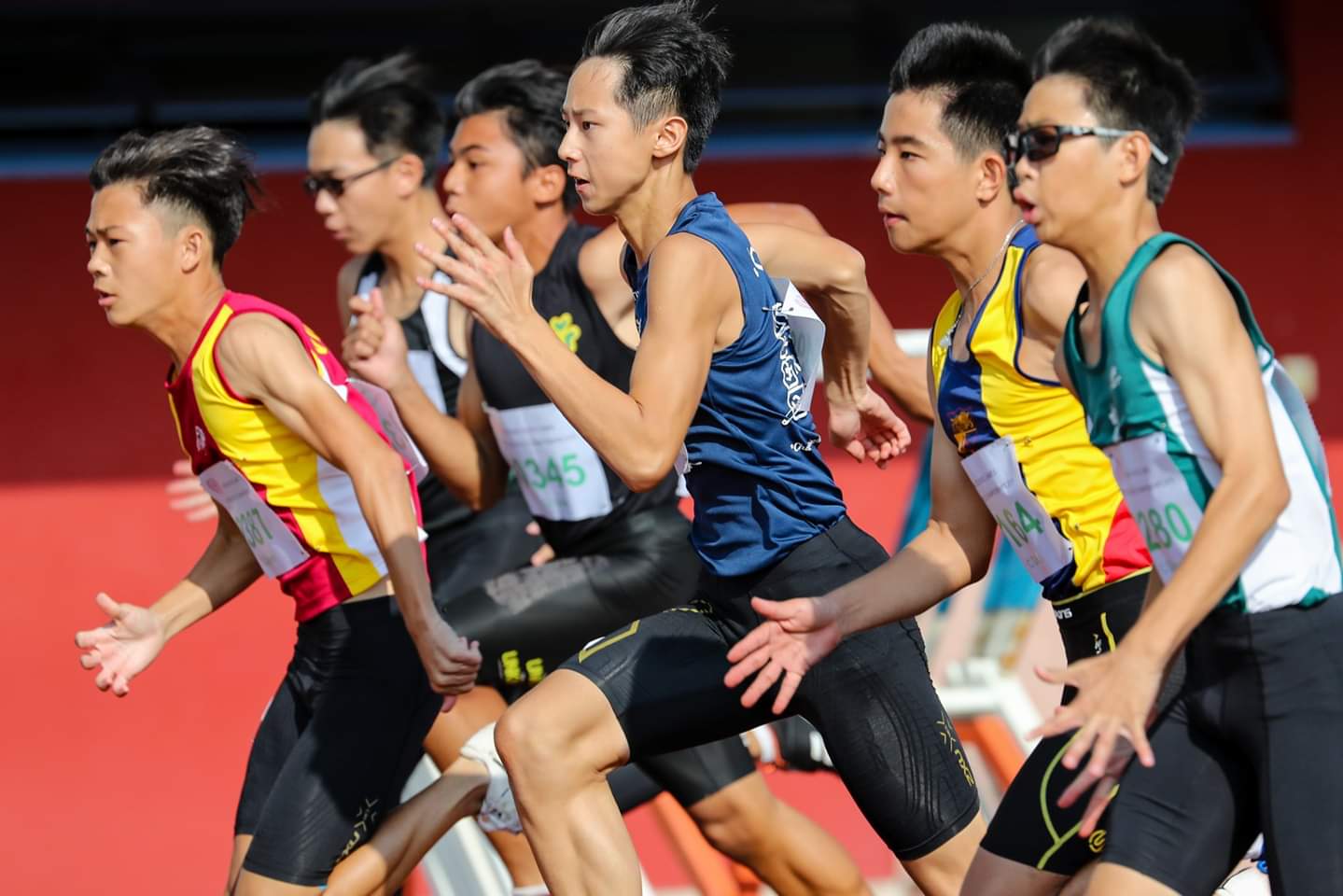 Jordan Tan (Blue Top)
5)What song were you listening to, before stepping onto the track in the Final?
If I could recall the song I was listening to right before we stepped out was "Disasterpiece" by Slipknot, and throughout the warm up I was listening to the entirety of the Iowa album.
6)Do you remember receiving any special advice just before competing?
"Execute." There's nothing else that needs to be said really, if you're ready, you're ready, if you're not, you shouldn't be here.
7)Any special rituals that you do, prior to stepping on the track to race?
Before races I'd listen to heavy metal or music that would get me pumped up. I often prefer/try to isolate myself before the race, rarely talking to anyone during warmup.
8)Tell us about the actual race where you went on to win a Silver medal?
I remember standing at the line and all I was telling myself was to "chiong" the first hurdle. As the gun went, we were up and running; I could hear my competitors' footsteps get louder and louder and before I could react we had crossed the line, him edging in front. Initially being disappointed, I saw the board and realised that our timings were off by a mere 0.05s. I just told myself: "at least we put on a good show" .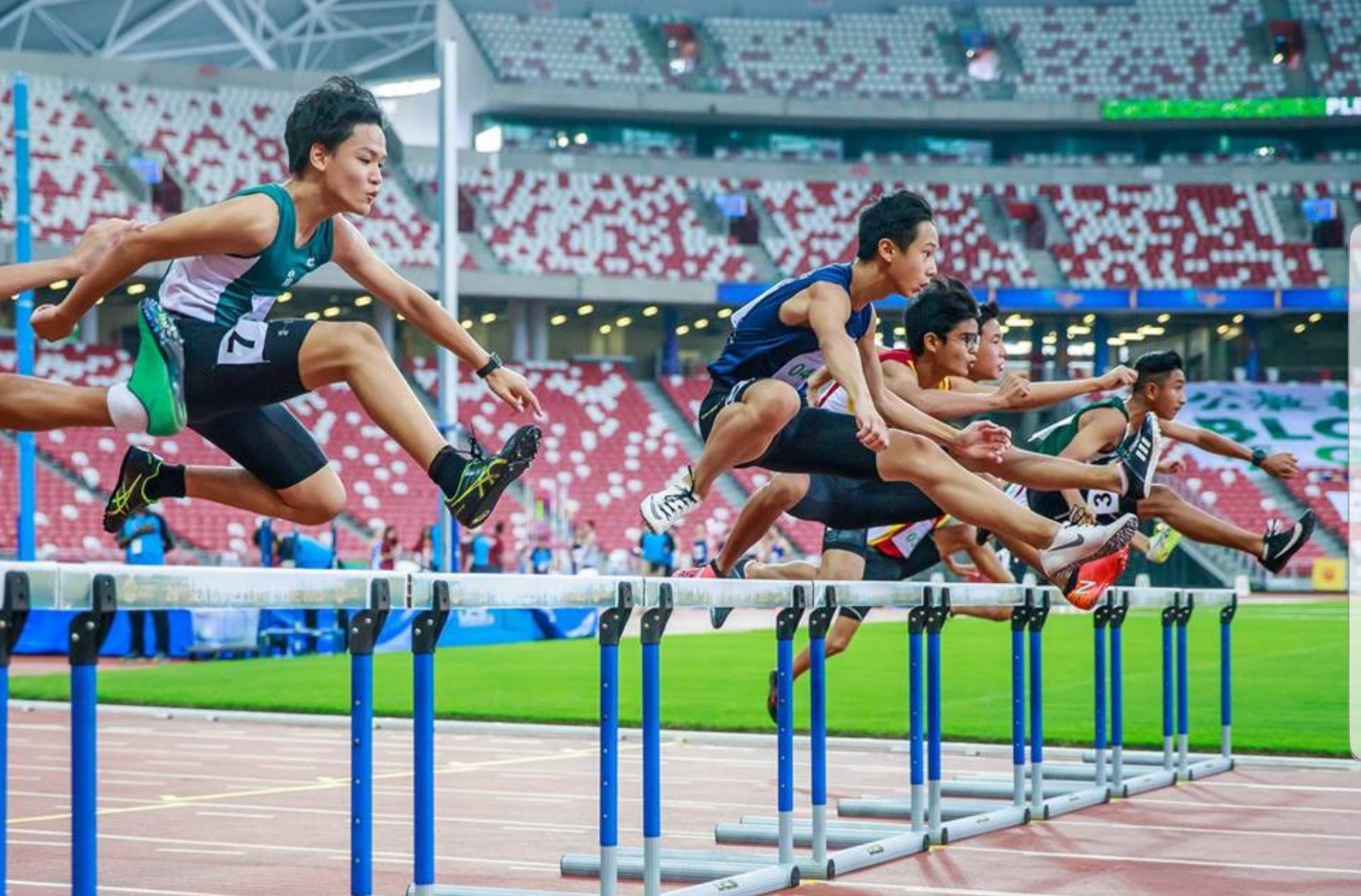 Jordan Tan (Blue Top)
9)If there's 1 lesson/experience that you learnt from the School Games, what would that be?
Give it your all, and when you know you've done your best, you'll be satisfied regardless of the result. As much as I wanted to win gold in 2019, I couldn't be beat up over the fact that I didn't. To me, I've done all I could to prepare in the past year and I was happy with what I was able to achieve. Not winning gold actually helped me stay even more hungry and that really helped in my transition process from 100m hurdles to 110m hurdles.
10)How did the NSG prepare you for further advancements in your sports career?
NSG was a really good experience for me personally, it was the first time in such an environment, the atmosphere, the pressure, it was difficult to stay calm when put in such a situation. However, the mind set I had to bring into the race really helped me stay calm in other competitions, where the atmosphere is less tense and the race happens in a familiar place.
11)What advice would you like to share with the 2021 cohort of students competing in the NSG?
Be patient and Stay hungry, half of the time training is less physically draining than it is mentally especially when having to balance between sports and academics. I feel that most of the time younger athletes tend to be more impulsive and eager, rushing into things and not understanding the importance of basic fundamentals. Trusting the process, being patient and staying hungry would help propel anyone in the right direction.
12) Are you hoping to represent Singapore at the SEA Games this coming December?
This December, No! That's cos my current hurdle height is lower than the senior's by about 8cm, however, in the near future definitely. SEA Games is something we have to overcome before even thinking about competing at higher levels such as Asia or World Championships.