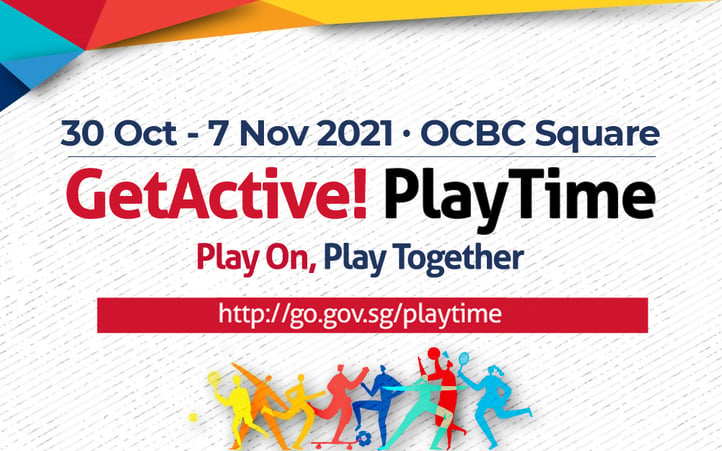 Community on-ground events made their much-awaited return with GetActive! Playtime, a week-long dance and sporting extravaganza that aimed to encourage Singaporeans both young and old to come together, get up and get moving! Continue to do so with the resumption of team sports today!

The extension of the Stabilization Phase didn't dampen Singaporeans' moods, as they exhibited in full their excitement of the array of events offered. From dance battles to urban sports and even tailor-made virtual activities for seniors, there's something for just about everyone to Play On and Play Together!
Wrap Up
Catch the Wrap Up Video of the event here!
Lion City Dance Convention
Organised by YouthCreates and Active Groove (part of the ActiveSG's Academies and Clubs' portfolio), the Lion City Dance Convention saw aspiring dance talents duke it out, battle style, in this inaugural street dance event. On the opening weekend, these rising stars unleashed their moves in two categories: 1v1 Breaking and 2v2 Open Style in a behind closed doors audition for a spot in the finals. One week later, these contestants took to the open stage outside Kallang Wave Mall for a final showdown.
Photo by Team Nila Content Producer, Ron Low
Photo by Team Nila Content Producer, Eric Koh
If you missed the live streams, you can still watch all 64 finalists and their first-round battles here! Cast a vote for your favourite act, and stand a chance to win attractive prizes worth up to $300.
Ramp It Up / Shredder Series
Photo by Team Nila Content Producer, Eric Koh
Photo by Team Nila Content Producer, Ken Chia
While the dancers threw down on the dance floor, YouthCreates populated the open event area via Ramp It Up, where young skaters dominated the ramps in the Skateboarding Miniramp Challenge, the richest miniramp contest across multiple age groups. Young cyclists in the most exciting discipline in freestyle BMX also had their turn in the spotlight in the BMX Flatland Competition.
Photo by Team Nila Content Producer, Ron Low
Photo by Team Nila Content Producer, Haru
Inspired, wheel sports enthusiasts took to the main event area in YouthCreates' Shredder Series. Through 3 levels of skate clinics designed for beginners, these newbie skaters learned valuable tips and even how to drop in from a ramp.
Street Games
It was smiles all around over the weekdays too, as families and friends alike tried their hand at racquet sports, but with a creative spin. It's badminton and table tennis, with a twist!
Photo by Team Nila Content Producer, Ron Low
Photo by Team Nila Content Producer, Manoj
Air Badminton involves a unique shuttlecock that is resistant to wind, as well as a dead zone where one cannot enter while returning a rally. TTX is a new way of playing table tennis with the use of bigger balls and non-rubber bats.
Age Playfullynm
Older Singaporeans also had their go in virtual space, through exciting programmes designed specifically for those above 40 years old to continue playing and learning regardless of age. It was a fun-filled morning with a wide variety of workshops, with speakers from Khoo Teck Puat Hospital and Ministry of Health Holdings, and dynamic fitness workouts for the seniors to choose from.
Participants could pick up tips to help them better handle the exertions of hiking, join Active Farming@ActiveSG Sport Centres, learn how to improve their physical and mental strength, and even dance to their hearts' contents over the virtual session on the 29th of October.
------------------------------------------------------------------------------------------
We would like to express our sincere gratitude to everyone for their lively participation in all the GetActive! Playtime events across physical and digital space. It was truly heartening to see everyone being able to play on, play together safely. We look forward to seeing the community remaining active (safely) despite these trying times.
Playtime doesn't have to end there. We have begun resuming selected team sports at selected ActiveSG Sport Centres, and slots are already flying off the shelves! Find out what and where to play here! In the meantime, stay active with classes across a variety of disciplines over on Circle Watch today!