Safe Sport Commission Announces Its First Safe Sport Disciplinary Panel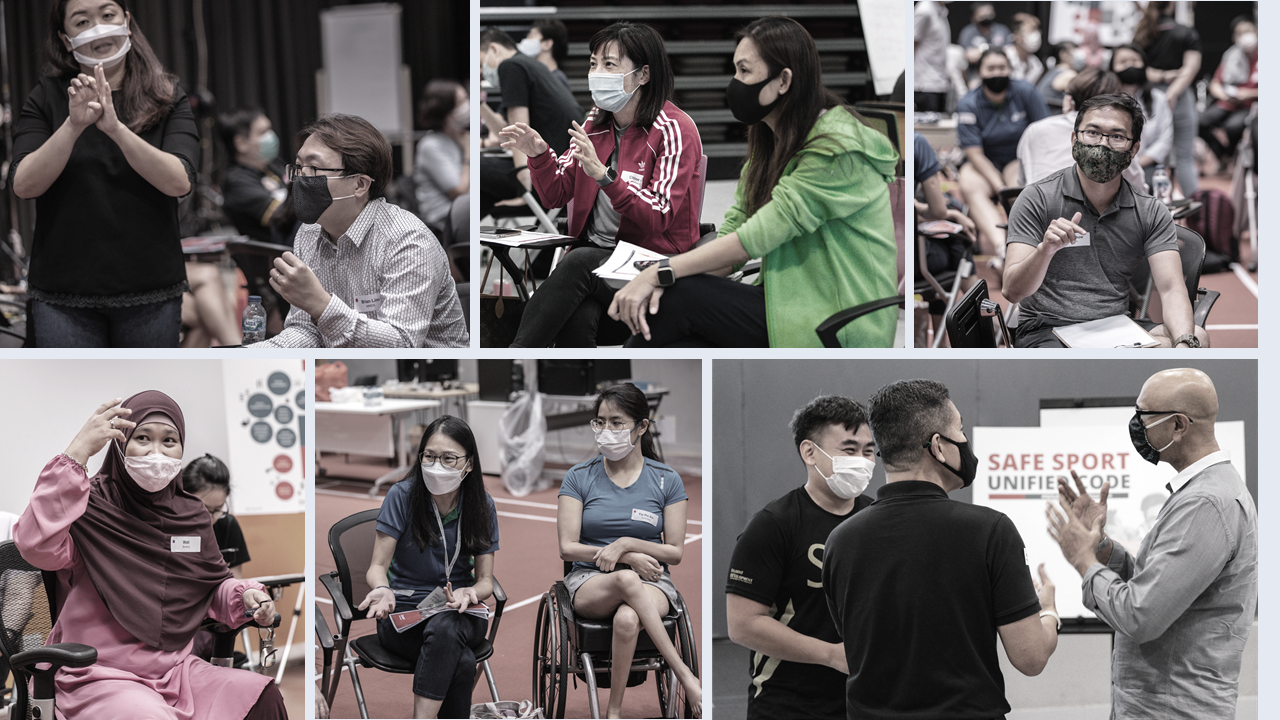 Photo Credit : Safe Sport Commission
9 September 2022 – The Safe Sport Commission today announced its first Safe Sport Disciplinary Panel to hear, resolve and adjudicate safe sport reports and violations for member organisations under the Safe Sport Programme.
Since the Safe Sport Commission was established in 2019, it has laid foundations for the Safe Sport Programme in areas such as training and education, policymaking and advocacy, and partners engagement. Last November, it launched the Safe Sport Unified Code, the cornerstone of the Safe Sport Programme that sets out the community agreed standards of misconduct which may take place in the sporting environment. Consultations with the sporting fraternity are also being held regularly, to ensure a community-driven framework that is applicable to the Singapore sporting landscape, as well as a fair and consistent approach when managing cases of misconduct. The Safe Sport Disciplinary Panel is a further development of the Programme and part of its phased approach to roll out the Safe Sport Programme over the next three years.
Mr Edwin Tong, Minister for Culture, Community and Youth (MCCY) & Second Minister for Law, said, "Everyone should be able to participate in sports in a safe space, free from harassment and abuse. The Safe Sport Programme demonstrates not just the government's commitment, but also the sporting fraternity's promise to protect this space. When we launched the Unified Code in November 2021, we set out the community-agreed standards of misconduct in sport. Now, with the establishment of the Disciplinary Panel, we have created an independent channel for resolution to ensure cases will be handled fairly. Our quest for safe sport does not end here. We will continue working with the community to build a home where all of us can enjoy sport and share great sporting moments together."
The Safe Sport Disciplinary Panel comprises independent individuals appointed by the MCCY to perform adjudicative functions in accordance with the rules of the Safe Sport Programme (see Annex A for full list of members and their relevant experience). Their appointment will be for a period of two years, with effect from 1 August 2022. Disciplinary and Appeal Committees for each hearing will be appointed by the Disciplinary Panel Chair, Senior Counsel Ms Molly Lim, to determine the appropriate measures and sanctions. Lim is an experienced member of the disciplinary tribunals for the Singapore Medical Council and Singapore Law Society.
"All of us know the values of sport and how it contributes to better living. Safe Sport is an initiative that allows our people to engage and enjoy sports without any fear of abuse. Within its ambit, the Disciplinary Panel plays a critical role in assessing allegations, establishing facts and taking appropriate actions where necessary. It is important that all affected parties are given a fair hearing while considering the bearing on the people involved and the sport community at large," said Lim.
The Safe Sport Commission's case management service provides a transparent and clear case management process for member organisations of the Safe Sport Programme and helps to relieve the administrative burden on organisations while providing assurance to all parties involved that due process is present to investigate reports.
A decision-making framework is in place to guide the Safe Sport Commission and Disciplinary Committee in their determinations. When a report is received against an individual who is under the governance of a member organisation of the Safe Sport Programme, the Safe Sport Commission will first assess if a breach of the Unified Code has occurred and following that, commence formal investigations where appropriate. Moderate to severe cases will be referred to the Safe Sport Disciplinary Panel, and criminal offences will also be referred to the police. Respondents will have the opportunity to be heard by the Safe Sport Disciplinary Panel, who will ascertain the seriousness of the misconduct based on the degree of culpability and harm caused and consider the aggravating and mitigating factors before coming to a decision on the appropriate measures or sanctions[1]. For misconduct classified as low severity, the Safe Sport Commission will work with member organisations to provide support to affected parties, address concerns raised through implementation of appropriate measures (e.g. education and policies), or determine if any other appropriate organisation-level measures could be undertaken (see Annex B and Annex C for more information on the resolution process and decision-making framework)
Since April 2022, the Safe Sport Commission has begun to roll out the Safe Sport Programme to the sporting fraternity. This onboarding process is being done progressively, starting with a comprehensive outreach to the National Sports Associations (NSAs) to establish important policies covering sporting activities, training sessions and competitions, and is targeted to be completed by first quarter of 2023. Pilot programmes with commercial sport programme providers are also underway. Following that, the Safe Sport Commission will conduct its outreach to various organisations to assimilate the larger sporting community with the Unified Code. There are also plans to develop design guidelines to assist facility providers in developing safe sporting spaces which give consideration for entrapment areas or blind spots.
For more information on the Safe Sport Programme, visit www.safesport.sg