Singapore's young wushu team delivers best away SEA Games performance!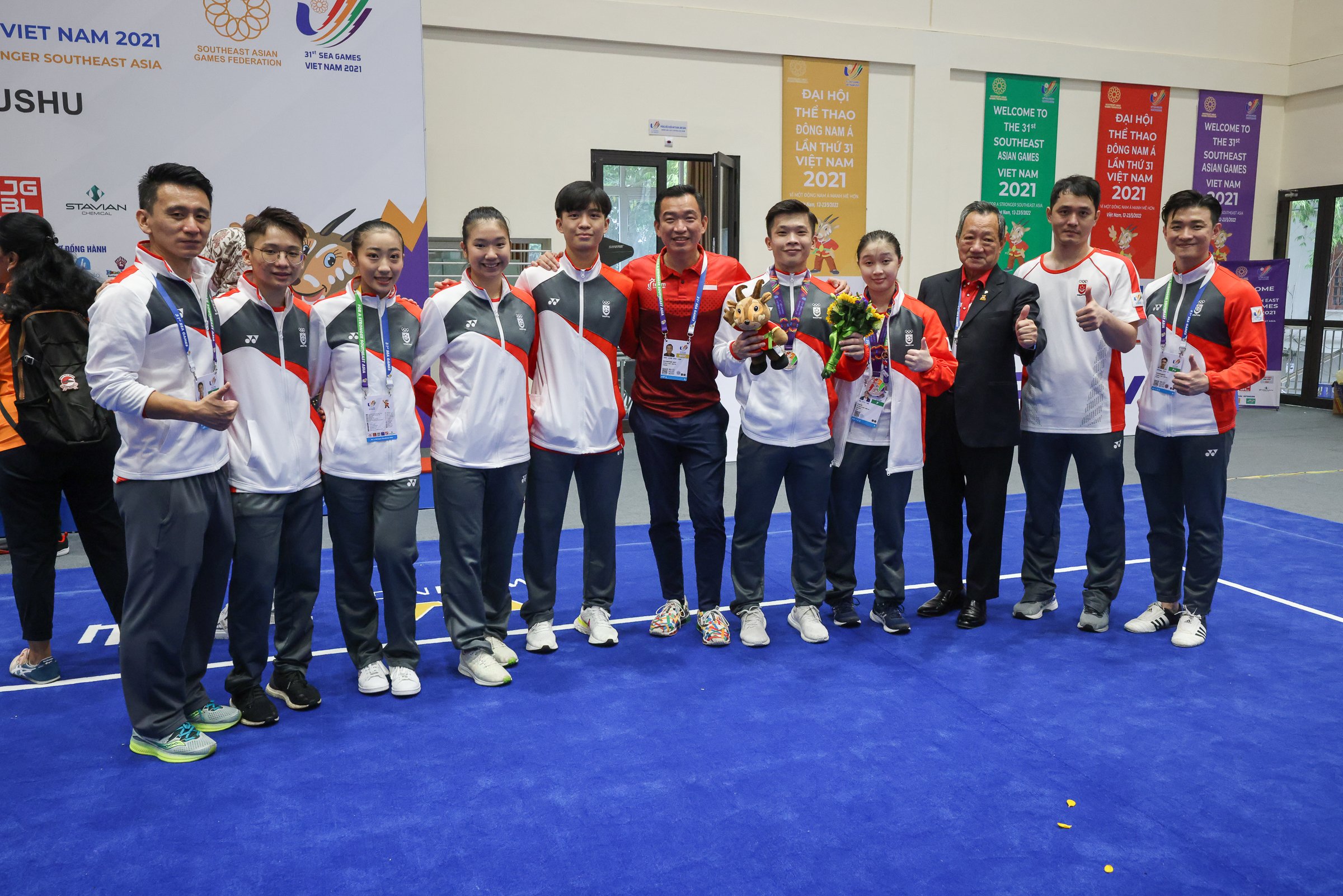 (Singapore's Wushu squad at Hanoi 2021. Photo Credit: Sport Singapore/Stanley Cheah)
By May Chen

Despite fielding a relatively young and inexperienced squad, Team Singapore's wushu exponents have come away from the Hanoi SEA Games with its best away showing!

The squad of 8 finished the competition with 2 gold, 3 silvers and a bronze. It is an improvement on the previous best away Games at the 2017 edition in Kuala Lumpur, when Singapore won two gold, a silver and five bronze medals.

Chan Jun Kai, one of the seniors on the squad, won a gold (taijijian) and a bronze (taijiquan), while debutant Kimberly Ong was champion in the women's daoshu/gunshu event.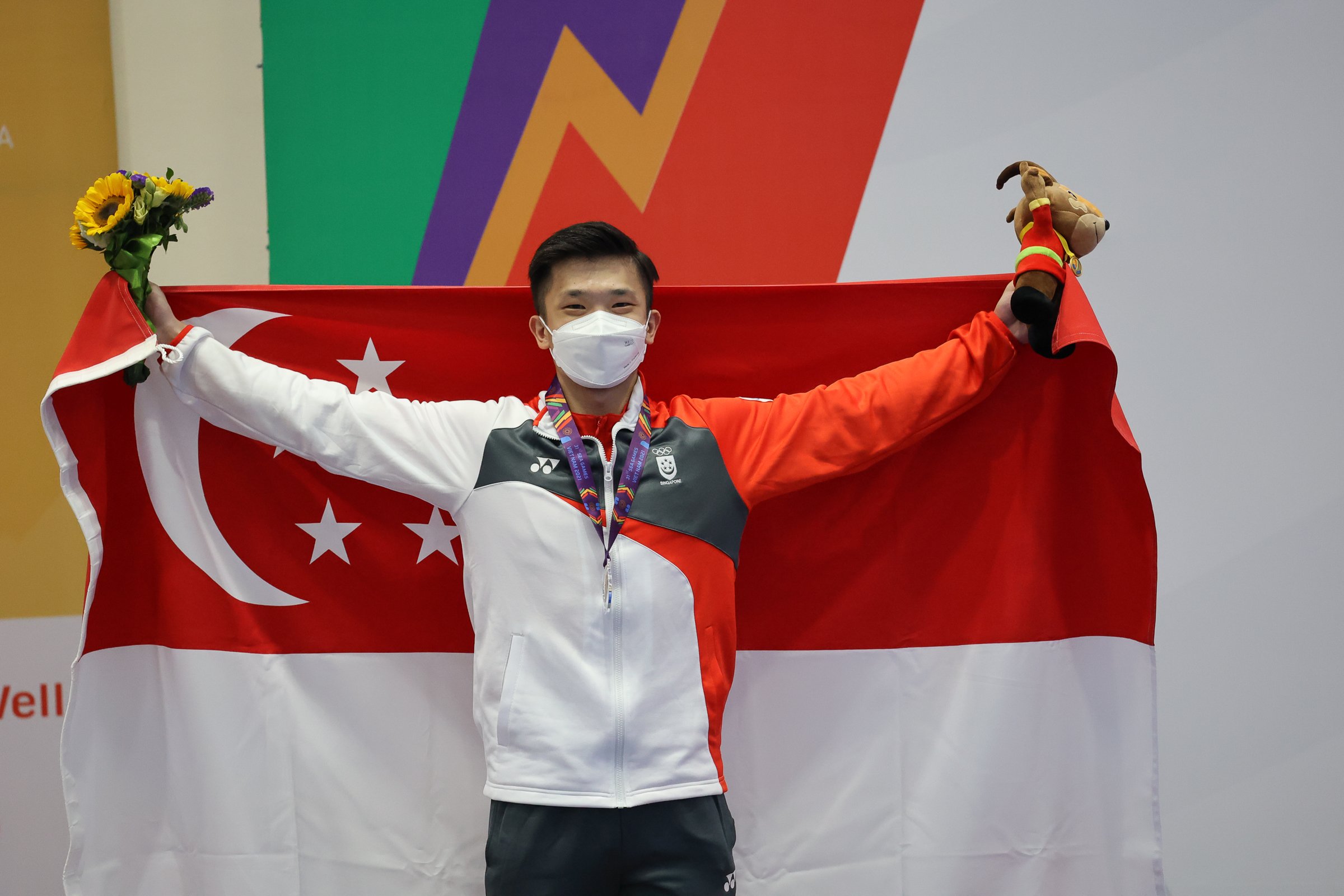 (TeamSG's Jowen Lim with his Silver medal. Photo Credit: Sport Singapore/Stanley Cheah)

Team captain Jowen Lim came away with two silvers, his second coming through the men's daoshu/gunshu (19.38 points) event on May 15, to add to his chanquan silver. And Zoe Tan took a silver in the women's daoshu/gunshu.

Team manager Lukas Cheng reserved special praise for his young charges, commending them for rising to the occasion.

"Our newcomers exceeded expectations," he said. "They were confident, and able to withstand the pressure of competition. It's a different kind of pressure when you're competing away. This is very promising for the future of Singapore wushu."

With Covid-19 throwing the team's plans into disarray, officials changed tack and employed unusual tactics to help prepare the athletes. For instance, in the last month, they brought in crowds of 50 to 60 people thrice to watch the athletes in a simulated competition, in a bid to prepare them for the nerves that they are expected to experience.

Seniors such as Jowen Lim have also helped shoulder the responsibility of helping to guide their juniors.

Said the 23-year-old: "As team leader, I just need to make sure that everybody's mental and physical state is all in check. From whether they brought their competition shoes, their costumes, everything.

"We were at first a little nervous (about leading the younger ones) but we were very excited about it. And I think the team did surprise all of us. They managed to complete their routines very, very well."

That team spirit came into play on Sunday (15 May), the final day of wushu competition.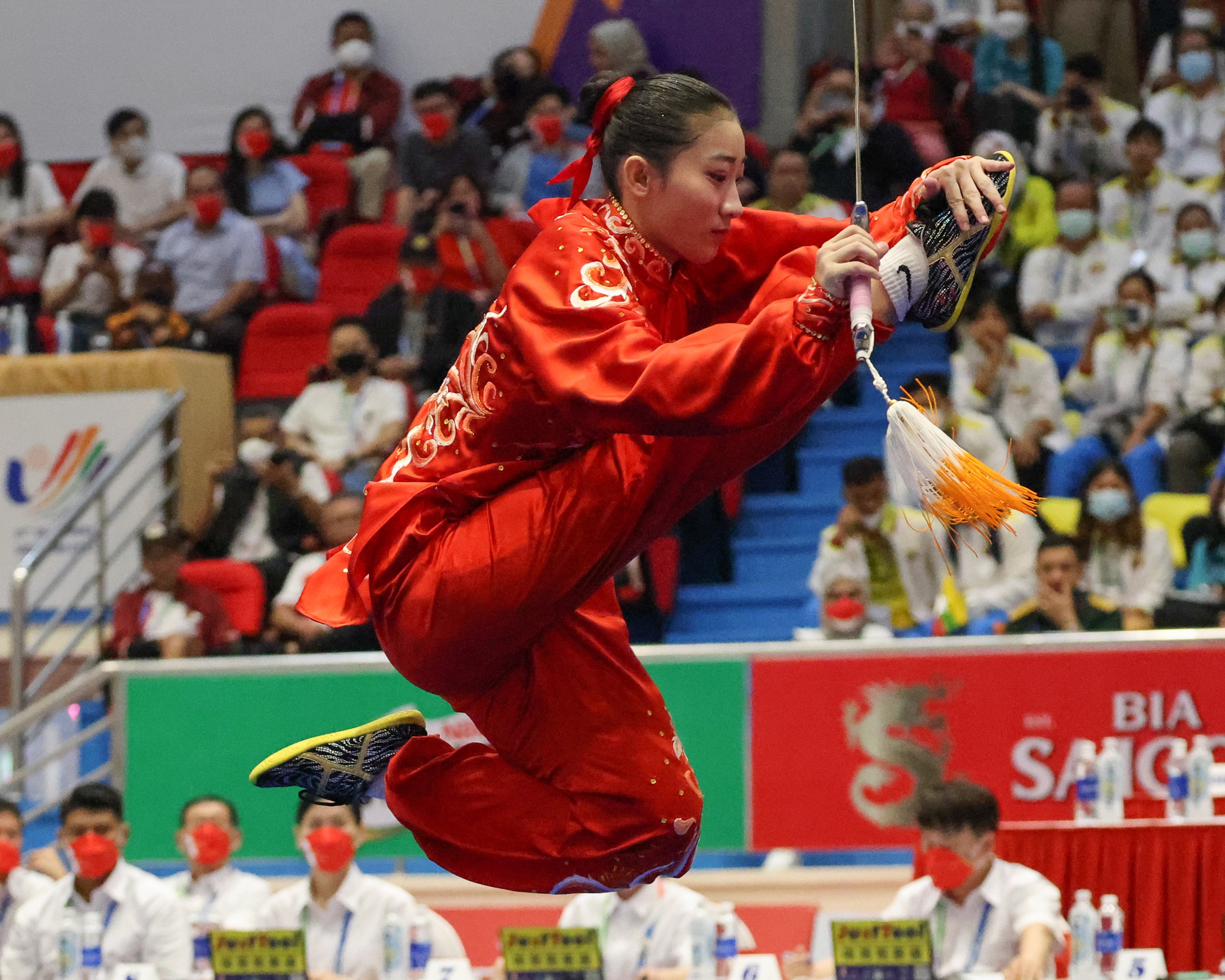 (TeamSG's 16 year old Zeanne Law in action. Photo Credit: Sport Singapore/Stanley Cheah)

Zeanne Law arrived for warm-up at the Cau Giay Gymnasium without her shoes, and senior Chan Jun Kai, who was not in action, returned to the hotel to retrieve it for her and helped calm her down after that.

The 16 year old eventually came close to a medal when she finished 4th in the taijijian event, ahead of veteran Vera Tan who was fifth.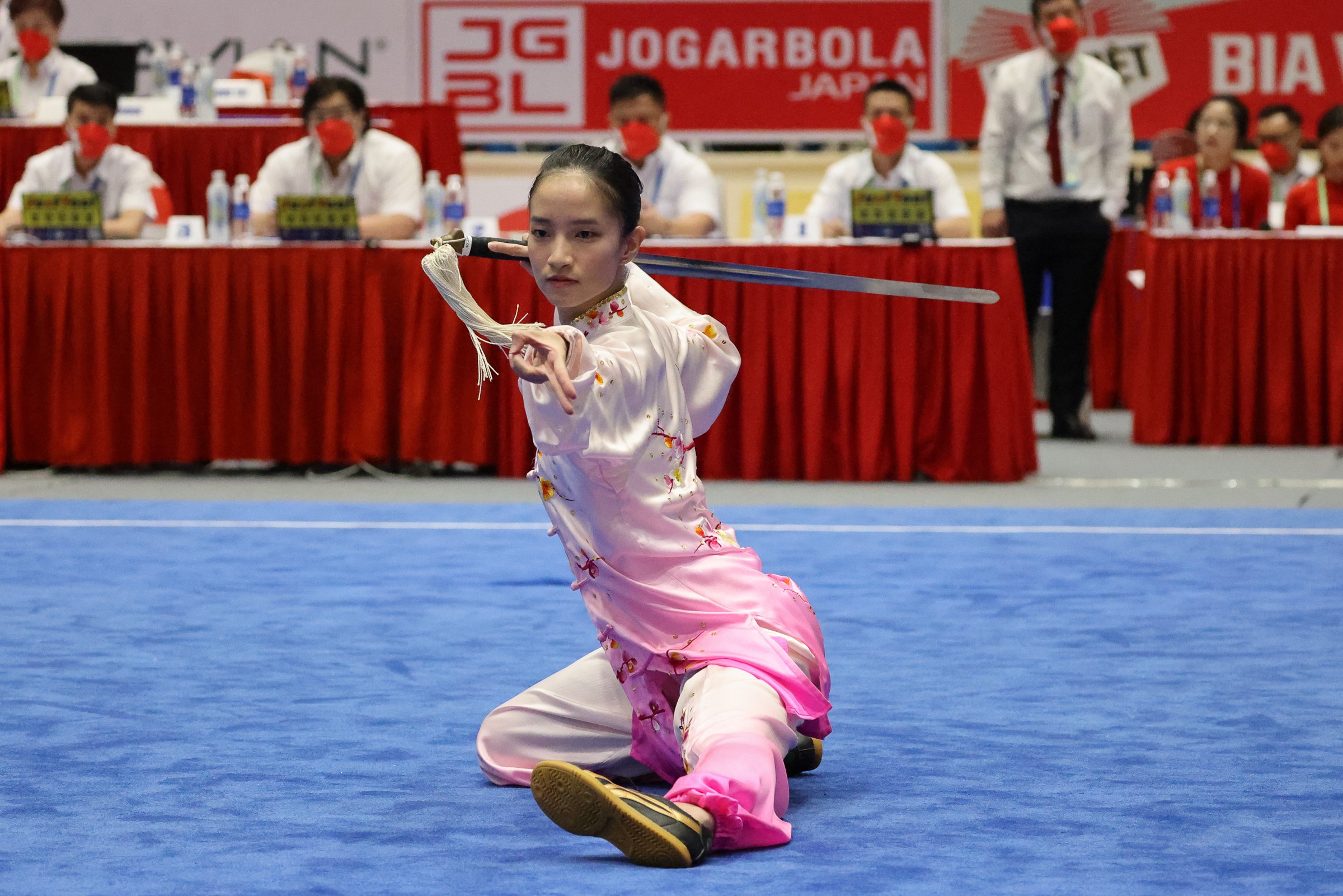 (TeamSG's Vera Tan in action. Photo Credit: Sport Singapore/Stanley Cheah)


Said Zeanne : "My biggest takeaway is to be able to compete with all the other seniors from overseas. I've seen their videos since I was young, so I feel like seeing them in real life is really overwhelming. I can learn a lot from them too from this event."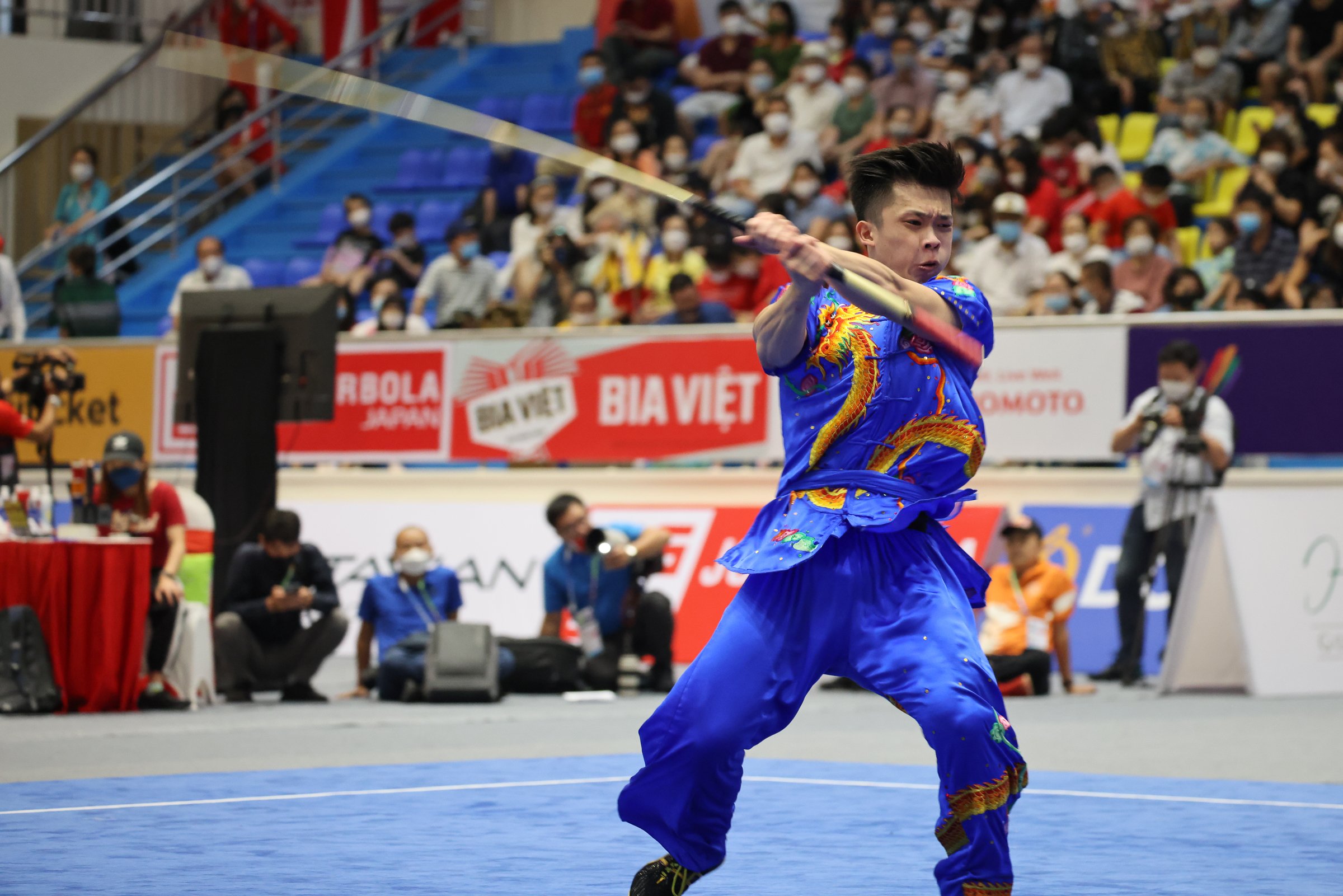 (Jowen Lim in action. Photo Credit: Sport Singapore/Stanley Cheah)


Jowen, with his 4th SEA Games in the bag, said his juniors are beginning to give the more experienced ones a run for their money.

"The younger generation are really catching up to us. When I was their age, I don't think I was that good."
For the latest Team Singapore coverage and news, follow Team Singapore on their social media channels (Facebook, Instagram, TikTok) or visit the official Team Singapore website.