Swimming and athletics win rare medals at halfway mark of SEA Games!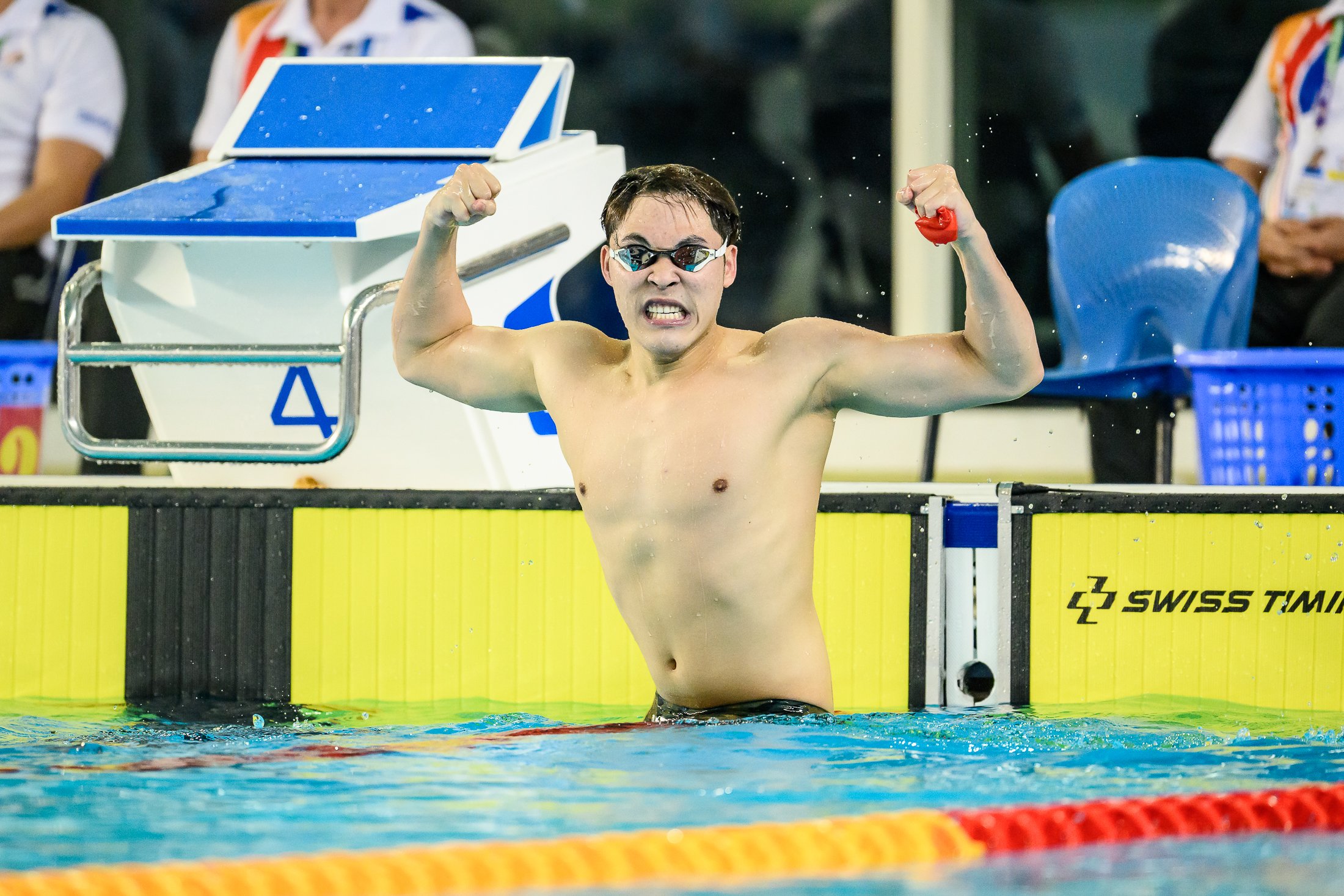 (Team Singapore's Maximillian Ang in action. Photo Credit: Sport Singapore/ Andy Chua)


By May Chen

Singapore's athletes in Hanoi for the Hanoi SEA Games picked up another 6 gold, 7 silvers and 10 bronzes on May 17.

It makes for an overall tally so far of 30 gold, 32 silvers and 40 bronzes.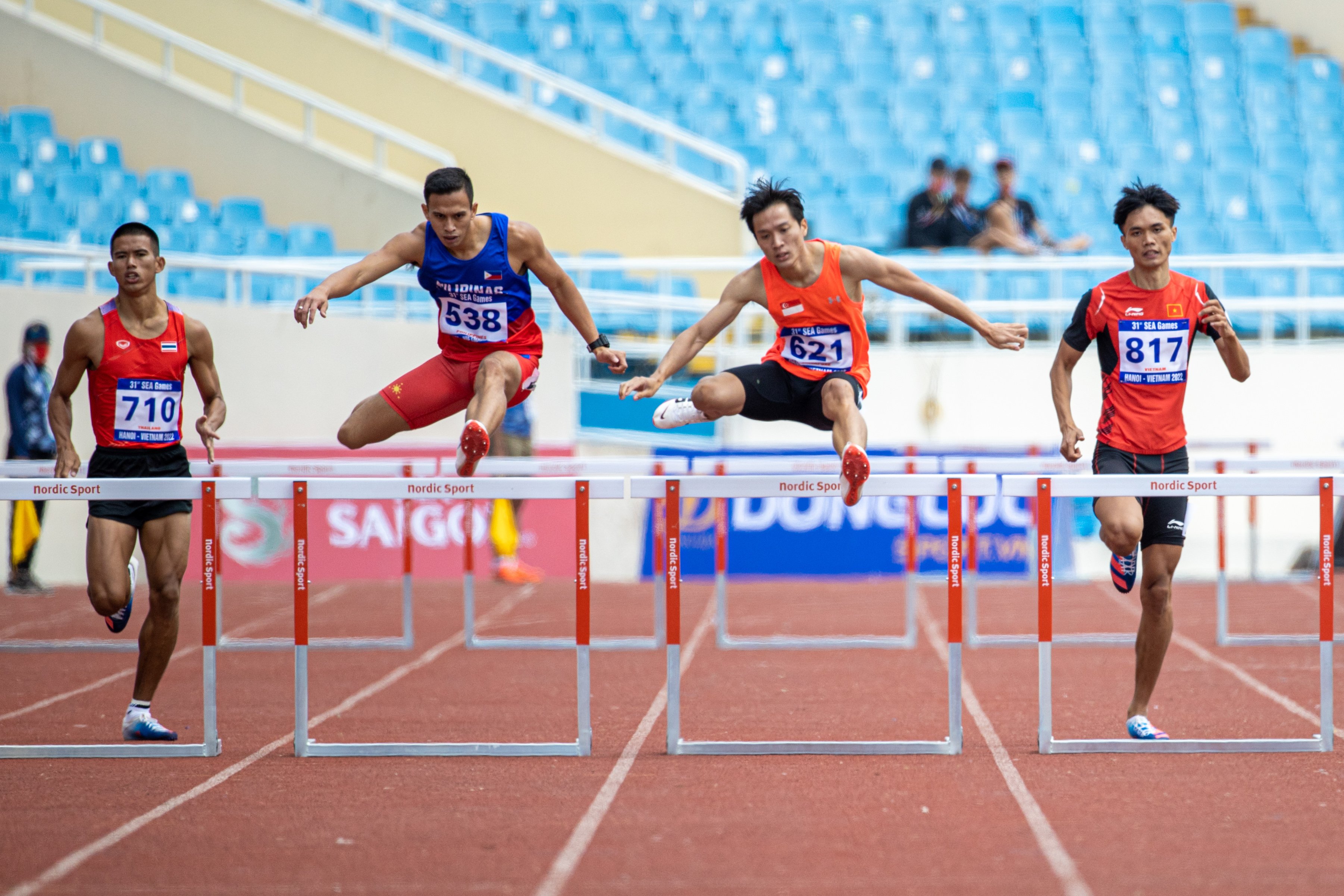 (TeamSG's Calvin Quek in action. Photo Credit: Sport Singapore/ Dyan Tjhia)

Athletics continues commendable showing in Hanoi with another bronze

Not since 1969, when the biennial Games was still known as the Southeast Asian Peninsular Games and featured only six nations, has Singapore won a medal in the men's 400m hurdles.

That changed when Calvin Quek clocked 51.19 seconds at the My Dinh National Stadium for a new national record (pending ratification) en route to bronze.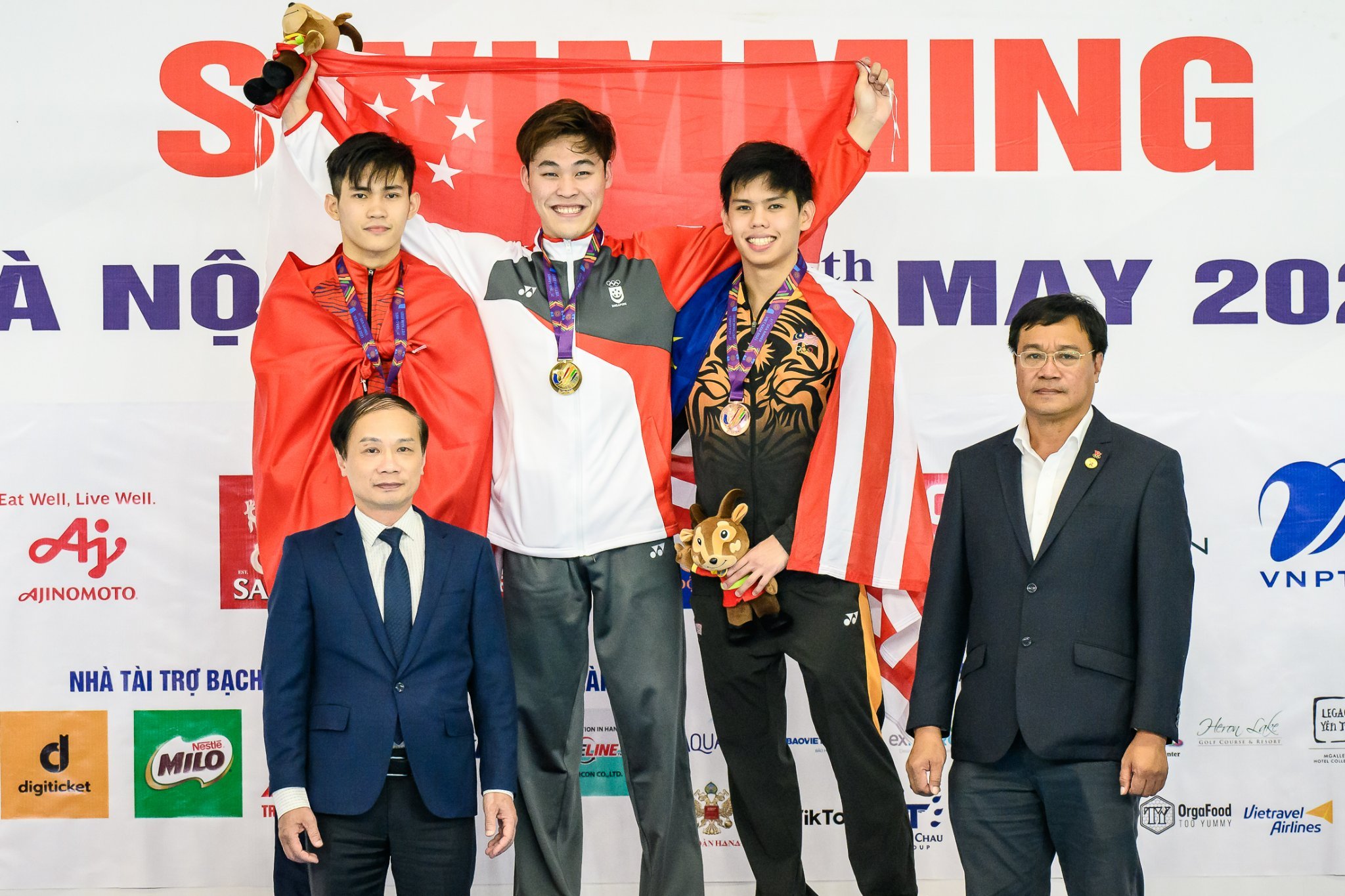 (TeamSG's Maximillian Ang wins Gold in Hanoi. Photo Credit : Sport Singapore)

Max effort earns historic swimming gold for Singapore

Winning gold is something that happens regularly for TeamSG swimmers at the SEA Games. But Maximillian Ang earned a rare one on Tuesday when he won the men's 200m breaststroke – it was the first-ever victory in this event for Singapore.

Gan Ching Hwee also collected a title that has eluded Singapore for many years when she won the women's 400m freestyle. The Republic last won it in 1995, when Joscelin Yeo was champion.

The two golds contributed to the day's tally of three golds (Quah Zheng Wen, 50m backstroke), one silver (Quah Ting Wen, 50m butterfly) and two bronzes (Quah Jing Wen, 50m butterfly and men's 4x200m freestyle).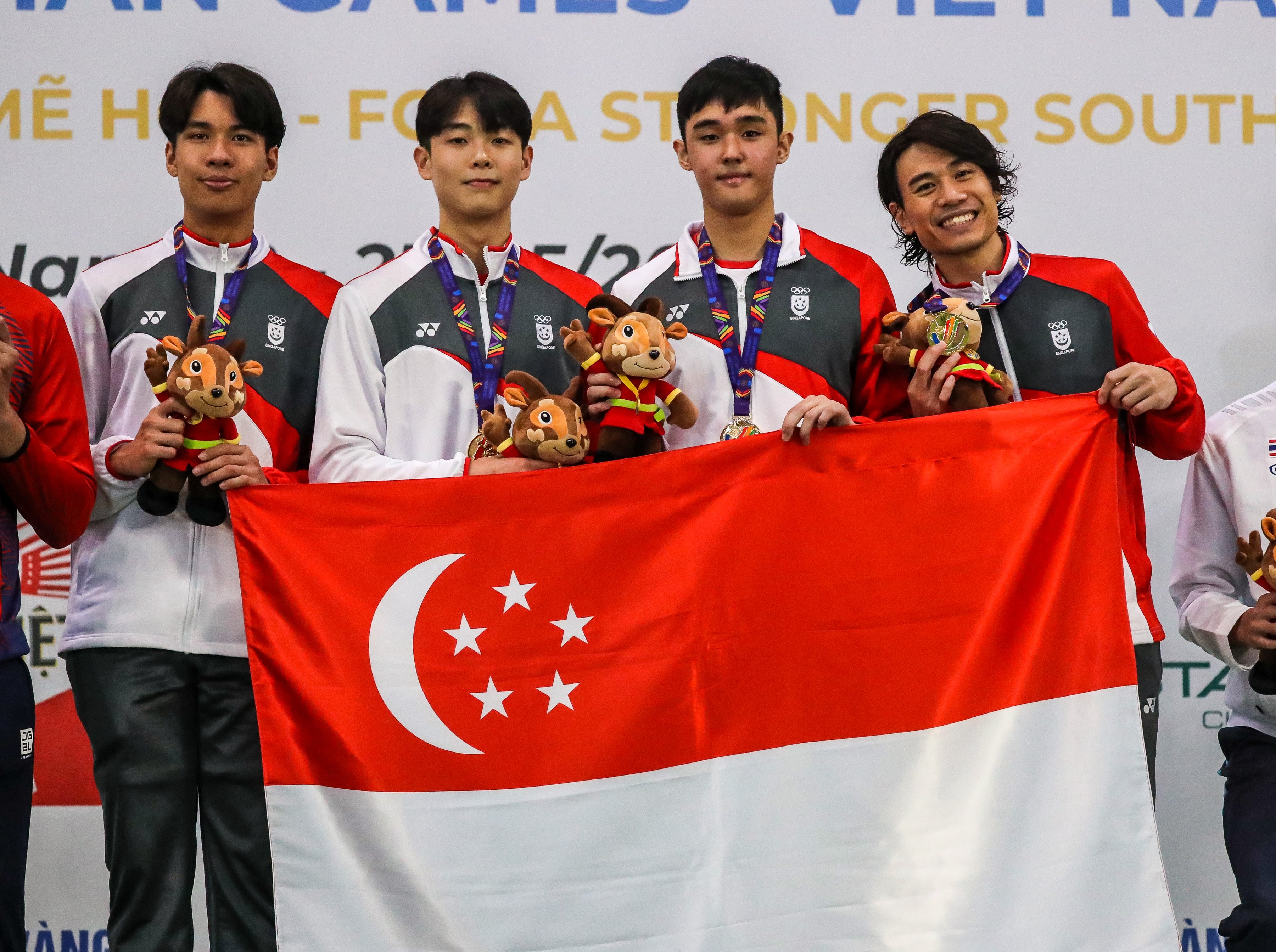 (Singapore's Men's epee team celebrates. Photo Credit: SNOC/ Kelly Wong)

TeamSG fencers top of the region again

Singapore's fencing depth showed again on Tuesday, picking up two team golds. The women's foil team first booked a place on the top of the podium when Denyse Chan, Cheung Kemei, Maxine Wong and Chloe Ng beat the Philippines 33-28.

The men's epee team then followed up with a win of their own. Samson Lee, Simon Lee, Elliot Han and Sito Jian Tong edged out hosts Vietnam in a close contest, winning 37-36 for gold.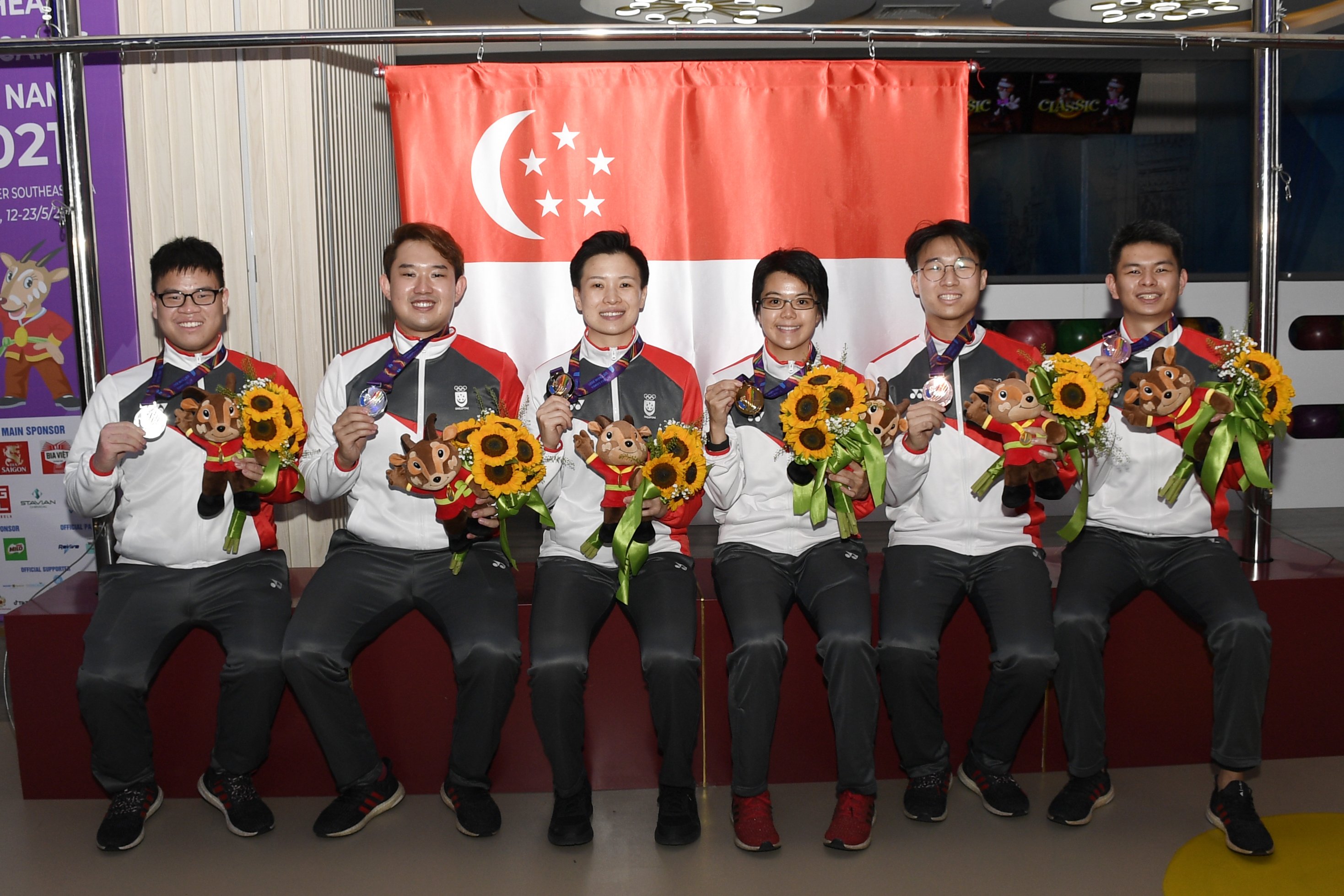 (Singapore's Women's & Men's Doubles Teams during Victory Ceremony. Photo Credit: Sport Singapore/ Alfie Lee)


Bowlers Cherie and Hui Fen take doubles gold, men also win medals

A day after their singles success, Cherie Tan and New Hui Fen were on the podium again. The two bowlers paired up in the women's doubles to post 2,767 pinfalls, taking gold ahead of second-placed Indonesia and bronze medallists, Malaysia.

TeamSG's men bowlers also made their way to the podium. Muhammad Jaris Goh and TImothy Tham posted a score of 2,592 pinfalls to take silver in the men's doubles. Teammates Cheah Ray Han and Darren Ong were close behind with 2,551 pinfalls to take bronze.

These are the first medals Singapore's male bowlers have won in this event since the 2015 edition, when Keith Saw and Howard Saw won gold on home soil.
(Team Singapore's Lionel Wong after clinching the Silver medal. Photo Credit: Sport Singapore/ Lim Weixiang)

First SEA Games silverware for shooter Lionel Wong

Shooting's Lionel Wong clinched a silver in the men's 10m individual air rifle event, his first medal at the SEA Games. He scored 246.5, behind Indonesia's Fathur Gustafian who scored 247.4.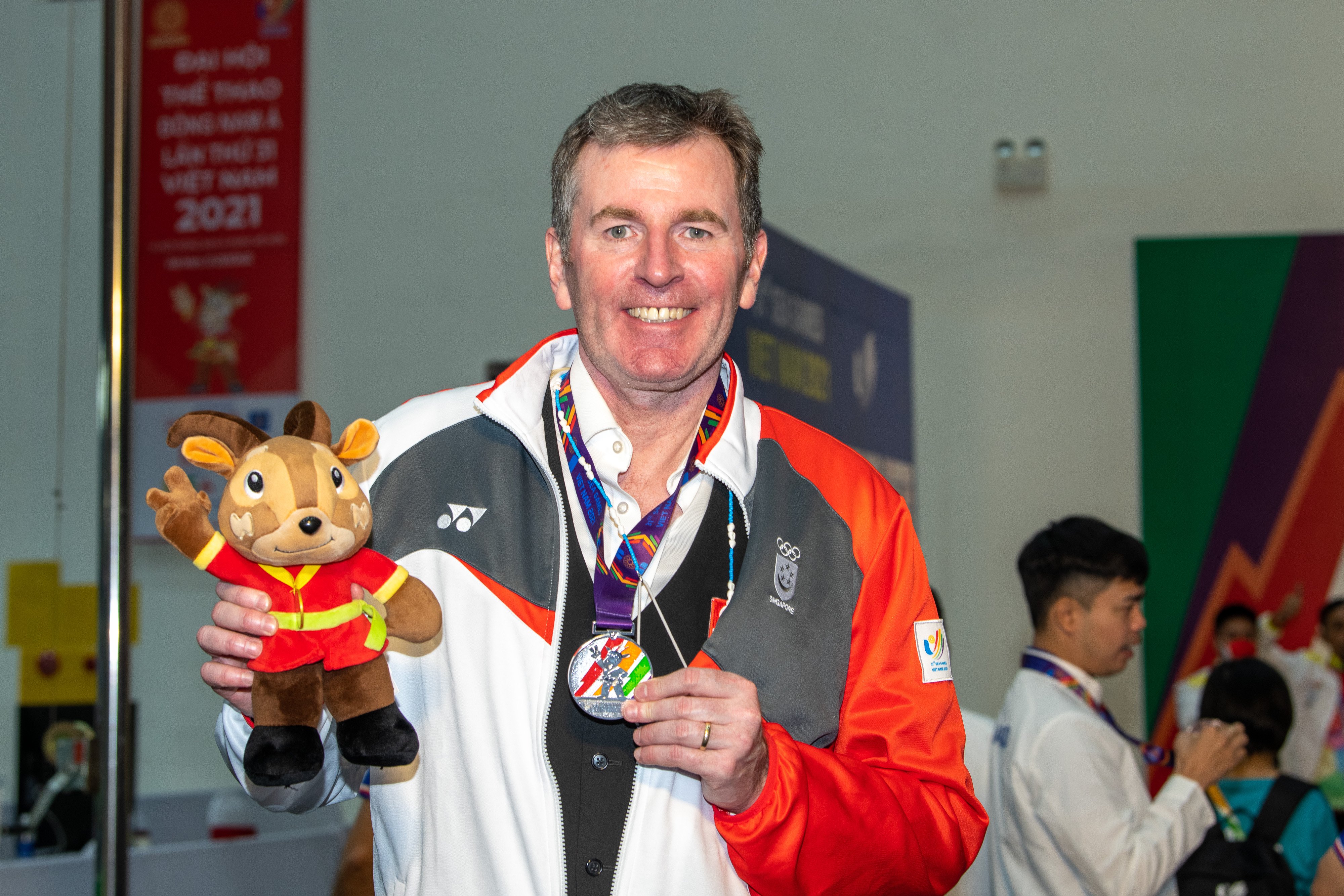 (TeamSG's Peter Gilchrist settling for the Silver medal in Hanoi. Photo Credit : Sport Singapore/ Flona Hakim)
Billiard sports picks up two silvers, two bronzes

Singapore's cuesports athletes featured in two finals on Tuesday, but had to settle for silvers in both of them. Peter Gilchrist, who at 54 is the oldest athlete in the TeamSG contingent, was beaten 1-3 by Myanmar's Pauk Sa, ending a gold-winning streak that goes back to 2009.

Jessica Tan was outplayed 2-7 by her Filipino former world champion Rubilen Amit, who with this win now makes it five SEA Games gold in a row in the women's 9-ball singles.

In the men's 9-ball pool singles semi-finals, world No. 1 Aloysius Yapp was beaten 9-7 by Carlo Biado of the Philippines, despite putting up a strong comeback. Toh Lian Han was beaten 9-3 in his tie against Johann Chua of the Philippines. Both Singaporeans took joint bronzes.

Chess athletes take two silvers in rapid fashion

TeamSG chess maestros won two silver medals. In the women's rapid final, Gong Qianyun lost to Vietnam's Nguyen Pham Le Thao in the Armageddon event. Teammate Tin Jingyao was also outplayed by a Vietnamese in the same event, finishing in second place behind Nguyen Ngoc Truong Son.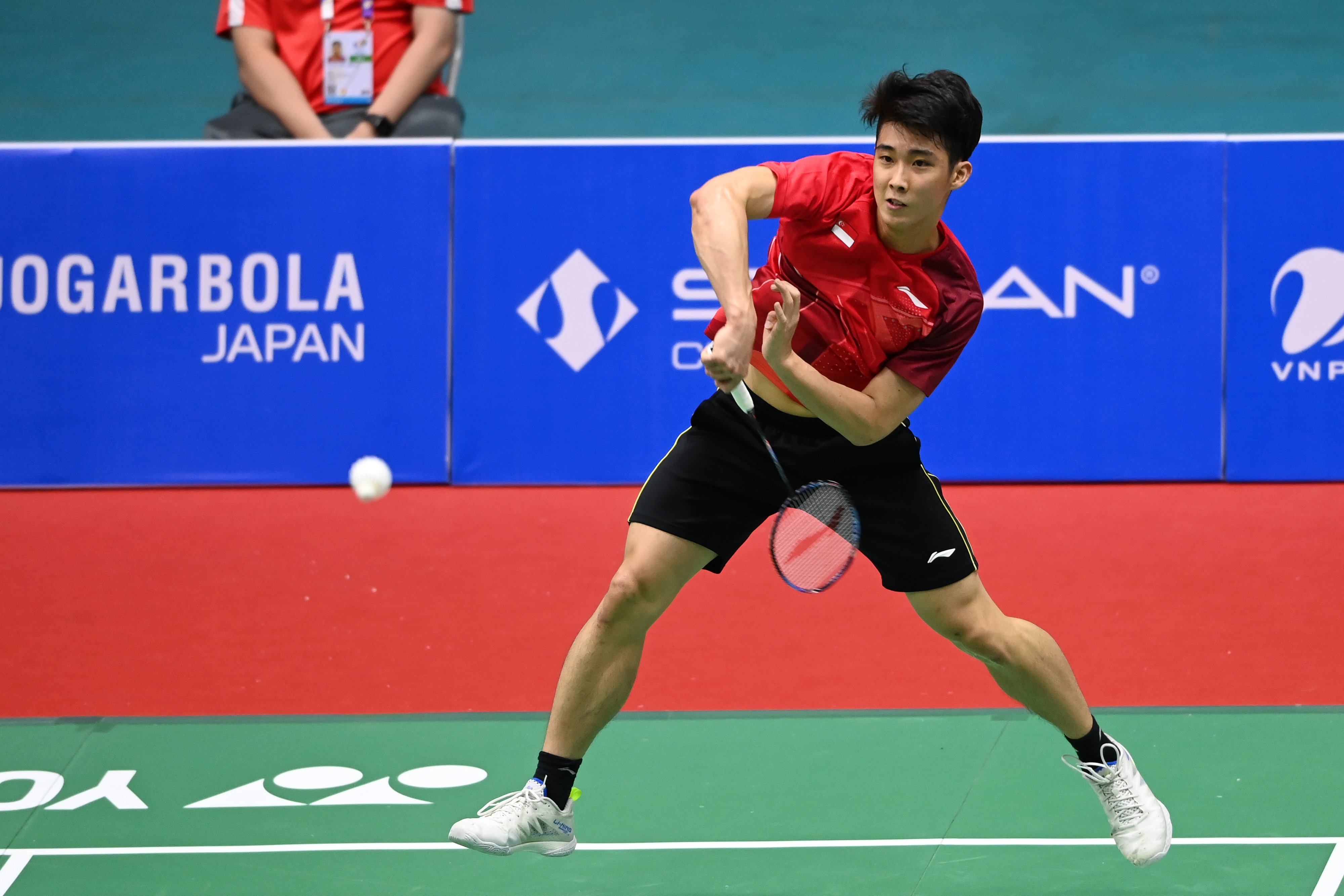 (Team Singapore's Loh Kean Yew in action. Photo Credit: Sport Singapore/ Lim Weixiang)


Men's shuttlers win bronze in team event

TeamSG clinched a joint bronze in the men's badminton team event, after losing 2-3 to Malaysia in the semi-finals.

World champion Loh Kean Yew put Singapore 1-0 up in his singles tie, before Terry Hee and Loh Kean Hean gave the team a 2-0 lead by winning their doubles match.

But the team was unable to capitalise on that advantage, allowing Malaysia to mount a comeback. Teh Jia Heng and Joel Koh lost their singles matches, while Danny Bawa Chrisnanta and Andy Kek were also beaten in their doubles match.

The women's team also won a joint bronze, after losing their tie 0-3 to Thailand.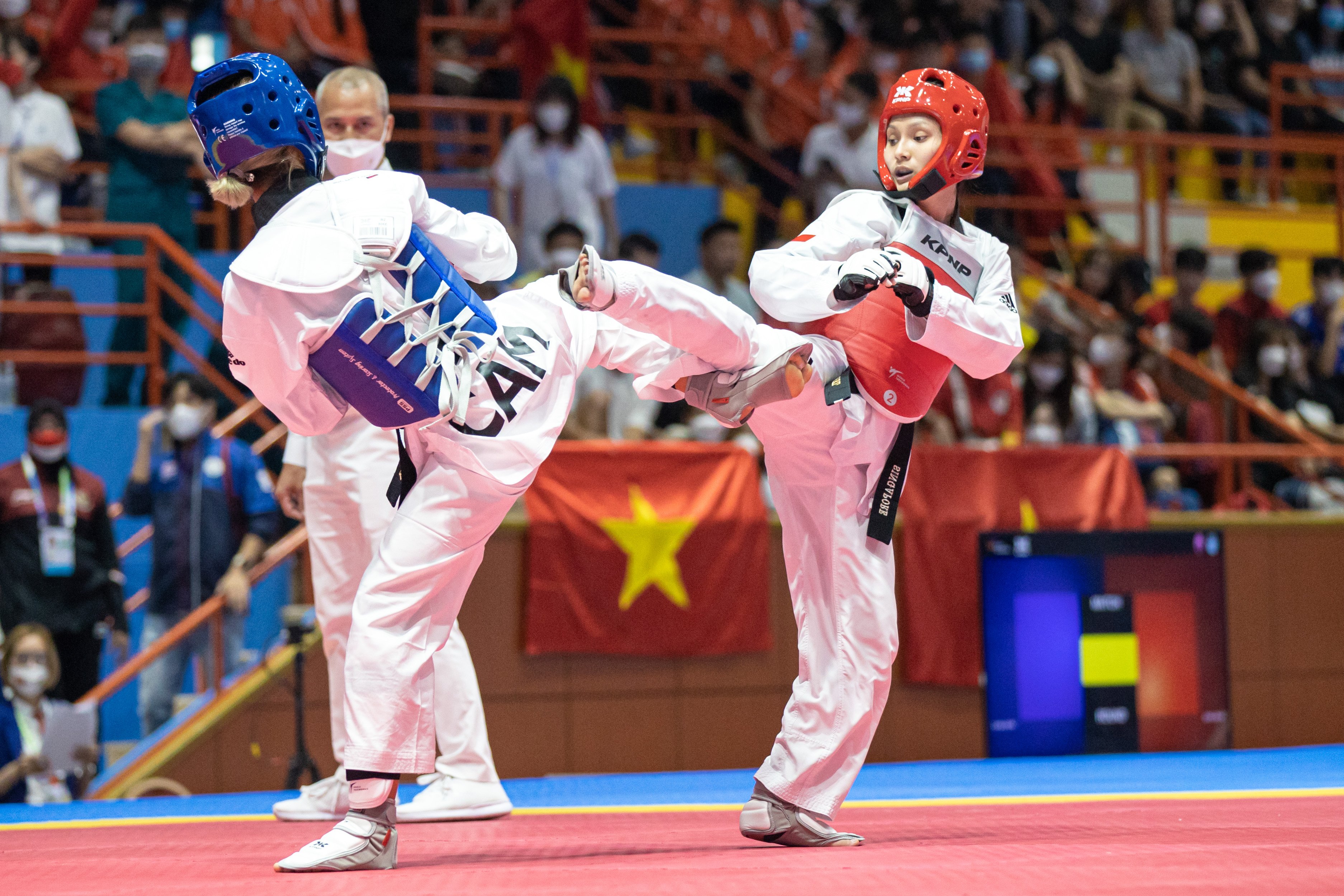 (TeamSG's Isabel Felipa Rivas in action. Photo Credit: Sport Singapore/Dyan Tjhia)
Taekwondo takes bronze in kyorugi

Isabel Felipa Rivas was beaten 21-0 by her Thai opponent Chutikan Jongkolrattanawattana in the semi-finals of the women's Under-46kg kyorugi event, and won a joint bronze medal.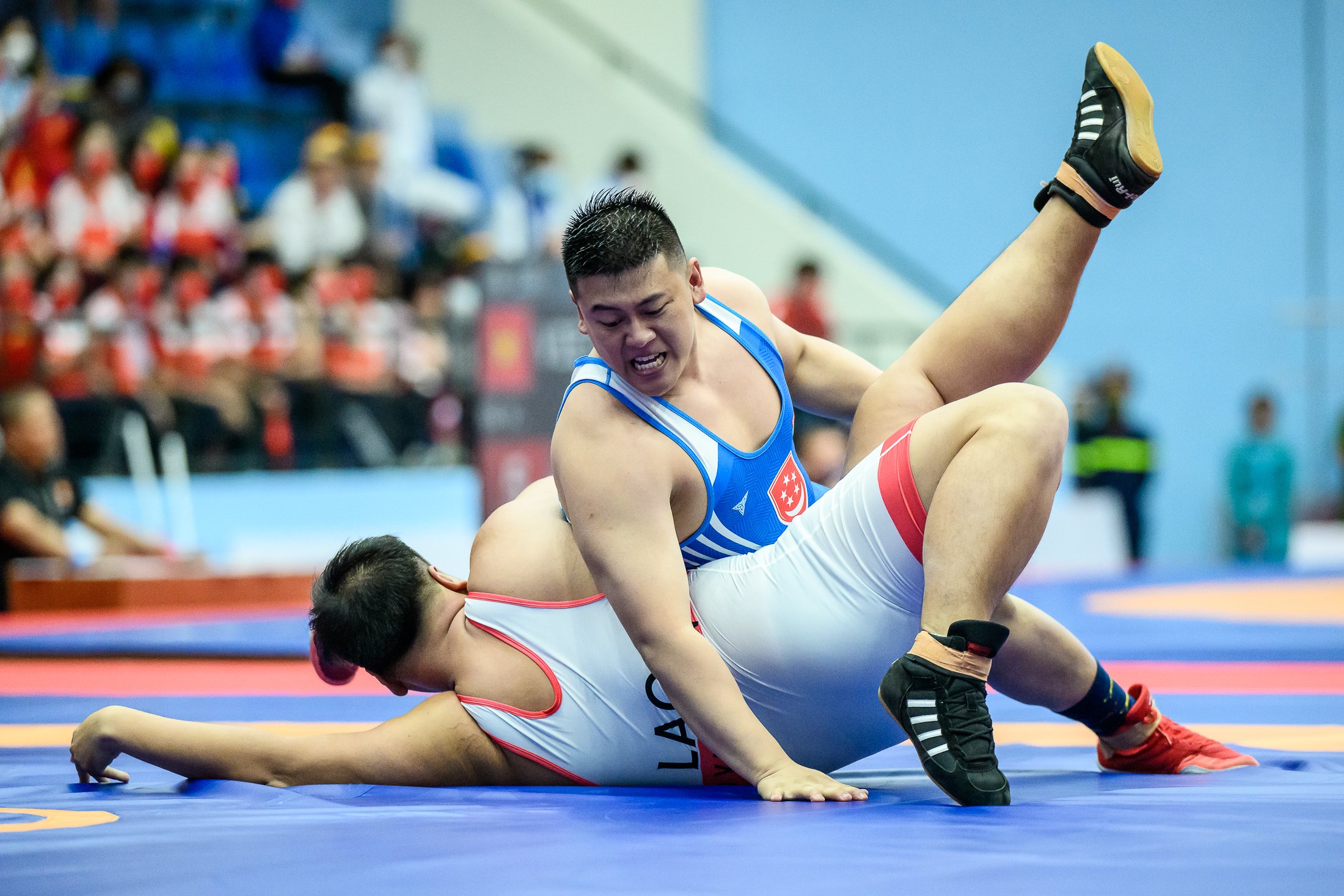 (Singapore's Timothy Loh in action. Photo Credit: Sport Singapore/ Andy Chua)


Wrestling wins first medal in Hanoi

Timothy Loh finished third overall in the men's greco-roman 130kg round-robin, winning a bronze medal for the wrestlers' first medal at these SEA Games.
At the end of Day 6, Singapore's tally stands at 30 gold, 32 silvers and 40 bronzes.
For the latest Team Singapore coverage and news, follow Team Singapore on their social media channels (Facebook, Instagram, TikTok) or visit the official Team Singapore website.