Team Singapore delivers 6 medals including fencing gold on Day 1 of Hanoi Games!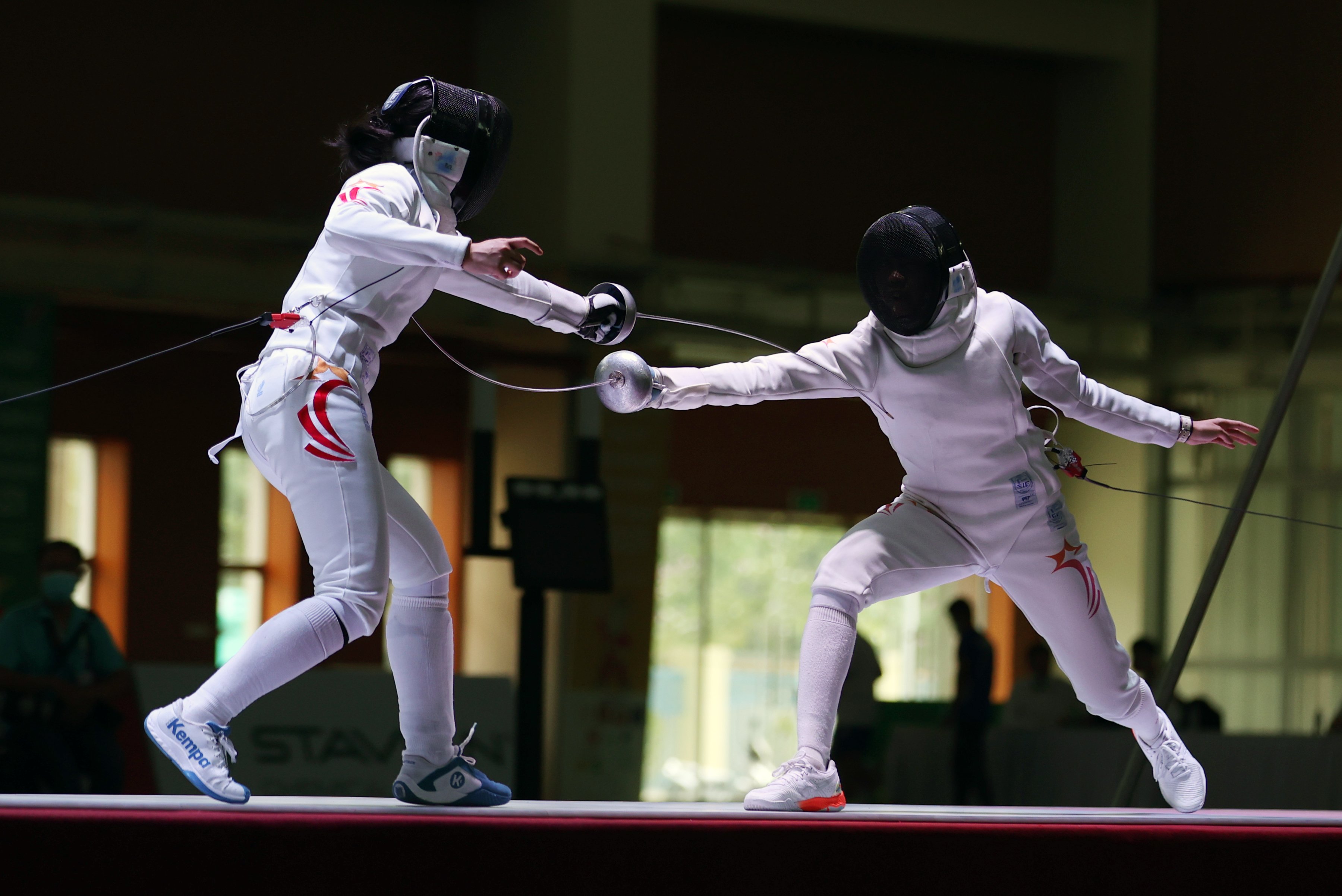 Singapore's Elle Koh (Left) in action against Kiria Tikanah. Photo Credit: Sport Singapore/ Jeremy Lee
By May Chen

The first official competition day (May 13) at the 31st Southeast Asian (SEA) Games was a fruitful one for Team Singapore, adding a gold, two silvers and three bronze medals to its overall haul.

It included a thrilling one-two podium finish from the Women's Epee fencers, courtesy of a debutante who did not even think she would qualify for these Games.

There was a hard-earned bronze from the Men's Gymnastics team, and there was also a momentous win – the first in close to four decades – delivered by the women's football team to boot.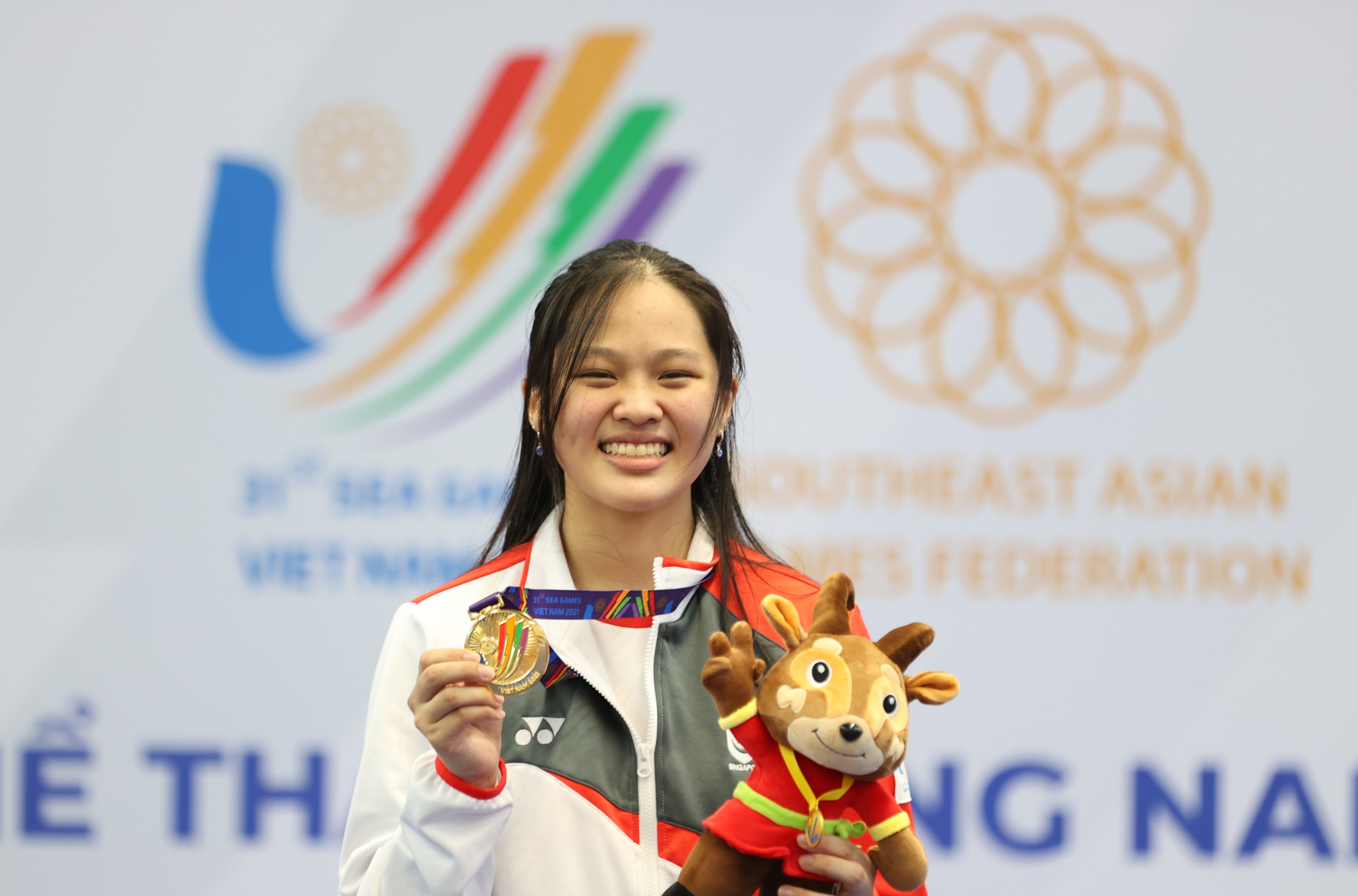 (Singapore's Elle Koh Meihui on the podium standings. Photo Credit: Sport Singapore/ Jeremy Lee)

Defending champion succumbs to close defeat against friend and compatriot!

Elle Koh defied the nerves of a first SEA Games, the odds of not being an dedicated epee specialist until recently, and the pressure of playing a teammate for a fairytale finish in the women's individual epee final.

The 14-year-old beat Kiria Tikanah Abdul Rahman 12-11 in a sudden death final to clinch gold at the Hanoi Indoor Games Gymnasium. The victory stunned Elle herself, who admitted she was just trying to earn a creditable score against a seasoned teammate who was the defending champion.

Trailing 9-11 with 16 seconds to go, it had looked like Kiria, a Tokyo 2020 Olympian, would take victory. But the teenager's gritty comeback led her to gold, fist pumps and shrieks of celebration.

With a 1-2 finish, the women's epee team are feeling confident for the upcoming team event.

Said Elle : "This has definitely made me less nervous, because I've already experienced everything today. At the beginning of the day, I was extremely nervous and I could tell that it was affecting my fencing quite badly. The nerves went away over time as the competition progressed. I think (this) will greatly benefit the team event because I won't be as nervous and I'll be more confident to just do my thing."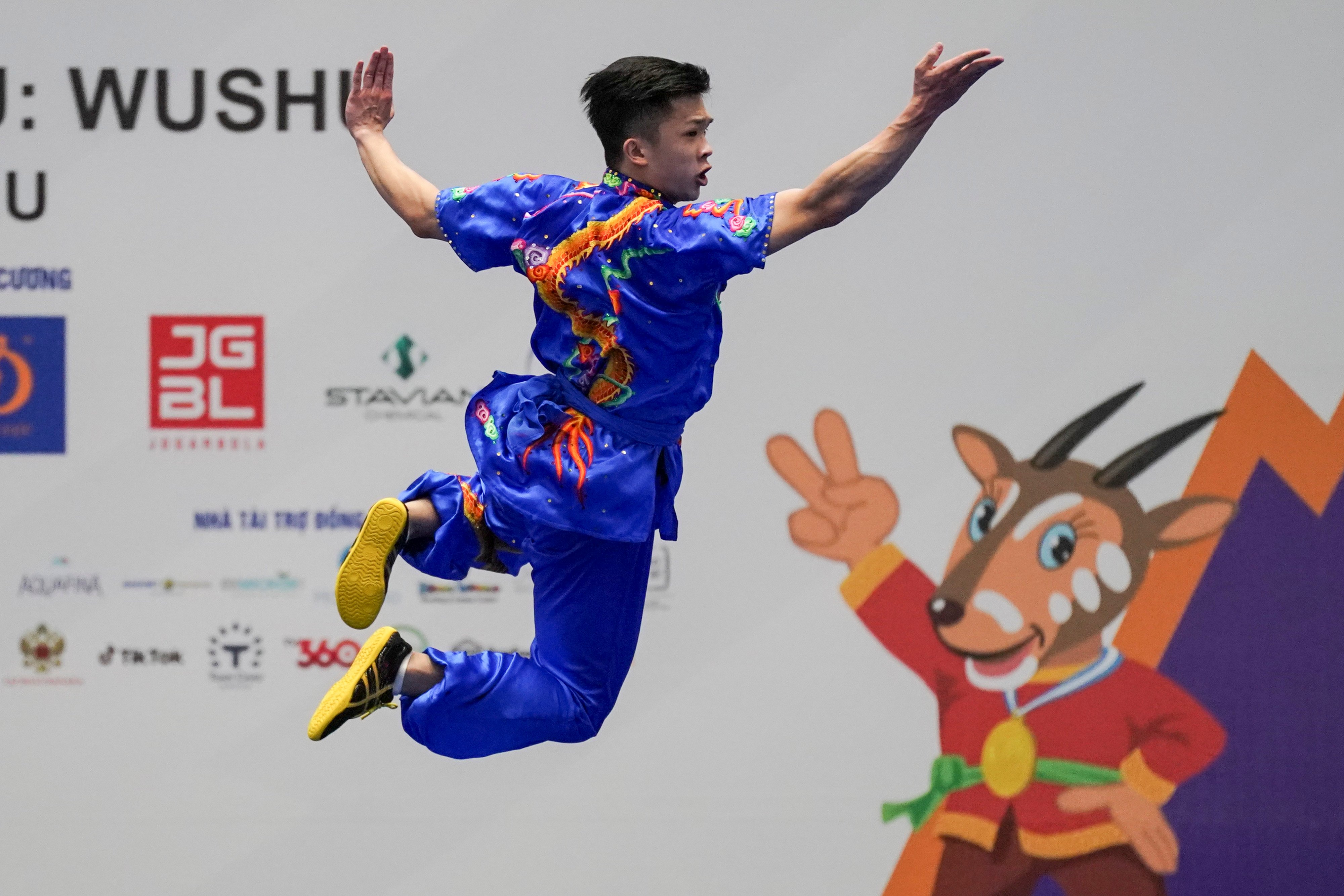 (Singapore's Jowen Lim in action. Photo Credit: Sport Singapore/ Lim Weixiang)
Thousandth of a point separates Jowen Lim from the top, but silver is good as gold

Wushu exponent Jowen Lim won a silver in the Men's Changquan, improving on the sixth place he posted at the last SEA Games in this event.

He was heartbreakingly close to gold, finishing behind Malaysia's Clement Ting by just 0.001 of a point. Still, he said being able to complete a clean and "perfect" routine was all he could have asked for, and a podium finish is a welcome bonus any day.

Teammate Chan Jun Kai took a bronze in the men's taijiquan event.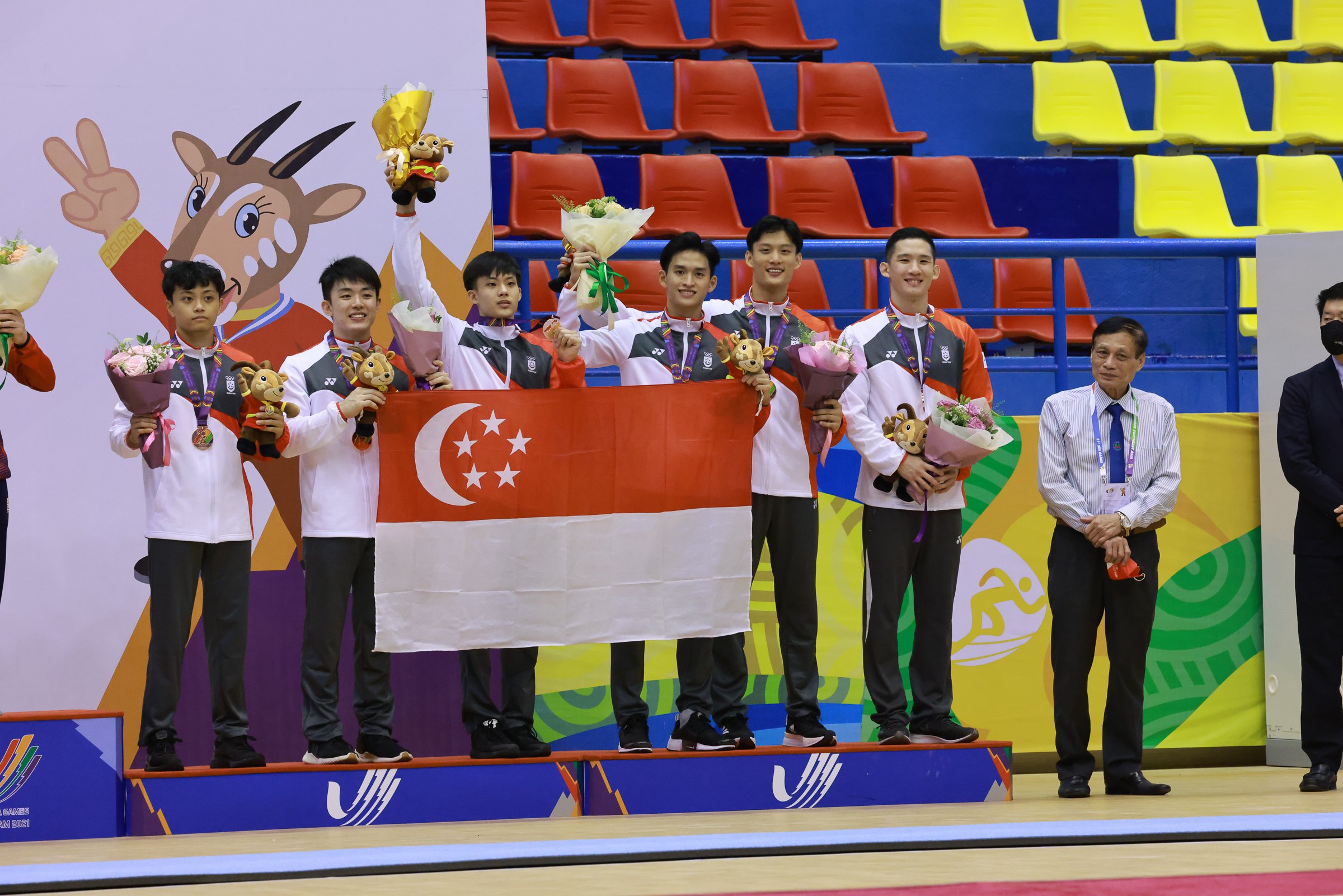 (Singapore's Male Gymnasts won Team Bronze. Photo Credit: Sport Singapore /Stanley Cheah)

Team effort gives artistic gymnasts a hard-earned bronze in men's event

The Men's artistic gymnastics team of Terry Tay, Kaeson Lim, Mikhail Haziq Ghazali, Robin Sim, Zac Liew and Chong Jer Rong scored 297.650 at the Quan Ngua Sports Palace for bronze.

It equals their showing at home from the 2015 edition, the only other time that the men's team have finished on the podium at the regional Games. All the more laudable, considering four out of six of the team are debutants.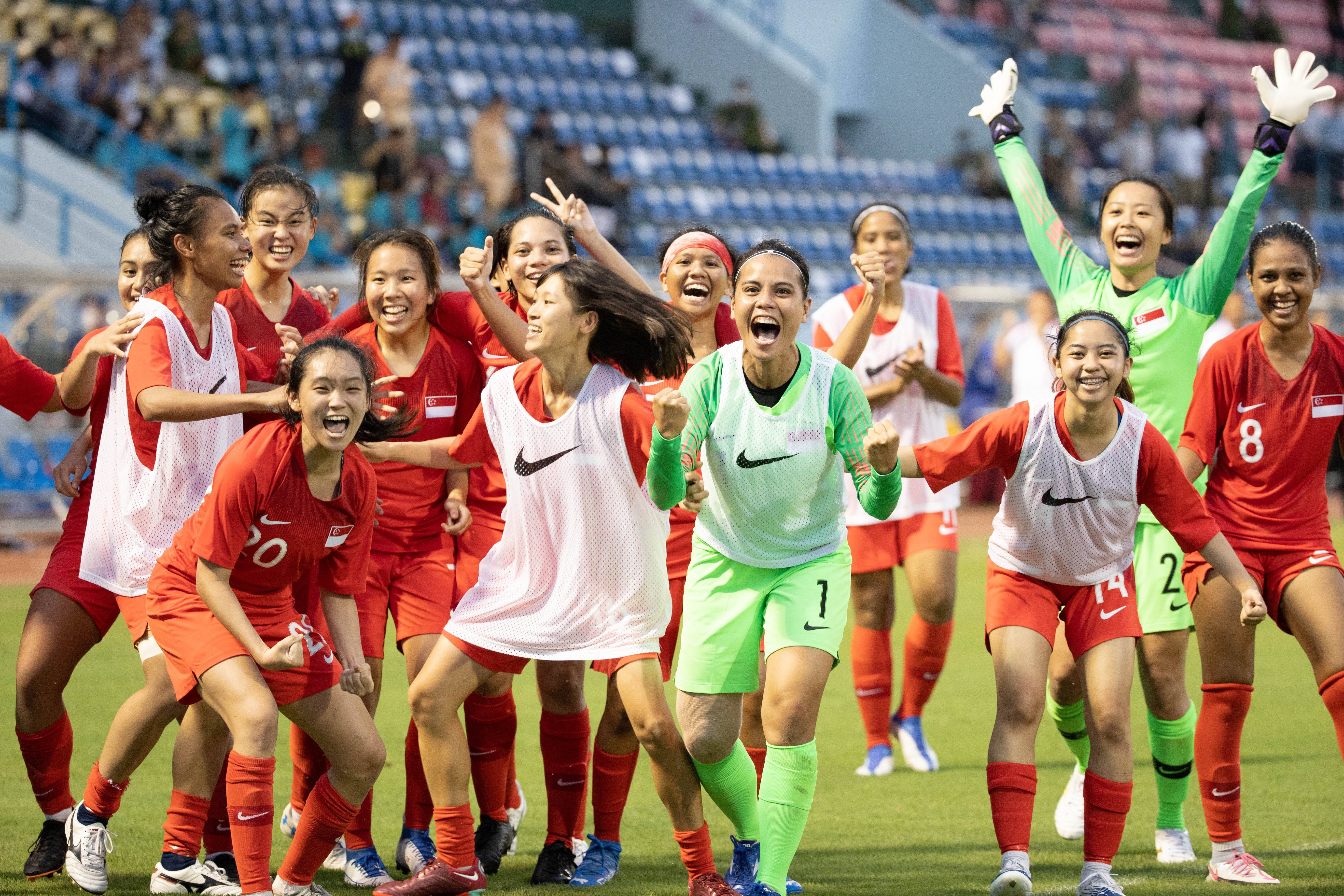 (Team Singapore defeat Laos 1-0. Photo Credit: Sport Singapore/ Dyan Tjhia)

Lionesses post first SEA Games win in 37 years

Singapore's Women's Football team have not been to a SEA Games since 2003, and they've not won a match since 1985. All that changed on Friday evening when they beat Laos 1-0.

The result is all the more significant considering the Republic is ranked No. 135 in the world, many rungs below Laos, the world No. 83.

The team had to fight until the end for that result, and it came in the 94th minute courtesy of No. 10 Nur Izzati.

Team Singapore's overall tally stands at 2 gold, 6 silver and 6 bronze medals.
The 31st SEA Games is held in Hanoi, Vietnam from 12 to 23 May 2022. For the latest Team Singapore coverage and news, follow Team Singapore on their social media channels (Facebook, Instagram, TikTok) or visit the official Team Singapore website.