TeamSG Silat exponents leave Hanoi with best ever SEA Games showing!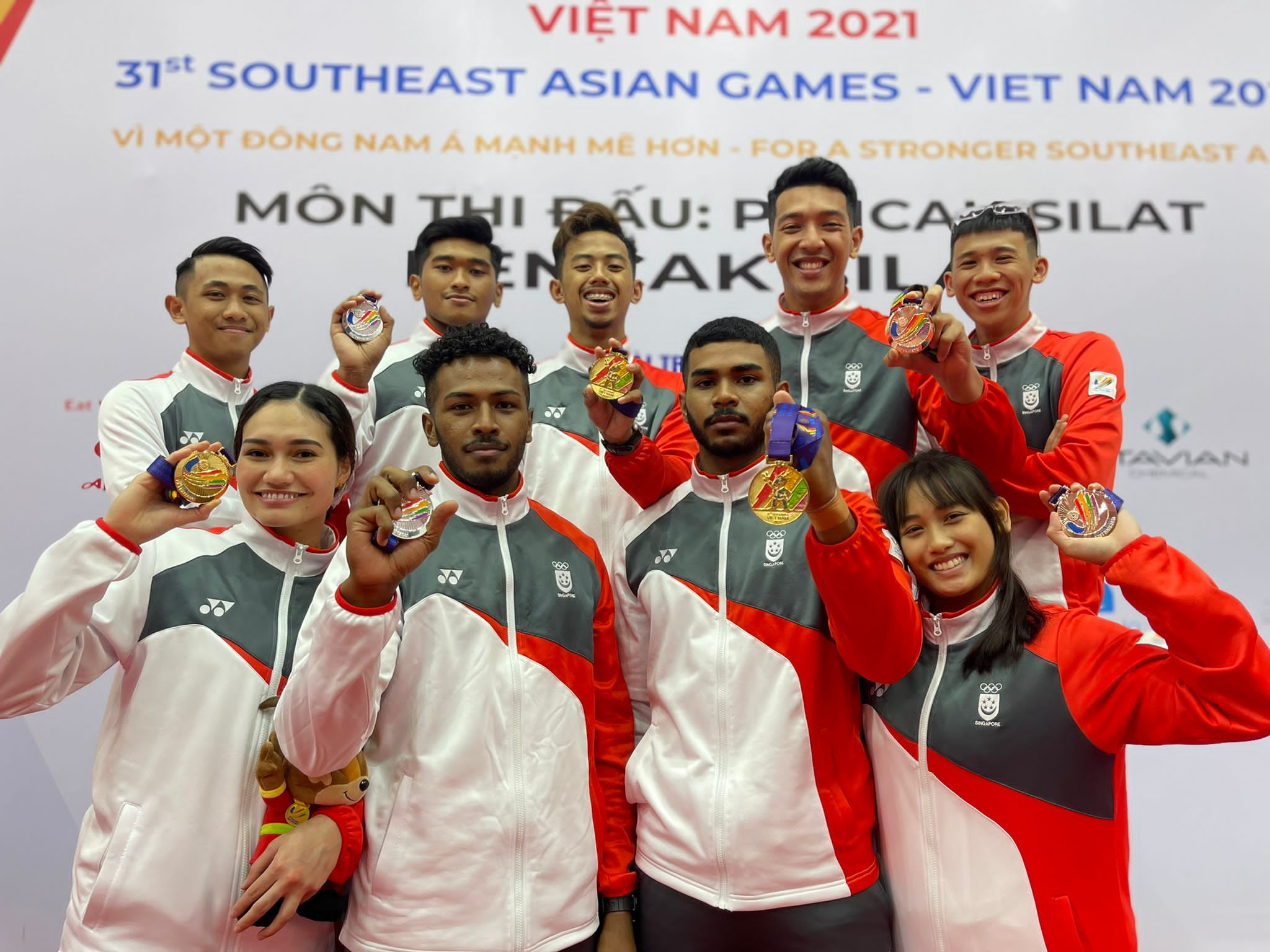 (Team Singapore's Silat medal winners at Hanoi 2021. Photo Credit : Singapore Silat Federation)
By May Chen

Vietnam has proven itself to be a happy hunting ground for Singapore's silat exponents yet again. The team completed its 31st Southeast Asian (SEA) Games with 4 gold, 3 silvers and 4 bronzes, making for a best-ever showing at the biennial event.

Its previous best also came in this country, when the silat team took home three gold, two silvers and 10 bronze medals at the 2003 edition in Hanoi.

This time, however, the squad has found itself on top of the podium more times than ever before.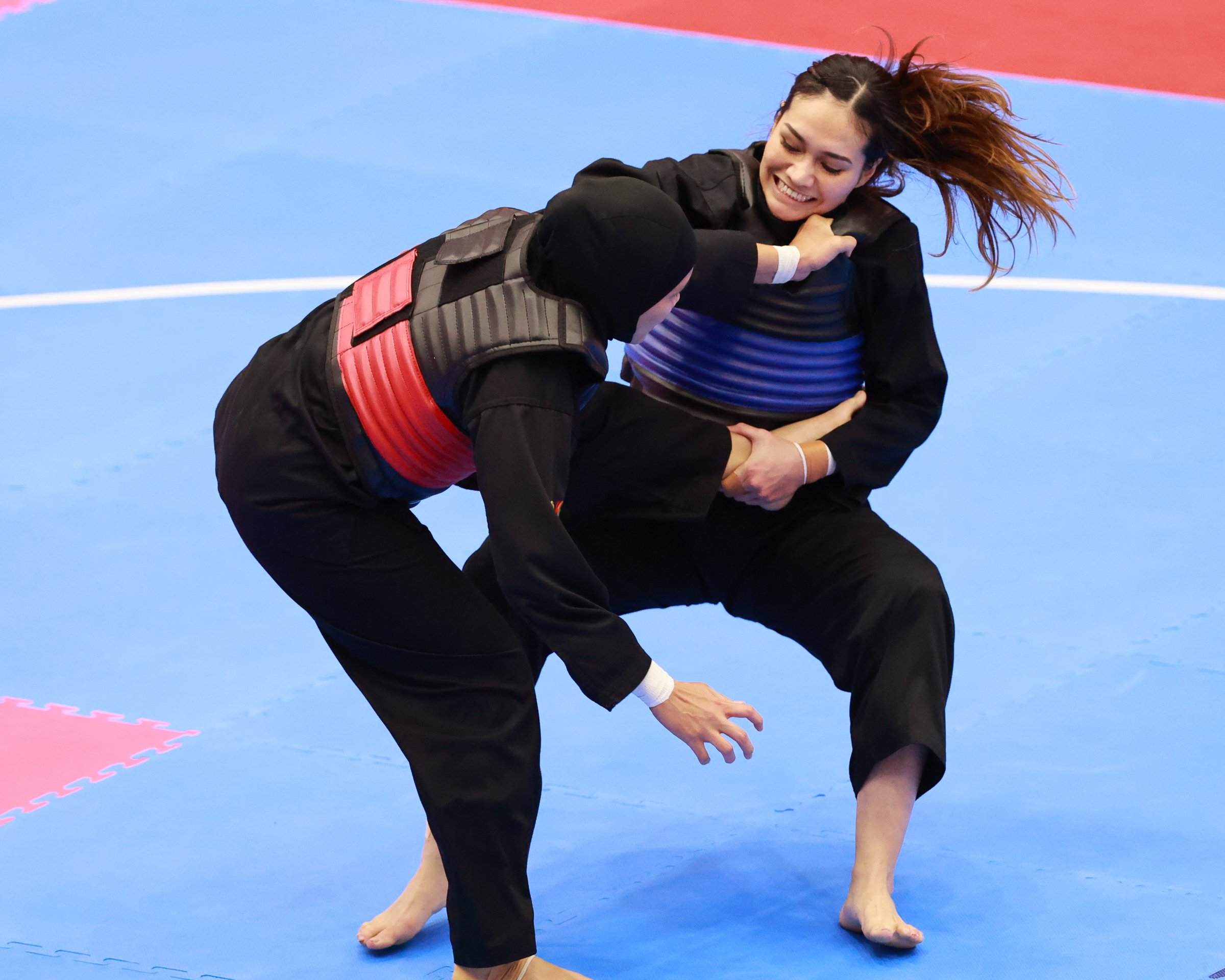 (TeamSG's Nurul Suhaila in action against Malaysia. Photo Credit: Sport Singapore/Stanley Cheah)
With 5 finals featuring TeamSG on the slate on May 16 (Monday), Nurul Suhaila binte Mohamed Saiful got the team off to a good start when she beat Malaysia's Siti Shazwana 30-22 in the women's Class E (65-70kg) Tanding final in the first bout of the day.

The win was an understandably emotional one for the 27-year-old Singaporean, after she has had to settle for bronze at the last three SEA Games.

"It's been years in the making. You can imagine the feeling of getting the same standing for 6 years. The pandemic gave me a lot to think about. The break gave me a lot of growth, and the peace that I needed to be a different person this time. It felt like I just got released out of the cage. This year, I felt like a different fighter – more composed. I felt the difference when I entered the arena," said Suhaila after her gold medal victory.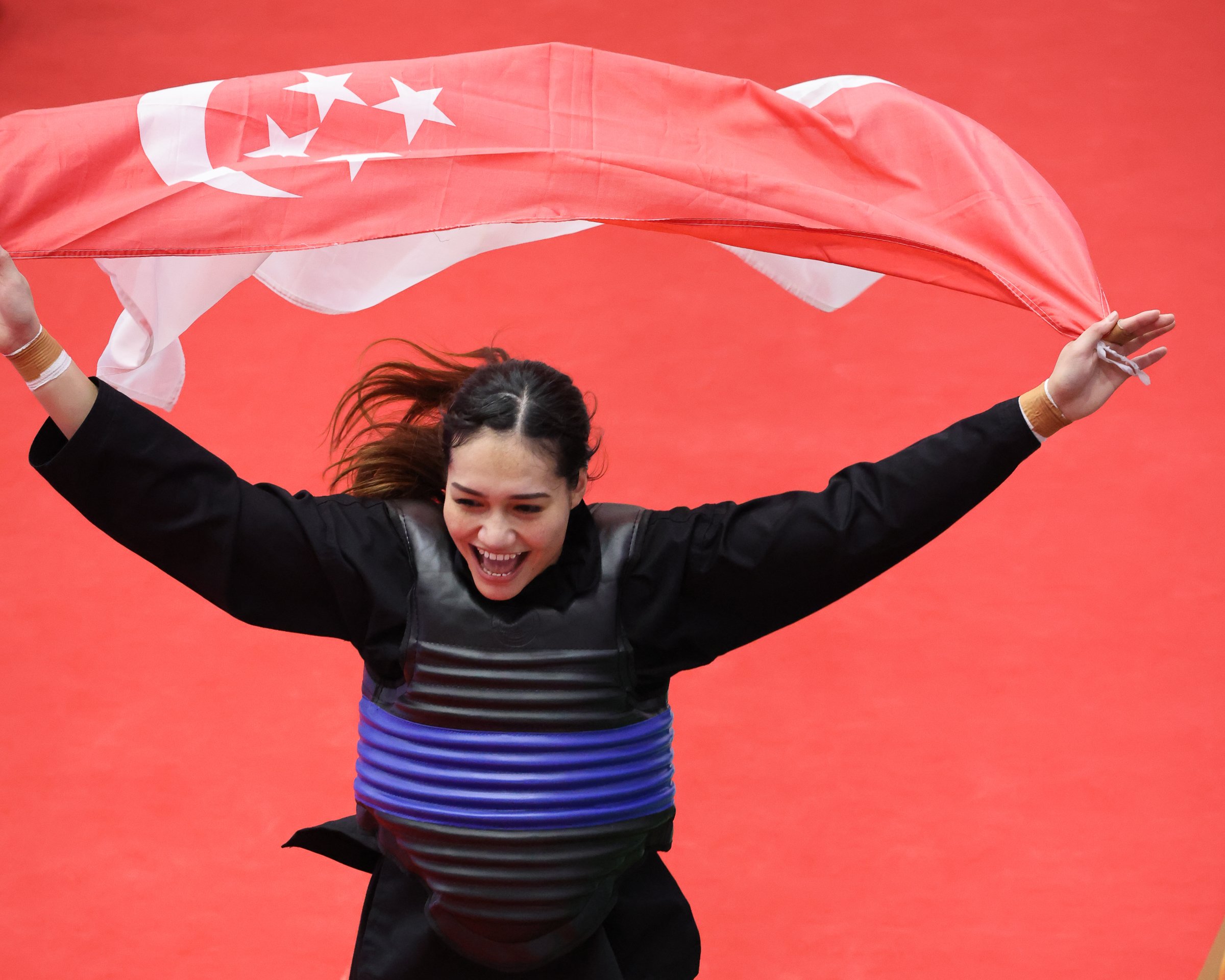 (TeamSG's Nurul Suhaila in action against Malaysia. Photo Credit: Sport Singapore/Stanley Cheah)
Fighting back tears, the 2018 world champion added: "(There were) so many years of doubting myself. I spent a lot of time away from my family. I wanted to make my parents proud and prove to them that the time away was worth it, it's for me to grow, to be the best that I can be."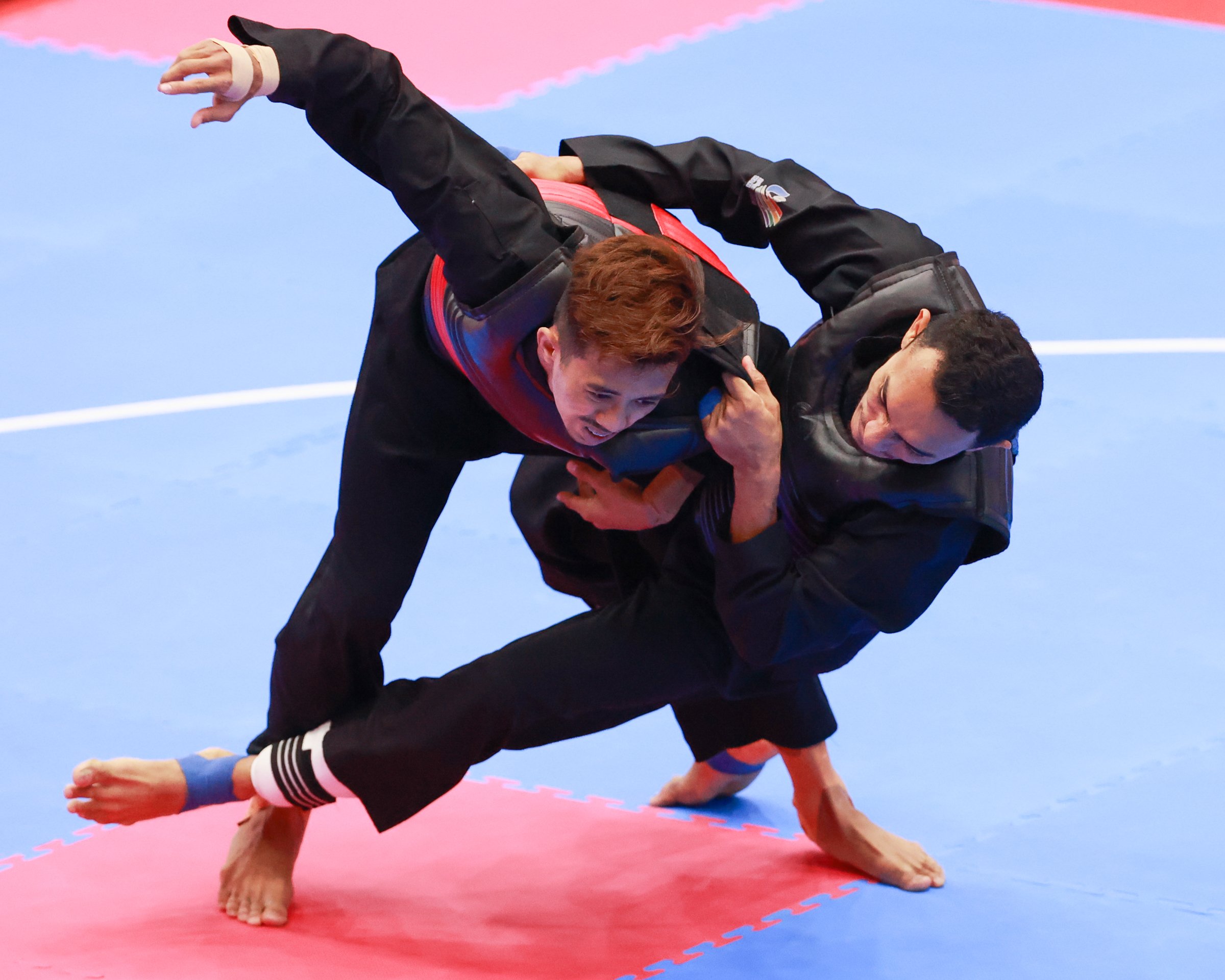 (TeamSG's Md Hazim in action against Indonesia Photo Credit: Sport Singapore/Stanley Cheah)

Teammate Muhammad Hazim bin Mohamad Yusli had to endure a gruelling bout in the men's Class C (55-60kg) tanding final, including taking 2 hefty strikes to the face. He eventually won when his opponent Indonesia's Muhamad Yachser Arafa was disqualified for an illegal kick.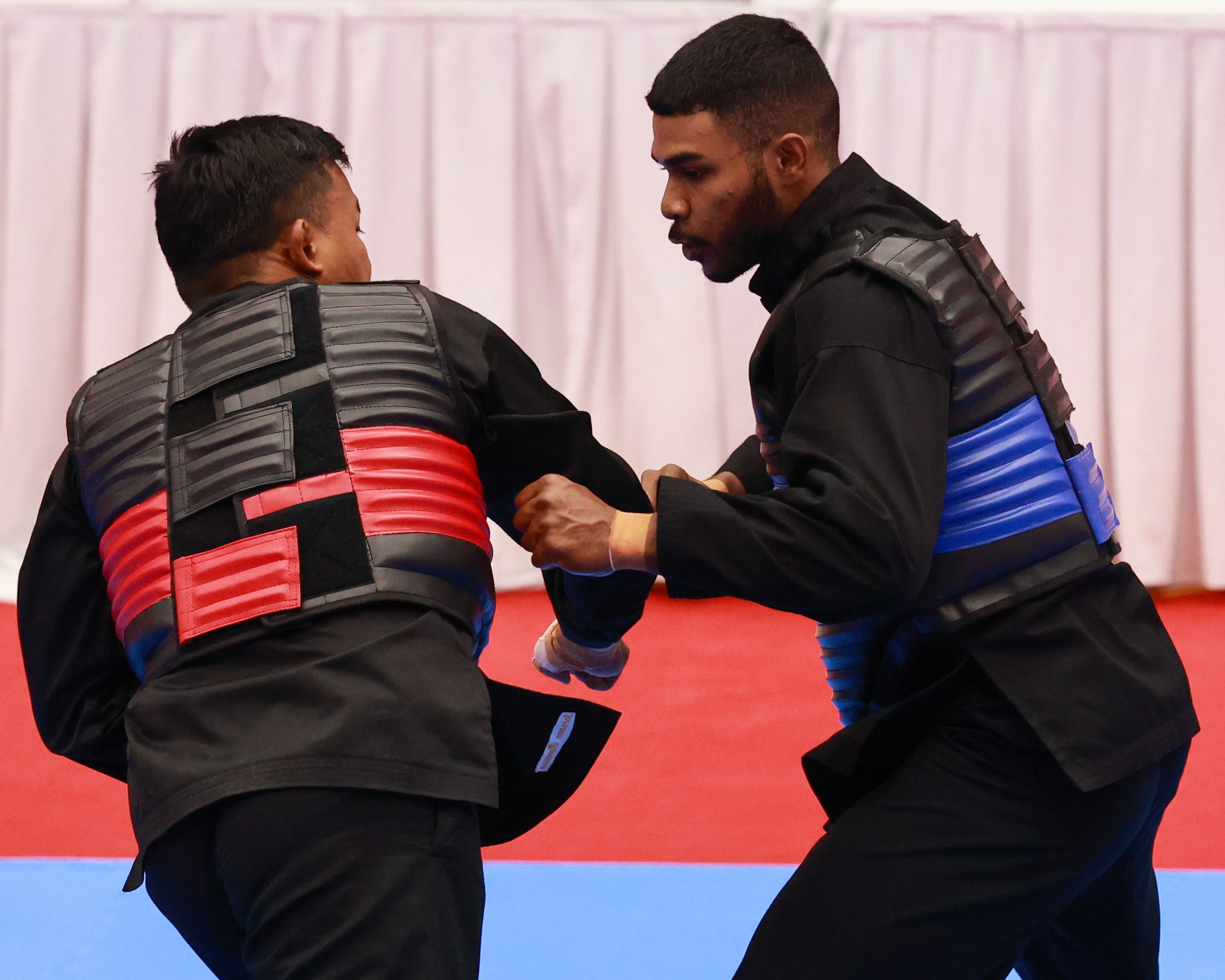 (TeamSG's Sheik Farhan in action against Thailand. Photo Credit: Sport Singapore/Stanley Cheah)
Sheik Farhan bin Sheik Alau'ddin, went on to collect the 3rd gold medal of the day when he beat Saranon Glompan of Thailand. He was up 13 against his opponent's -6 when the Thai athlete and his coaches walked out of the bout.

Meanwhile, Farhan's brother Sheik Ferdous was scheduled to compete in the men's Class G (75-80kg) Tanding final. But he was forced to withdraw from this afternoon's final for safety reasons, having been knocked out in the semi-finals (on 15 May) from an illegal punch.

In the men's Class F (70-75kg) tanding final, Abdul Raazaq bin Abdul Rashid put up a valiant fight against home favourite and veteran Tran Dinh Nam, but eventually lost out 42-14 and settle for the silver.

Sheik Farhan, a 3-time world champion who was also TeamSG's flagbearer at the opening ceremony, said the team's showing in Hanoi backed up his belief that they were the ones to beat.

Said the 24-year-old: "We are the best team. This is the best Singapore team that has competed in the SEA Games. 2018 was the best world championships team and this is the best SEA Games team. I'm glad to be part of both teams and contribute to the best team that has been in Singapore."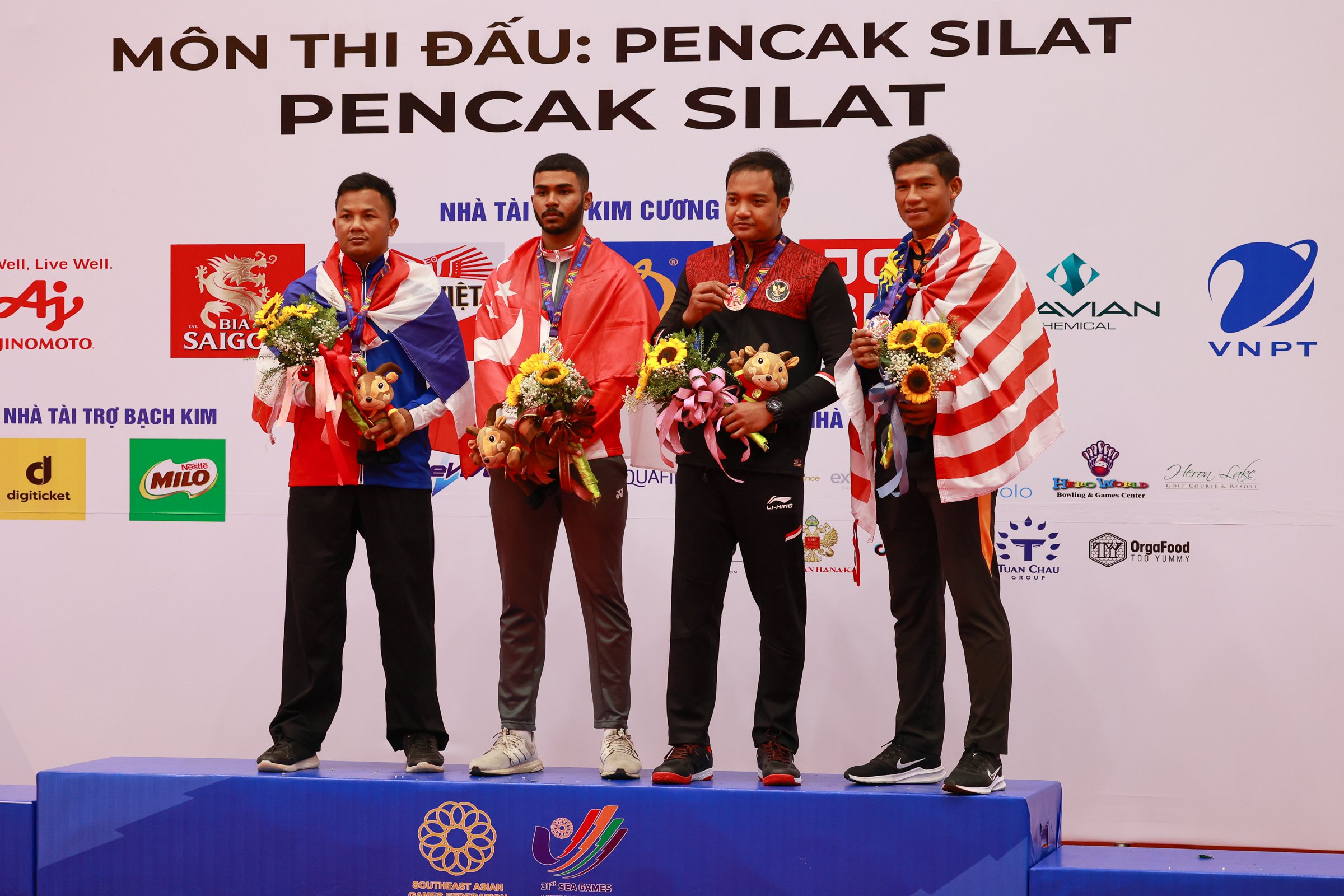 (TeamSG's Sheik Farhan with the Gold medal. Photo Credit: Sport Singapore/Stanley Cheah)
With the next world championships coming up in July in Malaysia, he felt the result will give the team confidence to back up their historic 7-gold performance from 2018.

Said Sheik Farhan: "I think this SEA Games really showed and gave all the athletes confidence in their abilities, especially those who won their first medal or first gold. It showed them that they're more capable than they think they are.

"I'm just happy with the direction everyone is taking. It's easy to succeed when everyone is succeeding because you get inspired and motivated to win together."
For the latest Team Singapore coverage and news, follow Team Singapore on their social media channels (Facebook, Instagram, TikTok) or visit the official Team Singapore website.