TeamSG Wrestling ends its SEA Games campaign with Gary Chow's silver medal win!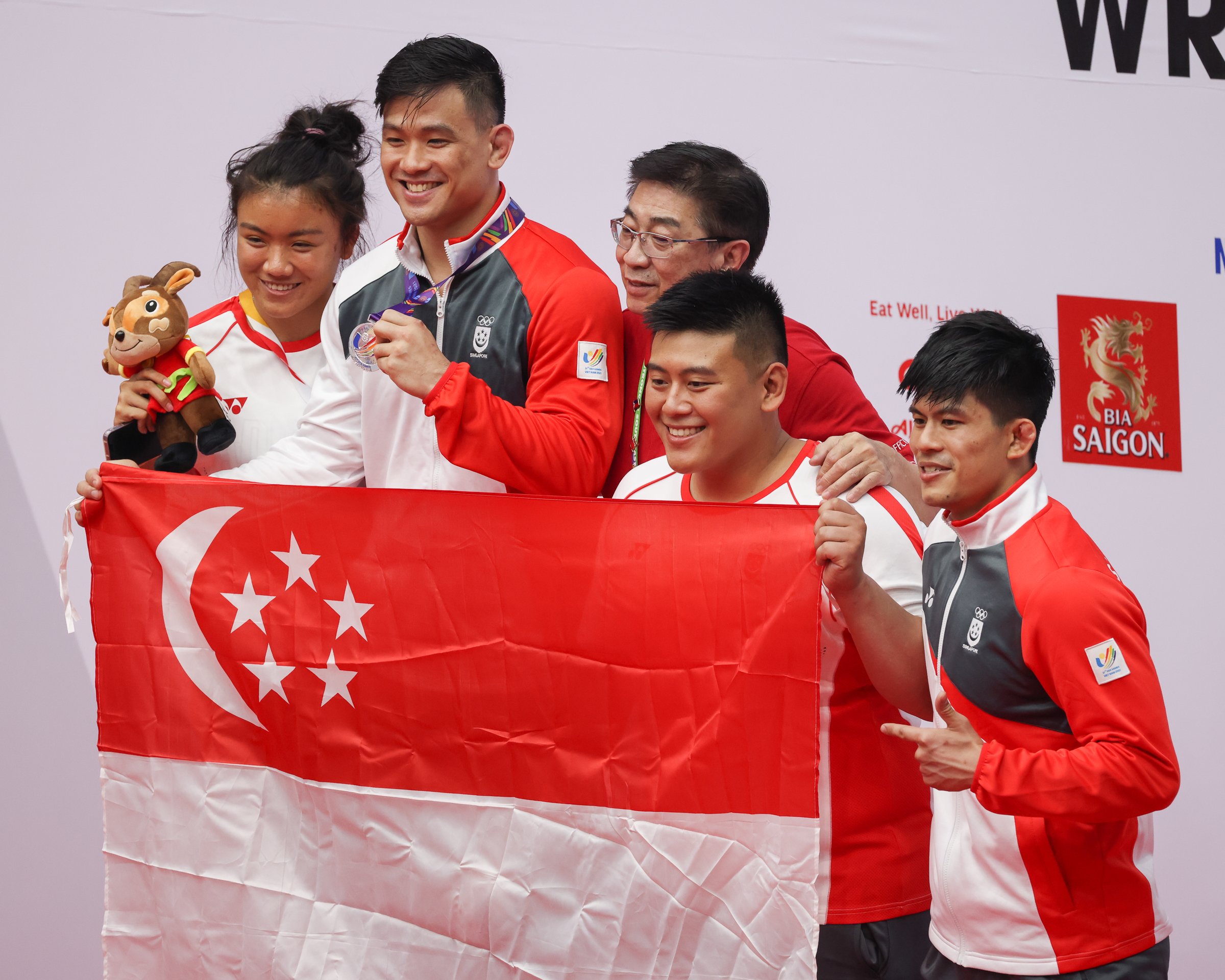 (The wrestling squad celebrates Gary Chow's silver medal win. Photo Credit: Sport Singapore/Stanley Cheah)
By Angelina Dass


Not since Singapore's wrestling debut at the Southeast Asian (SEA) Games in 2019, has the sport seen a silver medal.
Well that didn't stop our TeamSG wrestlers from gaining their second silver at the Hanoi Games on 19 May, In today's final of the under-86kg weight class, Gary Chow was outscored 11-0 by home favourite Van Truong Vu Tran, in the round-robin competition.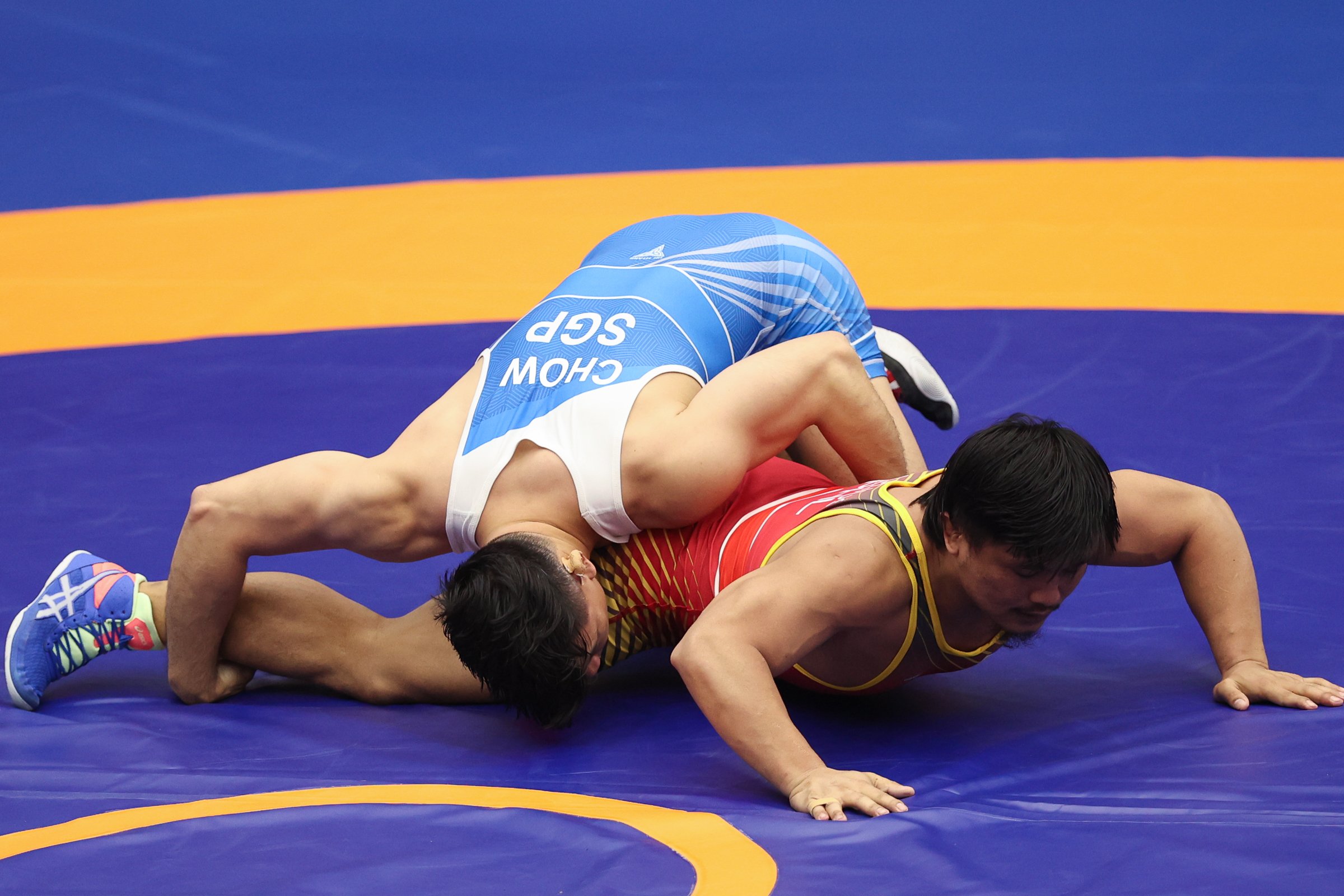 (Gary Chow takes on Elvis Julius from the Philippines in the Under-86kg round-robin competition. Chow won the match 12-2. Photo Credit: Sport Singapore/Stanley Cheah)
Competing in wrestling for the first time, Gary expected a tough fight as the Vietnamese have proven to be the ultimate powerhouse in the region. Just one shy of a podium sweep, the hosts won top prize in 17 out of 18 events at the Gia Lim Gymnasium in Hanoi.
31-year-old Gary said, he tried to defend the gold medallist's attacks but conceded his opponent was better technically.
"Even though it's not the result I hoped for this time, I am elated with my performance and to come away from this Games with a silver medal. It's been a long while since that happened. "I'm just happy to bring it back for them."
Representing the nation in every edition of the Games since 2013 in 3 different sports - judo, sambo, and wrestling, Gary already has 5 medals under his belt. He has won a silver and two bronzes in judo (2013, 2015, 2017) , plus an individual silver and team bronze for sambo in 2019.
"The switch to wrestling has been relatively smooth. Transitioning from a gi sport to a non-gi sport has its difficulties too, having to get used to not having anything to grab. I have been working on that and I feel I have done well with that," he said.
Crediting his seamless wrestling transition to his teammates, the 31 year old vows to go back to the drawing board to work and improve on his game to win the elusive gold the next time round.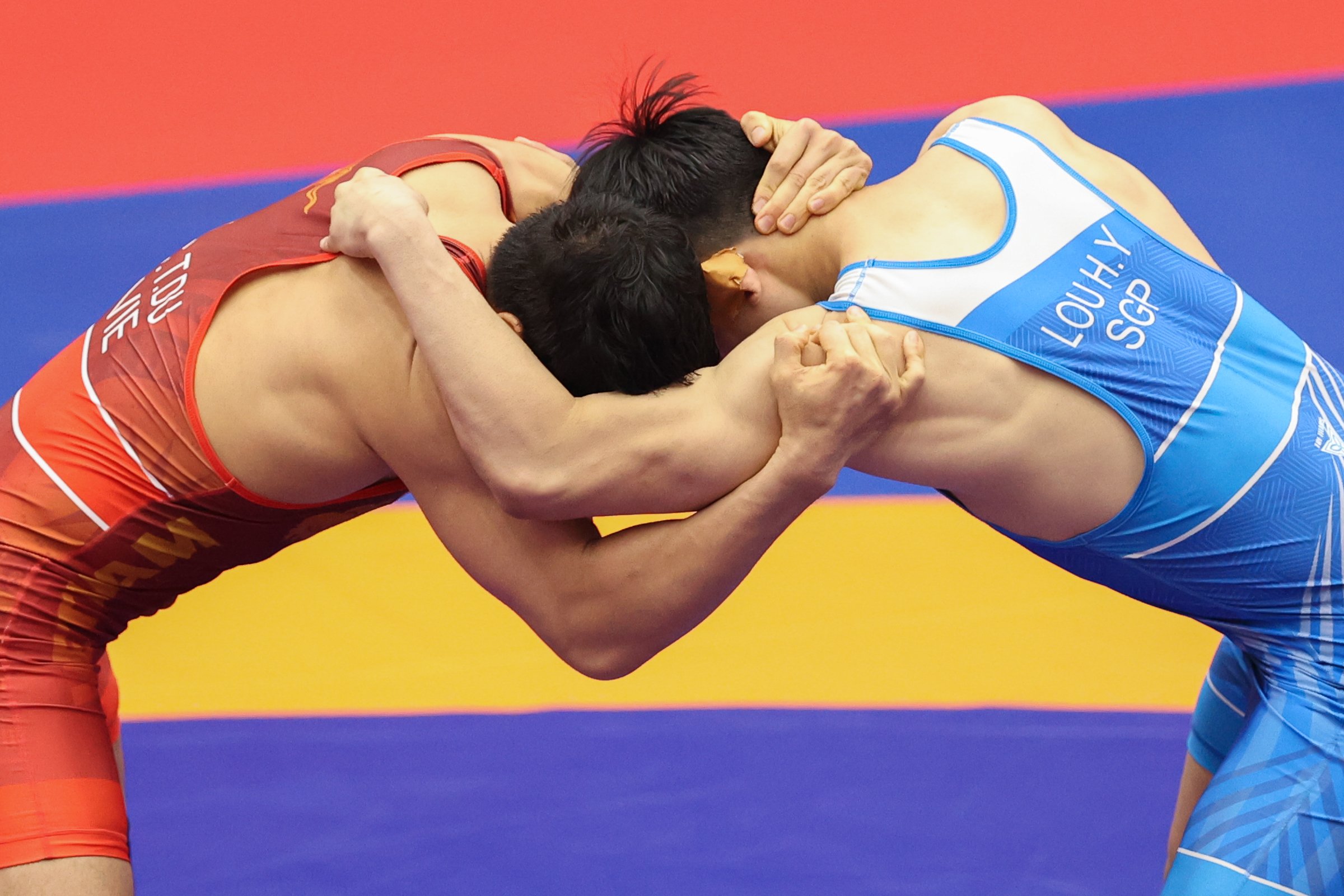 TeamSG's Lou Hong Yeow wrestles Vietnam's Tat Du Can and falls 10-0. Photo Credit: Sport Singapore/Stanley Cheah
Earlier in the day though, his counterpart Lou Hong Yeow exited the Games, unable to defend his 2019 bronze medal in the Under-74kg event. In a nail-biting finish, Hong Yeow performed a takedown on Thailand's Parinya Chamnanjan only to realise it was 0.08 seconds past the clock, which led him to lose 5-4.
"It is a very bitter and sour feeling to know that bronze was just a stone's throw away," said Lou, who took a six-week break from training to recover from a shoulder labrum tear in February.
While it affected his training momentum, the physiotherapist at Changi General Hospital focused on strength and cardio training, and looked to sharpen his technical skills on the mat. "It is definitely back to the drawing board to work on what is needed, and to prepare for the next SEA Games," said the 28-year-old.
Echoing his thoughts, Wrestling Federation of Singapore vice-president Gerard Lim praised the squad of four for their admirable performance - picking up two medals, Hong Yeow's perseverance and Danielle Lim's achieving her one win target in the 57kg category.
"Moving forward, having a measure of our SEA counterparts, we will be better prepared for the next SEA Games in Cambodia."
For the latest Team Singapore coverage and news, follow Team Singapore on their social media channels (Facebook, Instagram, TikTok) or visit the official Team Singapore website.