TeamSG's Silat exponents sign off with best ever performance, while Athletics continue stellar showing in Hanoi!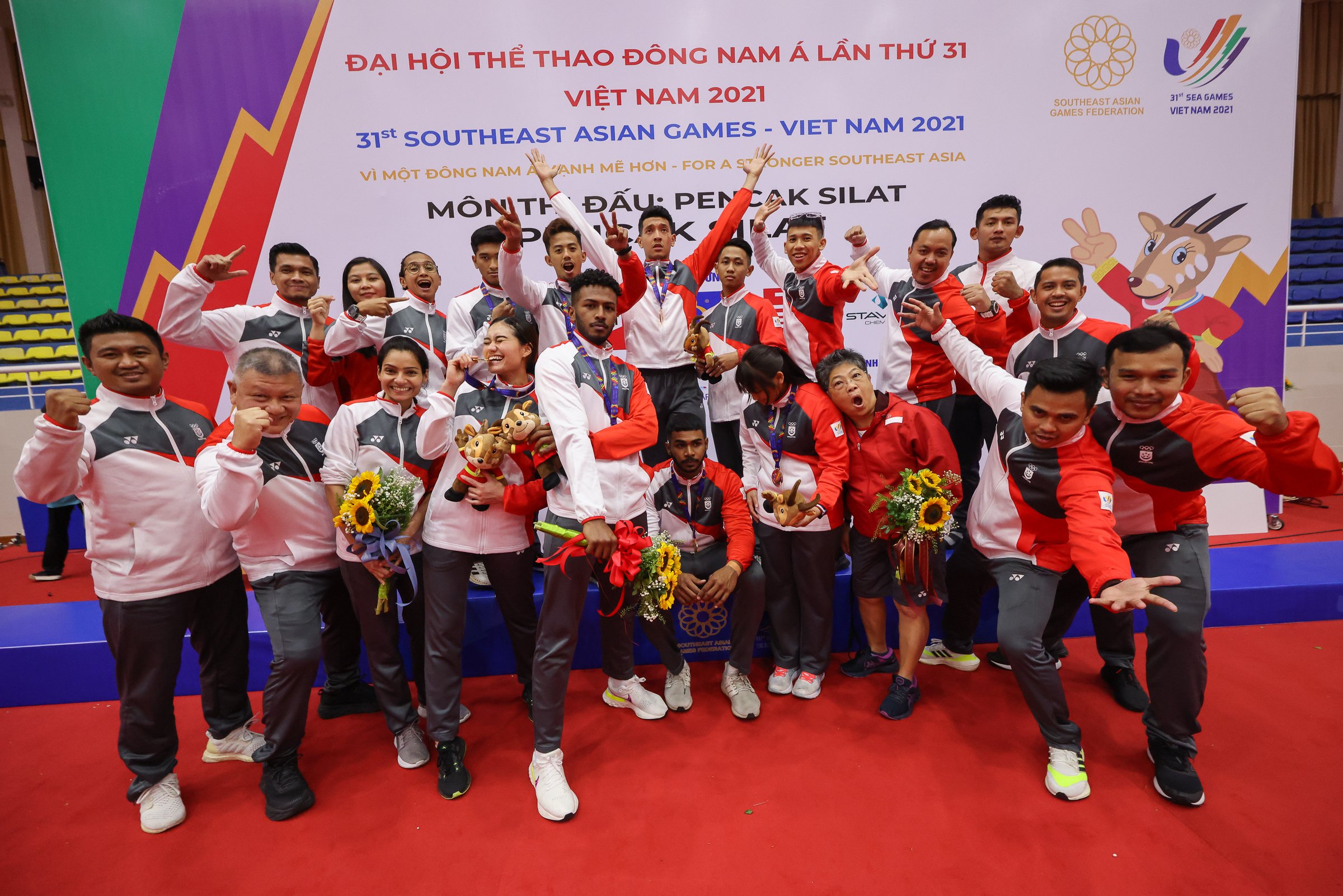 (TeamSG's Pencak Silat squad in Hanoi. Photo Credit: Sport Singapore/Stanley Cheah)

By May Chen

TeamSG athletes won another 9 gold, 4 silvers and 8 bronzes at the Hanoi SEA Games on Monday (May 16), taking the overall tally to 24 gold, 25 silvers, and 30 bronzes.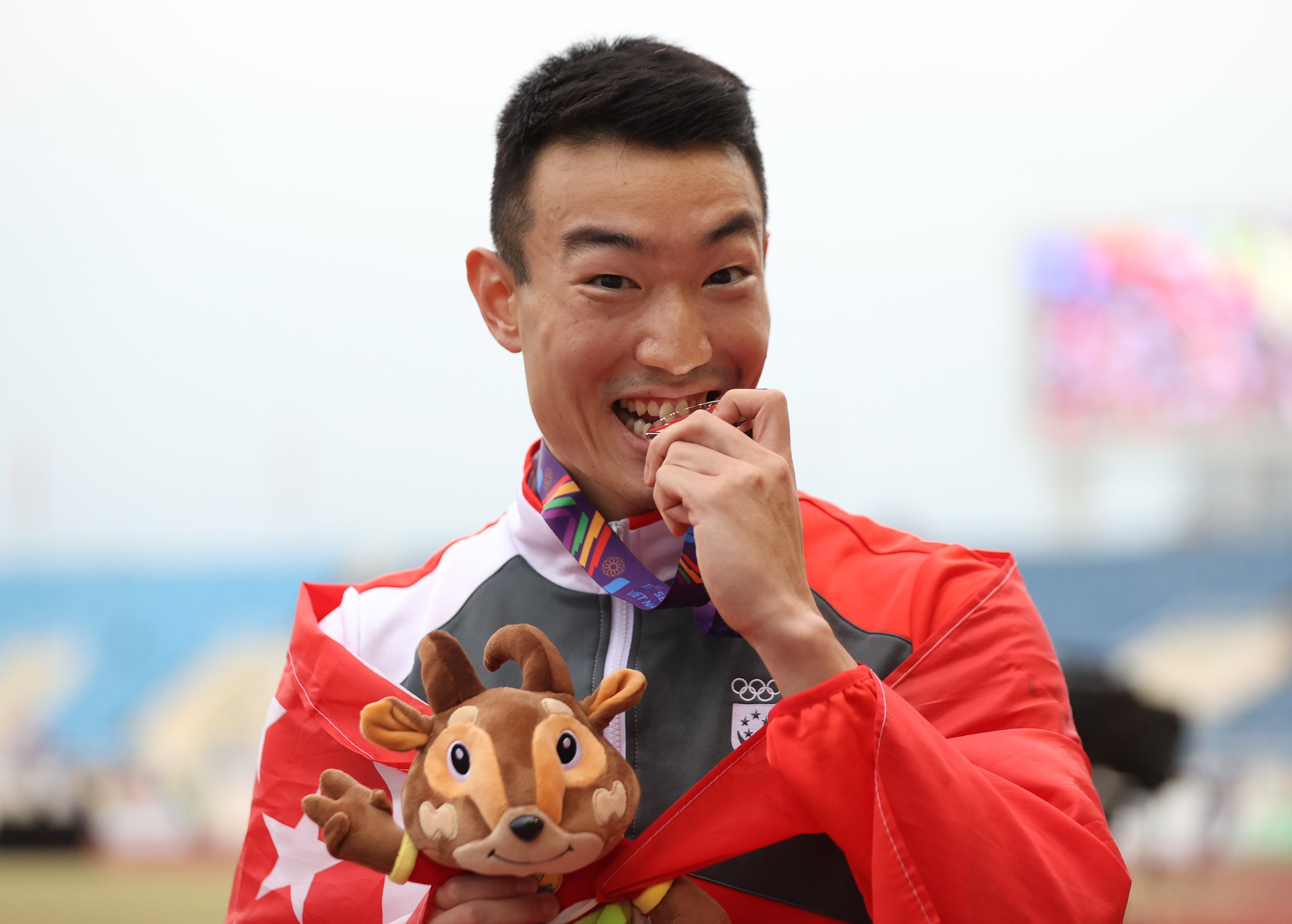 (TeamSG's Ang Chen Xiang sprints to 2nd place finish in 110m Hurdles. Photo Credit : Sport Singapore)

Chen Xiang overcomes hurdles to win TeamSG's first medal in more than 30 years

Singapore athletics' stellar showing in Hanoi continued on Monday, with track athletes picking up another silver and bronze.

Ang Chen Xiang clocked 13.94 seconds in the men's 110m hurdles, a new national record (pending ratification) and personal best that also earned him a silver medal. This is Singapore's first SEA Games medal in this event since Pasupathy Parameswaran clinched bronze at the 1989 Games in Kuala Lumpur.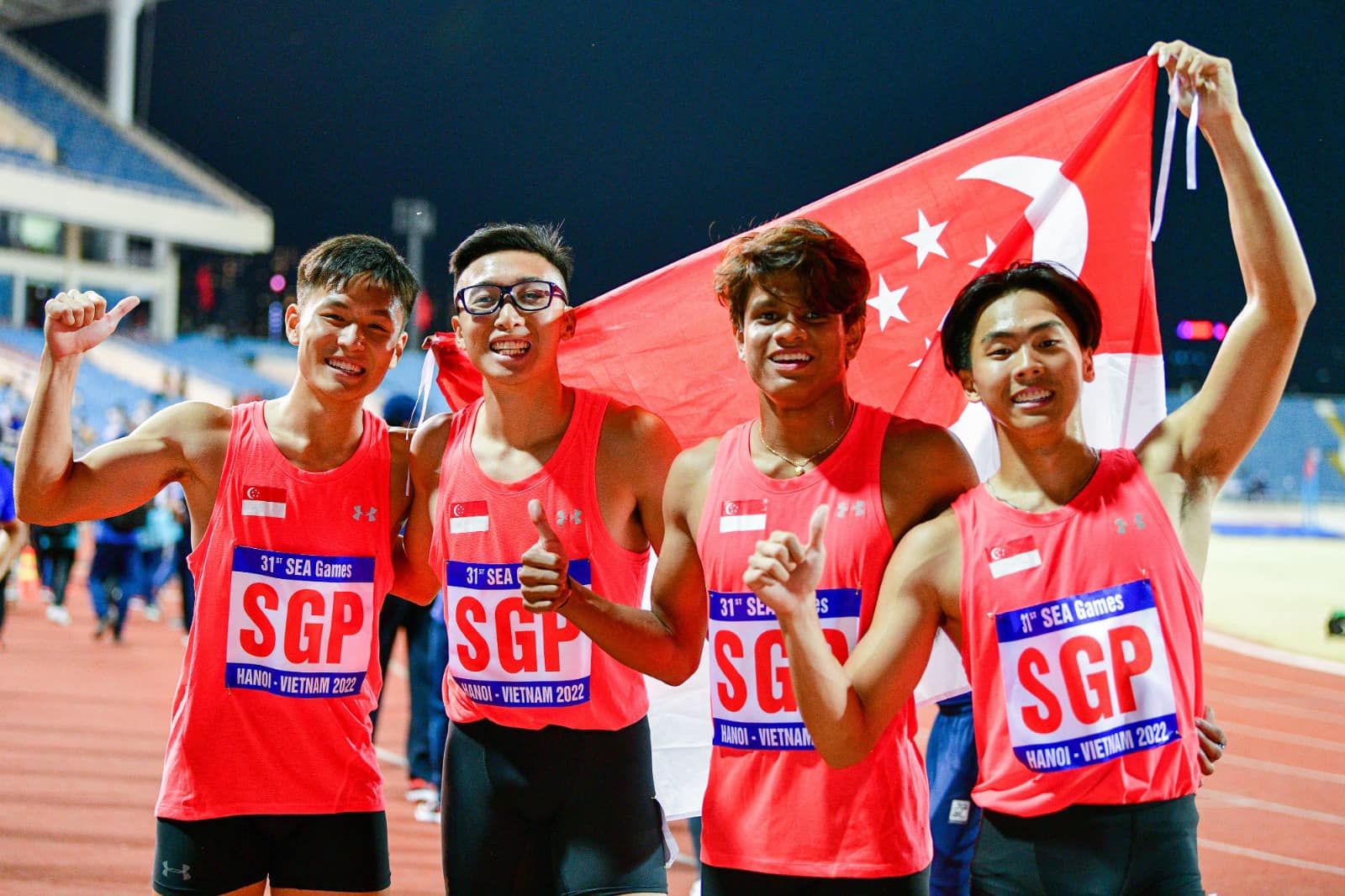 (TeamSG's sprinters race to a 3rd place finish. Photo Credit : SNOC)
The Republic's men's 4x100m relay quartet of Marc Brian Louis, Joshua Chua, Mark Lee and Ian Koe came home in 39.44s, taking the bronze medal.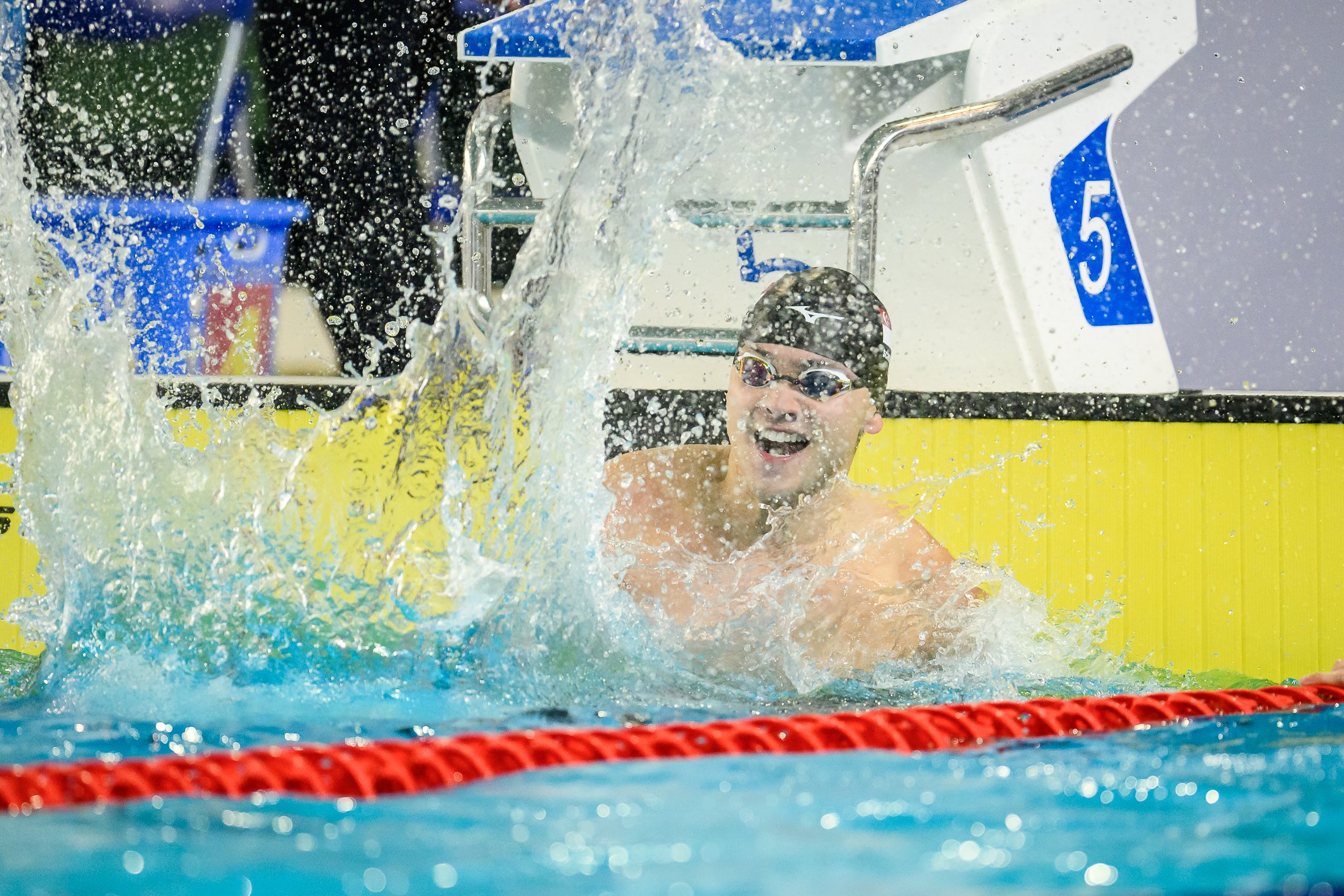 (Joseph Schooling defends his gold medal for the 5th straight Games. Photo Credit : Sport Singapore)
Butterfly king Joseph Schooling takes 100m fly gold for fifth straight time

Joseph Schooling clocked 52.22 seconds to touch home first in the men's 100m butterfly, staying unbeaten in an event he has won since the 2013 SEA Games. He was also part of the men's 4x100m medley relay team that clocked 3:37.69 to take gold.

The swimmers picked up 2 more golds on Monday evening – Letitia Sim with her first individual gold in the women's 50m breaststroke (31.43 seconds) and Gan Ching Hwee in the women's 200m freestyle (2:02.06).

Quah Zheng Wen won a silver in the 100m fly (52.86s). Three more bronzes came through Glen Lim in the men's 400m freestyle (3:56.68), Chan Zi Yi in the women's 200m freestyle (2:03.21) and Christie Chue in the women's 50m breaststroke (32.10s).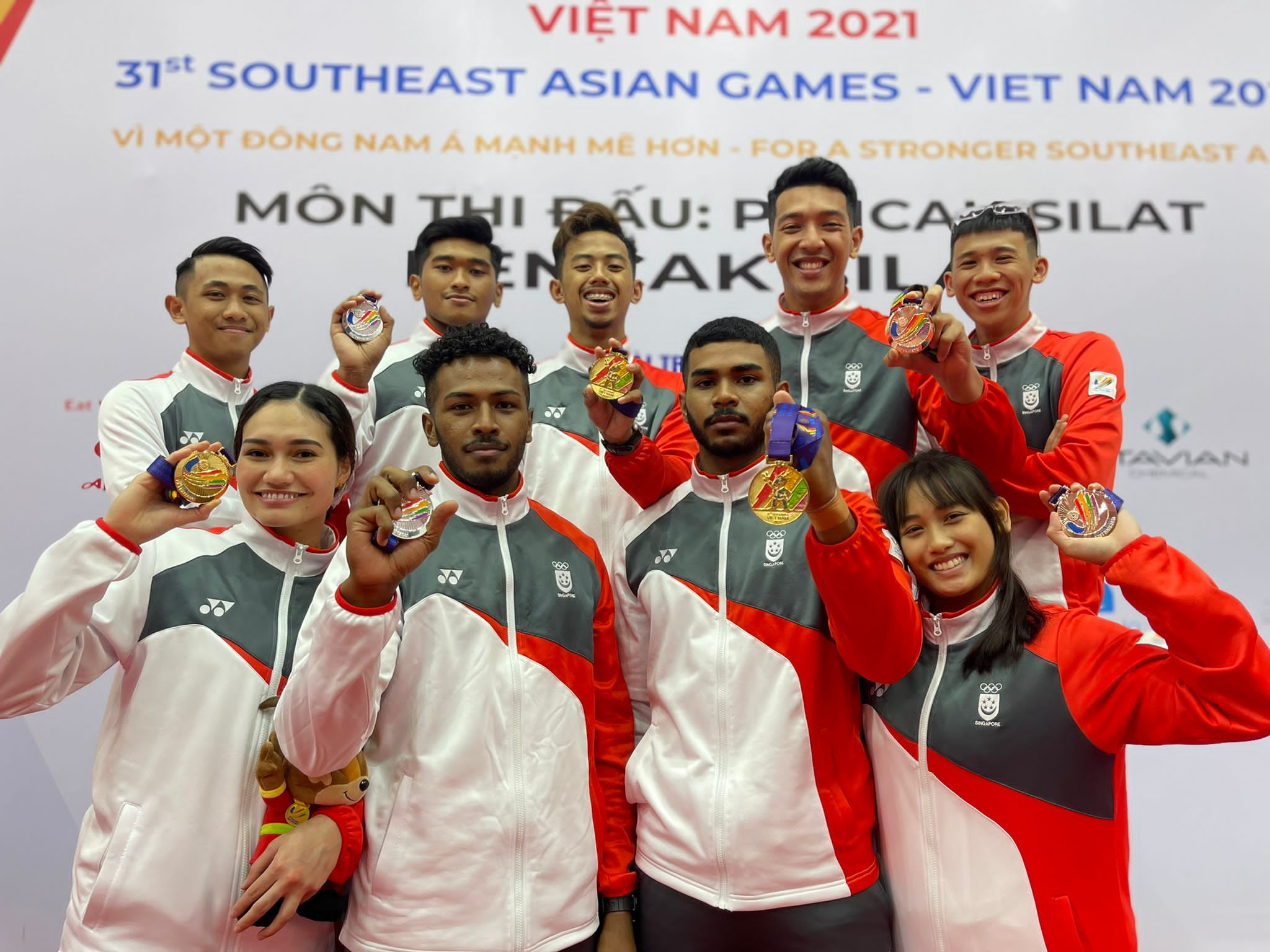 (TeamSG's Silat medal winners in Hanoi. Photo Credit : Singapore Silat Federation)

Best SEA Games showing ever for silat exponents

TeamSG finished the silat competition with an overall haul of four golds, three silvers and four bronzes, its best-ever performance at a SEA Games. At the 2003 edition, also held in Vietnam, Singapore won three golds, two silvers and 10 bronzes.

Majulah Singapura was heard thrice on Monday. Gold medals came through Nurul Suhaila (women's Class E tanding), Muhammad Hazim (men's Class C tanding) and Sheik Farhan Sheik Alau'ddin (men's Class J).

Abdul Raazaq Abdul Rashid won a silver (men's Class F tanding), as did Sheik Ferdous Sheik Alau'ddin (men's Class G tanding) to complete the day and Games' tally.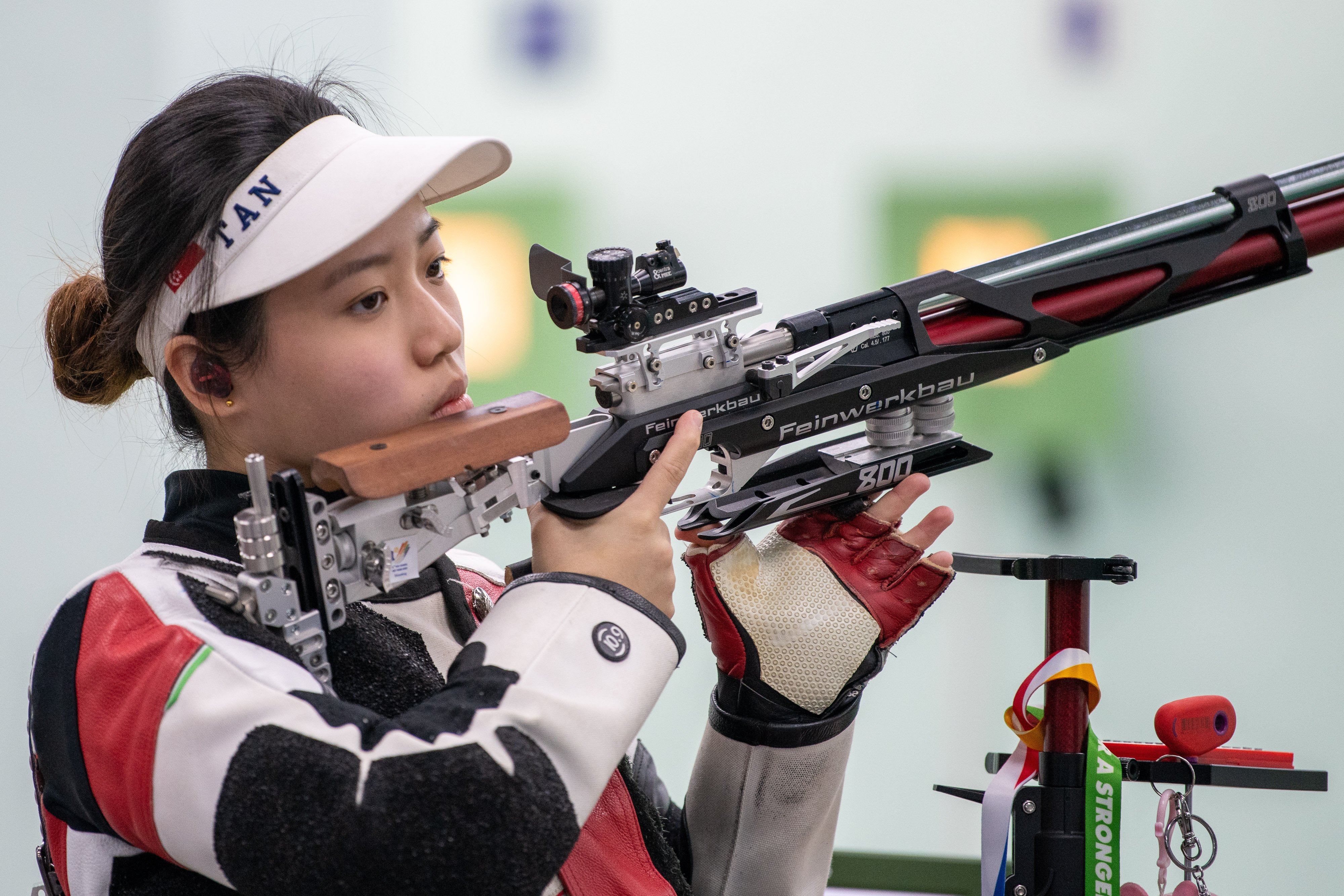 (Singapore's Adele Tan in action. Photo Credit: Sport Singapore/ Flona Hakim)
Team bronze for TeamSG's air rifle shooters

Singapore's trio of Adele Tan, Fernel Tan and Natanya Tan missed out on individual medals in the women's 10m air rifle, but their respective scores made for a combined total of 1863.8, putting them in third place for team bronze.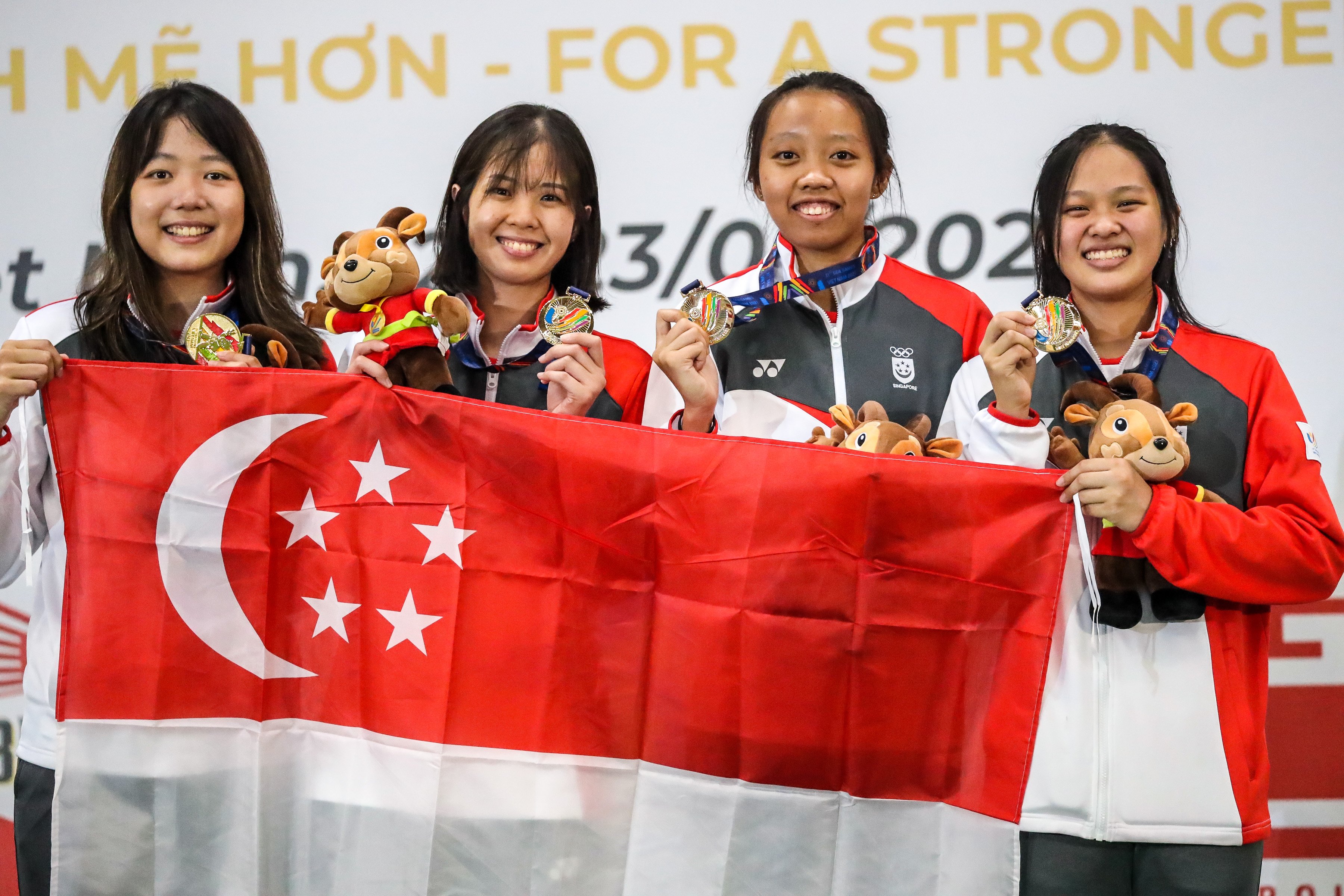 (From left: Rebecca Ong, Victoria Lim, Kiria Tikanah and Elle Koh win gold. Photo Credit: SNOC/ Kelly Wong)

Women's epee fencers make history in team event

Singapore's quartet of Rebecca Ong, Victoria Lim, Kiria Tikanah and Elle Koh made history, when they won the women's team epee gold. It's the first time TeamSG have won this title at the SEA Games, after coming in second best at the last edition in 2019.

The men's sabre team were beaten in their semi-finals against Vietnam, and took joint bronze.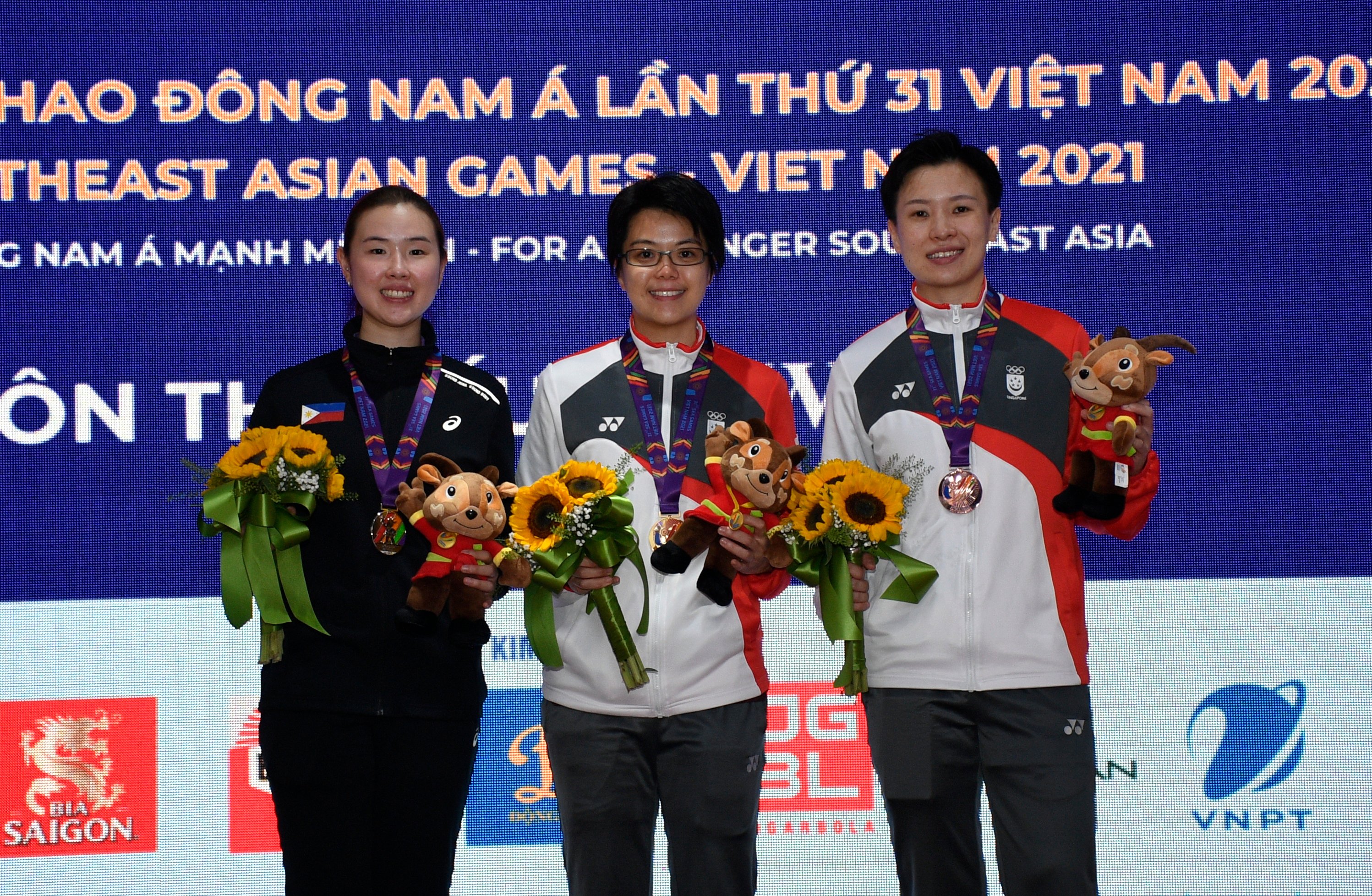 (Singapore's Cherie Tan and New Hui Fen in Victory Ceremony. Photo Credit: Sport Singapore/ Alfie Lee)
Singapore bowls over competition in women's singles – again

Bowler Cherie Tan's red hot form gave her a lead of 122 pinfalls over her nearest rival in the women's singles event. Her gold continues Singapore's stronghold on this event since 2011, bar 2013 when the event was not contested.

Teammate New Hui Fen missed out on second spot by a single pin, taking bronze eventually.
(TeamSG's Darren Yap, Brandon Low and Dixon Ho take the bronze in Team Poomsae Finals. Photo Credit: Sport Singapore/ Dyan Tjhia)

Taekwondo win first medal in Hanoi

Singapore's Brandon Low, Dixon Ho and Darren Yap won a joint bronze in the men's recognised poomsae team, winning taekwondo's first medal of the 31st SEA Games.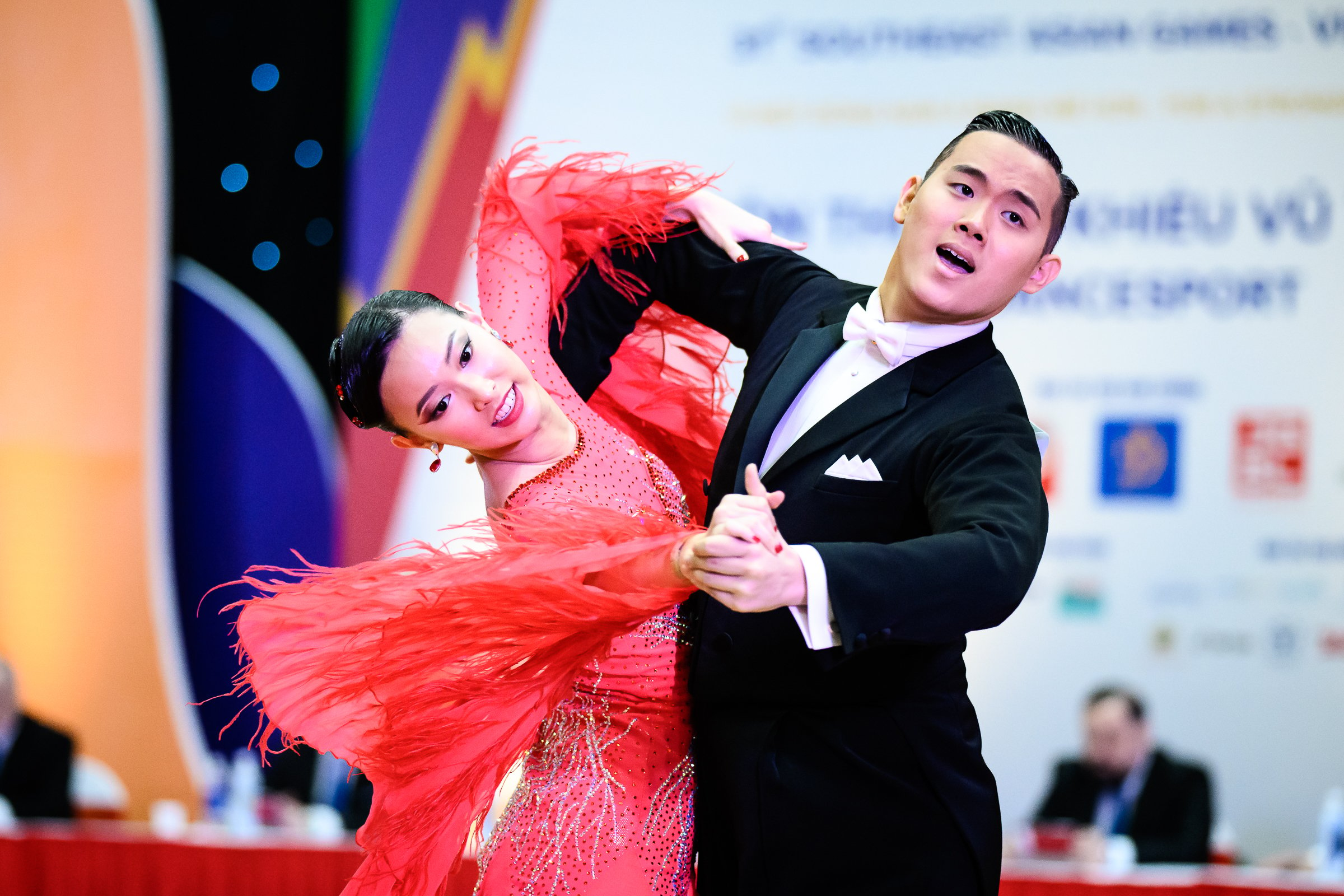 (Singapore's Jerome Teo and Rachel Teo in action. Photo Credit: Sport Singapore/ Andy Chua)
Dancesport competition concludes

In dancesport, Rachel Teo and Jerome Teo competed in the mixed waltz, mixed slow foxtrot and mixed Viennese waltz finals on Monday. They scored 28.850 points, 29.200 points and 28.800 points in the three events respectively, finishing fifth in all of them.

The day before, Chelsy Tsan and Gary Tsan competed in the mixed chachacha, mixed paso doble and mixed jive events. They scored 31.700 points, 31.150 points and 30.500 points respectively to finish fourth in the first two, and fifth in the mixed jive.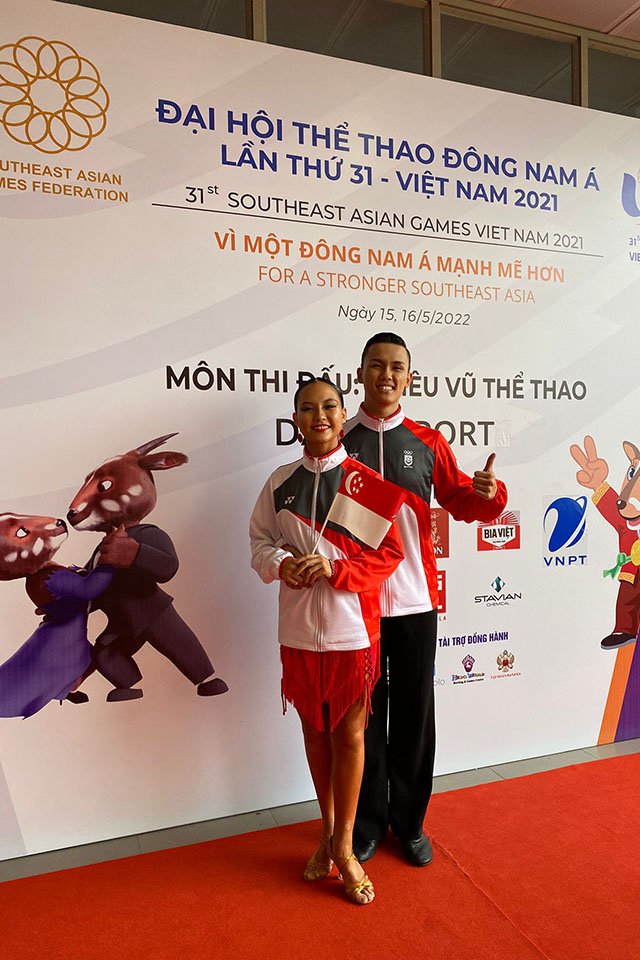 (TeamSG's Chelsy Tsan and Gary Tsan in Hanoi. Photo Credit : Singapore DanceSport Federation)
At the end of Day 4, Team Singapore are in 4th place overall with 24 gold, 25 silvers, and 30 bronzes. Vietnam lead with 88 Gold, Thailand have 36 while the Philippines are 3rd with 30 Gold medals.
For the latest Team Singapore coverage and news, follow Team Singapore on their social media channels (Facebook, Instagram, TikTok) or visit the official Team Singapore website.