Xin Ru and Rui Xuan : We're targeting a podium finish at the Hanoi Games!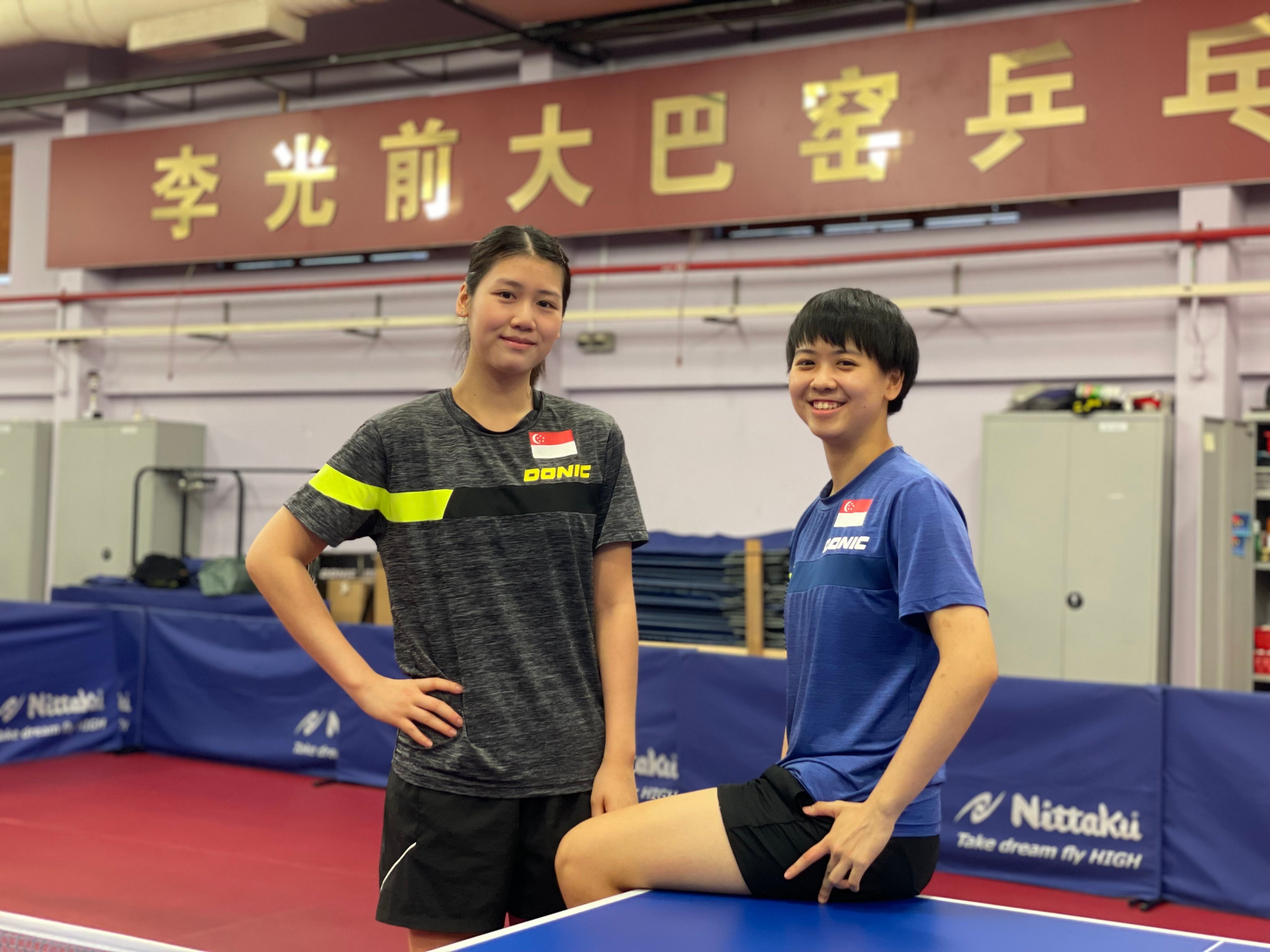 Team Singapore's Wong Xin Ru and Goi Rui Xuan in 2022. Photo Credit : Pearlyn Koh
By Pearlyn Koh
Having won a Bronze medal in the Women's Doubles event at the 2019 Southeast Asian (SEA Games) held in the Philippines, TeamSG's Women's Doubles pairing of Goi Rui Xuan and Wong Xin Ru, are aiming for nothing less at this year's edition of the Games. Happening from 12 - 23 May in Hanoi, Vietnam is this year's SEA Games - which will see some 425 TeamSG representatives across 33 sports.
Rui Xuan and Xin Ru, both turning 21 this year, are part of a 10-member squad competing at the Games. Following the absence of the Team and Mixed Doubles events at the last edition of the Games, all eyes will be on the Singaporean team as they compete against some of the region's top paddlers across 7 events on offer in Hanoi.
This is the duo's 2nd SEA Games outing. On their SEA Games debut in 2019, the pair narrowly defeated their Filipino opponents 3-2 in the Quarter-finals, before falling to Thailand in the Semi-Finals to clinch the Bronze medal. Since then, Rui Xuan and Xin Ru have been undergoing more systematic doubles training and competing frequently to improve their chemistry and earn ranking points.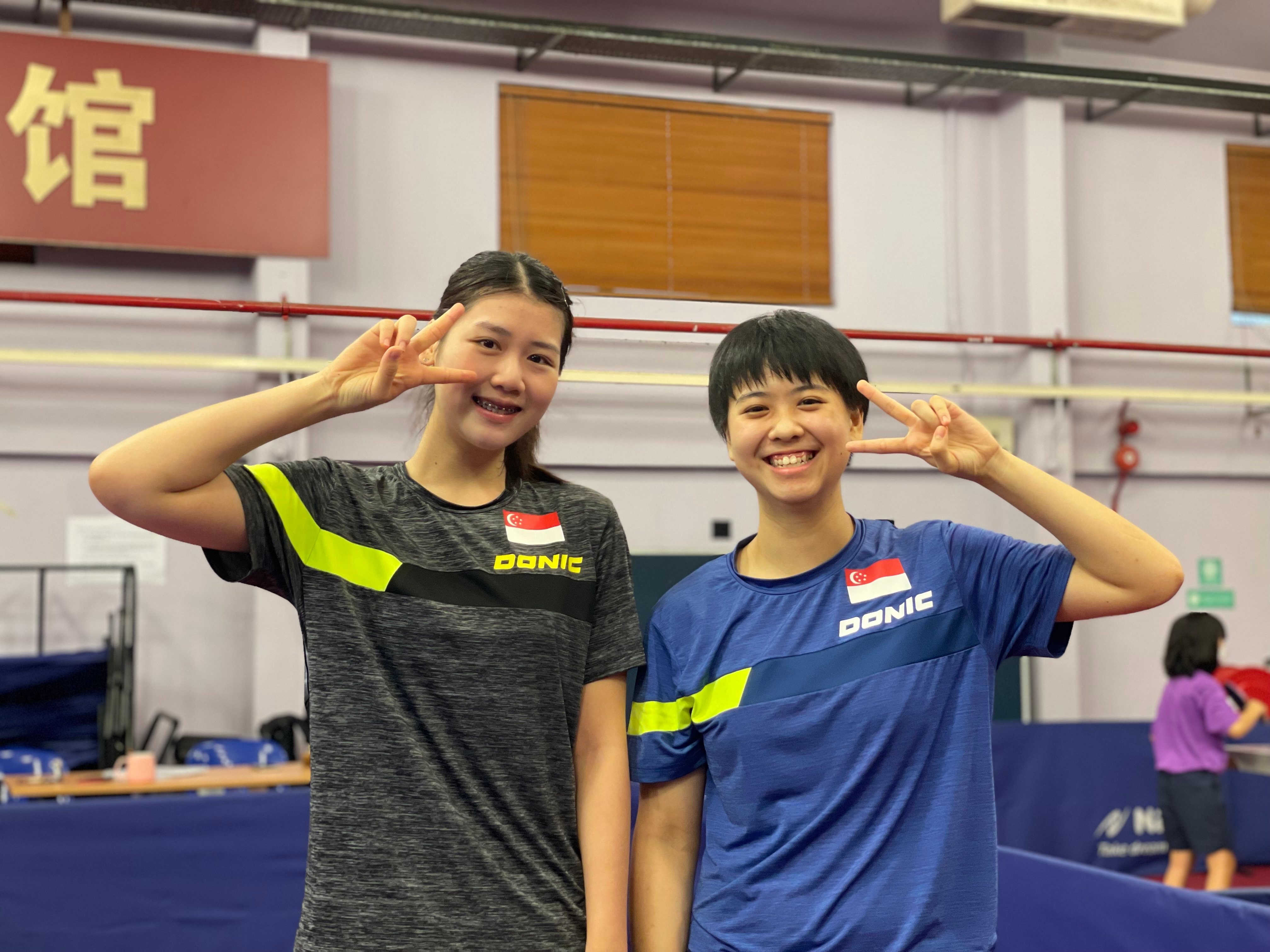 Team Singapore's Wong Xin Ru and Goi Rui Xuan in 2022. Photo Credit : Pearlyn Koh
On the international stage, the Singaporean duo has also achieved outstanding results on several occasions. For Xin Ru, her most memorable match was at the 2019 Commonwealth Championships. In the Quarter-finals, the pair was up against their Indian opponents - both who were Top-100 ranked Singles players. Eventually, it was the Singaporean duo who managed to edge out their higher-ranked Indian opponents 3-2 to clinch a medal in the Women's Doubles event.
"That was a very memorable match, because it made me understand that two better players coming together (for doubles) does not guarantee a win over two average players. Rather, having good chemistry and a strong desire to win may beat all odds", expressed Xin Ru.
Rui Xuan and Xin Ru have known each other for a long time, since their childhood days. But it was only in the Singapore Sports School that the duo got to know each other better, leading to a blossoming friendship which has definitely contributed to the pair's strong chemistry in doubles today.
As the pair prepares for the upcoming Games, we recently caught up with them through an audio interview, to better understand their partnership and learn about their preparations for this year's SEA Games. (Watch Interview Below!)
(Pre-Games Interview with Rui Xuan and Xin Ru. Video Credit : Pearlyn Koh)
We wish Rui Xuan, Xin Ru and 8 other paddlers from Team Singapore at the 31st SEA Games, the very best of Luck, Focus, Mental Strength and Safety in Hanoi!
The 31st SEA Games is held in Hanoi, Vietnam from 12 to 23 May 2022. For the latest Team Singapore coverage and news, follow Team Singapore on their social media channels (Facebook, Instagram, TikTok) or visit the official Team Singapore website.
Pearlyn Koh has been playing Table Tennis competitively for 9 years. She is a 4-time Champion at the National School Games, over a period of 6 years. And she's currently a member of the National Team and has represented Singapore at several major tournaments, including the 2018 Asian Games and World Table Tennis Championships. In 2019, Pearlyn was also the sole Southeast Asian player to enter the Top 16 at the Asian Junior & Cadet Table Tennis Championships. During her free time, Pearlyn enjoys reading and catching up with her friends.