Shaheed Alam: Inspiring a new generation of high performance athletes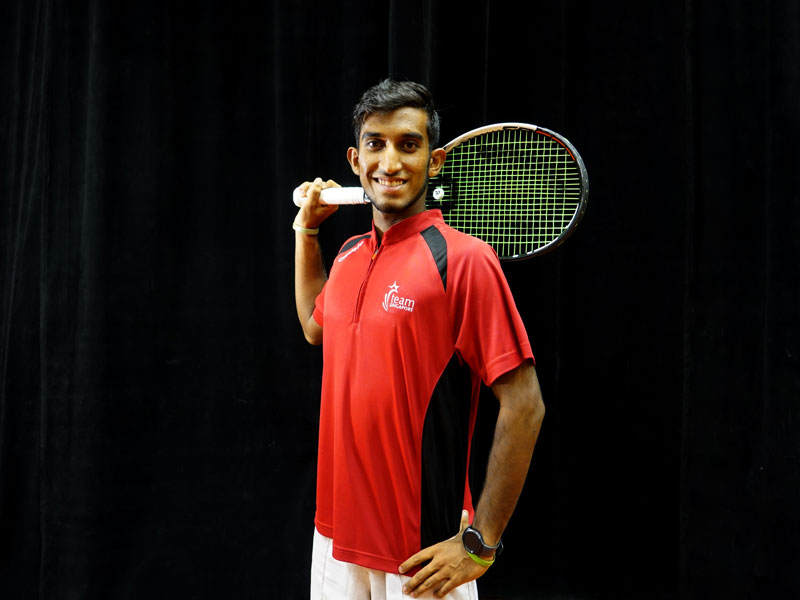 They are your everyday Singaporeans, dealing with the demands of school and work. However, Sport Singapore's newly appointed brand ambassadors and sport and fitness influencers all have something else in common – their belief in the importance of living better through sport. Get to know them in our eight-part series here!
If you have been paying attention, you would have noticed that Team Singapore tennis player Shaheed Alam recently added something new to his Instagram account bio – the title "Sport Singapore ambassador".
The youngest of this pilot batch of eight ambassadors, 19-year-old Shaheed could arguably be considered one of local tennis' brightest prospects. In 2015, he became the first Singaporean male player to win an ITF junior singles title, and even partnered Maria Sharapova in a mixed doubles exhibition match.
Currently on a two-month hiatus from school in order to train full-time for the upcoming SEA Games in August, the Republic Polytechnic student also took the individual title at the SEA Men's Team Invitational tournament this year – a positive indicator of the successes that he will be gearing towards in KL.
Shaheed poses with his tennis racquet at the SportSG brand ambassador initiative photo shoot. Photo: SportSG
Are his high performance sporting endeavours too distant a notion for the general public? After all, it is the masses that this ambassador initiative hopes to inspire to live better through sport. Shaheed certainly does not think so.
While he would like to showcase sporting excellence to Singaporeans, there is a specific demographic that he hopes to motivate in particular. "I want to reach out to the youths through my role as ambassador. We have many strong juniors here in Singapore, compared to our other regional counterparts. I hope to get them to pursue whatever sporting ambitions they may have by sharing my journey with them," he expressed.
Acknowledging that he had to be a credible role model by first garnering achievements, the promising young star added: "My age now is where most student-athletes begin to drop out of sports because of studies and other commitments. With tennis, there are so many kids playing at a young age. But they slow down as they reach their teens, because there are the 'O' Levels and 'A' Levels."
"I hope to change this. Hopefully, with me trying to motivate them, they won't back down from their sports. I want to show them that sports is a viable career," Shaheed stated. As such, the up-and-coming ace is training harder than ever – not just for personal glory; not just to put Singapore on the world map. He is training harder than ever to show to the youths that if he can do it, then they can, too.
"Rather than interfering with my training, I actually view this ambassadorship as additional motivation to train harder, so as to set a good example for the younger ones. It's also a way for me to give back – a great opportunity to help influence all the younger ones out there and inspire them with my achievements," he explained.
This ambassadorship was nonetheless a new hat for Shaheed, with an added commitment to post more regularly on social media, as well as attend the odd video shoot from time to time. However, the only change that really mattered to him was the additional title that he had put up on his Instagram account. When asked what part of his public persona he has had to alter in order to align better with Sport Singapore's objectives, he quipped: "Well, I added 'Sport Singapore ambassador' to my Instagram bio!"
"Ultimately, it's just about being myself. That's really the main point of this initiative, isn't it? To spread the good of sport by sharing how it has been such a significant part of my life. Through my performance and lifestyle, I want to be a good example for other youths out there. It's a responsibility that I am in the position to take on, and I hope to be able to reach out to more people," he remarked.
Get inspired by as Shaheed's passion, discipline, and achievements through peeks into his life on Instagram (@shaheedalam98), as well as updates on the Sport Singapore YouTube channel and the Team Singapore Facebook Pages!