World's top players ready for battle at Singapore Badminton Open 2022!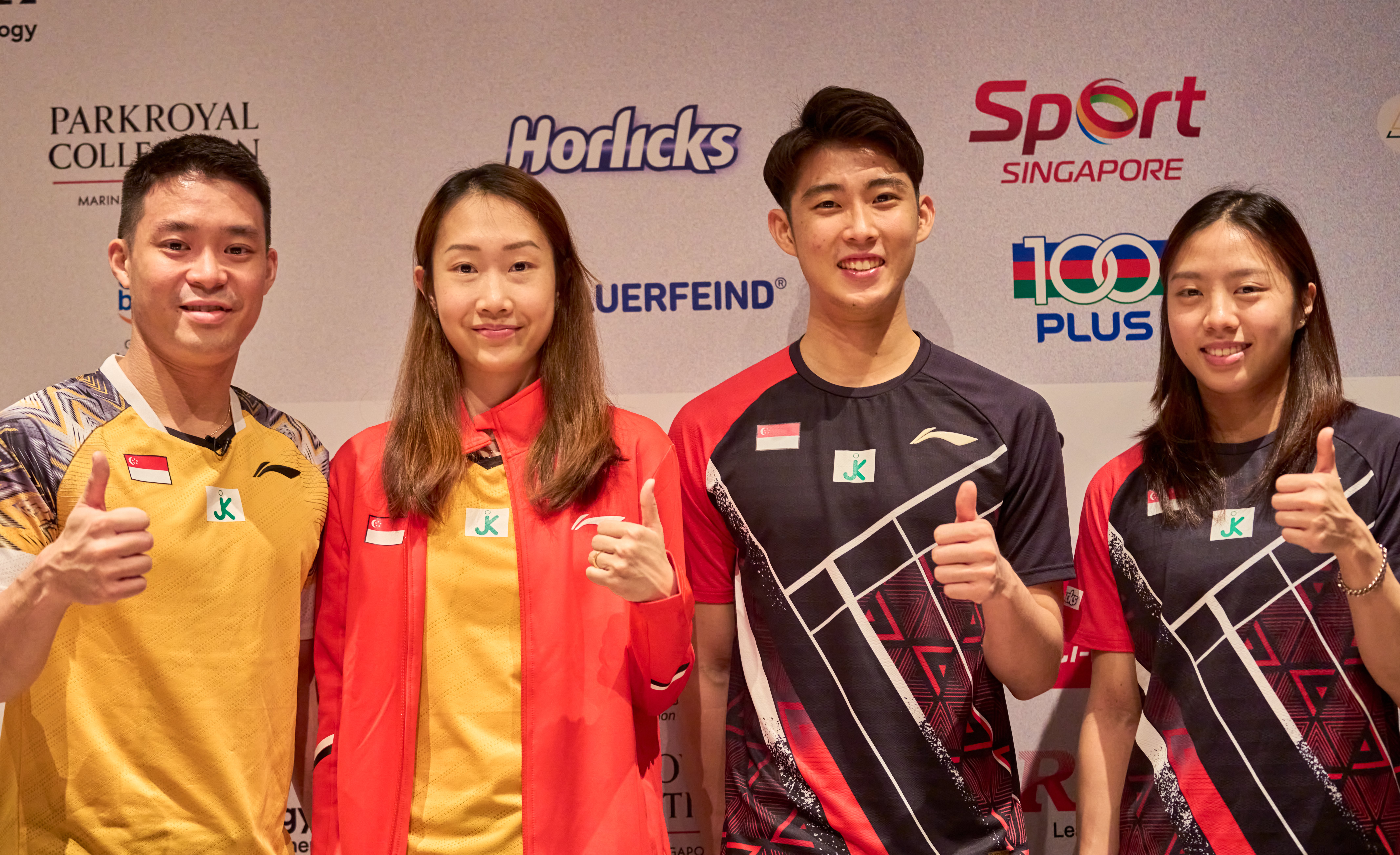 (TeamSG's Terry Hee, Tan Wei Han, Loh Kean Yew and Yeo Jia Min at pre-event media conference on 11 July. Photo Credit : Eric Koh)
11 July : A star-studded field of more than 20 of the world's top-ranked players are ready for battle as the event gets underway at the Singapore Indoor Stadium (SIS) on Tuesday (12 July).
The return of the highly-anticipated Badminton World Federation (BWF) Super 500 tournament, which took a two-year break due to the COVID-19 pandemic, has already drawn huge interest among fans - season passes and a number of single-day passes to certain match days, including the semi-finals and finals are already sold out. The Singapore Badminton Association (SBA), the event's organisers, had to make the unprecedented move to open up more tickets for this year's edition - which will boast more than 6,000 fans since the SBO has been held at the SIS.
While all eyes will be on Singapore's golden boy and world champion Loh Kean Yew as he seeks to be the first Singaporean to win the men's singles title since Wee Choon Seng in 1962, the rest of the stellar field is expected to write their own headlines at the US$370,000 event.
World No.8 men's singles player Jonatan Christie, who inspired Indonesia to their first Thomas Cup win in 19 years last year, is looking forward to renewing rivalry with several of the world's best badminton players.
The prospect of a mouth-watering clash between Christie and Kean Yew in the men's singles final is high, with both players on the opposite side of the draw. Both are among the favourites to go all the way following the withdrawal of Denmark's World No.1 Viktor Axelsen and World No.3 Anders Antonsen.
Christie, the Asian Games champion, remains unbeaten against Kean Yew as he enjoys a 5-0 head-to-head record against the Singaporean.
Asked about the prospect of meeting the world champ, Christie told the media at the pre-tournament press conference held at the ParkRoyal Collection Marina Bay Singapore on 11 July : "Winning the world championships has definitely boosted Kean Yew's confidence. Of course, there's a chance we might meet in the men's singles if we win all our matches."
"He is going to enjoy strong home support, for sure. But for now, I'm just going to focus on one match at a time. Every match is important, and the key is to win each one and then progress."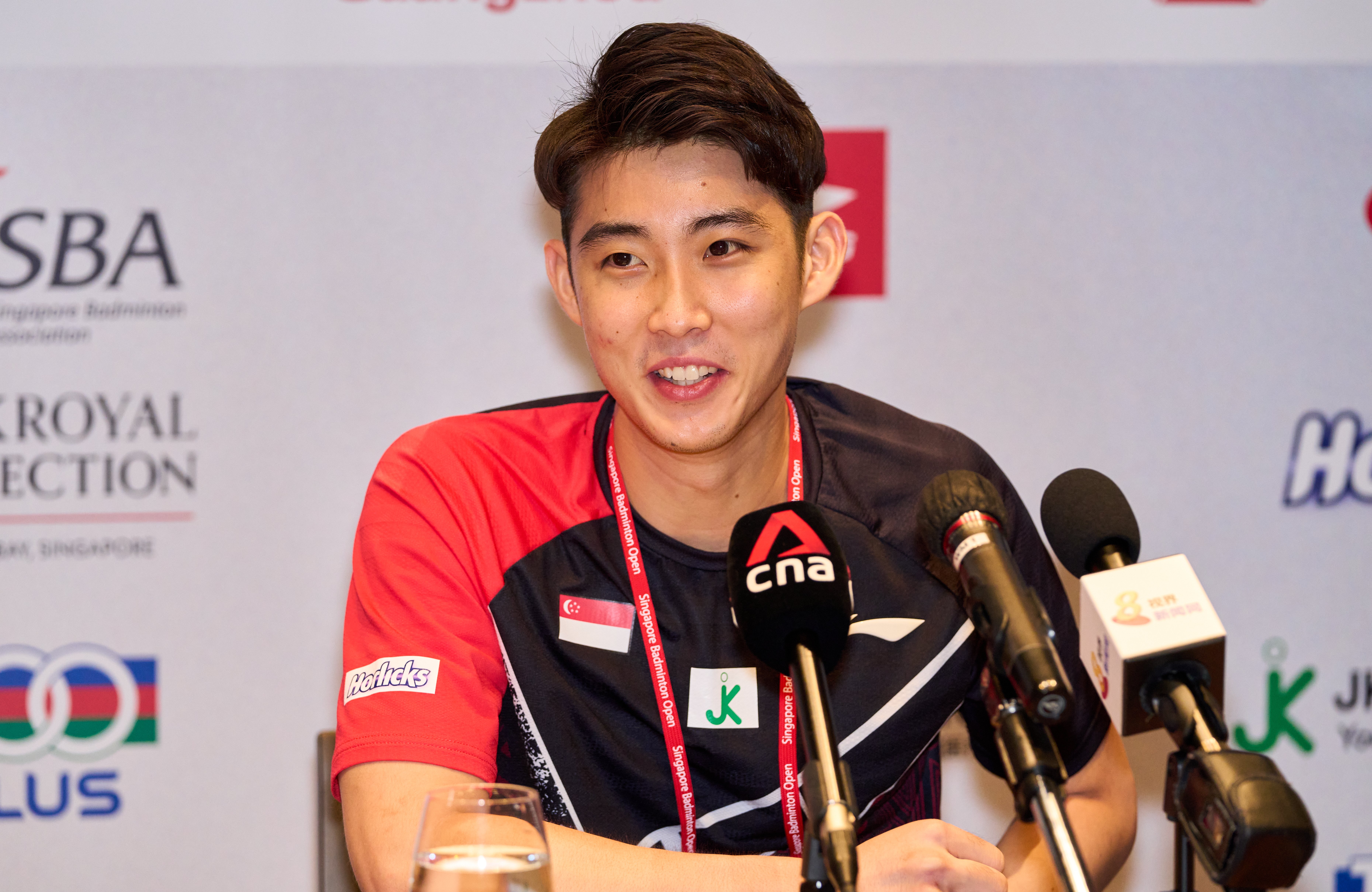 (Loh Kean Yew is looking to become the 1st Singaporean in 60 Years to win the Men's Singles at the Singapore Open. Photo Credit : Eric Koh)
Loh is well aware of the pressure to perform well in front of home fans as he spearheads Singapore's charge.
Said the World No. 9 Singaporean: "The pressure of playing, especially, in front of the home crowd will always be there. But I've learnt how to cope with that since winning the world championship. I try not to get angry on the court. Getting angry is not going to change anything. I may be smiling but there's lots of hidden stress."
"I discuss with my coach about our game plan before each match. Every opponent is tough in their own way, and I cannot identify who will be my toughest opponent this week."
Top seed Chou Tien-Chen of Chinese Taipei is, meanwhile, hoping to return to the winner's circle again. The World No.4 men's singles player has not tasted victory since the 2019 Taiwan Open but remains confident of ending his 3-year title drought. After all, he has won in Singapore before, in 2018.
Said Tien-Chen, a 6-time BWF World Tour champion and 2018 Asian Games silver medallist: "I still believe in myself. I've been practising and maintaining my high standards, especially during the pandemic when there were fewer events to compete. I have wonderful memories of my time in Singapore, especially winning the Singapore Open in 2018. Hopefully, I can repeat that feat."
Defending champions hoping for repeat performance
Compatriot and World Number 2 Tai Tzu-Ying is also looking forward to extending her love affair with Singapore as the women's singles defending champion returns to the Lion City. It was also in Singapore, where she surpassed all expectations to reach the 2010 Singapore Open women's singles finals at just 16 years old.
Although Tzu-Ying lost in the final then, she went on to make an impact in the badminton world by capturing the bronze medal at the 2014 Asian Games and becoming the first player from Chinese Taipei to win a BWF Superseries Finals title in Dubai that same year.
The 28-year-old is in fantastic form, winning two titles and making the semi-finals thrice in her last 5 events. She is hopeful of a third Singapore Open title, should she overcome her biggest rival: herself.
She said: "I'm my biggest enemy. I set high standards for myself and push myself continuously. I have not set any targets for myself this week. But more importantly, I want to stay healthy and keep myself in tip-top physical condition."
Thailand's mixed doubles pair of Dechapol Puavaranukroh and Sapsiree Taerattanachai also returns to familiar winning ground, determined to repeat their victorious feat when they clinched the mixed doubles title at the Singapore Open in 2019.
Said Dechapol: "We will try our best to win the title again although we are aware it's not going to be easy. This is because many of our opponents would have studied and understood our playing style by now and have a game plan against us."
"It's always a nice feeling coming back to Singapore and there are lots of positive vibes," added Sapsiree.
The top seeds' hopes of retaining their title were boosted by the late withdrawal of the tournament's second seed pairing of Zheng Si Wei and Huang Ya Qiong of China. The China Badminton Association also announced that women's doubles top seeds Chen Qing Chen and Jia Yi Fan will also give Singapore a miss.
Tickets start from $5 for children and $30 for adults
Fans can still choose to purchase single-day tickets to other match days. Single-day tickets start from $5 for children and $30 for adults.
Tickets are available for purchase via Ticketmaster here.