Singapore bagged three gold medals on the opening day of the World Pencak Silat Championship
The 18th World Pencak Silat Championship kicked off on Wednesday (13 Dec) morning at the OCBC Arena. Team Singapore had an impressive performance in the Artistic Finals category, bringing home a total of six medals, three golds, two silvers and a bronze.
Team Singapore's Nurzuhairah Mohd Yazid claimed her first world title in the Female Artistic Single category with a total score of 471, beating Cherry Regalado of the Phillippines and Salini Mamu of Thailand.
"It means a lot to me; I feel very honoured winning this gold medal for Singapore this time around. We are all very proud to compete on our home ground, and we've been working hard for it," Nurzuhairah commented on her win.
She also clinched a silver medal in the Female Artistic Team category together with her teammates, Syafiqah Mohd Faizul and Siti Nazurah Mohd Yusoff.
The other medals won by Team Singapore:
Nur Azlyana Ismail and Nurhanishah Shahrudin - Female Artistic Double - Gold
Muhammad Iqbal Abdul Rahman - Male Artistic Single - Gold
Nur Hakim Norshamsuddin and Syafiq Syazry Mohd Abdul Majid - Male Artistic Double - Silver
Hamillatu Arash Juffrie, Muhammad Nazrul Moh Kamal and Nujaid Hasif Zainal Abidin - Male Artistic Team - Bronze
President Madam Halimah Yacob graced the opening ceremony in the evening together with CEO Sport Singapore, Mr Lim Teck Yin and Organising Chairman of the WPSC2018 Shiek Alau'ddin Yaacob, where the audience was treated to a showcase of various martial arts forms such as Judo, Wushu, Aikido and Karate.
Two-time World Champion Muhammad Shakir Bin Juanda of Singapore fought and beat Akimkanov Zholdoshbek of Kyrgyzstan, 5 – 0 in the exhibition match during the opening ceremony.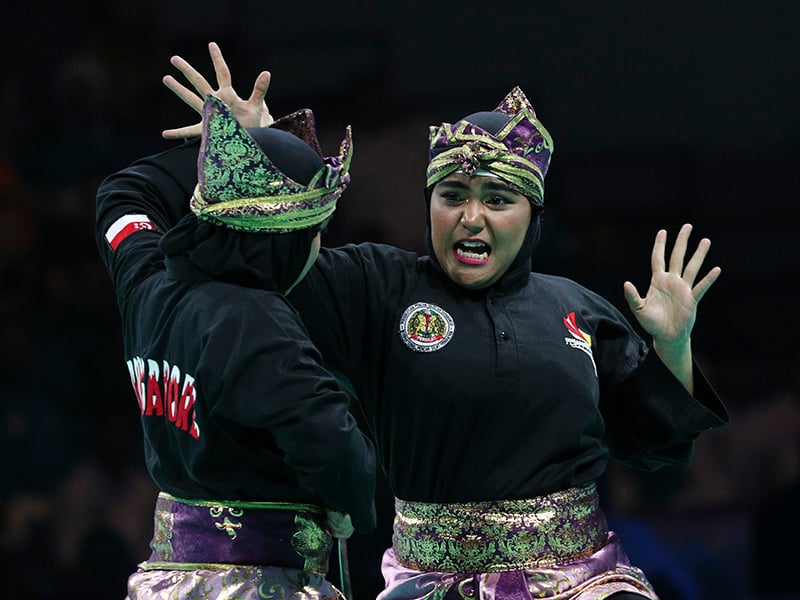 Nur Azlyana Ismail and Nurhanishah Shahrudin clinched gold in the Female Artistic Double Category. Photo: Sport Singapore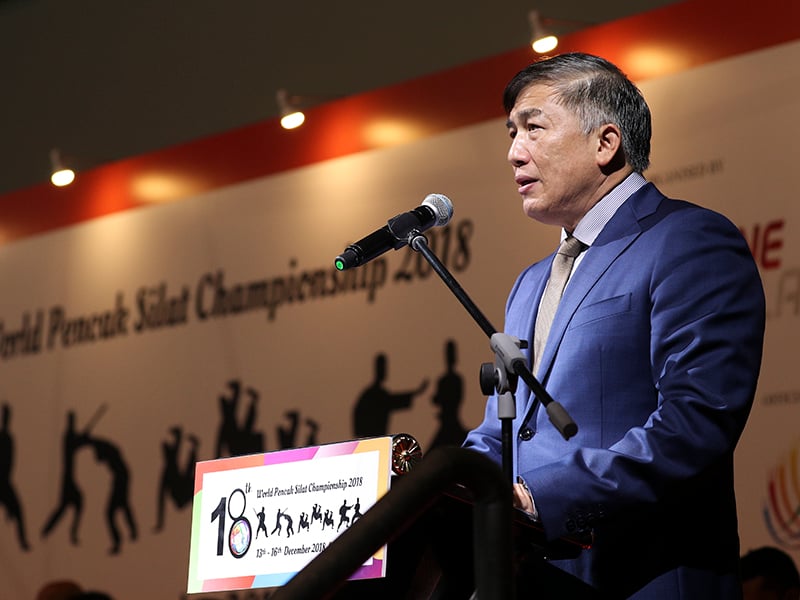 Sport Singapore CEO, Mr Lim Teck Yin, giving his speech during the Opening Ceremony. Photo: Sport Singapore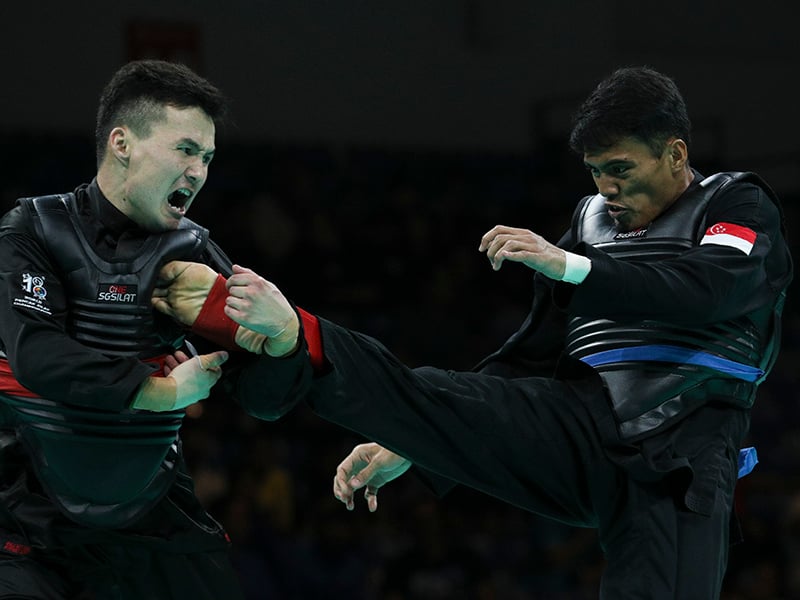 Muhammad Shakir Bin Juanda (Blue) of Singapore in action against Akimkanov Zholdoshbek (Red) of Kyrgyzstan. Shakir beat Akimkanov 5 – 0 in the Male E Class Category. Photo: Sport Singapore