Winning streaks on the line as TeamSG's floorballers vs Philippines in top clash on 27 May!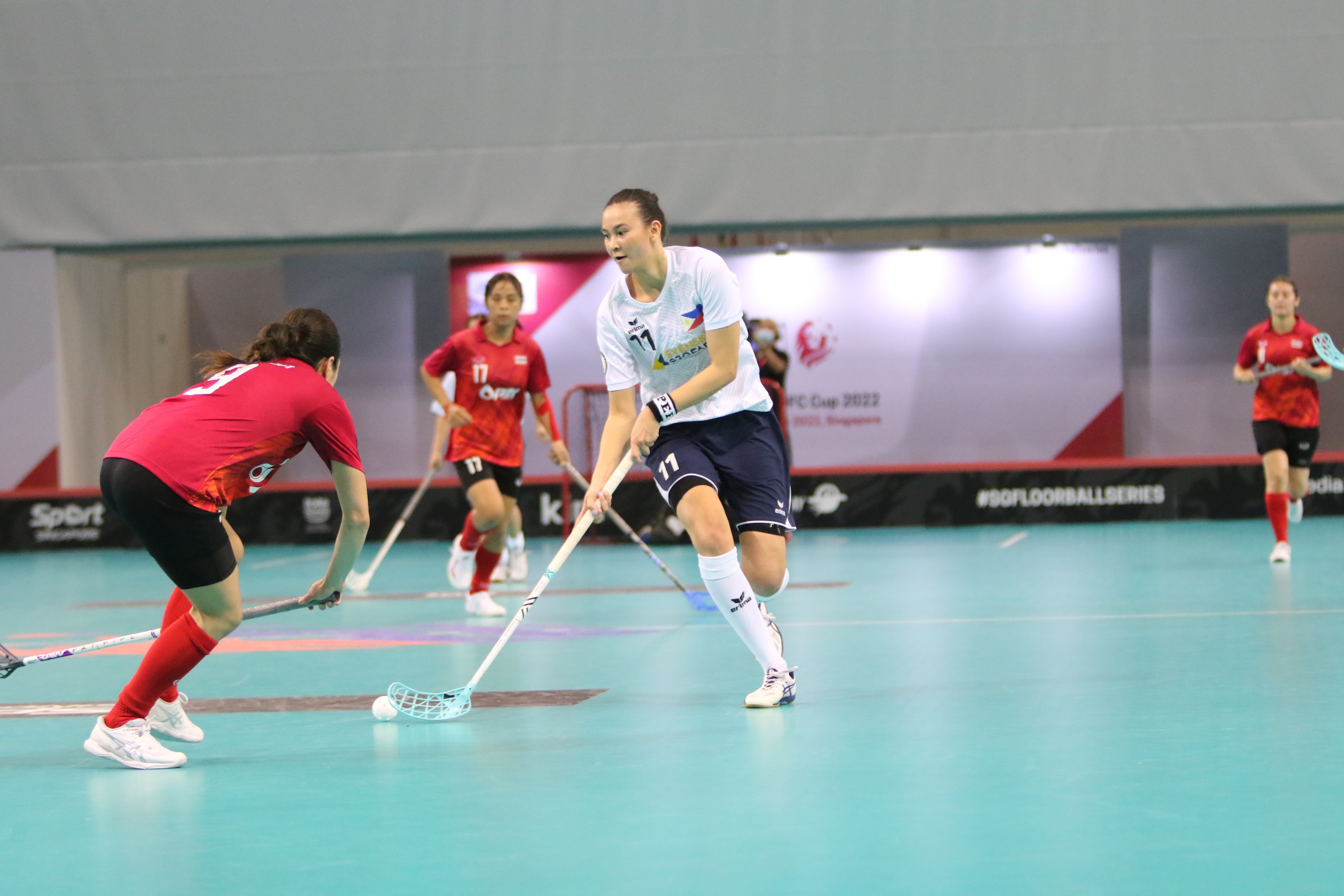 (Team Philippines on the attack against Thailand. Photo Credit : Singapore Floorball Series)
26 May 2022 - Singapore secured an emphatic 5-1 victory over Malaysia at the Women's Asia Oceania Floorball Confederation Cup (Women's AOFC Cup) on Thursday (26 May), to set the stage for a titanic clash with the Philippines on Friday (27 May). Both sides remain undefeated in the tournament; the Philippines recorded an 8-2 win over Thailand in the first match of the day. Day 4 of the Women's AOFC Cup also saw the Singapore U-19 team claiming their first win of the event after defeating Indonesia 3-1.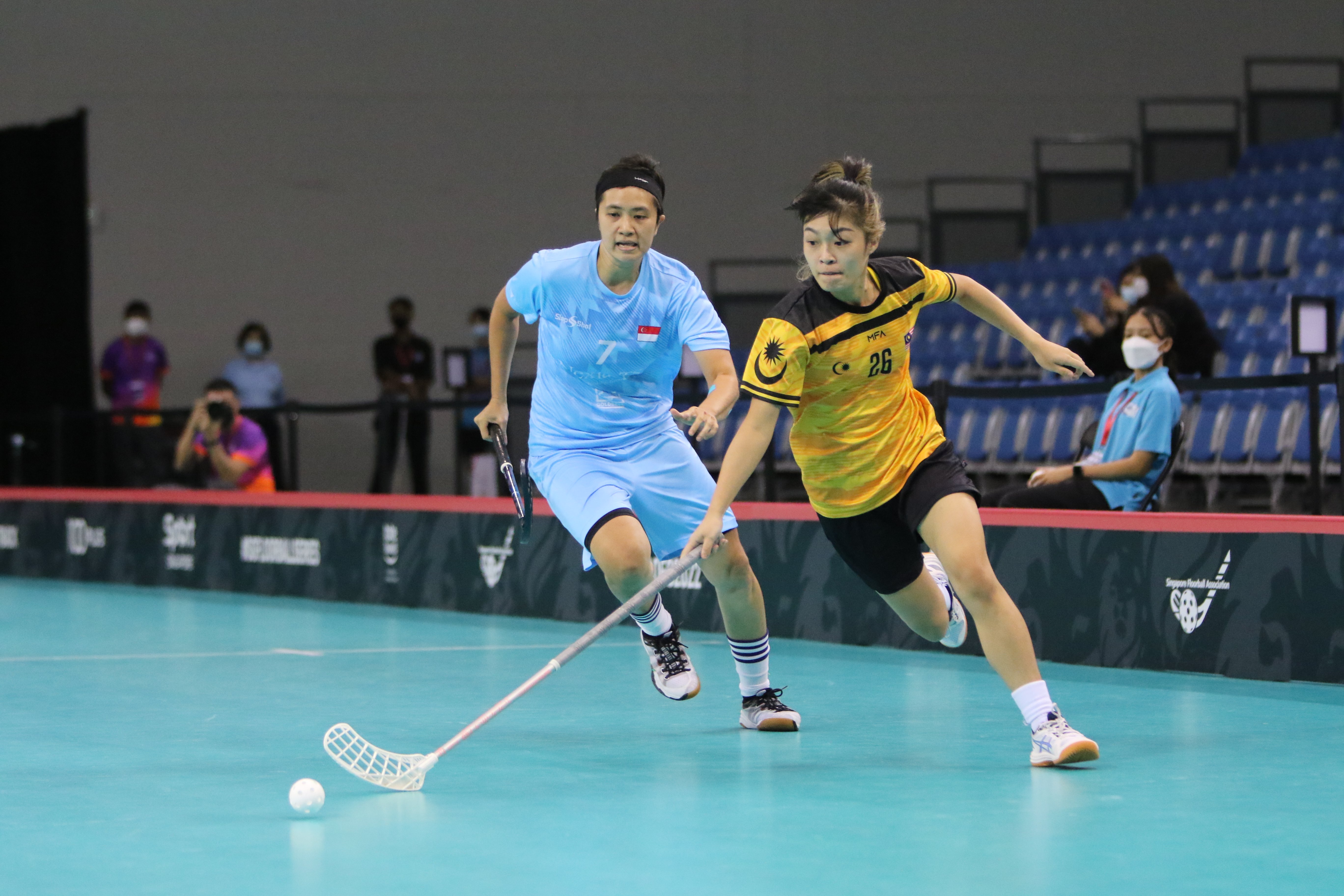 (TeamSG's Marissa Tang attempting to catch her Malaysian opponent on the run. Photo Credit : Singapore Floorball Series)
Malaysia drew first blood at the OCBC Arena on Thursday, scoring through Ang Ling Ling. The hosts equalised at the end of the first period, and did not look back as they attacked relentlessly throughout the match to nail the victory.

(Post-match interview with Singapore's Player of the Match Yee Yun Shawn. Video Credit : Singapore Floorball Series)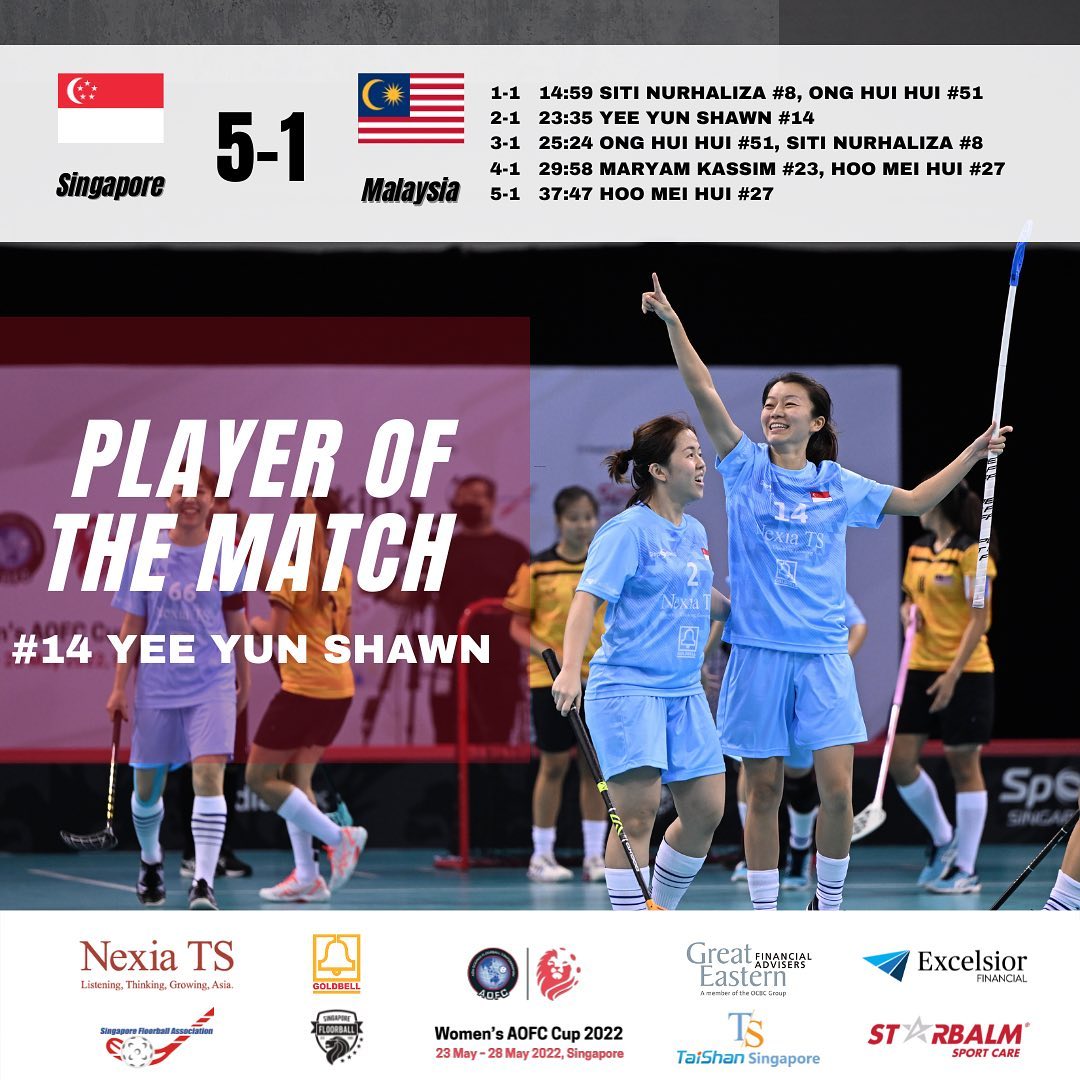 (Image Credit : SGWomen'sFloorball IG)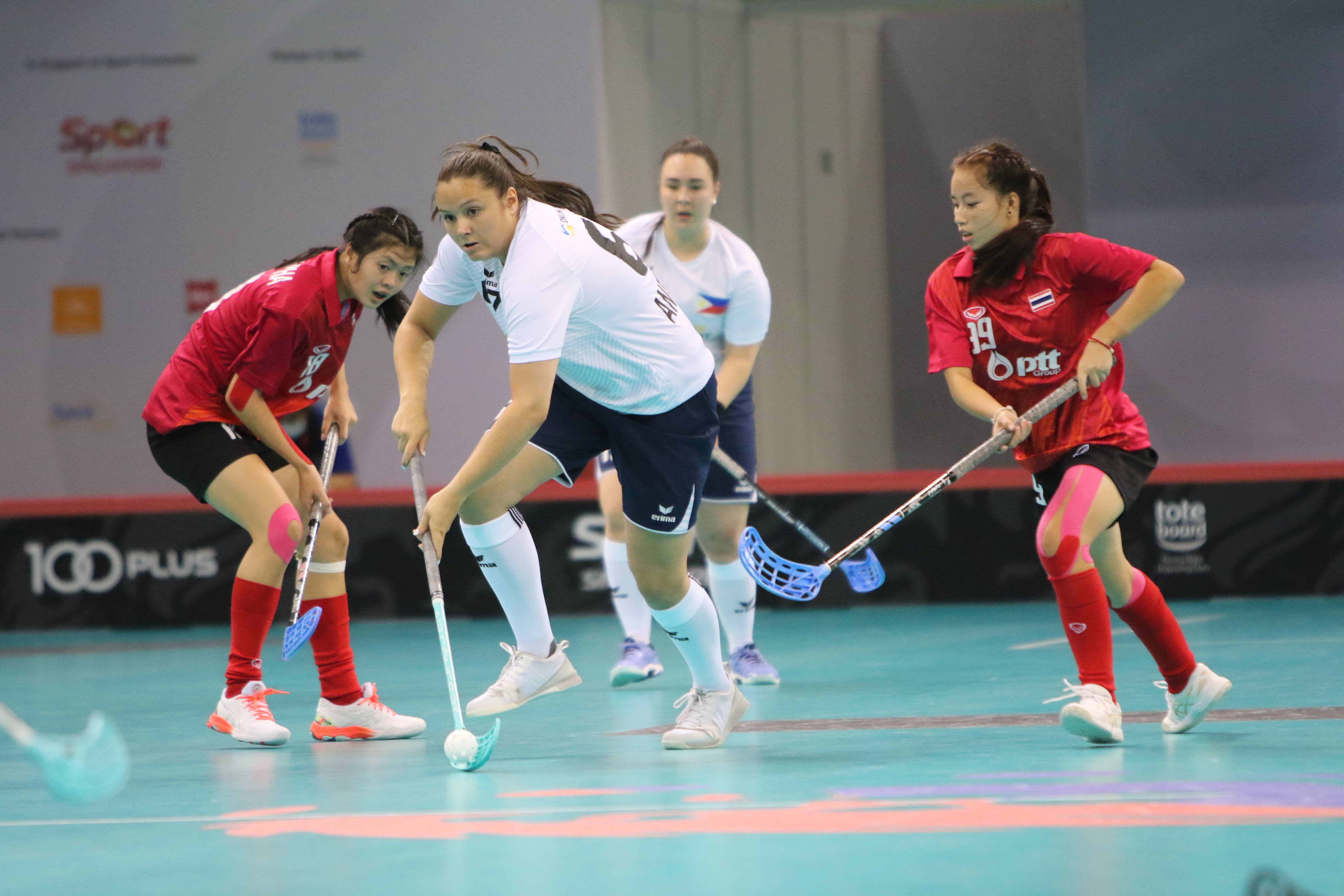 (The Filipinas defeated Thailand 8-2 to maintain winning streak. Photo Credit : Singapore Floorball Series)
Philippines captain Jade Rivera was equally resolute about facing Singapore next, saying: "We feel that they are fast players, but I think the game tomorrow is going to be intense for sure. I think there's going to be a lot of body contact going, on because we do have players who are well-built. But yeah, we are ready to take on Singapore and hopefully get the crown from them and hopefully be the next champions."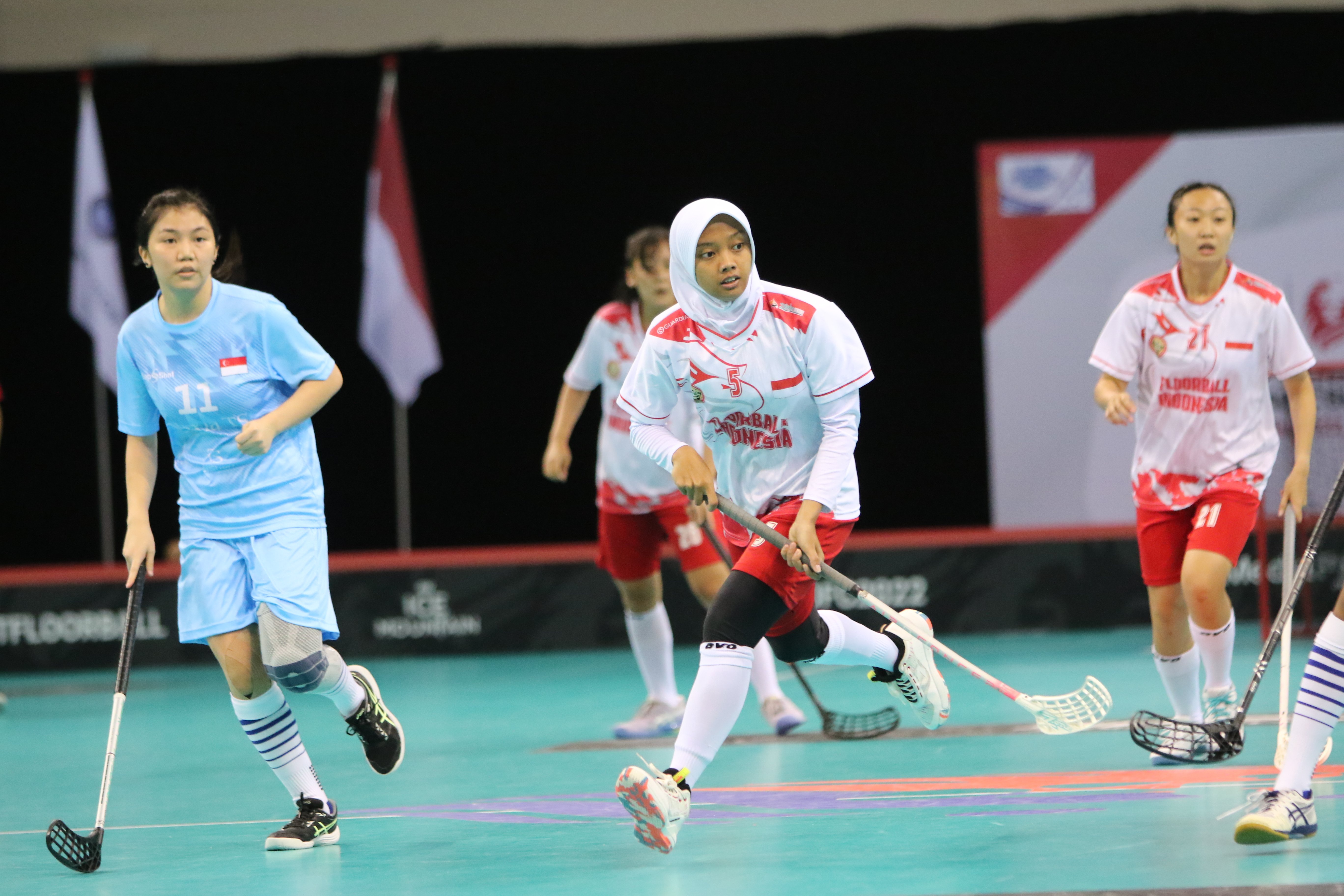 (Singapore's Under-19s in their light blue kits, carve out their 1st win of the campaign. Photo Credit : Singapore Floorball Series)
The Singapore Under-19s also put on an impressive display as they scored 3 past the Indonesian defence. Armi Nur Qistina from the Singapore Under-19s opened the scoring in the first period with a strike into the bottom right corner of the net. Both teams scored in the second period to make it 2-1, before Singaporean Lim Jie Ying put the game to bed with their third in the final period.
Imma Faith Pranada Cruzado, Player of the Match for the Singapore Under-19 team, said: "It's a really well-deserved win from our side. Indonesia played a good match, but we came out here wanting to win and we did exactly that so we feel amazing and we will take this as a learning experience to do better in the next game."
The action continues on Friday, 27 May, with the match schedule as follows:
1.30pm : Thailand vs Indonesia
4.00pm : Malaysia Singapore U-19s
6.30pm : Philippines vs Singapore
Tickets to the Singapore Floorball Series 2022 are available at sistic.com, starting from $6.
Follow the Singapore. Floorball Series on Facebook and Instagram for event updates. Match statistics are also available at https://floorball.sport/womens-aofc-cup-2022