Singapore's Men's Floorballers, closed their World Championships campaign in 16th place!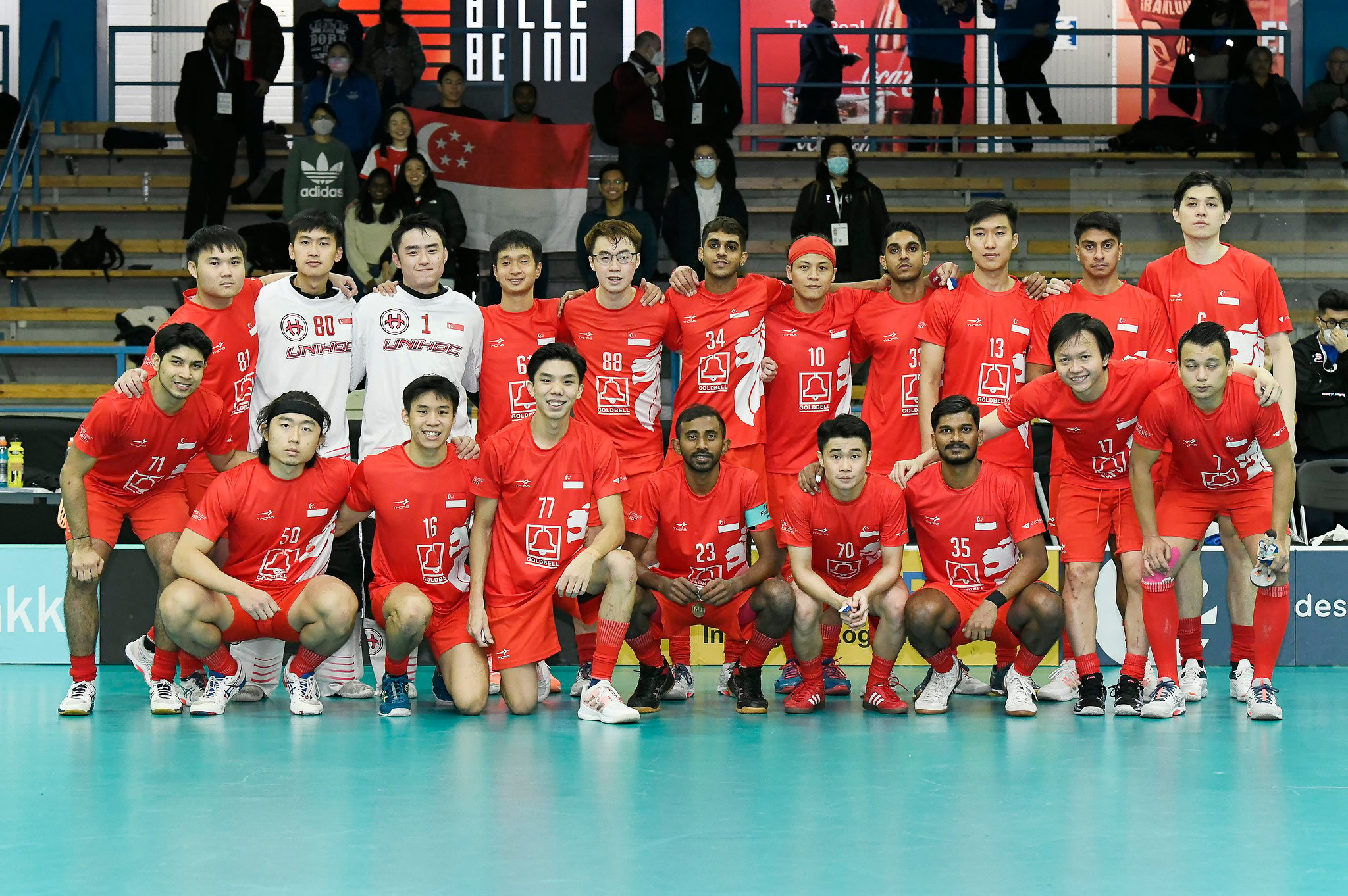 (Team Singapore : Photo Credit : International Floorball Federation)
By Gracia Sengutuvan
Singapore's final match at the 2020 Men's World Floorball Championships, was all about redemption, recovering some lost pride and more importantly, avoiding finishing 16th (last) for the 5th time since 2010. The task was not going to be easy as they'd already sustained 4 straight losses, especially against their regional rivals such as Thailand and the Philippines. Over the last 6-8 years, both these teams, which used to be on the receiving end of Singapore's big margin wins, have now "turned the tables around" and given the Republic, "a taste of the same medicine". Hence, facing Team USA in Helsinki (8 Dec), it was never going to be easy for our Singapore Men.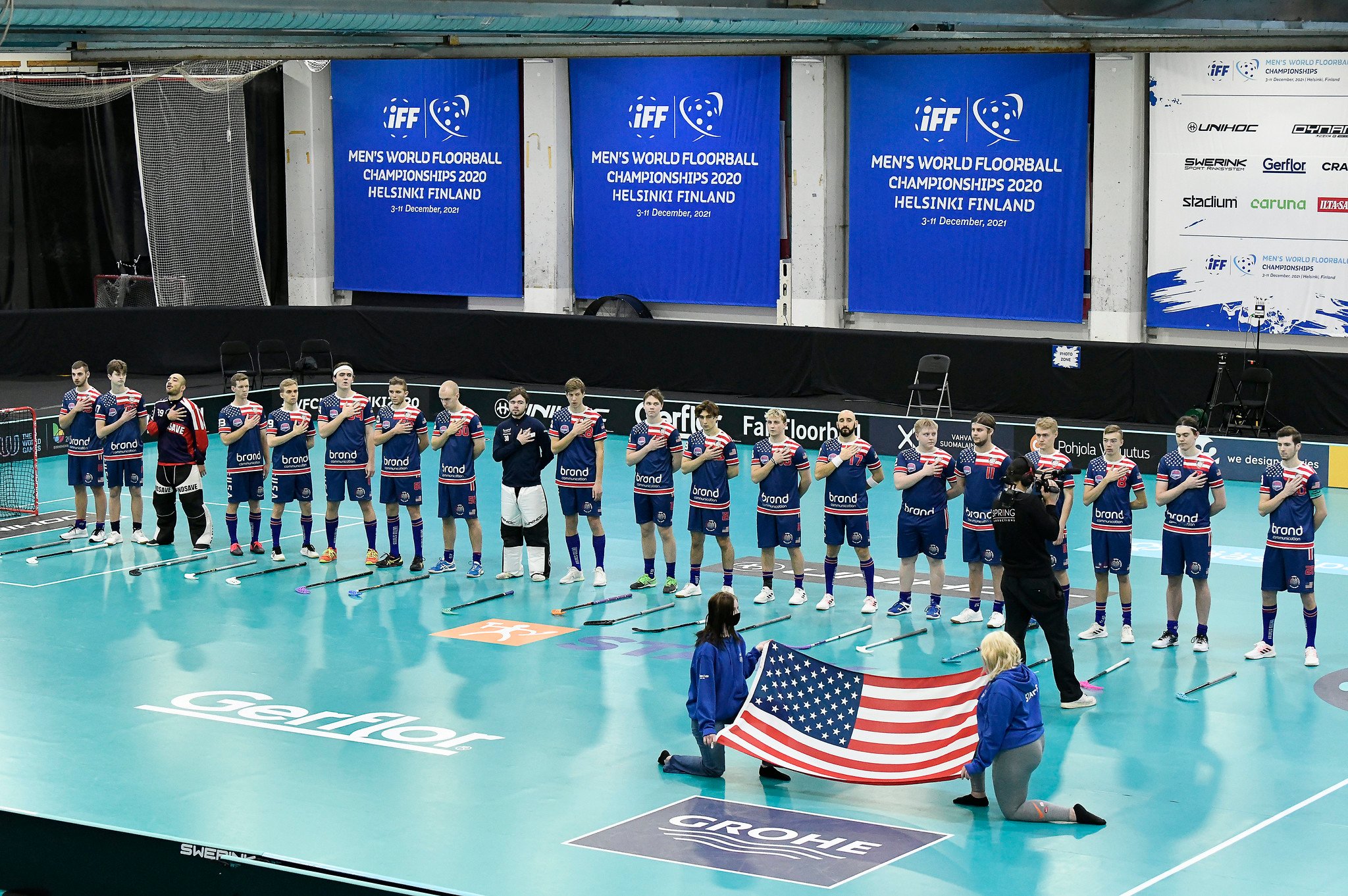 (Team USA. Photo Credit : IFF)
Facing the Americans for the 15th position playoff, we saw a highly dependable Jared Tan in goal for TeamSG. The 1st period began with a slow start. Both teams had ample opportunities to convert into goals, but several shots were either not on target or blocked by the defensive setup.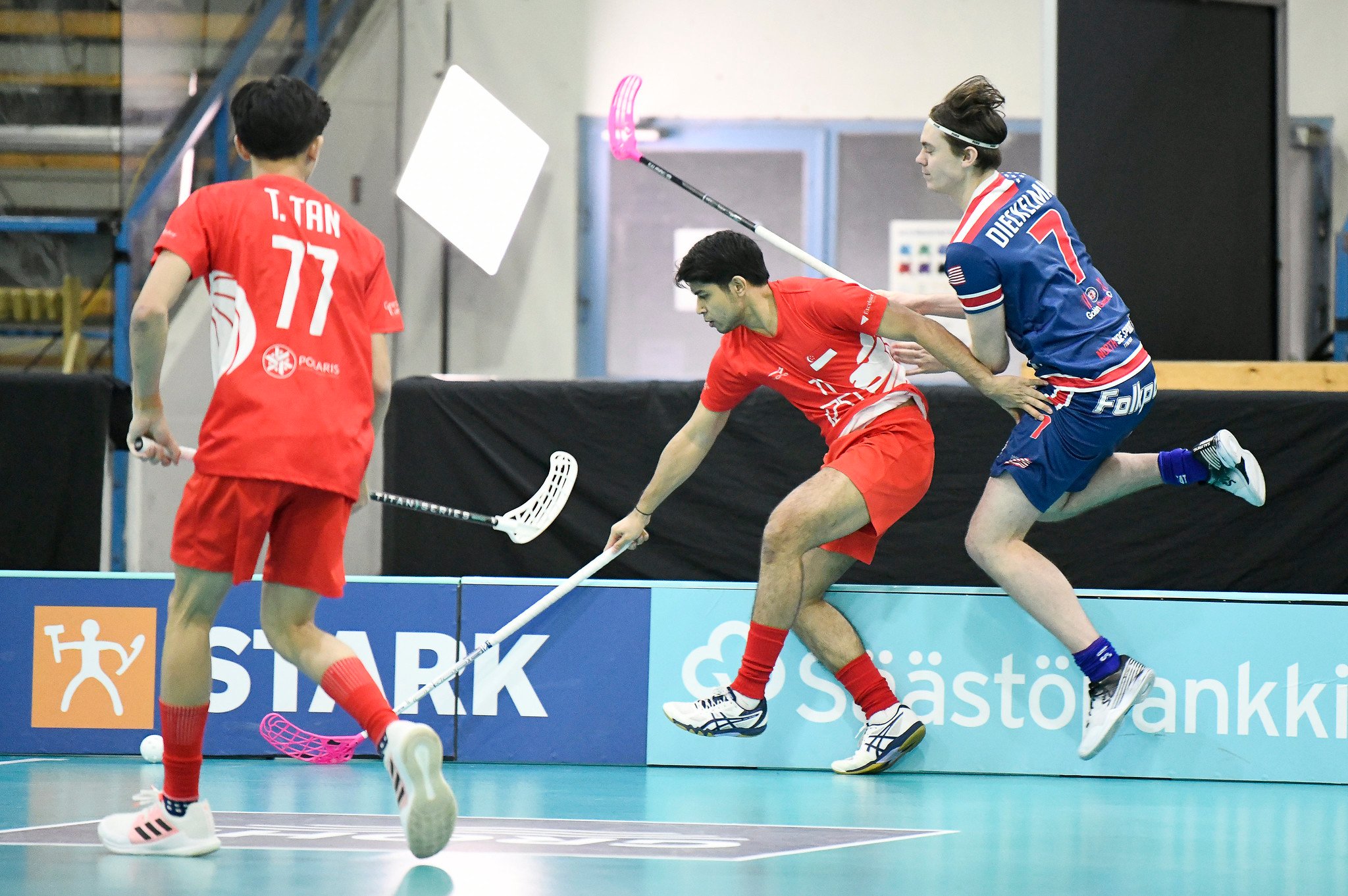 (TeamSG's Amir Mirza with the ball. Photo Credit : IFF)
With continuous combat came an injury when TeamSG''s Abdul Mohamad Haris was given a hard knock and lost his orientation. The game came to a pause as he gathered his bearings.
11.18- Singapore's Amir Mizra Abdul Mateen lurked behind the American goalpost with the ball and created a viable, well-timed pass to Lim Jian Hong. He took a quick wrist shot towards the opposing goalkeeper Sebastian Stockli, but the latter swiftly cleared it away.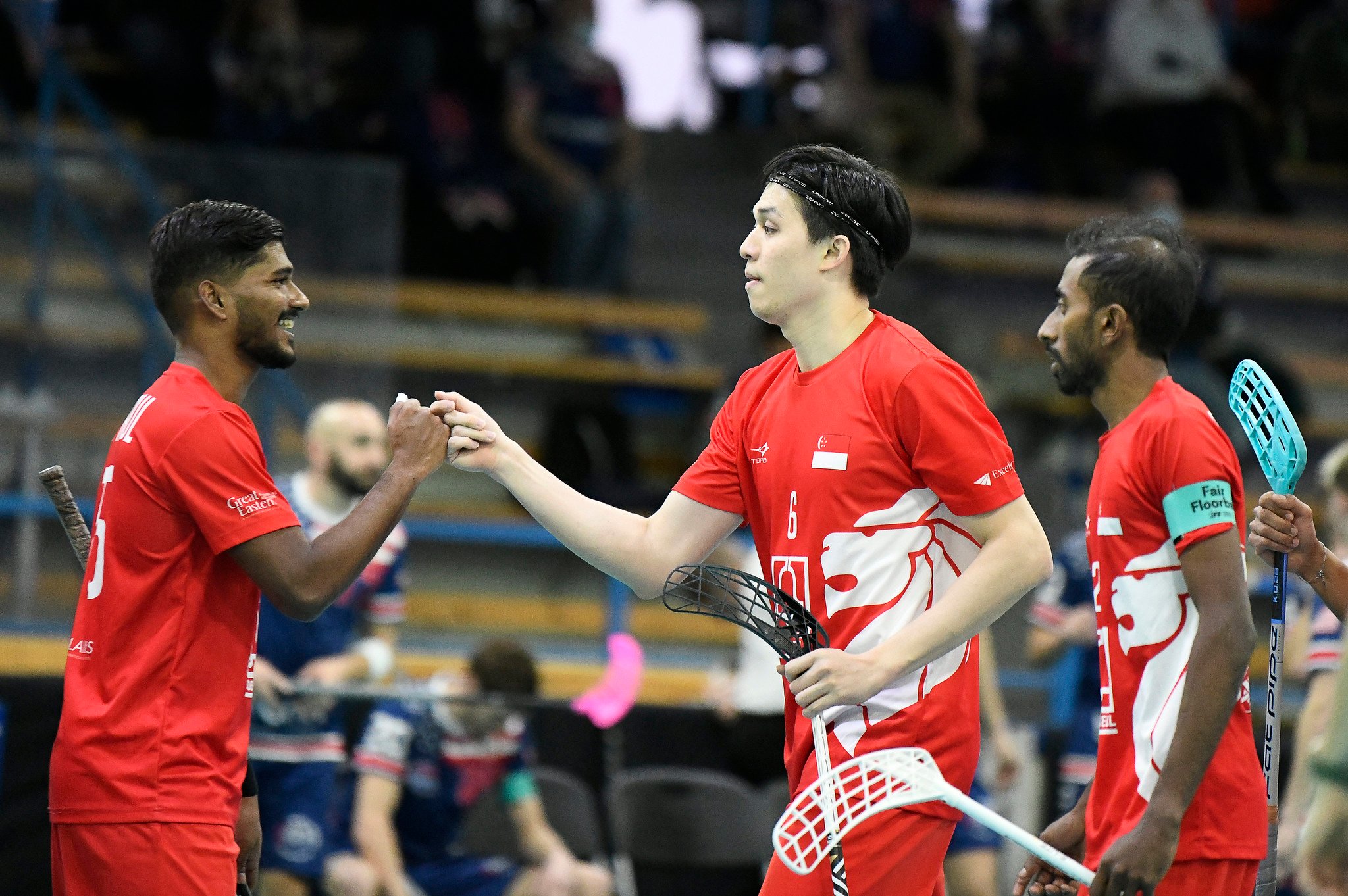 (TeamSG's Lee Chee Yong scores 1st goal. Photo Credit : IFF)
Contrary to the previous high-scoring games that both teams had faced, there was not a goal to be made till the last 2 minutes in the period. Veteran player Hafiz Zubir, after an interception, nudged the ball to Lee Chee Yong. And he went on to score the first goal of the game, with his signature turn-drag shot that went sailing past Stockli and into the net. The Republic led the game at 1-0!
After a 10-min period, break, both teams were back at it, trying to one-up each other. Another goal-scoring opportunity for Chee Yong presented itself, but was unable to capture it when he sent the ball a little too high off the goal.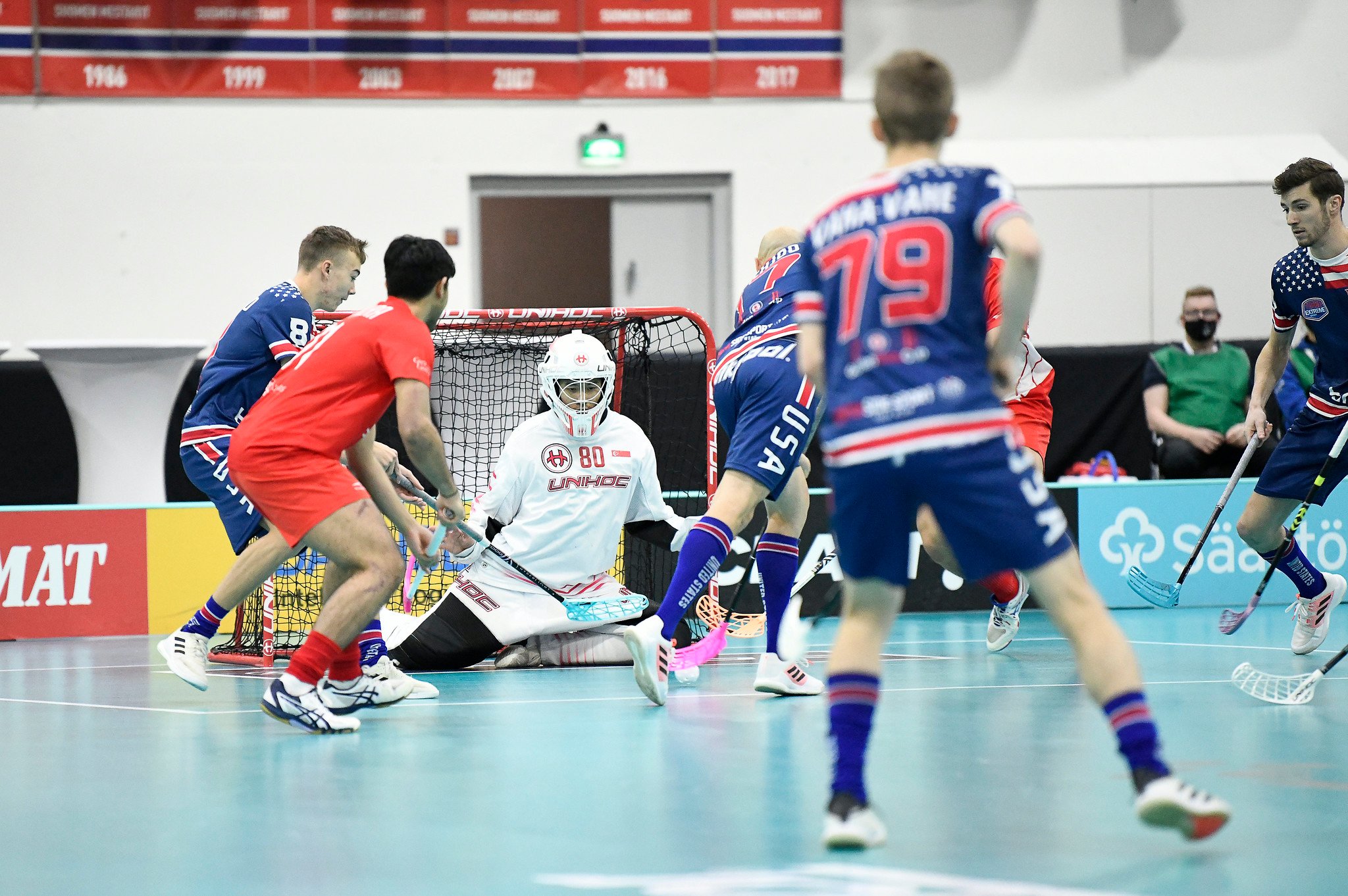 (Team USA on the attack. Photo Credit : IFF)
After a free hit given which saw possession of the ball to Team USA, Erik Haghjoo passed the ball from the Republic's corner down the boards to Alexander McVey, who made a back-hand dribble into the centre. With a quick steer of the ball to the front of his blade, he managed to place a precise shot into Singapore's net. The game was tied at 1-1!
30.06- A change in Singapore's goalkeepers from Jared Tan to Joshua Loh. With continuous efforts and naught coming out of it, TeamSG's Jenmark Sorreda in an overly fervent attempt to win the ball back, sent Maurin Ruegg over the boards. He was sent to the sin bin for 2 minutes for incorrect pushing. With one man down, TeamSG had to stabilize their defense. But before they could get to that, McVey, having already scored 2 goals in power-play situations in the entire tournament, made a precise shot-turned-goal that put Team USA ahead at 2-1.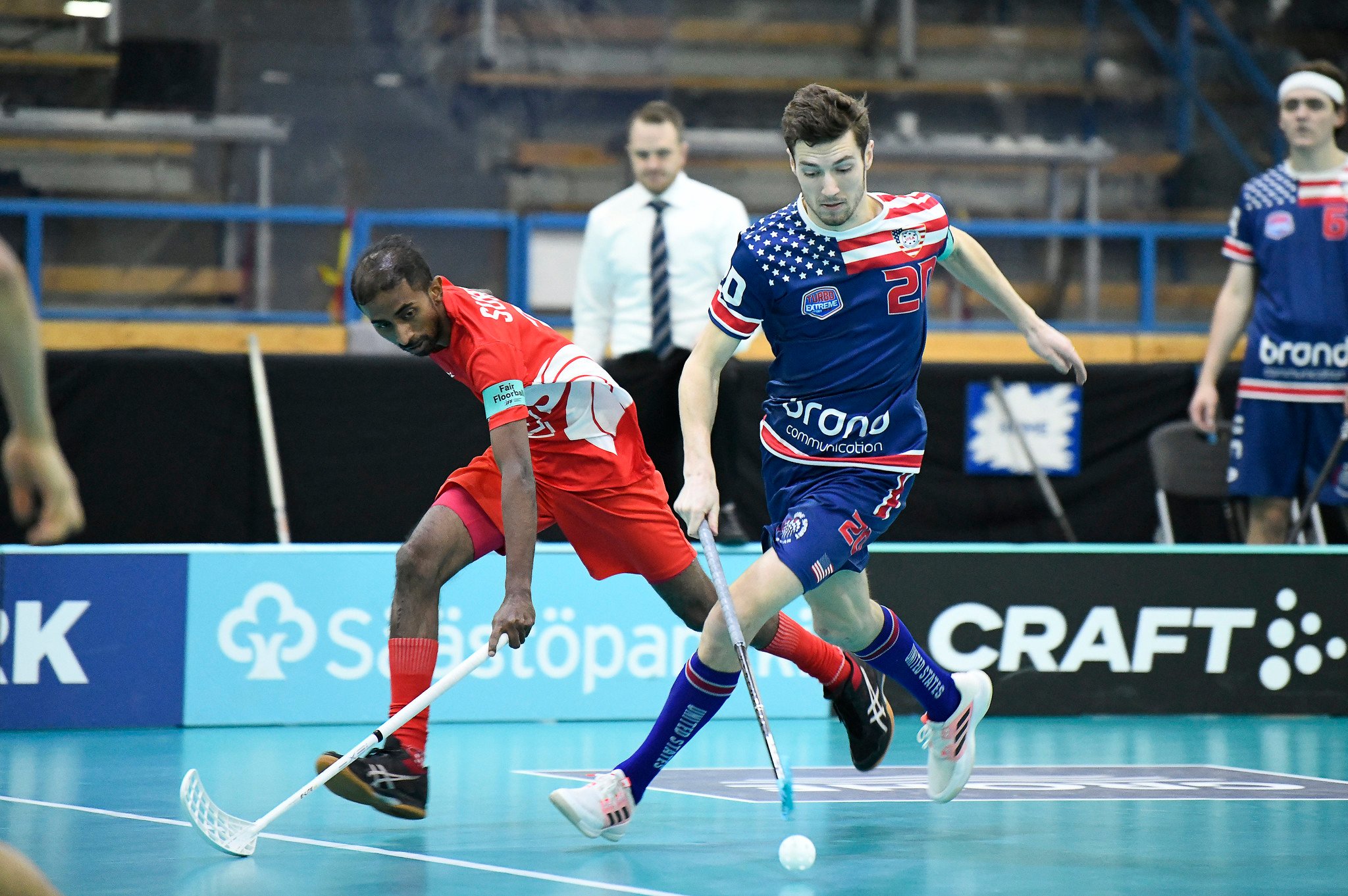 (TeamSG's Captain R Suria fending off a challenge. Photo Credit : IFF)
35.56- A free hit opportunity for the Republic taken by Thaddeus Tan was blocked and counterattacked by the Americans, which ended off with McVey. In hopes of a hat-trick, he took a shot that went wide. The Americans were visibly boldened in their 1-goal lead and attacked Singapore's defence with ferocity, but TeamSG held on till the period break.
At the start of the 3rd period, Team USA continued playing with their best 2 lines, as opposed to the normal 3-line rotation and that strategy served them well.
41.12- William Eriksson with a powerful wrist shot and a volley rebound shot by Case Connor widened the gap to 3-1! Comfortable with their lead, the Americans were laxer in their offense which opened a lot of opportunities and creative play-ups to flow from Singapore.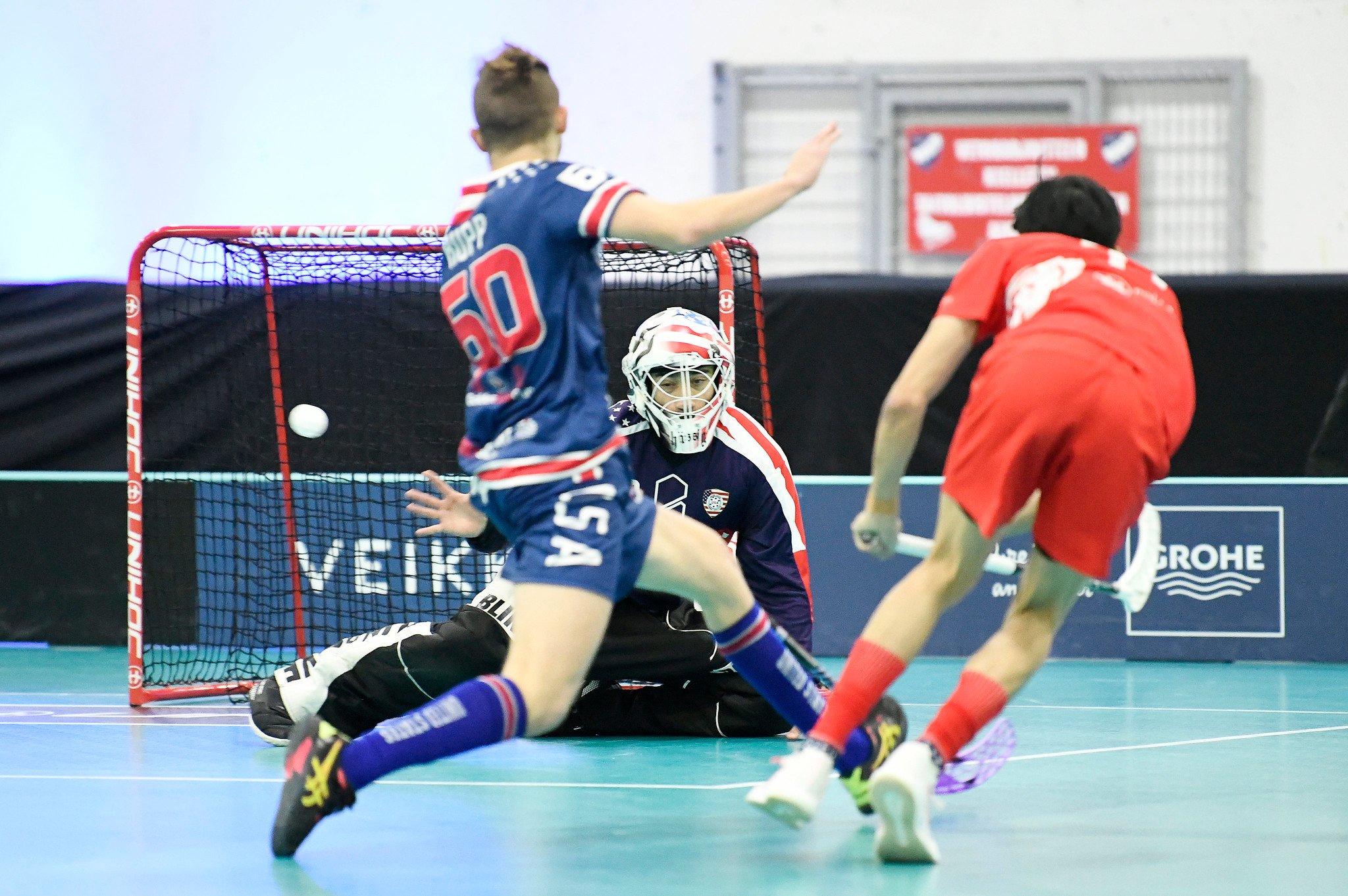 (Vice Captain Thaddeus Tan scores for SGP. Photo Credit : IFF)
51.40- A ball in Team USA's corner for Lim Jian Hong to Nicholas Low, who was right in front of the American keeper, Sebastian Stockli. No 77 Thaddeus Tan swooped in to receive a tap from Low and pushed the ball past Stockli. 3-2! Encouraged, Singapore drove in for more shots with interesting play pieces, but Team USA would not budge from their solid defense.
57.35- McVey passed a ball down the boards into Singapore's half for Maximus Blanco, who is to turn 17 years old in 2 days, for a beautiful drag shot that once again widened the gap to 4-2.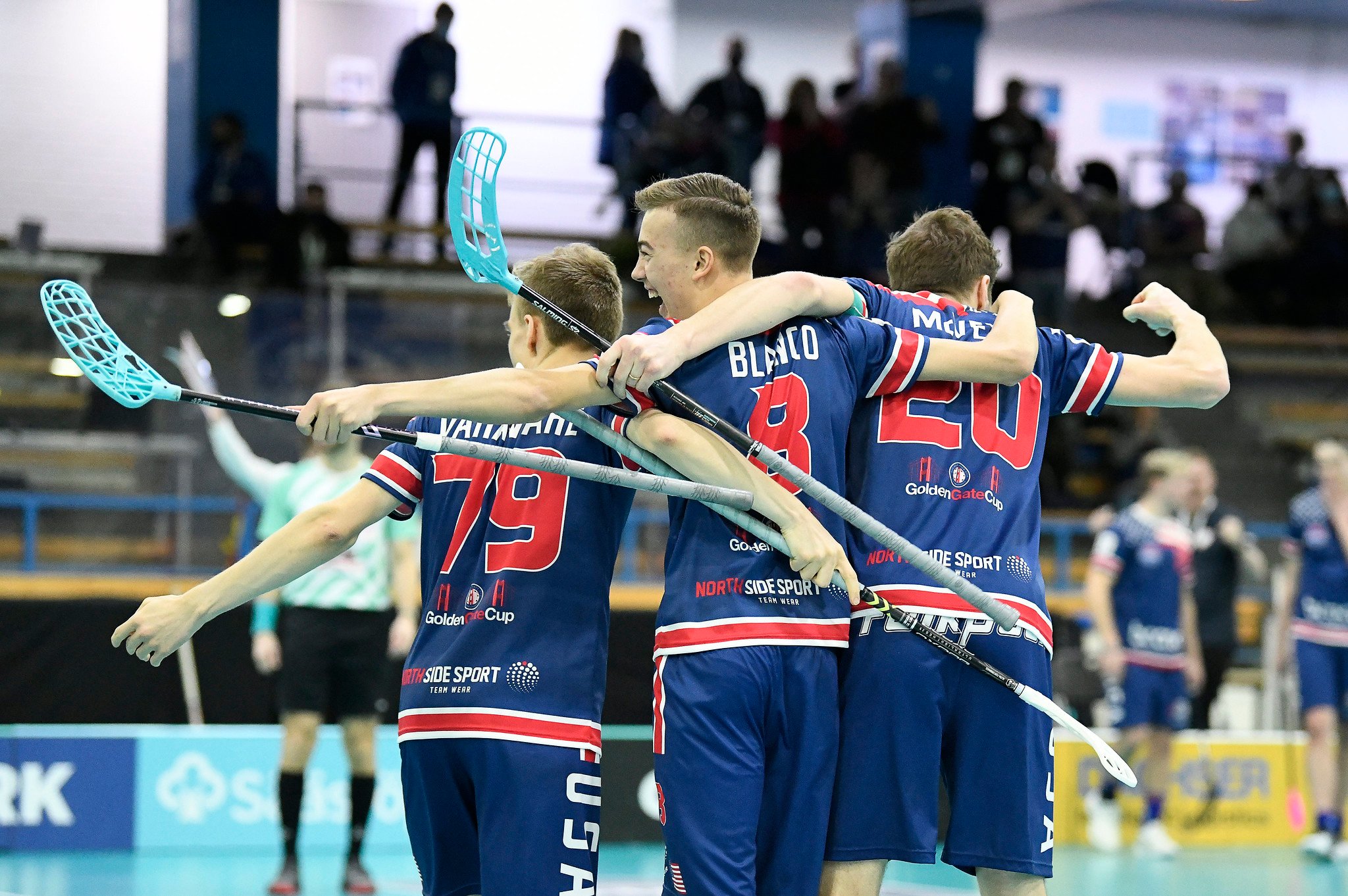 (Team USA scores. Photo Credit : IFF)
The game soon drew to a close with a final score of 4-2. Both teams fought hard, but Team USA definitely had an edge over the Republic and earned themselves the 15th position. Singapore concluded its performance at the 2020 Men's World Floorball Championships and attained the 16th position. Team SG would be taking part in the 2022 Asia Oceania Floorball Confederation tournament to be held next June in Singapore. That would be the qualifiers for the 2022 World Floorball Championships, to be held next November in Switzerland.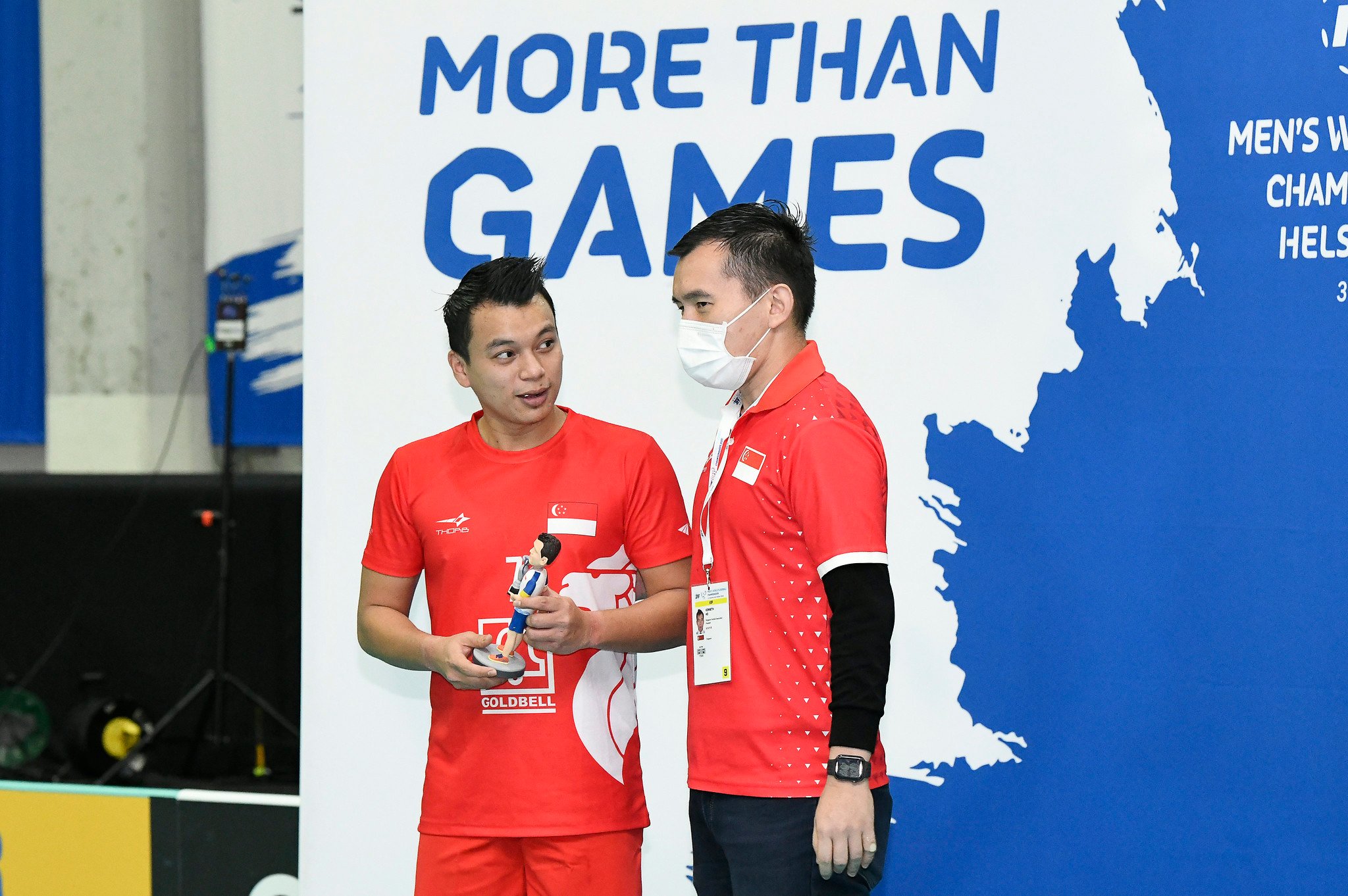 (TeamSG's Syazni Ramlee. Photo Credit : IFF)
He was the Captain for several years and the Face of the Republic's Men's Team. And against
Team USA, Syazni Ramlee featured in his farewell match for Team Singapore! After 13 years with the national squad, the 30 year old is retiring to focus on his family as well as his fulltime floorball coaching duties.
The current World Championships (WFC) campaign in Helsinki was Syazni's 5th and that's a SG Floorball record in itself! And after the match, the former skipper (after 59 appearances) was presented with a special momento by Kenneth Ho (President, Singapore Floorball Association).
THANK YOU SYAZNI and THANK YOU TEAM SINGAPORE FOR A HARD-FOUGHT CAMPAIGN. WE WILL SEE YOU IN 2022 :)
Meanwhile, Floorball fans can catch all 5 of Team Singapore's matches exclusively on the ActiveSG Circle.
Edited by Raj Kumar
Gracia Sengutuvan was part of Team Singapore's SEA Games Gold medal winning squad in 2015! She's been playing floorball competitively for 13 years. Gracia joined Team U Sports Liitto Floorball Club straight out of secondary school and played for them till she left Singapore in 2019. She enjoys watching the NBA and her favourite player is Steph Curry. She has a good feeling that the Golden State Warriors are going to win the title this year. However, she also had that feeling last year.