Playing with the Enemy
One apparent contradiction about the environment at Changi was the involvement in sport of some of the Japanese and Korean guards. Soccer was a popular game with the guards. They watched and learned and might play an informal game together.
It was very rare for guards and prisoners to appear in the same match. Not impossible though. There was one Japanese dispatch rider who earned the nickname 'McKenzie'. He would take all the knocks that might be expected and carried on regardless.
Casualties and Ban on Sport
Other games and sports appeared on the calendar at Changi. There was boxing, baseball and basketball. They were not accessible to the POWs throughout their internment. Gradually as food supplies were more limited, the physical condition of many of those tough blokes began to decline.
Despite their weakened condition due to the poor diet, the medical staff and the unfit men 'still felt that the benefits of playing sport more than outweighed any drain on the physical condition of the men'.
"In Jan 1943, the casualties resulting from football and boxing were a drain on the decreasing drugs, and acting on medical advice, these two sports were banned."
– War diary of AIF Headquarters in Changi
The medical staff were the fittest as many of the fitter men were sent as work parties for the Burma-Thailand Railway. For many of the surviving men who escaped being sent to the infamous 'Death Railway', Changi 'seemed like heaven compared with other places where POWs were forced to work'.
By 1945 there was a ban on sport and an almost total lack of desire to compete.
Sport played a significant role during the dark days at Changi in lifting morale and up-keeping of self-esteem, as was evident in the daily diaries kept by POWs, where details of scores and best players were meticulously recorded.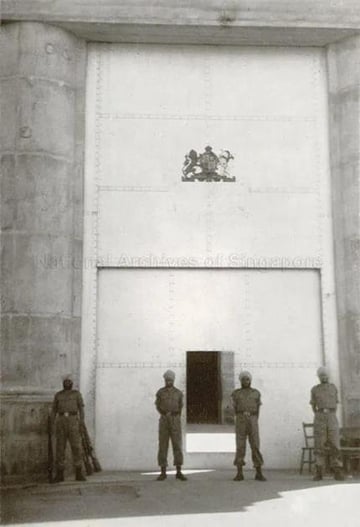 Entrance to Changi Prison. 1940s. Source: Courtesy of National Archives of Singapore (Media - Image No: 20080000057 – 0058) Acknowledgement to Kevin Blackburn, author of 'The Sportsmen of Changi'.
---
All Rights Reserved ©2022 Sport Singapore Acknowledgement:
Images courtesy of National Archives Singapore, Sport Singapore and Dr Nick Aplin. Text extracted from 'Sport in Singapore: The Colonial Legacy' published by Straits Times Press (2019) | Author: Dr Nick Aplin | Curator: Teresa Teo Guttensohn | The responsibility for facts and opinions rests exclusively with the author and his views and interpretations do not necessarily reflect the views or policy of the publisher.
Visit the Singapore Sports Museum to discover Singapore's sporting heritage and the Hall of Fame (HOF), which honours more than 50 sporting legends. The Hall of Fame was created in 1985 by the Singapore Sports Council (now Sport Singapore) to recognise and celebrate the achievements of Singapore's top athletes.