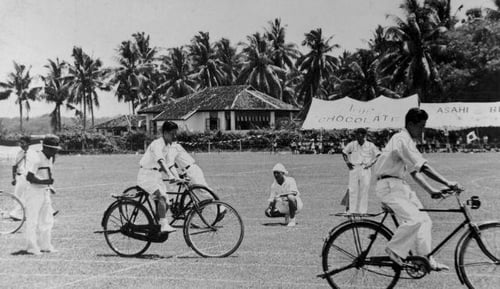 Pre-war: Slow speed pedal race at Sports Meet sponsored by the Japanese Club. 1934. Source: The Japanese Association Singapore Collection, courtesy of National Archives of Singapore (Media – Image No: 20100000395 – 0011)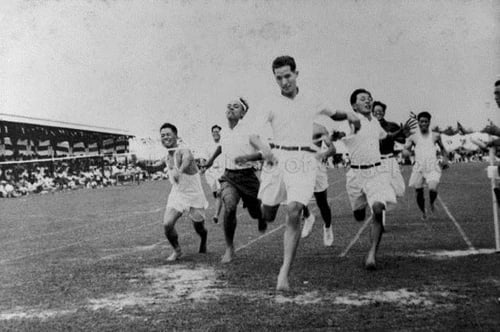 Pre-war: Reaching the finishing line at Sports Meet sponsored by the Japanese Club. 1934. The venue was likely the Jalan Besar Stadium, which later became the headquarters of the Syonan Sports Association during the Japanese Occupation. Source: The Japanese Association Singapore Collection, courtesy of National Archives of Singapore (Media – Image No: 20100000395 – 0010)
---
All Rights Reserved ©2022 Sport Singapore Acknowledgement:
Images courtesy of National Archives Singapore, Sport Singapore and Dr Nick Aplin. Text extracted from 'Sport in Singapore: The Colonial Legacy' published by Straits Times Press (2019) | Author: Dr Nick Aplin | Curator: Teresa Teo Guttensohn | The responsibility for facts and opinions rests exclusively with the author and his views and interpretations do not necessarily reflect the views or policy of the publisher.
Visit the Singapore Sports Museum to discover Singapore's sporting heritage and the Hall of Fame (HOF), which honours more than 50 sporting legends. The Hall of Fame was created in 1985 by the Singapore Sports Council (now Sport Singapore) to recognise and celebrate the achievements of Singapore's top athletes.