Sports Excellence Scholarships - Preparing the next generation of Champions
A total of 17 new Team Singapore athletes were awarded the Sports Excellence (spex) Scholarships by Minister for Culture, Community and Youth Grace Fu during a ceremony held at the Singapore Sports Hub on Friday.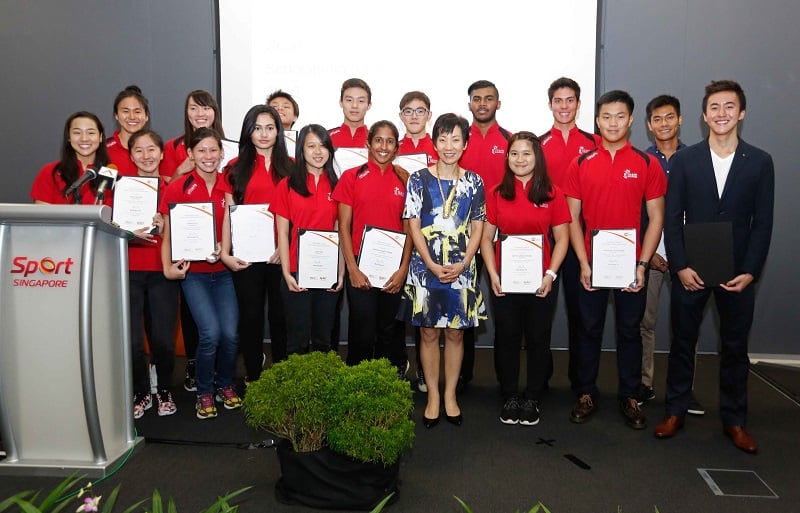 Minister for Culture, Community and Youth Grace Fu (front row, fourth from right) poses for a picture with the new spexScholars. Photo: Sport Singapore


New scholars included Quah Zheng Wen and Shanti Pereira. Quah, who was the most medalled athlete at the 28th SEA Games, said: "I'm just really happy to be able to work hard and be the best that I can be with everything that has been provided. It (the spexScholarship) opens up more opportunities to get better."

SEA Games 200m champion and national record breaker Shanti Pereira also said this scholarship is very beneficial to her development as an athlete.

"I feel extremely honoured to be one of those selected as a spexScholar. It will definitely help me on my journey toward the Asian Games 2018 as well as Tokyo 2020 in terms of training both here and overseas as well as anything else I would need leading up to it," the 19-year-old sprinter said.

"Being the first from Athletics is a sign that the sport is indeed coming up after a long time and knowing that, more and more people want to excel in it and make it as far as they can."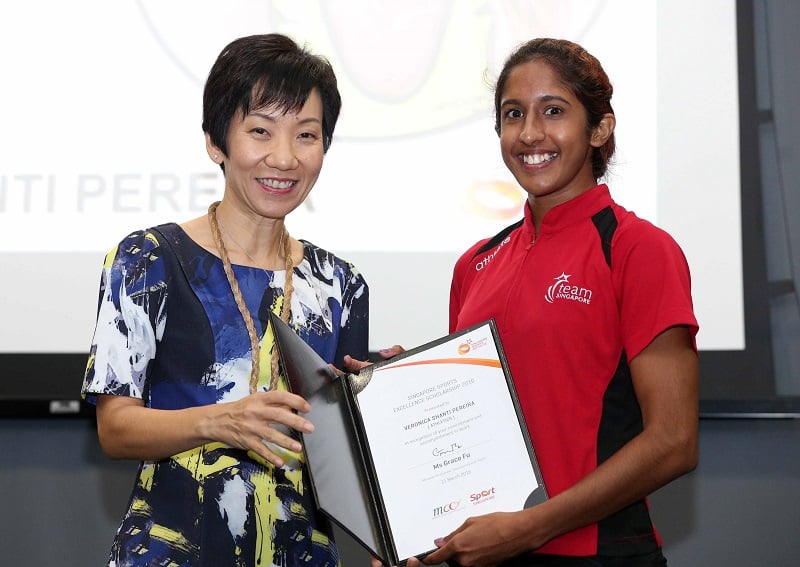 Minister for Culture, Community and Youth Grace Fu presents the spexScholarship to Shanti Pereira. Photo: Sport Singapore


Her father Clarence Pereira was also extremely grateful for financial assistance rendered by the scholarship. "It's a miracle (receiving the scholarship), something we prayed for. If she didn't get this (the scholarship) we will still find some way to give it to her because that's her dream."

"I am very proud of Shanti. The whole family and extended family are all very supportive of Shanti and what she wants. We are all behind her with what she does, getting her relaxed and try not to make her angry (laughs)" he added.

Current spexScholars Yip Pin Xiu and Shayna Ng also attributed their recent successes to the support given to them by the Singapore Sports Institute.

Yip, who broke the world record in 50m Backstroke S2 at the ASEAN Para Games, said: "I started on the spex program last year. For a few years I had stagnated. With this amount of support I have been able to focus more and in turn they (SSI) have been able to focus on us more which helps progress. I am taking a year off to train full time. It (the financial assistance) made the decision easier."

Ng ,who won a gold medal in the latest World Championships, said the backing of Sport Singapore and the Singapore Sports Institute also allowed her to be "100% committed to the sport" and "worry less about things".

The 27-year-old said: "The spexScholarship is a holistic program that has helped me in many ways. For example, we have access to a great team at the Singapore Sports Institute. From the physiologists who help us aid our injuries and rehabilitate, psychologists who enhance our mental strength, and biomechanists who give us detailed information and insights to our sport; these are just some areas that are really important for elite sports persons."