Stadium Race: GetActive! Reality Show Singapore Sports Hub [ep 7]
It is Team Red versus Team White in Singapore's first ever online Reality Show featuring Singapore sports and fitness personalities as we count down to Singapore's National Day, as part of GetActive! Singapore commemorating Singapore's Bicentennial!

In the season finale of Singapore's first online reality show featuring Singapore sports and fitness personalities, Team Red and Team White make a frantic race to the finish line at the Singapore Sports Hub in a three legged relay.

Leading Team Red, SG Sports TV presenter John Yeong faced off against fitness coach and Fitness Trainer and new Sport Singapore ambassador Cheryl Loh from Team White in the first leg of the race – the Ohana Games Samsui Dash, and had to play catch up after missing a turn in the challenge.
He made up for it by the time the race reached the 100 Plus Promenade, and it was all even as Fitness Entrepreneur and Keeping It Real Show host Natalie Dau (Team White) and Off Duty Pilates co-founder and instructor Betsy Chen (Team Red) made their rounds in the second leg of the race – which included running, cycling on Shimano bicycles for another round, before ending off their leg with the Tin Can Walking challenge – a traditional old school game included as part of Singapore's bicentennial journey.
The last leg of the race was completed by myActiveSG.com editor Gary Yang and Singapore and Geylang International FC footballer Anders Aplin as they headed into the Lazy River at Splash-N-Surf to look for the final three clues of a jigsaw that would piece each of their team's messages together.

Team Red: John Yeong, Betsy Chen, Anders Aplin

Team White: Gary Yang, Natalie Dau, Cheryl Loh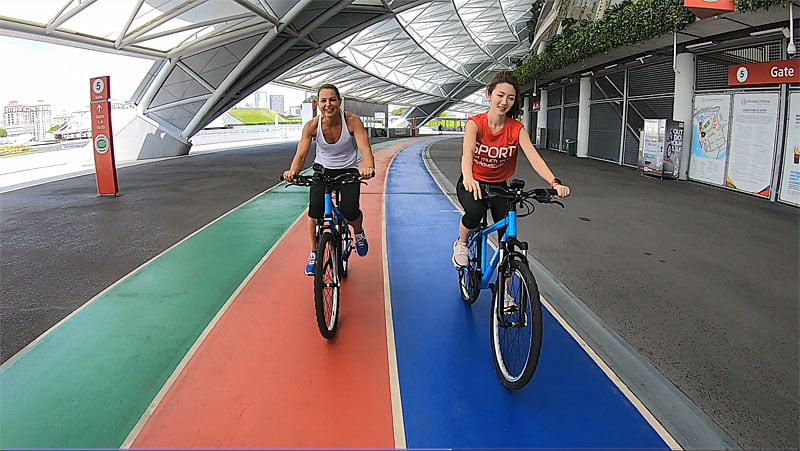 Fitness Coach Natalie Dau (Team White) and Pilates instructor Betsy Chen (Team Red) cycling around the 100 Plus Promenade in leg two of the 3 legged relay of the GetActive! Adventure reality series season finale. Photo: Sport Singapore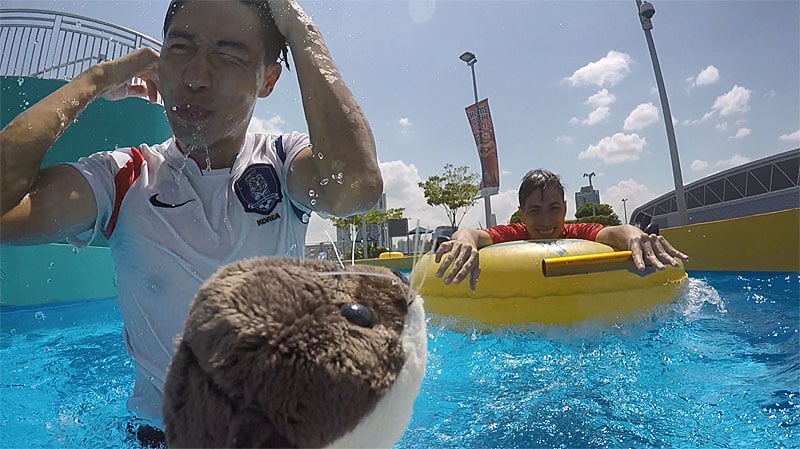 myActiveSG.com editor Gary Yang (Team White) and Singapore footballer Anders Aplin (Team Red) completing the final leg of the race in the Lazy River of the Singapore Sports Hub. Photo: Sport Singapore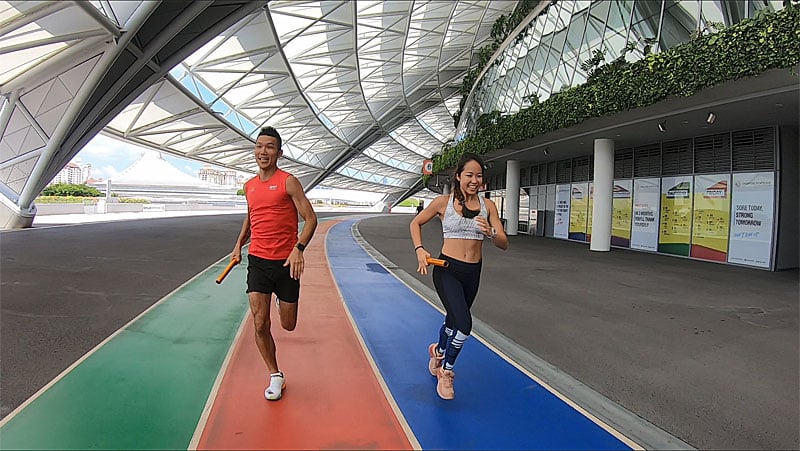 SG Sports TV presenter and producer John Yeong (Team Red) taking on UnderArmour fitness trainer Cheryl Loh (Team White) in the first leg of the race, after completing the Ohana Games Samsui Dash. Photo: Sport Singapore
Watch the other episodes of the GetActive! Reality Show here!

[Episode 1] A Mega Adventure : https://bit.ly/2NZN9jG

[Episode 2] Siloso Skywalkers : https://bit.ly/2XP839F

[Episode 3] Palawan Beach Mission : https://bit.ly/30BtAPZ

[Episode 4] Win, Luge or Draw : https://bit.ly/30Letnl

[Episode 5] Wave House Stack Off : https://bit.ly/2Zc33sd

[Episode 6] Return of the Kallang Wave : https://bit.ly/2ZfFGOy